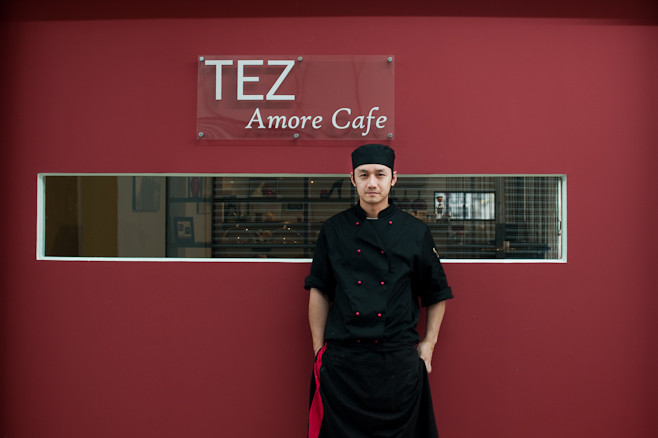 As you know, I am now half way round the other side of the world basking in the sun. It's been eight years since I left sunny Brunei, and in that time, friends have moved on to the bigger and better, I somehow feel as if I had only just awoken from a long coma, as the world is not the same as I remembered it. I have been catching up with some old friends from high school and I remember the days when Terry was the bonafide babe magnet at St Johns – I mean, girls used professed their love for him in the playground and all, very public. Good times, that was a long time ago. Today, Terrance is the chef/owner of his cafe in our home town, Kuala Belait, aiming to bring a sense of style to the humble town – coffee, elegant puds and a cosy laid back setting. I have much respect for independent cafes and so I thought I'd ask for the opportunity to gain an insight into what it takes to run a cafe.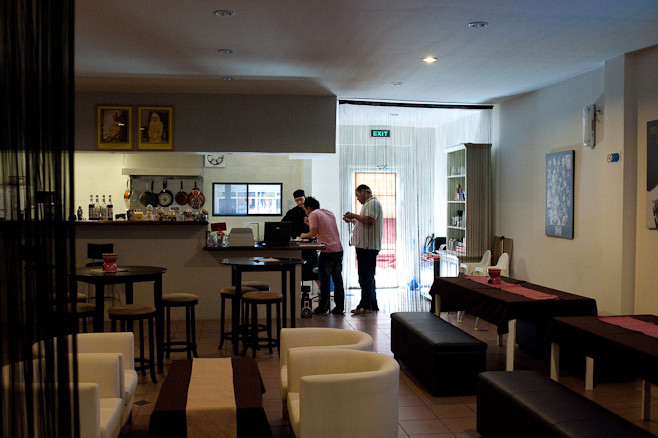 The first thing I noticed about Terry was his passion for cooking. He spends fourteen hours a day at his cafe and as the chef proprietor, he not only does all the cooking himself, but also manages the cafes finances as well as the logistics of produce. Save for a couple of waitresses, Tez Amore is pretty much a one man show.
"Gordon Ramsay's food always looks so nice on TV, what does it tastes like?" His eyes trained on me but I decided to tell him that Ramsay's cuisine wasn't as respected as it once was, instead I directed the conversation toward a more contemporary figure of London gastronomy – Bjorn van der Horst. He loves food and I could tell as it beamed out from his decidedly upbeat character. I sat with him for a session on his only day off during the week – Wednesday – to chat about this behind the stove thing I wanted to do with him.
"So you must be busy these days" I said. "Well, I've become a blur at home, when you see me, I'll have gone [to work at the cafe]". His culinary awakening began while he was pursuing his tertiary education, initially his interests were business and law, but he was lured by the grandeur and spectacle of the illustrious career of a chef, in particular he was enamored with his house-mother's brother who runs a kitchen in a Hilton in Adelaide. With a clear idea of where he'd like to steer his future, he applied to the Adelaide TAFE commercial cookery courses and then to the Regency cookery school specialising in pastry. The real world then beckoned, and Terry assisted various kitchens with assignments as a pastry guy as well as a baker. As with all independent setups, funding was always going to be a challenge, but with the little he had, he used it to put together an efficient space, simple yet cosy, in his words, almost like a home. In the background, he had a cookery channel on TV and in between our conversation, his attention would suddenly switch to the TV as he sees some new idea he could bring to his cafe. He tells me that his favourite is seafood, though his true passion is in the puddings. An admirer of regimental haute cuisine, refined elegance was something he aspired to in his work, "It has to be beautiful". In a small town like Kuala Belait, starting up a revolution as it were isn't exactly simple, the scale of economies are also several magnitudes smaller compared to say, London, afterall the population of KB is only about 40,000. The upshot of a quieter locale is that chef owners are closer, much closer to their customer base – something which is characteristic of eateries in Brunei – the personal touch.
Terry opens shop at 9am everyday, he dons his slick black and red chef gear, and armed with a smile says to me that he was going start his Thursday prepping a few of his favourite desserts for me to photograph.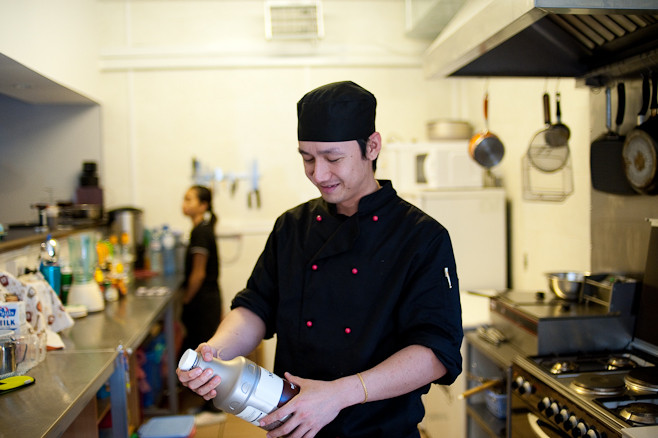 Here he is holding a huge tub of Monin chocolate syrup – the chocolate he uses in his puds and his hot chocolate, an ingredient in his dark chocolate orange creme brulee.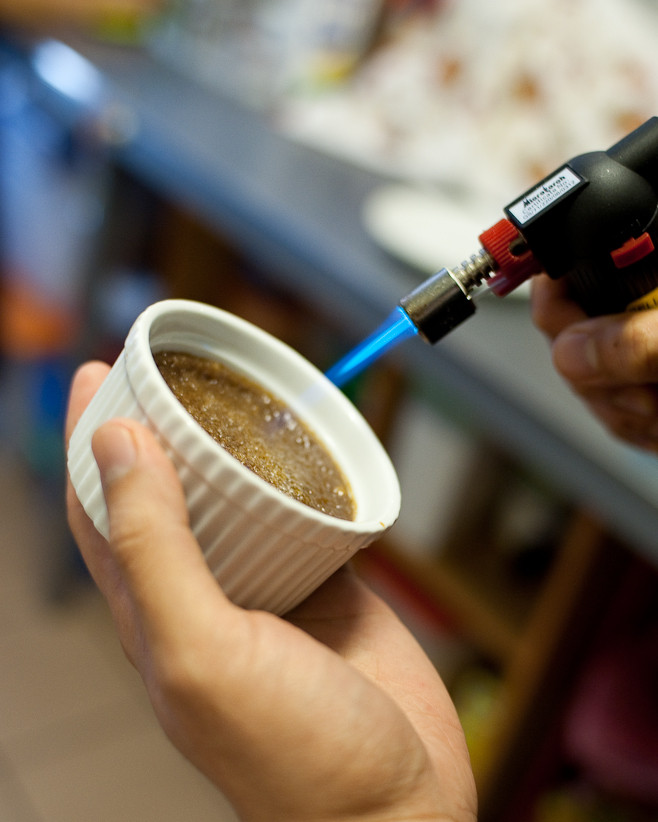 Here he's browning the demerara sugar top crust, I come very close to the action, very close because Terry was a little camera shy, so instead of shooting him, I started with the details. As the sugar caramalises, the kitchen starts filling with the aromas of a warm pud….ohh, can't wait to dig in.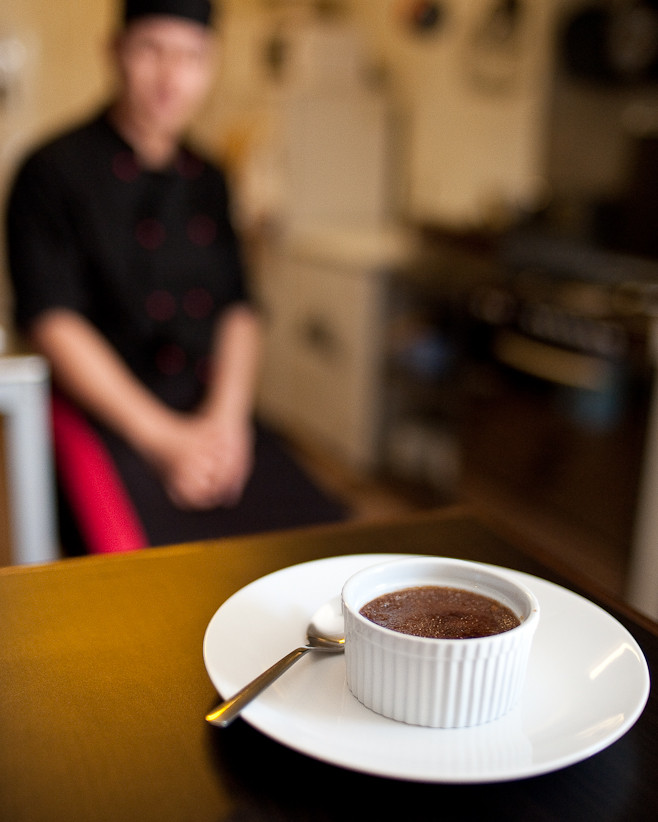 His recipe is quite authentic and the subtle hues of orange flavour stays on the back of my tongue. The custard is cold , while it's a little grainy, the hallmark eggy sweetness is present making it a pretty juicy spoonful. I prefer his original creme brulee recipe, though his brulees also come in green tea flavours – something which is popular in Asia, but hasn't quite picked up in the UK as yet…soon I suppose.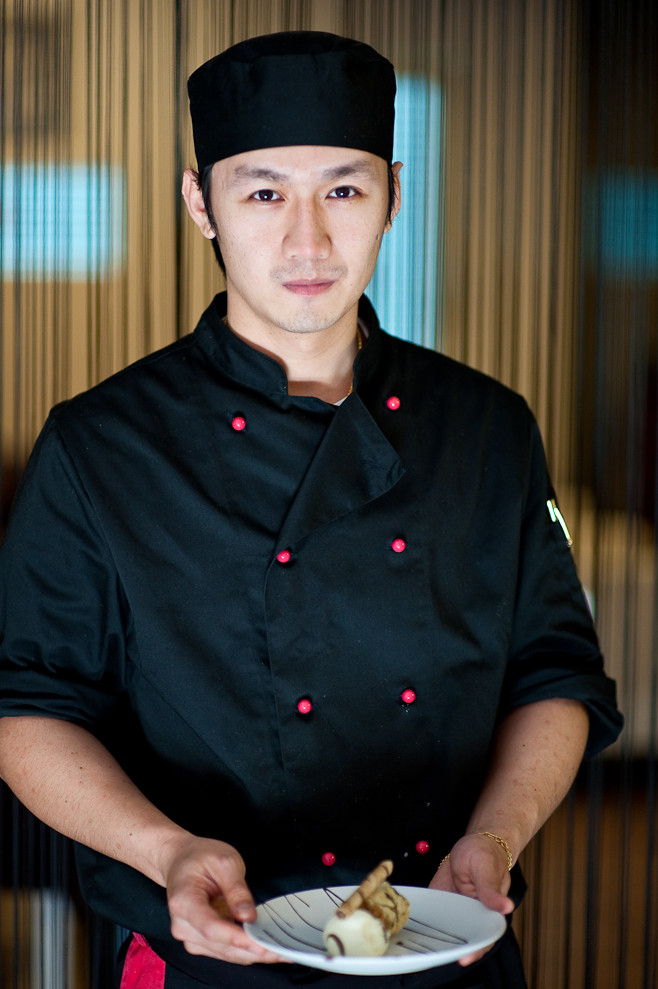 Brunei is a really sunny country, like seriously sunny and so the light is perfect for illuminating portraits. No strobes involved, this is all natural light, 100% at-the-edge-of-the-equator sunshine – great for some on location glamour shots. I finally got Terry to pose for me, he was still a little nervy but I think this shot came out rather well. I think he looks abit like a Hong Kong film star, Nicholas Tse… what do you think?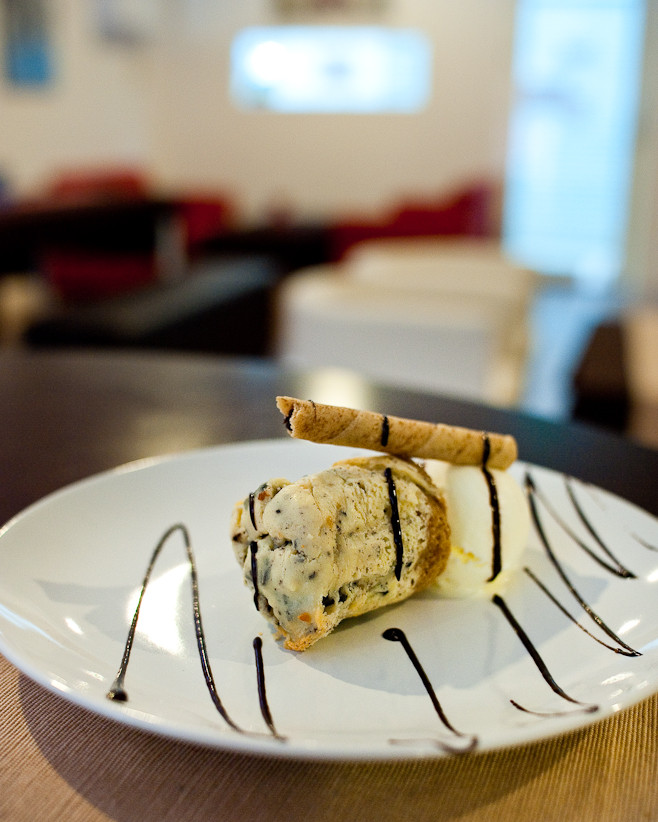 Here's another of his creations – this is his Oreo cheesecake. It's one of his 'remixed' recipes, the usual biscuit base is broken down and then mixed in with the rest of the cake, served with a dollop of vannila ice cream. He asked me if I thought the decorative chocolate syrup was a little OTT, I said I thought it was pretty cool.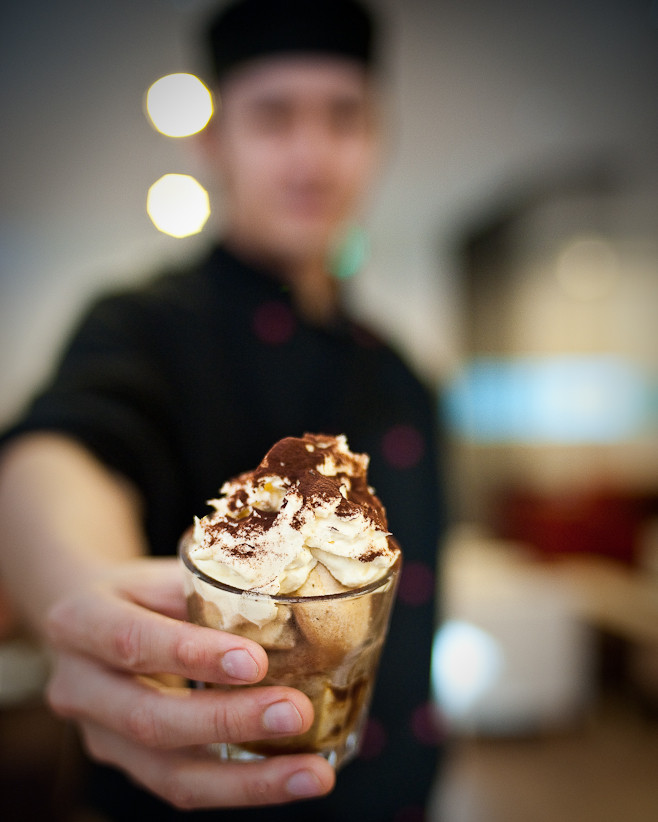 This one I really enjoyed. He was very excited when he told me about his 'on the spot' tiramisu, which I would describe as a sort of reverse Tiramisu. On the spot, since he makes it to order. Made in a short glass tumbler, I was surprised to find the thing was warm. The mascapone cheese made with a white chocolate sauce all of which sits on top is cold, the middle has the sponge biscuits absorbing much of the espresso, and the last third of the glass is warm coffee. I think this was his piece de resistance, as the contrast between the cold and the hot gave way to a rather interesting way of having tiramisu, albeit a kind of deconstructed version and in the place of heavy cream, was a light coffee dessert. It felt as if I was having an espresso, and a latte and a pudding all at the same time, quite an interesting experience.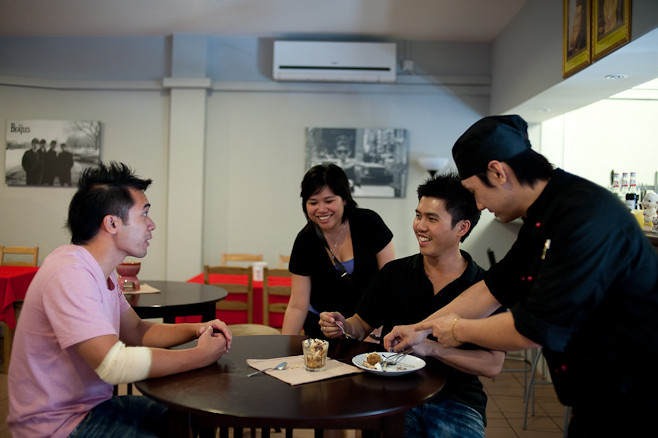 One of the best things about growing up in a small town is that you have friends for life, there is a kind of innocent charm where the neighbours are all friendly. The cafe is quite obviously geared toward fostering this kind of atmosphere.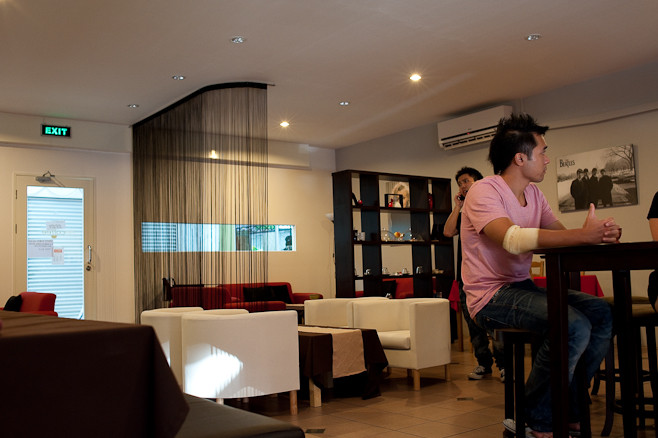 In a way, I really admired the rather humble setting, furnishings are done on a tight budget, but it lends itself to a personal charm and character – to me, I feel that this was the beauty of the independent sole proprietor. I should say, soul proprietor. There wasn't anything pretentious about the decor, it was cosy and I could freely let my hair down.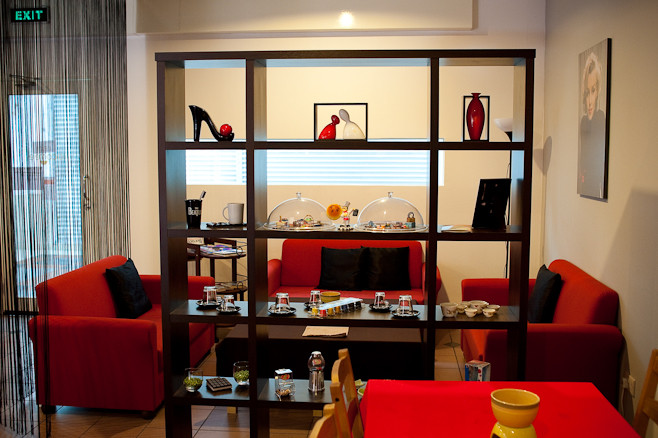 Time to go behind the stove.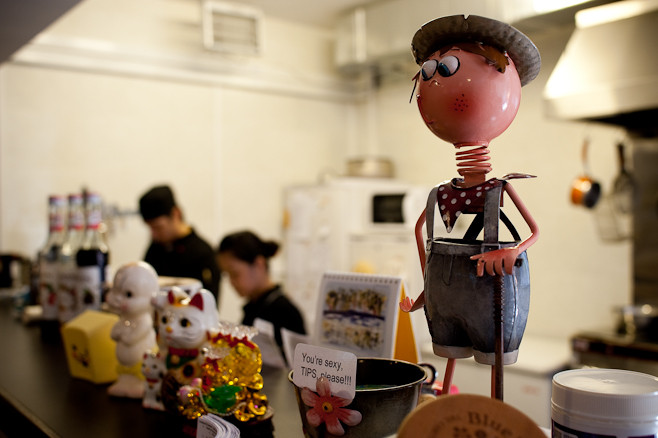 I would describe the kitchen as being very homey. It's not very big and he's still in the process of acquiring professional ovens, it's clean and but large enough to have about three people squeeze past.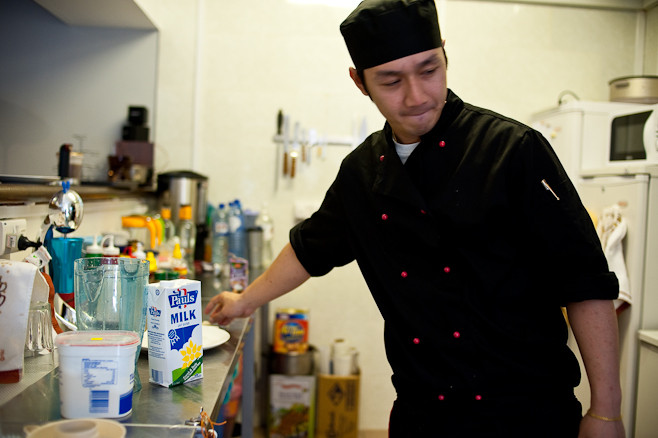 I told Terry and his staff to pretend I was invisible, blending into the background isn't always very easy with a camera as large as my D700.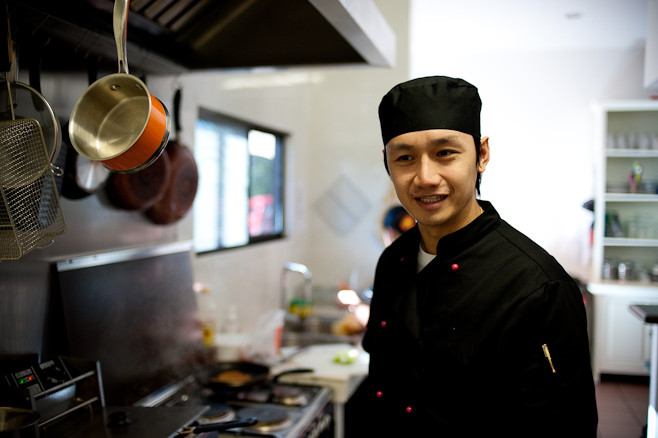 Terry works fast, spirited and he is a jovial chap. If you hadn't noticed, he works in the kitchen alone and manages all the cooking. Obviously, his two waitresses will pitch in every now and again, but mainly the kitchen is really a one man show. I've photographed many kitchens in the last couple of years, and every successfully run kitchen has a sort of heartbeat which jives to the rhythm of the restaurant. The more customers, the lively and more spirited the kitchen becomes. It's a kind of organised chaos you know, full of life – this is the reason I love doing these behind the stove write-ups, the life and soul of a kitchen is inimitable, and one of the few work places which makes one feel so alive and so human.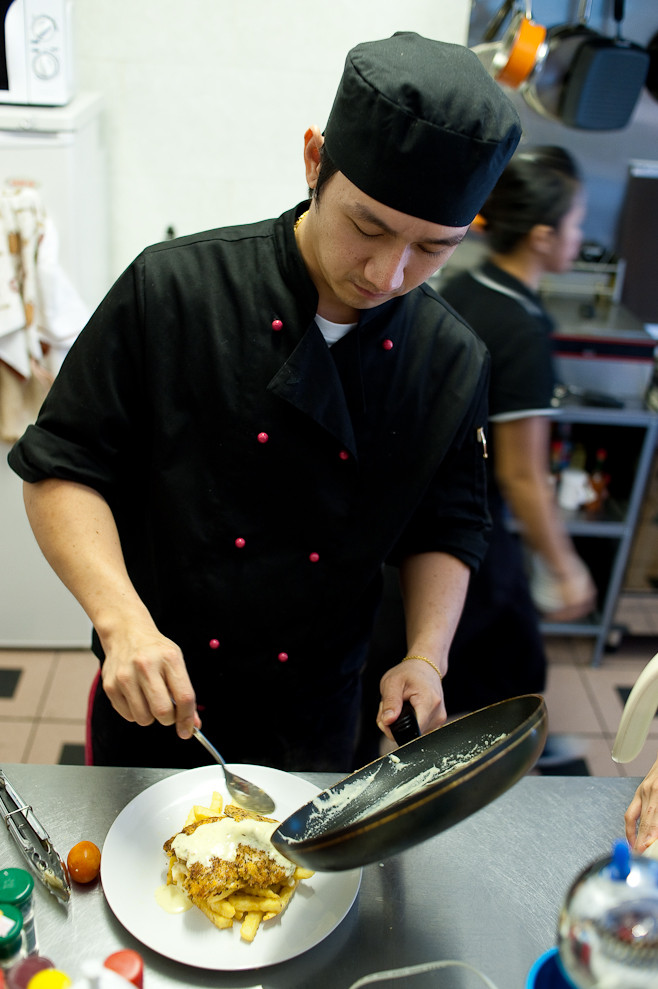 Terry is only just putting the finishing touches to his Parmesan Chicken and Chips – its another one of his inventions. Again, like his puddings, his chicken is also 'on the spot' and made to order. He starts with pounding his chicken to tenderize it, before laying on his secret seasoning and then pan frying it. He finishes off his parmersan chicken with a creamy garlic gravy.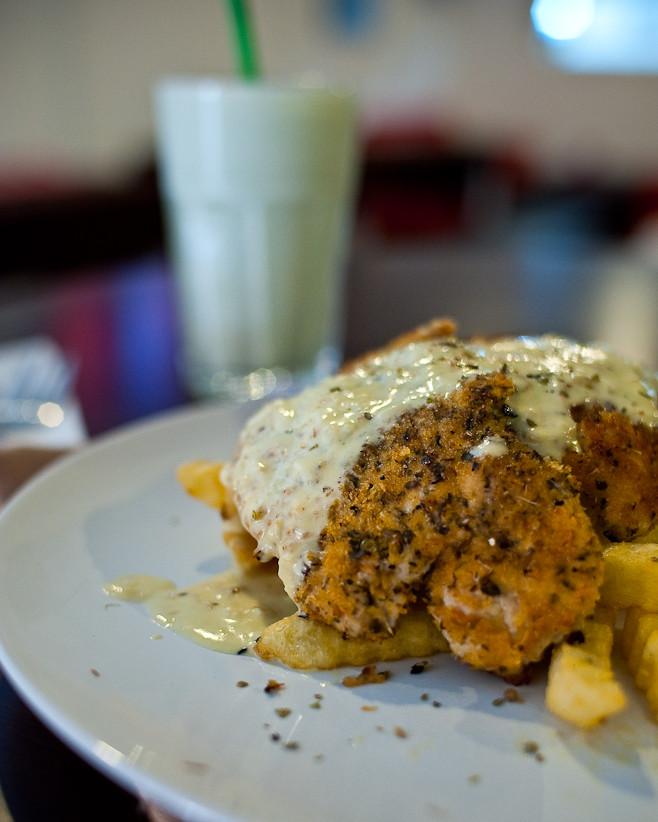 It's a seemingly efficient dish as the robust sauce was a punchy knock on my palette. I'm more of a french fries sort of guy, though I can deal with the crinkly too. Mainly though, I really appreciated the hearty rustic sizzle this dish exhibited – simple, tasty, unpretentious and refreshing. I said to Terry that he really should bring abit of Asia influence into the mix, I recounted the story of one of my long time local favourites in the nineties, and my mum and I used to order take out at this place alot – KB restaurant. The food was in a similar vein, a kind of Italian inspired cuisine, but instead of chips, they complimented their meats with butter steamed rice with a hint of garlic. Something which I hope will makes its way into Tez's menu. Before I forget, he's a health nut too and so his cafe serves these healthy fruit smoothie drinks. He made me a low fat apple yoghurt smoothie kind of drinks to go with the chicken – refreshing.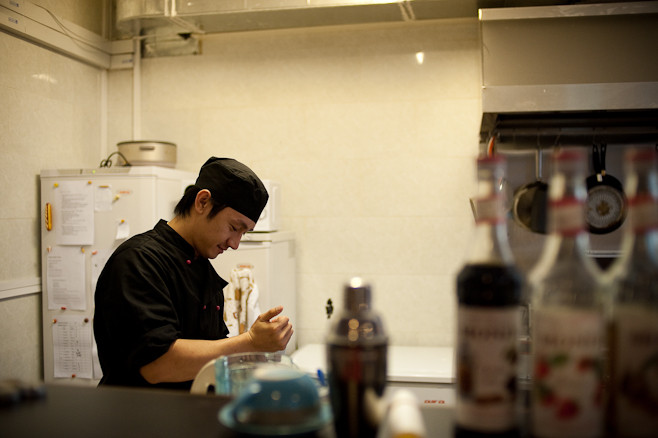 As I write this, we are closing in on the 1st day of Chinese New Year. Terry is opening his restaurant for dinner service since it coincides with Valentines Day. He briefly told me about his rosemary roast chicken and heart shaped butter breads which he is planning for, though he hadn't revealed the specifics as yet. He does have a facebook page to keep his patrons updated with current progress.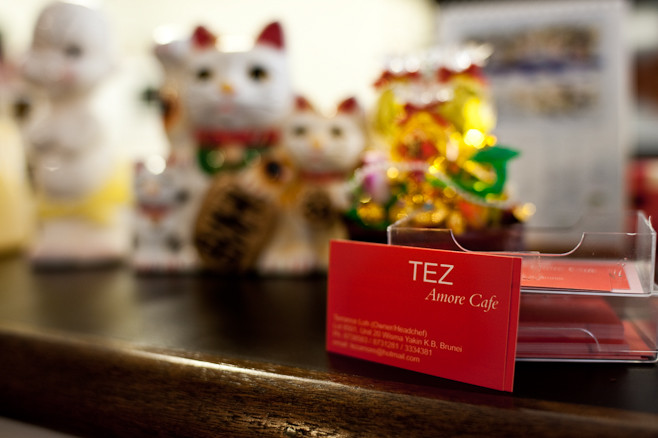 As my 48 hours with Terry came to close, I noticed how happy he was to be in the kitchen, for me, it was fulfilling watching a young'un take up the challenge of trying to make it in the world of food. "There is a big difference between $3.80 and $3.50 for a tub of ice cream" he tells me. "That's 30 cents per tub, or $3 for ten tubs, $30 dollars for a hundred, the different between breaking even and risk running a huge loss". The restaurant business then is a precarious one to get into – which is why it's a labour of love. As with most of my kitchen assignments, I came out feeling rewarded and I only have the utter most respect for independent kitchens, this is where the human story really stimulates me and something which I hope you find exciting and entertaining as well.
Finally, Terry's nickname while he was in Adelaide was Tez. He had wanted his cafe to be named the 'Chocolatier' or 'Amore Cafe' instead the authorities decided to merge his names when he was registering his business. And so Tez Amore translates to Terry's Love, or perhaps more accurately, Terry's passion.
Hope you enjoyed this little photo essay folks, I'm still roaming the lands in South East Asia, I will continue to bring you back stories whenever I come across something interesting. I'll drop in on you again to say a few words on Chinese New Year… and also for Valentines.
PS: You can see the entire set of photographs on my flickr account.
The Gist of It
Tez Amore Cafe Facebook fanpage BND15 pp
Lot 8501 Unit 20 Wisma Yakin
Kuala Belait, Brunei
Tel: +673 8738583
Email: tezamore@hotmail.com
Did you enjoy reading this post? Why not subscribe to my feed updates for free. Alternatively, You can subscribe via email.