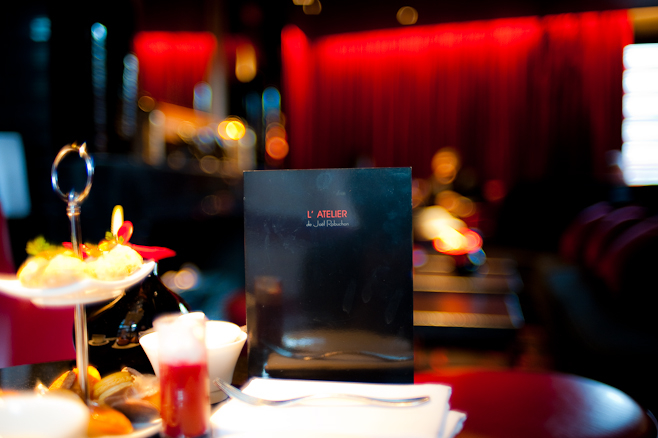 A little while ago, I met with Laissez fare, a fellow foodblogger for dinner and I walked away quite amazed with his wealth of knowledge regarding restaurants in London and otherwise. A kindred spirit and a gentlemen, my impression of this guy was that he just loved to eat out. So our conversations started with the obvious heavily promoted big guns around town and from there, it led him to speak about his favourite bars in town – especially the hidden ones which aren't talked about as much. It turns out there is a plush bar on the 3rd floor of Le Atelier de Joël Robuchon, yes that international sensation situation in Soho and which is proudly one of only seven institutions in London to hold two coveted michelin stars. So here's what I know, Joel Robuchon's team sent out a newsletter to their clientele on the 20th Jan 2010 informing the public that starting from the 21st, the Le Salon Bar would effectively turn into a setting for a spot of 'low tea', every week from Thursday through Saturday, 3 to 5 pm. I suppose this would make for a good meeting place to discuss business toward the end of the working week and so on. My partner in crime was smitten with the concept and instantly booked our first available friday afternoon off to sample their afternoon tea selection. But first, a few words regarding their lavish circumstances.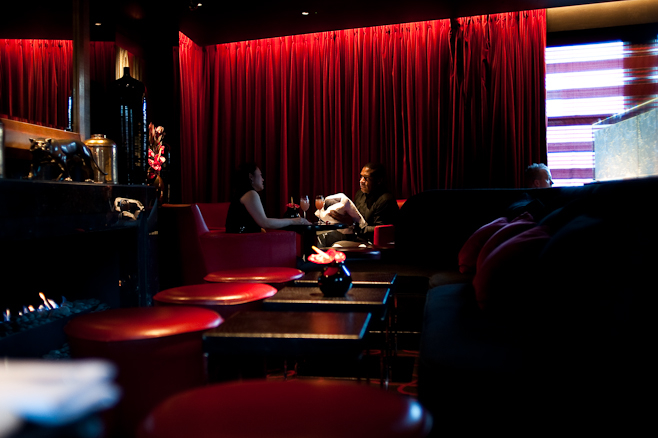 Slick. Very much so. The black and red theme consistent with the Robuchon brand is written across the entire setup. There are lots of soft furnishings to sink my overweight body into, ahh… We chose a corner table by the blinded off windows, and also for it's oversized single person sofas. It would appear the boys at Sketch have serious competition.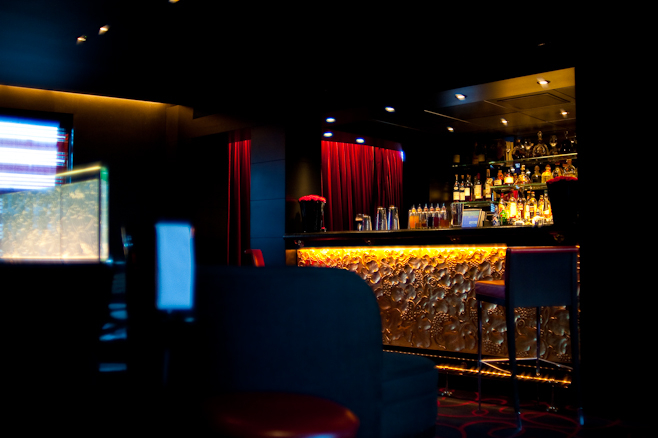 I'm no expert on interior design, but while the concept of La Salon is similar in spirit to the laid back elegance of the two star restaurant downstairs; the bar just feels a tad more opulent. While it appears like it could be a pretty stuffy place, the waiters are down to earth and made us feel right at home.
Right then, let's talk about the food, there isn't much on offer as it's just high tea. £14 per person gets you their tea selection.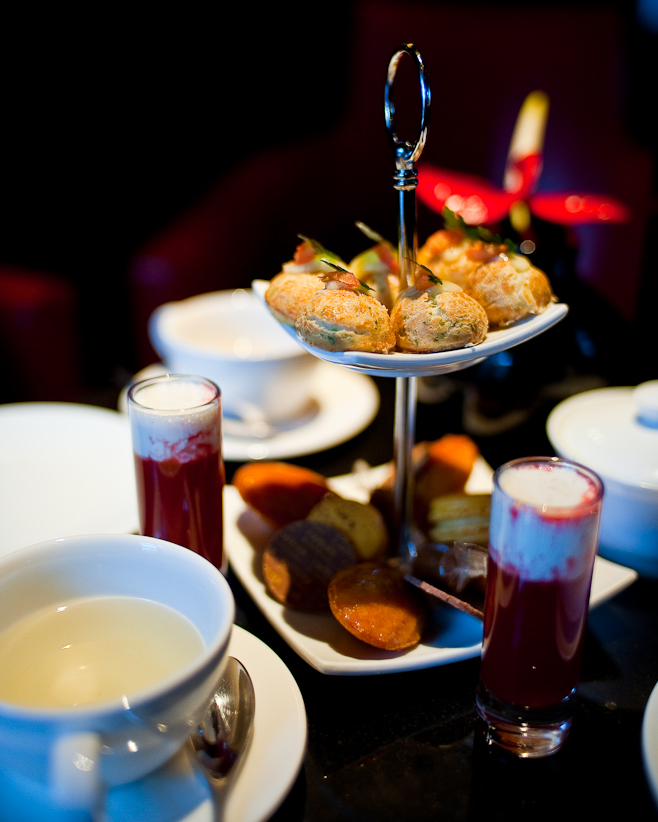 We were given a choice with regards to teas which included a myriad of exotic choices. My half chose the jasmine pearls, I was explore my feminine side with rosebuds infused tea…. yeah, turns out I don't like rosebud infused tea. As we went before the 14th of Feb (er… my apologies for not posting this earlier), we were given a complimentary shot of raspberry cheesecake – Vanilla fragrance followed by a rich red fruit bomb, refreshing. The main event is a two tier stand; it's dinkier than I had expected, and I went on an empty stomach – foolish I know. On the top tier are the La gougères au persil with red pepper and parsley – a sort of cheese stuffed pastry balls. These were delicious, served warm, the appenzeller cheese sauce stuffing was much like a creamy bechamel and with just a hint of dairy stink. Went down really well, I could easily have ten more. Onto the bottom tier, an assortment of sweet pastry. I started with the frangible mandelines. A sophisticated golden centre made from peaches, gave it a regal taste. The mandeline was then masterfully wrapped with an ultra skinny mandarin marmalade layer, so consistent it glistened in the light. Nice. Other pretentiously dinky pastries included a wafer thin chocolate and coconut biscuit made in size of penny coins. There were also stick to your teeth caramel candy each individually wrapped. I will however note that the macarons were only average, crusty and a little dry – not Pierre Herme, heck not even a patch on the average Parisian pastry shops.
Overall, I liked Le Salon, I think it's the nice alternative to indulge if you are looking for a place to burn your time and money. It costs less than a trip to the restaurant downstairs, though two tiers are hardly adequate, so don't expect to be fed well when you go. You know what this feels like, abit like a primer to get acquainted with the Robuchon brand before taking the plunge on their ala carte, and I think I just might have been seduced, again.
More photographs on my flickr account here.
The Gist of It
Le Salon Bar official site
L'Atelier de Joël Robuchon,
13-15 West Street WC2H 9NE
Tel : 020 7010 8600
Tube: Leicester Square
Did you enjoy reading this post? Why not subscribe to my feed updates for free. Alternatively, You can subscribe via email.