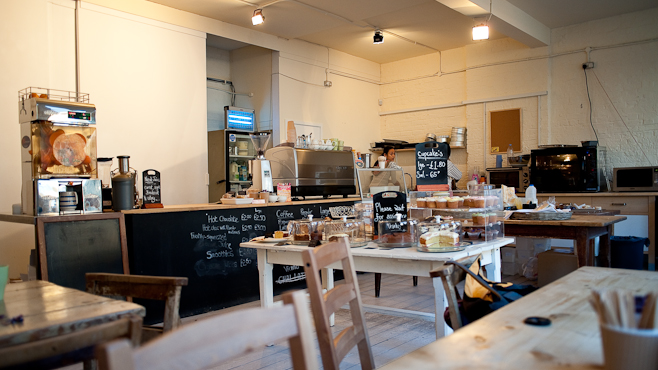 I say this with full confidence in my testosterone-charged manhood : I enjoy watching romcoms on the silver screen – the cheesier the better. Especially when the protagonist is a successful, young creative (but played by an older dude) who lives in an English speaking metropolis (aka NY) drives a dream car (or bike) and owns a penthouse. And he always manages to hang out at the coolest cafes in town, and the sun is always perfectly warm and vibrant – the image of a perfect afternoon cuppa… does it exist, or does it? Oh and there's always the girl, this one girl especially. Swoon…
And then one day, while me and my dreamgirl was strolling back from the park, we bumped into this heavenly spot which looks exactly like a hollywood set. Now all I need is Matthew McConaughey's torso.
CC's belongs to the Hugo's empire, which are in itself a handful of uber-cool neighbourhood brasseries.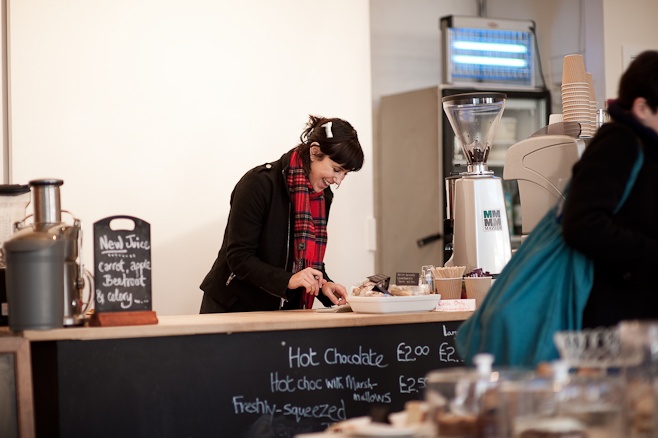 In fact CC's is situated right next to the Hugo's in Queens Park, and the latter of which features jazz bands on weekend dinner service. The coolest aspect of CC's is of course it's awesome space: Just one open kitchen/food presentation/cafe area, you can literally watch the girls put the icing on the cakes. The walls are painted with a pleasing beige (or white or whatever..), along with fragile looking wooden furnishings. The picturesque cafe is completed with barn style fold out doors fitted with large windows. When the weather is good, the doors are pulled back to reveal the cafe it in entirety to the elements allowing all that wholesome baked goodness to be bathed in golden light…. smiles.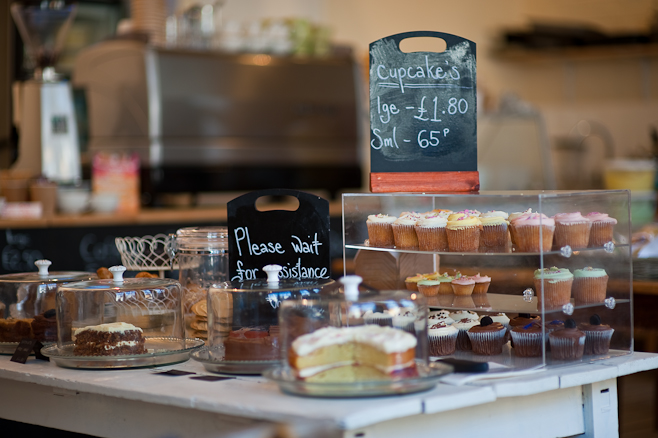 Cakes, pastries and baguettes are all freshly hand-made in the cafe and the smell of the cake mix and sugar and hot oven… oohh, heaven. I've visited the cafe maybe 5 or 6 times in the past few months, and on every visit there is always something new on offer. Cakes include coffee, carrot, oreo chocolate cheese (if memory serves me), victoria sponge. Everything is delicious, wholesome and seemingly baked with love. The last of which – I'm told – is the most crucial of ingredients in baking. The cupcakes in particular are nice. Portions and sweetness take a more sensible 'less is more' approach and I think it's a great alternative to the super-rich, super sweet, super icings of the branded cakes currently taking over the capital. Don't get me wrong though, I do enjoy Hummingbird creations, but there is a time for rich cakes, and then there are times for something less ceremonial.
While I am the biggest fan of Ginger Pig's awe-inspiring sausage rolls (undoubtedly the best in the Smoke), the CC's version is actually pretty good as well. Buttery, slippery and deeply meaty, it's definitely something which stimulates extra endorphins production.
Ok let's go to a 'real world' tasting of one of the cakes, this one is the victoria sponge, and a cappuccino.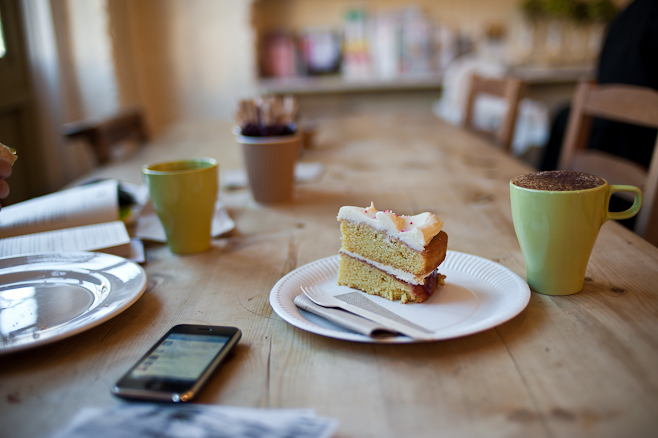 First of all – I love the long table. I had just developed some B&W prints and I chose to spread out my prints all across the table to view them (think flickr, but physical). The environs were so comforting that it felt better to do my photo work here, than at home. Coffee isn't going to break records, but the cappuccino is still a sterling one. As for the sponge cake – moist and light is the best way to describe it. The sugar levels are subdued (which is good), but that's only because all the goodness is hidden in the foamy icing. As I said, it's not super-rich, but I like it because its so simple.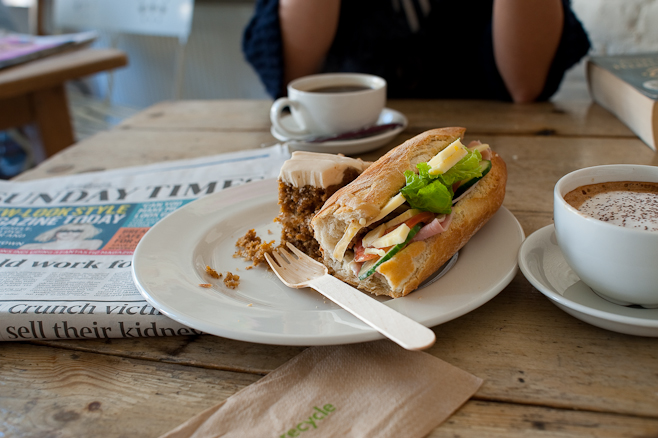 So I hadn't spoken about the baguettes yet. As you can probably tell, I visited on a Sunday and decided to mix my savoury and sweets. I chose a ploughman's ham & cheddar option, not bad. I had also tried more exotic selections including a hummus one, chicken and pesto, mozzarella salad. According to my research, they only do the sausage rolls on weekdays. I recommend them over the baguettes, they really are brilliant.
If you're in North West London, then you should definitely give CC's a try. It's a stone's throw away from the Sunday Farmer's market, and also just a few extra steps away from Queen's Park, meaning to say that it's perfect if you are visiting the area on a weekend. It's a very pleasant, family oriented part of London. Plus, you'll regularly run into Cillian Murphy at the park …. or a really believable lookalike. I suspect CC's is abit of a lifestyle side-project from the Hugo's owners, and I hope they keep going and going for the long haul because I'm a regular and being there makes me feel like Patrick Dempsey. Damn, I wish I had his mullet.
Enjoy the weekend folks.
More photos on the flickr set here.
The Gist of It
CCs £cheap.
19 Lonsdale Road NW6 6RA
Tube: Queens Park
Tel.: 02073721232
Did you enjoy reading this post? Why not subscribe to my feed updates for free. Alternatively, You can subscribe via email.