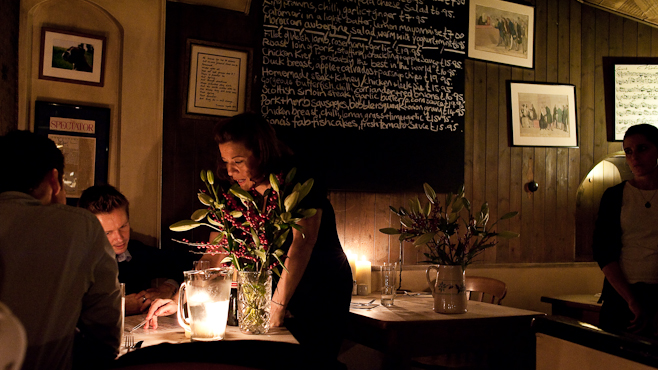 The first email from Ffiona's PR lady was a succinct one liner in which she asked if I wanted to know more, and inquired about my publicly available site stats. Naturally, I replied with a link to my numbers and an obligatory yes to her offer. A couple of days later, Ffiona (the owner, hence the name) followed up on my reply with a personal pitch about her restaurant. She started her message by establishing both our passion for the edible things. Her pitch was much shorter than the milliards of superlatively written releases that I receive and I'll be honest, I give very time to reading them these days. On the other hand, this was something I read almost halfway through. There was something a touch more personal about her email (or I'm just that gullible). She had told me about her hands on approach to her now sixteen year old labour of love and informed me that many local to the area, consider her restaurant to be the quintessential (ok that's me paraphrasing now) cosy neighbourhood spot. I was sitting at a hotel lobby in Berlin when I got this and thought it would be nice to check it out.
As with all my invites I fully disclosure the circumstances and Ffiona was kind enough to comp this meal.
The restaurant occupies a cosy little spot along bendy Kensington church street, conveniently nestled between High street Kensington and Notting Hill.
"Hello young man, you must be Kang, I'm Ffiona."
Woah. It must have been my starry eyes, as I was pleasantly surprised to be greeted by the restaurant's namesake. The first thing I wanted to know was how hands on she was. Was she always on hand for every service, day or night? Was she still cooking in the kitchen? The place is small, low ceilings and the decor felt more like a home than a restaurant. I was a little worried about the lack of lighting and how it would affect the photographs, although the cosiness took away any fears and it was nice to simply relax and take in the candle-lit ambiance. Once we settled into our table, Ffiona talked us through the menu board; starters included grilled prawns, aubergine salads and calamari. Mains were a selection of recognisable British meat & fish recipes, including Ffiona's fab fishcakes (which I didn't try). The choices seemed rustic, and I definitely felt like we were invited to dinner at someone's home, Ffiona's home to be exact. My good manners were on the table.
So let's have a peck at the food shall we. I couldn't pass up the chance to try something entirely homemade, the duck liver pate with soda bread – all freshly made in the kitchens.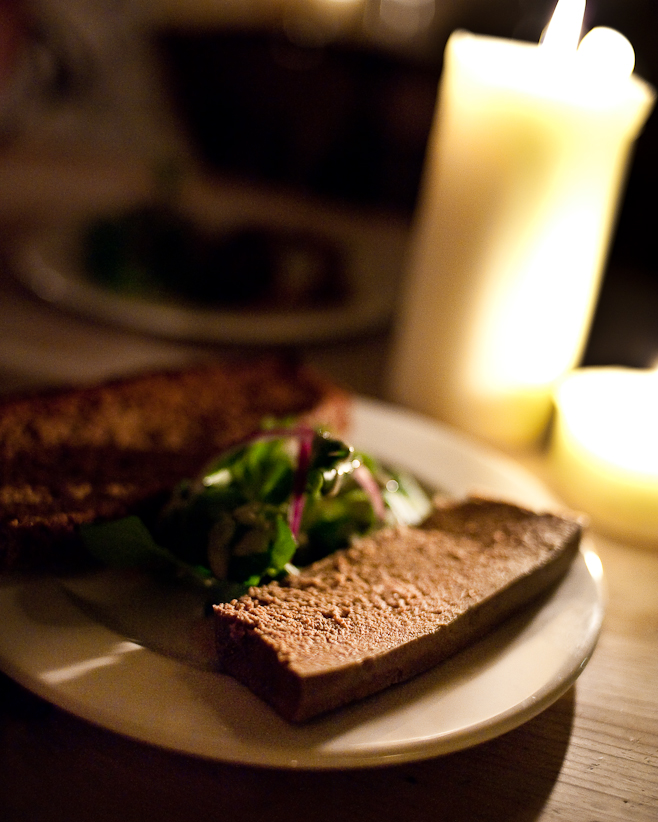 The first thing that struck me was grainy and coarse texture. There was a sort of whipped feel, where it seemed that air had occupied the spaces between the grains. It tasted great, fresh, warm and melty. The soda bread was the best thing about this dish – soft, warm and so wholesome, it gave out a fizzle with each bite. Well matched to the flavourful pate which reminded me of a childhood favourite: cheese flavoured twisties.
On the other side of the table, the dreamgirl opted for Moroccan aubergines with yoghurt.
Mushy, warm and with a chilli kick in the back end, cooled by a minty yoghurt sauce. The aubergines were nicely cooked and overall, I found the dish to be comforting, unassuming but nothing really spectacular. I much preferred the pate.
On to the mains now and we opted for the Scotch sirloin steak.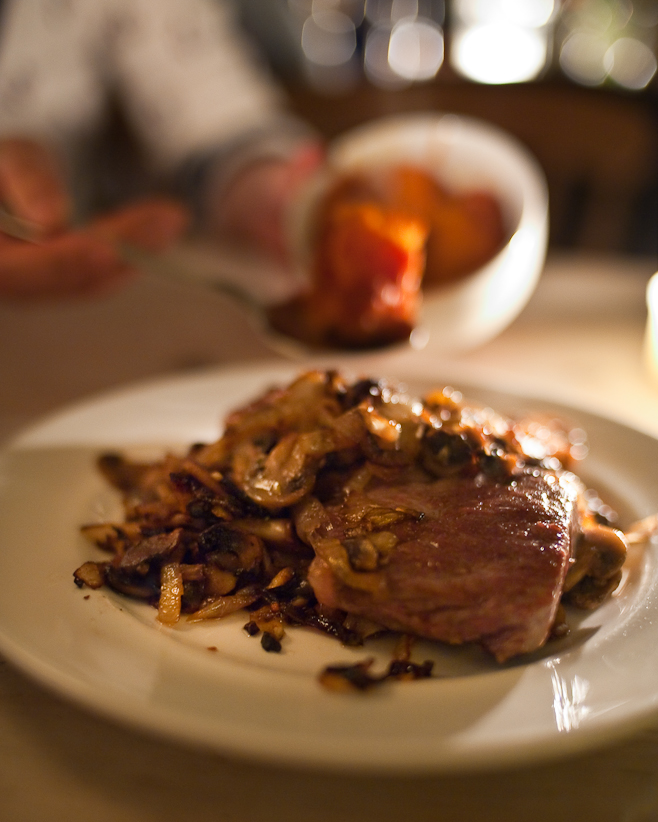 The steak was toasty, well salted and which led me believe that it was pan-fried. Sitting atop of it was a bunch of fried onions and mushrooms. It was ok, the steak was cooked on spec (medium rare) and the juices were still well sealed within the meat.
I've never tried Butterfish before, so I thought I'd chance it on this visit.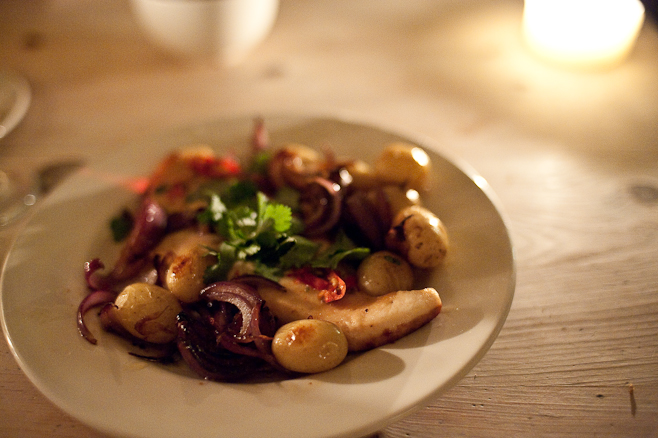 Served with with chilli, coriander, red onions and some new potatoes, I thought butterfish tasted similar to swordfish, though softer. A tad too much salt for my liking although I thought the fish was nicely cooked. Don't tell Ffiona this but as I was shifting the candles around the table to light the dish for a photograph, I accidentally knocked one over and a wadge of hot wax had fallen onto the side of the dish and also on to the back of my hand, luckily the candles were not scented, and my skin was still intact.
Dessert was piping hot bread and butter pudding which had only just come out from the oven.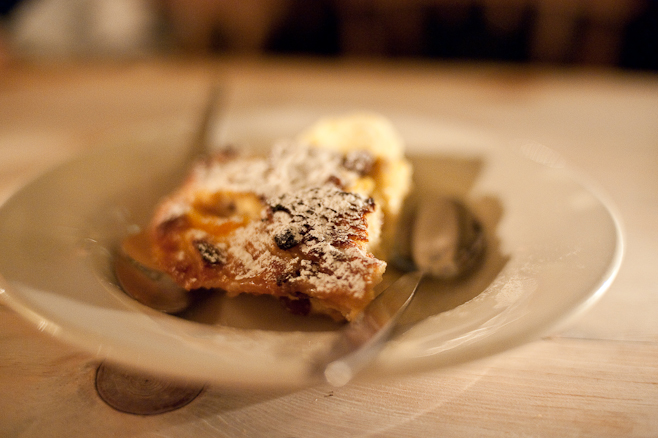 Mmm, you can smell the aromas from a mile away.
I think this dish summed up the Ffiona's experience. The pudding was fluffy yet light, the juices spewing from the centre were rich & custardy. With just a hint of smokiness, this was a bread and pudding baked with pure passion. Mmm so rustic and so hearty. So Ffiona sat down to chat with us in between the courses, and she managed snippets of her history and how she had left the glitzy glamour of Park Lane to start this humble little spot of her own. As the restaurant filled up with patrons, Ffiona was running around the place with a passion and she seemed to establish great rapport with all the guests around me. As I observed the exchanges, I realised how everybody were regulars. Hugs, kisses and well wishes all around. The lead picture to this write-up is a photograph of two young lads out celebrating a successful work venture (I overheard through the grapevine) and they had asked Ffiona to lay on the champagne. I was struck with how they had chose a modest setting when they could have splashed out at a pricier location – there must be something special about Ffiionas. As I captured more information, I realised that they too were regulars and their exchanges with Ffiona were like a proud mother asking her boys how they'd like to celebrate their top GCSE grades… alright maybe not, but you get my drift. They popped their second bottle of bubbly just as I left the restaurant. What a romance, I've always admired sole restaurant owners – to borrow from the PR dictionary – and their 'hands on' approach to things. I think personally investing time in building a relationship with customers counts, and Ffiona certainly seems to work hard at it. The food may never arouse Michelin inspectors (or maybe they would, who knows, any of you readers know (or are) a Michelin inspectors?), though I don't think it's just about the food with neighbourly places such as Ffiona's; it's a place where you can keep going back to because you feel connected to it. My dreamgirl was happy with the meal, and we gestured at how this place would have been the perfect venue to organise a small company Christmas lunch with colleagues. Too late for 2009, but perhaps next year.
More photographs from the meal here.
The Gist of It
Ffiona's official site
51 Kensington Church St. W8 4BA
Tel: 0207 937 4152
Tube: High Street Kensington or Notting Hill Gate
Did you enjoy reading this post? Why not subscribe to my feed updates for free. Alternatively, You can subscribe via email.