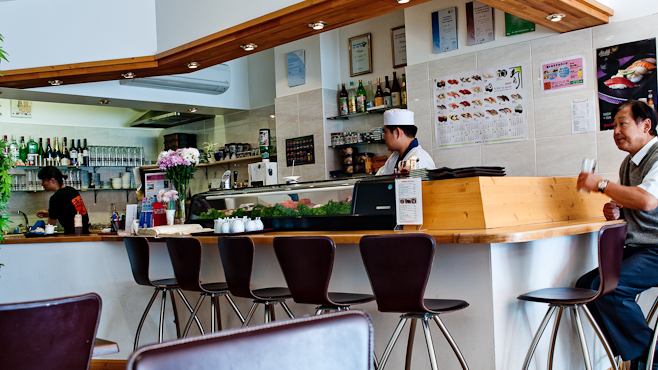 Everybody knows that LondonEater endorses Sushi Hiro to no end and it is my most frequent spot to cure my equally frequent sushi shivers. With such a great place so near to the office (people still don't believe that it's only a 15 minute tube journey from Park Royal to Ealing Common) , one would think that my quest for the raw stuff has reached its zenith. The problem though, is that Sushi Hiro goes on seriously long breaks. We're talking about month long breaks in summer. That's one month of no tuna belly for me – imagine the withdrawal symptoms. As the holiday season steam rolls in, I fully expect another 10 day hiatus.
The point of this obligatory rant : if you find yourself standing and cursing in front of a shut Hiro, then fret no more because there is another one just 10 steps down the road, yes folks, every Everest has K-2.
Keep reading sushi lover, keep reading.
Ealing common might be a bit of a trek for most of you in the Eastside, but as I work in an office owned by Japanese, there is definitely a market for quality Japanese food in my part of town. I have been going to Kiraku for about 3 years now and I can safely say I have a holistic perspective of their food. The venue itself is bright, clean and almost has the feel of a cafe. Granted, they aren't quite as small scale as Hiro, but they are family run and do have a cosy ambiance to boot. Having once worked/lived with a family run chinese takeaway for a month, I can appreciate all the hard work that goes into it. I suppose as a restaurant goer and aspiring critic, sometimes I forget about the passion restaurateurs have for food. Anyway, as the name implies, one certainly feels the 'Relax and Enjoy' atmosphere at Kiraku.
Right then, appropriately so, let's jump into the first order of the day: Sushi.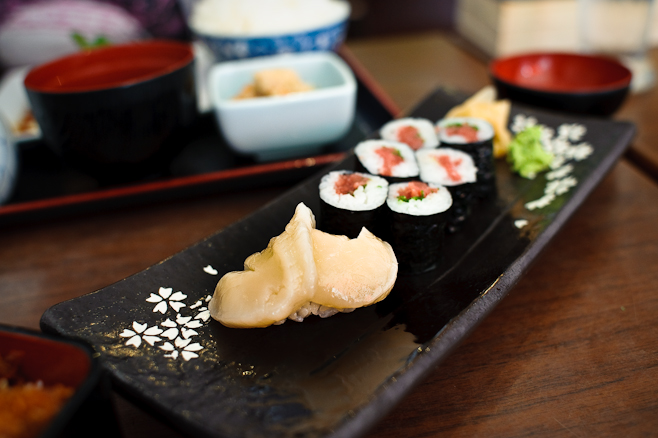 Let's start with the scallop nigiri and the fatty tuna roll. Obviously, I will be making comparisons with Sushi Hiro, and I'd like to point out some significant differences between the two sushi menus. Hiro serves more traditional style sushi, ie, nigiris, sashimis and basic rolls. At Kiraku, the menu extends to include more creative options, such as the Ebikatsu Cheese roll. Yes you read that right, the that's prawn tempura and Camembert cheese in rice (scroll down to read about it).
But first, let's try the more conventional sushi. The scallop was fresh, sweet and melted in my mouth like regal silk. £2.20 – well priced and is competitive with Hiro. The fatty tuna with spring onion moso roll (£4.60) wasn't too exciting. The sushi rice was a little too sour for me. While there was a good bounce, it wasn't quite as smooth as Hiro. You know what I'm going to say really, in terms of sushi, Hiro is the gold standard, but Kiraku is certainly no slouch in this regard. The sushi is well priced (3 pieces of salmon nigiri at £4.50) and will give many sushi bars around London a definite run for its money.
Ok, now on to the Ebi Katsu Cheese Roll (£8.80)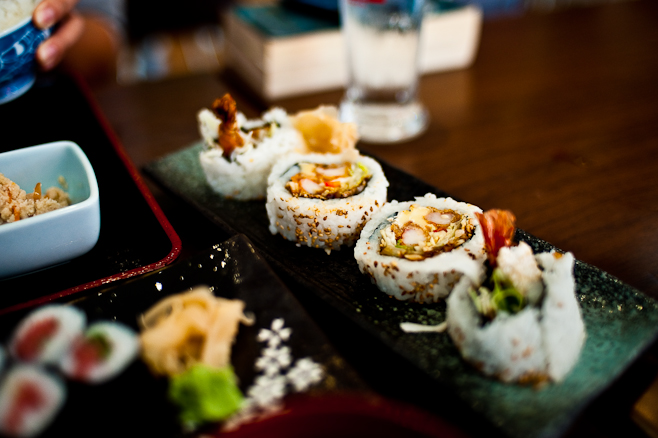 In addition to breadcrumb fried prawns and the camembert (with rind) , there is a sweet miso sauce and cabbage (I think, but feel free to correct me) stuffed in the roll. Wow, ok this was… weird at best. It tasted like soured milk and honey, wrapped with muddy rice, and a cheese that melted to a mush probably due to the heat from the still piping hot prawns. The strength of the cheese coupled with the juiciness of the prawns, sort of gave way to a candied rice. It was like having pudding and mains at the same time and I really don't think cheese and soya sauce go together. Top weird.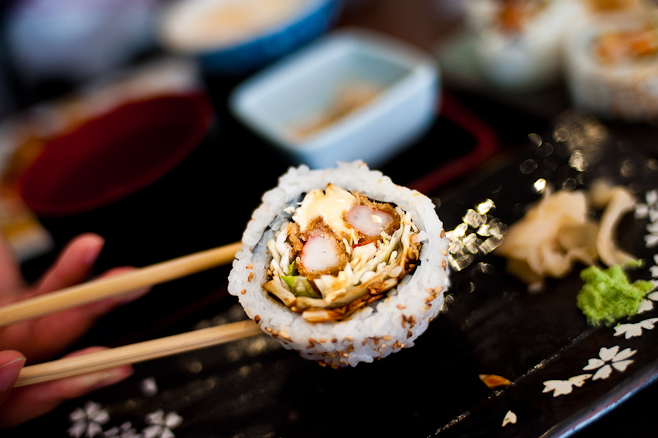 Here's just a close up of the prawn & cheese roll. Actually the prawns were quite delish, after I scrapped off the cheese, the ebi katsu roll was rather edible. Don't let this novelty dish scare you though, because the other sushi rolls on the menu are genuinely delicious, like the Dragon roll for instance, which is a california roll superloaded with unagi on top, and then shaped like a dragon.
This review is written over two services, a lunch and then a dinner, and the reason for this is to illustrate the differences between the two services.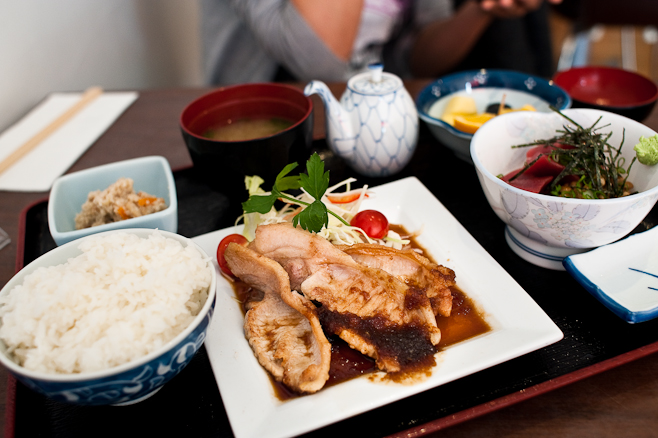 Let's start with lunch, pictured above is their lunch special, which is a sort of all in one bento meal that includes a meat – in this case stir-fried ginger pork – , a starter-side dish which is natto and tuna sashimi, potato salad, miso soup and a few slices of fruit to finish. Price: Ten quid. I know right?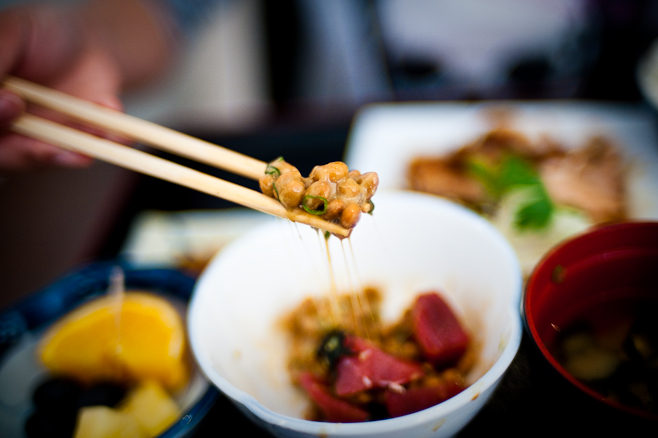 Yeah – let's work that depth of field on my camera. Needless to say, the lunch special was a hearty meal, the thinly cut pork was very much a home-cooked meal, but it was this distinctly slimy and coffee tasting natto beans that piqued my palate. Yummy, you wouldn't believe the value for money. Further proof of Kiraku's lunch friendliness are their mini-dons, we also ordered a mini tori katsu don with an egg broken on top. Six quid.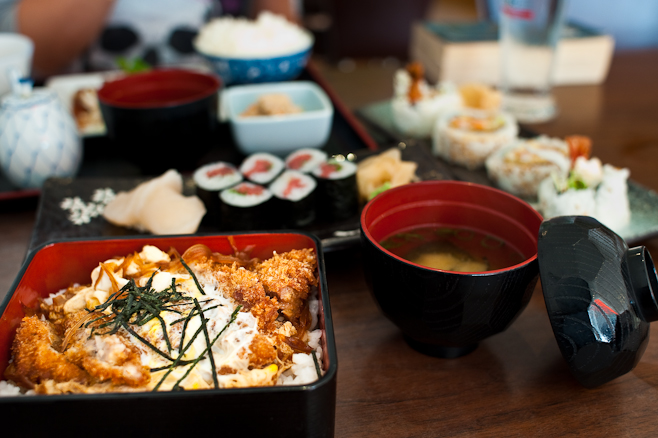 Despite their claims, there wasn't really anything mini about this don, at all. Just look at that egg only just beginning to cook on top of the chicken, yummy. The steaming rice was heaven and just so homely, and I could find no faults with the appetising chicken, plus a bowl of miso soup. The point being that I could actually afford to have this sort of lunch everyday. There are adult-sized versions of the dons as well, going for a tenner. Superb value, in your face, McD's.
Ok let's get into dinner service then. The anticipated harsh winter nights are almost upon us, so it's only appropriate that we kick off this section of the write-up with a review of their tempura udon soup.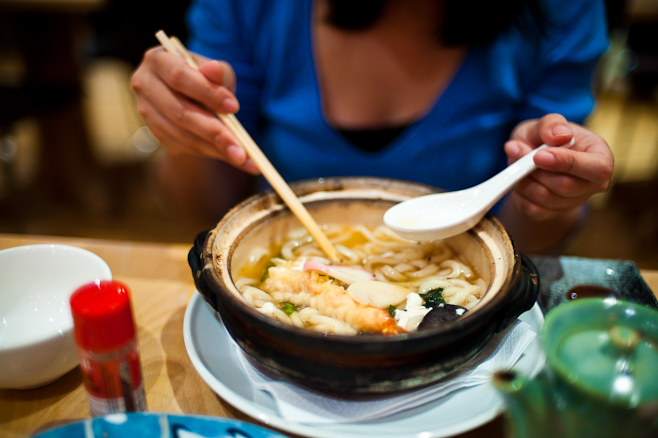 It comes in a claypot and with a full bodied soup base that will tickle your tastebuds. The Udon was nice and bouncy, but it looked rather like one of those mini-dons I touched upon earlier. The portions were paltry, and leaves one wanting.
Similarly, another miniature version of the Tonkatsu was wheeled out. I see alot of cabbage (seriously now, is it cabbage?), I even see cherry tomatoes but where's the pork? Oh there it is, I forgot to jot down the price for this dish, but if memory serves me right, it's about £9 for a small cutlet of six. That's £1.5 per bite. Yikes.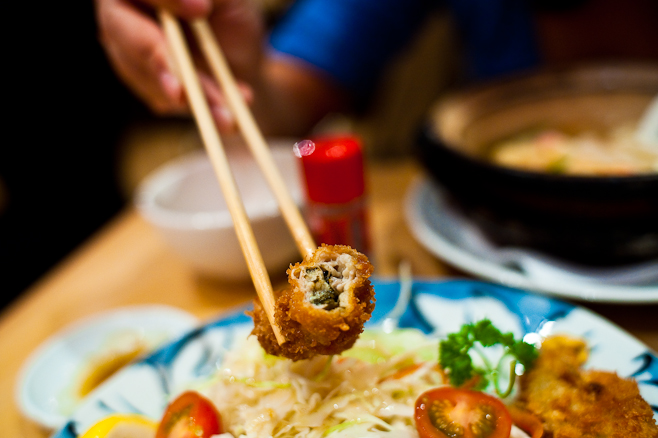 Harumph, I don't mean to sound miserly, but I am illustrating the difference in price/portion when you dine at Kiraku, depending on the time of day. For lunch, you could eat like a king for under £15, but to walk away with a satisfactorily full tummy (my definition may differ from yours) for dinner, you might be expected to pay perhaps twice as much.
This particular dinner ended with a nibble at six deep fried oysters – yummy. Aside from grumbling about the price differentials, Kiraku is a cracking Japanese restaurant. Sushi is better than most, but not the best; The rest of the cooked food is of a high standard. You'll usually find Japanese business men tucking away a warm dinner at Kiraku (most probably my bosses) and in my opinion, it is competitively priced when compared against it's counterparts in Central London, inspite of my rants. If you are a Tomoe regular, or a Sake no Hana regular – few but I'm sure you're out there – you will probably find that Kiraku offers bang for the buck.
The Gist of It
Kiraku official site £30pp
8 Station Parade W5 3LD
Tel: 020 8992 2848
Tube: Ealing Common
PS: More pictures of the two meals on my flickr account.
Did you enjoy reading this post? Why not subscribe to my feed updates for free. Alternatively, You can subscribe via email.