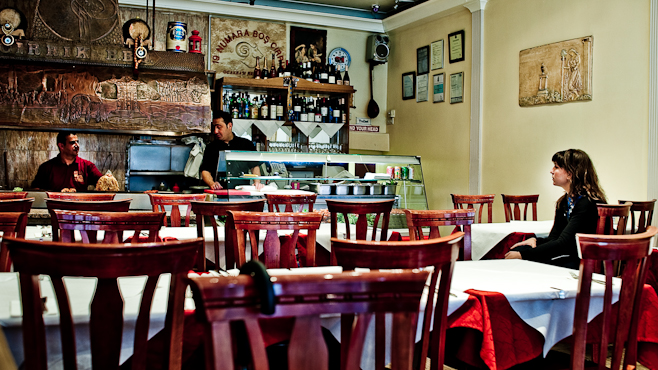 I discovered Turkish food in Belgium, where a mutual friend introduced me to this diverse cuisine. I recall quite vividly having parsley and cheese filled pastry – 'Su Boregi' – for breakfast and then washing it down it with strong Turkish coffee (or was it tea?). In the evening, we were whisked to what looked like Little Turkey in Brussels. Turkish restaurants lined both sides of this street, and for the curious gastronome in me, my eyes lit up like a Christmas tree.
The restaurant we stopped in was neon-lit, had a singing fiddler and pianist to entertain as we ate. After the meal, I was intrigued with Turkish food, and consequently made it priority on my to-eat list when I got back to London. I know next to nothing about Turkish restaurants in London (or in general), out of my depth I turned to the wisdom of my trusted source, Timeout. Having relied on TO's succinct reviews since about 2004 and having also once tried to hit all the red stars in their annual guidebooks; I believe most of what Guy recommends. I think with critics, it's about following someone's palate who is similar to your own, even when no two sets of tastebuds are really the same. In spite of the rise of many a brilliant foodblogs, I still respect the word of proper food critics, and besides, Guy does have twenty years of restaurant reviewing experience.
Enter 19 Numara Bos Cirrik I in Dalston Kingsland. The 'I' denotes the original branch, there are three in total, and I suppose a testament to its popularity. It's a green star. In addition to being home to the 'Pho Mile', it appears that Dalston is also home to a vast array of Turkish restaurants. Numara is small, the counter displays the uncooked kebabs and next to it is a charcoal grill. There isn't much to shout about with regards to the rest of the decor – shaky tables and shaky chairs. The menu is filled with abundant choices and I spotted a selection of Pide – the Turkish 'equivalent' of Pizza – which I've been itching to try since Belgium. Unfortunately, I was informed that the special oven that they use to make the pide wasn't switched on during my friday lunch visit, my first Pide experience would have to wait. We settled for a couple of kebabs instead. A spicy chicken one, and the 'Adana' kebab – a spicy lamb recipe.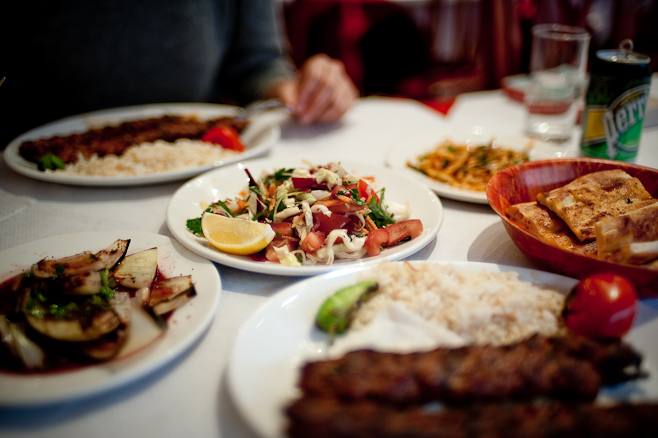 Each kebab is about £10, and I was surprised when they brought out all the dishes to accompany the kebabs. Sides included two types of onions; One in pomegranate sauce, the other in chilli. A large plate of raw salad and a large bowl of turkish flat bread with rice and a thin pita complimenting two huge sticks of kebab. I was expecting a quick lunch, but this was a right feast!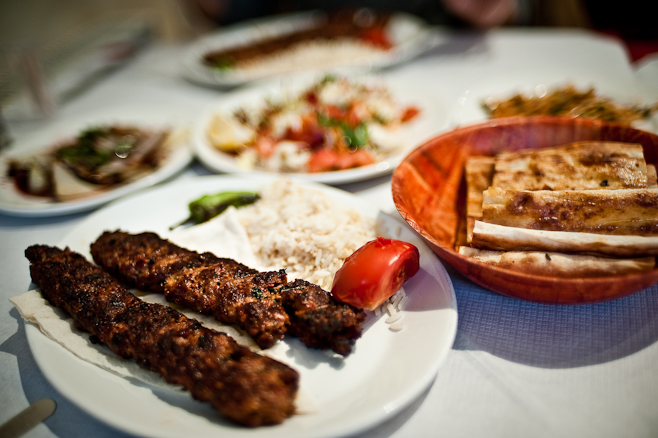 Woah – the kebabs were really delish. Toasty, spicy and chocolatey. A buttery texture and ginormous portions which left us bursting at the seams. I thought the spicy lamb was better than the chicken one, it had more muscular flavours in comparison, though I suspect that those who like more subtle flavours might be better off with the latter. I didn't really enjoy the salad, the citrusy pomegranate onions were mildly interesting, the flat bread was great with the kebab.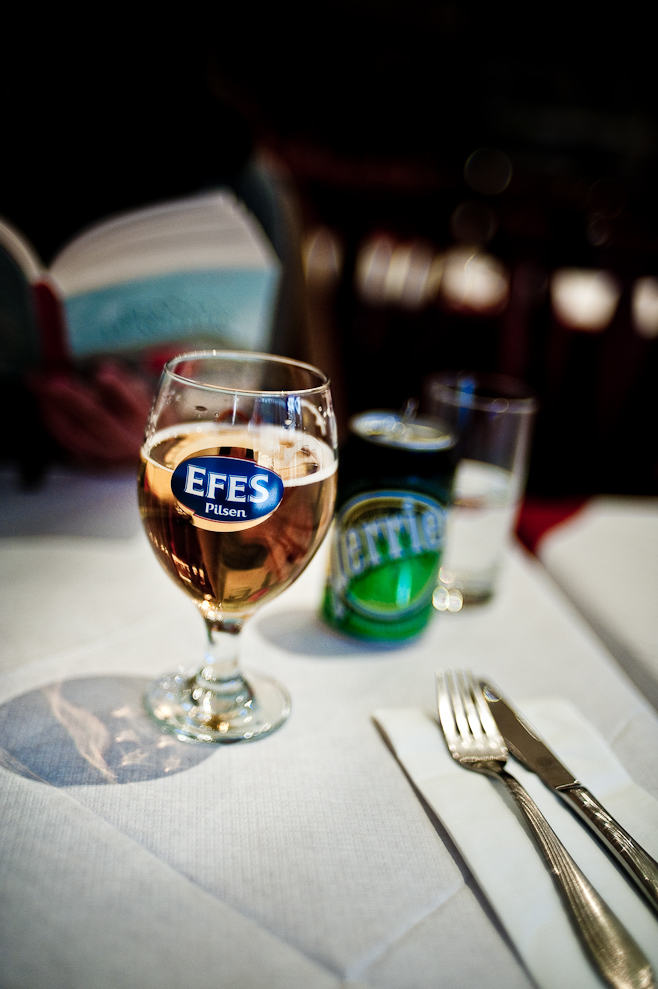 I spotted Turkish peperoni and egg as one of the toppings and am still a little torn that I didn't get to try a Pide. Plus a can of Perrier and a bottle of wheaty Efes (Turkish beer), our bill came to just under £23. Would I go back? Oh heck yeah, the kebabs exuded a distinct smokey quality, the portions were large for the price we paid, so much so we hardly had room for dinner on the same day. And so my introduction to London based Turkish cuisine was a positive – if subdued – affair. The next Turkish conquest on the cards is the highly rated Kazan in Victoria, and if you have a few suggestions for yours truly, do let me know and I will add it to the list.
The Gist of It
19 Numara Bos Cirrik £15pp
34 Stoke Newington Road N16 7XJ
Tel: 020 7249 0400
Nearest Rail: Dalston Kingsland
Did you enjoy reading this post? Why not subscribe to my feed updates for free. Alternatively, You can subscribe via email.