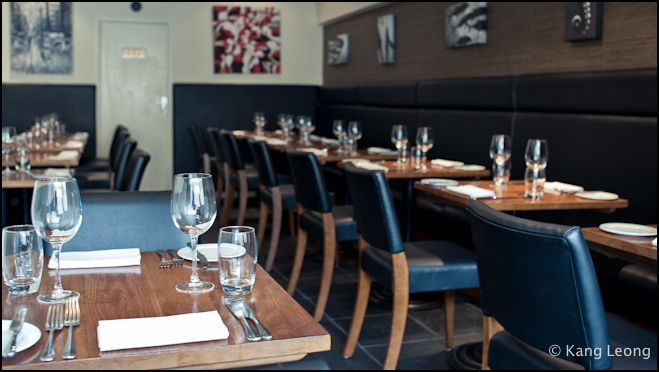 "You sound surprised." Michael's response to my initial thoughts about his food. I blurted "Yeah. It was great." with bulging eyeballs. Indeed I couldn't hide my instinctual outburst. This was a restaurant that had mostly flown under my radar until now. Full report after the jump.
*Note: This meal was comped by Michael Nadra's PR team.
I read Fay's poetically inspired take[1. Fay Maschler reviews Restaurant Michael Nadra] (in print actually, in the ES, funny how it's more 'memorable' as opposed to online reports..) and had become thoroughly intrigued – 'Heartbreakingly effortful' was how she described it – with not just Michael Nadra, but also the improving outlook of restaurants in the sleepy suburbia that is Chiswick. We already know about the one starred La Trompette[2. My review of La Trompette], we also know about Le Vacherin (sister restaurant to the excellent Le Cassoulet[3. My review of Le Cassoulet]) as well as the fairly new Franco Manca outpost. When the email invite dropped into my inbox I jumped at the opportunity obviously, it was a restaurant I would have gone to myself.
Who is Michael Nadra? Yes I wondered that too initially. His profile is mostly kept to a minimum even though he has been cooking at his restaurant for five years now. Formerly the Fish Hook, it was opened by Nadra in 2005, and as I understand it with much of the same team intact, he had decided on a relaunch of sorts plastering his name on the front door and expanding the menu. Fish Hook had previously received generally positive reviews[4. See past reviews of Fish Hook], though the reboot has failed to catch the eye of the zeitgeist as of writing. The expanded offerings now include meat, a Euro-inspired (Italian-French seemingly) style of cooking with the odd shade of Asian on the palette. So that's Lasagnettes, Pithiviers and Tatakis.
I think his CV deserves a mention, and you'll find that the pieces already floating about, also hint at Michael's illustrious past. It glows like radioactive pie. Even the official website very proudly dedicates an entire page to his background[5. Read Michael's background]. Stints with Nick Nairn, then with Gordo first at Royal Hospital then at (the old) Petrus (which is technically Marcus Wareing at the Berkerley). He served as Sous Chef to Mr Poole at Chez Bruce, moving to Howard's The Square, and then back to Poole's The Glasshouse and to La Trompette. He has even worked with Anthony Demetre of Arbutus/Wild Honey. The chap has worked in serious Michelin establishments. I'm just thinking about the diversity of all the culinary secrets he must have absorbed over the years, he could write a book, hell, he should write a blog.
Amuse bouche, Pea and asparagus soup.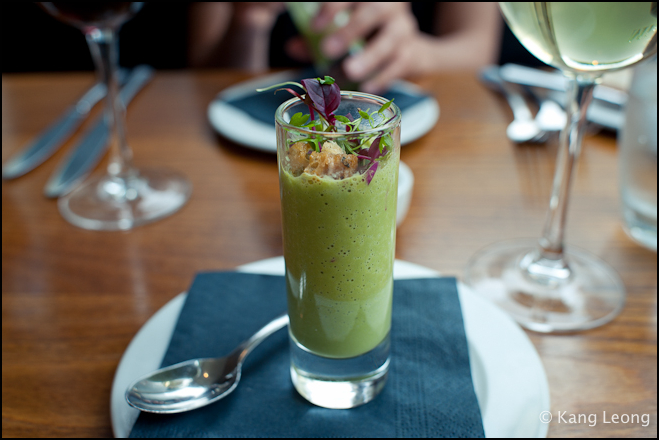 A foamy and warming veloute to start, not indifferent to what you'd likely find in French inspired restaurants around town. Creamy, thick, 'cappuccino-like', a nice start.
The wine was great, 2008 Gavi di Gavi from Bricco, an Italian white from Pimeonte made from cortese grapes. Lusciously viscous, lots of bold fruits jammed in but it is also goes down very smoothly.
Starters
Lasagnette of Calf Sweetbreads, Foie Gras & Shitake Mushrooms with a Truffle Veal Jus £11.50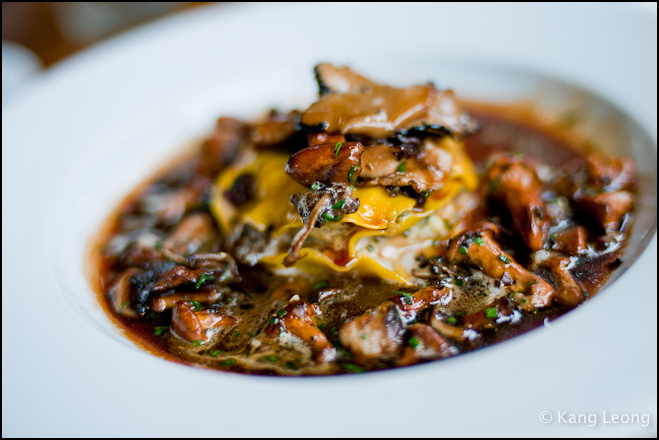 This dish wow. Generous black truffle shavings sat atop a large pasta parcel perhaps two-thirds the size of my fist. The soup made from a medley of mushrooms. It had bags of flavour, the aromas hitting my nose were ethereal. Rich. The potent mushroom-truffle jus was more than enough firepower to pair up with the sweetbreads stuffed lasagnette. I noted parsley as well. The characteristic softly mushy texture of sweetbreads added an interesting touch to the experience altogether. It was all about the sauce, majestically puissant.
Seared Yellowfin Tuna with Soft Shell Crab Tempura, King Prawn Dumpling & Oriental Salad £8.50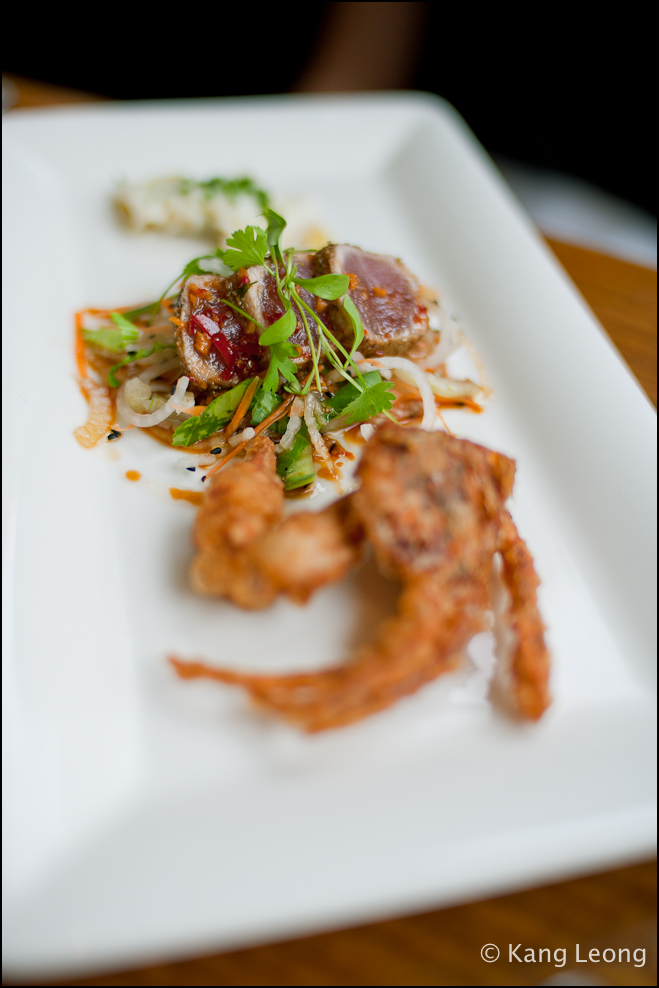 On the other side of the table, the better half was tucking into a Japanese inspired starter, the tataki-style tuna charred outside and still ruby red in the centre was beautifully cooked which came with a herby salad, coriander, chopped chilli, pok chai, onions. It also came with a silky, floury wonton-style dumpling (boiled too I think) as well as a deep-fried soft shell crab. My only grip however was the over enthusiastic use of soya, the dish became too salty.
There was a huge pause between the first and second course. Half an hour to be exact, considering there were only three occupied tables in the restaurant, we were bemused with the kitchen's snail-speed. Perhaps they were just being meticulous? Anyway, so it then I starting taking notice of the rather drab dining room. It had a very hollow feel to it, while it's usually vogue to go basic, this decor however lacked a cohesive style or authenticity. It was anonymously clinical.
Mains
Grilled Sea Bass with Buttered Courgettes, Saffron Crab Ravioli, Basil & Bisque Sauce £17.00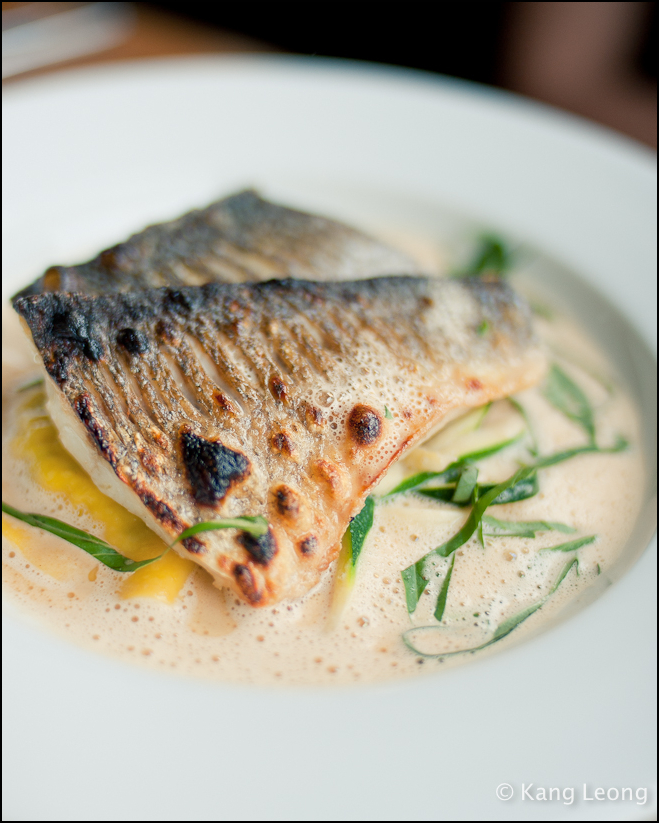 Being that fish was Michael's previous USP, it was only natural we sampled some. Saffron is such a lovely ingredient no? It just adds a kind of cherubic fragrance to a dish, along with the sharp seafood flavour of the crab stuffed ravioli as well as the crab flavoured soup, it formed an alluring combo on the palate. The seabass was cooked just right, crispy on the outside, flaky and just a little under on the inside. I really do feel the crab bisque made this dish, it reminds me of juiced avocado milk or juiced honey dew with the fruit flavours replaced with fishy savouriness.
After the meal, Michael told us this was a legacy dish from the Fish Hook days, its popularity amongst regulars ensured it permanence on the menu.
Roast cod, prawns, asparagus £17.00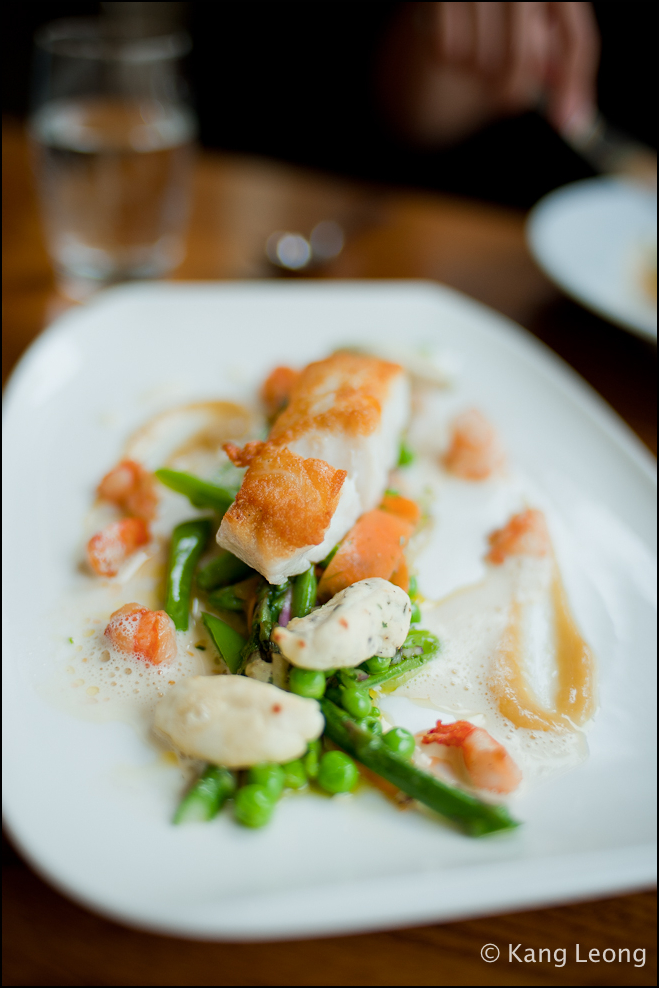 Interesting. A thin golden brown crust shielded a well-cooked cod, juicy, flaky and silky like oil glazed jelly. There was a tarty shrimp paste on the side, with an equally shrimpy foam but all of which felt unexciting. I didn't really think that the asparagus, fennel and pea salad gelled with the fish, the crunchiness and the sweetness felt disconnected. Don't get me wrong though, I love cod and it was well-cooked, but as a dish, there wasn't enough to sustain my attention span.
Sides: Asparagus, Samphire (£3.50) and triple cooked chips (£3.50)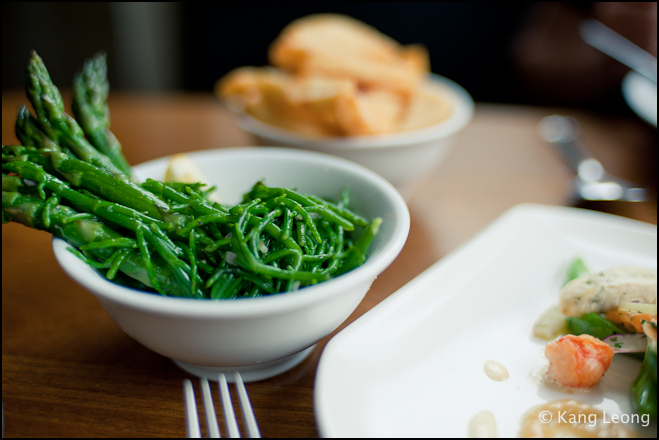 Samphire on any menu is a winner. Samphire and asparagus are two winners in one. The triple cooked chips were great too, fluffy inside, puffy outside, I would have preferred it just a tad crispier, but these were great nonetheless.
Desserts
Salad of Blood Orange, Kiwi, Pineapple, Nashi Pears, Thai Green Mango, Lychee & Cointreau Sorbet £6
Oh the real star was the lychee sorbet, beautiful sugary fruitiness (just like lychees!) with a soft citrus zing plus a refreshing selection of chopped fruits, yeah this was nice, like an extended palate cleanser.
Chocolate Fondant with Salted Caramel & Vanilla Ice Cream £6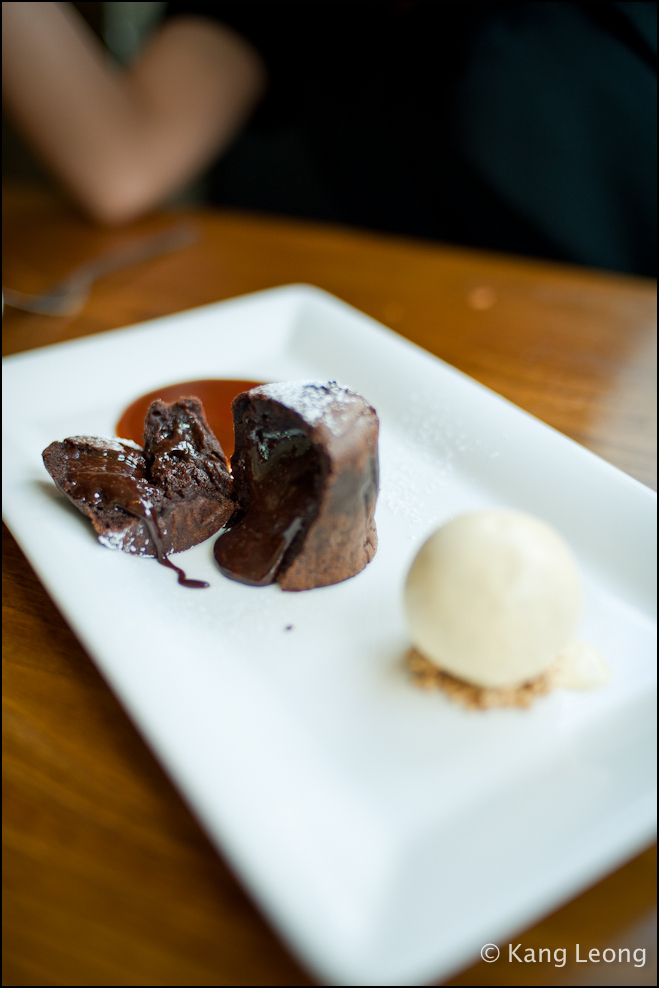 Finally then, fans of gooey chocolate fondants should be pleased with the exactness of this pudding. Though on a general note, I think London restaurants rarely fail to deliver on the chocolate fondant. It is almost a standard feature these days.
Michael came out to say hello to us at the end of the meal, and it was then I told him how astonished I thought his neighbourhood restaurant was. I almost feel cheated that this was a comp as opposed to 'discovering' the restaurant on my own, nevertheless, I appreciated the hospitality. Michael is a spirited character, energetic and gleeful, attributes reflected in his style of cooking as well. It is worth adding Michael Nadra to the shortlist if you are ever in Chiswick, it certainly gives La Trompette a run for its money. The ala carte is mostly £8.50-£17-£6 for three courses, some dishes costing abit more, for £40, you'll eat quite well. Or you can opt for the five course tasting menu for a mere £42. Great value for money, virtuous execution and if you can overlook the sterile ambiance, you'll be rewarded with great food.
The Gist of It
Michael Nadra
Modern Euro, £40pp ala carte; 3 course set menu start at £16
6/8 Elliott Road, Chiswick W4 1PE
Tel: 020 8742 0766
Tube: Turnham Green
The long and short: Fay Maschler reviews Michael Nadra ; Fay reviews Fish Hook ; Timothy Barber for City AM ; ViewLondon ; Su-Lin reviews Fish Hook
Did you enjoy reading this? You can subscribe to the Newsletter. Alternatively, you can subscribe to the RSS feed.