Some of you will know that in addition to my bloggero duties here, I also put my foodie cap on and provide short restaurant reviews and eating lists for Metrotwin.com.
What is Metrotwin.com?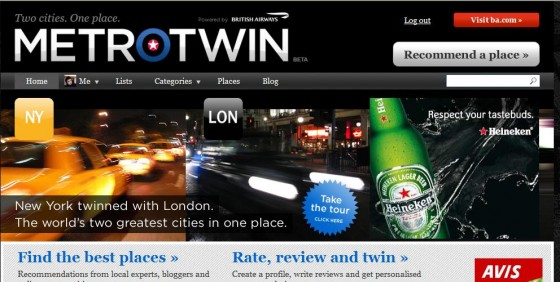 It's a spanking new website which provides lists of exciting places/stuff to do in both New York and London. It's backed by BA.com and is a kind of promotional tool to encourage people to fly that route. All the content is provided by the bloggers who are signed up as content partners with them and the idea is that independent locals will have the low down on the very best hidden gems in the city.
How to get a free holiday to New York?  
All you need to do is surf on to Metrotwin.com and register with them before 15th January 2009 and you will be eligible for the competition to win a pair of economy return flights to New York and three nights in the Plaza NY. Conditions apply, see here for the details.  
It's completely free to register and when you do, you'll be able to create your own lists too. It's a cool website, and you can go and read some of my recommendations on it. I'm KangatLondonEaterdotCom on Metrotwin, register now and you might be on your way to New York very soon!