Even with Brexit looming, the economic case for this rapidly modernised part of town is apparently still sound enough for a heavyweight F&B player to enter the fray. Perhaps the owners of the original Duddell's Hong Kong (DHK) see parallels between the two locations, as the original opened in 2013 (at the top of flagship Shanghai Tang on Duddell's Street), opposite the bling The Landmark. To great acclaim as you know, gaining a star in year one (eventually promoted and subsequently demoted) and even more amazingly, it is but one of many success stories for the restaurant's owner, JIA Group. The story here is really about JIA's founder Yenn Wong, in possession of the midas touch with boutique hotels and well researched restaurant concepts. Perhaps coincidence, but likely not, she and fellow Singaporean Loh Lik Peng (backer of Londrino a stone's throw away, and Town Hall Hotel amongst others) both share a London business partner in Jason Atherton, through his sprawling Social empire which today is spread across 3 continents.
It's not the first time a high-end HK based restaurant has attempted to crack the London conundrum (in which some of our esteemed tastemakers continue to think the London originated Hakkasan/Yauatcha franchise to be a reliable global benchmark for Cantonese cuisine rather than what it is), though quite unlike the zeitgeist, I rued the loss of Bo London, and believed it was a little ahead of its time. I suppose its not pratical to articulate 'this is what its suppose to taste like' with mere words, if it wasn't part of your childhood, and like all cuisine that travels, it has a tendency to adapt to the local taste. A spot of crispy aromatic duck anyone?
Having said that, good Cantonese food is far from unfamiliar territory in Britain, although I do think that London's Cantonese food has been in a bit of a decline lately. I'm old enough to remember when Wardour Street cooked decent plates of wok-hei filled hofun, or how the old 1997 still did silky white-cut chicken rice, and do you remember the days when you could choose between TPT and HK Diner for nostalgic Dai Pai Dong feels? While globalisation has consigned some things to history, the shifting sands of soft power is partly the reason we're now getting direct imports from a crew at the very forefront of Cantonese food today.
I say direct, but rather than transfer one of the chefs working in DHK to this site, the owners have poached Daren Liew instead – the ex-Exec Sous at Hakkasan. Prior to his Hakkasan stint, the Malaysian-Chinese Chef had spent his formative years in Malaysia and Singapore, notably for the Mandarin Oriental in both Spore and KL. I don't know about the extent to which DHK influences DL's menu here in St Thomas, since I've never been to DHK. Even so, the style over there may itself have changed with the recent appointment of Fung Man Ip as Chef. Stepping in after Siu Hin Chi left to Ying Jee Club.
Back in London, the interior design is rather breathtaking, formerly St Thomas Church, and pretty much still looks like one. Going through their website, there is clearly a lot of effort in snazzing up the dining experience as a whole. There is an art program at DHK, which I imagine will doubt announce itself at DL soon enough. In some ways, the approach to ambiance is a reminder of 山海樓 Mountain Sea House in Taipei. They do both dim sum and dinner menus here, with an apparent use of luxe produce to signify the category it is pitching in. Although it is not quite the same level to match Asia. No sign of bird's nests, fish maw, ginseng, conscious that a market for those things don't really exist here.
We went for lunch in Dec 2017, and ordered staples from both the dim sum and ALC menu. I am old-fashioned when it comes to Chinese food, road-testing fundamentals so to speak.
So we start with Dim Sum.
Chicken taro croquette, £7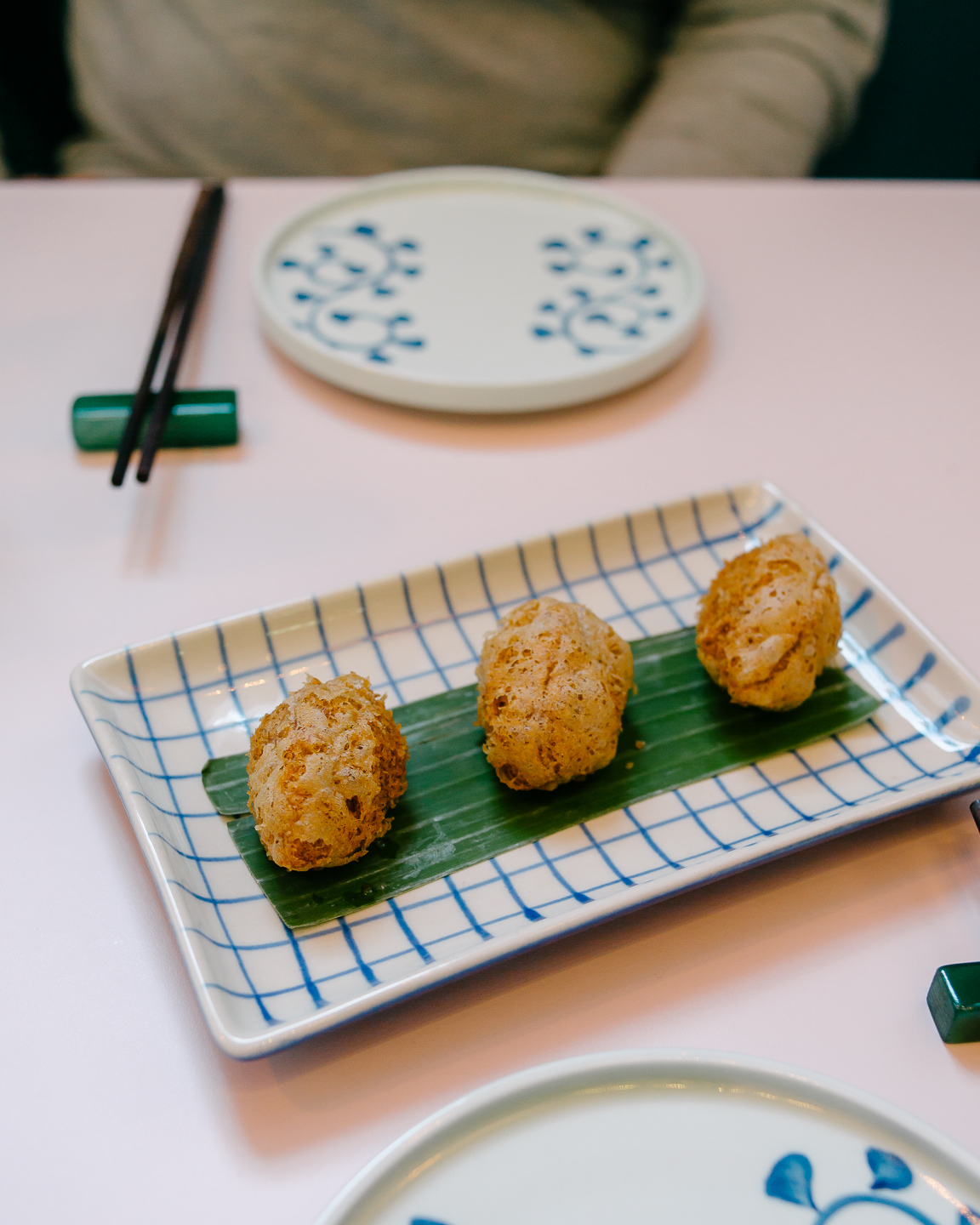 Pretty tasty filling, but they've fried this either too high or too long or both, as the crust is like breaking into cement, and far from light and crispy.
Beef and foie gras on toast, £9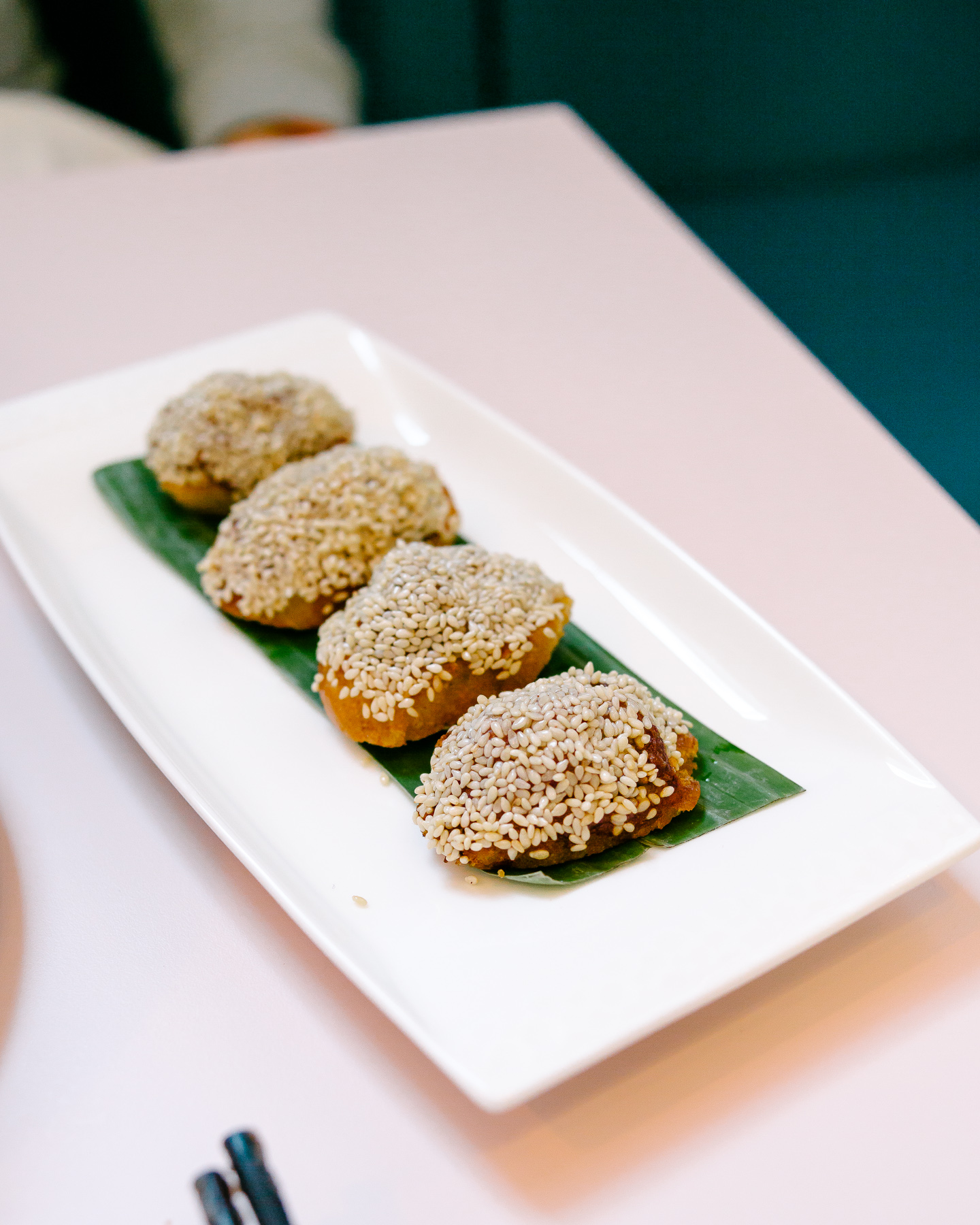 I didn't expect to see deep fried mince on sesame toast, but yet again here too high or too long. Dense texture, incredibly greasy, I dare say, I rather have a corndog than this.
Har gau, £7
Very good whole prawn, but sadly the skin was jelly-thick and sticky.
Shui mai, £7
You taste mushroom, but it lacks the ethereal balance of pork fat and prawns, tennis ball texture, drying and perhaps even oversteamed.
So dim sum…yeah, hmm. At this stage, my opinion is that the quality is average and that's going by London standards. It just lack finesse for this price point. In the same way that pastry sections are the domain of pastry chefs, dim sum really calls for a specialist to look after this side of things. Whoever Daren has got on dim sum ain't cutting the mud just yet. It is early days of course, and not all restaurants can get dim sum and dinner menu to the same consistent level.
Which brings us to the ALC. This on the other hand is much more promising. We ordered the following dishes.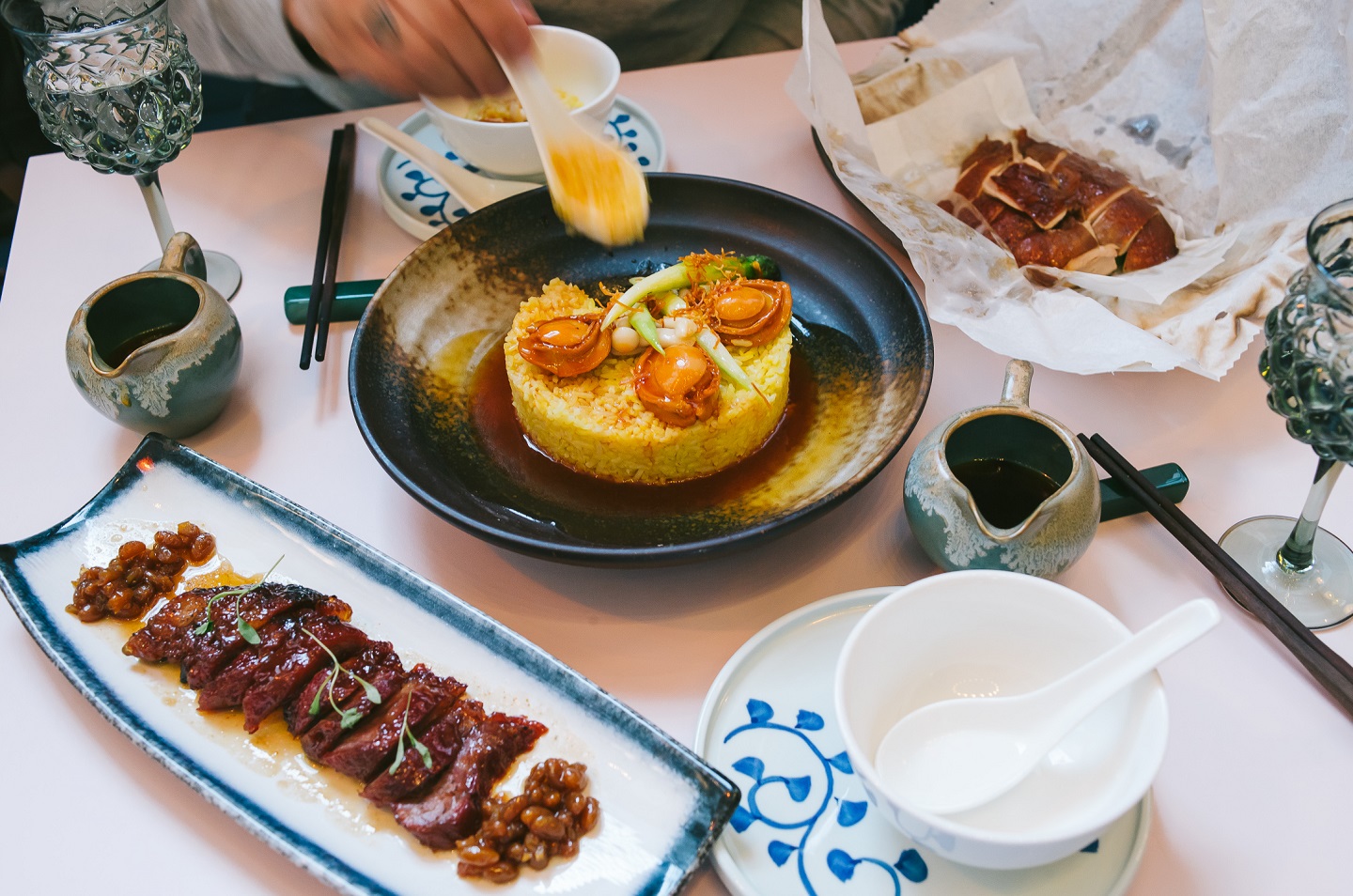 L to R
Honey glazed charsiu using Berkshire pork, £26
…. impressive. Very tender, very moist and a caramelised crust that is well balanced between sweet and salty. I especially like these glazed beans, there is a hint of pei-pai gao to the sweet glaze. This reminded me of siu lap in HK, still some ways off my benchmark, which is Ming Court HK, by London standards, this is solid.
Chilean Abalone rice with shimeji and asparagus, £38
Saucing making is spot-on here, generously poured around the rice, with extra in the jug on the side. Really superb in fact. Slowly braised and reduced stock fully infused with abalone flavour, absolutely wonderful umami to soak in the fluffy rice, which is undoubtedly also boiled in the same stock. I loved it.
I am however miffed about using asparagus in December (Peruvian? Reverse season English?). For a restaurant pitching at this price point, serving out of season ingredients is definitely a faux pas.
As for the abalone, why bother with importing these smallish Chilean shells? How much do they they even weigh? 16 heads? There are a small but growing number of Chefs in London, who do abalone well, and more importantly live Breton and Irish shells. But if you're importing, may as well go all out and see about ezo-awabi (yes I hear you december not the season) and green lips. Still, it's a very good dish, and it is good to see the competition for abalone in London is healthy.
Cantonese Soya chicken, £26
A fancy version of one of my favourite siulap, using the mighty blue legged Poulet de Bresse. A careful poach, silkened chicken breast and thigh, moist, and fully infused with the flavours of the poaching liquid. Similar to Hakkasan jasmine smoked chicken. Slightly disappointed it's all taken off the bone by default. Half a chicken served in parchment, but the portion looks small because they use small birds (ours was from a 1.4kg), so be forewarned. Overall good chicken, good technique, though for sheer QPR, Goldmine and Reindeer cafe are still tops in my book for soya chicken.
We paid £134.44 for food, 2 drinks and service.
If there one thing that bothers me, is for this price point and given their ambition, they really ought to source better ingredients. It's cheaper to do so, and you get better quality anyway if you sync up with the seasons. Especially seafood. Slipper lobsters in Europe? Do they even come unfrozen, let alone live.
Quality fish (游水 as they say) is at the heart of Cantonese cuisine, being that we are these British Isles, I'm surprised these guys are not taking advantage of the waters. Why not the use of kicking Cornish blues caught overnight, instead of Canadian lobsters stewing in tanks for weeks? Sure, we don't have garoupa, but wild turbot from the South West is every bit as stunning as Brittany, in my opinion, same waters on different ends of the Channel after all. Where are the Scotch scallops? And there's lovely crab in Britain, from Devon to Cromer, perhaps some of the best in the world. The interesting bit is not that cock crabs with their massive claws are more popular, rather it is that the females are underused. Some chefs like Ben M at Perilla know this, and it is something that would fit well in Cantonese cuisine. You know what I'm thinking right? Steamed female brown crab, sweet white meat, sweet roe. Velvet crabs, mylor prawns, the possibilities. All in good time I hope.
Overall a good first visit, though I am cautious about the value for money on offer, I would not hesitate to return. Daren likely needs time to get the team up to speed, but at its core, there is good cooking going, and it is important to say that flavours are what they should be. I'm glad they are in London and look forward to return visits to see how they up the ante over time.
Details
Duddell's London
Chinese
£50pp to £70pp (ave)
9A St Thomas Street, SE1 9RY
Tube: London Bridge
Tel: +44 20 3957 9932