There are probably better brunch dishes out there, but for me, I can think of nothing more sinfully satisfying than a fantastic eggs benedict. It is fundamentally a simple dish, consisting of only 4 main elements, namely poached egg, hollandaise, Canadian bacon and an English muffin cut in half.
The beauty of any simple recipe is always that it is easily adapted to suit all sorts, a 'vehicle' for various combos so to speak. Some of you have asked me to write all this stuff down in one place, so here is my collection of benedicts I've made this year, and my basic recipe for them. Enjoy.
—
Recipe
Benedict really is egg on egg if you think about it. Effectively a yolk sauce, on egg with runny yolk, yolk on yolk, which is perhaps the reason why it is so luxurious.
I have one fundamental change, in that I prefer soft boiled egg, over poached egg for benedict. The egg is not wet, and I just think the texture of silkened egg white from a soft boil works better, especially with the sabayon.
There's 2 things which I think warrant a recipe, after that, it's simply a matter of stacking it all up, and then spooning over the luxurious hollandaise.
Soft boiled egg
 Boil a pot of water, and chuck in lots of salt.
Boil egg for exactly 5 mins (I prefer Burford Browns).
 Run egg under cold water and peel shell.
Hollandaise / Sabayon sauce
Separate 1 egg yolk (enough for 2 boiled eggs).
Melt half a stick of good unsalted butter (I like butter from Brittany), on low heat until liquid, but no need to be clarified.
Place yolk on bain marie, glass bowl in a saucepan of steaming water on medium heat, start stirring/whipping with egg beater.
When yolk begins to heat-up, stream in warm melted butter slowly.
Keep beating it, the sabayon will start to thicken, as heat slowly works into it
At this point, add in whatever aromats/seasoning you like to taste.
I add touch of water, lemon juice, pepper, salt, touch of paprika, touch of sherry vinegar.
You can also posh it up, by reducing fancy (pre-moxed) white burgundy or champagne with onions and stream it in (like a Bearnaise basically).
If your sabayon is too thick or splits, add water and keep whipping it to incorporate more air. Be patient as it will come back together and thicken up again. But obviously dont add too much.
Water helps the give the sauce a airiness (the more you whip), and adds a little shine. It also stabilises the sauce after it cools, especially if you want to use the next day.
To use the next day, simply reheat on bain marie, stir and stir (and stir) and it will loosen up.
Benedict Assembly
Get a good english muffin, cut in half and toast it (or any good bread you'd like to use).
Muffin, then ham/fixing, then soft boiled egg, then sauce on top.
Garnish with chopped chives, paprika, spring onion, pepper, caviar, truffle, whatever you like.
—
Crab Benedict, with chives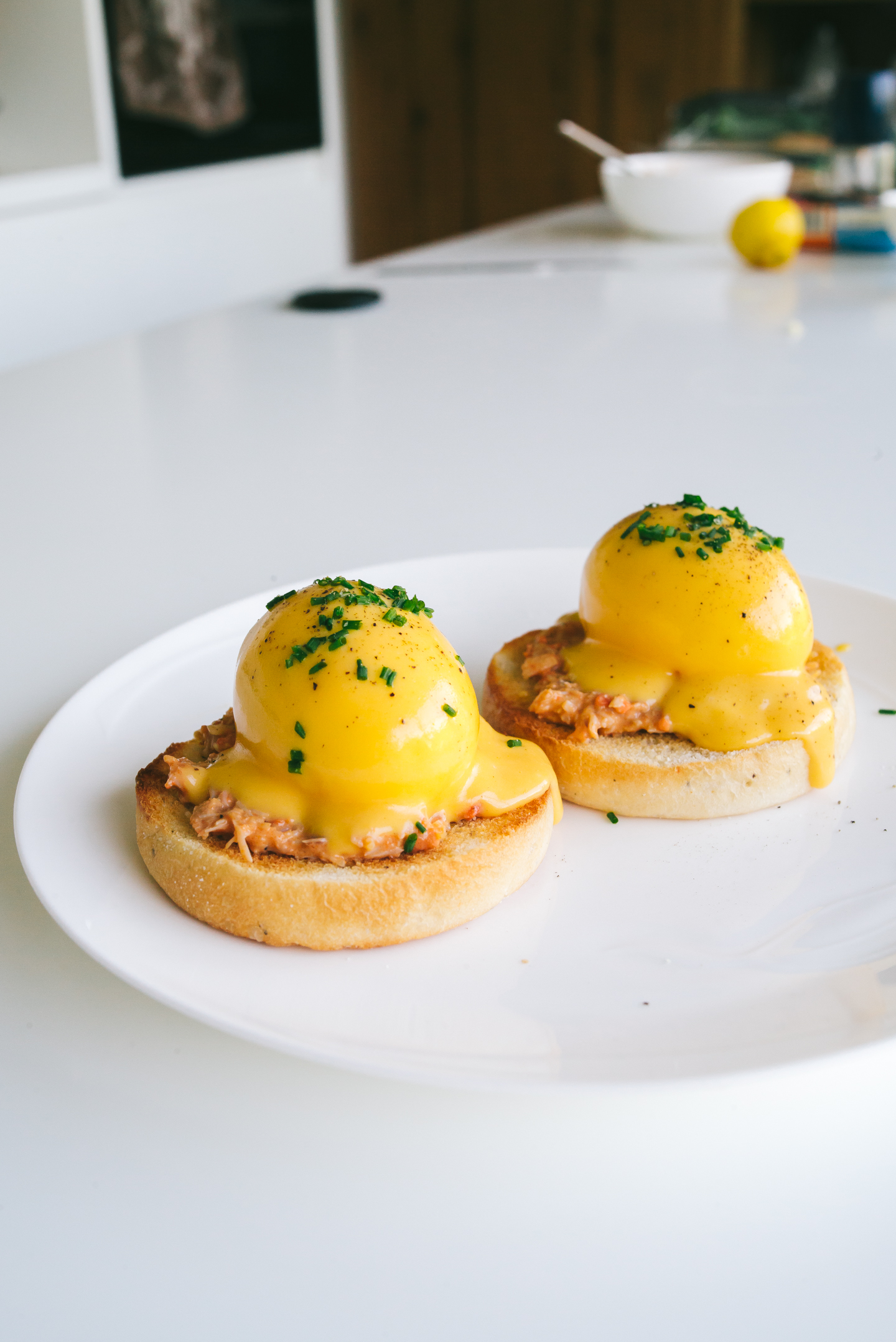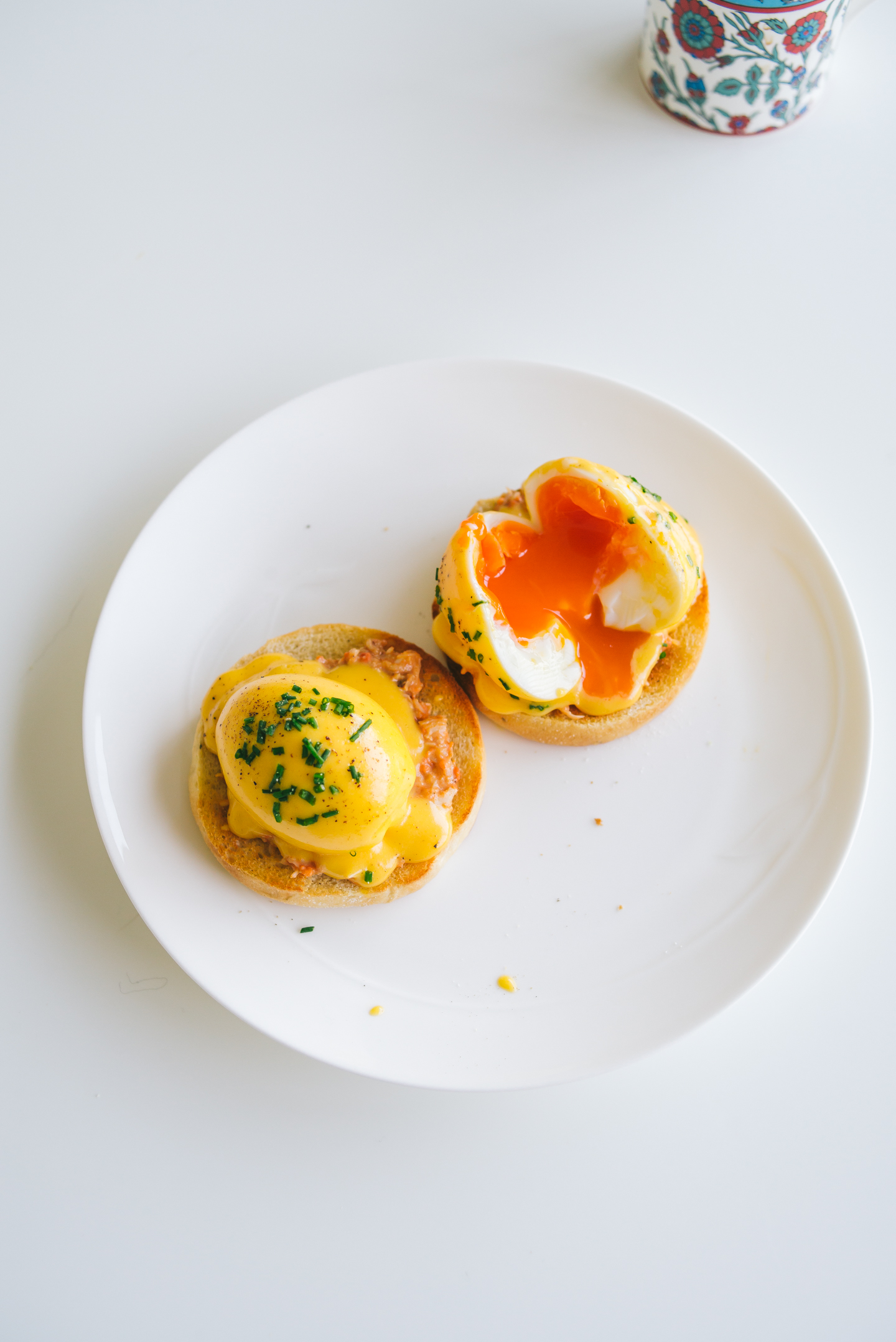 —
Cornish blue lobster claw benedict, with paprika and chives.
My favourite benedict of this lot. Buy a live lobster, I prefer native lobsters ( Scotland, Whitby, Cornwall, Dorset), as a good fishmonger can get one for you with least time out of water, and also probably without seeing a tank. Then knife down the head, and twist off the tail and lobster claws. I tend to cook lobster tails over charcoal/pan nowadays as I can control the rate of heat better. For claws, I simply boil and shell.
The carapace and coral, should be reserved and they are what makes this benedict so special.
The hollandaise is made from butter that has been drawn from roasting lobster carapace and then allowing it to simmer with melted butter over low heat. I have taken the lobster coral and made it into a smooth sauce sauce (using Vitamix) and spread on the muffin. Finished with paprika and chives.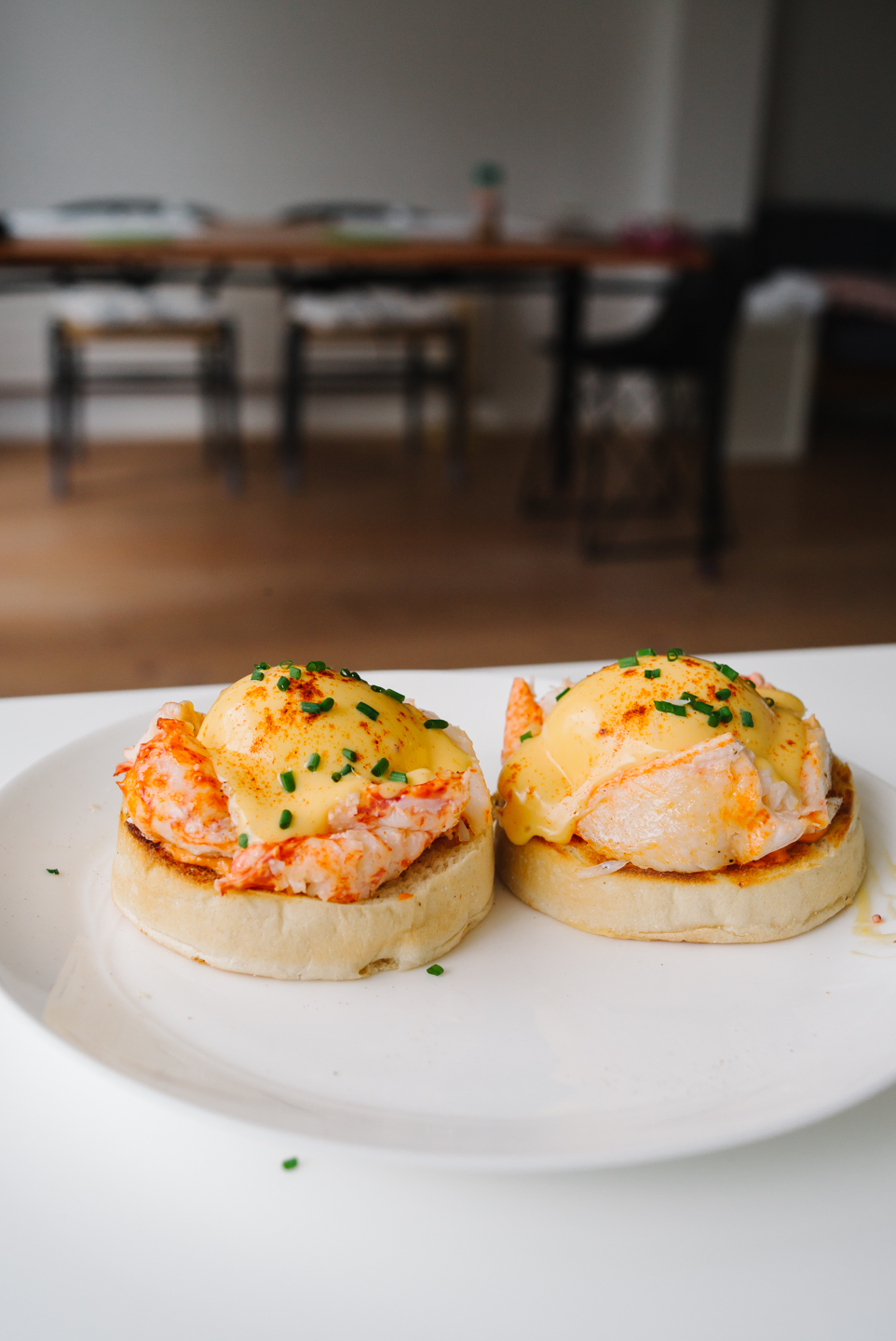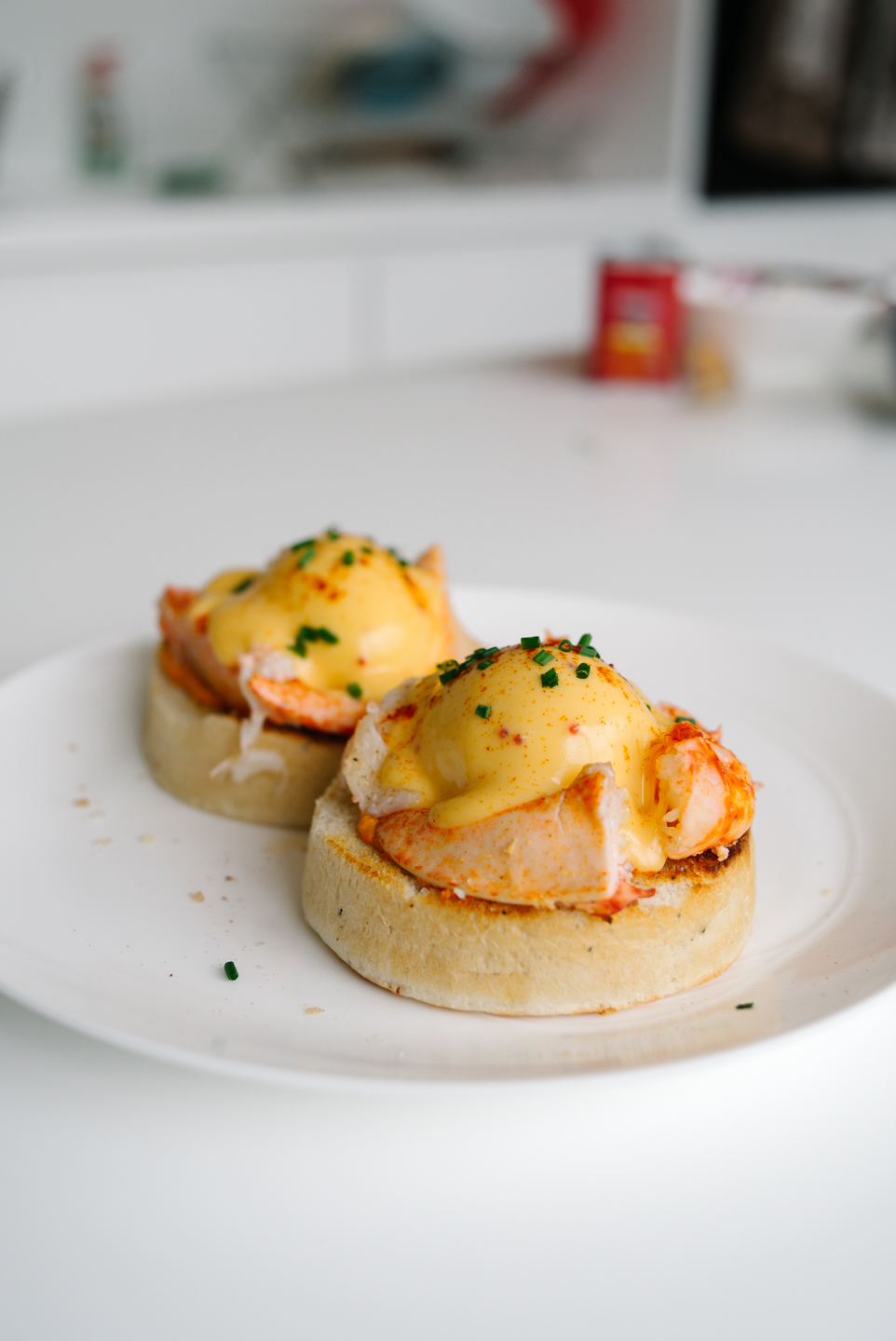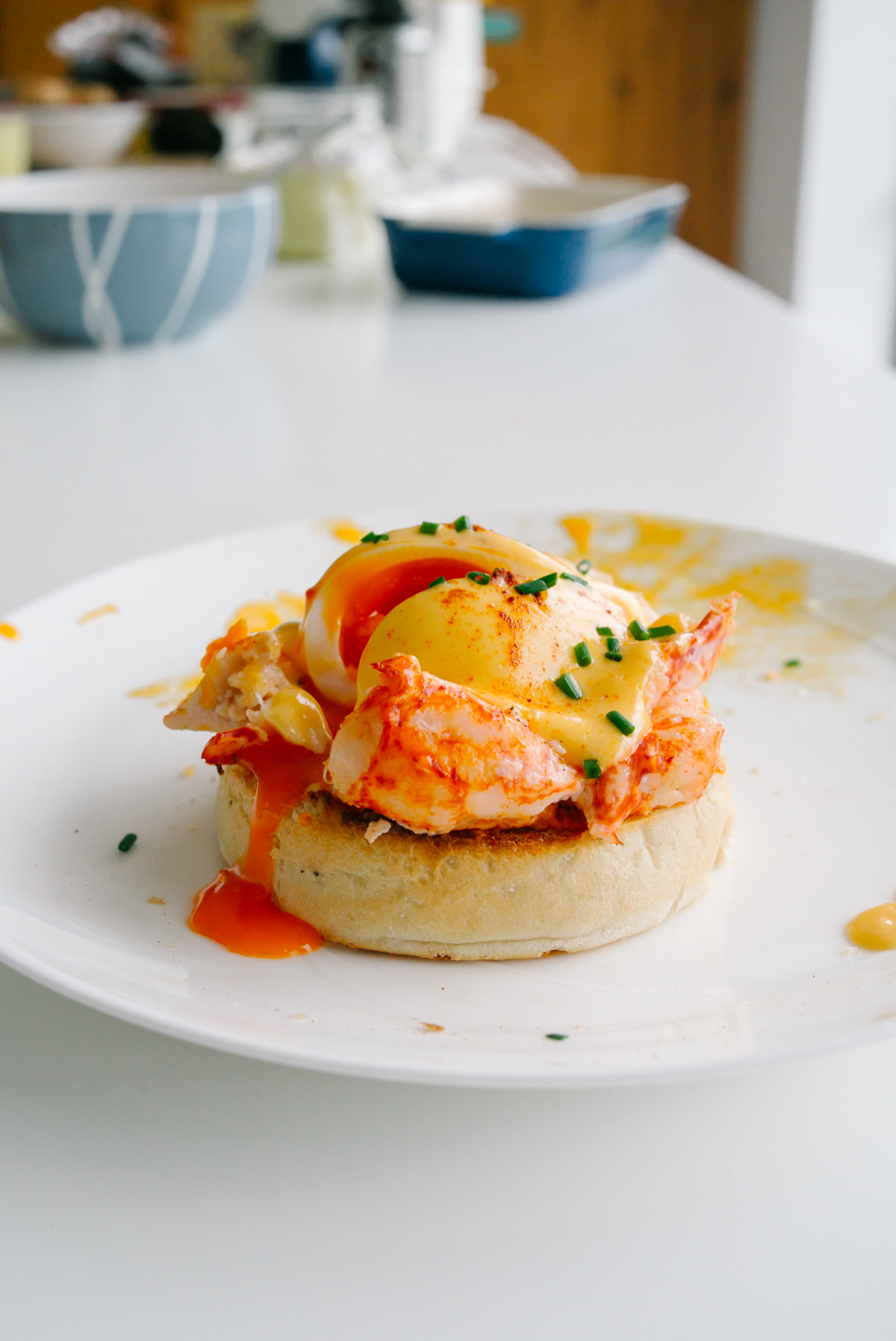 —
Egg benedict with Wild asparagus, champagne sabayon and ham hock cubes
Cheap Sainsbury champagne, reduced with sauteed onions, sherry vinegar and this is streamed into my sabayon. it yields a surprisingly bright yellow colour.
You'll have to wait till the Spring for the asparagus obviously.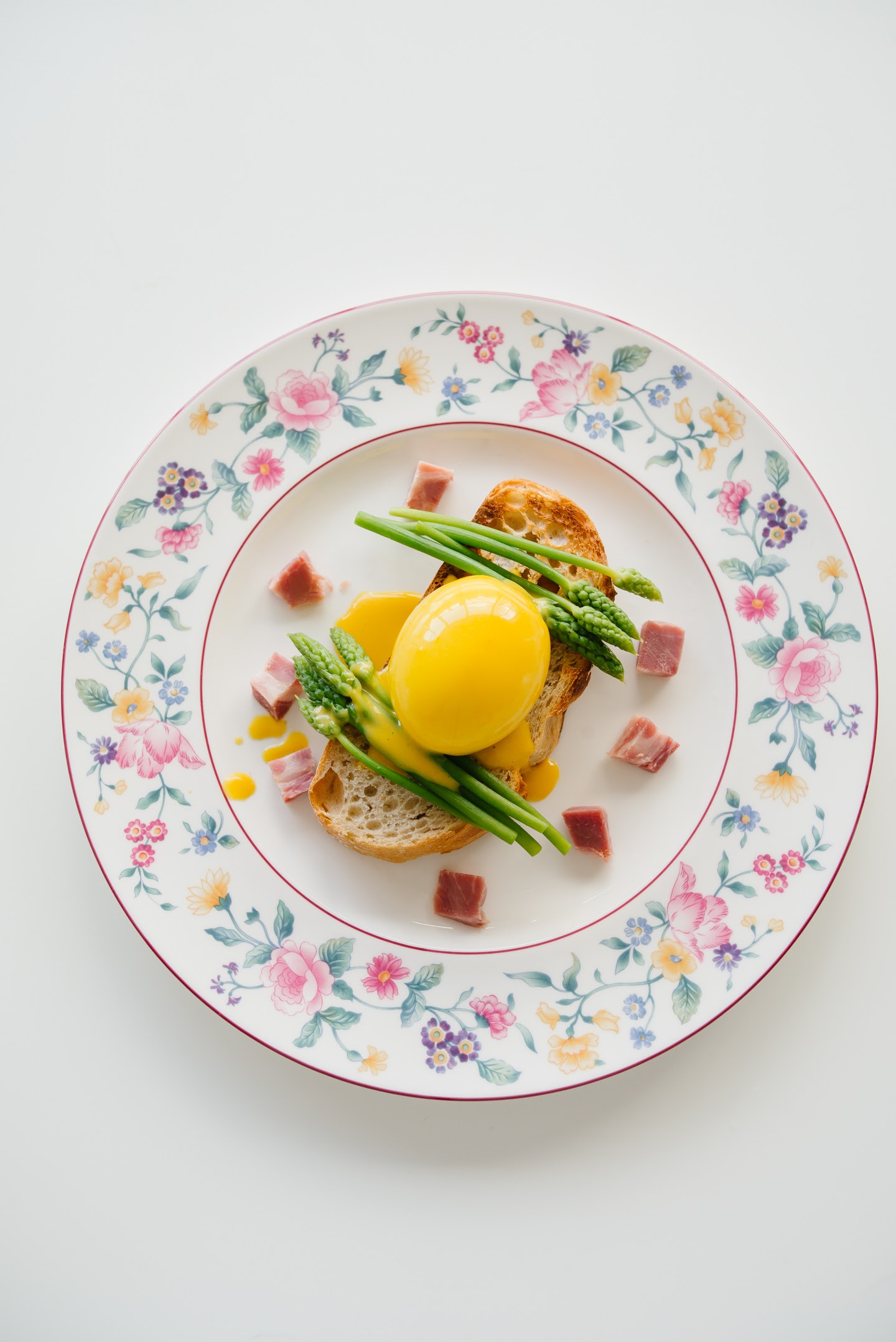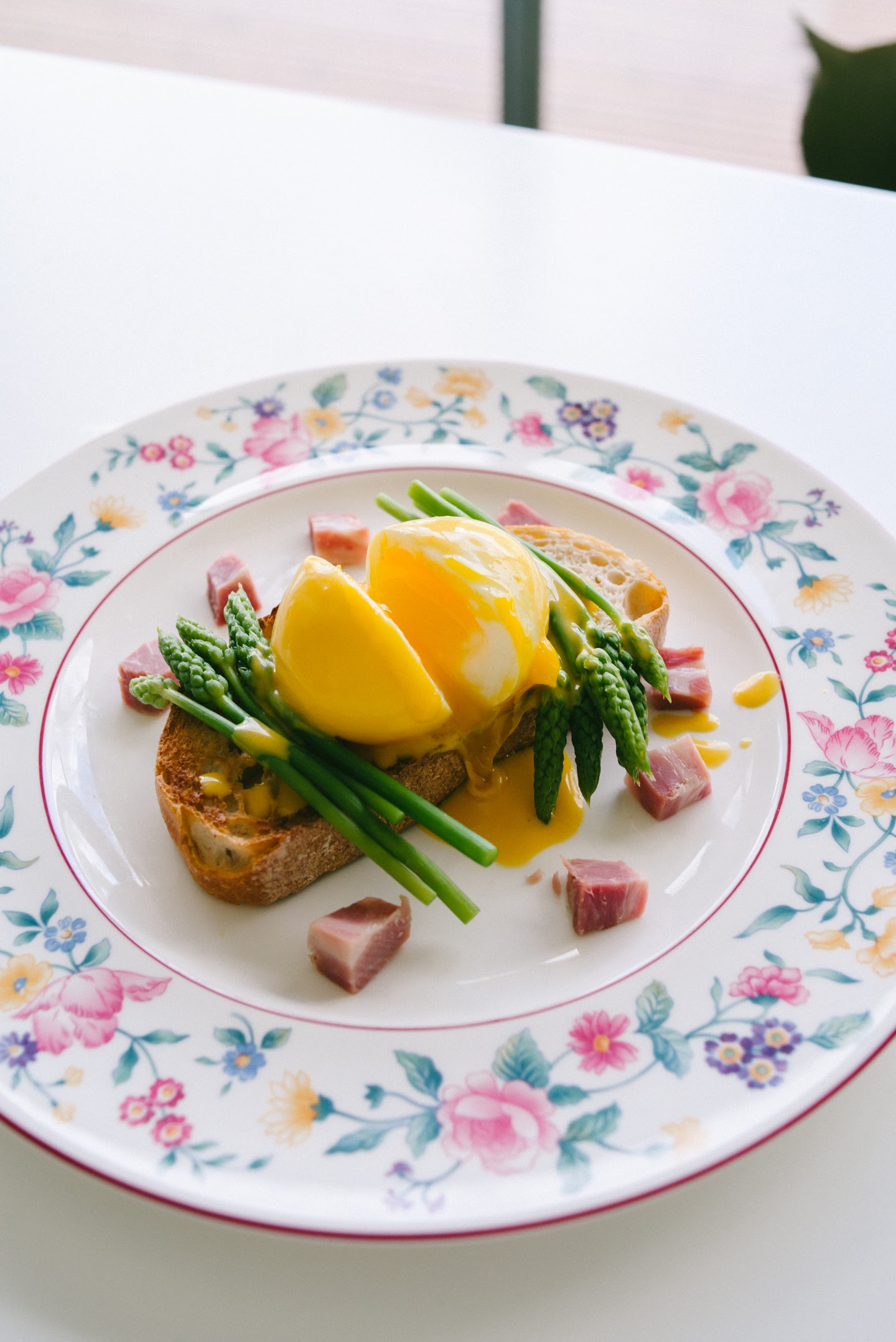 —
Winter black truffle Benedict, with cooked Wiltshere ham
Now is the season for the vaunted Tuber Melanosporum afterall. Simple is best when it comes to truffle I think. For the hollandaise, I put shavings/trimmings from the truffle into it.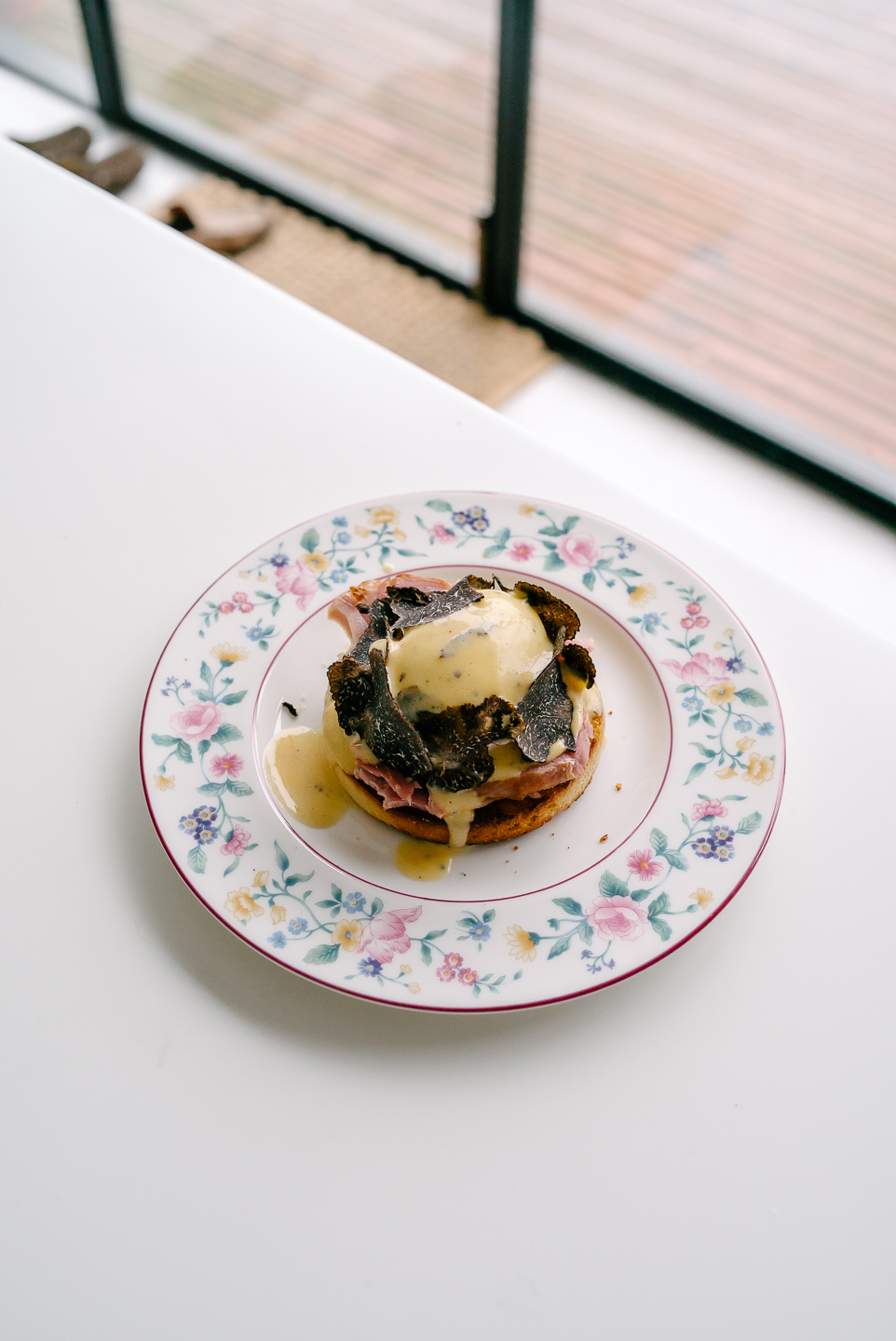 —
Kangnam Korean Fried Chicken Benedict, with Oscietra Imperial caviar
A nod to David Chang's (and WD40) hi-lo extravaganza of fried chicken and caviar. Really it works so well together. I like Oscietra Imperial/Gold a lot. The sturgeon are raised in Qiandao Lake, and you better believe it as this particular farm in China really does produce some of the best caviar in the world. The grains are firm and burst on the palate, whilst its flavour remains very clean on the finish. As for the KFC, Kangnam is in New Malden, I really should double-fry my own, but theirs is IMHO the best KFC around.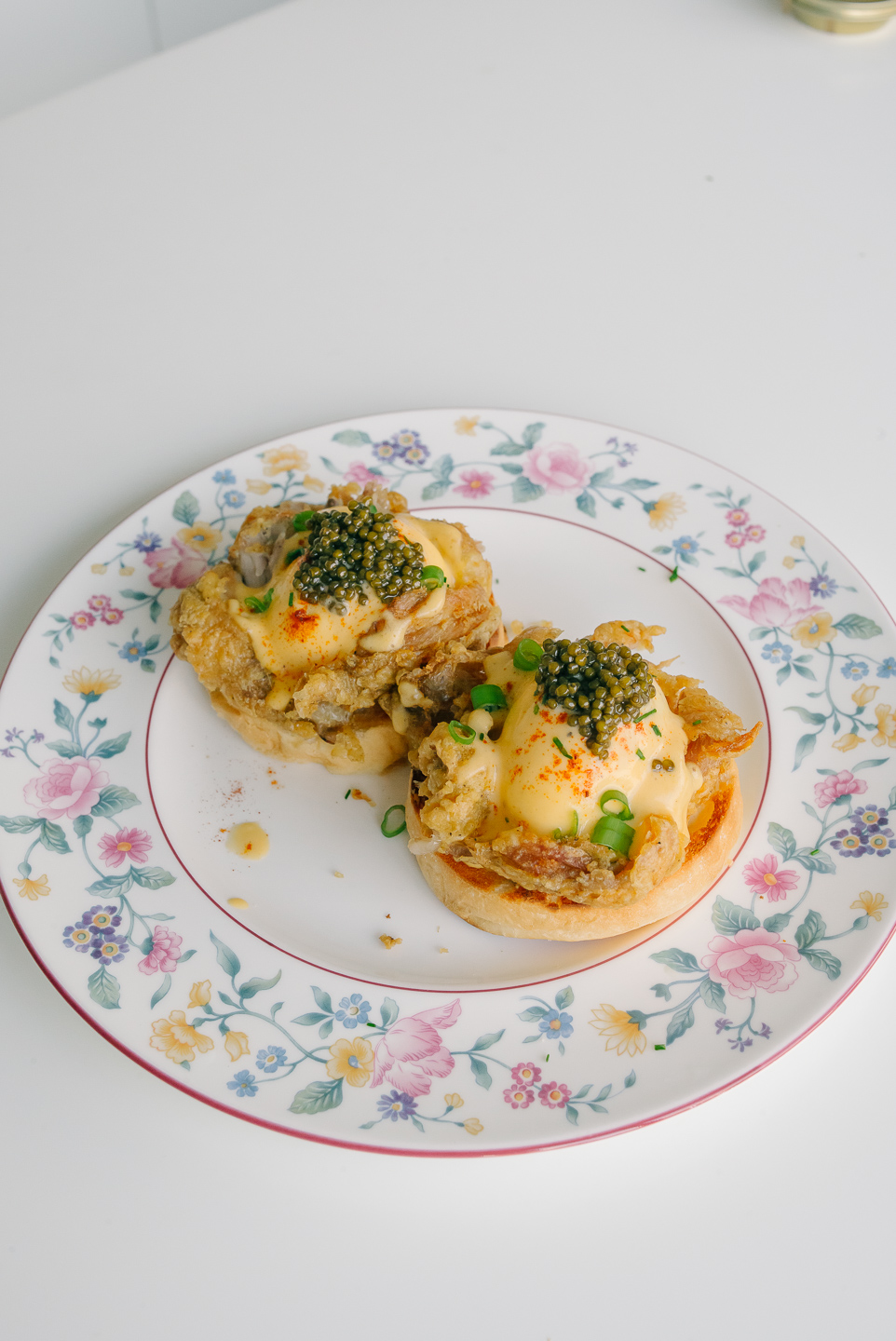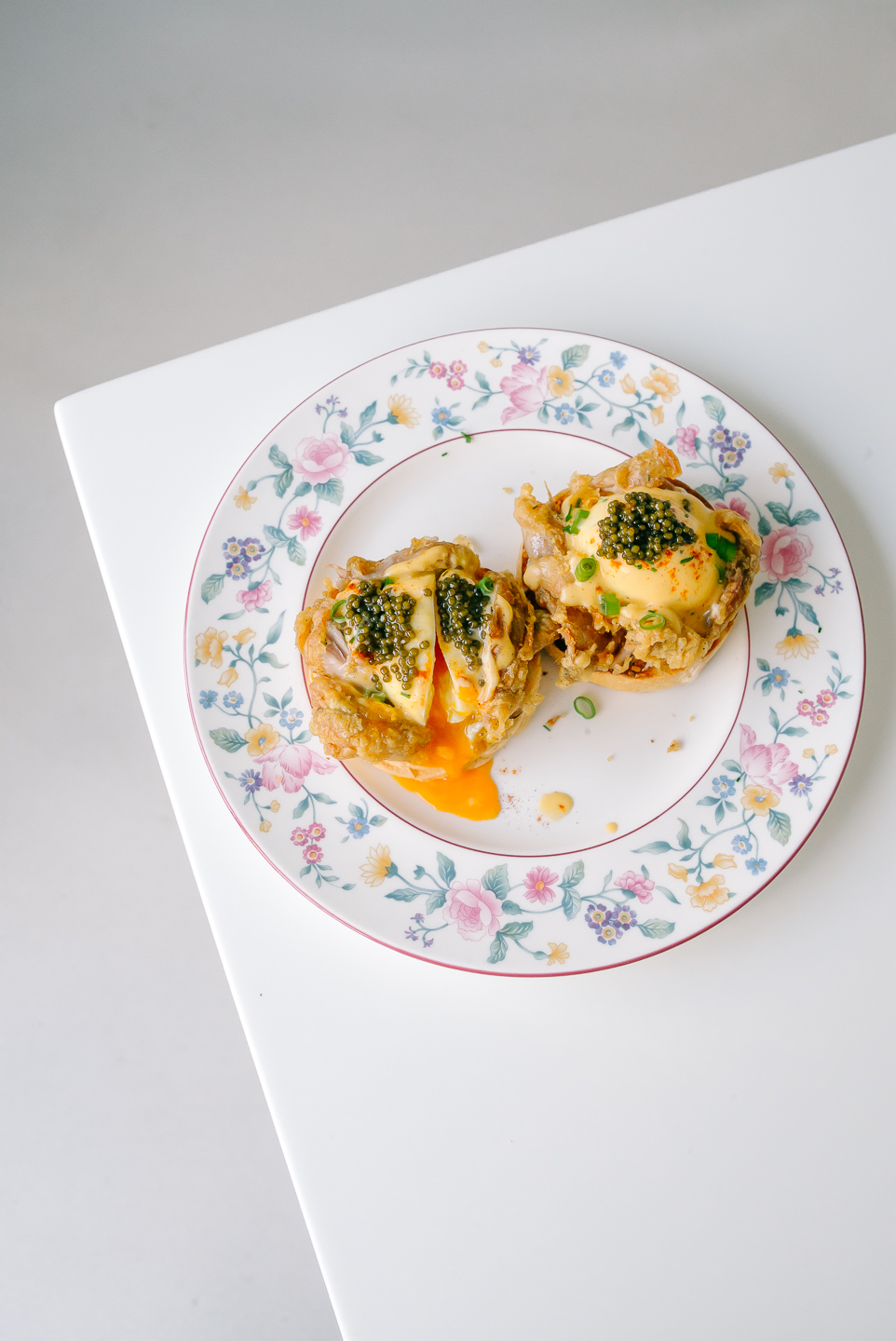 —
Eggs benedict with Dutch Eel Company smoked eel and Oscietra Imperial Caviar
Lyle's smokes their own eel, but if you look around town, you'll find that most restaurants will likely be using Dutch Eel Company. It's superb really.
I like smoked eel (gently) warmed through, rather than cold. It goes slippery and soft, and I think its smoky flavour releases better when eaten warm.
Smoked eel and caviar to my mind is a pretty classic thing, and the yolk sauce helps to tie them both together. I like this a lot, it's a very robust flavour profile, which showcases the quality of the two (preserved) products. The better the quality of the eel and caviar are, the better this recipe tastes.
—
Ceps benedict with beurre blanc and beluga caviar
Beluga also raised in Qiandao lake, in contrast, these grains shimmer grey-black, are very soft and the flavours are creamy and long. Luxurious caviar this, almost a sin to eat it with other things. Best on its own, from the back of your hand.
Anyway, this was during cep season in the fall, simply roasted in butter. You could use pretty much any mushroom you like really. I coloured my onions, hence why my beurre blanc is that brownish tint instead of a pristine cream colour. Oh well.