In this grand new year of 2018, there is one restaurant that particularly excites me, one which I think has the potential to make a mark in the annals of Gastronomy.
Breaking new ground may not be at the fore of Leandro Carreira's mind, as the man is a vision of modesty, humility and generosity. A Chef at heart who is visibly happy being able to simply cook and serve his guests, yet groundbreaking is what I believe his cuisine is.
Leo is no stranger to the cutting edge of gastronomy, as he had spent 3 years in the Basque with Mugaritz (ask him about his time living with the Bar Nestor crew) and then latterly as Nuno Mendes' right hand at Viajante. From there, Leo joined up with Junya Yamasaki and James Lowe for collaborative menus at Koya and Lyle's respectively. Through 2016, he pitched up at Climpson's Arch for a long residency to showcase his cuisine, and that is where I first happened upon Leo's food, of fermenting, salting, smoking and simply on the grill. A combination of flavours that veer away from classical cooking, which I find both subtle and thrilling in equal measure. Of course, this also stems from my own unfamiliarity with Portuguese flavours, though his food doesn't adhere simply to heritage, rather it is one that's built from his own food memories, that of his Leiria coastal upbringing, through his time in becoming a Londoner in his adopted city.
Needless to say, his Climpsons residency ended successfully as he's now received the backing of Hotelier/Restaurateur Loh Lik Peng (22 ships, Socials, Townhall Hotel) to launch Londrino. Cameron Dewar, who was with Leo during Climpsons, is also back as FOH/Somm (also spotted, was Julian G in the kitchen on my 2nd visit).
And this space truly is a blessing, it sits 70 and has an attached wine bar that is open through the day. The ambiance has an air of maturity and modernity, yet is casual enough for you to feel at ease. There are accents of industrial design such as an upcycled turbine as chandelier and the exposed concrete, but these are softened by the mid-century touches, the polished wooden tables, through to the hexagonal douglas fir parquet that overflow up the walls, around the open-plan kitchen.
The ALC menu is loosely framed around canapes + four courses, with 2 to 3 selections in each, suiting solo diners, but it is also clearly flexible enough for those of you wanting to order the entire menu to share. It rotates seasonally, depending on what produce he can get in on the day, with off-cuts going as off-menu specials.
I did both ways, firstly solo and then as a table of 3, across two visits in December.
-1st visit-
Bowl of grilled Mylor prawns with preserved lemon oil, £9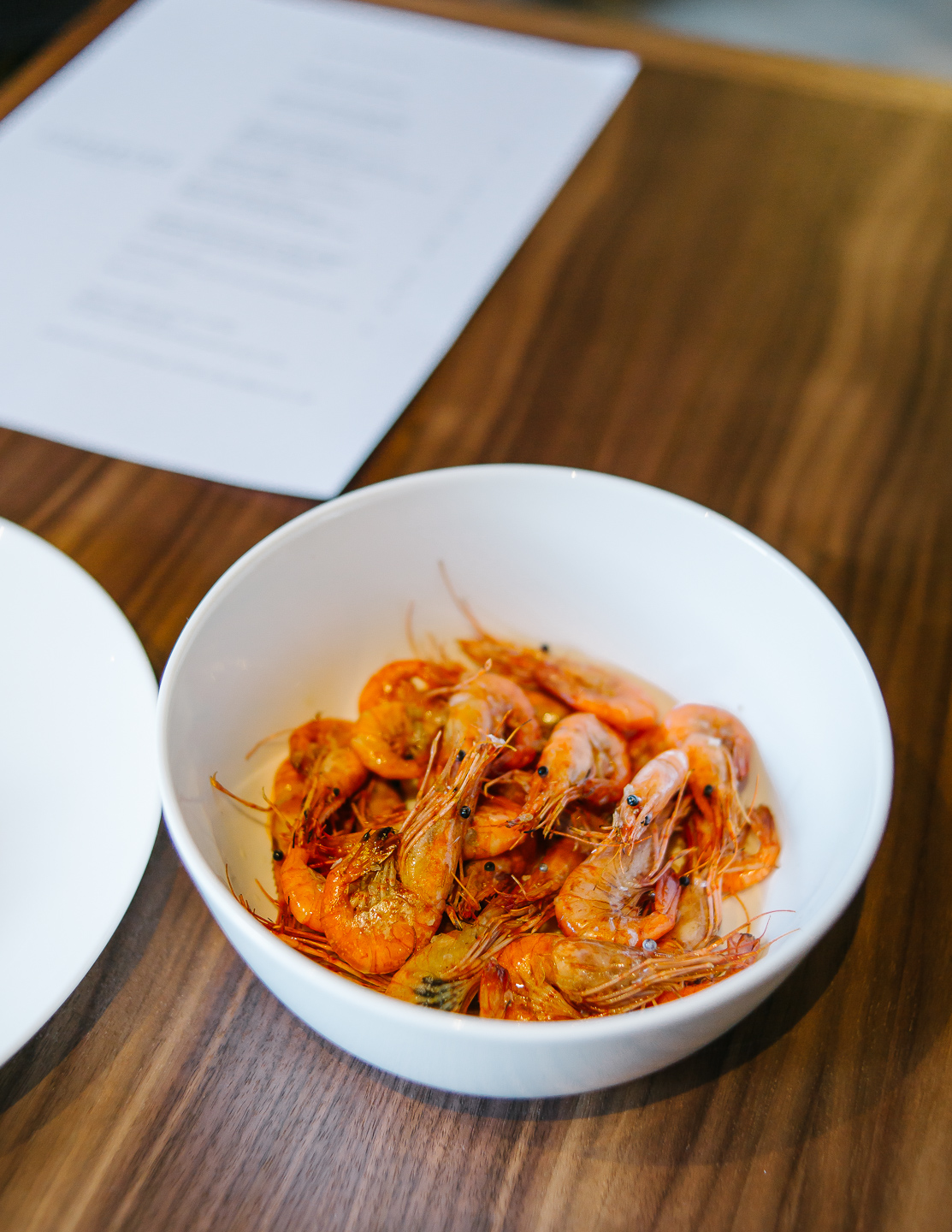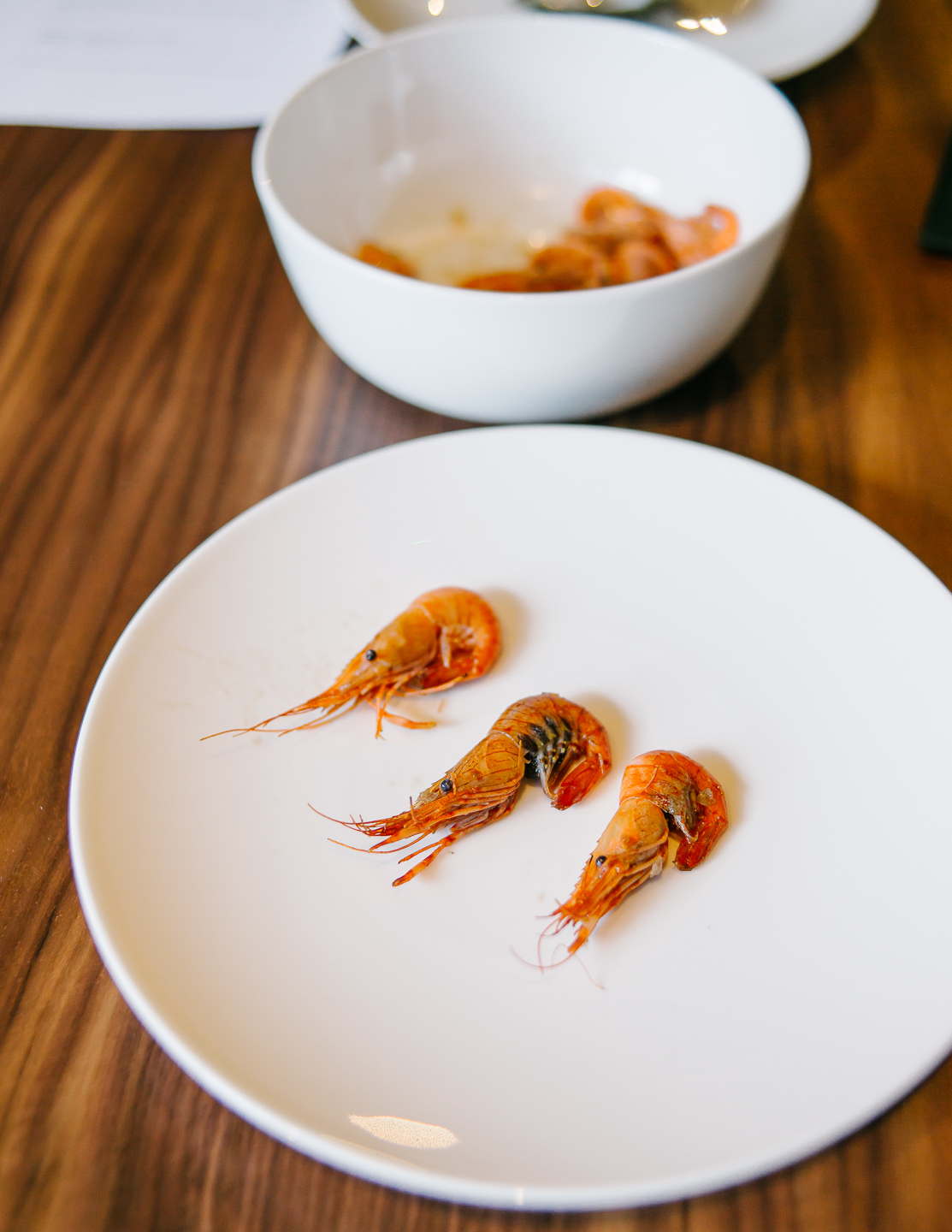 I love these little prawns, they are fantastic seasonal English catch and about the only shrimp that arrive in London restaurants alive and popping. Simply grilled until they turn bright orange and lathered with preserved lemon oil. All you need to savour the succulent, incredibly sweet flesh and above all deliciously crispy shells. I ate them whole, a great snack to start on.
Razor clams, garlic, mushrooms (from the Chef)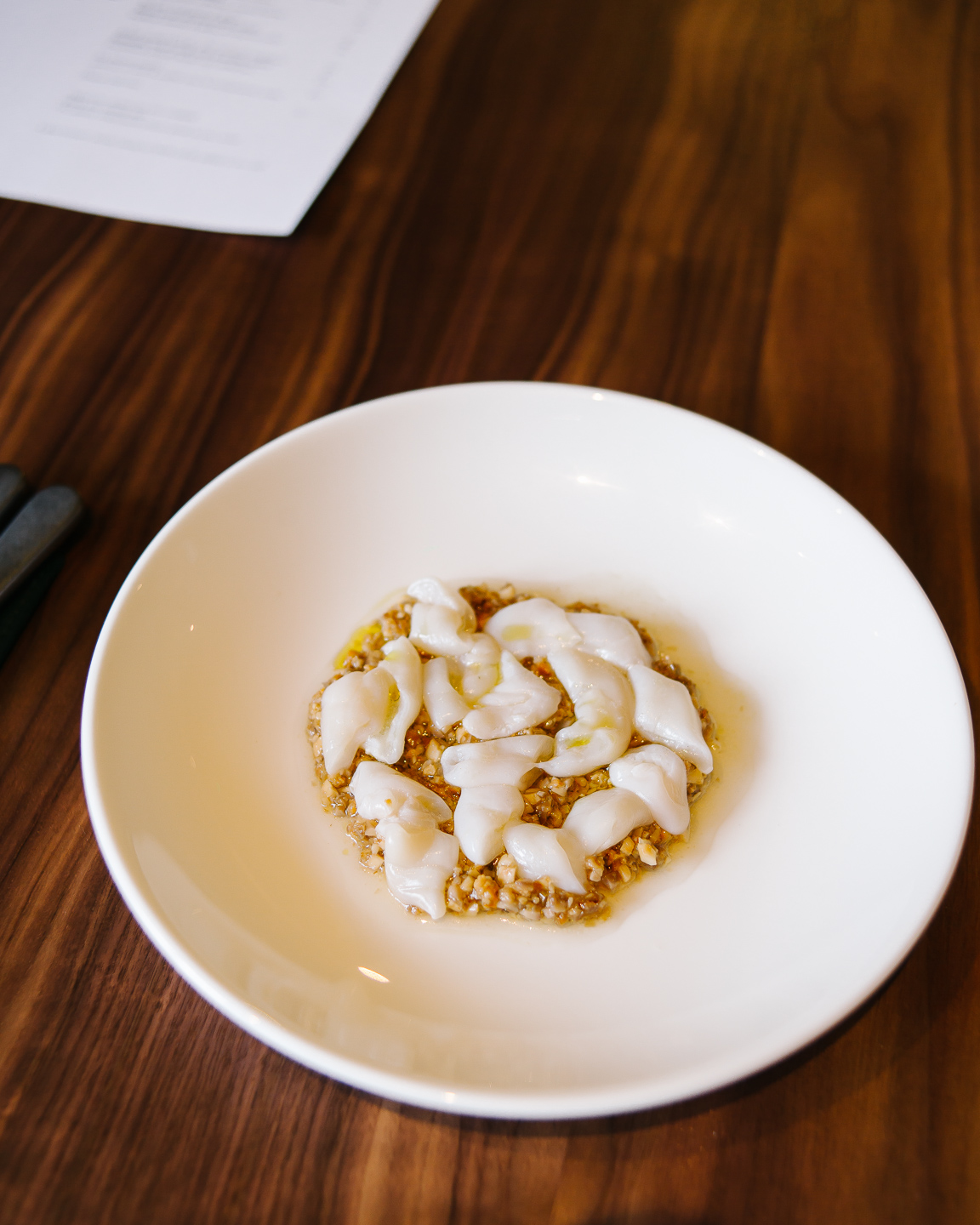 I nearly jumped out of my seat when Leo brought this to the table, as it was one of my favourites from his Climpsons residency.
The sweetness of fresh raw razor clams palpable, yet freshly shucked, they also exhibit a touch of crunchiness in texture, in contrast to the hearty cooked mushrooms, diced and loose, providing a kind of groovy deep bass for the sweet razor clams. The dish looks utterly simple and minimal, yet the flavours, textures are wonderfully calibrated. The first of many a-ha moments.
Grilled cod's head, capers, vinaigrette, olive oil, £11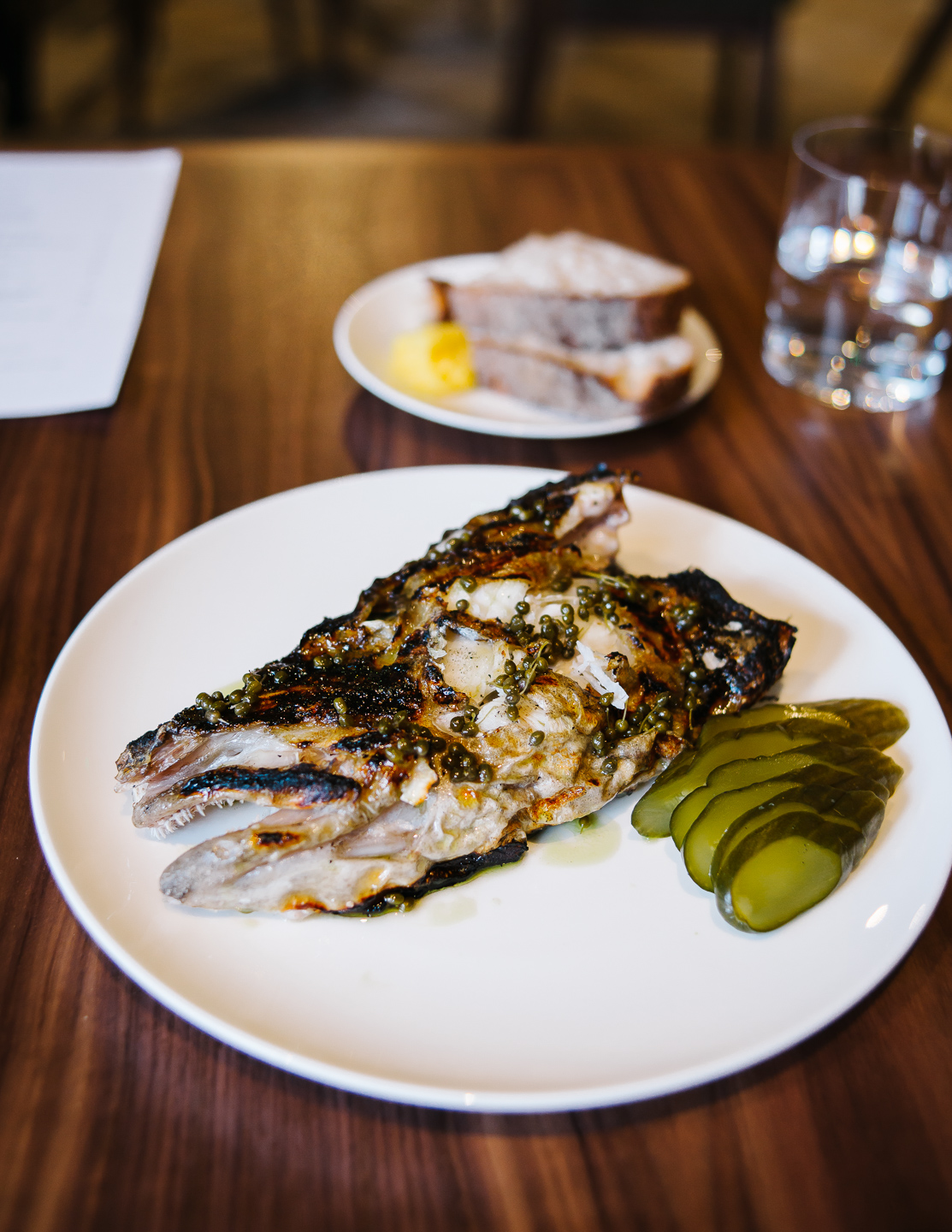 An off-menu dish.
Aside from say Lyle's and Taberna, it is still a rare occurrence to see fish head in London restaurants, due in no part to an enduring culture in this country that attaches a premium to bone-free fillets. There are all degrees of meatiness and gelatinous(-ness) to be found, the cheek, top of head, tongue, throat, behind the eye sockets. All the best bits as they say, and perhaps that best part is this off-cut is sold cheap in restaurants, since fishmongers tend to assign minimal value to it.
Leo's intervention is minimal, a gentle kiss of the grill, to a caramalised skin keeping the flesh juicy and moist, with oils to keep it so and capers for a bright spark of acidity to lift the gelatinous flavours.
Bisaro secreto, dry buttermilk, salsify, £16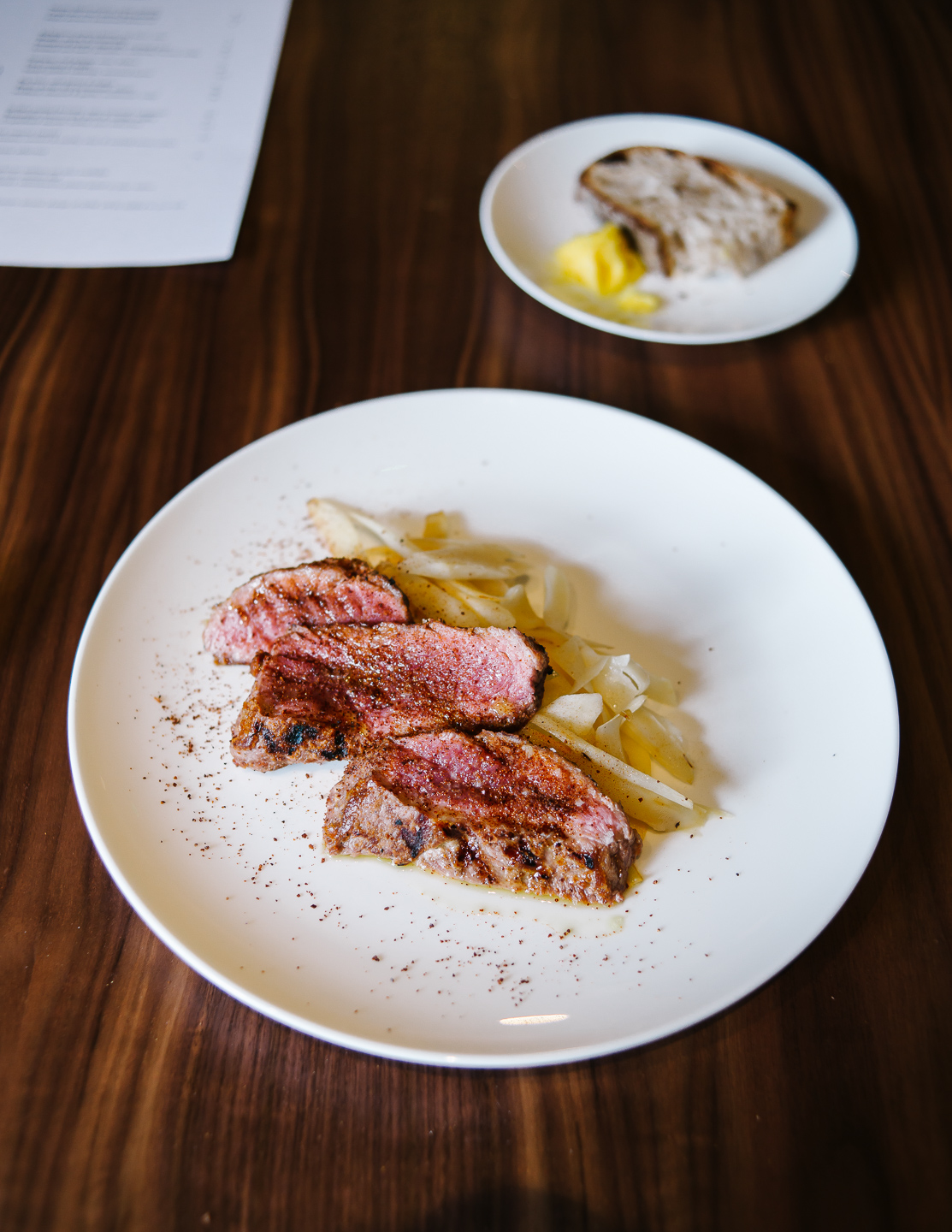 Fantastic marbling and texture from the prized secret shoulder cut of the native Portuguese breed. The rub on the pork has an interesting charcoal yeastiness, faintly redolent of rou-gan, and no doubt it acts both as flavour booster and natural tenderiser. A little funk, acid and saltiness to go with the the sweet salsify.
-2nd visit-
Background: Isle of Barra cockles bulhao pato, £10
Foreground: Brown crab with pickles (from the Chef)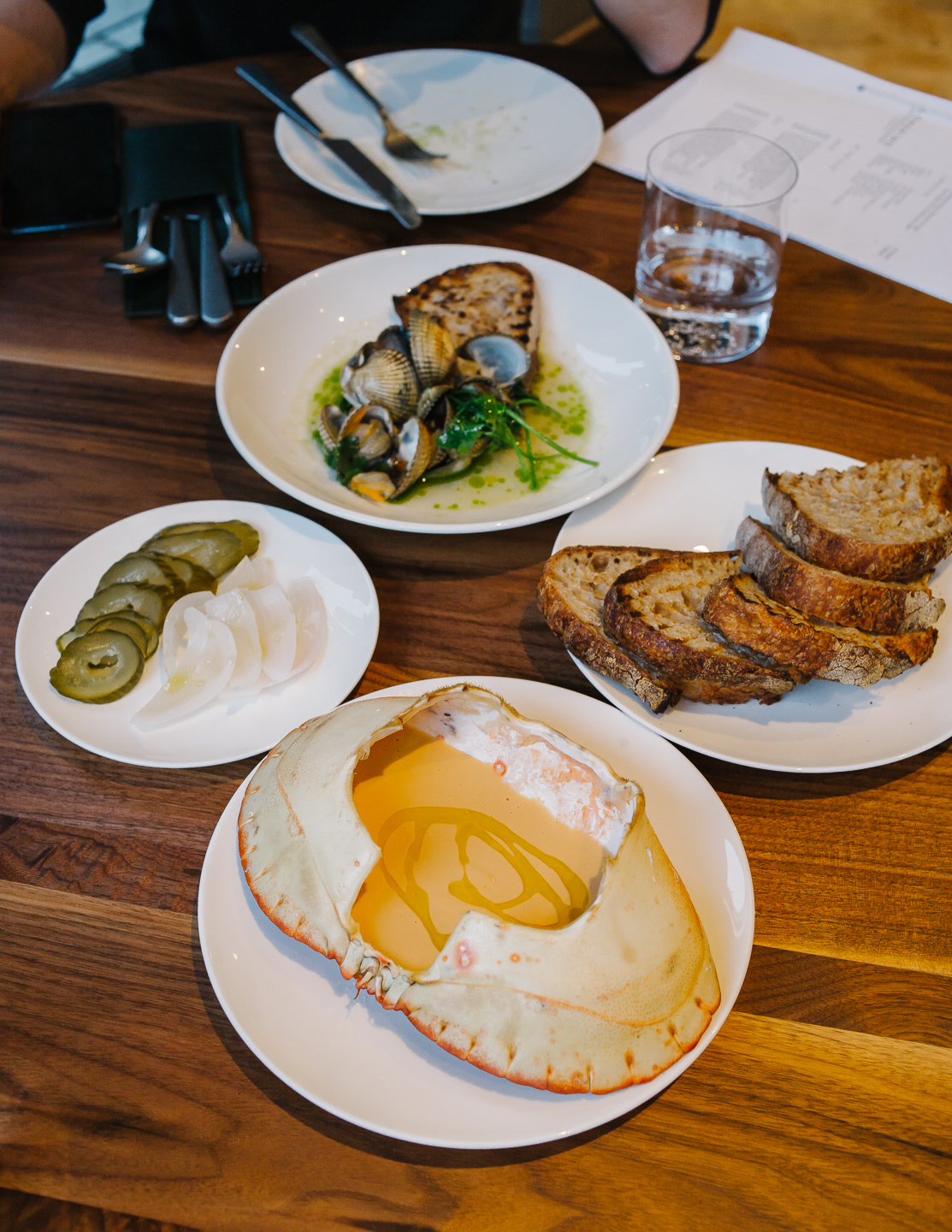 The cockles were simple and soul nourishing. The natural and light broth of white wine & it's own juices best eaten with the bread soaked in it.
But it was the crab that had us coo-ing with delight, and yet another example of highlighting the flavours of a 'off-cut', this time that of one of Britain's greatest seafood: the mighty cock crab.
The carapace is steamed whole, without touching water and thus without loss of juices, and then the brown meat is made into a smooth and creamy puree and served as kind of cold dip for warm bread. There is not much to look at, but it is in effect a luxurious take on brown crab on toast.
Potato noodles, coriander oil and salted cod, £7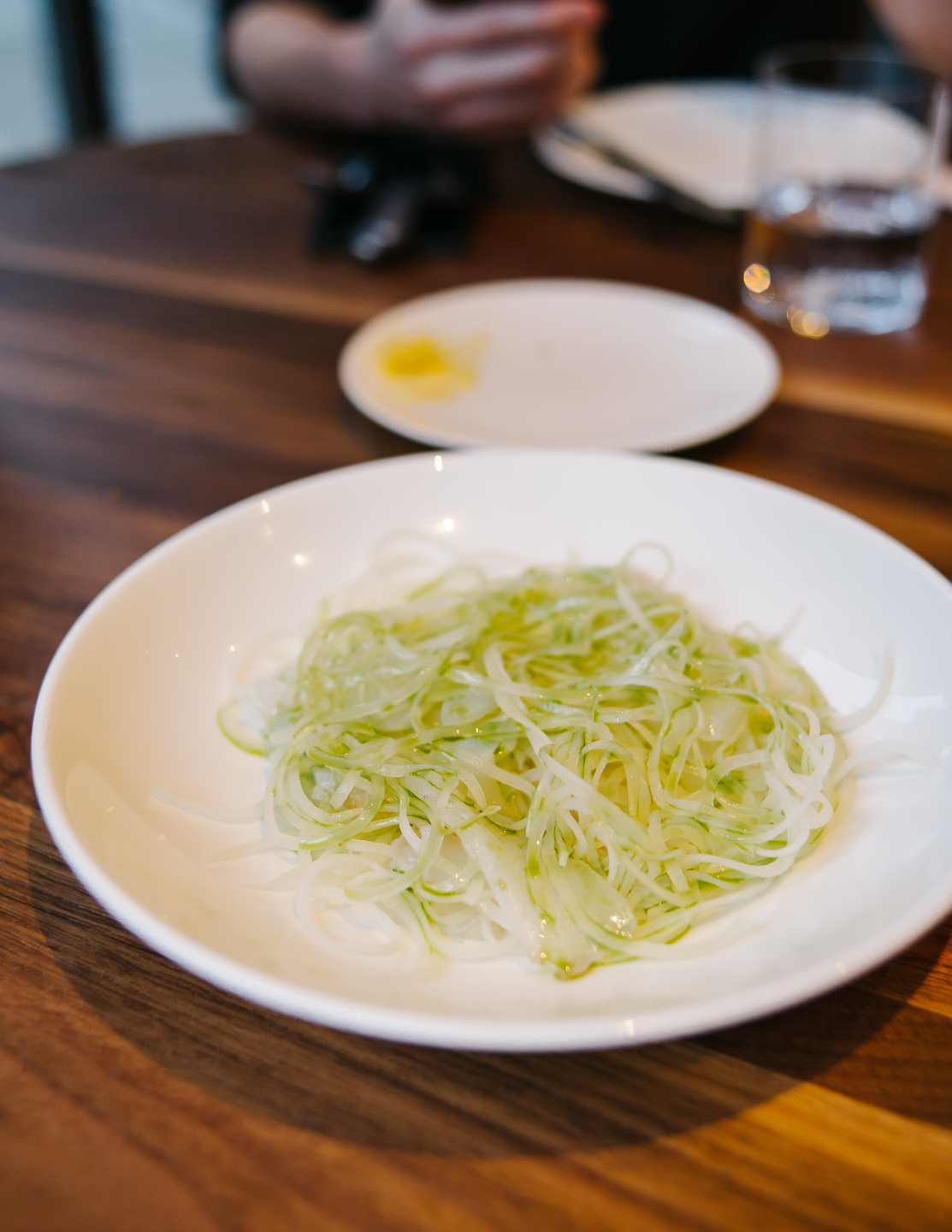 Yet another one of my favourites from Climpsons days. A simple yet uttering refreshing dish of crunchy textures, refreshing acidity and all framed around the saltiness of the cod. Minimalist yes, but this is a dish I find to be thoroughly genius.
Raw squid noodles in potato broth, £8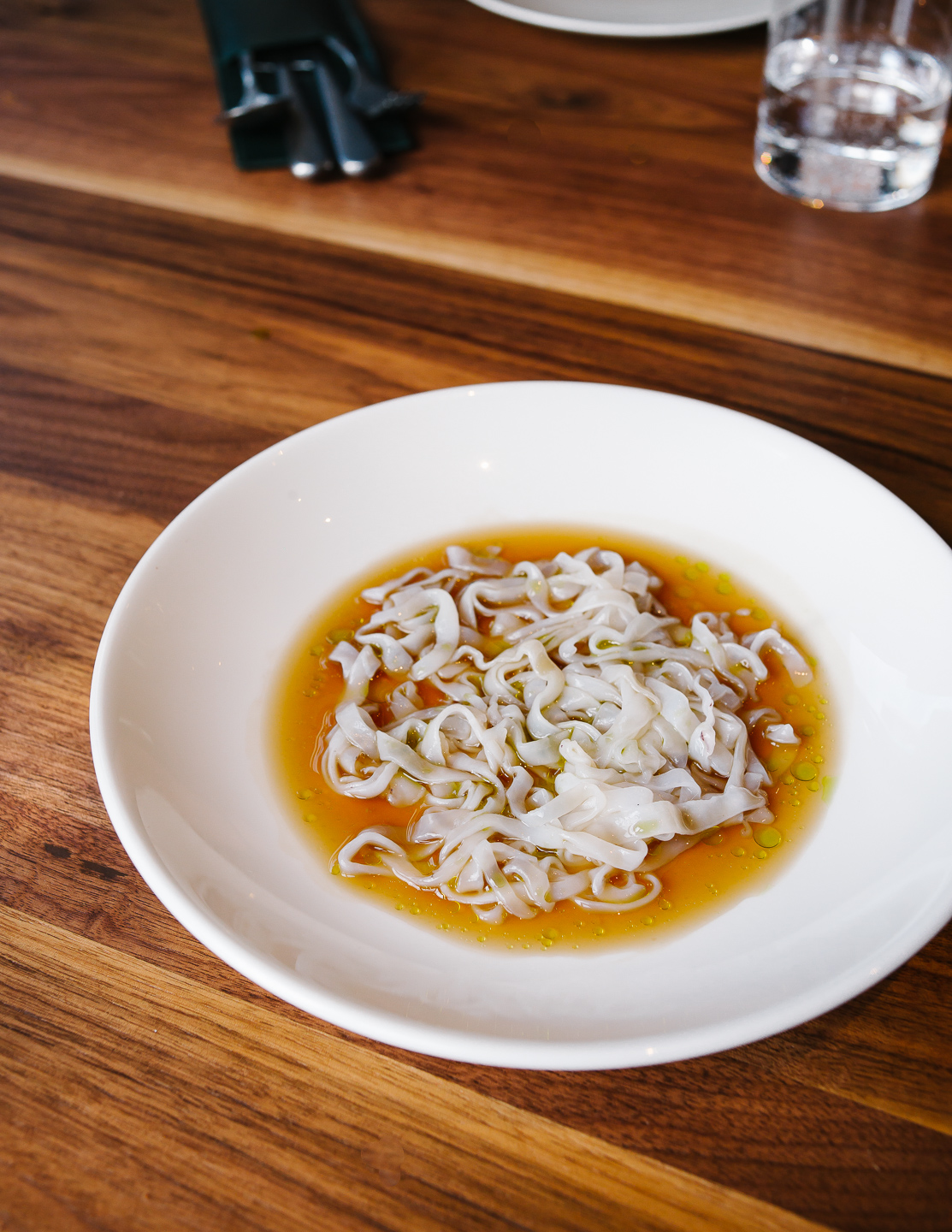 Following the potato, is a reverse dish of sea and land. Of course, I must credit Pierre Koffmann as the originator of this manner of serving squid (his version a thorough nose to tail with tentacles and ink as ragu), it is truly elevation of a humble, yet fantastic fish.
And here, ribbons of soft and silkened squid are gently cooked in the warm potato broth, gentle being the operative word, as mere seconds can result in tennis ball texture, but not here. Here, it is a luscious al dente, the slightly smoky broth enhancing the squid's natural flavours.
Octopus, red pepper, daikon, whey emulsion, £15.5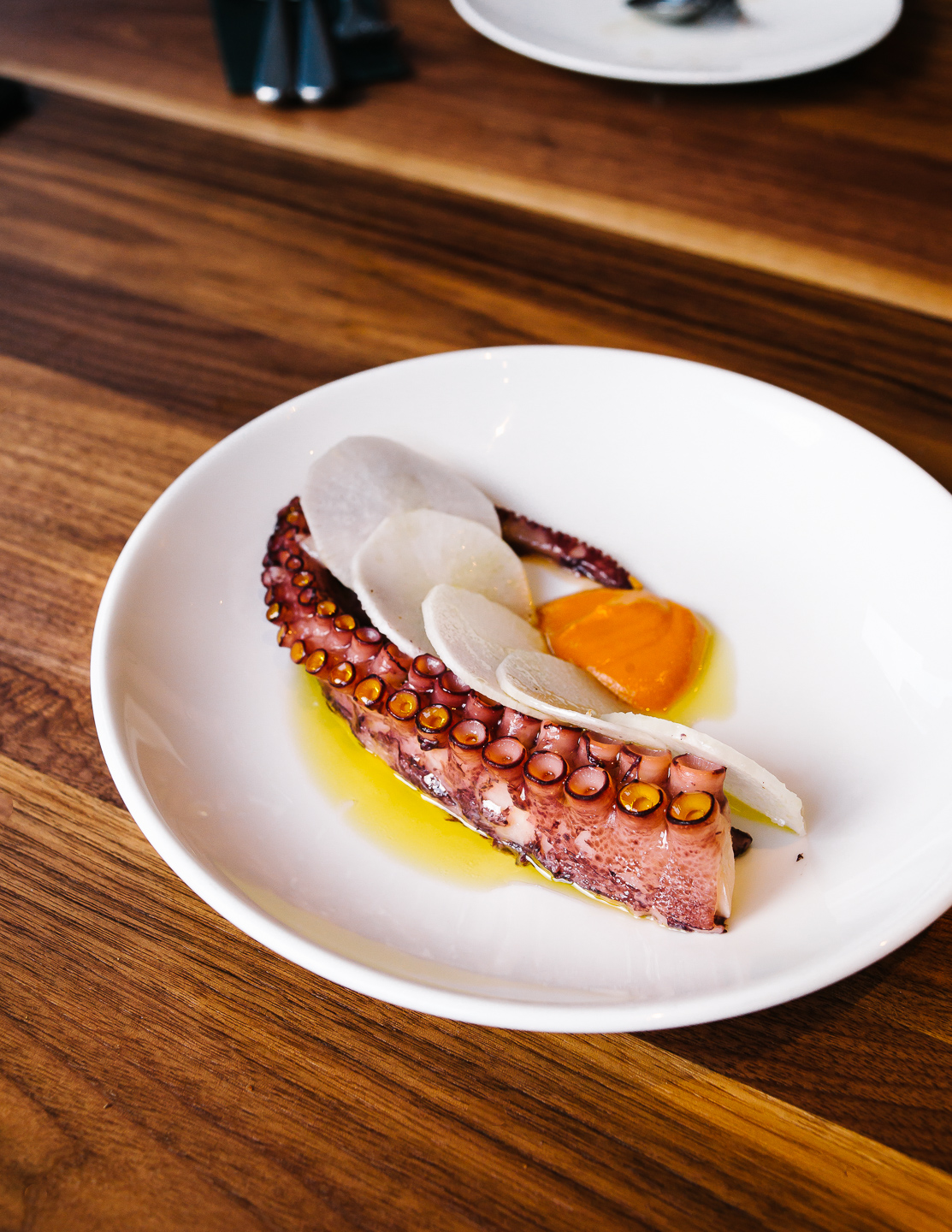 A star dish, showcasing minimalism with maximum deliciousness. The cooking on the tentacle is spot on, superiorly tender, it slides off the knife, and its juices burst on to the palate. Is it steamed or poached? Perhaps the latter, in its own juices. Raw daikon adds crunch and freshness, whilst the red pepper miso works like a romanesco to pair with the octopus. Wonderful cooking.
Grilled cabbage, black garlic and cabbage juice £7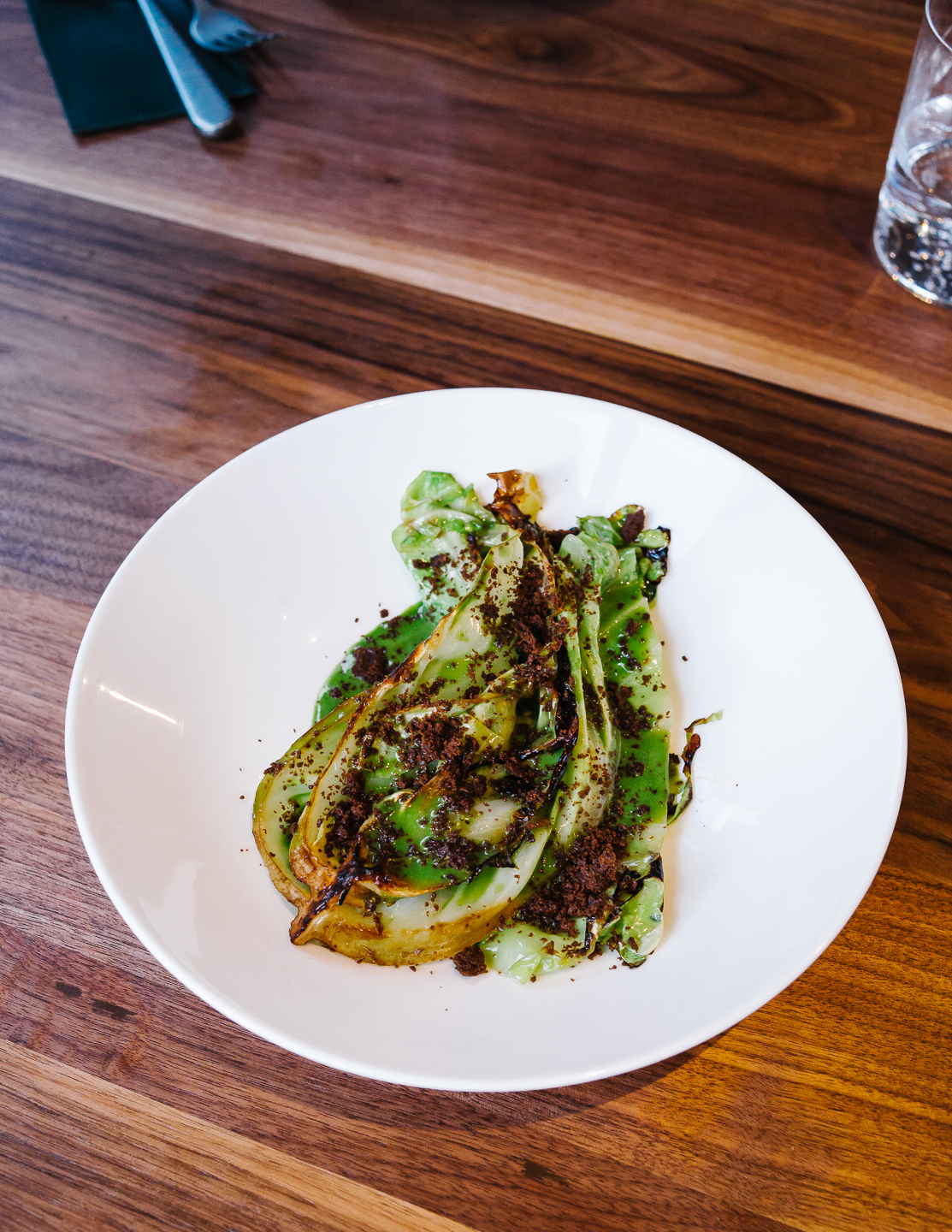 Grilling vegetables as if they were cuts of meat is not new, but if you've not experienced it yet, then this is something that will change you mind about the potential of vegetables. Rather like cauliflower, cabbage – especially hispi – cooked on coals develops this moistened meatiness, and done correctly as it is the case here, the leaves flake like that of noble fish, and lead to one of the most rewarding eating experiences you'll likely have. For me, I think grilled cabbage is more of a revelation than say Clare Smyth's potato poached in seaweed.
Raw smoked beef, apple sauce and jerusalem artichokes, £12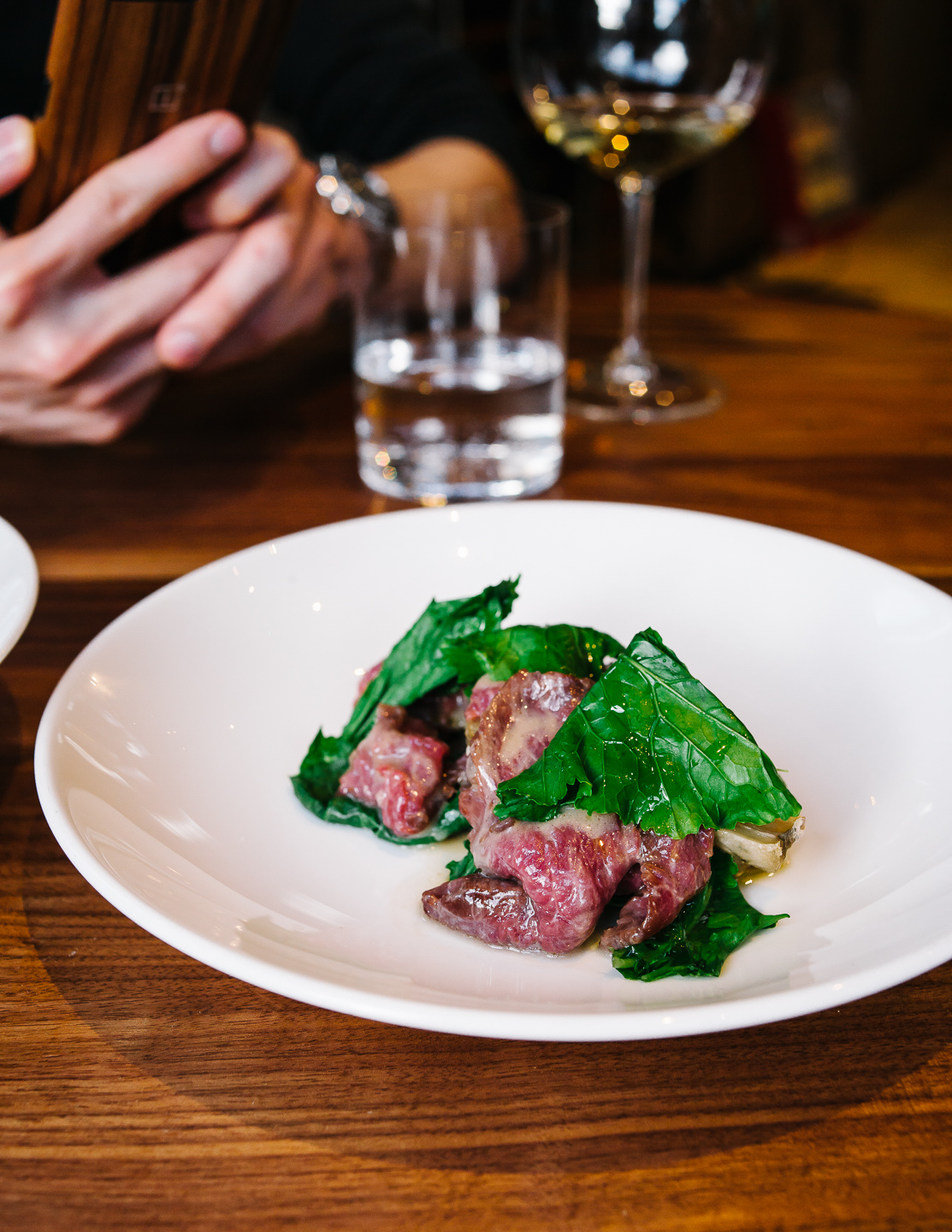 Steak tartare with artichokes is a well established and rather magical combination, of which the likes of say Phil Howard and Brett Graham also subscribe to. Leo has given his beef an extra dimension with the smokiness, and balanced the flavours with this tart apple sauce.
Neck of Bisaro, dry buttermilk and salsify, £16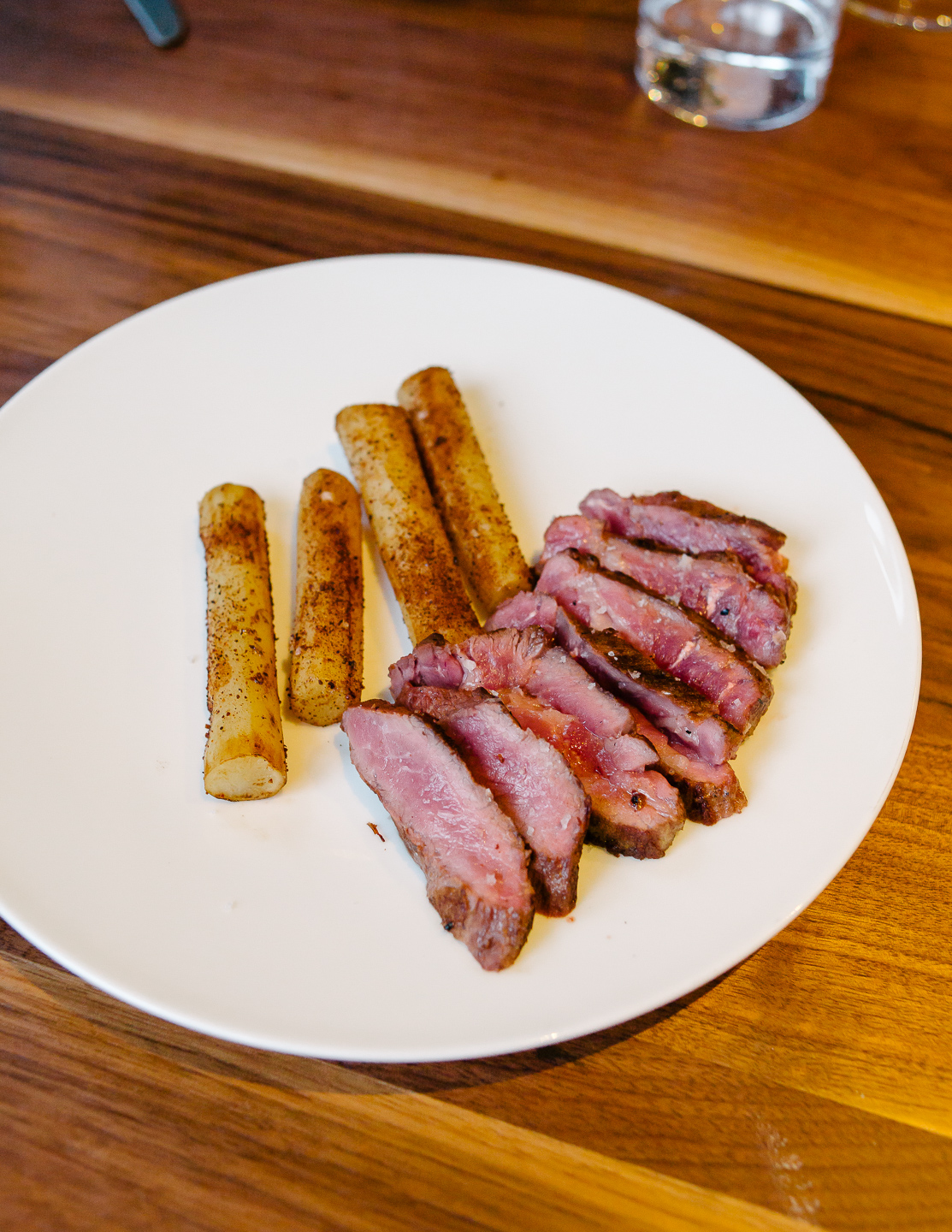 As with my 1st visit, with a cut that stands out in its texture, and somewhat cleaner flavour.
Background: Snipe and fermented pinenut, mushroom crisps (from the Chef)
Foreground: Teal (with heart) and cranberry sauce, cress salad, £25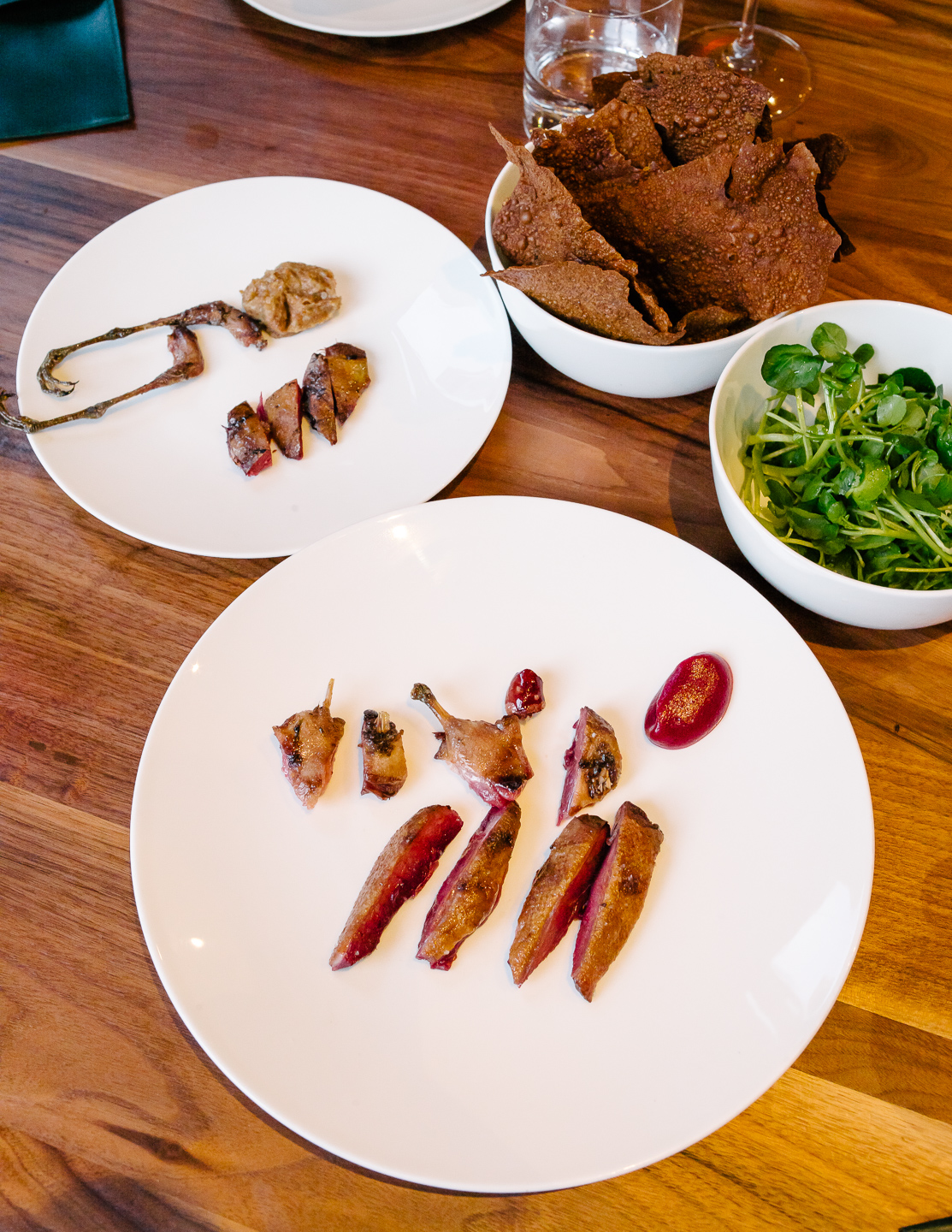 The best Game of the year right here for me. Looks deceptive, that of simply roasted game birds, but the flavours from both were full yet clean, with a moist and tender texture. I really enjoyed the fermented pinenut, much like a miso, had sweet, salty funk perfectly tuned to the precious snipe.
Of all the wild duck, I think of teal as being the most unique, a small and very lean bird that has a purity rather than gaminess to its flavour.
Later we asked Leo why the snipe tasted so clean, and he revealed that the bird had been aging in-house for a month, periodically turned and brushed with brown butter.
Ice creams, clockwise: sheep's milk with lovage ; caramel & vanilla; caraway & carrot, £3.50 each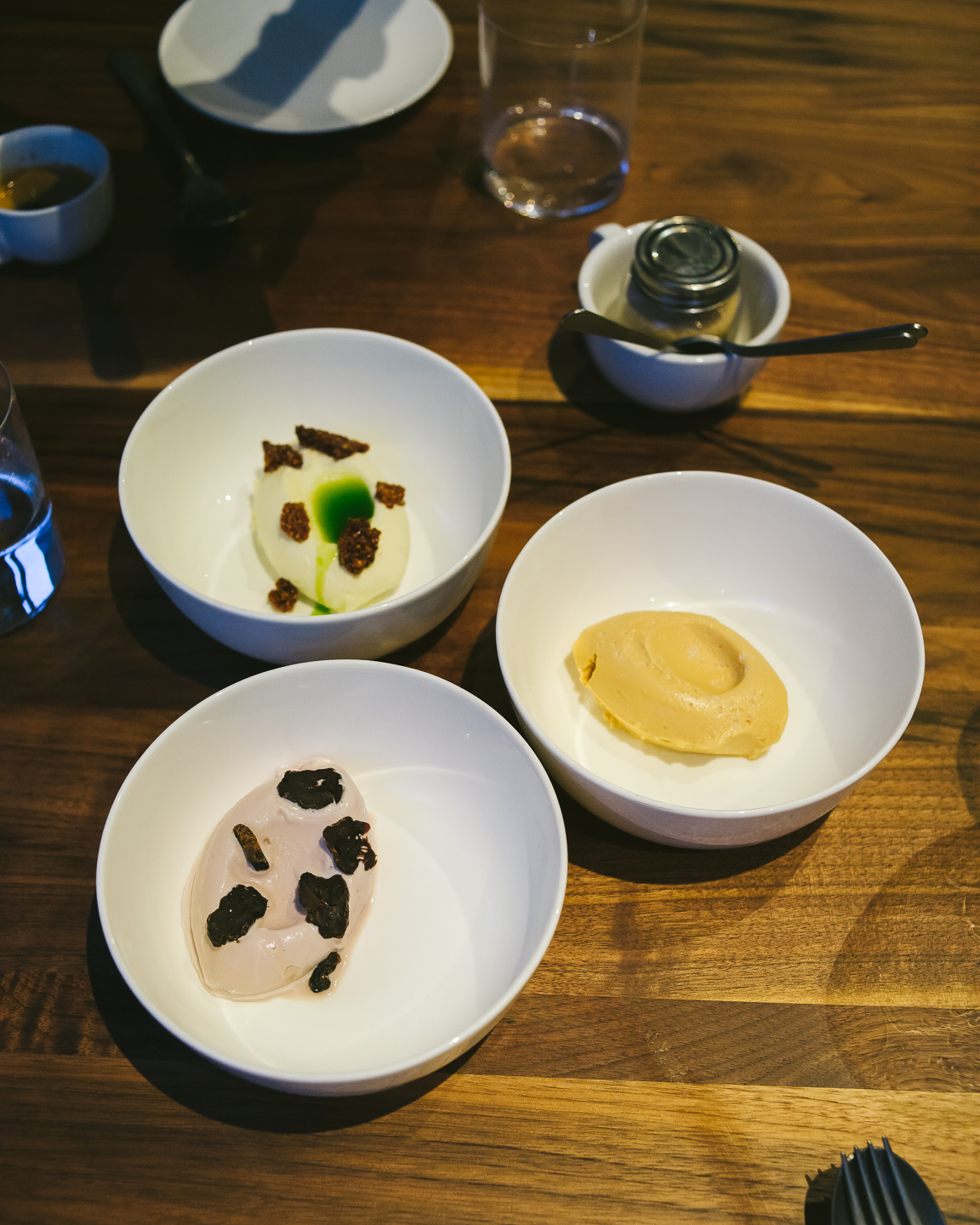 House-made, and all were fabulous. During my first visit, I had a whey and smoked honey one, which is my favourite of the lot.
Grilled soaked brioche, sour caramel, hazelnuts, £8.5
And finally, Leo's take on rabanadas/pain perdu, itself a popular dish from Climpsons days.
I paid £68.63 during the 1st visit, solo diner. 2nd visit, we paid £222.19 for 3 people.
For you Climpsons fans, you'll instantly recognise some of the dishes here, now even better made, alongside minor tweaks and tighter recipes. You'll love it even more.
It is less than a month old, but already I feel that Londrino is a special restaurant. A shining beacon walking the line between customer satisfaction and the practice of gastronomy. The two can be sometimes mutually exclusive, but with Leo's cuisine, I think they go hand in hand.
Perhaps it is down to the natural way he handles proteins, non-classical so to speak, preferring to keep the juices intact, rather than recombine after the fact in the pan, resulting in minimalist dishes that retain maximum moisture and flavour. There is also a resourcefulness in product handling, without allegiance to prime cuts in the quest for deliciousness, aided of course by training, heritage and the all-important gift of a palate. The bottom line is that Leo is someone who knows good food. But I think the true secret to the comforting quality in his food is how it is a reflection of his personality; generous and convivial, the work of someone simply cooking the food he loves to eat.
Details
Londrino
Portuguese
£40 to £50pp + drinks + service
36 Snowsfields, London SE1 3SU
Tel: 020 3911 4949
Tube: London Bridge