Phonetically, 山海 樓 is Shan-Hai Lou and if you say it like my better half does (because my grasp of the mother tongue is a whimsy), it is a beautiful thing rolling off the tongue. Much better than the awkwardly literal English translation. I love beautiful things and as you know when it comes to Gastronomy, it is often best appreciated in its originating context. Sot-l'y-laisse to bridge the gap… or am I reaching too hard?
When it comes to Taiwanese cuisine, I must first acknowledge its mighty street food culture, and the sheer diverse mix of influences from various regional Chinese cuisine (I am half Hakka, and food near Sun Moon Lake dazzles me no end), itself a direct result of its historical (dis)association with both the mainland and Japan. The vaunted Beef noodle soup, the night markets of face-sized fried chicken, stinking tofu every bit the rival for the best vacherins, run bing and of course the gua bao. Derivatives of this humble snack that has in recent times put London (and NYC a decade before) in a head over heels swoon-frothing fit.
With prosperity comes decadence and patronage and thus time and resources dedicated to refinement. After nearly a decade as a periodic observer, my tourist eyes see Taiwanese cuisine now getting a little serious. Shan-hai Lou (Raw, Mume aside) in its Capital city, being one of the handful seeking to polish the island's beloved cuisine. The materialisation of soft power, for you cynical types.
And the island is blessed with riches, and has an increasingly serious agricultural industry that is committed to producing top notch ingredients in this part of the world. These parts include Japanese terrior and to eek out quality equal to it, is a tall order. For certain ingredients, Taiwan is nearly there, for instance, gob-smackingly amazing fresh green dates and these honey-sweet cherry tomatoes that taste properly like the fruit they are – nothing from Italy compares! When you examine land and sea, we find mullet roe (Bottarga/Karasumi) operating as a healthy luxury economy; native crab beginning to establish itself in terms of branding/quality control (think homard bleu), garoupa, spiny lobsters the equal of Ise's prides, and native chickens (including capons) presented in its purest form as 'white-cut' or simply poached, representing the beating heart of Taiwanese cuisine.
A little long-winded as a prologue, but that was my taste of Taipei this year (not wasteful words, entirely relevant to this restaurant's offering…), a country in which its cuisine's treasures continue to unfold before my eyes, with each (Hello Kitty!) flight across the continents, and one that is closest to my heart. It is family after all. And family was the reason for this meal, a table of 10 or so, my side, the better half's side for a feast.
And as you have guessed, Taiwanese terroir, seasonality and aspirational refinement of Taiwanese cuisine is Shan-hai Lou's game. Much as I loathe to use the term, they use 'organic' produce (so that is the justification behind the price premium relative to market), and perhaps conveniently, this restaurant's owners also happen to be in the business of organic farming. Anything else they don't have, they source from other farms.
The restaurant now enters its 3rd year with its owner Ms Yi-Chia He, who I imagine is both the face and the driving force behind the retro beauty of the restaurant's ambiance. It is sited in an old townhouse in the middle of Taipei, at one point the residence of a well-to-do doctor, dating to Japanese colonial times.
And this has been lovingly restored to great effect. From the parquet floors, the vibrantly patterned wallpaper throughout to the ornate china, collectively yielding a stylish nostalgia that would likely pass as a WKW film set. (So much so, I wish I'd took a couple of rolls of portra 400s with me)
Heritage and elegance, all of it brassy and a little weathered. All this comes at a price of course, though even I had to balk at the per kg prices they were asking for their lovely garoupa barely swimming in the tanks.
As is customary for us, I wandered off to the fish tanks with my dad to find a lively whooper. I point to one and ask for a price, a good size, mid-sized, perhaps 1kg, maybe more. "That one? Probably 4 to 5000NT" says the manageress. A bit too much I think, for Taipei. Price itself wasn't the issue, the problem to me is akin to the scarecrow effect. High price, less turnover of stock and hence fish staying in tank for longer than they ought to. For this reason, we skipped it. Shin Tung Nan was a better shout for live fish.
And so we begin… starters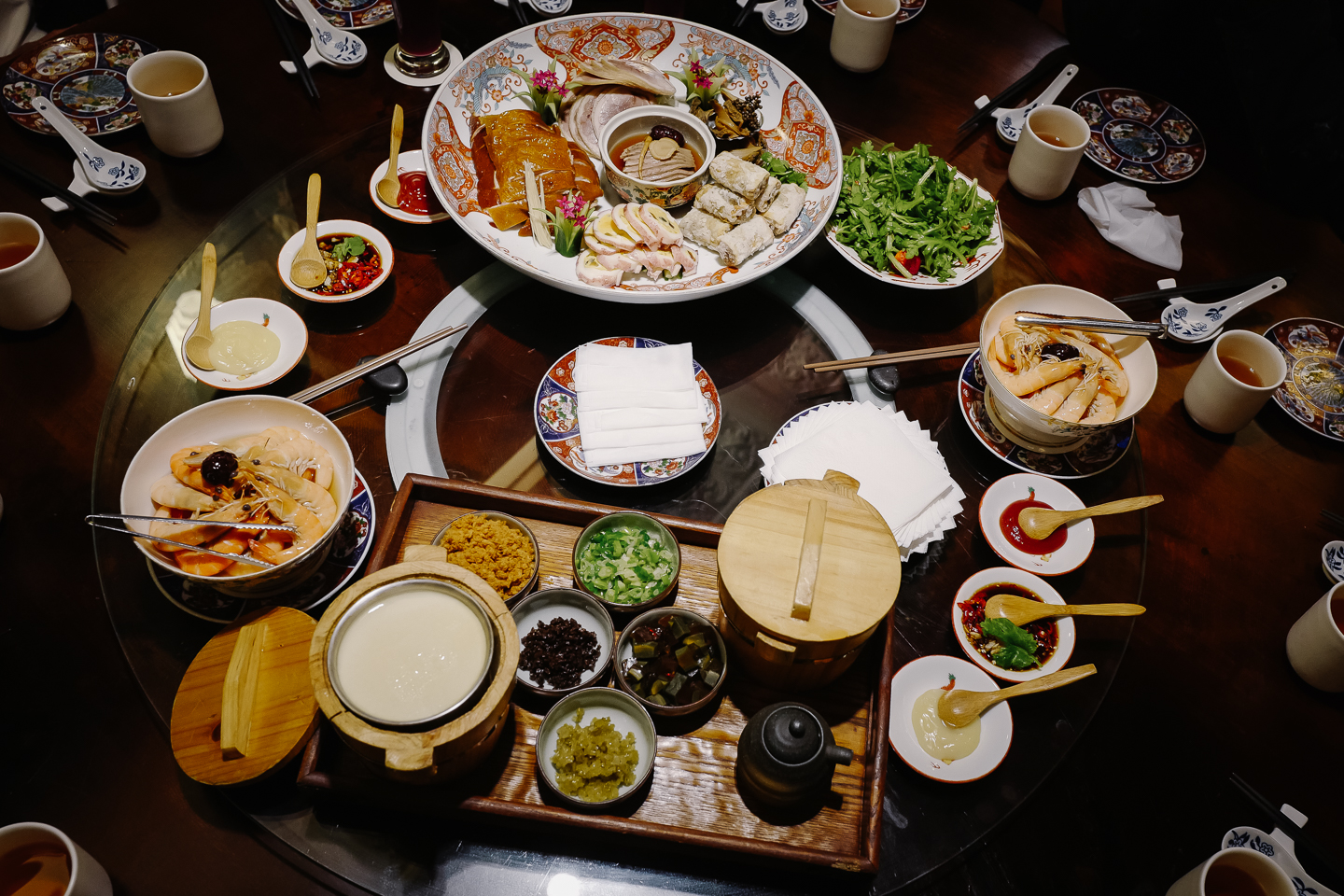 From 12o'clock, we have
1. Shan-hau Lou premium appetizer platter;
2. Chop suey (erroneously named for chrysanthemum greens) salad with bacon and Spring strawberries (from Nanao, presumably their own farms);
3. Drunken prawn cooked in red dates and shaoxing wine (these were superb);
4. Hand-made tofu with condiments
The tofu dish is dressed at the table-side by our waiters, and voila.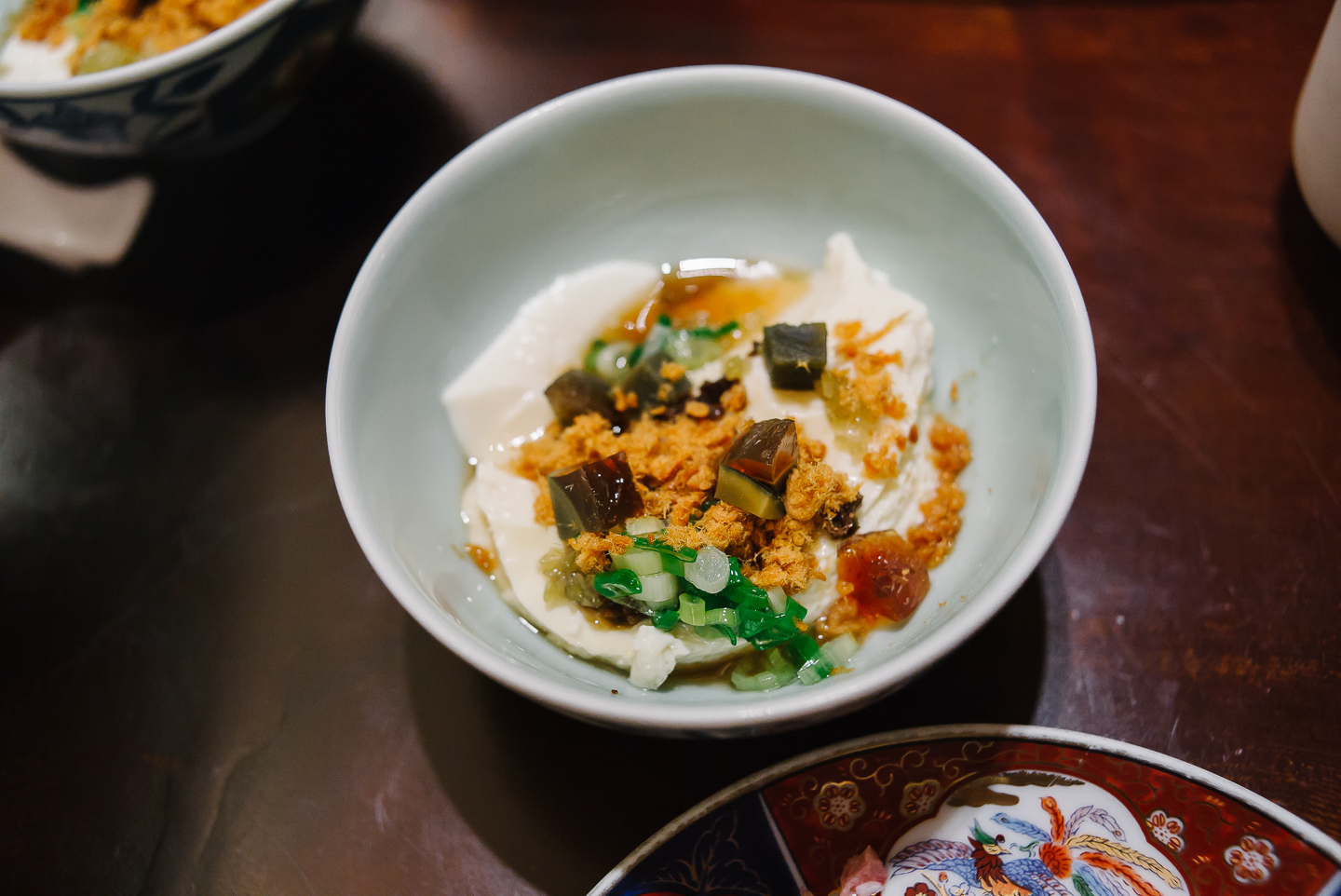 A jazzed up version of xiao-zhi, so to speak. This is excellent tofu. Is it better than a small plate at any decent Beef noodle soup shop? To be honest, my tourist palate cannot tell the difference – all tofu in Taipei tastes great to me.
Premium appetiser platter
Clockwise, Native chicken smoked over sugarcane, stuffed pork trotters, baby "JiuKong" abalone with native spice, fried stuffed prawn tofu roll, and squid stuffed with various eggs. In the centre is sliced pork heart.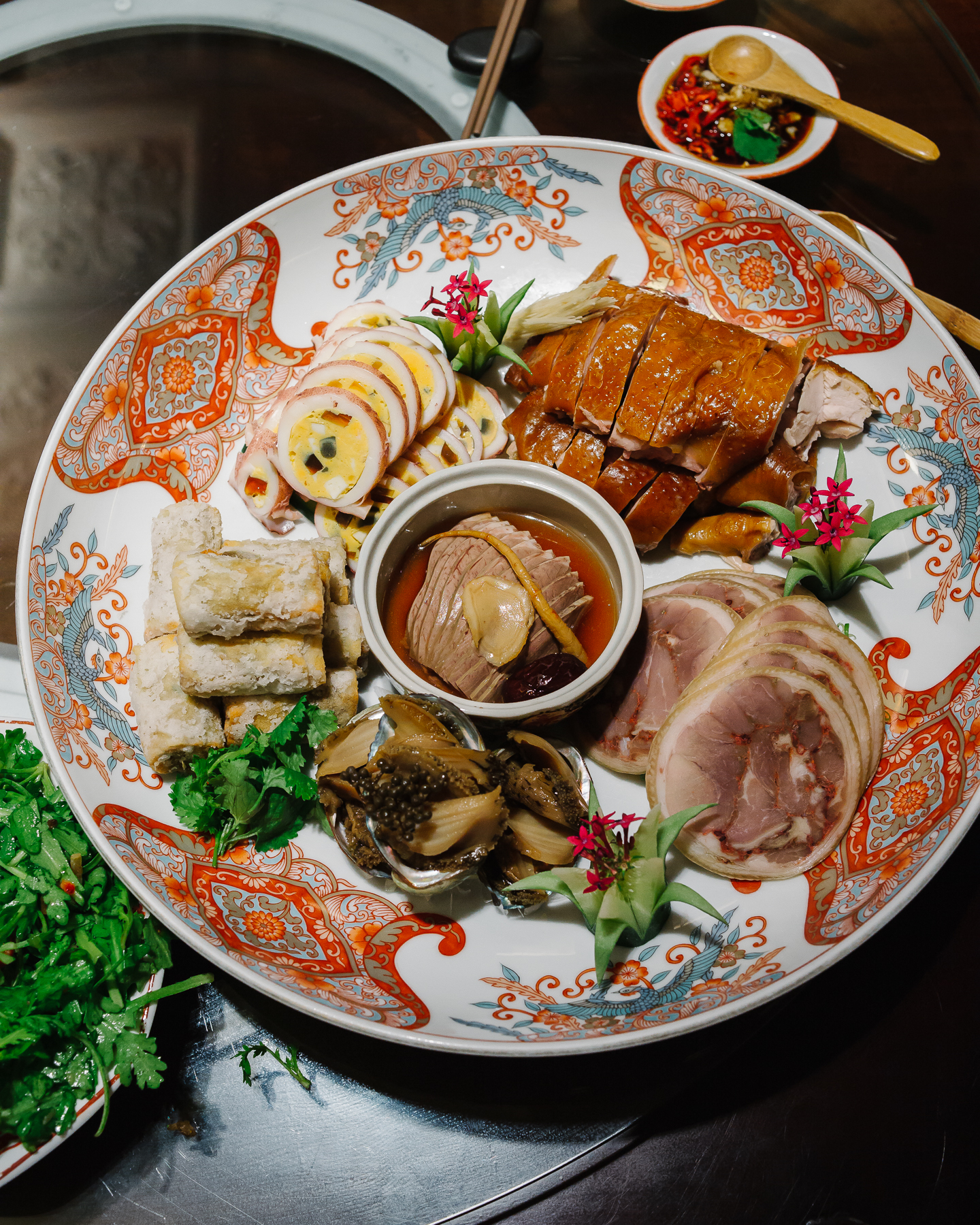 Have to hand it to the restaurant, this is one of the better cold plates I've ever eaten. On point cooking of the Taiwanese abalones – easily yielding to the bite. For me however, the highlight was definitely the sugarcane smoked chicken, low and slow, till silky smooth with a cloud of smoked flavour. Like Newton v Leibniz, the French may boast about their pigs bladder technique (incredibly a tradition threatened by plastic bags), but I think Chinese methods are superior in transforming poultry. Case in point, take your pick at any of your favourite siulap stall across South East Asia.
Pancakes with whitebait and wild seaweed, and hibiscus jam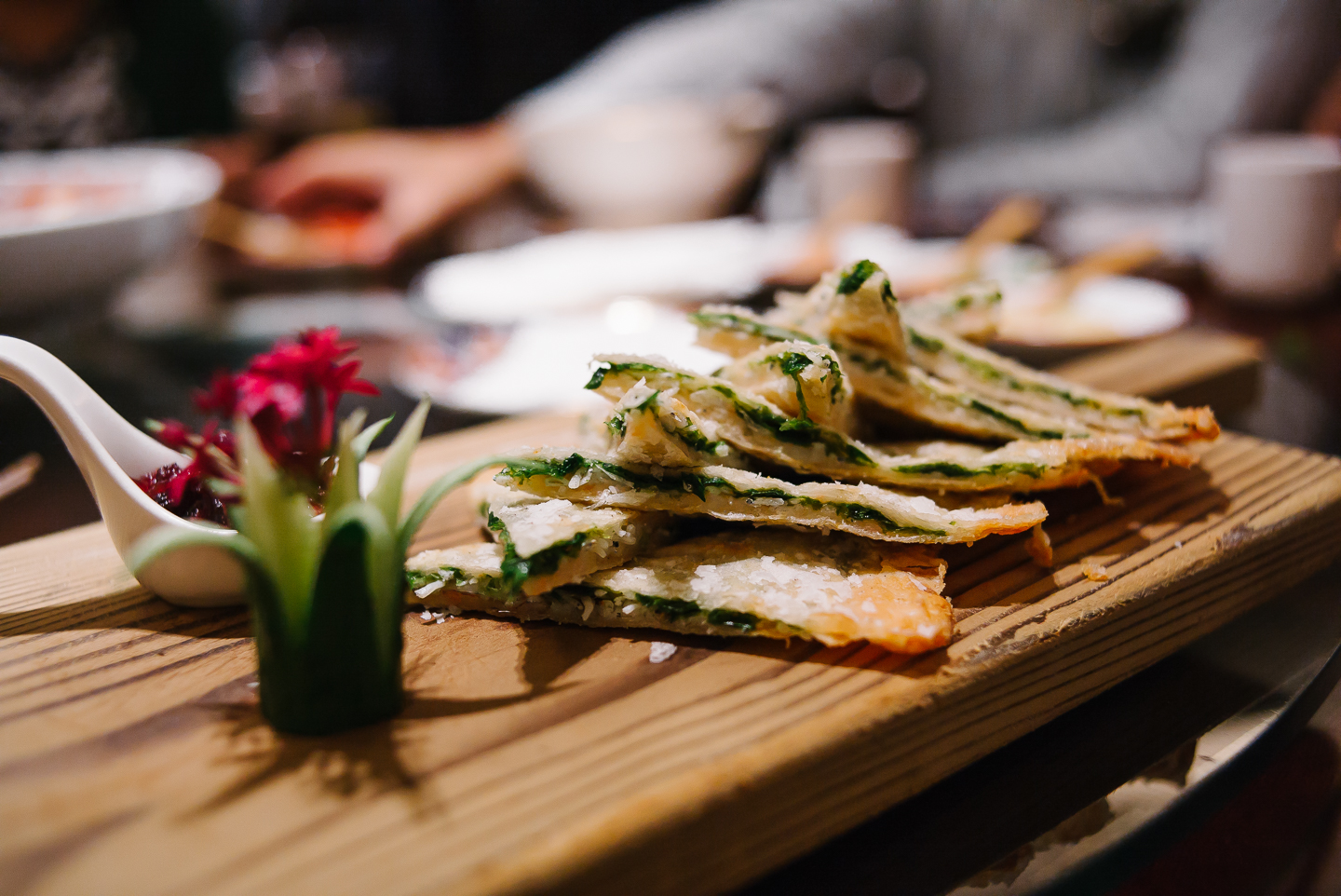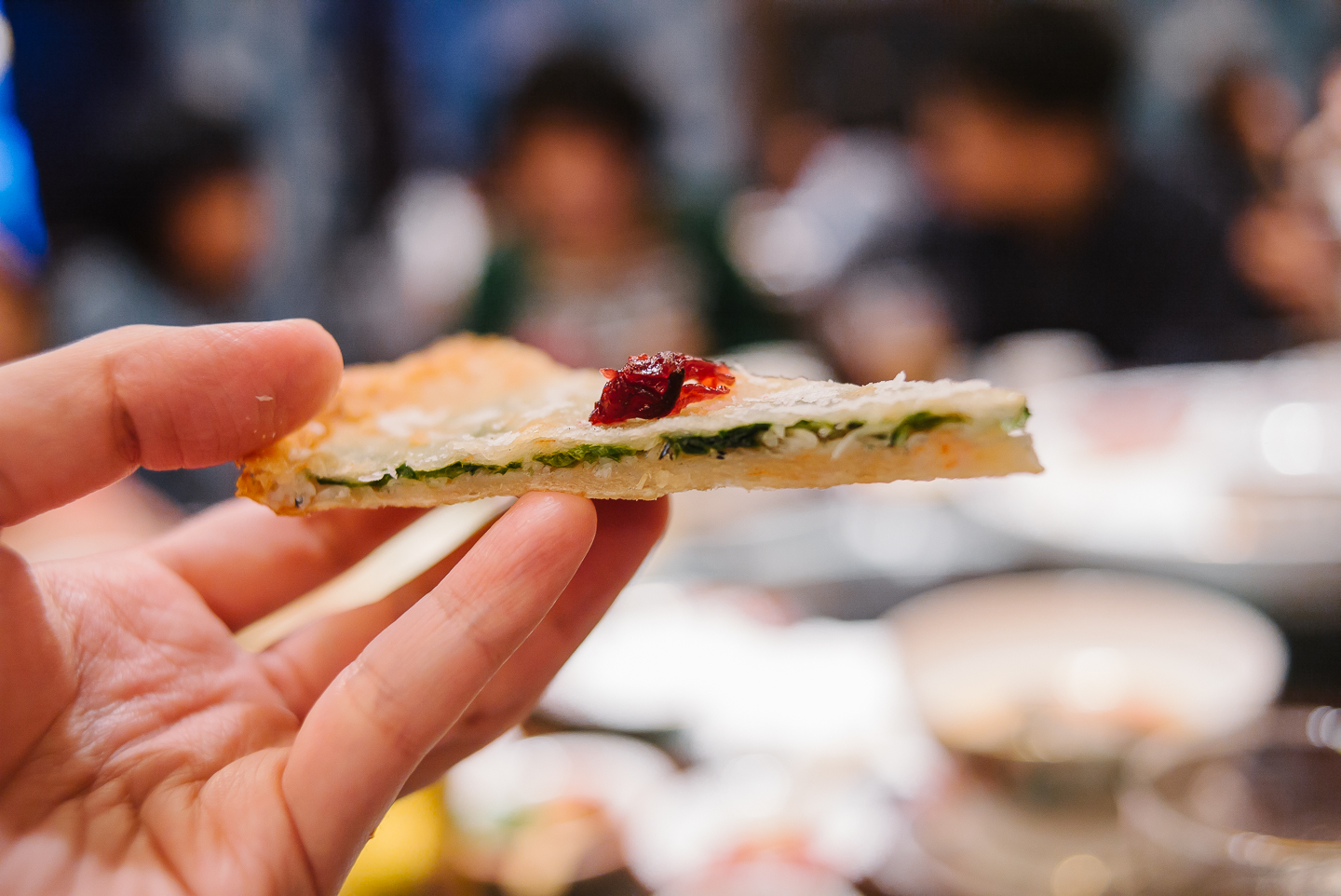 I thought these were superb, fried to order until crumbly and crispy and stuffed with natural umami, with a touch of fragrance and acidity provided for by the confit. It is like an a la minute version of a fish cake, though if I were to nitpick, the handiwork could do with more finesse (even lighter, even crispier etc) given the restaurant's ambitions.
The Piece de Resistance! Half a suckling pig, to be served in 3 ways.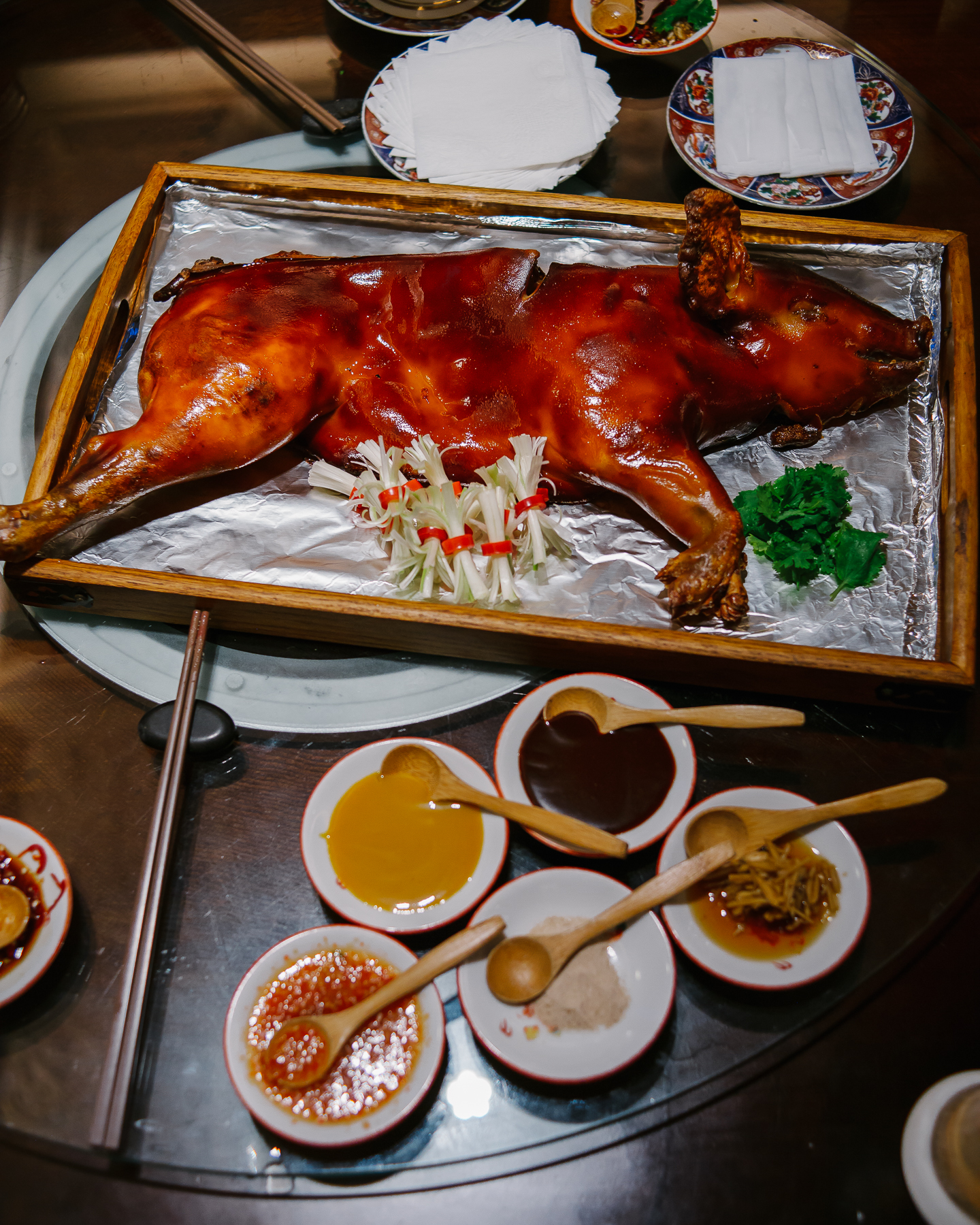 Crispy suckling pig – First plate: Crispy skin and various sauce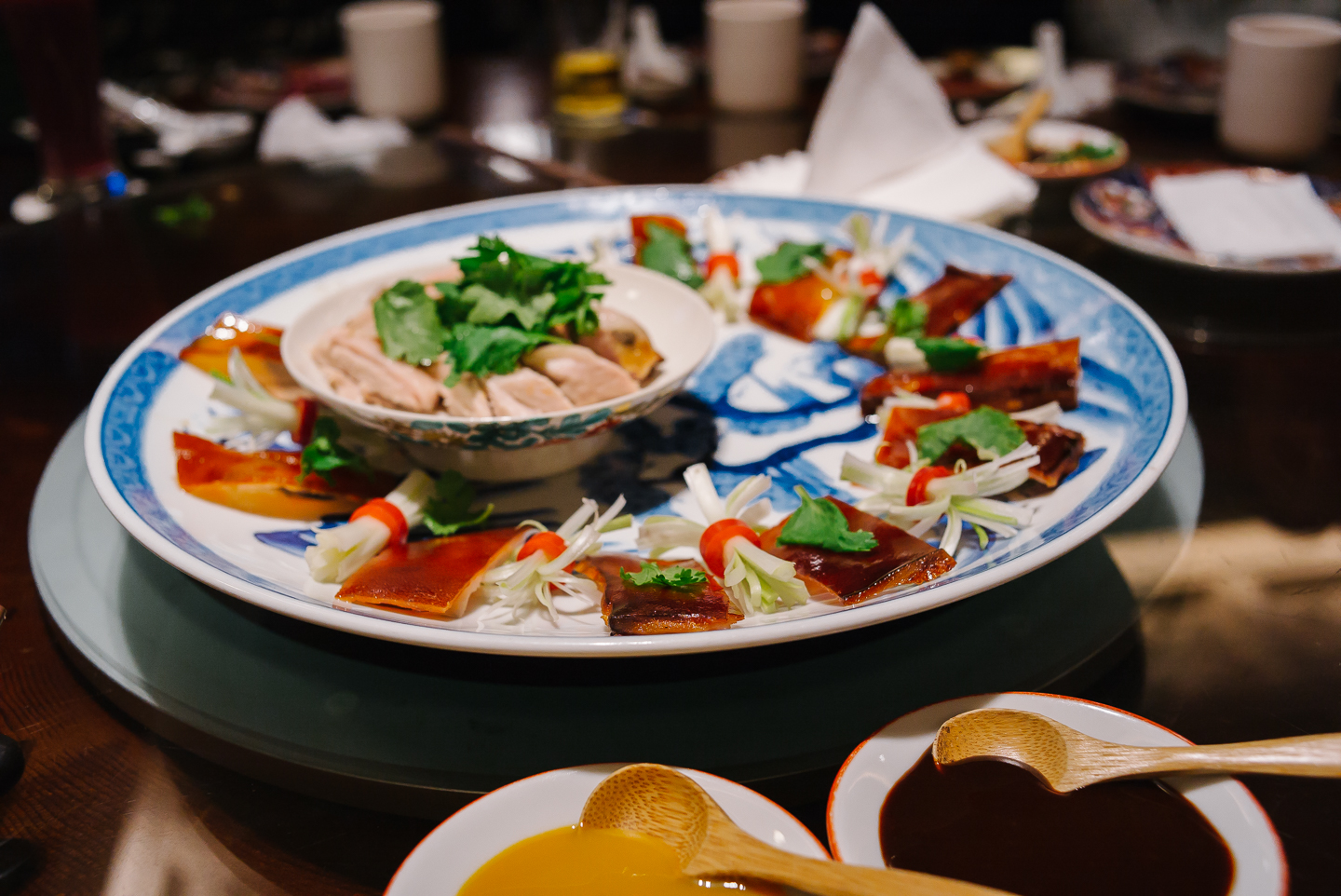 Yep, pretty good skin, but just… not great. It shimmers, but again here, it just lacks that extra-fine quality, if you compare to say, the great Heens of Four Seasons across HK and Macao. I'm looking for a clean snap. This was more like thin acrylic than glass.
Crispy suckling pig – Second plate: Pork rib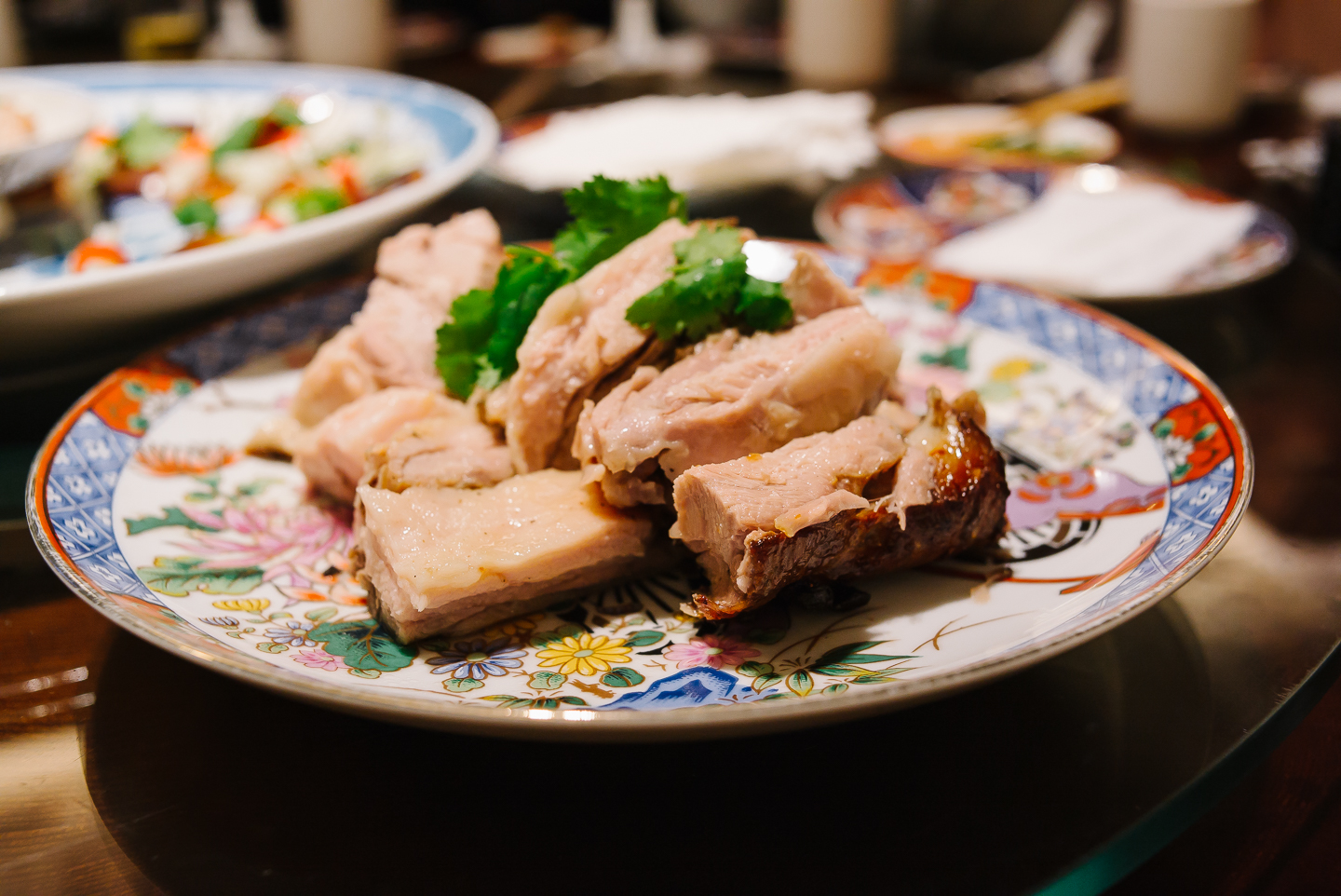 This was 100%, melt in the mouth gorgeous. Tender, full water retention, the result of a careful and undoubtedly labour intensive cooking process. I would go as far as to say, some of the best suckling pig I've eaten, salamanca and noir de bigorre included.
My dad however remarked that the flavour was a little too natural for him, and he would have liked a little more seasoning. For me I thought the purity of pork was what made it successful.
Crispy suckling pig – Third plate: The rest stir-fried with pickled cabbage and in steamed bao, aka 'gua-bao'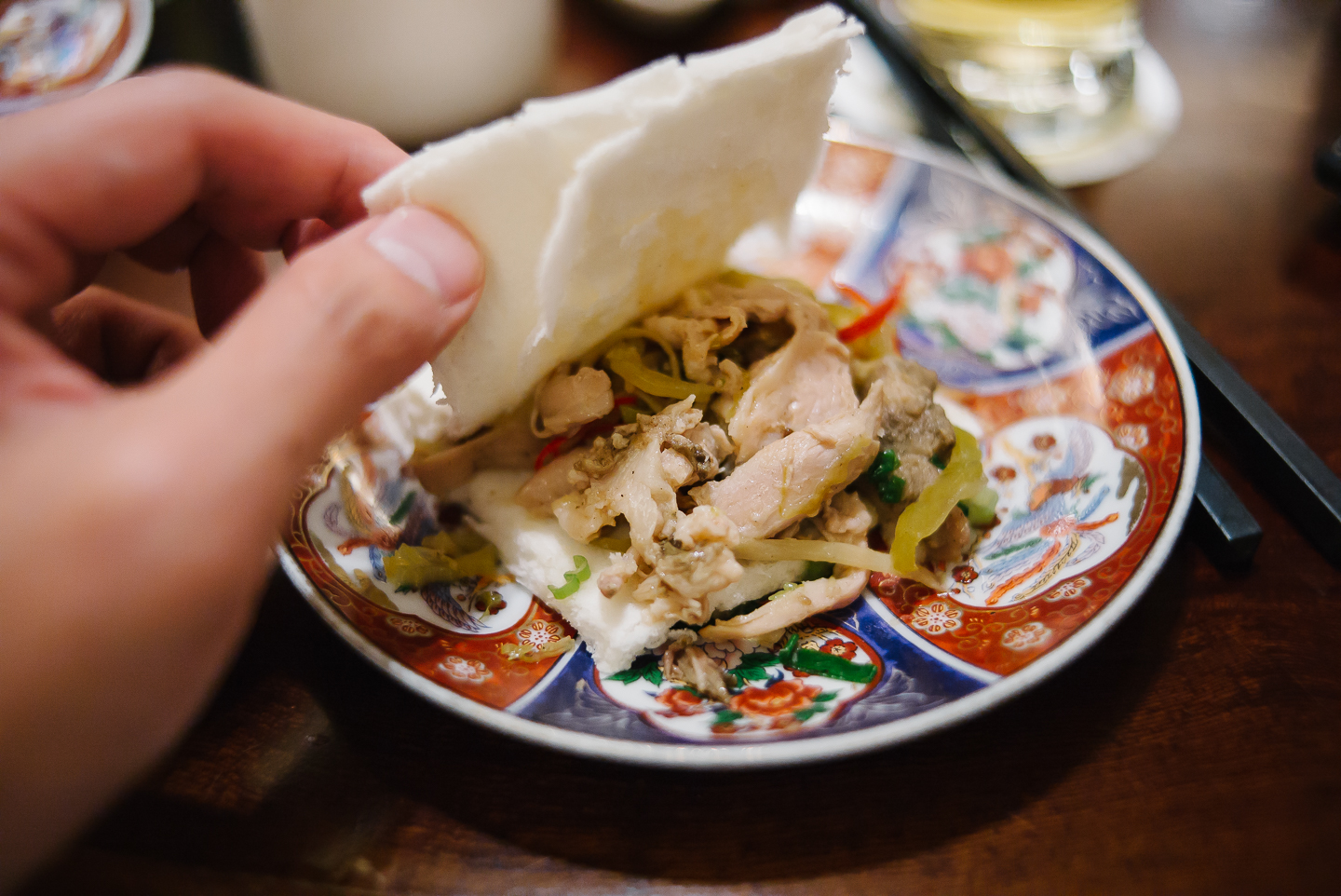 Did the Chef run out of ideas for the third plate? The dish was a little oversold, reality not tallying up to expectation. A car crash and seems to me, to be a waste of very good and hard work. If you're going to do guabao, do it justice at the very least. Where's the peanut and coriander? I can never understand why chefs do this to the 'off-cuts' from a roast. It is a diss of their own labour, the stir-fry only served to dry up the meat, and so without a sauce to hold the stuffing, this was crap. We asked for more of the sauces, it needed something, I lathered on the honey mustard.
A missed opportunity IMHO – if you're going to go full banquet and nod to the glory of history; then you should fully embrace modernity and all the lessons learnt to get there and do this with full flair. If only to justify the stupendous asking price for the pig – NT6500 (£185).
Three cup stir-fried clams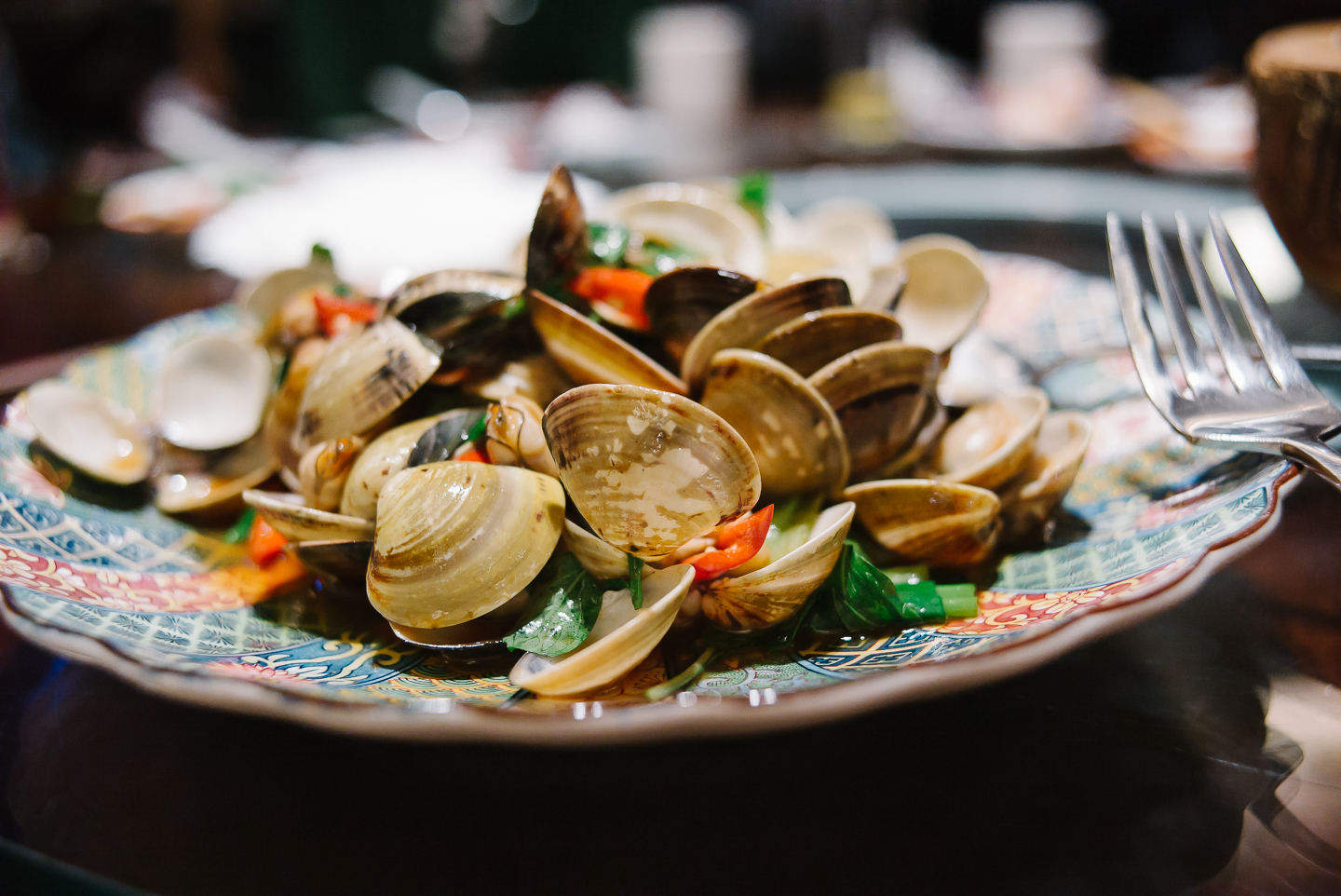 One cup sesame oil, one cup soy and one cup wine. With basil to garnish. Very typical Taiwanese flavour, according to the better half.
Steamed broccoli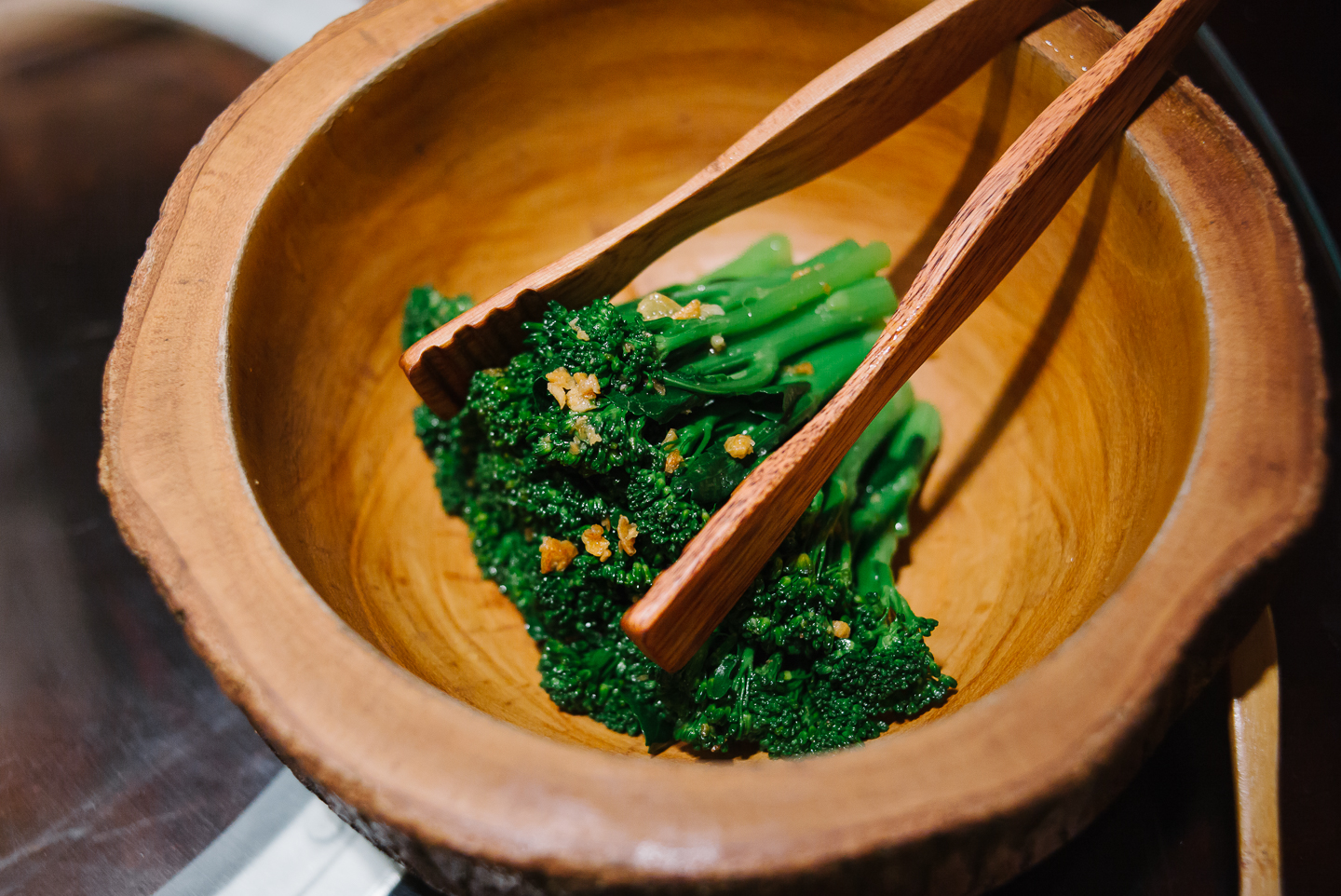 Fried rice with mullet roe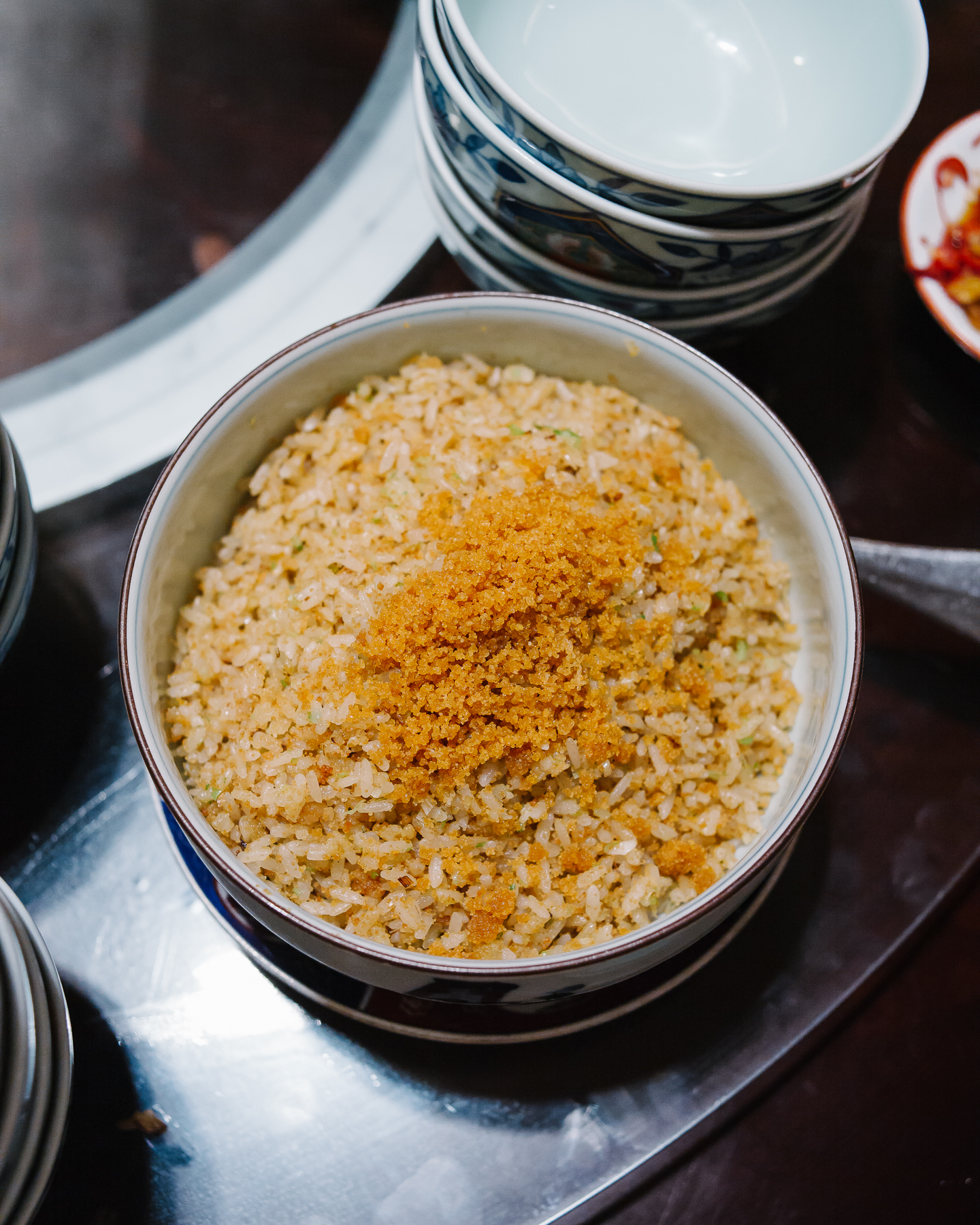 Excellent rice, individual grains and all, and so they must be overnight rice, as it should be. The luxury aspect in theory seems like a good idea for an umami kick, but in practice, the over zealous grating of melting roe dulled the key textural aspects of the fried rice. Maybe crab would have done better here, or less grating, hmm.
Light beef broth with sliced native breed dairy cow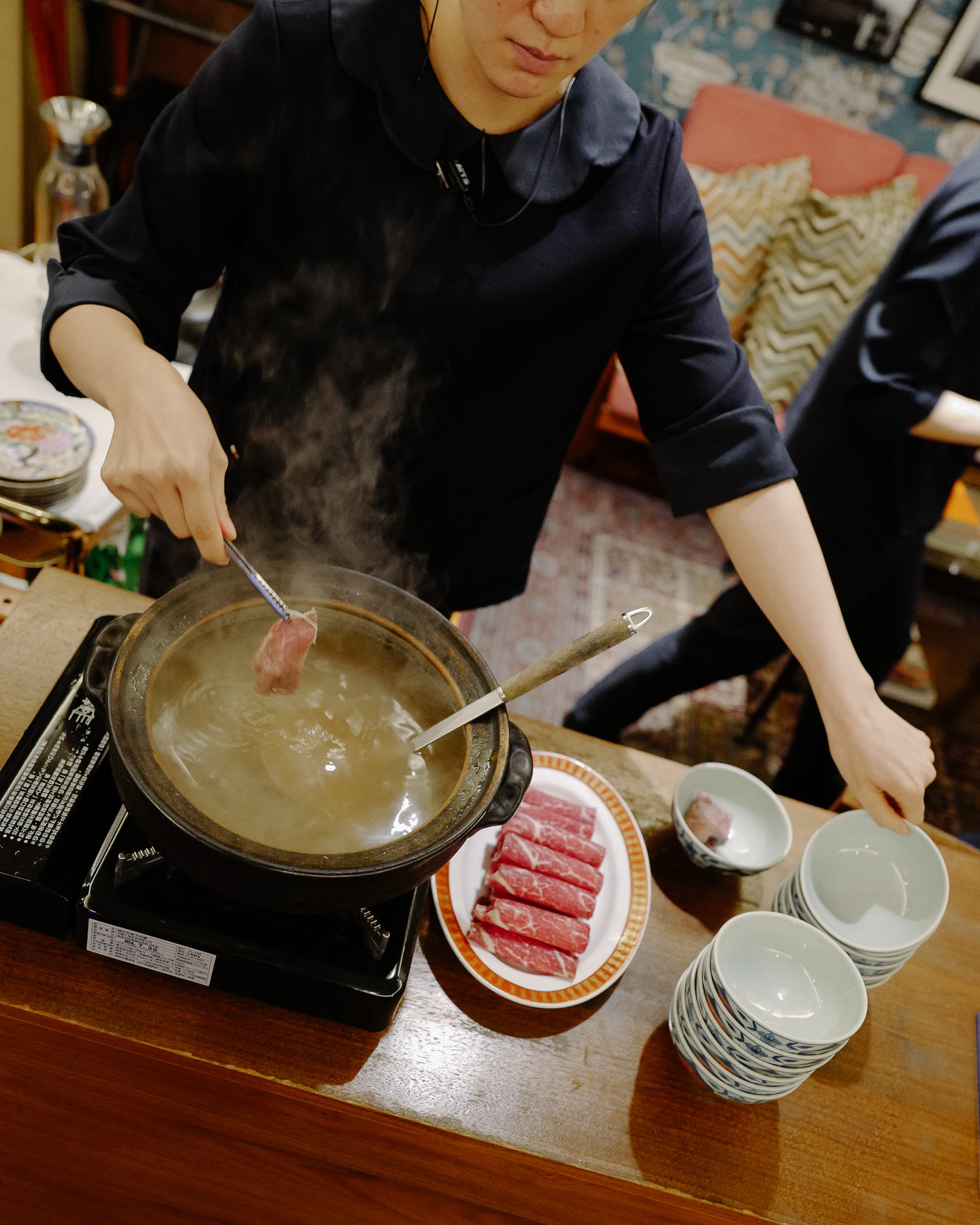 A sukiyaki hot pot to finish. It was ok. I would have liked the salted meringue bake, but they were out of steak cuts.
We skipped pudding at the restaurant and went to Ice Monster for bubble tea bao bing.
We paid about NT21,000 (£600) in total, roughly £60pp without fish, without pudding and only 3 – 4 bottles of gold medal beer. For Taipei, it is on the steeper end of the scale.
I enjoyed the meal as a whole, and I applaud the attention that's gone into the sourcing, the prep, the cooking, the ambiance, and the rest of the shebang. The restaurant has true ambition and looks committed to push the boat out. Is there more substance than say Shin Yeh, the famous and default introduction to Taiwanese cuisine? Hard one to call, but I probably have to say yes.
(I do like Shin Yeh, I also like Golden Formosa in Tianmu.)
However, I did also think some dishes lacked a sense of suave. That extra bit of finesse is absent. It might cost twice if not triple for a comparable range of ingredients at a Heen or a Court in Hong Kong/Macau, but at those places, you get top notch handiwork. If you put aside ambiance and dissect the actual gastronomical aspects, that is what you want to be paying for. And in that regard, Mountain Sea House is not quite there yet. If I were to make comparisons of experiences – albeit totally different offerings – Shi Yang is the more complete and rounded package.
So they are a few years behind the curve. Nothing wrong with that, as the restaurant is still in its infant years. There is potential yet to be unlocked and what they offer is intriguing. For one, it is truly a practice of Taiwanese cuisine. A purveyor and protector of heritage, and perhaps someday the torchbearer to take the island's cuisine forward in the foreseeable future.
Details
Mountain & Sea House 山海樓
Vintage Taiwanese Cuisine
£40 to 70pp + drinks + service
No. 16, Lane 11, Section 2, Zhongshan N Rd, Zhongshan District, Taipei City, Taiwan 10491
Tel: +886 2 2511 6224
MRT: Zhongshan + 6min walk
PS: Of course, feel free to shoot me, as I am a mere outsider to Taiwanese cuisine. There are others who have a better handle of it and if this place interests you as it does me, then here is where I recommend you give Diary of a Growing Boy's accounts of his visits, a gander.