Other meals: 2016 , 2015, 2011
Taking a cue from another loyal Medlarite, Kian, I went about organising a little off-menu extravanganza for five to cure our January ills and blues. What better way to do it than quality chicken (the best to some), and peak season melanosporum.
David (O'Connor, co-owner of Medlar) put together a little menu for us, £80 for 3 courses + cheese, the slightly elevated pricing (relative to their standard) due in part to unusually high prices for the chicken in January.
We had 3 chickens between 5 to share, little did we know that we were going to end up with the feast we had. Mahoosive portions being an understatement.
Bresse hens are after all fairly old birds at slaughter (say 120days compared to the say 50 days) and so they are comparative 2kg hulks, of which a whole of their supreme breast will impressively dominate any average sized plate.
David did remark that they could reduce the portions and charge a little less.
And yes in the end, a winning chicken dinner at one of my favourite restaurants in town. Totally worth your while, if you are curious about these hens.
Also, we drank some lovely Burgundy with this meal, from Medlar's reasonably priced wine list. The beauty of fairly large tables is being able to share delicious drop. I've included brief taster notes below.
…I eagerly await the day Joe brings back his potato and smoked egg ravioli, so delicious…
We paid £162 per person for everything, coffee, petit fours. Notes and pictures below.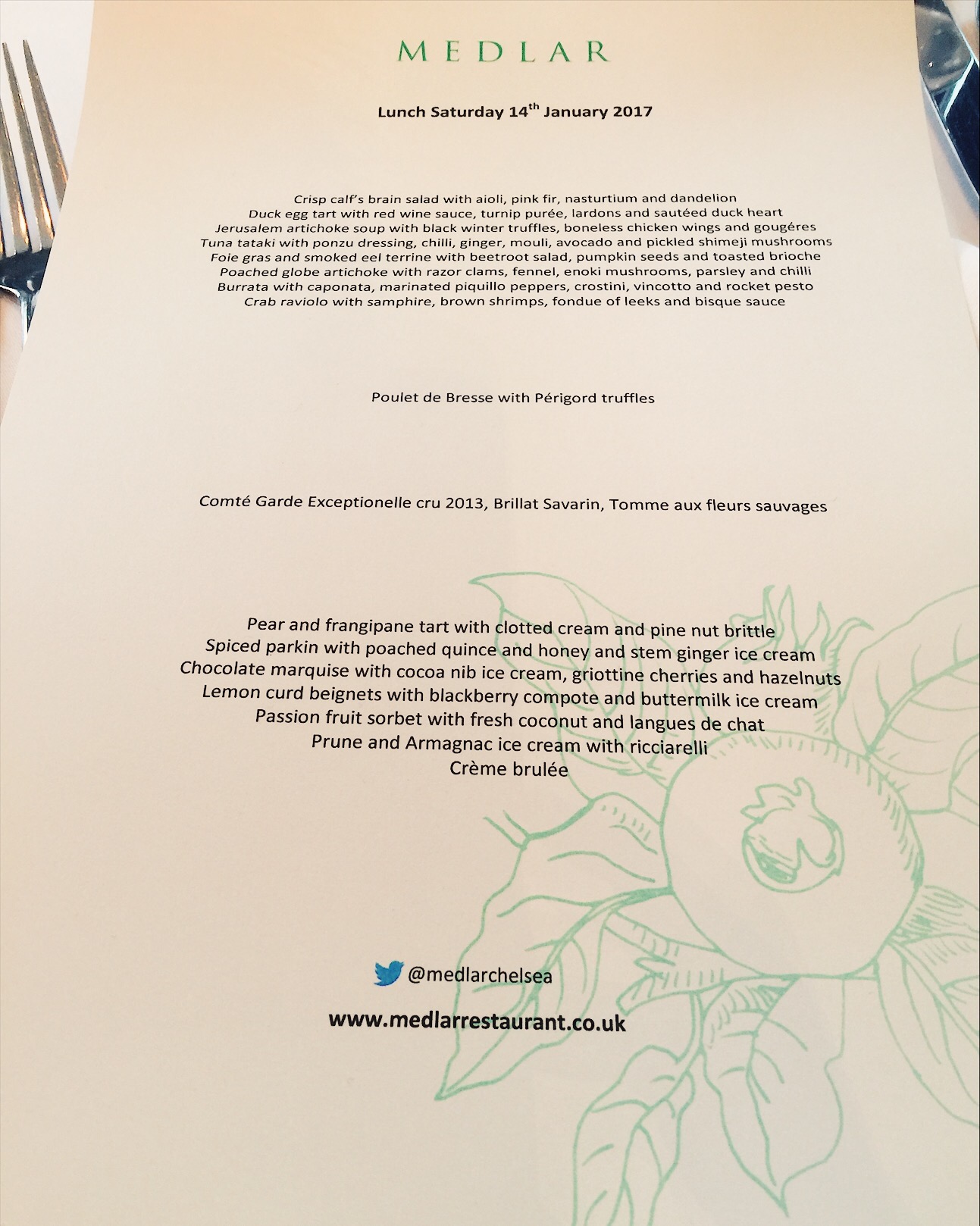 Poached globe artichoke with razor clams, fennel, enoki mushrooms, parsley and chilli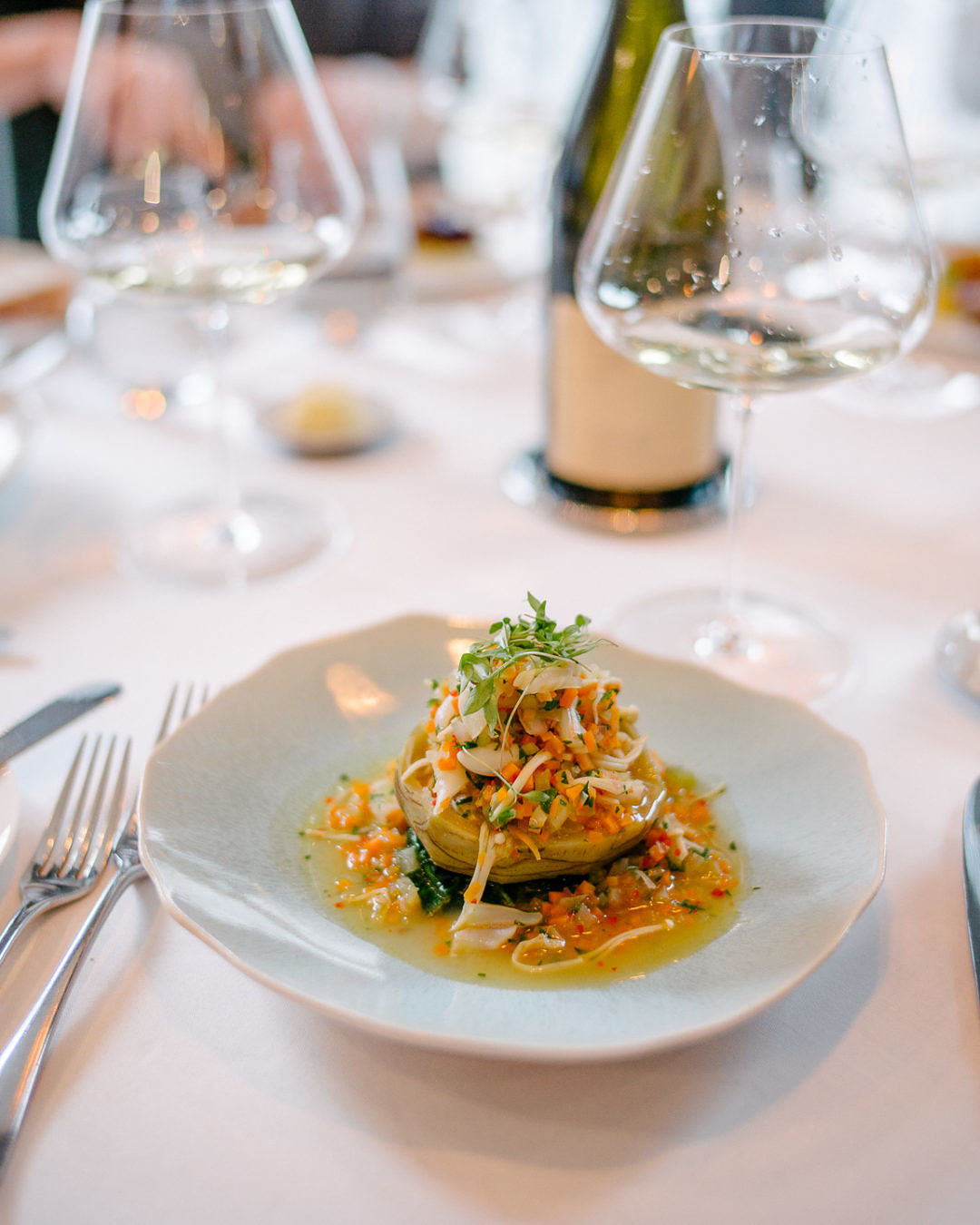 Artichoke whole and halved. Really nicely done, like a hearty warm salad. Totally softened artichoke, juicy earthy flavours with just-cooked razor clams.
2013 Le Banc, St Aubin, P Colin-Morey, £85/btl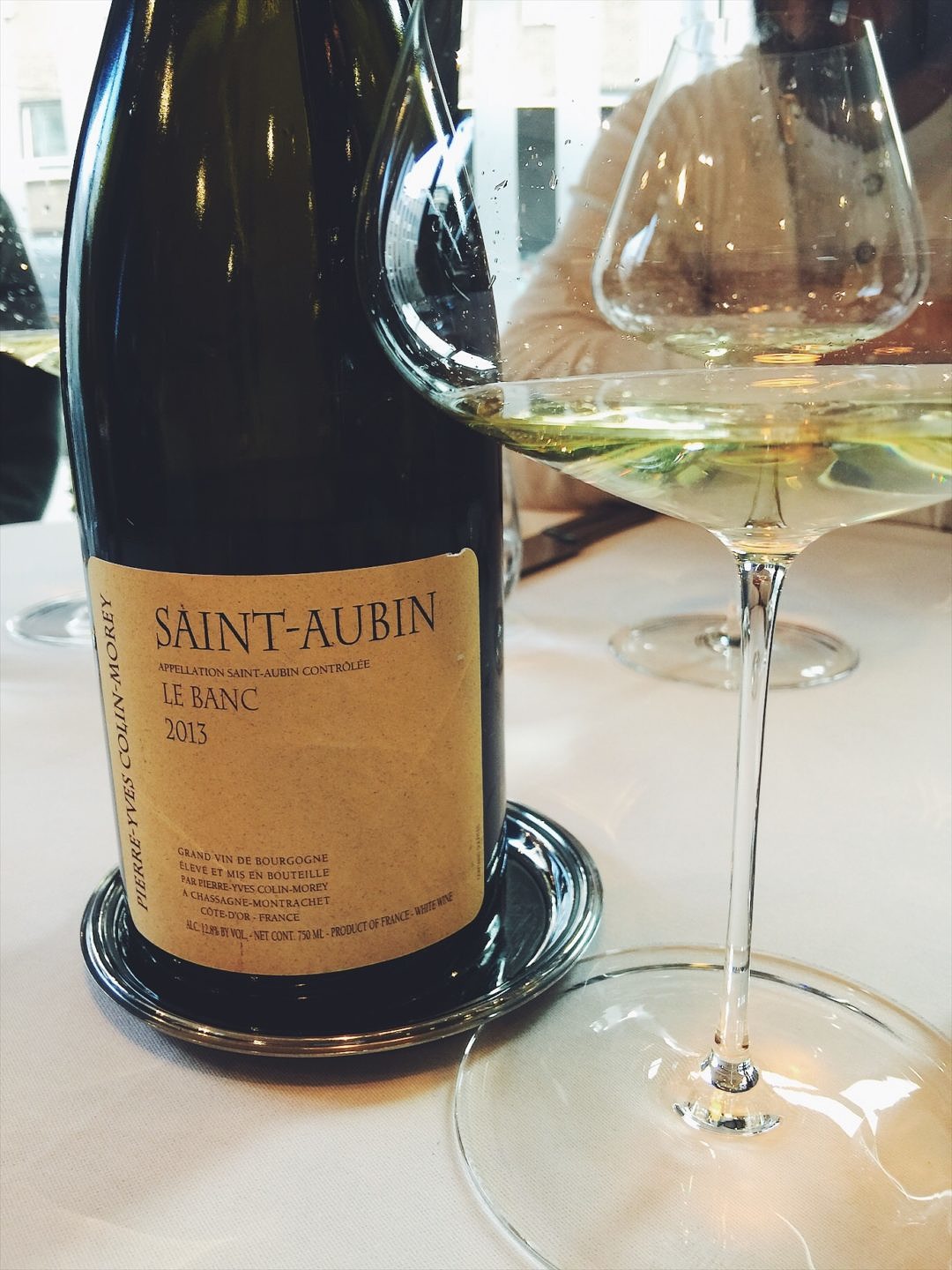 Just a beauty. An aromatic nose of mineral, flint, white flowers, toasty honey, and a generous and expansive palate with pure salinity and rich acidity. The wine became clearer and more aromatic as it sat in the glass.
Poulet de Bresse, Perigord truffle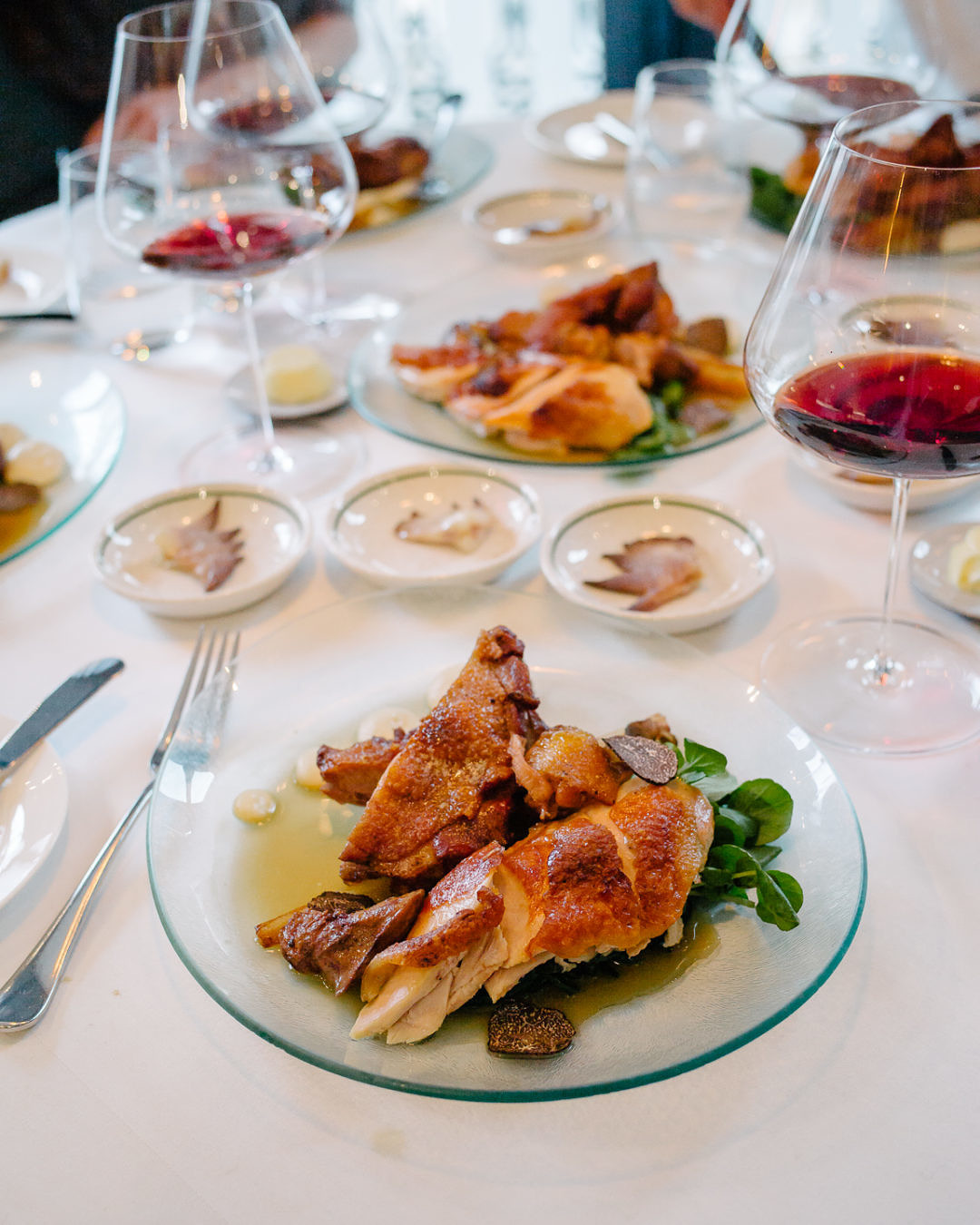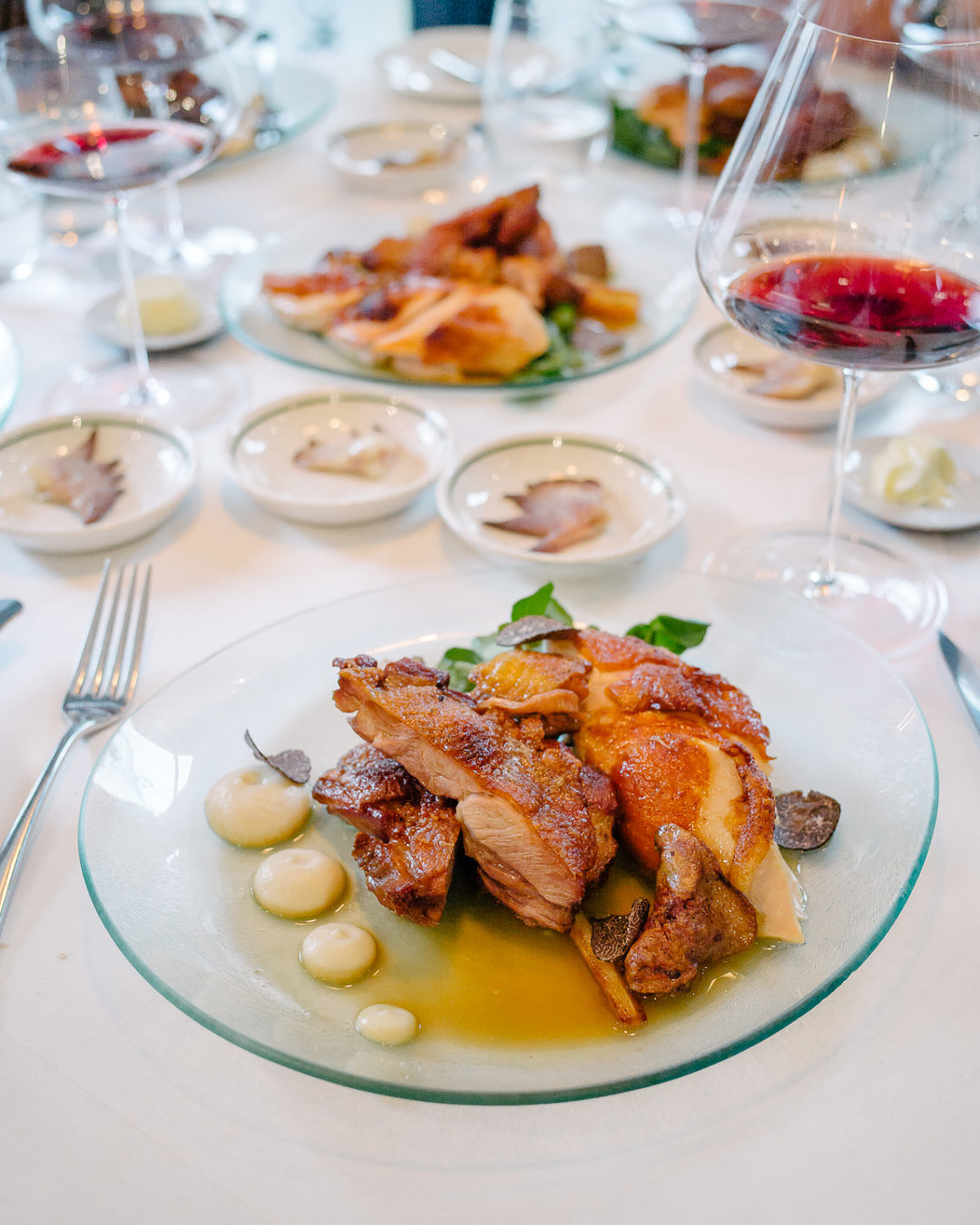 A gentleman's portion (..!) consisting of breast, boneless thigh, boneless wing, liver (loads of flavour ?) and comb (this too ?). Little wastage, as the tasty jus has been clearly reduced from bits and bobs that didn't end up on the plate.
2006 Aux Murgers, NSG,1erC, Sylvain Cathiard, £195/btl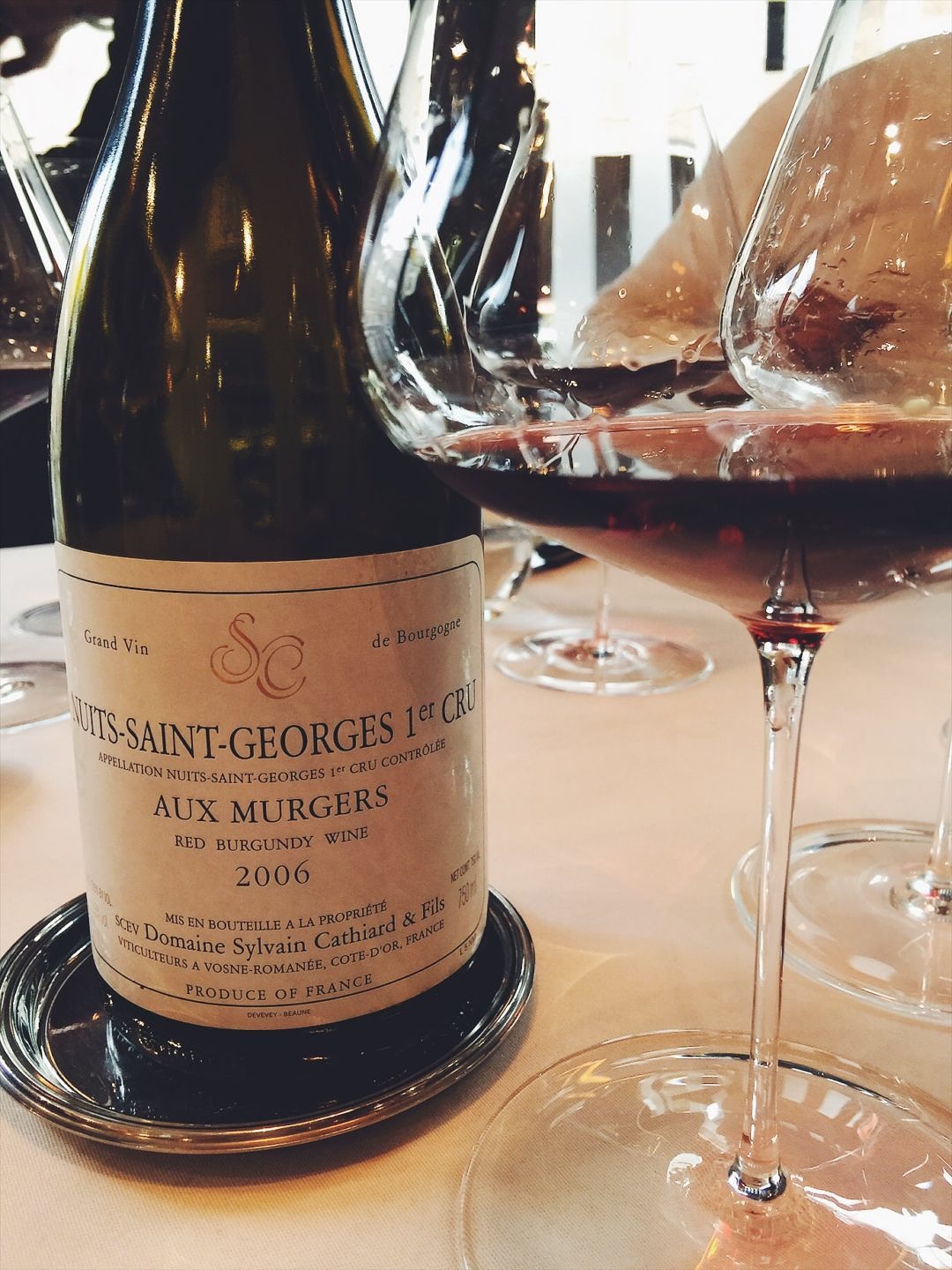 Drinking young for 11 years. We didn't decant, but in hindsight, we should have. Beautiful wine though, opening, building, unfurling through the meal, shaking off its tannins to reveal the dense core of black fruit. Not too peppery (for NSG), velvety and aromatic, it is obviously well-made from this top end winemaker and I actually think it's a fair few years away from peak.
Comte Garde Exceptionelle cru 2013, Brillat Savarin, Tomme aux fleurs sauvages
As always, David's cheese board is as strong as oak. The brillat savarin in particular was the stuff of dreams. A brilliant example indeed.
Chocolate marquise with cocoa nib ice cream, griottine cherries and hazlenuts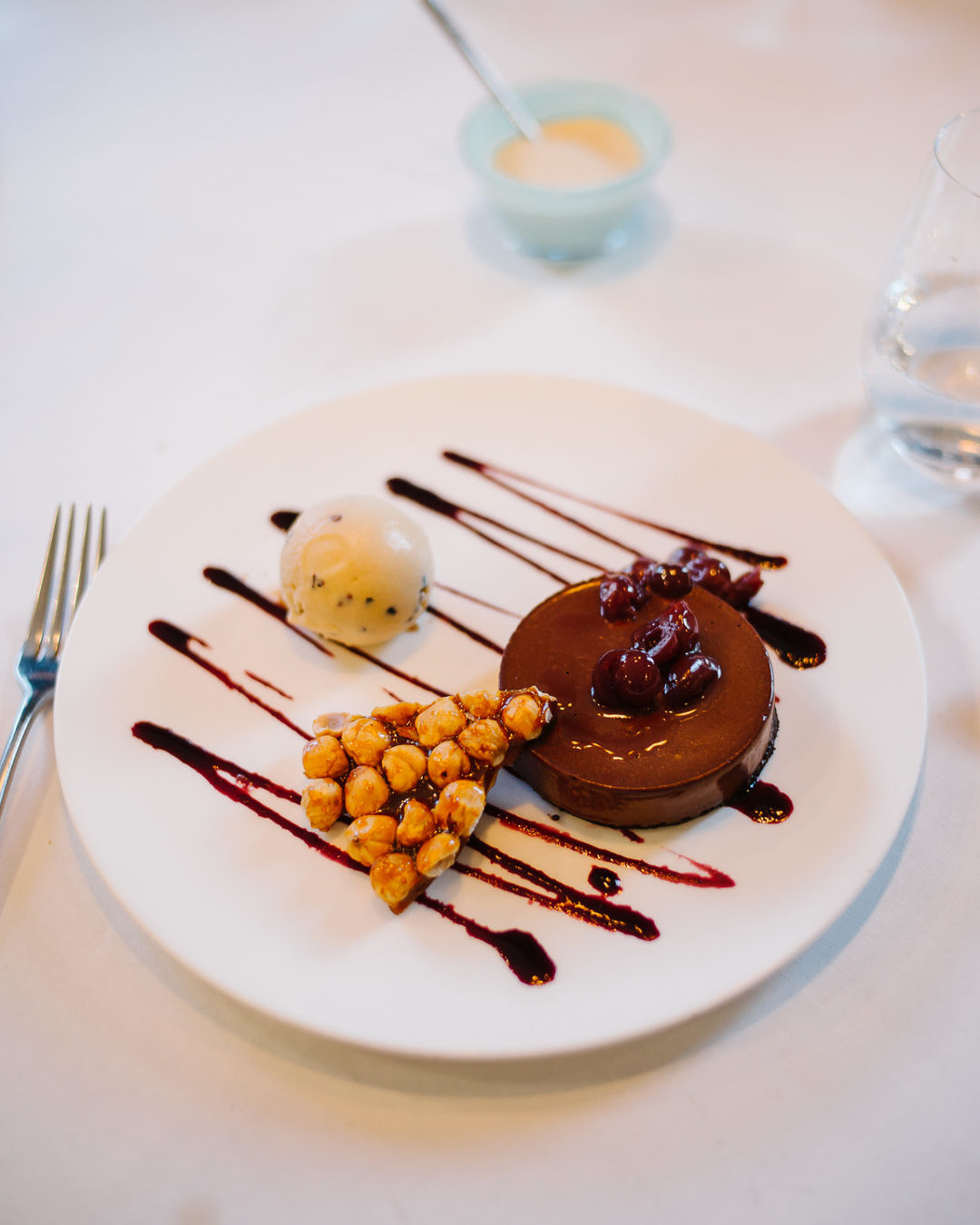 Stuffed.
Medlar
French
Lunch Mon – Fri £28 / 3 courses (See Menu)
Dinner Mon – Sat £46 / 3 courses (20% off on Mondays)
Saturday Lunch £30 / 3 courses
Sunday Lunch and Dinner £35 / 3 courses
438 Kings Road SW10 0LJ
Tel : 020 7349 1900
Tube : Fulham Broadway + Bus11