This storied site has seen many gifted chefs pass through its doors over the years, starting with its previous guise as legendary La Tante Claire before Gordon Ramsay bought it from Pierre Koffmann in 1998. Aubergine transposed as it were, in all but name. Wareing, Askew, Sarge, Zazoni, Smyth – did I miss off any other talents who ran the pass for Gordon? Whatever your opinion of the man and his style as portrayed in media, Gordon had trained with some of the best and this shaped him undeniably into one of the finest chefs of his generation. Alongside Phil Howard, they represent the legacy from the frenetic MPW era, leaving a permanent imprint on London (and Franco-British) gastronomy.
As is well known, Gordon Ramsay was made to wait several years before he was finally awarded his third in 2001. The gifted Scotsman now spends most of his time on TV, so today his role at No.68 is more owner than chef.
Since 2009, the daily running of RHR has become that of Restaurant Clare Smyth in all but name, and a rather good job of it too. Clare has continually retained three stars in all the years she has led the brigade. This arrangement (I say that not knowing if she will keep her stake in RHR) won't be for much longer as she is finally ready to launch her delayed solo effort this year, at a site in Notting Hill. So 2017 marks another important turning point for the restaurant, as Clare will pass the torch onto Matt Abe. He's been a part of the brigade since 2006, and has served as Clare's head chef for at least the last five years. This for me is an exciting time to see what's brewing.
We visited during a Friday lunch service in early January 2017, although Clare was on the pass, subbing for Matt who was on vacation.
First of all, the service here is as they say: world class. We were warmly greeted by Jean-Claude Breton, who has been Gordon's Maitre d' for 23 years, dating back to 1993 when Gordon opened Aubergine (To you JCB, 23 more years of slick service). His FOH glided around the floor like Olympic ice skaters, pouring wines and saucing dishes along the way. Very civilised, as it should be.
We decided on ALC, 3 courses for £110, because I wanted to try Clare's signature suckling pig prepared many ways and also to have the Assiette de l'Aubergine (+£10 supplement pp); a spread of the pastry section's entire repertoire, all to share.
The execution is – without question – top class. This kitchen works as precision instruments do, weaving together immaculate food, each element on the plate playing its role in delivering supremely balanced flavours. The standard of cooking easily qualifies as one of London's best practitioners of classic technique. I say one of the best because I don't see how, say, The Ledbury's consistency is lower than here.
…..much as I like to say otherwise, a meal at 68RHR is underwhelming in 2017. Not because the food is not delicious, rather this has much to do with the lack of generosity. And I mean the laughably tiny portions for a 3 course meal which I feel prevents the restaurant from moving with the times. I wonder about the taster menu. I can't imagine the ravioli being any smaller.
As you slice up the pricing, you'll find that this indeed is an expensive restaurant (in the UK).
£110 = Starter (£40) + Mains (£55) + Pudding (£15) [ + £10 supplement for Assiette ]
I can come to terms with the glamour pricing given the reputation (a steal compared to Paris equivalents), and I sympathise with the challenge of operating a London restaurant, but at these prices, it is hard to understand what exactly is the difficulty in putting more food on the plate. In the case of this meal, we're talking Norfolk suckling pig, not A512 Matsuzaka, and so you know they can afford to put more on the plate. The crispy belly was so spot-on (see below for photos), it's crazy to think you are only allowed two bites, and not more. You end up eating more bread than you care to have. As for the pudding tour de force – the meal ended with a single souffle to share, which I think awkwardly interrupts the experience of it. Here I know they could very easily send two out – little more than a little creme pat, egg whites and lots of air – or two small ones at the very least, as they do at say, L'Arpege. Where is the joy in this meal? It's the little things, the minor decisions, these are the things that turn good meals into great meals. And with such brilliant cooking, send more of it to the table! They are shooting themselves in the foot by not doing so. A three star meal should be thrilling, convivial, boundless. This …isn't.
This is where I offer the key difference between Howard/Graham and Ramsay. The former celebrates the joy of dining, while the latter celebrates the Chef's great powers at the stove.
With only a single amuse, lunch was done in under 90 minutes. I wasn't expecting to hang around for the whole afternoon, but it felt like they were trying to turn our table. I let JCB know a couple of times I was still hungry, but he didn't seem to understand I could do with more food. So much for being able to feel your pulse. Ramsay's restaurant business model took a battering following the 08 crash, and maybe this cost consciousness is a result of the need to ensure the bottom line is never threatened again (says the food blogger). Anyway, when you visit, you should definitely look either at the set lunch or the taster. Avoid the ALC.
Perhaps this is why there is vitriol espoused in certain corners of the web, which I think is unfair when directed at the actual cooking. And it is worth repeating, some of London's best for classic cuisine. The problem is the soul train has gone fishing and this conveys the feeling of a tourist attraction, rather than the home away from home for one of Britain's best chefs. I hope that someday Gordon will be tempted back into a restaurant kitchen again. For these reasons, Restaurant Gordon Ramsay in 2017, in my view, delivers the experience of an over-performing two star restaurant, rather than a full 3 star meal.
We paid £151.88 per person, for all food, one glass of wine and service.
Details
Restaurant Gordon Ramsay
French
Set L : £65 for 3 courses++
ALC : £110 for 3 courses ++
Taster : £145 for 6 courses ++
68 Royal Hospital Road SW3 4HP
Tel : 0207 352 4441
Tube : Sloane Square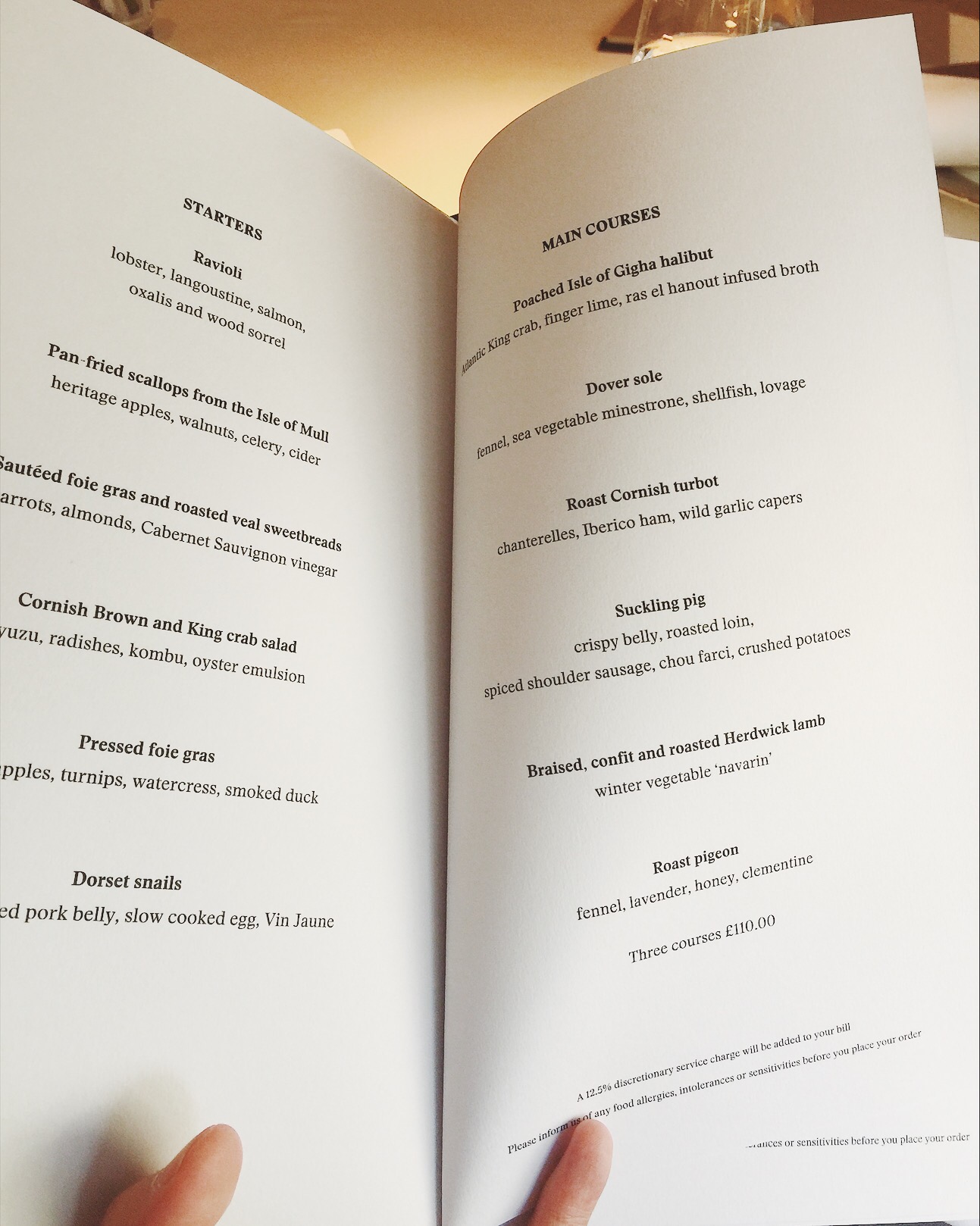 0. Amuse: Potato mousseline with smoked egg, parmesan mousse, crispy shallots
An umami shot, in a perfectly topper-ed egg shell. Tasty.
-Bread-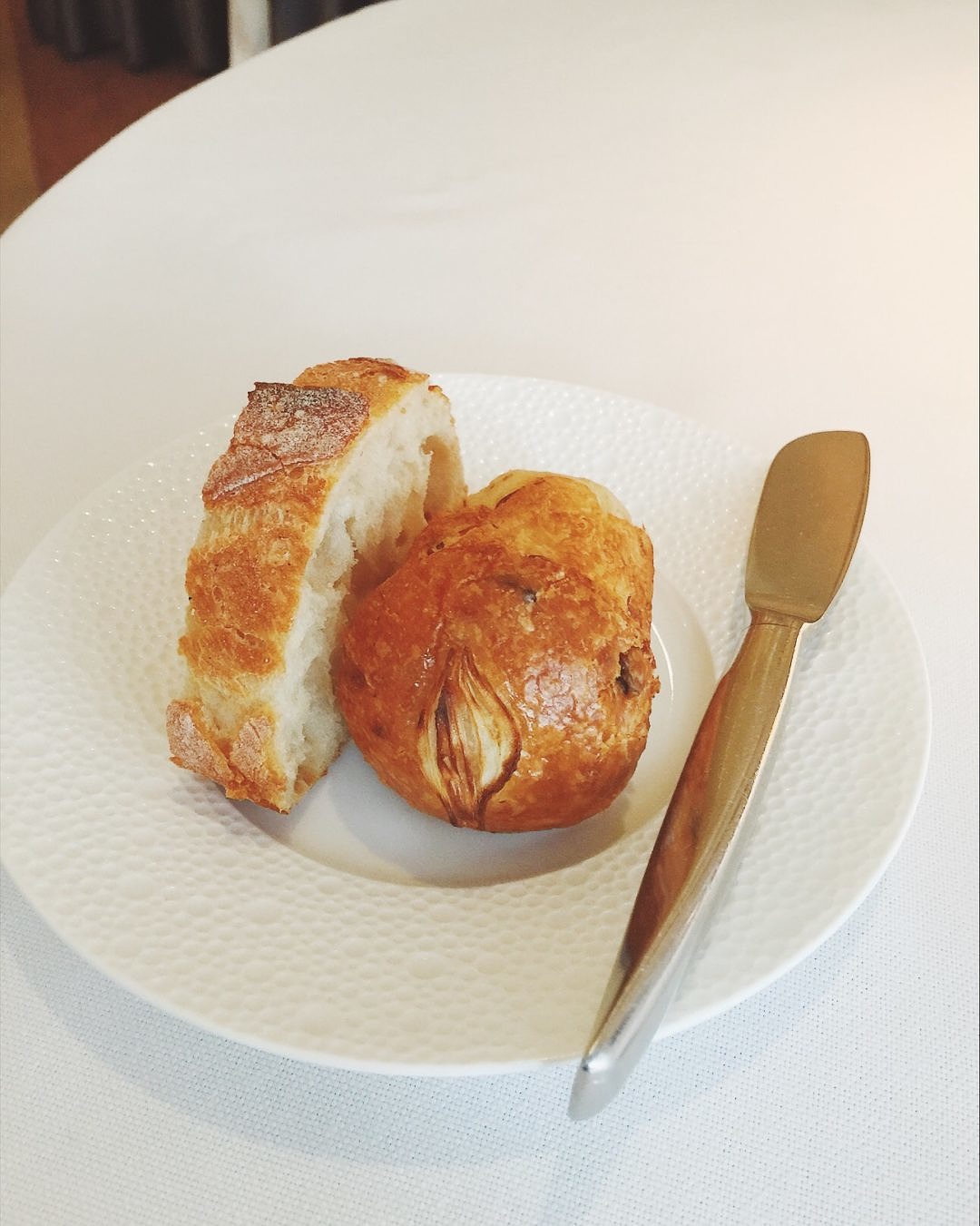 ..Lots of it offered, throughout the meal, perhaps to compensate for tiny portions..
1. Ravioli of lobster, langoustine, salmon, oxalis and wood sorrel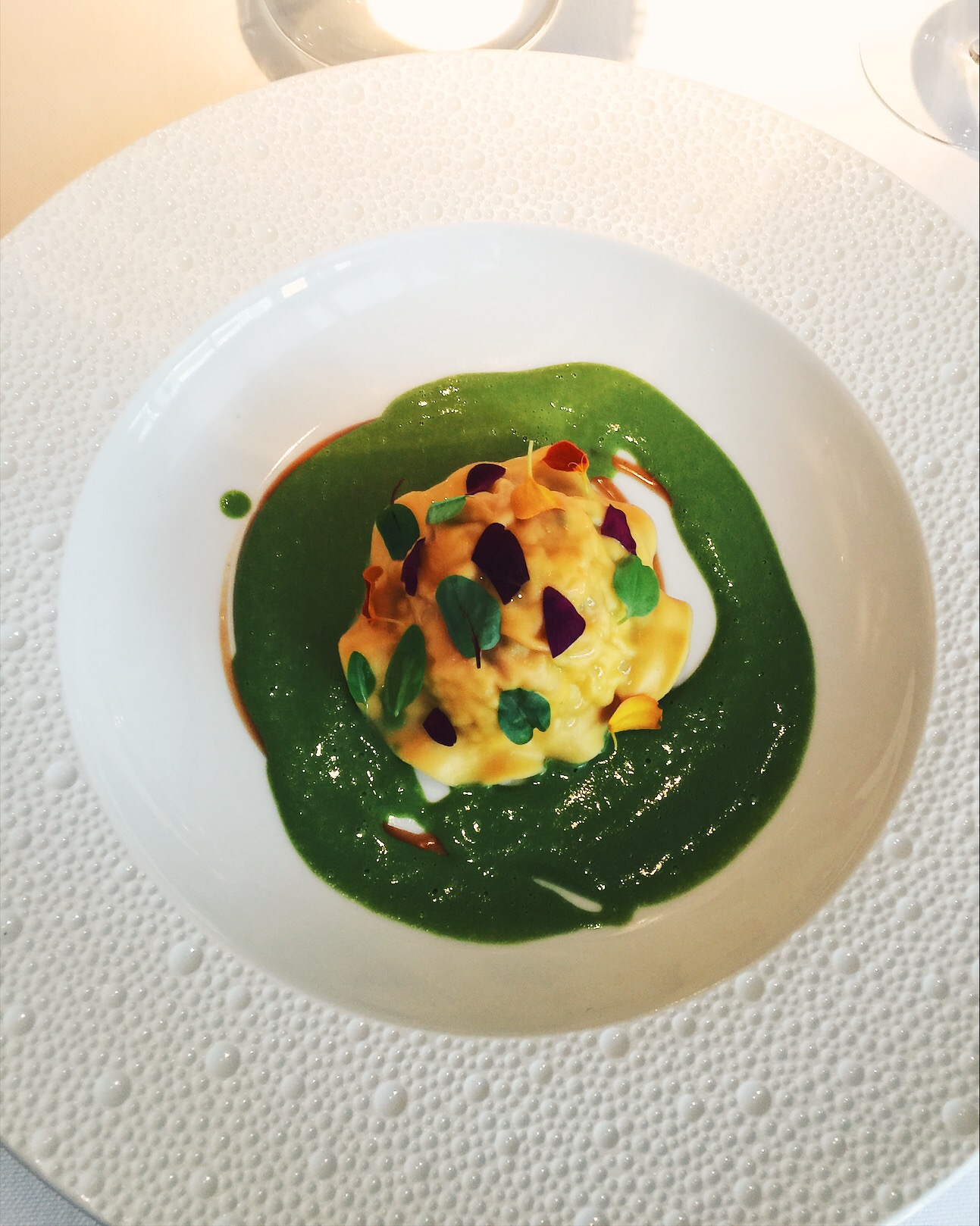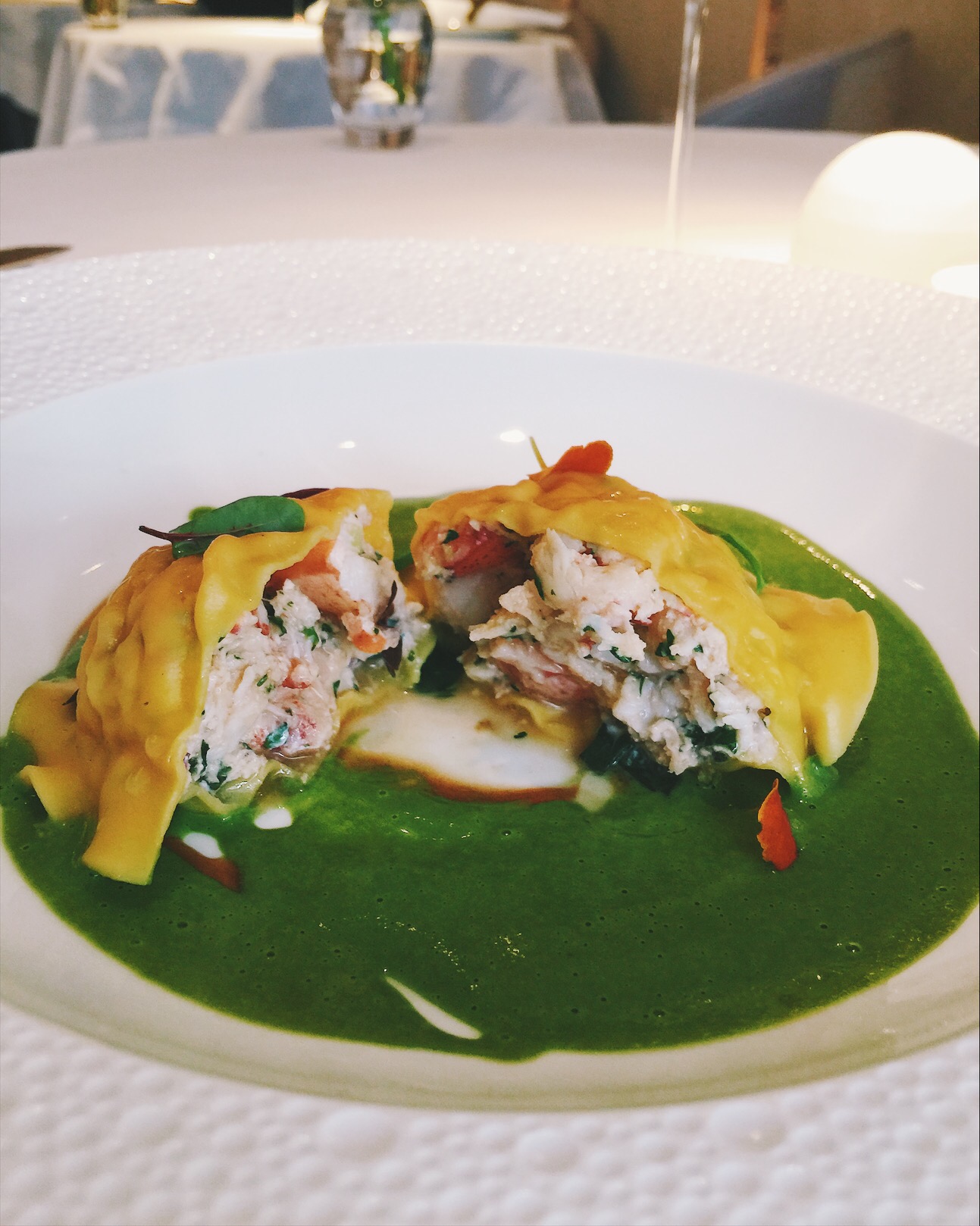 The enduring classic, originating with MPW, rebooted by GR and further tweaked by Claire Smyth with the addition of sorrel veloute.
A rather simple dish, but a delicious celebration of the brilliance of Scottish catch. I was little disappointed we were shortchanged caviar though).
2. Suckling pig five ways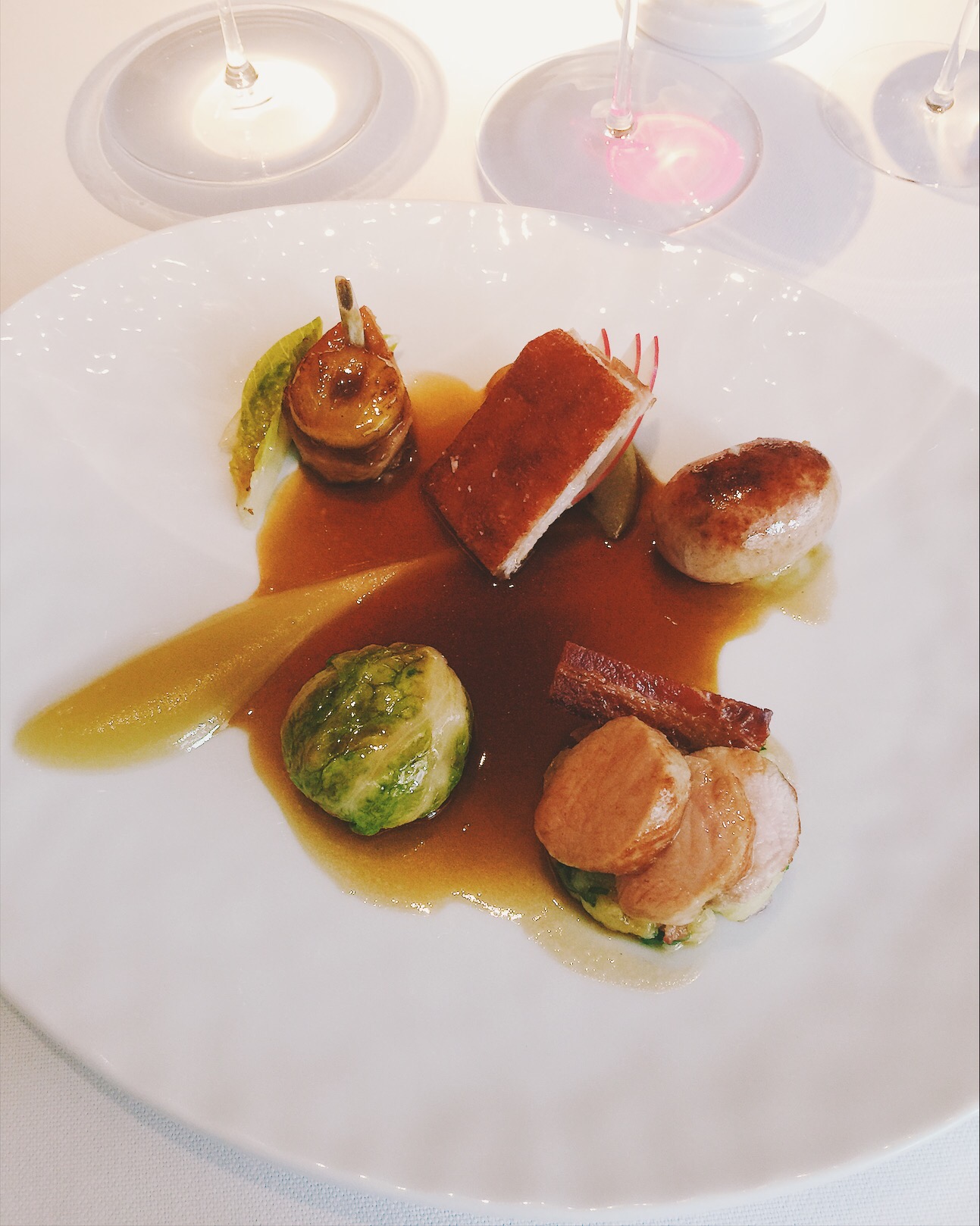 From Norfolk. Crispy belly, roast loin, shoulder sausage, cabbage stuffed with chou farci, and leg with pineapple.
Fabulous technique and execution, especially the crispy pork belly. The crackling snaps, and the meat is luxuriously moist and tender. This is proper siu-yuk, one that would easily give say Lung King Heen, a run for its money.
I would have liked to see a touch of pink with the loin, and also at least 50p slices, rather than discs the size of pennies.
Cooking is just under 3 stars by today's standards (In UK, probably only FD truly qualifies) … IMHO. Still, a very tasty dish.
For a 3 course ALC mains, especially at these prices and considering standard ingredients, this is too small. I hope that both Matt and Larry will consider growing the portions at their respective restaurants, and be more generous in 2017.
Pre-dessert: Mango, passionfruit, jasmine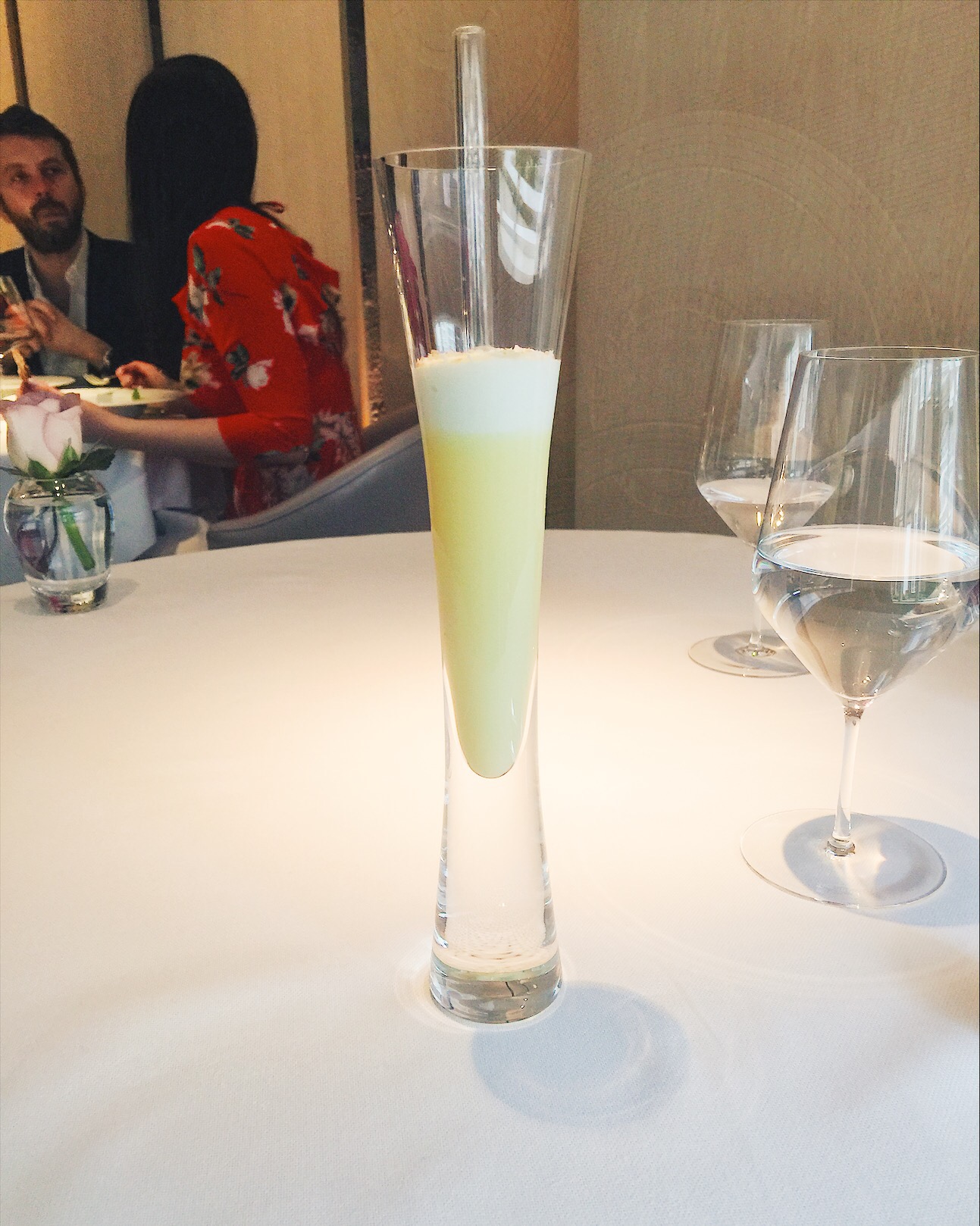 3. Dessert: Assiette de l'Aubergine (£10 supplementpp)
A.k.a one (mini version) of every pudding on the menu
Wave 1: Lemonade parfait, caramel milk chocolate, blackberry bavarois, and the signature tarte tatin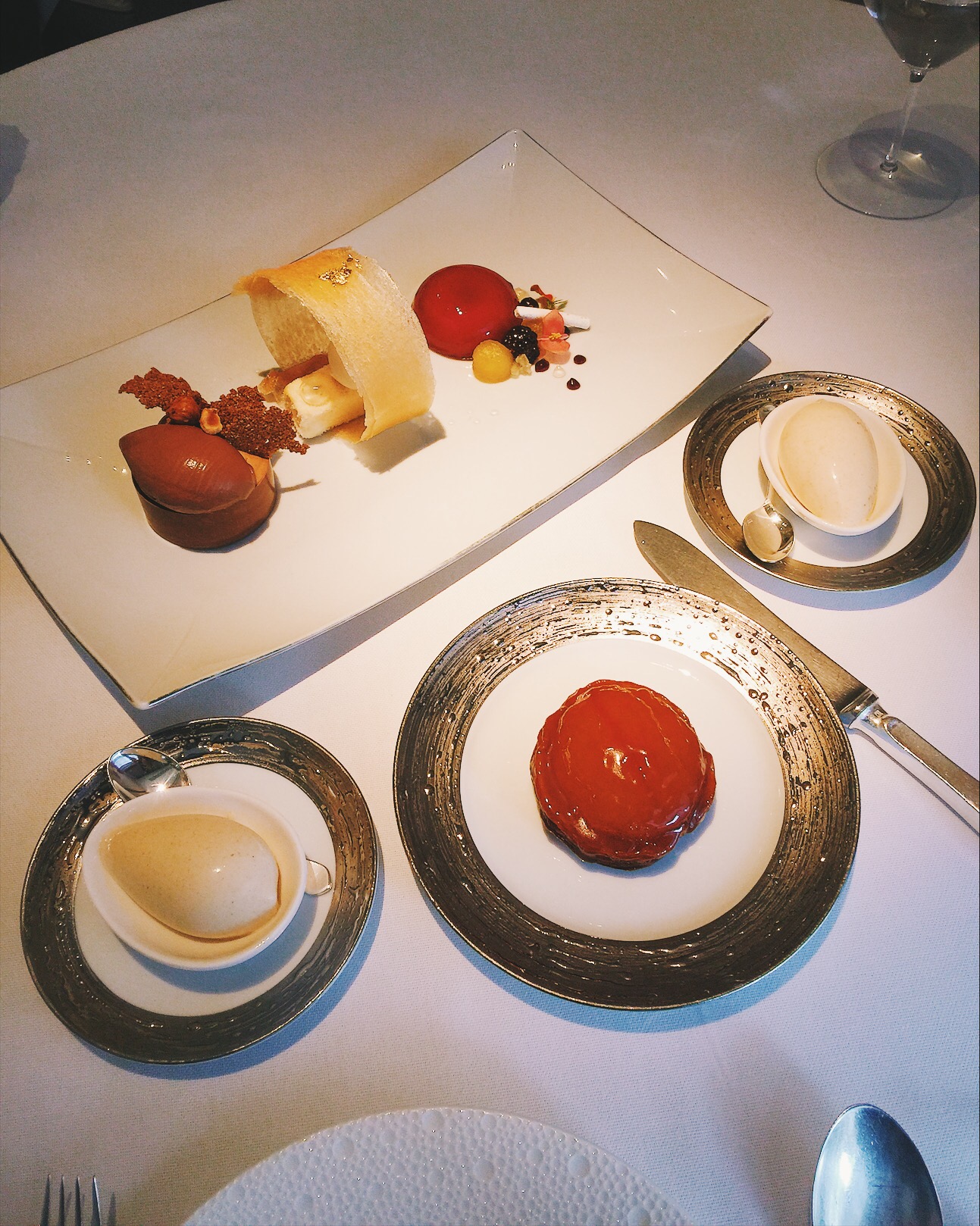 Clearly the pastry section is strong here. Dazzling display of mastered technique. Case in point is the excellent tarte tatin, shiny mahogany caramel. It may be ultra classic, but it is a perfect version and one I will gladly eat all day long. A spoonful with the vanilla ice cream is sweeet, sweet heaven!
Wave 2: Coffee souffle, Laphroaig ice cream (ONE TO SHARE)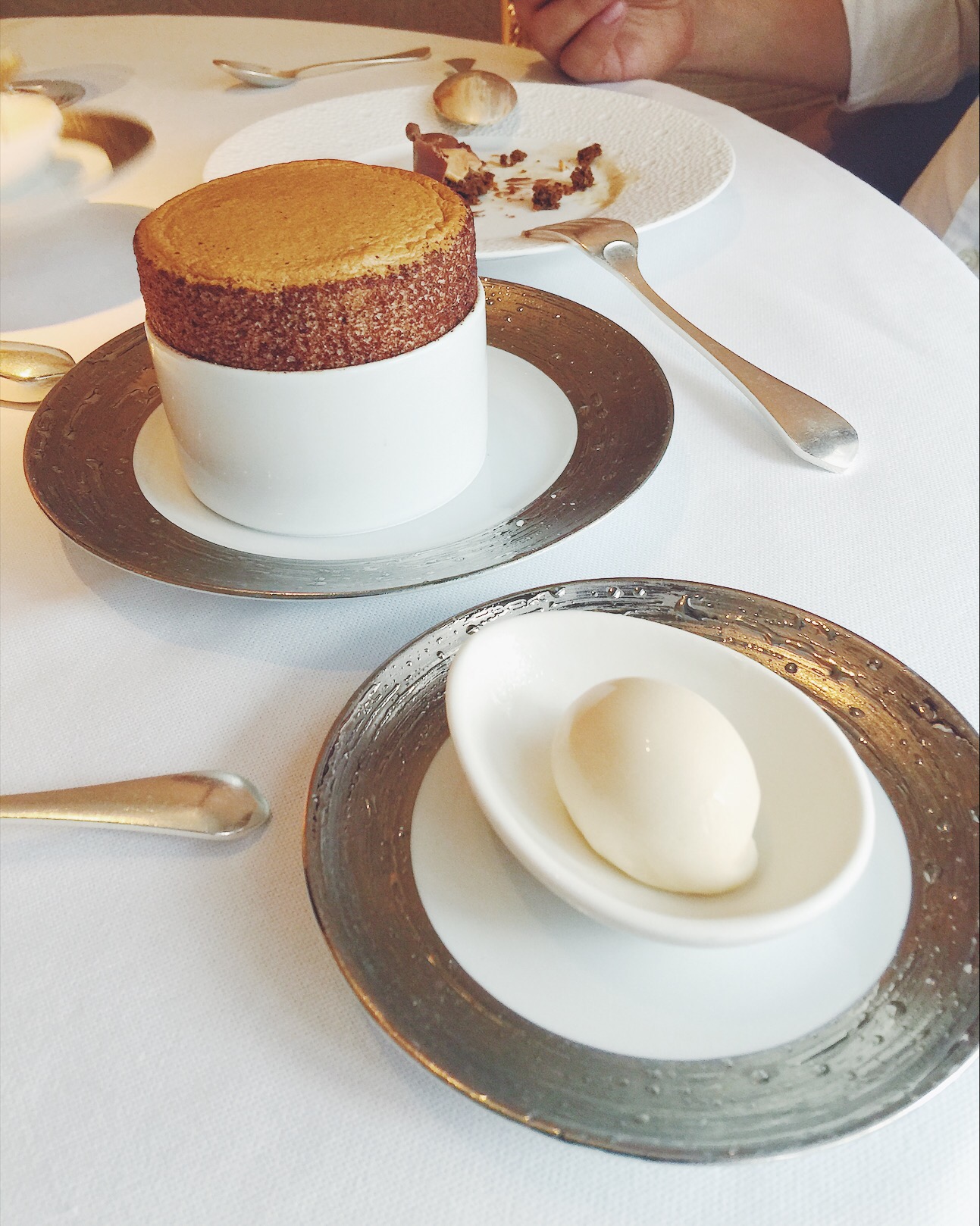 Perfection. Even in a town with multiple decent soufflés around.
Wonderfully airy meringue mix, that has risen beautifully. I speculate it's the ratio of meringue to creme pat that's led to this incredible lightness, even lighter than Koffmanns, the texture is nearly like hypothetical pressed cotton candy. Soufflés are relatively basic things, but to execute like so must have meant loads of practice.
The combo is logical, classic and perfectly suited to soufflé (esp the choice of a smoky whisky) as medium for delivering max satisfaction. Strong finish to this lunch. The only problem is there is only one to share. Joyless. I did say I could easily have another to JCB, but a second one never came.
Petit fours.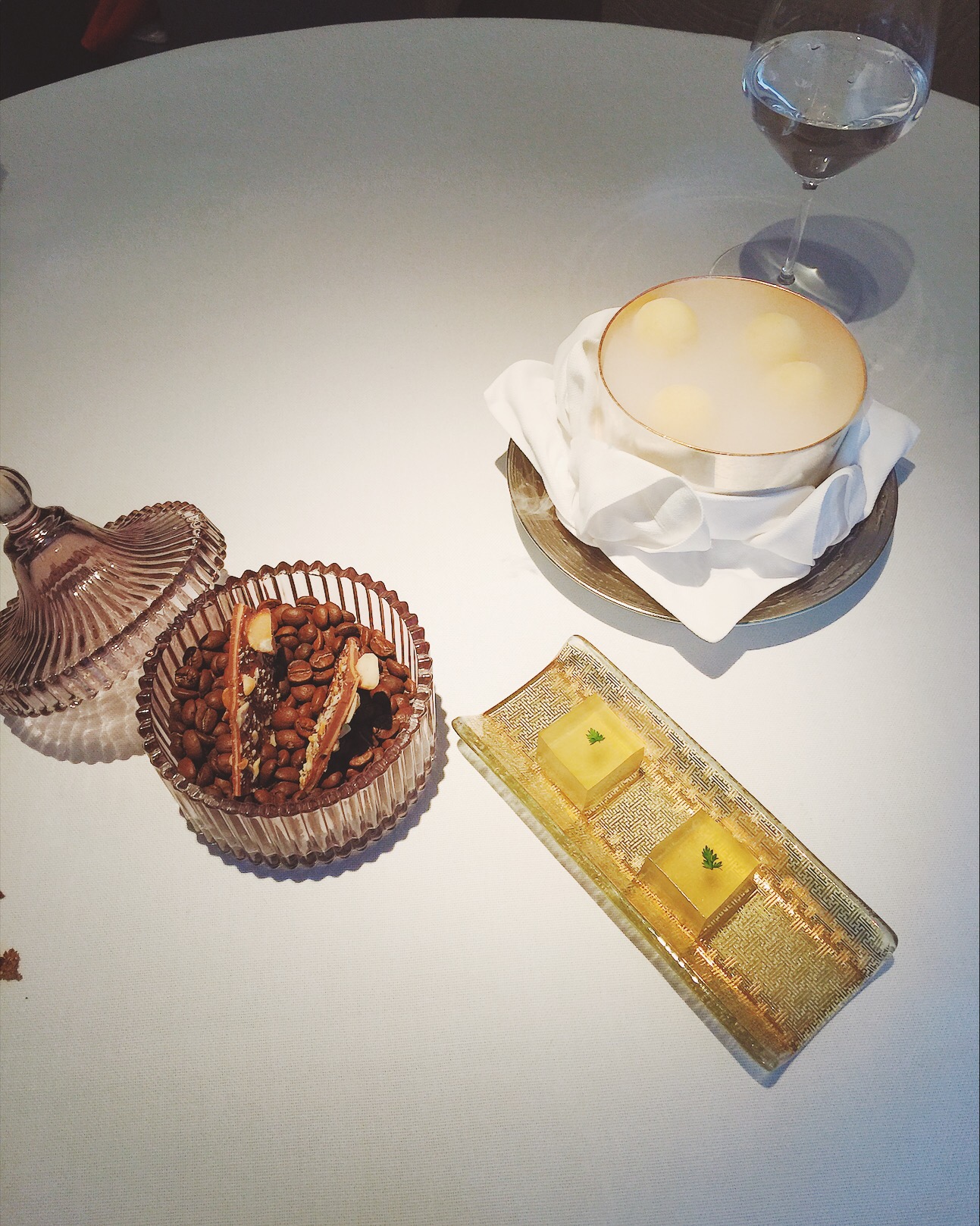 Turkish delight, peanut crisps and signature white chocolate bonbons with ice cream centre.