Gong xi fatt chai to you, dear reader, hope you had a good time ushering the new Lunar year of the Rooster over the weekend.
We sure did by celebrating a CNY feast at this luxe getaway in Sunningdale in between Ascot and Berkshire.
The centerpiece of this hotel retreat is a converted Georgian era manor house (as seen above) that dates to 1776, where the restaurant is housed. Converted stables and cottages dotted around the estate make up the total 70 rooms available, and I wished we stayed the night after the epic lunch we ate.
Before we get to the food, a couple of pictures from a quick nose around the land: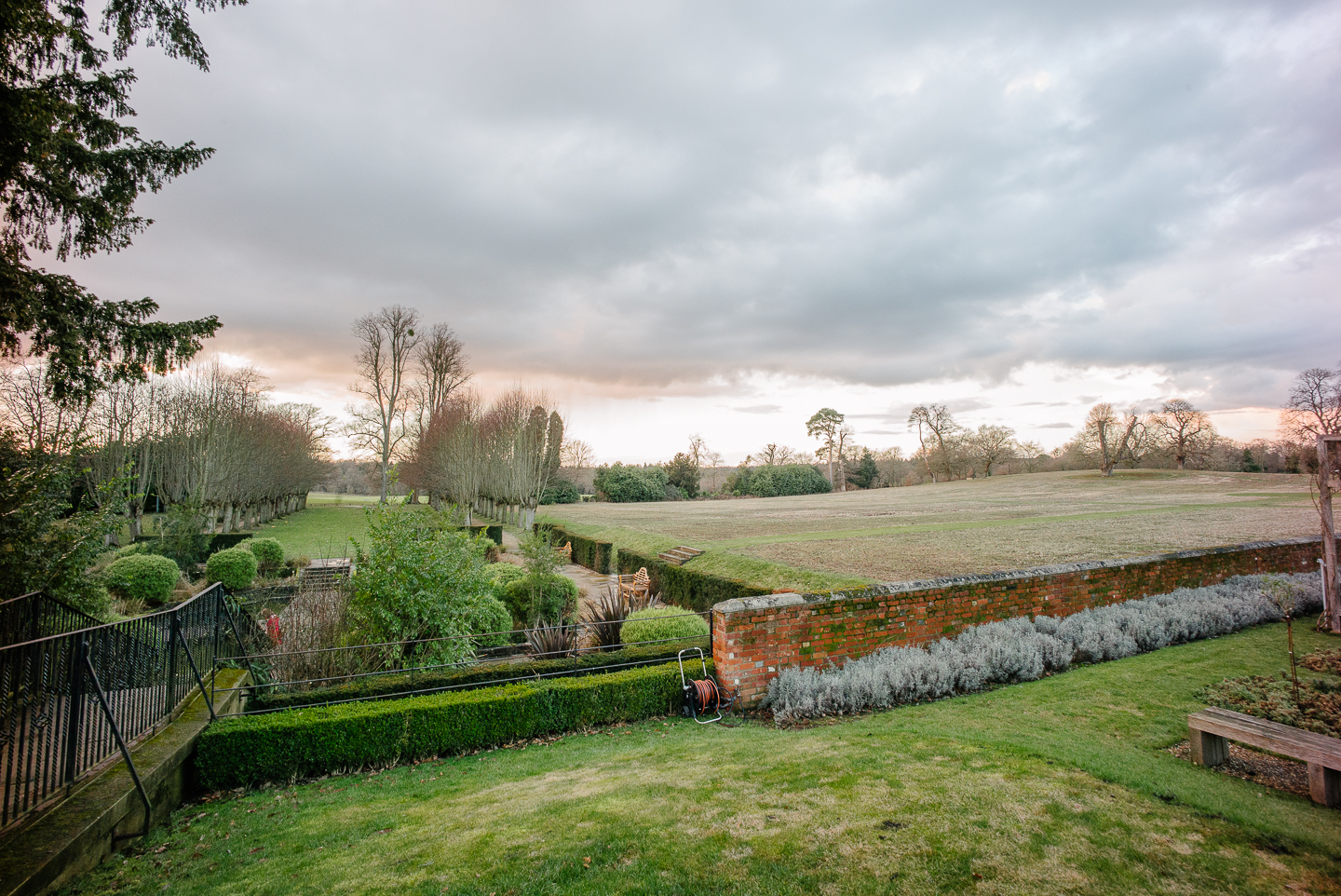 Yup, will be pretty gorgeous in the Spring.
The Restaurant in its current form re-opened in 2011 after years of major works overhauling the entire property. Since then, for various reasons, there has been a musicals chairs of ever changing Executive Chefs leading the brigade here. The latest round of changes took place in August 2016, when the current team was installed. And hopefully this team is one that will settle for the long haul.
I visited here with my gastro oracle, Kian, who was thoroughly impressed when he visited last fall and subsequently nudged me to visit, and hence here we are on Day 1 of CNY2017 with the better halves. I was in maroon trousers, the reddest thing in my wardrobe.
The exec chef is young Adam Smith (30 this year, by my internet sleuthing) who had cut his teeth with 9 years at The Ritz culminating his time there as premier sous under titan chef J-Will (:P). Smith was also the 2012 Roux scholar which rewarded him with a stage at Le Meurice with cool cat, Yanick Alleno, where he might have shared the stoves with current Square Chef, Yu Sugimoto.
Not to be forgotten is the existence of a proper pastry section here, led by another Ritz alumnus, Lucy Jones; a name you just might hear more of, in the years to come.
ALC are £70 for 3 courses and Adam's full taster runs to £95, hardly cheap, but study them and you will notice a pretty decent mise en place.
And then there is also the blockbuster room itself, overlooking the stately grounds: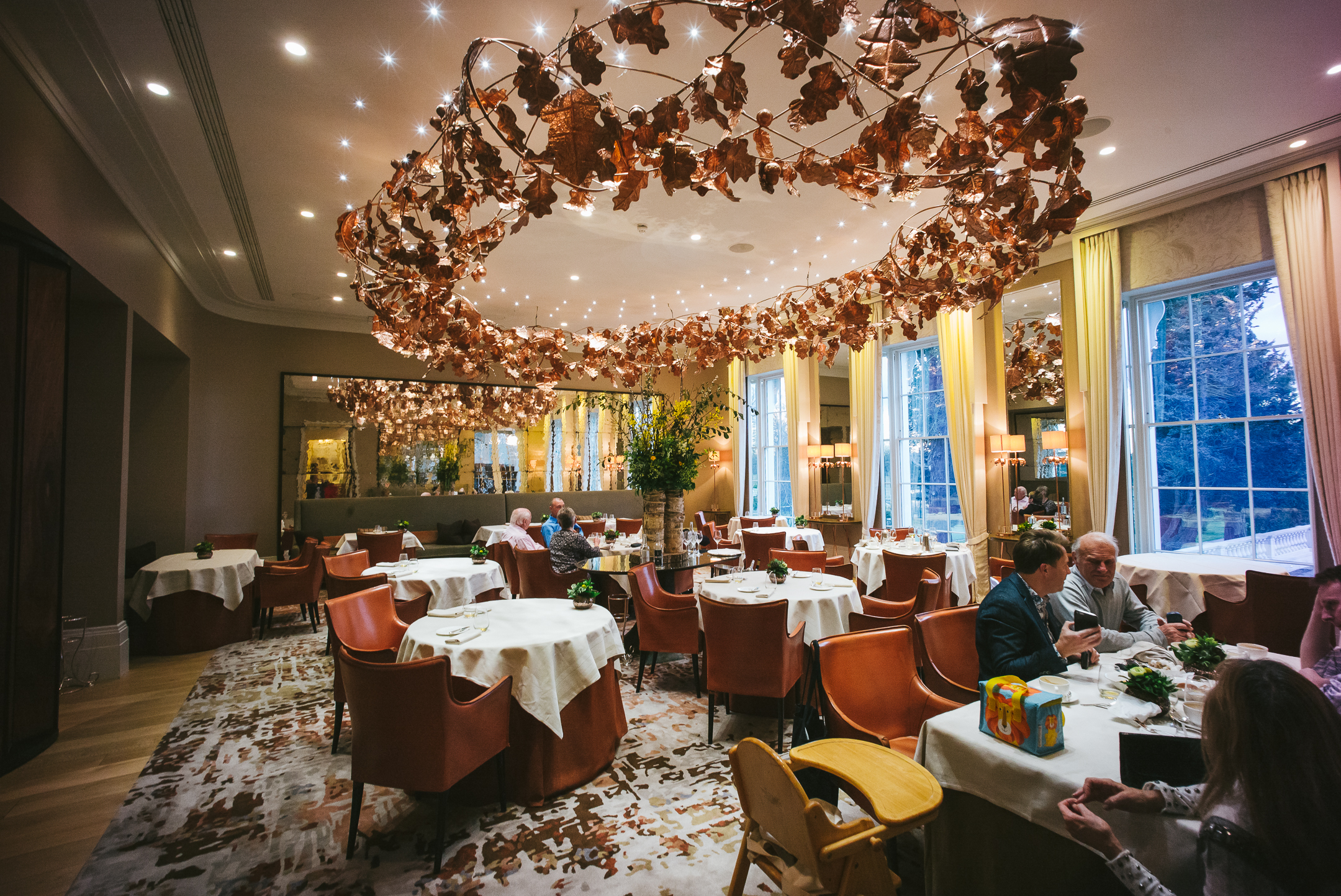 Very swish, very comfortable. Now that London has decided that casual means lapping up over-hyped street food, rubbing up against sweaty elbows and shouting over loud music; a visit here really makes you appreciate what actual ambiance is again (saying that, The Goring's room ain't too shabby). Ah yes, the dangers of Nostalgia.
We did Chef's taster menu (£95), with the wine pairings (£65).
Amuse: Goats cheese oreo; scallop tartare with guacamole taco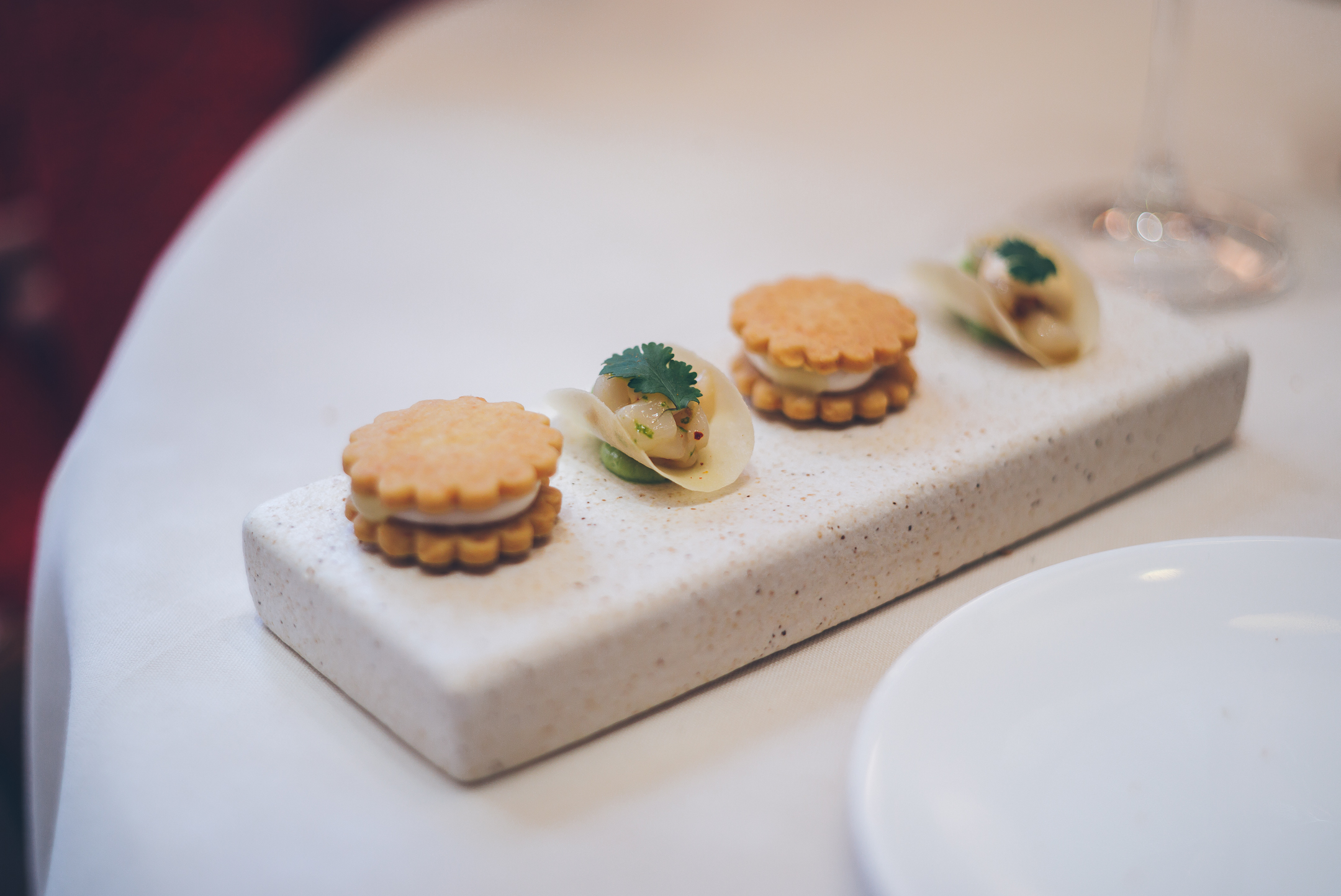 Amuse: Foie gras, blood orange and puffed rice cornetto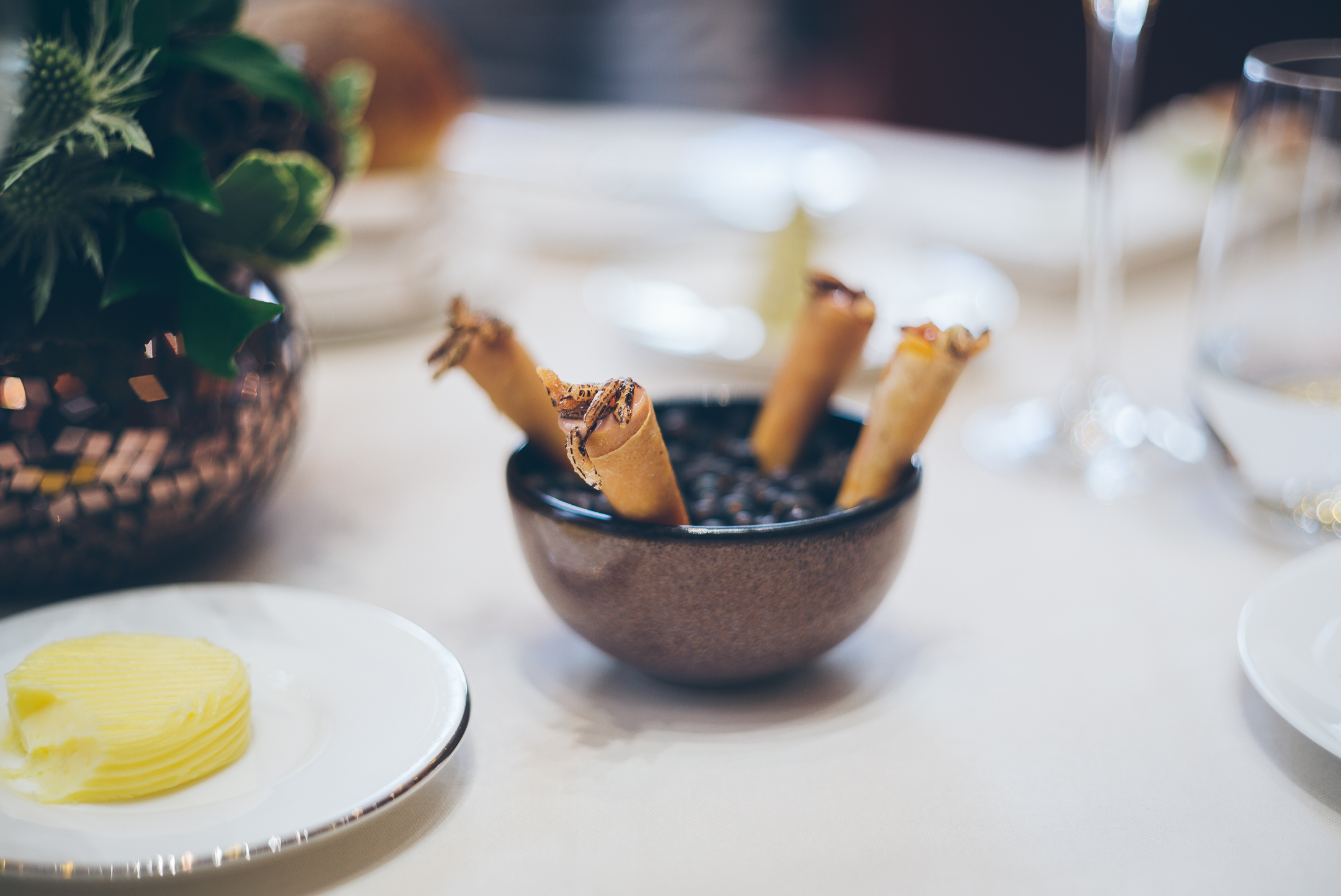 All 3 nibbles were delicious, and right there, you can see Smith's modernised classicism to come. I especially enjoyed the sweet scallop with a jot of blended guac.
—
1. Langoustine, pork belly, fermented cabbage, apple
with 2012 Beblenheim Riesling, Domaine Trapet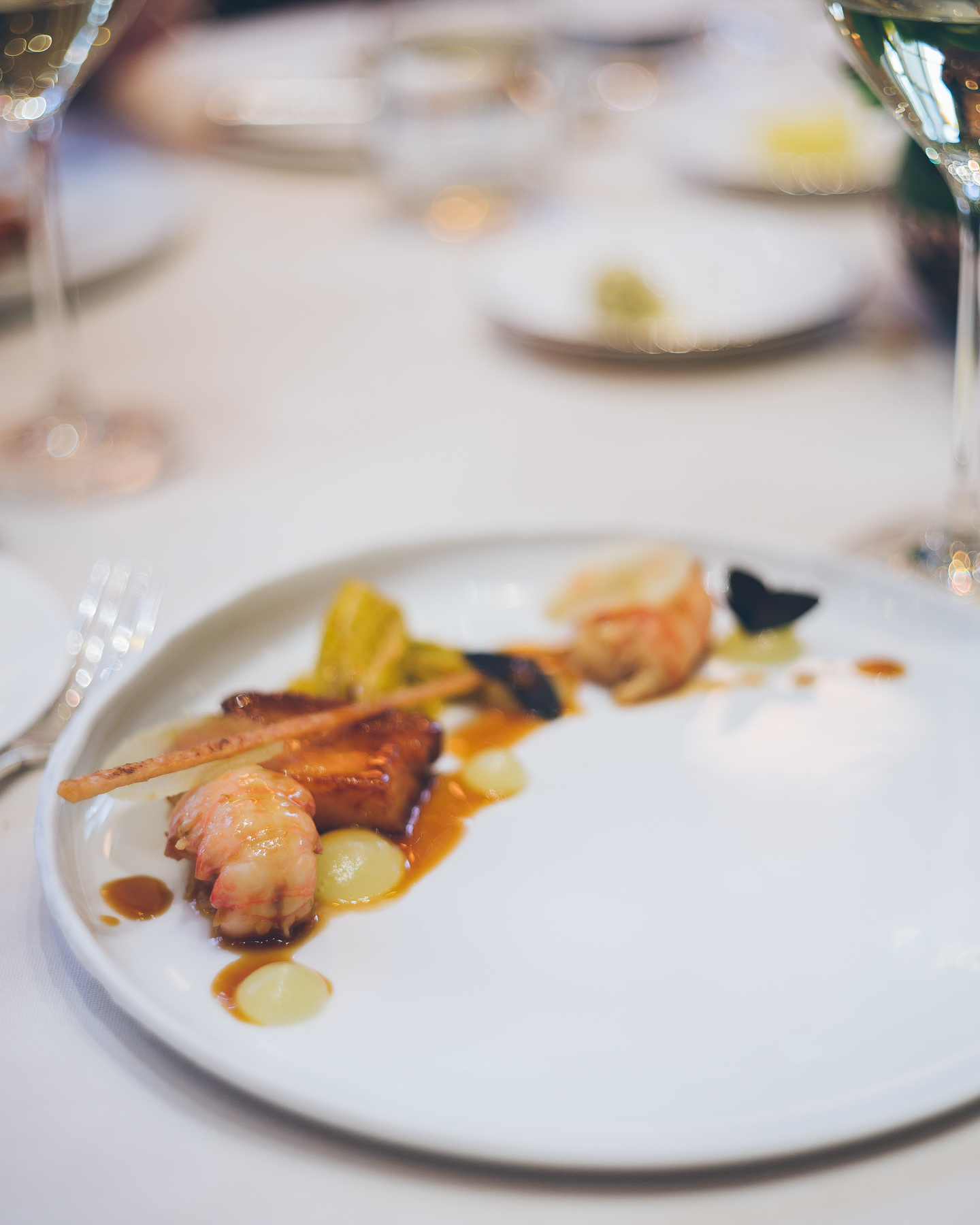 With kimchee, house pickled no doubt and pretty good one at that. Acidic, slightly spicy but everything in moderation. The missus approves. Pork belly melting tender with a sweet-ish soya sauce base that tasted pretty good to me. Lango tails were mi-cuit, just the way I like it. A kind of east meets west surf and turf which, in lesser hands, would be a car crash, but here, he's got just the right balance of acidity to counter the sweetness. This could easily fit into a fine HK restaurant. Great start.
2. Duck liver, Yorkshire rhubarb, almond, parkin
2013 Tokaji Edes Szamorodni Dorgo, Tokaji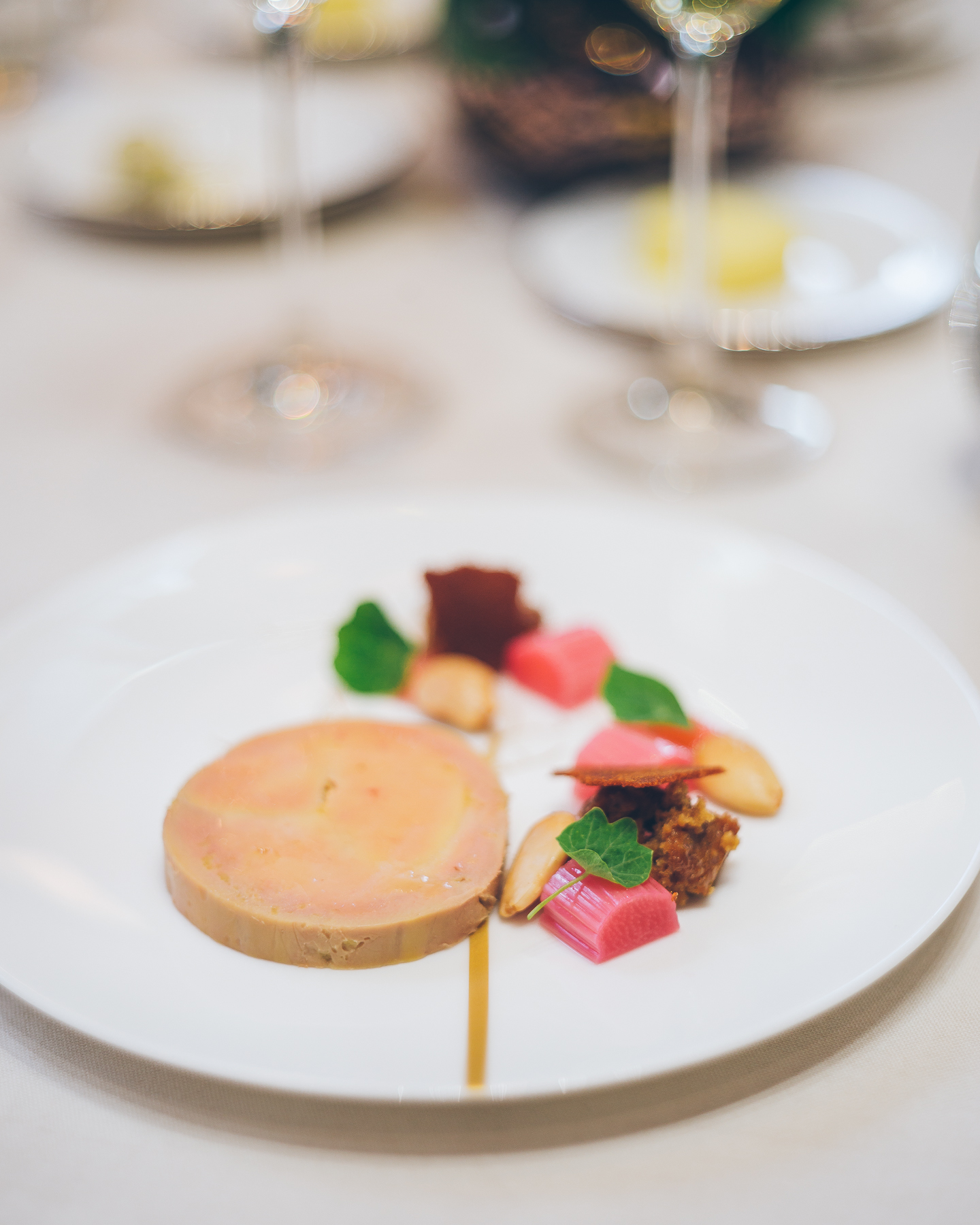 Notice how the rhubarb is only gently poached thus retaining its natural fibre and crunch. This clean bite is paired classically with ginger and is the mineral refreshment to the foie gras roll. A picture perfect torchon that has been gently cured to the sort of sweet buttery saltiness that gets your glands flowing. Here the wine – a golden tokaji that approximates Sauternes of note – is expertly chosen to supplement syrupy sweetness to cut the fat. Love foie prepared like this, clean tasting.
-extra- Exmoor caviar tart, cornish crab, yuzu, cucumber and creme fraiche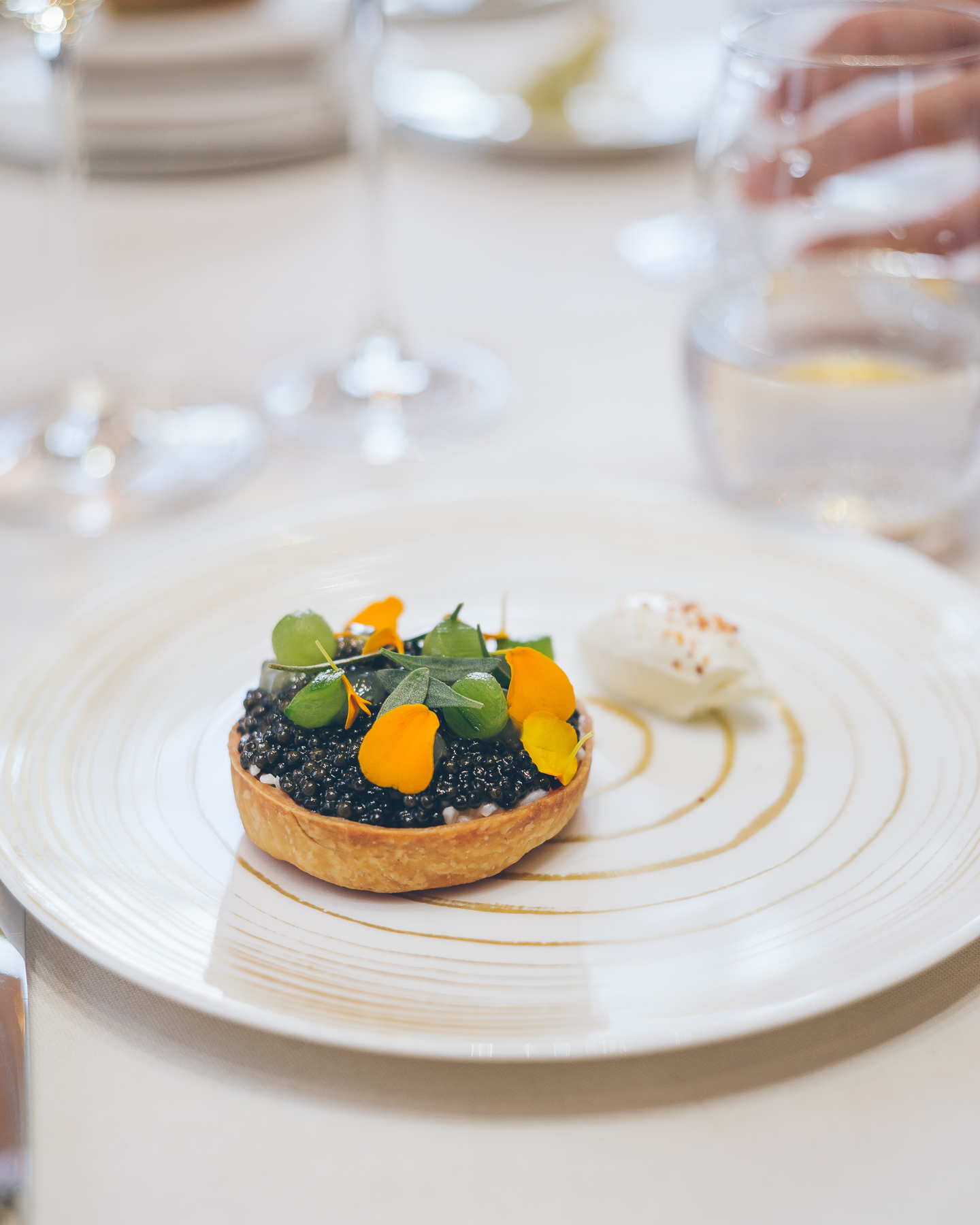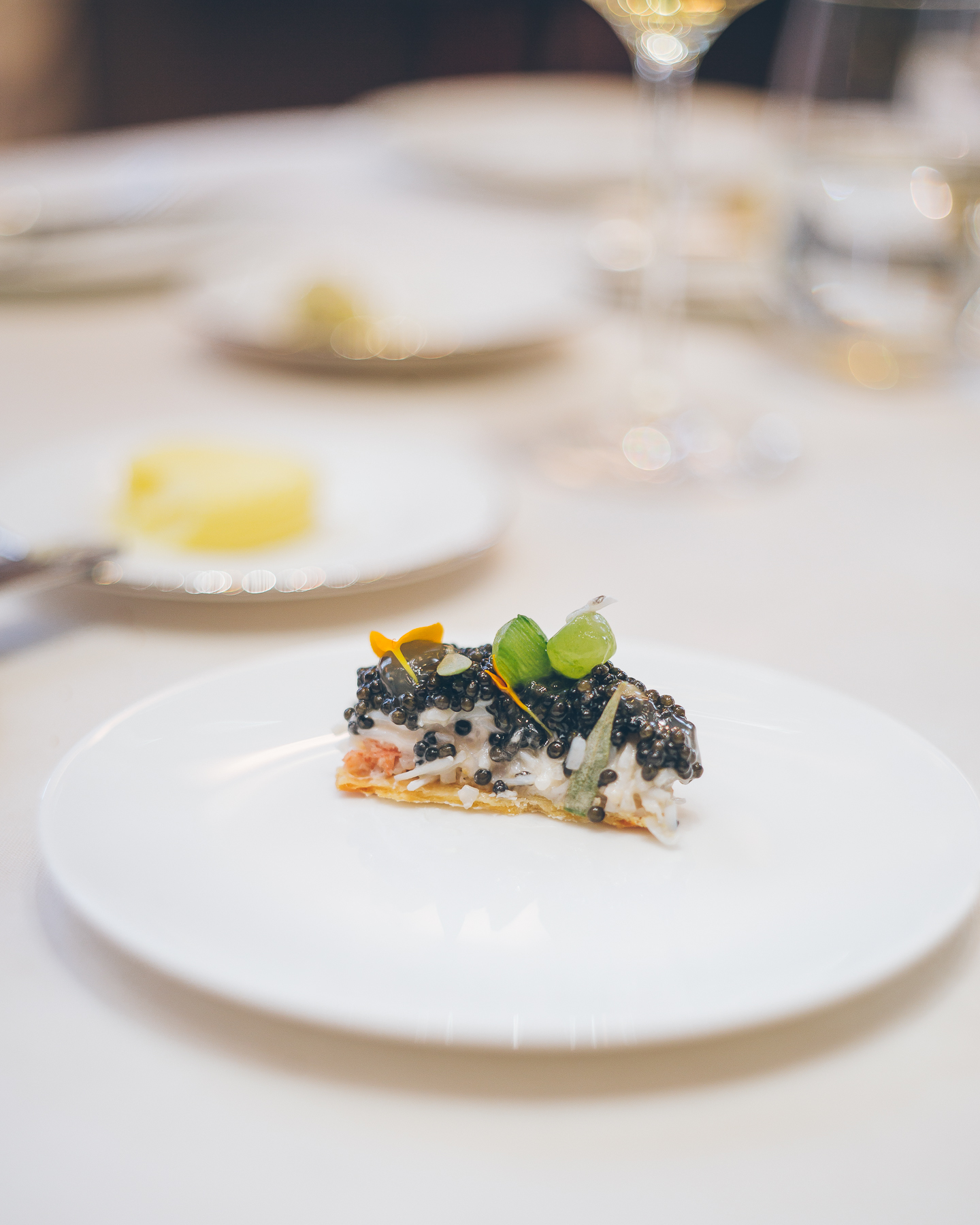 I saw this on Kian's post and had asked FOH to slot this in, to which Adam kindly brought two out to share between us.
It is a riff on The Ritz's fundamental recipe of caviar, crab and pickled cucumber – a luxurious, simple and winning composition of brine and freshness.
I really found this enjoyable, especially the yuzu (is it just juice or gel?), serving to enhance the floral qualities (i.e., not just pretty petals), as a foil to the saline of the marine ingredients. I could probably have done with a snappier tart base, as it was a little dry and resistant to the knife. But I can overlook that as the flavours of filling were thoroughly well balanced.
3. Turbot, clams, smoked eel, lettuce, sea urchin, lobster bisque sauce
with 2011 Referts, Pugligny-Montrachet 1erCru, Olivier Leflaive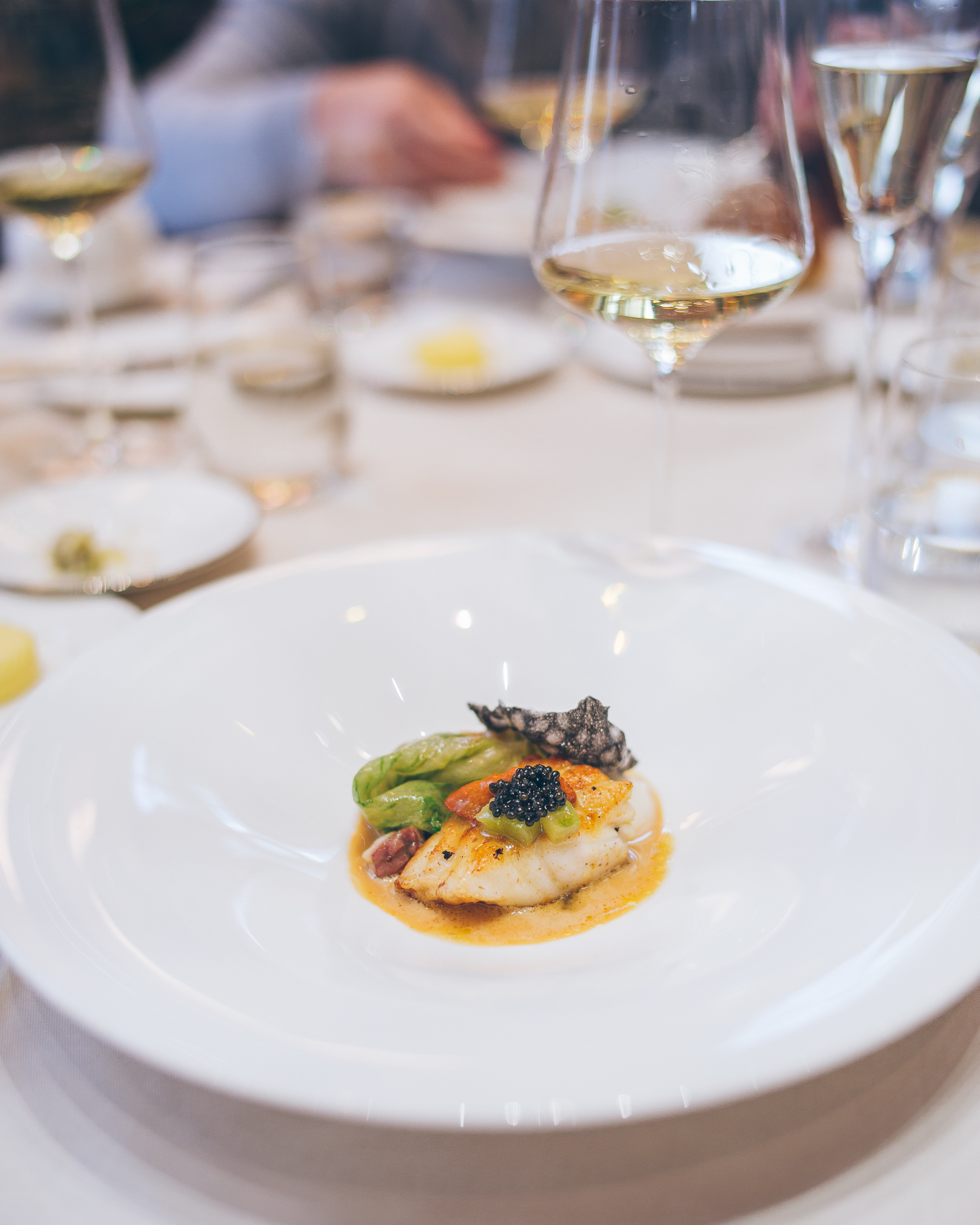 The king of fish was nicely roasted and sauce was perfect – deep and creamy shellfish flavours, plus (i think) some uni stirred in, giving it a touch of saline funk. Double ticks on the fundamentals here.
I have a very low opinion of French uni, as I think it is inferior (to Hokkaido kelp lovers) and has a terrible bitter finish. But here, Adam has smartly taken the edge off by pairing with smoked eel and adding endorphin-releasing starch by way of al dente fregola.
A little of a lot going on, but one that came together well on the plate. A good dish, paired with very decent wine. I do love Olivier Leflaive, and sometimes prefer it to Dom. Leflaive, as I think his wines have more verve and zest, case in point his Garannes and Champs Canet. Also helps that they are comparatively cheaper.
4. Windsor estate Beef. Slow cooked rib, braised tail, boiled tongue, dehydrated jerky, avocado salad, holladaise and jus
with 2011 Psi, Ribera del Douro, Peter Sisseck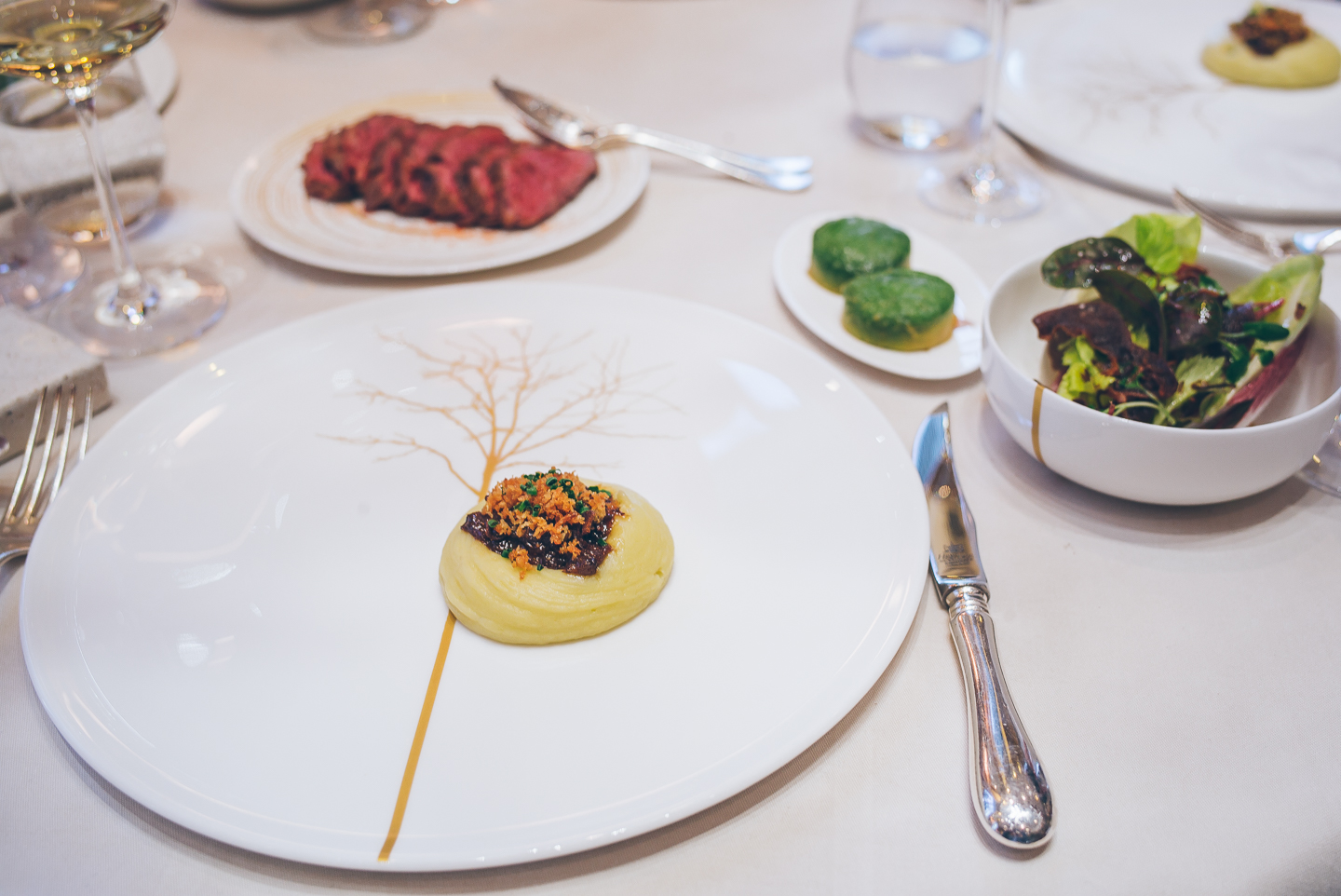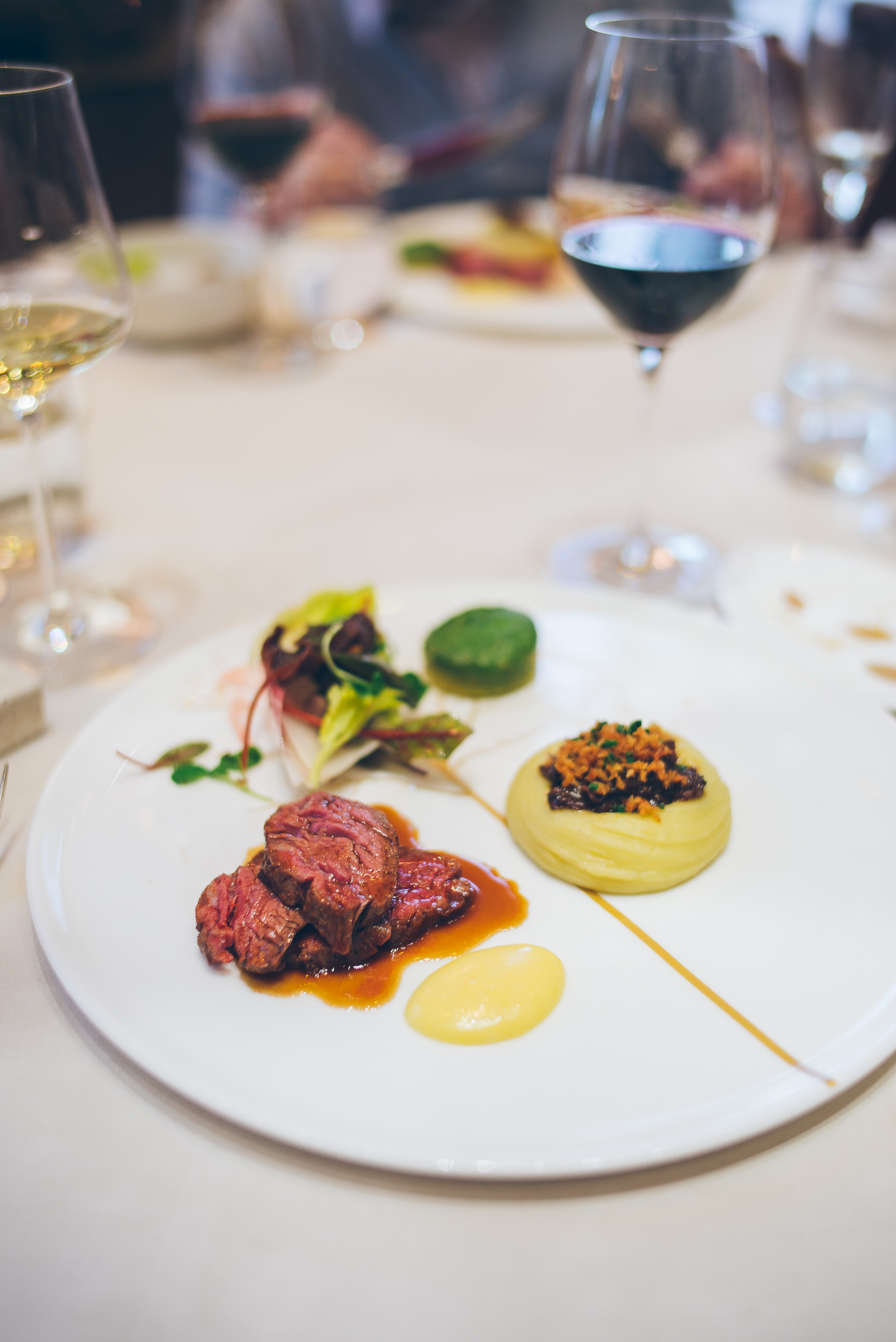 DIY plating, assembled by me.
Other bits arrived in to-share plates, so it replicates a mini steak dinner as part of a taster menu.
The rib was sous vide until just nearly totally broken down, 56degC by looks, and must have taken at least a good half day to get to this stage. It had fantastic smokiness so I speculate that they finished this in a green egg. This is very good work.
The tongue was boiled under tender and it too had beautiful beefiness. Sticky braised tail was pure comfort food.
Perhaps a more Robuchon-esque potato puree (that is to say, more butter) could have brought more luxury to this, that being the only ordinary element on the plate. In my opinion, steak dinners tends to eat best as steak dinners, but this was an exception as I thought it was an impressive tasting of beef prepared a few ways that was worthy of viewing through gastronomic googles.
Excellent wine pairing here, not something I usually come across given the mystique surrounding the Ribera-based Danish winemaker. This was brooding and bloody, unfurling to a full-bodied black fruit beast with air. More Cali than Ribera, but in a good way. Kudos to the Somm for including this in his pairing.
5. Baron bigod, honeycomb, pear, black winter truffle
with 10 year Verdelho, Blandy's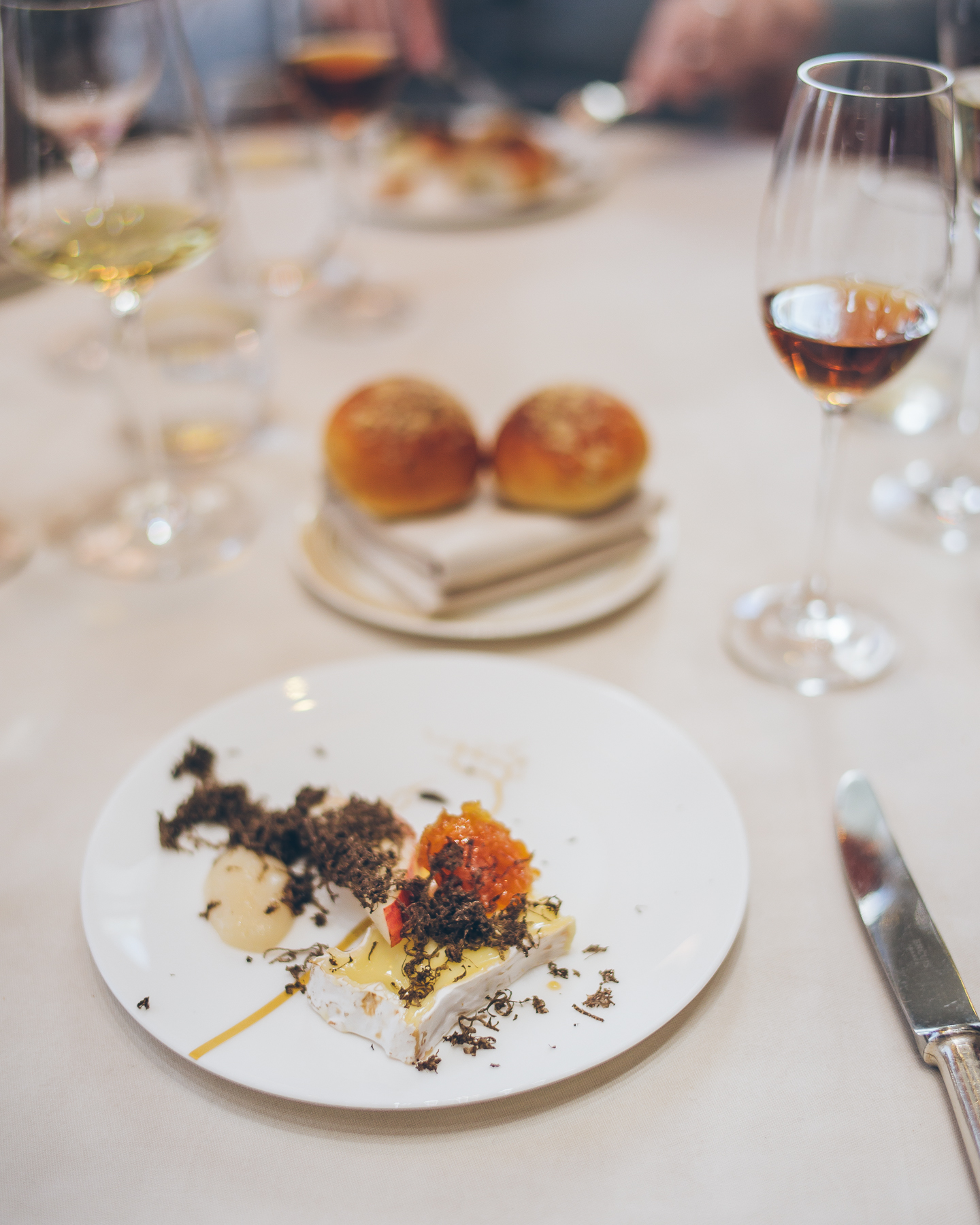 I was wondering when the vaunted melanosporum was going to rear its head, given we are bang on peak season now. With warm cinnamon rolls in the background.
6. Spiced financier, poached pear and brown sugar meringue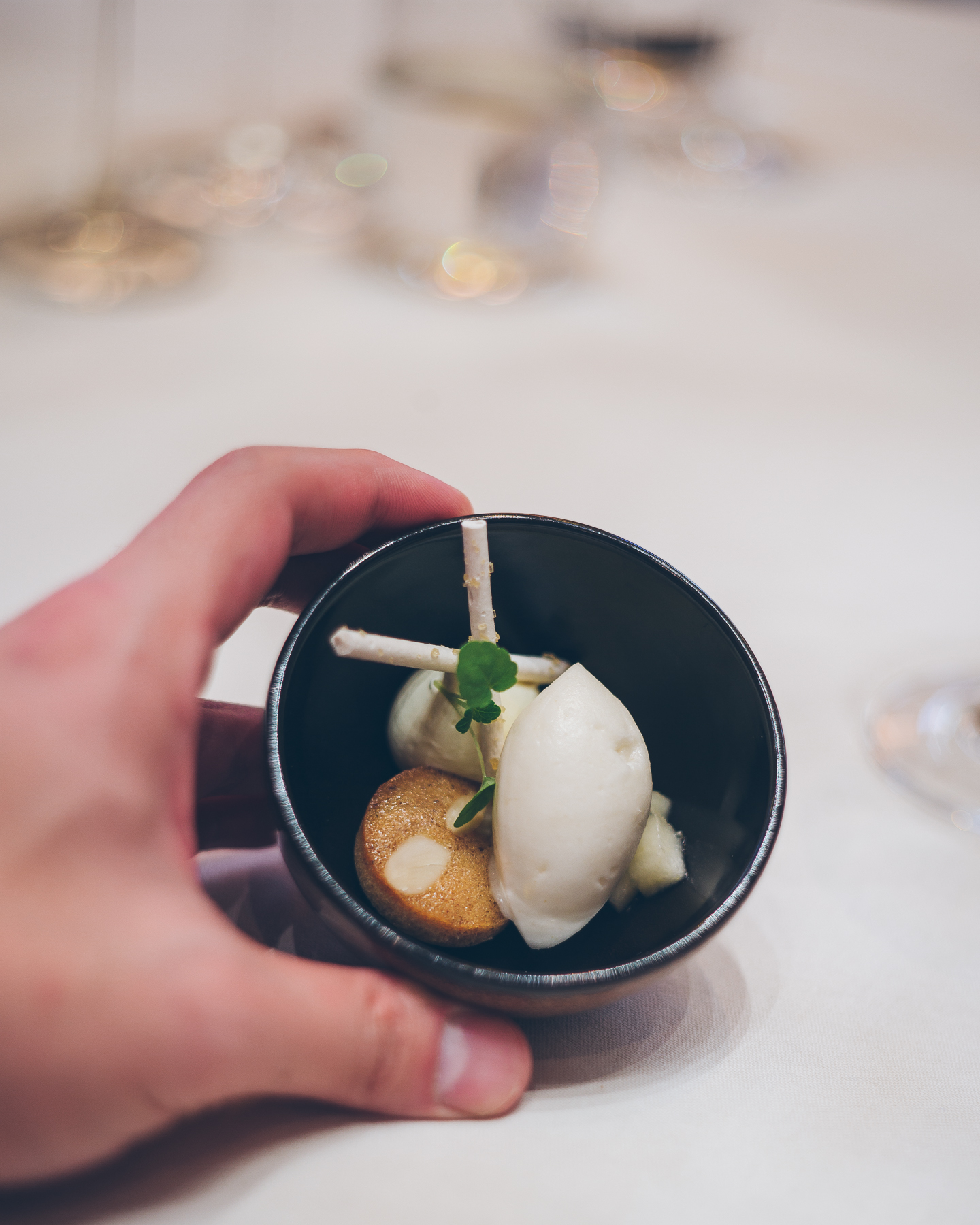 The seasons. There's pear flavoured creme pat in this little pre-dessert that tastes wonderful. Lucy Jones warming up to the big finish…
7. Creme fraiche, caramelised almond, granny smith, calvados
with 2011 Grasevina Izborna Berba, Krauthaker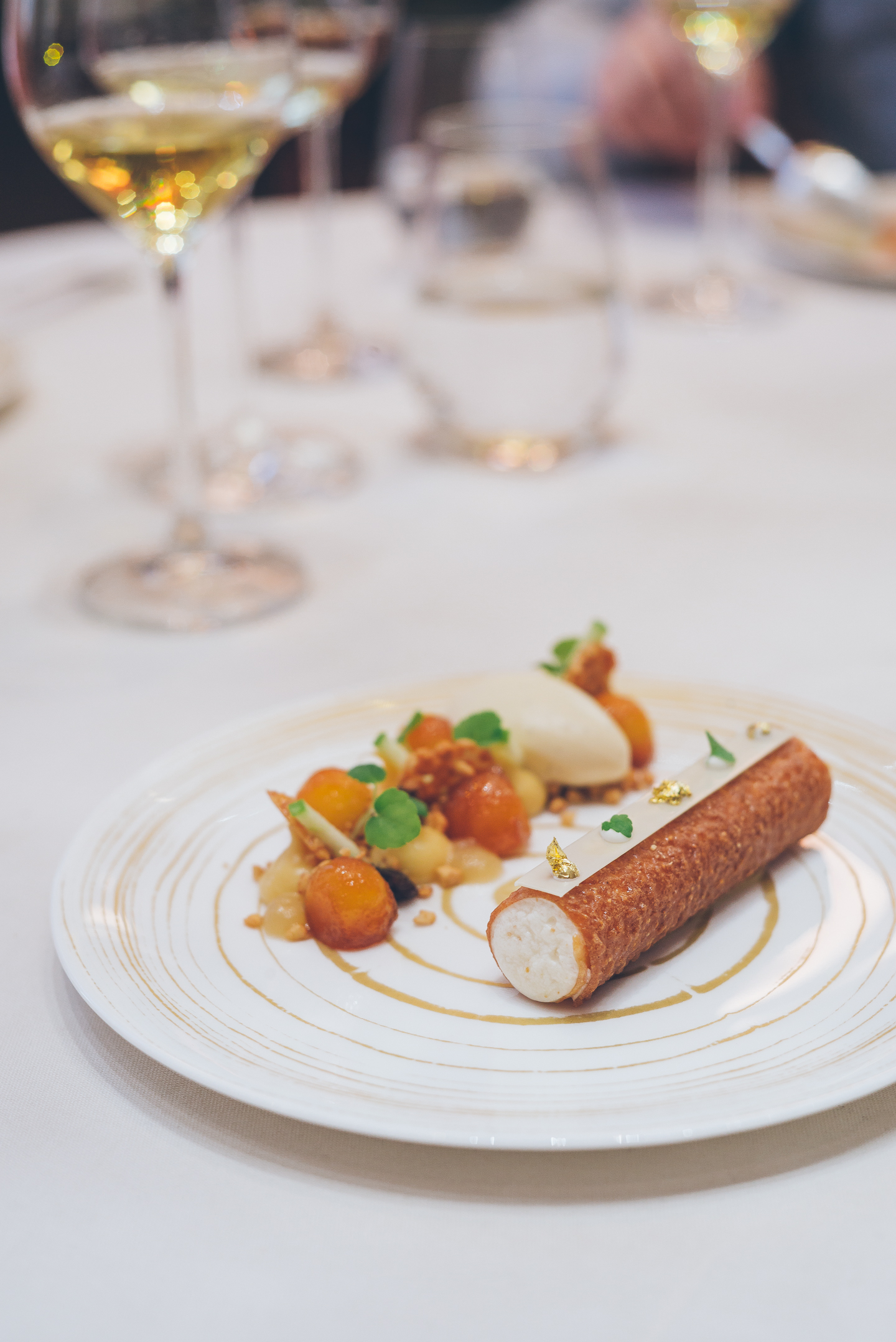 …the eagle has landed. With I believe, a calvados spiked vanilla ice cream. Skills and then some! Not your standard brandy snap, looks great doesn't it? Tastes great too, each element measured, executed well, you have the sugar and cream, but also the freshness of apple filling your olfactory. A fantastic pudding. Step forth Lucy Jones, Head Pastry Chef, what a star. Clearly running a sweet patisserie section. A rarity in UK restaurants (rivaling what's across the channel) and one that deserves celebration and recognition.
—
We paid £687.72, all food, drinks, coffee and service for 4 people.
All in all, an impressive and thoroughly enjoyable meal. Adam Smith's brigade put on an incredible display of technique, and I especially enjoy the light compositions, with modern touches that were all easy on the palate. And then there's the pudding, oh man, I should have asked for an extra hazelnut course. Clearly, the food's identity is coming along nicely, and things can only get better from here as the team grows in confidence with each service. I too feel that the restaurant, front and back, deserves a star, and I hope to see that award come October. That is if you can predict what the bib is up to these days. In the mean time, I'm going to clear some room in my diary for a return visit…
Details
Restaurant Coworth Park
British
ALC : £70pp for 3 courses
Taster : £95pp for 7 courses + amuse
Coworth Park Hotel
Blacknest Road Ascot Berkshire SL5 7SE UK
Tel: +44 1344 876 600
Transport: Closest station is Sunningdale + 8 min car ride