I did wonder what words I could add to the millions already provided in better prose by better minds across the web. However such is the dream of eating Alain Passard cuisine that perhaps a couple thousand more wouldn't hurt in this milestone year.
The rotisserie master will turn 60 on 4th August this year, though he remains spritely as spring chicken when I saw him during this visit to his beloved left bank restaurant. It will also be 30 years since he bought his mentor's restaurant, Alain Senderens' (who trained Simon Rogan) nouvelle cuisine temple L'Archestrate, and renamed it L'Arpège, for his love of music. The hilt of the Arpège opinel knives are engraved 1986-2016, but I will have to wait until my 2nd visit later this year before I take one home.
Endlessly creative always in service of great food, he is from a generation that produced chefs who totally embody the craft's ideals. His place in Gastronomy is unquestionable after all these years, influencing the likes of Pascal Barbot, Mauro Colagreco, David Toutain, Claude Bosi, Dan Barber, David Kinch, Bertrand Grébaut, Tatiana Levha, Magnus Nilsson to name just a few. Arpège's current kitchen lieutenants are Anthony Beldroega (since 2004 I think!) and Mathieu Lecomte.
As is well known, Alain is an early proponent of 'farm to table' (and back to farm as compost) and has been the torchbearer for cuisine of vegetables since 2001. At first he got rid of all meat and fish, but over time they were restored to the restaurant menu.
A favourite graphic novel by Christophe Blain called 'In the kitchen with Alain Passard' is an enlightening piece of work. Interspersed with Alain's recipes, it affords a glimpse into the Chef's relationship with food.
Alain Passard's cuisine begins at his three biodynamic farms. He borrows the wine classification term 'Grand Cru' to describe his vegetables, interrogating it like a vigneron in his vineyard, taking detailed notes of colour, nose and palate, raw cut, cooked and juiced like a wine. He believes that terroir plays a role in growing vegetables, in the same way that gravel and clay of the Graves give Haut-brion its unmistakable cigar-box fragrance; Or how the microclimate and steep stony slopes of Chevalier-Montrachet imbues its best examples (Leflaive, Anne-Claude you are missed) with a gold-hued elegance, like inhaling honey, oats, peaches, hazlenuts… I melt just thinking of the 02, 09…
Examples of Passard's terroir include sands of the Sarthe which yield the best carrots, the dense clay of the Eure suited to turnips and celeriac, while the rich alluvial soil in the Marche facing the maritime climate of bay of Mont Saint Michel accentuate his herbs. Nature's gift to Arpège, legumes worthy to be spoken of as First Growths. Alain's farmers pluck the finest of the season and drive them into the capital in their best conditions every morning.
In the kitchen, Alain the farmer, pulls his gloves on and goes to work as Alain the painter, as he still does most days in his sole restaurant. There's no Arpège Langham and in place of diffusion bistros, he instead owns an art gallery called L'Arrière cuisine or back kitchen, located a few steps from Arpège.
He smells, he feels, he listens (by tapping his finger on seabass just out from the oven) and he observes the colours which nature has provided him. From there, he puts together an assemblage of ingredients, what he calls a bouquet, a tableau of raw food before he makes it into a dish. His axis of creativity, allowing nature's colours to guide his hand. The liberty and spontaneity of Alain's cuisine is sometimes compared with impressionist art, but his work is borne of his admiration for ingredients and a total mastery of French cooking.
He also patented his famous apple tart recipe, Bouquet de roses ©, as it resembles one.
—
0. Puff Pastry
2014 Puligny-Montrachet 'Enseignieres' , Chavy-Chouet (€22)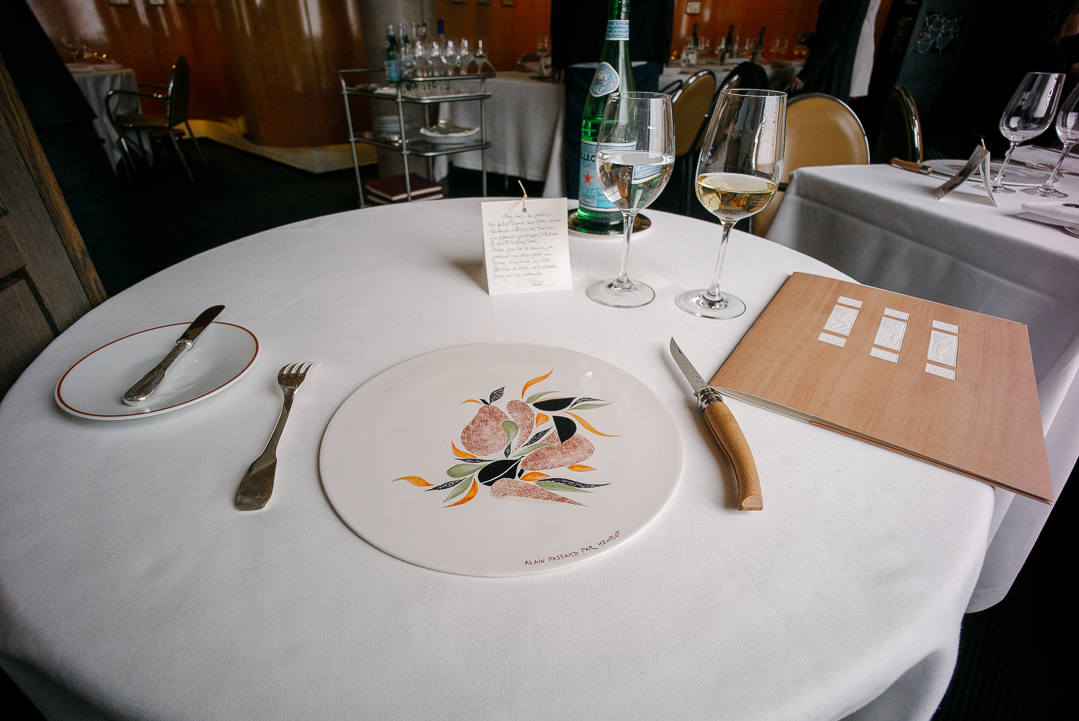 I hopped off the Eurostar at 10am took the metro into Saint-Sulpice and from there had a very gentle stroll toward Invalides, hitting the Conrad shop and the Rodin museum, to work up an appetite for my (solo) lunch. Yes I was in Paris, just to eat at the Arpège because £59 round trip promotion so why not.
Before I even sat down properly, food started to roll out. First was a bite-sized parcel of the most delicately made puff pastry with a piping hot cheese centre. Delicious. Then I admired the Henriot plate, each hand-painted with Alain's own collages. This particular composition is pear and black radish with parmesan tapenade.
I opted for white burgundy rather than champagne of the day, because great vintage and excellent producer. Freshness on the nose, apples and peaches and just stunning clarity on the palate. I drank Chavy-Choet's 2014 Femelottes just a week before which was also brilliant. 2014 really shaping up to be a fabulous vintage.
There were 3 taster menus on my visit, the top choice is Earth & Sea (13 courses for €380) , Spring Garden (13 for €300) and the lunch surprise menu typically 9-10 courses for €145 using the morning's vegetables and also allows the kitchen to flex their improvisation muscles. The ALC ranges from €70 to €140.
Hélène told me that some customers prefer the ALC as Arpege allows you to order half-portions and if you have a burning request to eat something as part of the surprise menu, they will do it for you. And so I went with the lunch surprise and asked for the ravioli, millefeuille and the egg.
1. Tartelettes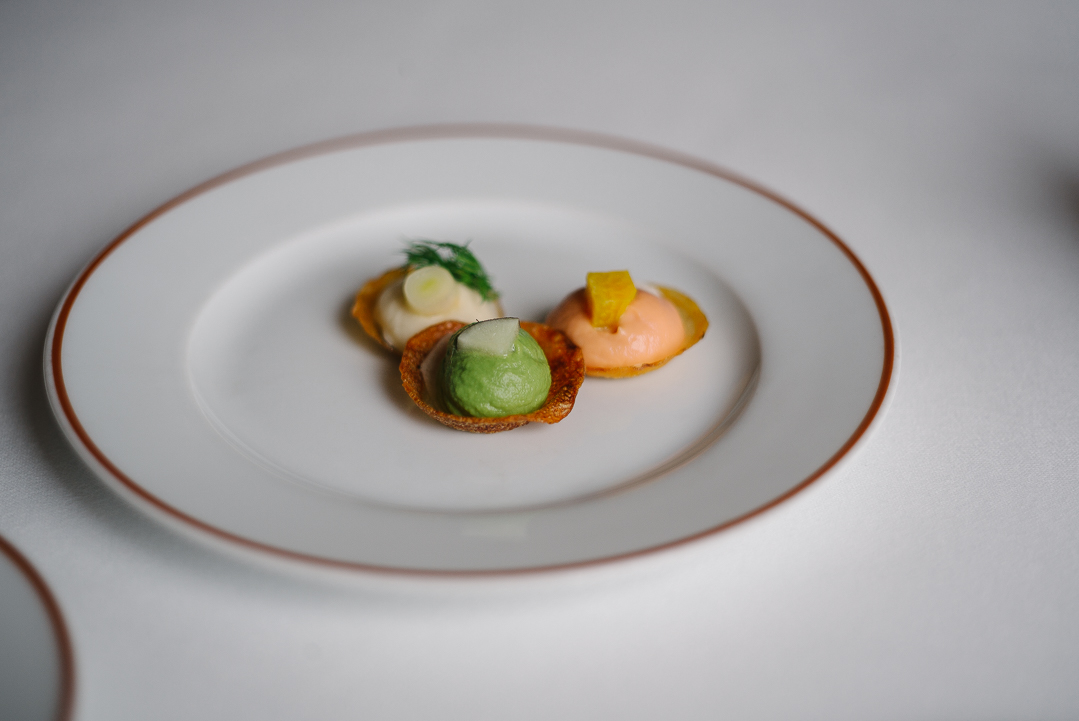 An introduction to the potency of Alain's grand crus. The depth of flavour, delicious. Today's line-up included Apple and turnips, Orange and carrot…hmm, can't remember the last one.
-. Bread and butter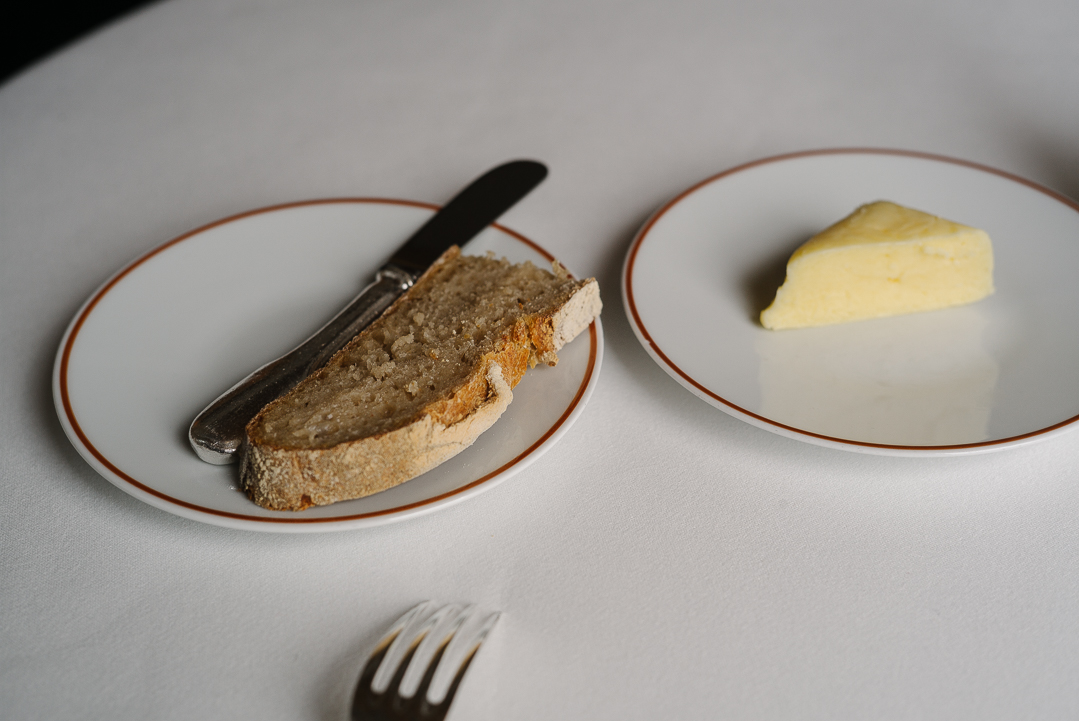 Warm, fluffy and quite dense levain bread, served with that famous Brittany beurre de baratte by butter god Jean-Yves Bordier. There's this acidity to it, in addition to the salt, it is more like a spreadable morbier than just straight up butter! Bordier's beurre d'algues has influenced that lovely sole dish which Stephen Harris makes at the Sportsmans and at Noble Rot.
2. Hot-cold egg, maple syrup, four-spice, sherry vinegar whipped cream, chives, fleur de sel.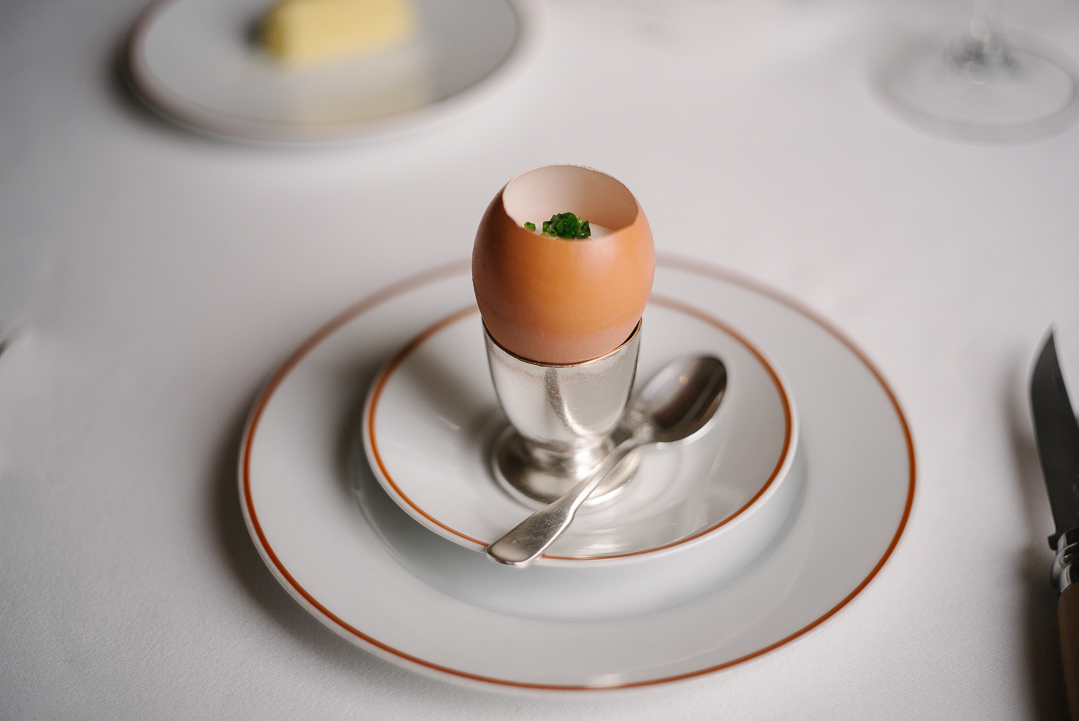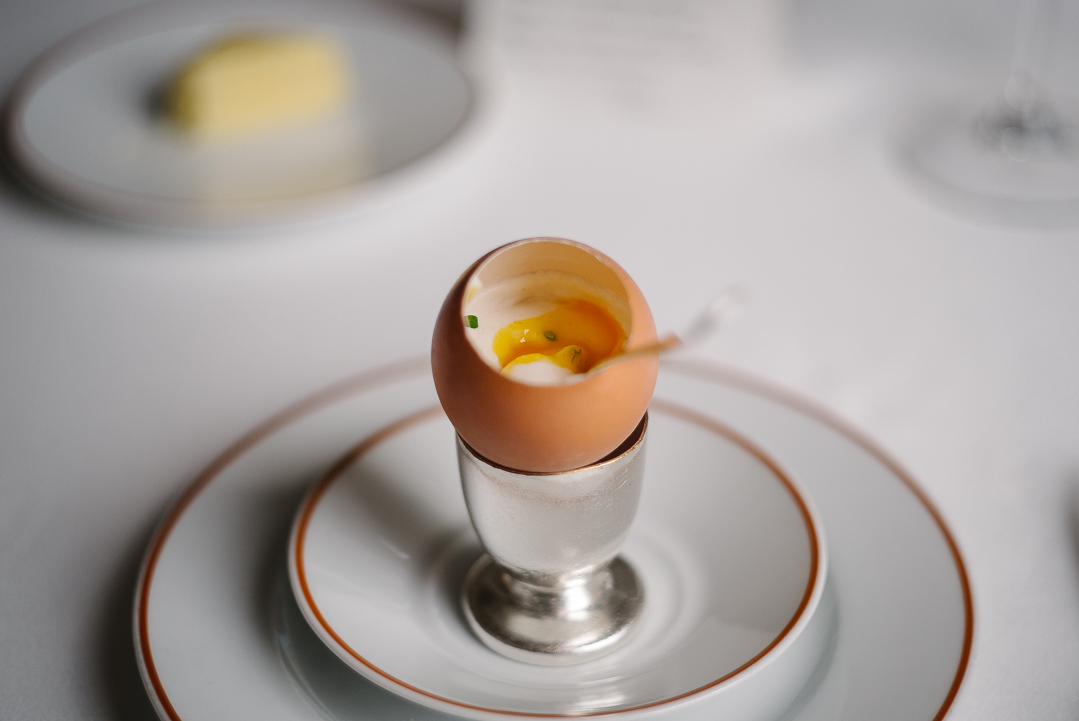 Here's a video of Alain making it.
The contrast is subtle and not crass, it is more like cooling sweet and warming savoury, punctuated by the aromas of chives. It is fleeting, lasting only the first spoonful, but it feels so luxurious, yet is something so utterly simple.
They make the opening of the shell using an egg topper (mine nearly perfect save for a small chip), pour the contents out and return the yolk into the shell. It is then floated in a saucepan of steaming water, until the edge of the yolk forms just a white lining, and then the cream goes on top.
You do feel the lining 'break' as your spoon goes in. The subsequent spoonfuls are of the runny yolk. I pour onto my slice of bread, some of the precious yolk drip on to the tablecloth. I curse my slobbering eating habits.
David Kinch makes a homage to this dish using Meyer lemon creme fraiche. It's worth reading his thoughts on Passard.
—-
3. Garden vegetable parmentier
2011 Riesling Engelberg, Grand Cru, Pfister (€20)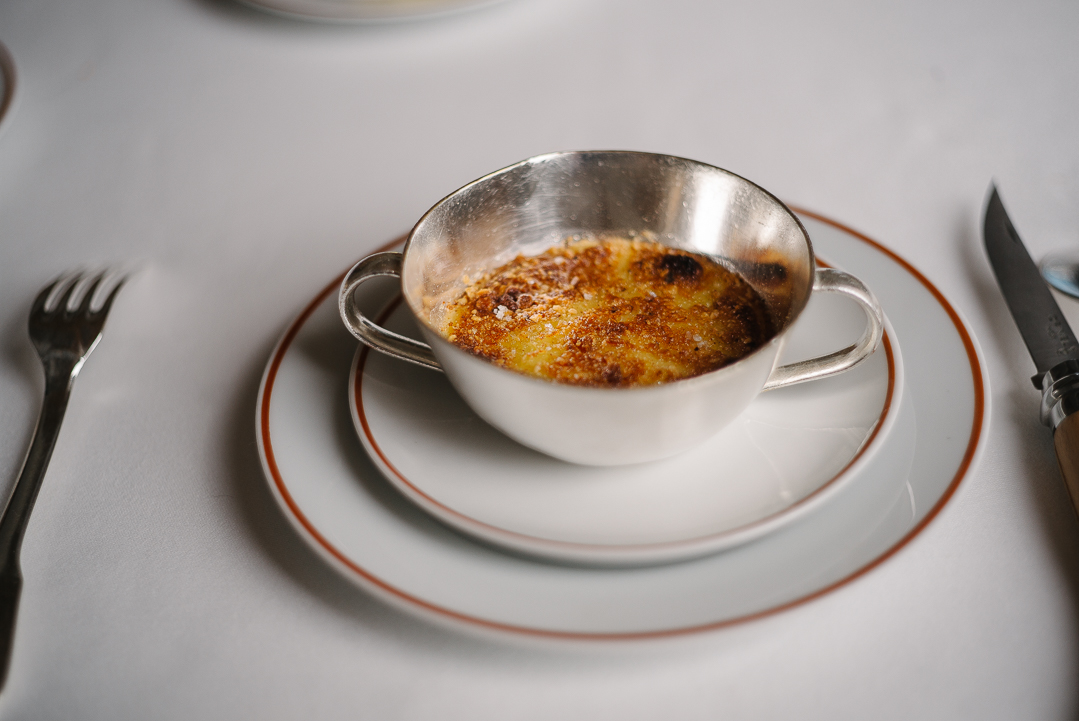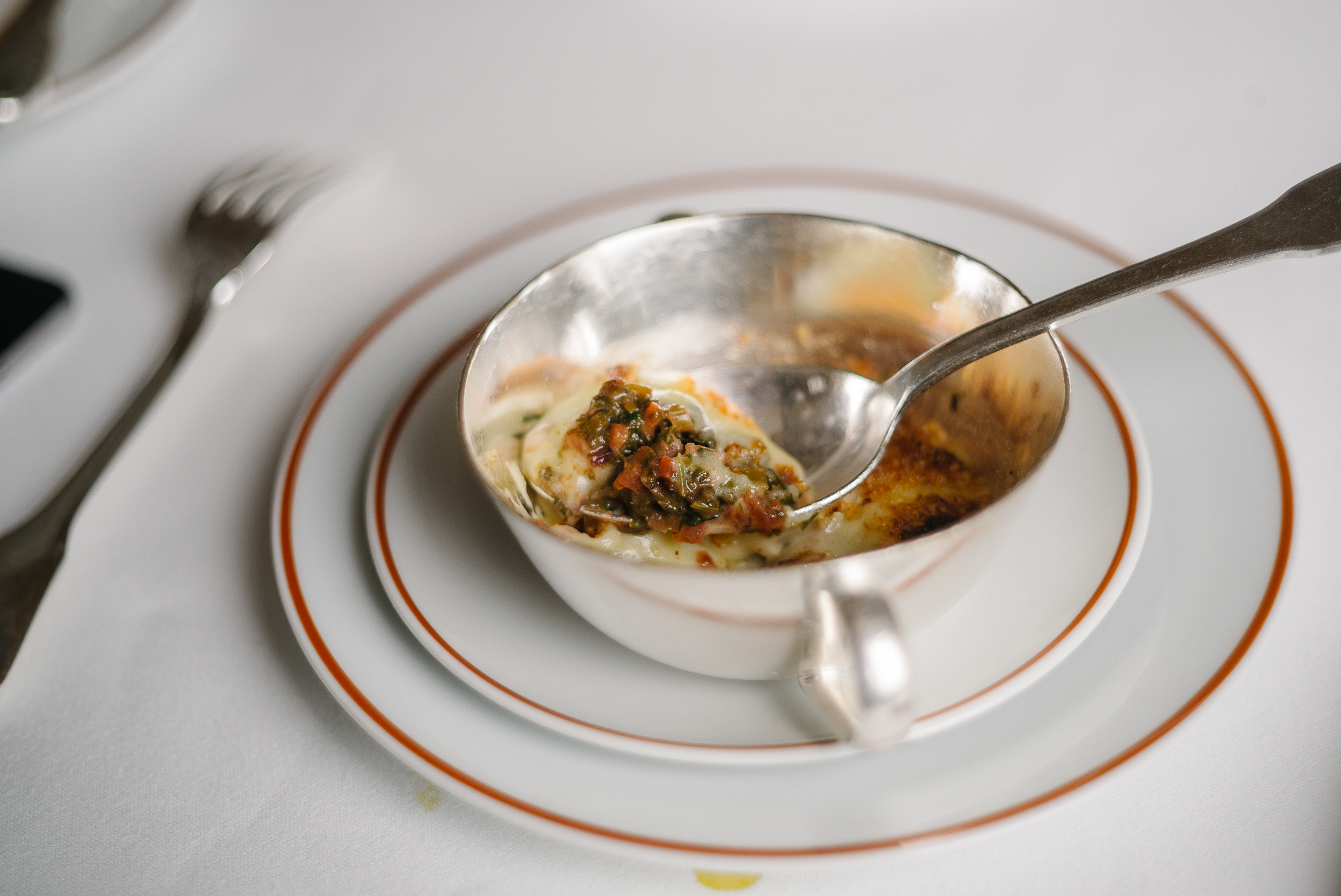 The silver pot is steaming hot, the smell of the hazelnuts brulee, so aromatic, so appealing. Underneath the smoothest puree (potato to my taste, but could be celeraic and others?) are a mixture of garden vegetables, carrots, onions, sorrel among other things and is an all-encompassing umami. There's also a distinct pickled sweetness, perhaps from the vinegar, and you pick up more of the hazelnut aromas as you work your way into it.
Effectively a shepherd's pie sans mince meat. Startlingly, there is more flavour here and it is incredibly aromatic, which is a delight to drink with wine. What an eye opener.
4. Beet sushi, geranium oil, kalamata olives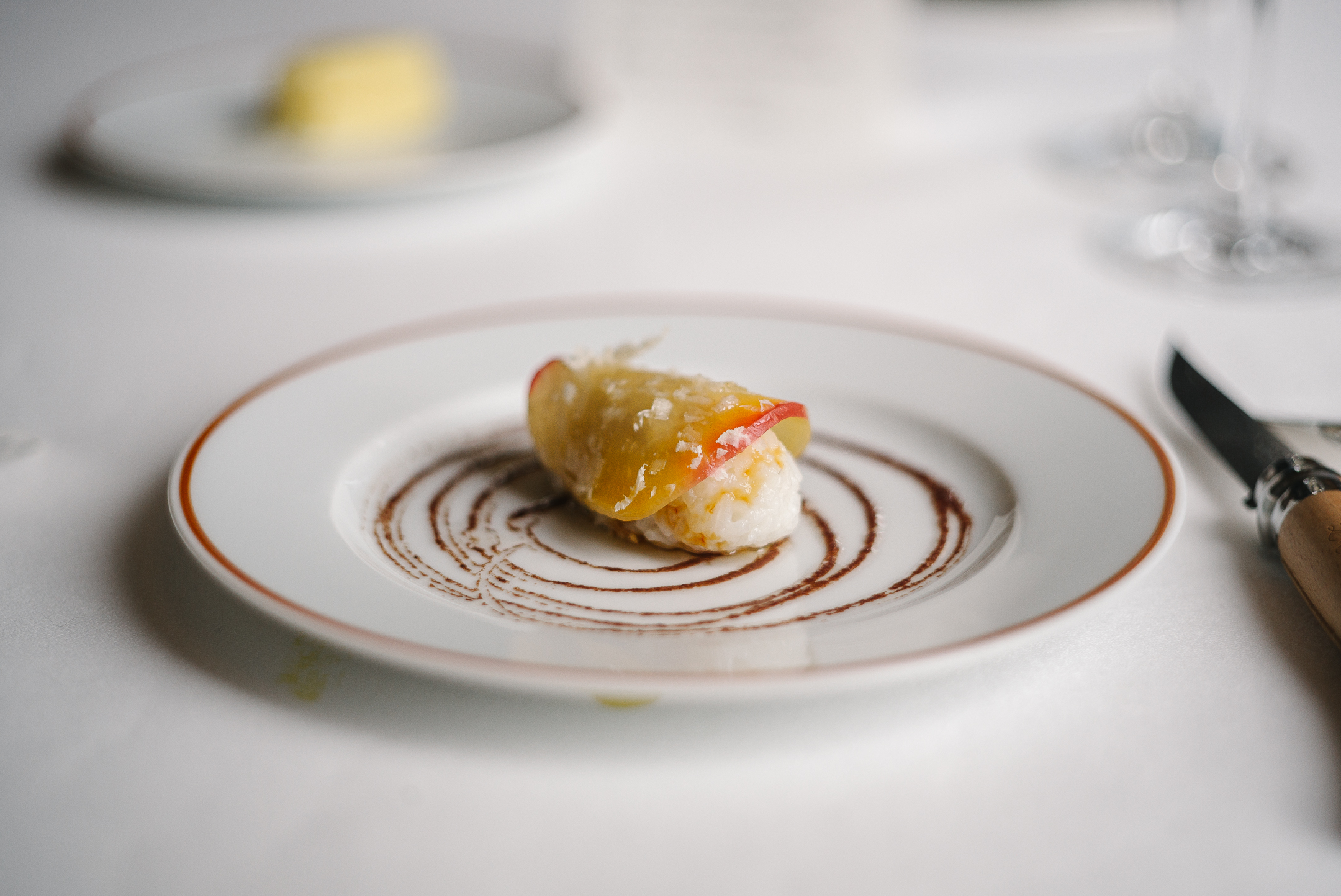 This looked a bit silly and I was sure it would be a monumental fail, but to my surprise, this was totally legit. I put my fork down the middle, and it went straight through. The two split parts holding firm together. Great work here. It smells of roses. The beet is totally oiled, the texture resemble the makings of proper neta prepared by *insert your favourite relocated Roppongi Itamae*. The rice is totally smooth, it too has an attractive oiliness with a drizzle of soy. The kalamata olives, parmesan adds flavour, whilst Passard's Orleans mustard substitutes for wasabi.
I'm shocked. This is actually good nigiri.
5. Fines ravioles potagères multicolores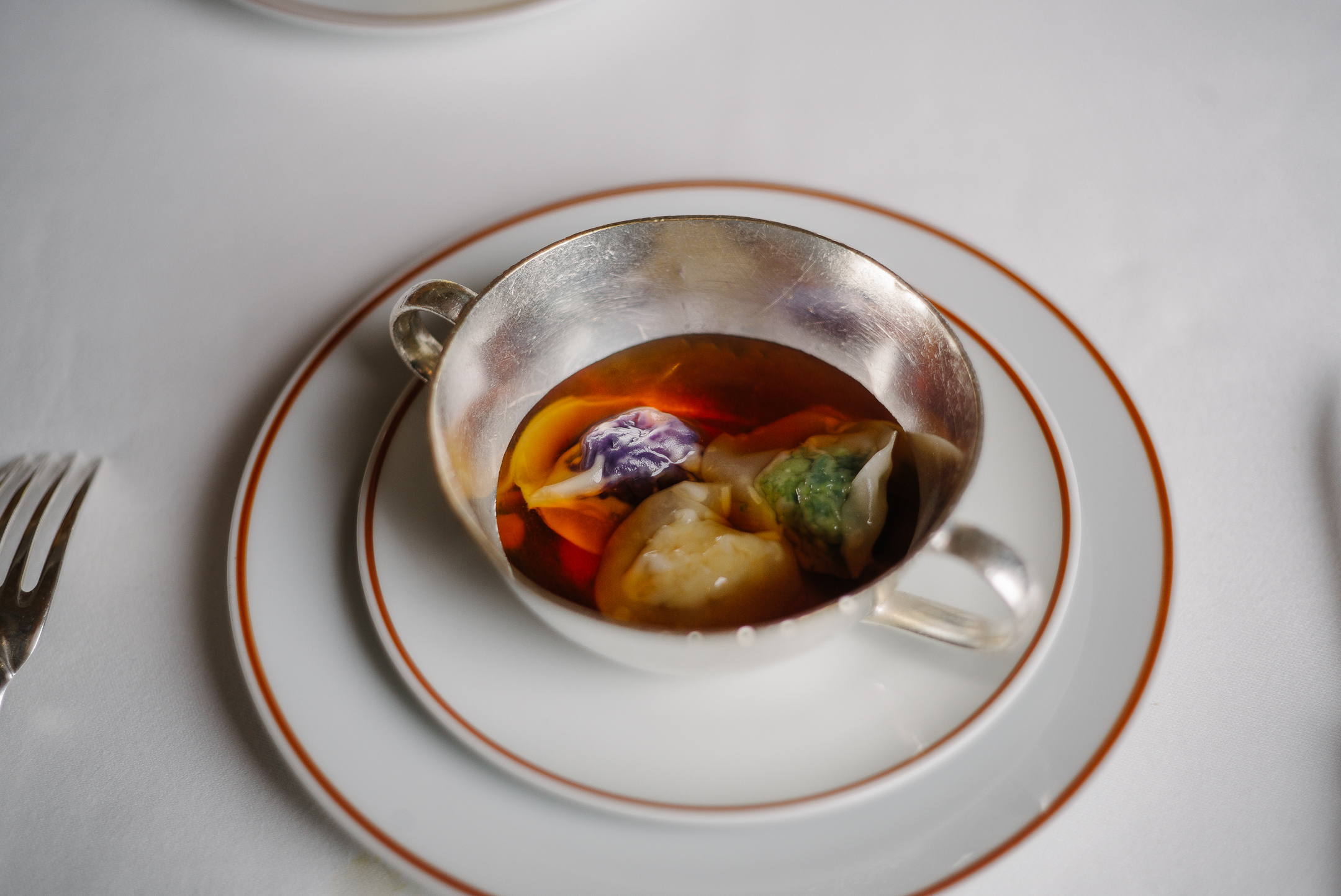 The consommé ambré on this visit is made from turnips. Fragrant, steaming and lingers with beautiful root vegetable flavour. The pasta is incredible, so thin, yet holds together when you scoop it up, each parcel reveals a different burst of vegetable, again with this pickled sweet and salty profile. This is fine yet nourishing cooking, it pulls up rose-tinted childhood memories of wonton soup. I carefully sip the broth and lick the bowl clean. Favourite dish of the lunch.
6. Jeruselem artichoke and Chantilly cream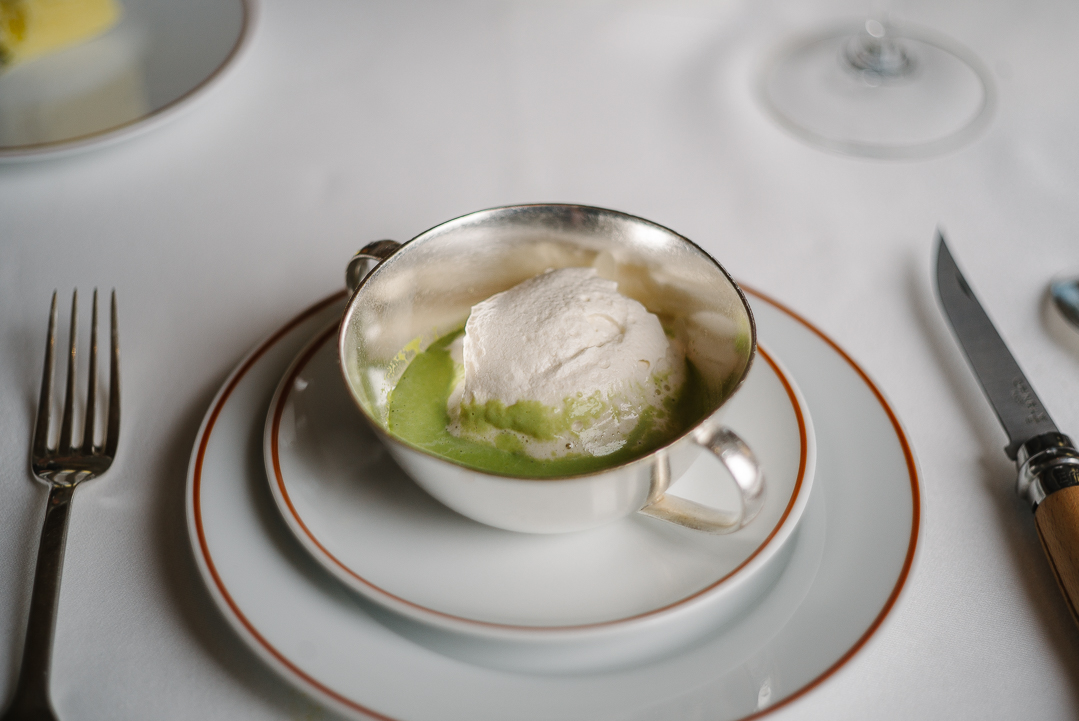 I'm quite certain the cream has coconut folded in, there is a sweet scented edge. I hear the cream breaking into bubbles as I spread on to the soup. Interesting.
The pairing is perfect. The artichoke gives depth of flavour whilst the cream lightens it up. Each spoonful is like raking the insides of a coconut and savouring the flesh. Refreshing.
7. Trinity of beets, kiwi, sweet and sour
This smells so fresh like cut flowers and hand picked herbs. I imagine the sweet and sour sauce is Alain's honey and vinegar, sweet and acidic but lifted by the cracked black pepper, acting as glue to tie the vegetables together. Dill and rosemary gives this dish it's bitter and spice. It's a cold dish and yet still so aromatic, engaging all your five tastes in perfect balance. The beets are gorgeous of course, fresh and vibrant, and this dish gives the impression of picking vegetables in a garden. The smell, the tastes, it's alive. Wonderful dish.
8. First potatoes of Spring, kalamata olives, cheese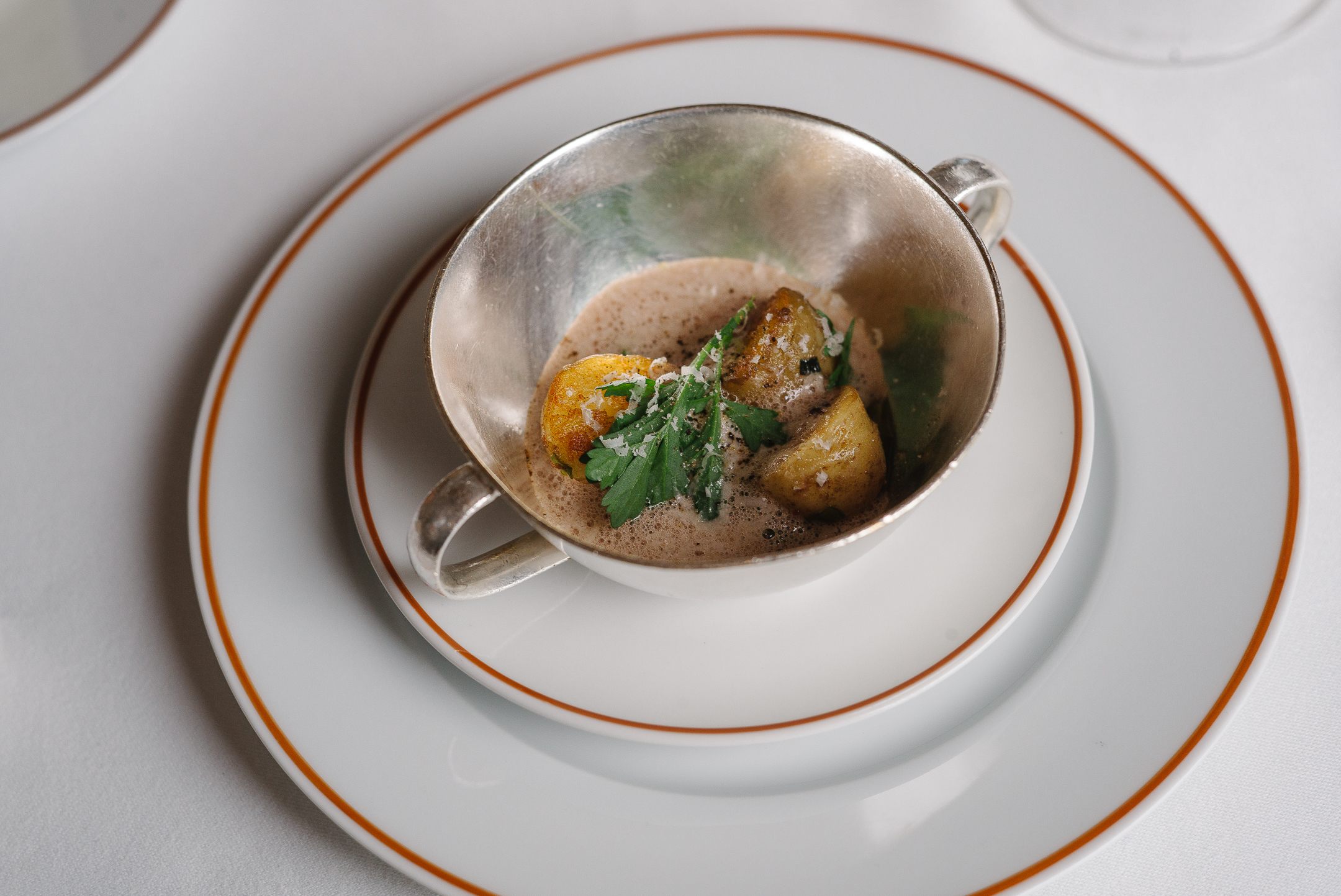 How do they do it? So much flavour, so much umami from something that appears so simple. Potatoes browned off and just sweating its natural flavours, but it is everything else that adds depth.
The olives and parmesan for salt, and underneath the cappucino foam of olives is this green mousseline, made from celery and parsley, that gives the incredible sensation of pickled herbs. A perky salt punch to the palate.
I remember Rogan's vintage potato dish well, but the difference is Arpege's dish feels more natural, more aromatic, extra 3D feels. Perhaps this added complexity is the terroir flaunting itself. Perhaps this also is the sentimentality of Passard's cooking. Delicious and then some.
9. Mesclun salad, hazlenut praline, parmesan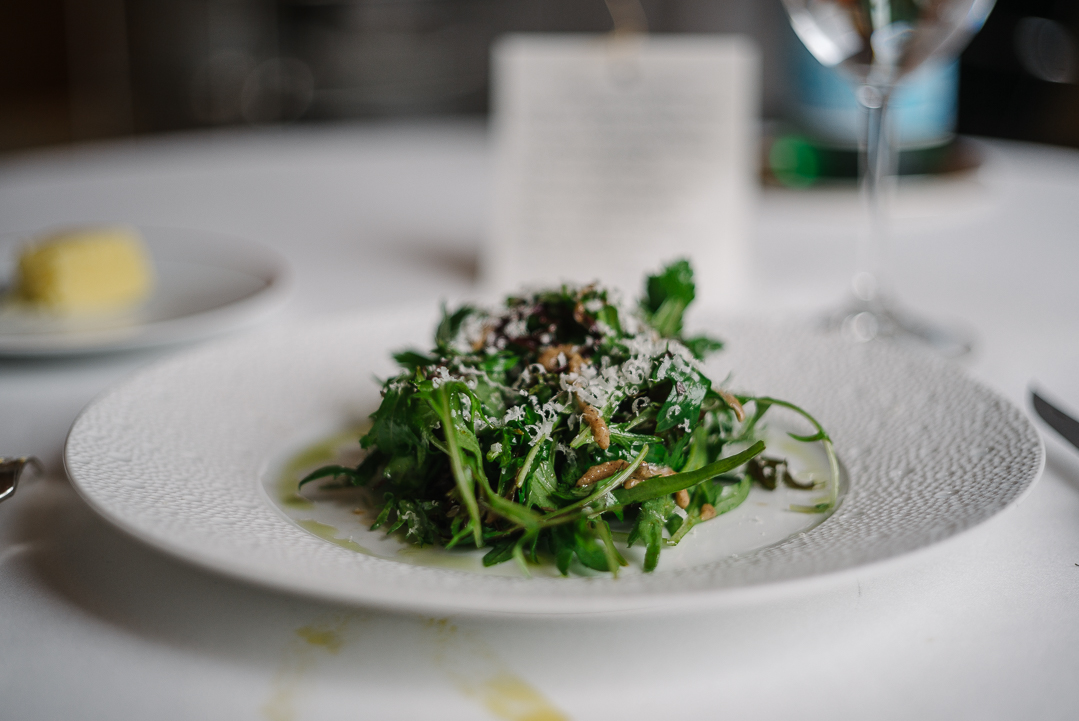 And then it all comes crashing down. A good salad don't get me wrong, sweet hazelnuts, the praline sauce tempers the peppery leaves. But hardly earth shattering.
10. A harlequin's garden of vegetables, vegetable 'merguez', couscous, argan oil
with 2006 Chateau Le Gay (€ 26)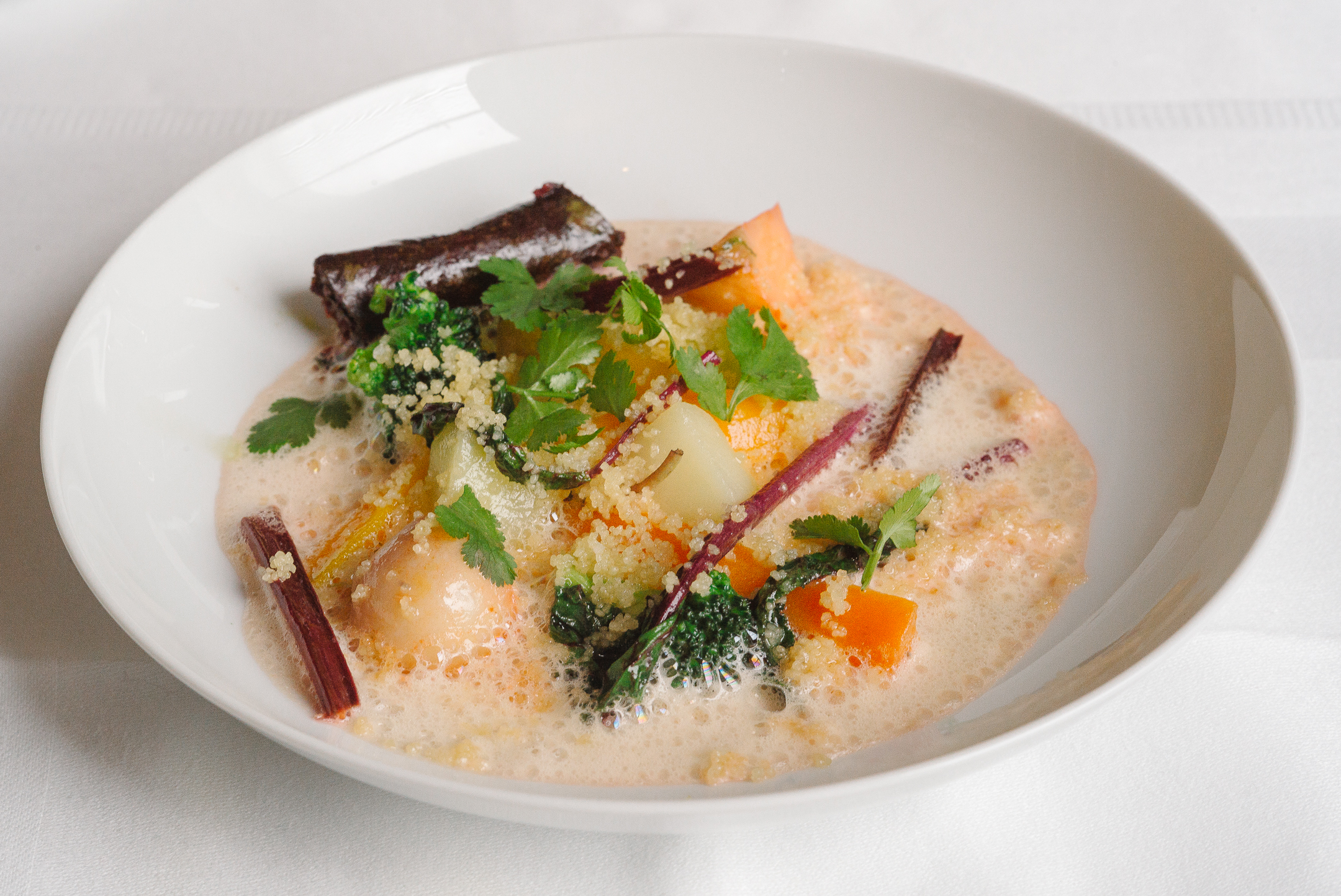 Ah, this must be Alain's homage to Moroccan cuisine. Served in a very hot plate, again steaming with the smell of roses. Diced beets resemble meat and fat, flavours are like a vegetarian nduja, mild spiciness, with a medley of potatoes, beet leaves, carrots and cous-cous.
On its own, the dish is a beauty to the eye and palate. Deep root vegetable flavours, aromatic spices, however being part of this taster, it feels like a rethread of previous dishes. Truth be told I was bored by this and ready to move on something more substantial.
The sommelier poured a Pomerol for this dish and I must say I am impressed by this vintage always overshadowed by the 05s. I drank a Pauillac Latour at Marcus last year which was pretty solid too. The nose has this smell of rained-out ripening grapes, which seems typical of vintage, but at 10 years old it is evolved into an appealing feature. Cedar and pencil lead along with black fruit make up the rest of the gorgeous nose. The palate is blood and black cherries, tannins all resolved, with masses of fruit but already the sensation of sucking on wood. Finish seems to last forever, really this is a good wine, and why wait 40 years for the 05s when you can drink this today.
11….No Meat… It's over?? Oh damn, I get why the red came early now. I should have asked for a roast instead of the pudding. Can't have it all on the surprise ride I suppose.
—
11. Sweets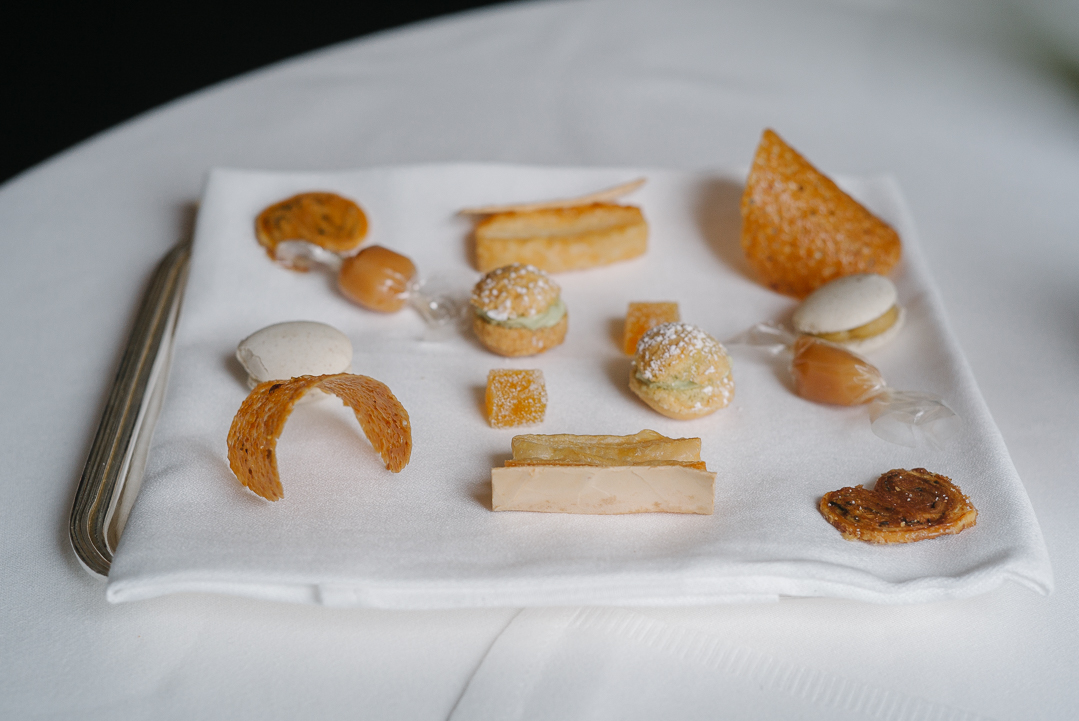 Luckily the sweets were a nice distraction, everything beautifully made. I gobbled it all up.
12. Paris-Brest, hazelnut praline, salted butter caramel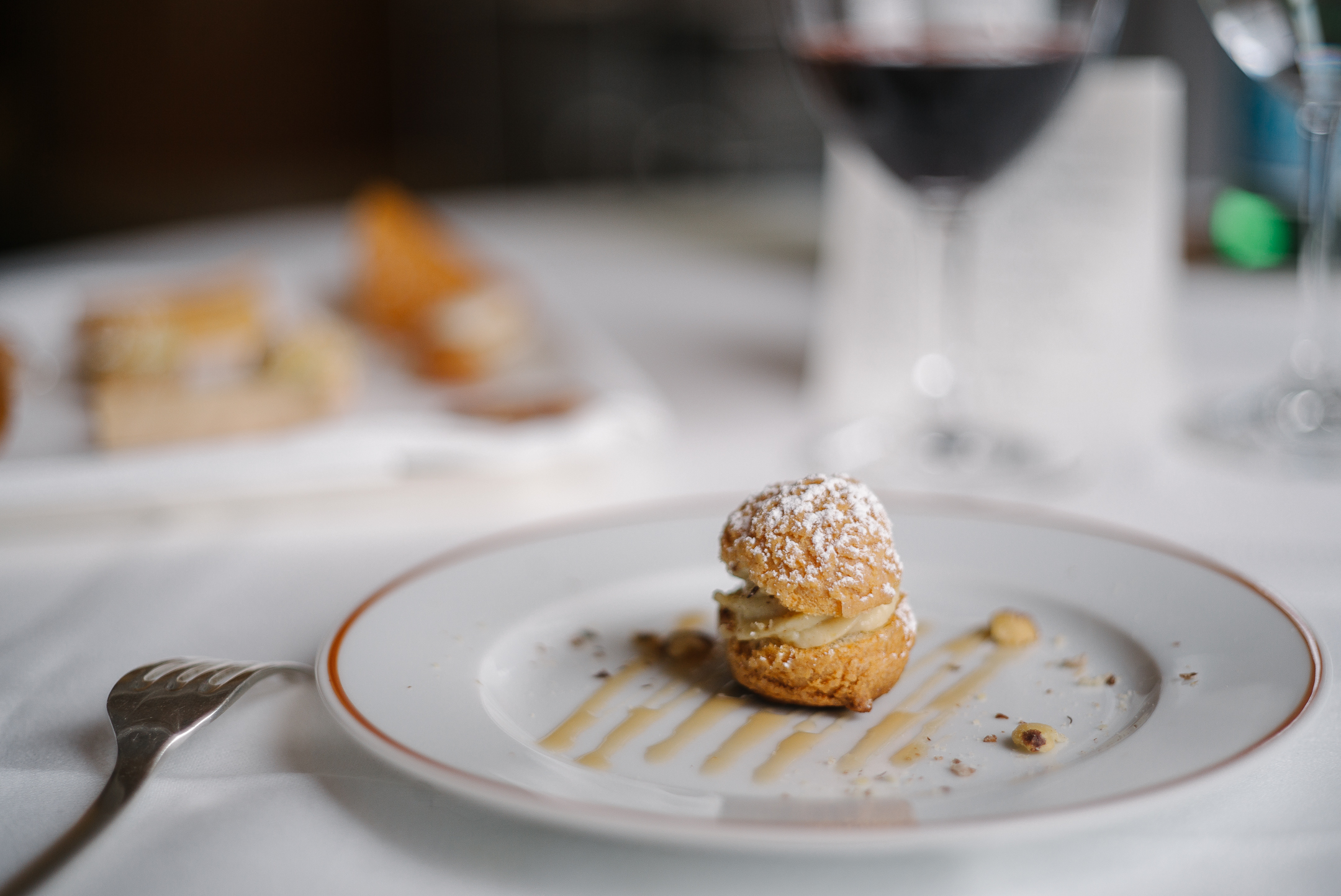 The first pudding was a pristine Paris-brest, so light that you crack open with the slightest knock of the fork.
13. "All chocolate" millefeuille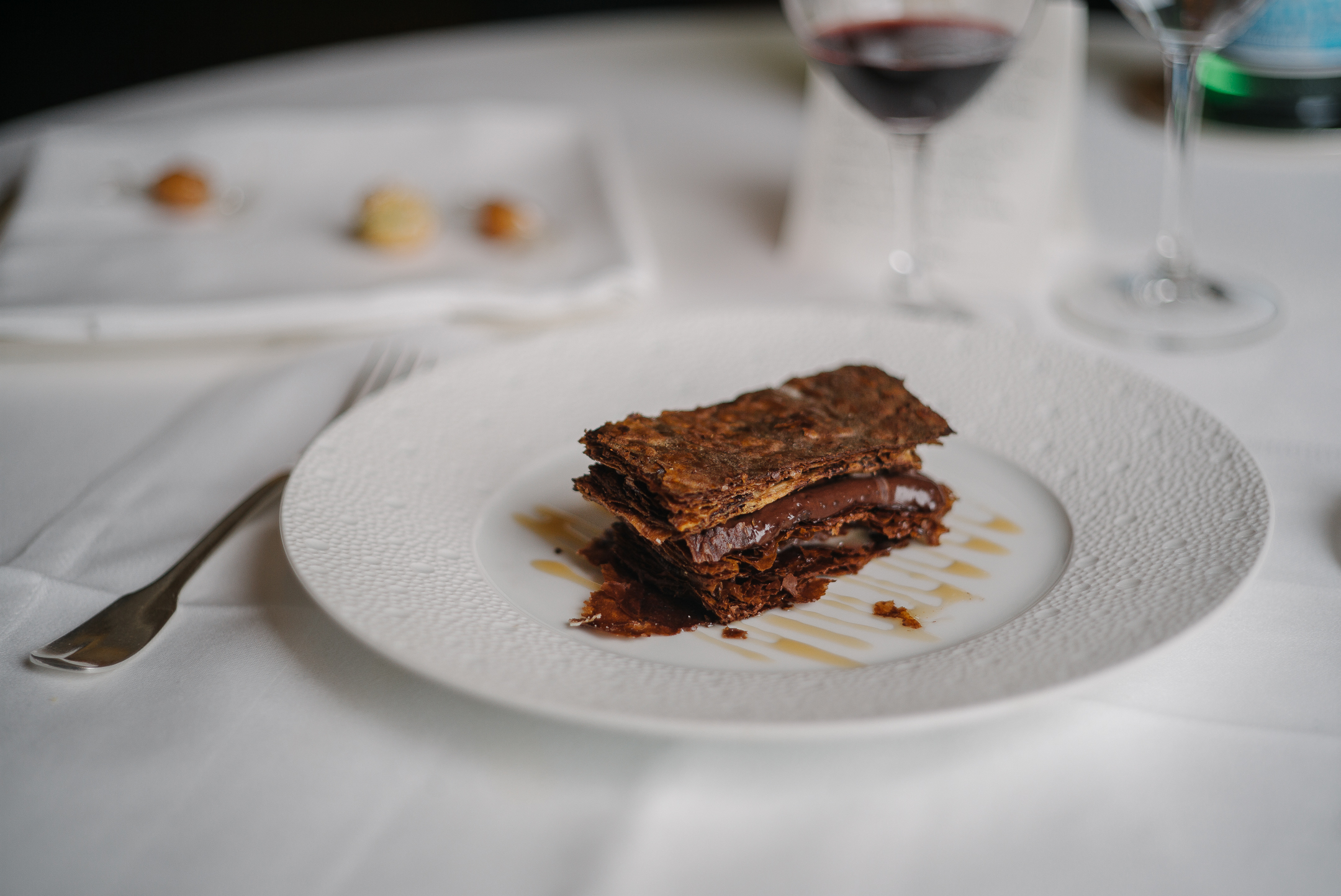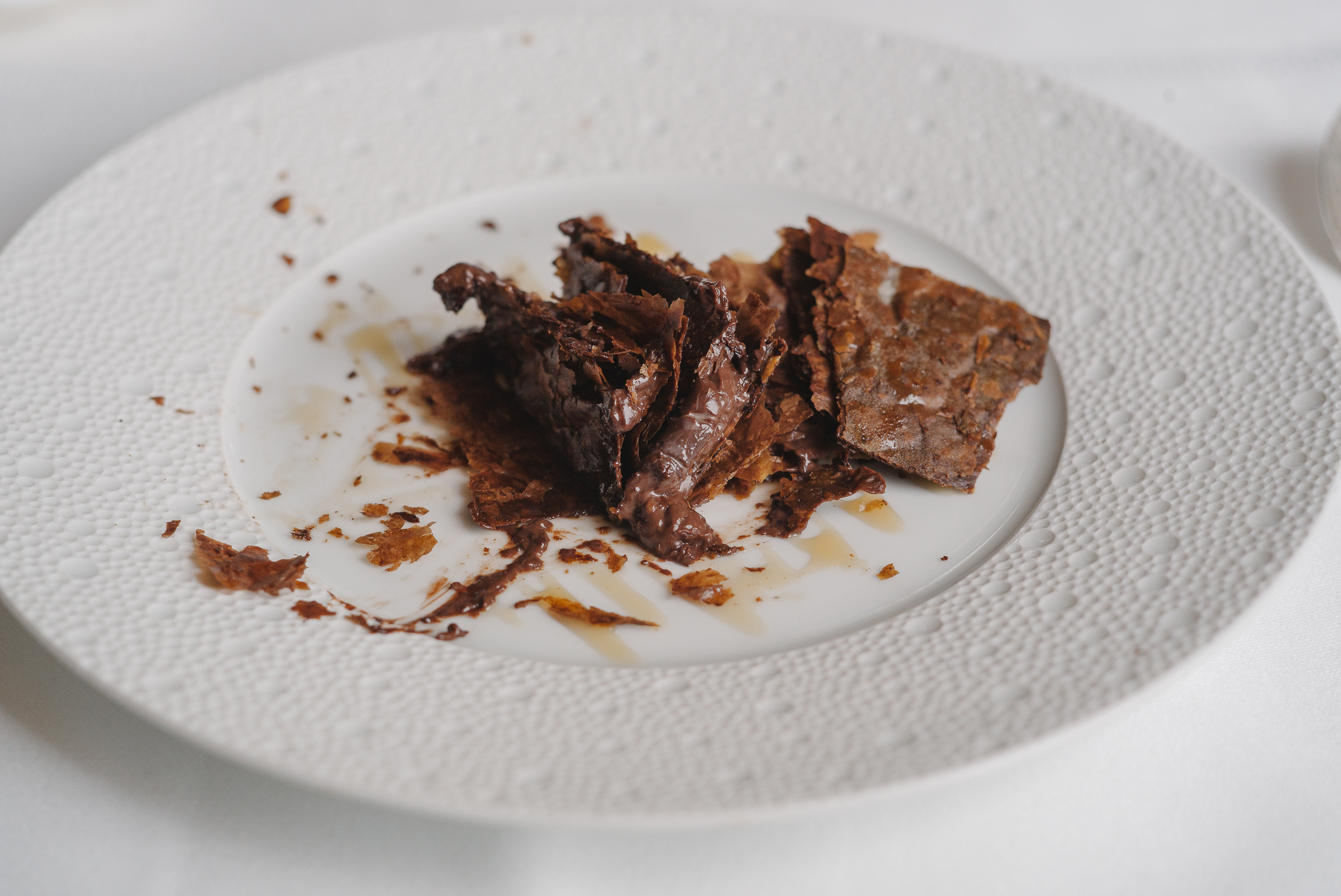 The second was a marvel – very fine pastry work. Knock your fork into it, and it shatters with the sound of a thousand perfect snaps. Incredibly decadent, yet also very light, the chocolate custard has the purity of chocolate but without the sweetness. The sommelier tipped abit more pomerol into my glass. Not bad. Goes well together, chocolate and cherries. The meal ends the way it began, the sound of perfect layers of puff pastry rubbling away on the palate.
14. Coffee (€12)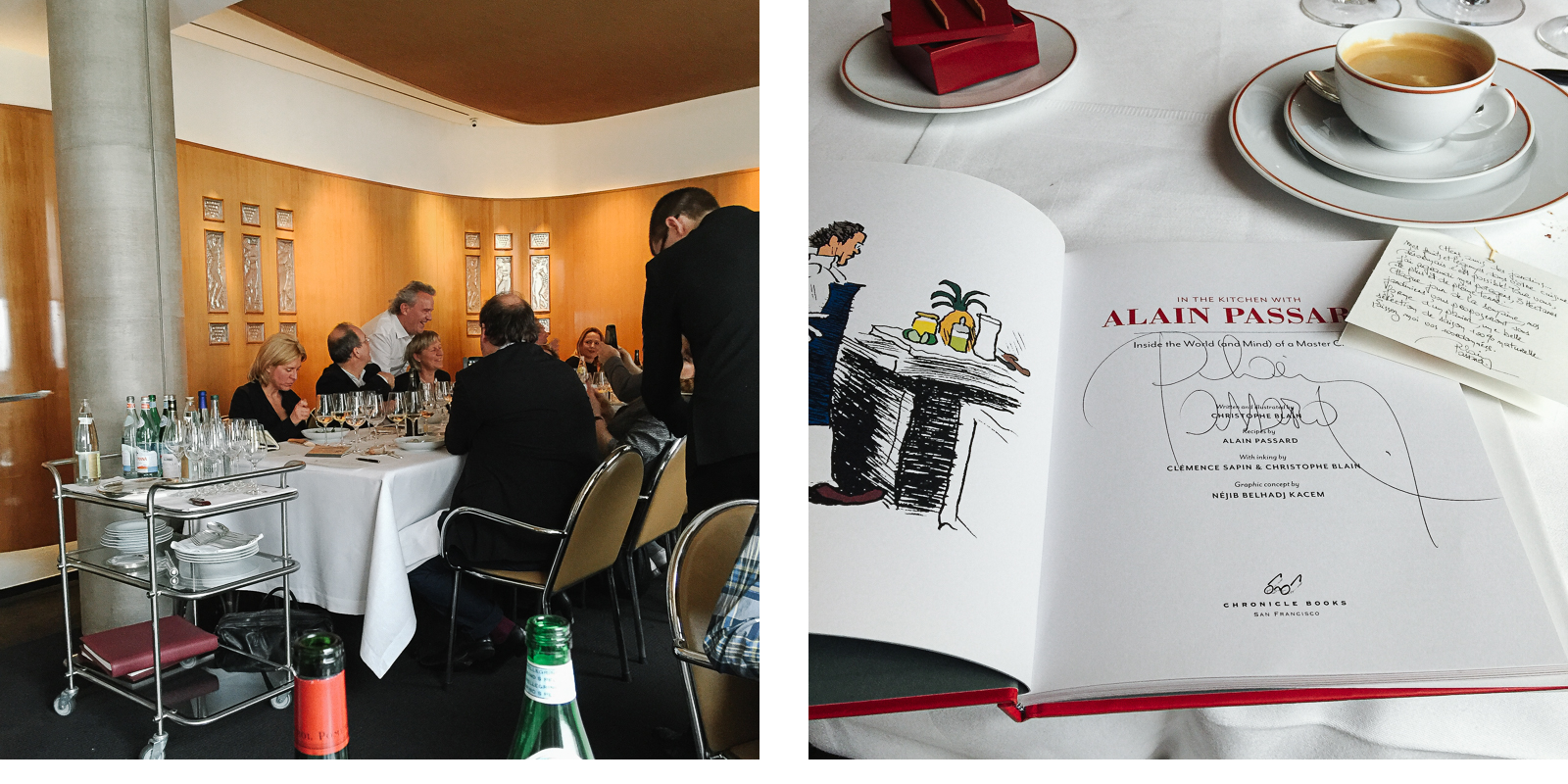 At the end of the meal, Alain made his entry to greet each table, which is a nice touch. I shook his hand and thanked him for a formidable meal. He gave out a belly laugh and furrowed his brow. Perhaps he was a little bored of receiving such cliched compliments. I then sprung the Blain book on him and he gladly autographed it. "All the flavours are in the vegetables…" he said before floating onto the next table.
—
I paid €256 (£210), 1 lunch menu, 4 glasses of wine, 1 bottle of san pellegrino, 1 double espresso. I left the restaurant at 1530 and caught the 1837 train back to London. The round trip costed me £270 (£210 + £59).
Expensive? *Not bad* for the lunch menu, but if you consider that it was just vegetables, it's pricy. If however you factor in the supply chain which is unique to the restaurant, then it's less painful. How much do you pay to savour La Tache. It would be €500 had I gone for the full taster menu which includes seafood and a roast. Pound for pound, still cheaper than L'Ambroisie, this is Paris after all so you will already be prepared to spend a small fortune regardless. A life-changing meal? Nope, but over time, I've come to accept that there is no such thing. And no meal is worth this kind of premium. I completely understand the Russian roulette suggestions about a meal here and why its love or hate with Arpege, there simply is no middle ground.
I walk away feeling invigorated by the most expensive and delicious detox session the World has to offer. Some would argue that the grand chef is eclipsed by his former proteges that you could eat this kind of food for less money and better executed at Toutain's, Mirazur and indeed at Astrance where Barbot has climbed to the very apex of modern French cooking (well in my opinion at least).
And yet, I had eaten some of the best food in memory. The ravioli, parmentier, potatoes, the egg, millefeuille, all beauties that I would gladly eat over and over again. Immediately following coffee, I tried to order the langoustine carpaccio but Hélène apologised and told me that I had to pre-order that one. So much yet to discover, Chausey lobster, Challans duck, Cosnet chickens. Dammit. I am itching to go back.
The cooking incredible, the techniques flawless, the harmony of flavours is deserved of 3 stars, the food is exquisitely made and the vegetables really are quite extraordinary. I do not believe I have experienced such depth of flavour, let alone one consisting only of vegetables, and my olfactory was fully engaged throughout the meal. It was a theater of aromas, perfect with wine, this was a meal where I did not want to stem the flow of juice.
Apart from water lilies, I do not know art all that well, but I do find parallels between Alain Passard's cooking with William Eggleston's photographs. Both driven by splashes of colour, mastery of technique, perfect composition and a democracy of subject matter. That beauty can be found in the seemingly ordinary, you just need to know where to look.
For some, Three Michelin Stars is about spectacle, exoticism and celebrity but Alain Passard's cuisine couldn't be further from this. It is precious, natural and fine. Somewhere inside of him is the beeting heart of a master craftsman who continues to perfect his art, with his hands everyday at Rue Varenne. Peruse Passard's IG and you will find a food lover, spontaneously marvelling at the season's produce. Contrast to Ducasse's which is a slickly coordinated campaign. He is a hero and the young boy in me aspires to be like him. I am a Passardian at heart.
At the end of Blain's book, Passard walks into the sunset, gesturing of his good life and I get butterflies every time I reach this page. Alain's dedication to his true loves. I cannot say that it isn't inspirational. The humanity, the beauty and the art of Alain Passard.
Details
Restaurant Arpège
Modern French
Lunch carte blanche €145; Spring Garden €300; Earth & Sea €380.
Mon – Fri only
84, Rue de Varenne
75007 Paris
Tel : 33 (0)1 47 05 09 06
Metro : Varenne
—
PS:
Brad Spurgeon (1987/1988), Gastromondiale (2006), Chuckeats (2007), Punctum Et Studium (2007), Foodsnob (2009), Foodnut (2009), Gourmet Traveller (2010), Laissez Fare (2010), Ulterior Epicure (2011), AA Gill (2011), Andy Hayler (2012), Without Bacon (2013) , Docsconz (2013) , Efficient Asian Man (2013), Luxeat (2013), Adam Goldberg (2013 and many), Elizabeth on Food (2013), Pete Wells NYT (2014), Oh, How Civilized (2014), Food, Booze & Baggage (2014), Fairfield County Foodie (2014), Bu Pun Su (2014 < — Basically I feel this), Kenneth Tiong Eats (2014), Belly of the Pig (2015) , Paris by Mouth (2015), Roast Duck and a Big Gooey Cake (2015), Gab and Gobble (2015), 8foodie (2015), The Greedy Couple (2015), Chihiro's Foodblog (2015), Luxeat (2015), Luxeat (2016), The Foodalist (2016), Simply B (2016)