I do not usually get sentimental about forgetting to write up certain restaurants, but I have always felt guilty having never made space in my tiny corner of the internet for this lilliputian gem. You could say this entry is two years in the making, almost exactly to the day between the visits. This also says something about Marianne Lumb's food, that I have never forgotten my meal at this beautiful restaurant. Pale green and salmon pink, brown half curtains and who doesn't love parquet floors. I laid douglas fir in my house, but would love to change one room someday.
You may remember Marianne valiantly claiming runner-up in the finals of 2009 Masterchef The Professionals. Before the TV show, she received her classical training at Gravetye Manor and from there had a mostly private chef background, roving across 3 continents. She opened this restaurant in the fall of 2013, backed by a silent partner, and is located in Notting Hill, a stones throw from The Ledbury.
The 35 sqm restaurant has enough comfortable elbow room for only 14 covers, making it one of the smallest in London, alongside the two sushi-yas. I prefer smaller outfits anyway, less filters between you and the chef with their name above the door and has all the romantic ideals of restaurants. It must be quite the precarious financial venture. A lot of very good ones are small anyway, all of your favourite Roppongi sushi-yas, Astrance does 25 at a time, Faviken 16 and even Hedone has shrunk to 22 in order to concentrate the quality of their output.
I am glad I waited before I wrote this up because Marianne has definitely stepped up her game in this time. Whilst her dining room fits the same number as her first service, her 10sqm kitchen has gotten more crowded. She has expanded the total headcount from 3 to 10. That's nearly 1:1 ratio to customers when full. Including herself, I counted 3 other in the kitchen during my visit last Friday, where our table for 2 was the only one in play. We were served by an extremely capable front of house of one. If you are reading this, I apologise I did not get your name. Top service and great shouts on the wine.
Marianne now offers seasonal 3 course (£35) / 5 course (£65) for lunch and 6 course (£85) for dinner for omnivores. There are also pure vegetable menus (She too is a fan of Arpege). Bolt on 3-4 interludes, and you're up to 9-10 plates of food by the time you are done with the long tastings.
– 8th April 2016 / Lunch / 5 courses (£65) –
I visited with an old friend, Tim. Friday lunch, we were the only table, so staff to diner ratio was 3:1 !
Truffled Popcorn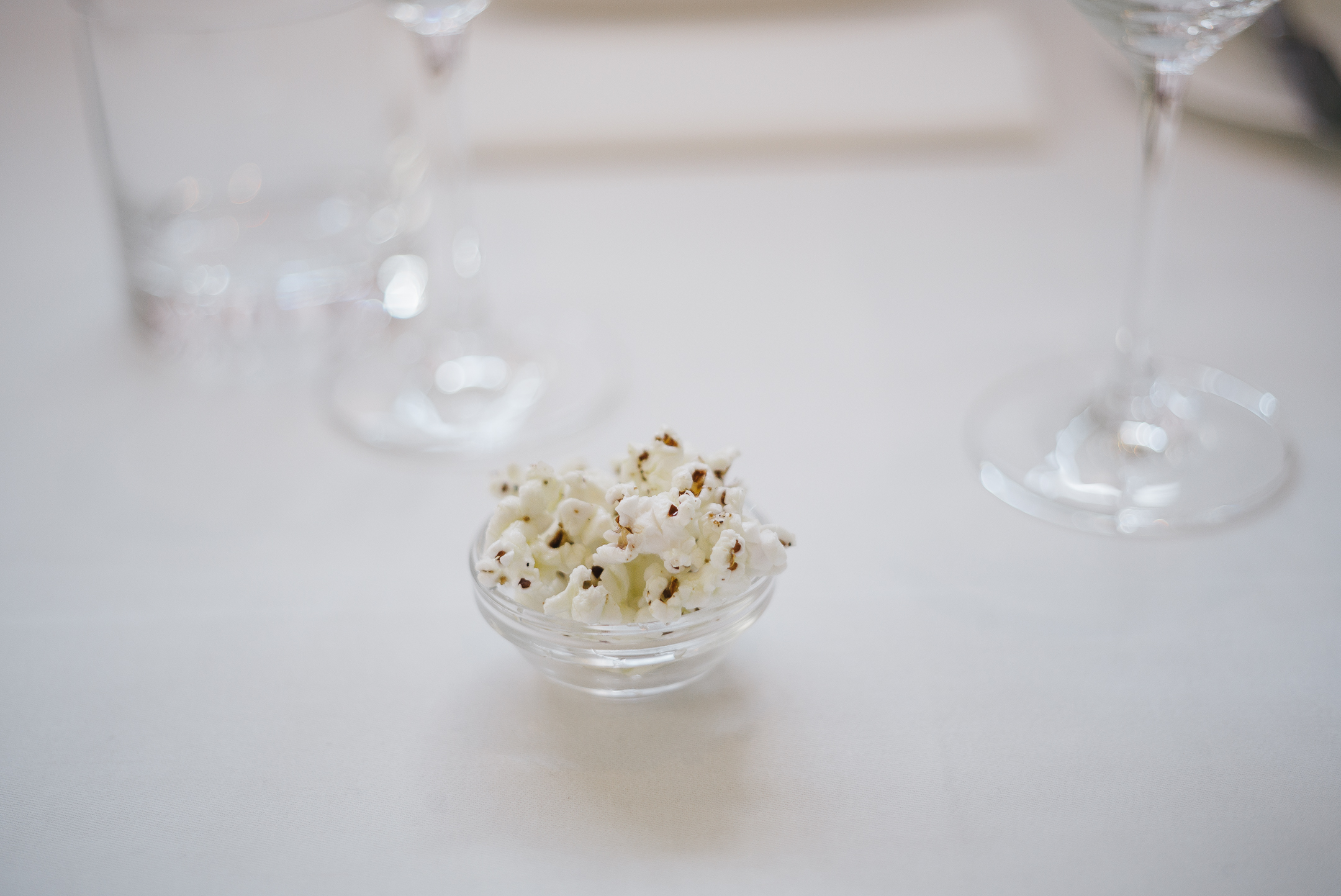 The meal begins with the last whiff of winter passing us by. Till next fall my dear melanosporum.
Canapes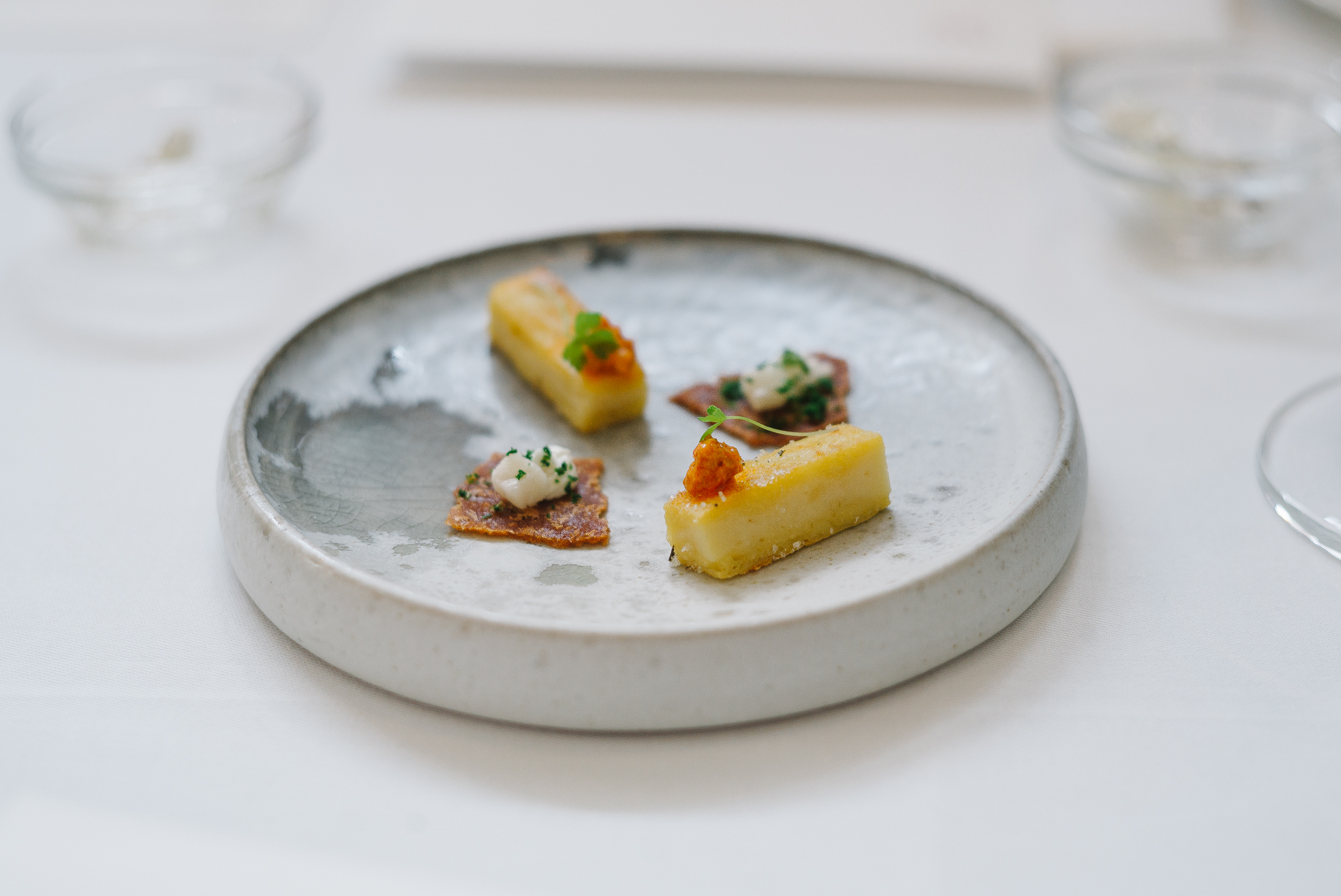 Horseradish on the left, Panisse with Romesco on the right. Delicate work here, a beauty, the panisse was very good indeed. Embarrassingly, I mistook for a Spanish tortilla, but there's no eggs in this fluffy chickpea-based appetizer.
Potato Sourdough with Irish handchurned butter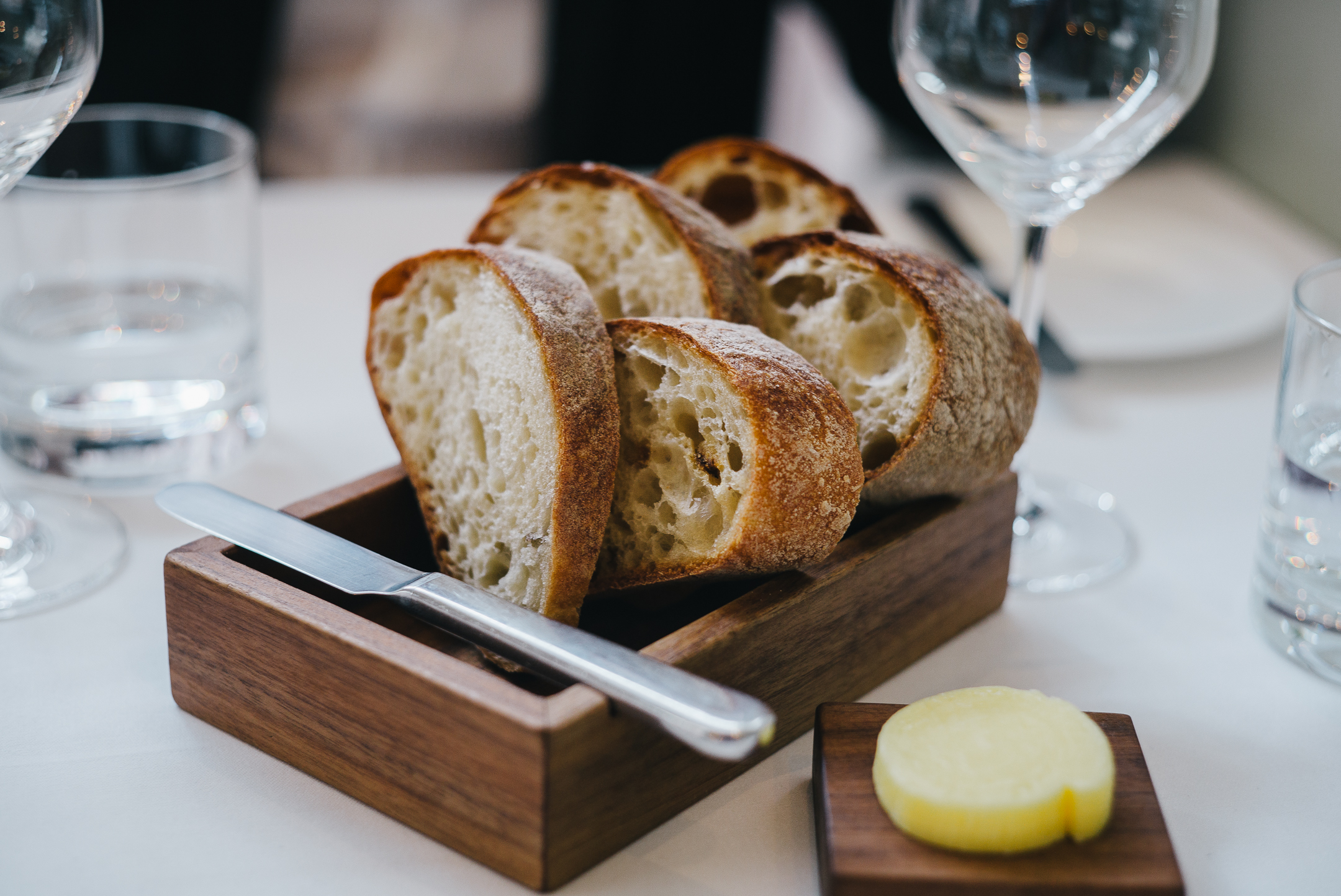 Heart-shaped presentation. I did not ask if they bake their bread in-house. At one point in time, she bought them in from Hedone, but this doesn't seem to have the same springs and dense crust as Mikael's. Good sourdough nevertheless.
Amuse : Velouté of Jerusalem artichokes with a thyme crumb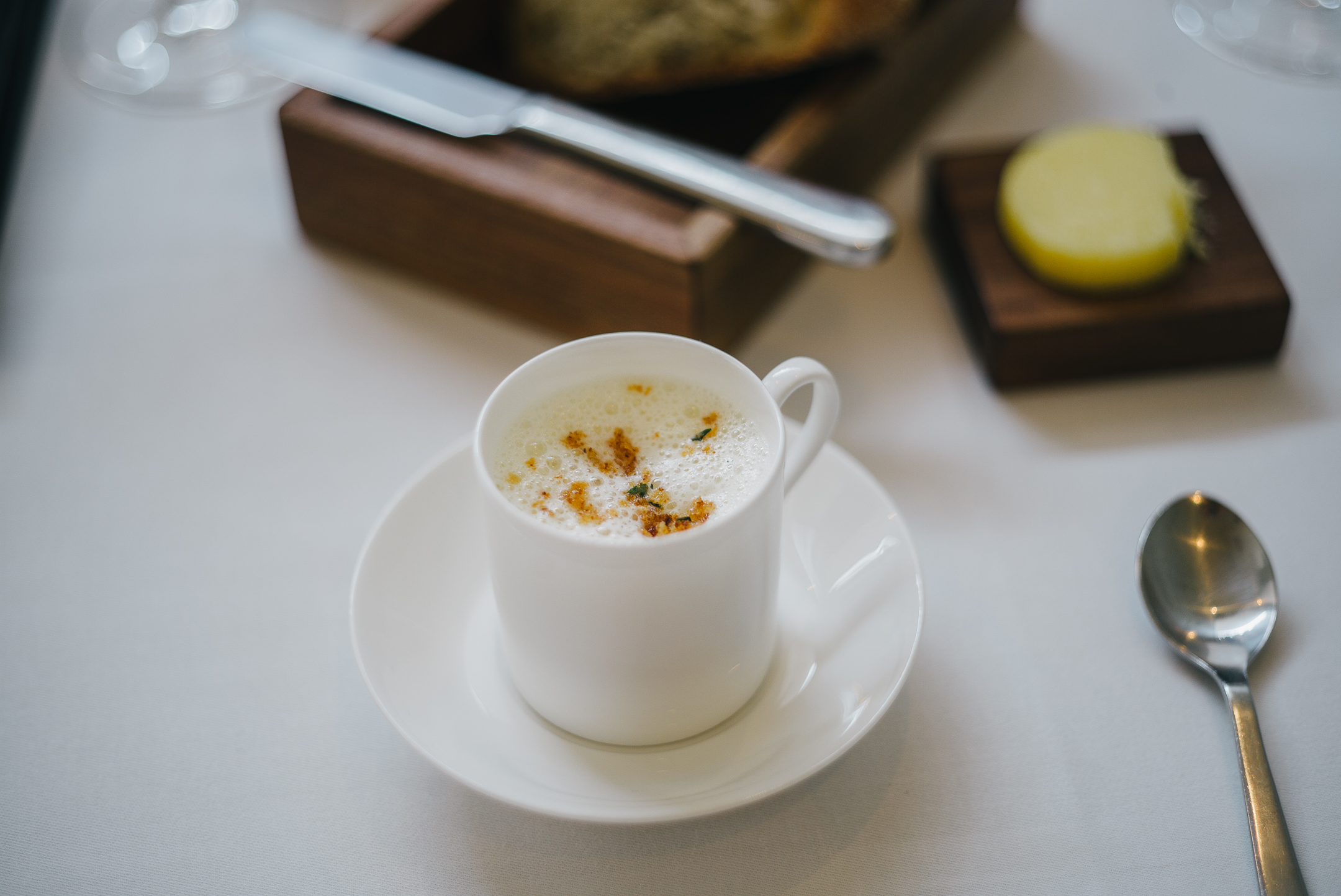 It is served hot, thyme aromas and a frothy veloute that is reminiscent of Phil Howard's cappucino. I love this pure milky flavour, this is artichoke au lait. The cream seems to have teased out the root's natural sweetness. Crumbs for salt. A beauty.
—
1. Roasted French white asparagus, sorrel & wild garlic
with 2014 Prima Donna, Prieuré La Chaume , £13.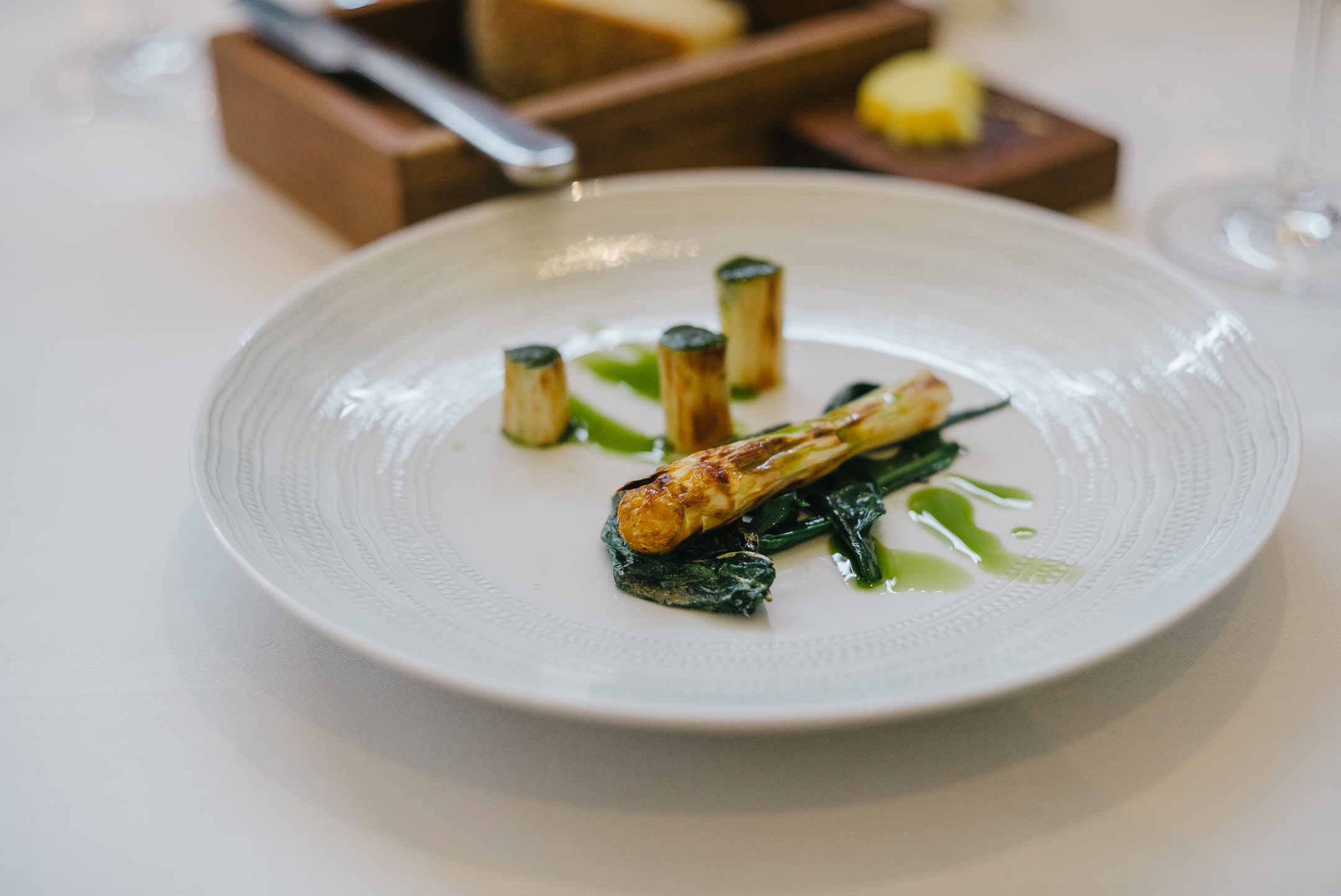 This looked like it may have spent a little too long on the pan, but I was relieved to find the delicate sweetness in the still juicy centre intact. The chlorophyll has been carefully retained when reduced in this aromatic slick. A pretty picture of Spring.
The wine is rather interesting, made by Christian Chabirand in South Vendee, the most southerly part of the Loire valley. Organic methods. Made from a Champagne blend of Chardonnay and Pinot Noir. A blush of colour for a dry white. Butter rich, pears and then followed by zippy citrus.
2. Scotch Langoustines, Brittany sand carrots & lardo di Colonnata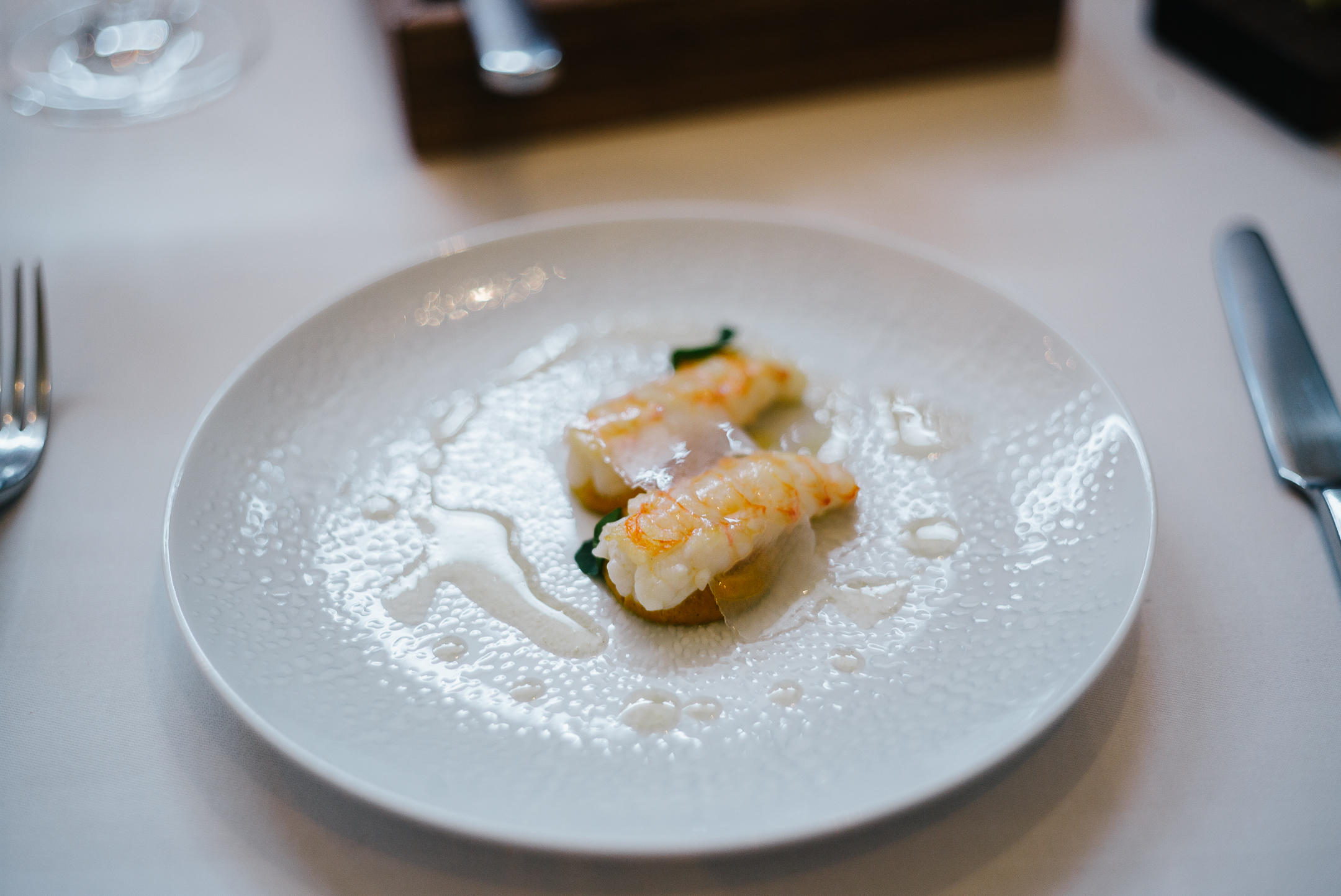 Not one but two carefully shelled langoustine tails. These babies are sourced from Henderson Seafood creel caught, and sometimes also in the kitchens of the talented Mr Kemble at Bonhams. Sweet and fleshy, second only to their bulkier Norwegian cousins that swim further up the North Sea.
These appear gently cooked, at a guess, sous-vide or poached as I did not see any visible trace of the pan. The centre retains the shellfish's natural bounce and brine. Incredibly sweet, accentuated with the well-whipped carrot puree, an earthy cream almost like cake icing. Lardo brings fat, pickled complexity and aroma. Delicate and excellent execution.
And there are two on the plate!
3. Raviolo of Highland wagyu featherblade, Sichuan chilli oil, Thai basil oil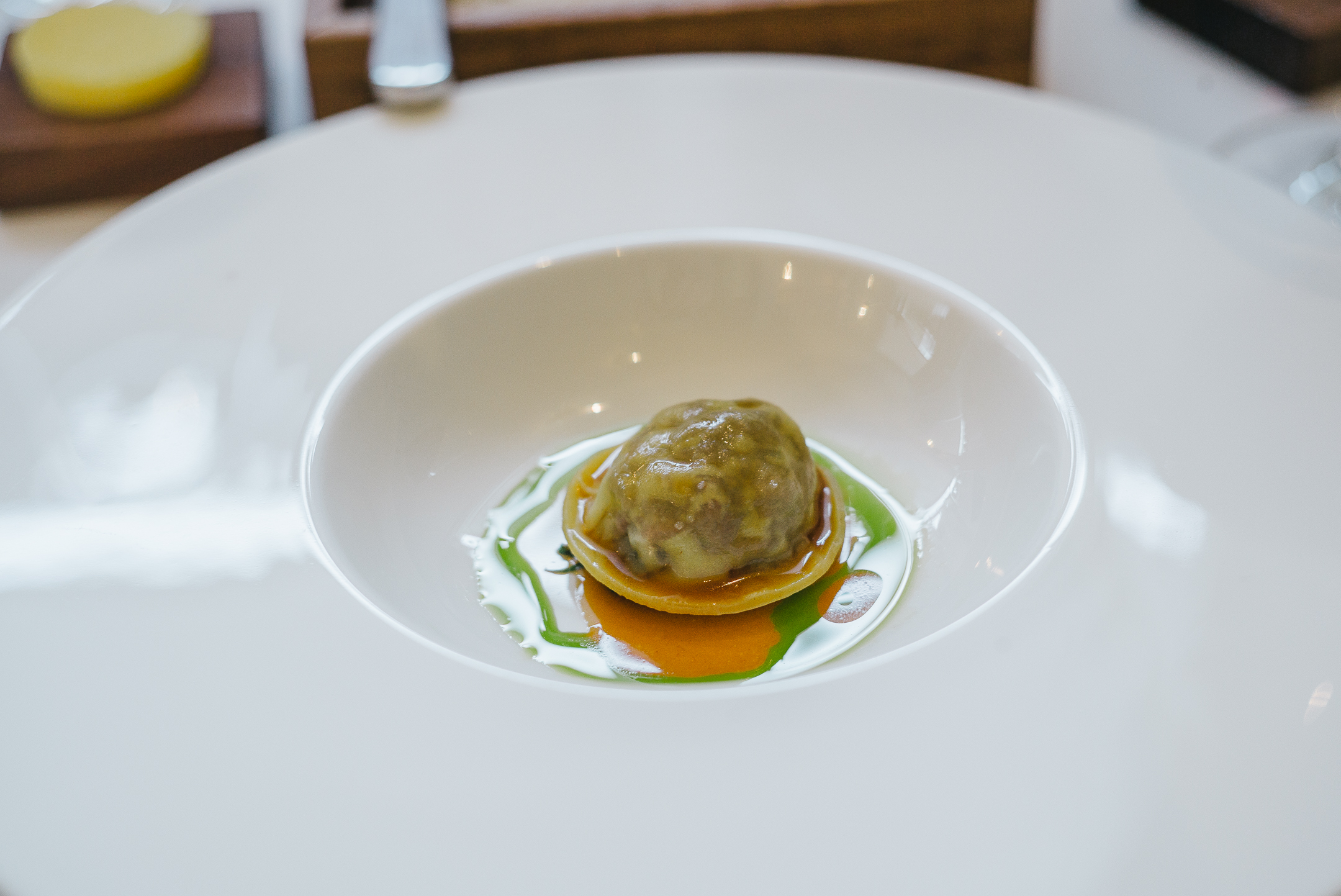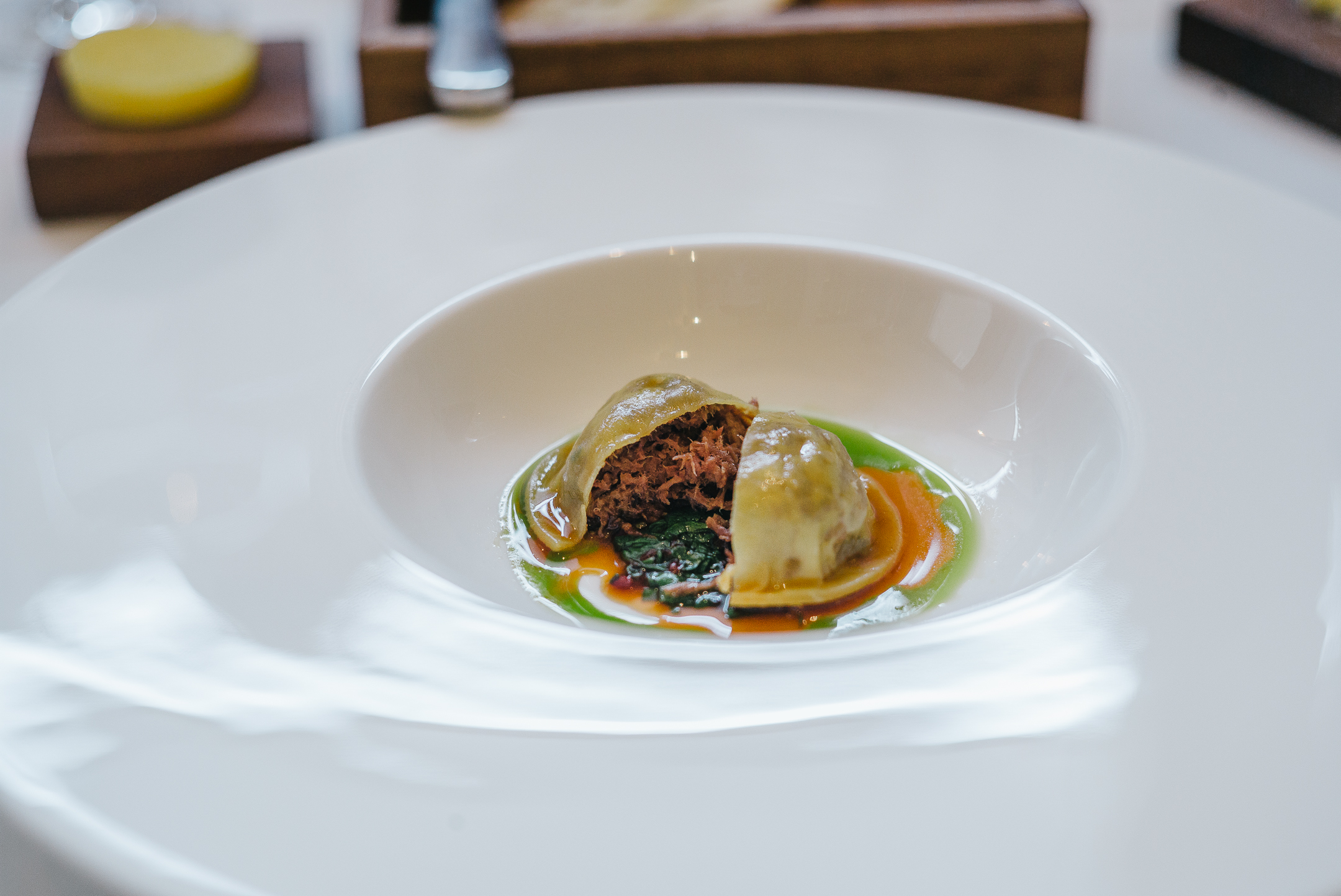 The raviolo sits on rainbow chard. Check the pasta, nice work, perfect thickness, al dente, love it. The filling is a joy, like a ragu reduced and concentrated, the meat taking on a texture of pulled meat. The chilli and basil oil gives it a nice sheen of luxury, a suggestion of spice and for me a trip down memory lane of XLB. This straddles the fine line between East and West, flashes of P.Babot and A.Leung. Maybe some glazed carrots or potatoes (or diced marrow) could add extra unctuousness, but that is just my preference. I get that's what the oils are doing. A clean take on dumpling and is nearly perfect.
***A digression on Marianne's use of Highland Wagyu. She also uses the fillet as a main dish. The key characteristics of marbling and tenderness are cooked down, so isn't quite the right dish to discuss in finer detail, but this producer interests me. Highland Wagyu is only 5 years old, started by husband and wife Mohsin Altajir and Martine Chapman. They have full bloods and they also cross breed with Angus, shorthorns amongst others in their 25000 acre farm in Perthshire. The pedigree originates from David Blackmore, which itself traces back to Tajima blacks from Japan. His stuff occasionally comes up on Oz IG accounts. They do have stiff competition in the UK, since you can directly get Japanese imports now. Joshu is decent for the price point. Highland claim up to 9+ marbling score (which seems Australian style), though I'm not sure how that correlates to Japanese grading system, BMS of which we are interested in the A-5-X (for marbling) range. I have tried biltong using their beef, incredibly oily, tender and rather good.
The highest grade I've had is A5-11 Kobe (12 is the ceiling) and there it really is more like beef-fat mousse rather than red meat. I think Ohmi is pretty good, Matsusaka has better flavour, all sweet like flowers. I do not like wagyu as steak because all that oil just dribbles everywhere, so always tend to avoid it when served as a thick grilled cut. I think wagyu is best eaten medium to well-done (seriously all that fat) and best when thinly sliced or diced and coming off hibachi or korean grill. For all these reasons, it is Highland's cross breeds that interest me the most. Anyway, next visit, I'm curious to see what Marianne does with this beef.***
4. Cornish John Dory with agretti, Italian peas & fennel, beurre noisette
with 2009 Gevrey-Chambertin, Thierry Mortet (£20)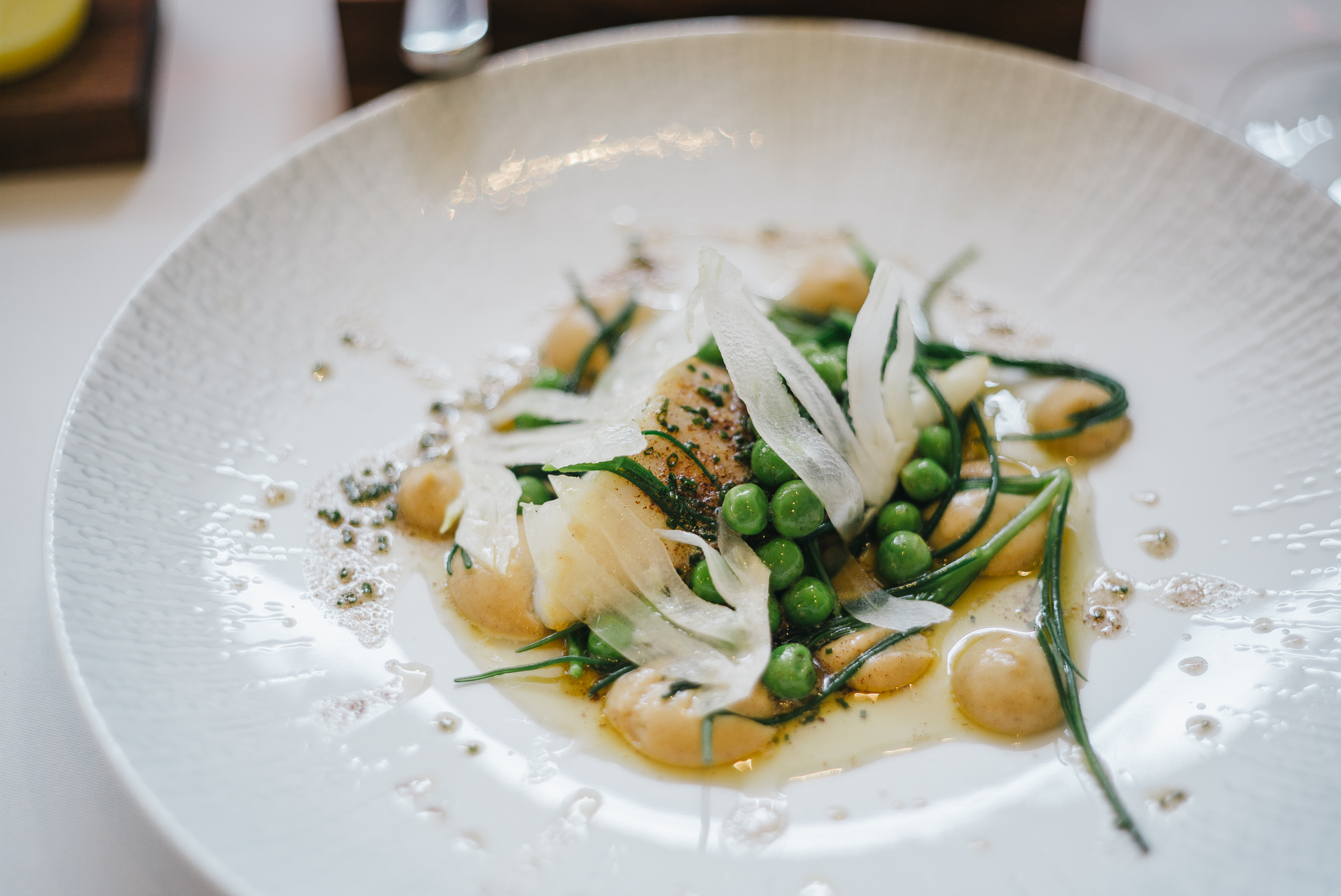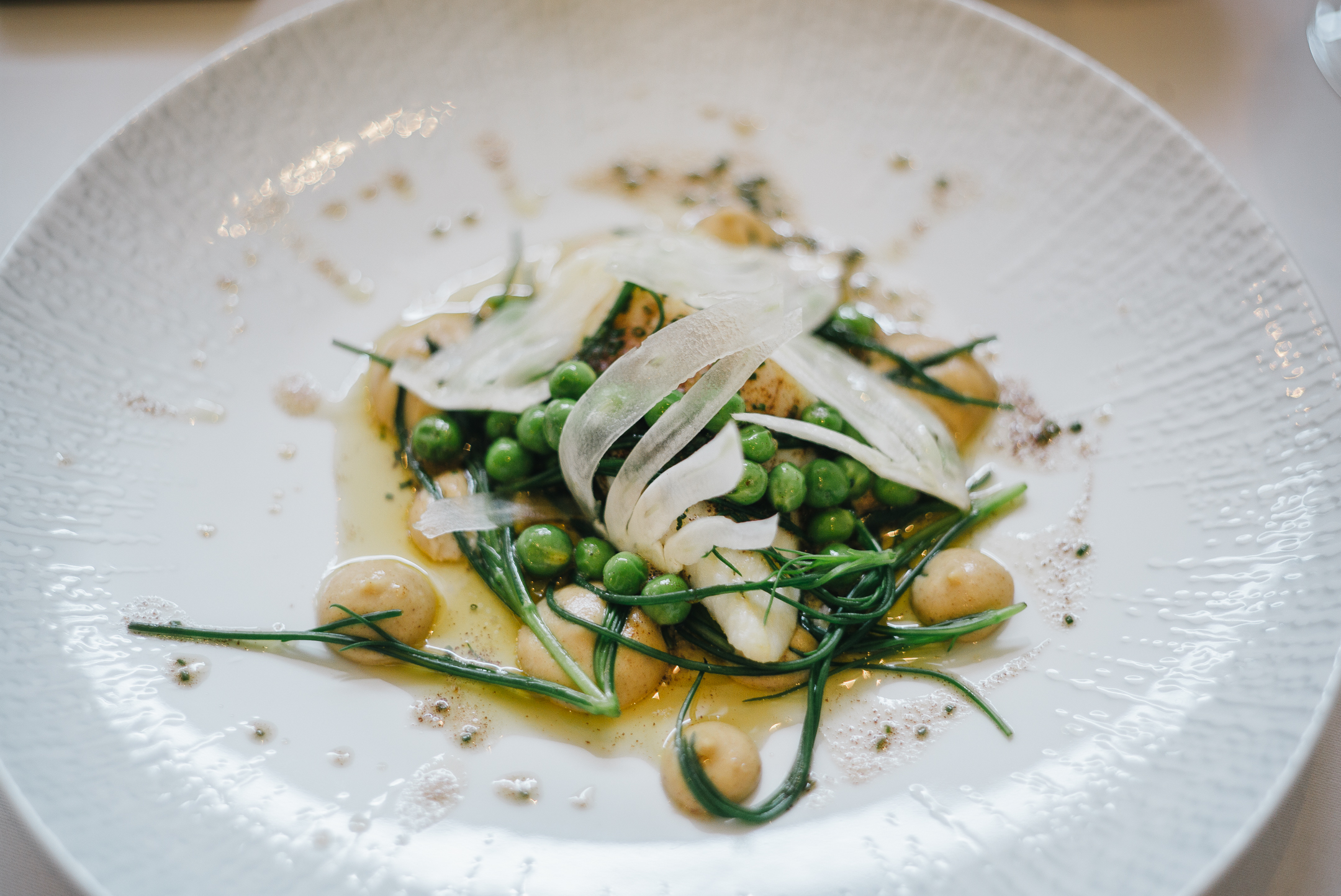 Check the sliced fennel, like wings on fire, I trust this is delicate mandoline work. Beautiful plating.
At first I thought this may have been just very, very slightly over seasoned, but then I ate those gorgeous peas and thought no, it's perfect. I've no clue where she's sourced them, but they were incredibly sweet.
This dish illustrates Marianne's growth in confidence, she has created tension with the salt and the sweet. The celariac puree that adds body, mix with the brown butter, it gave this nutty, caramel fragrance. This agretti smells of the sea side and the St Pierre cooked a pointe. I always prefer slightly under-done in everything I eat (because I am weird like that) but this fish is good. Spot-on.
I pay my compliment to Chef by moping up every drop of liquid with a slice of bread.
The wine is from the va-va-voom vintage and it definitely shows. Ripe red fruits on the nose and palate so rich, they are nearly black and a little bloody. Speaks more of vintage than terroir. The oak is wonderfully floral, very juicy, incredibly fresh & spicy finish. Just a faint barnyard to remind us this is old world. The hot year may be quite international in style but you can't fault it for drinking with food.
—
Pre-dessert : Rhubarb & Sauternes jelly, Goldrush apple sorbet, honeycomb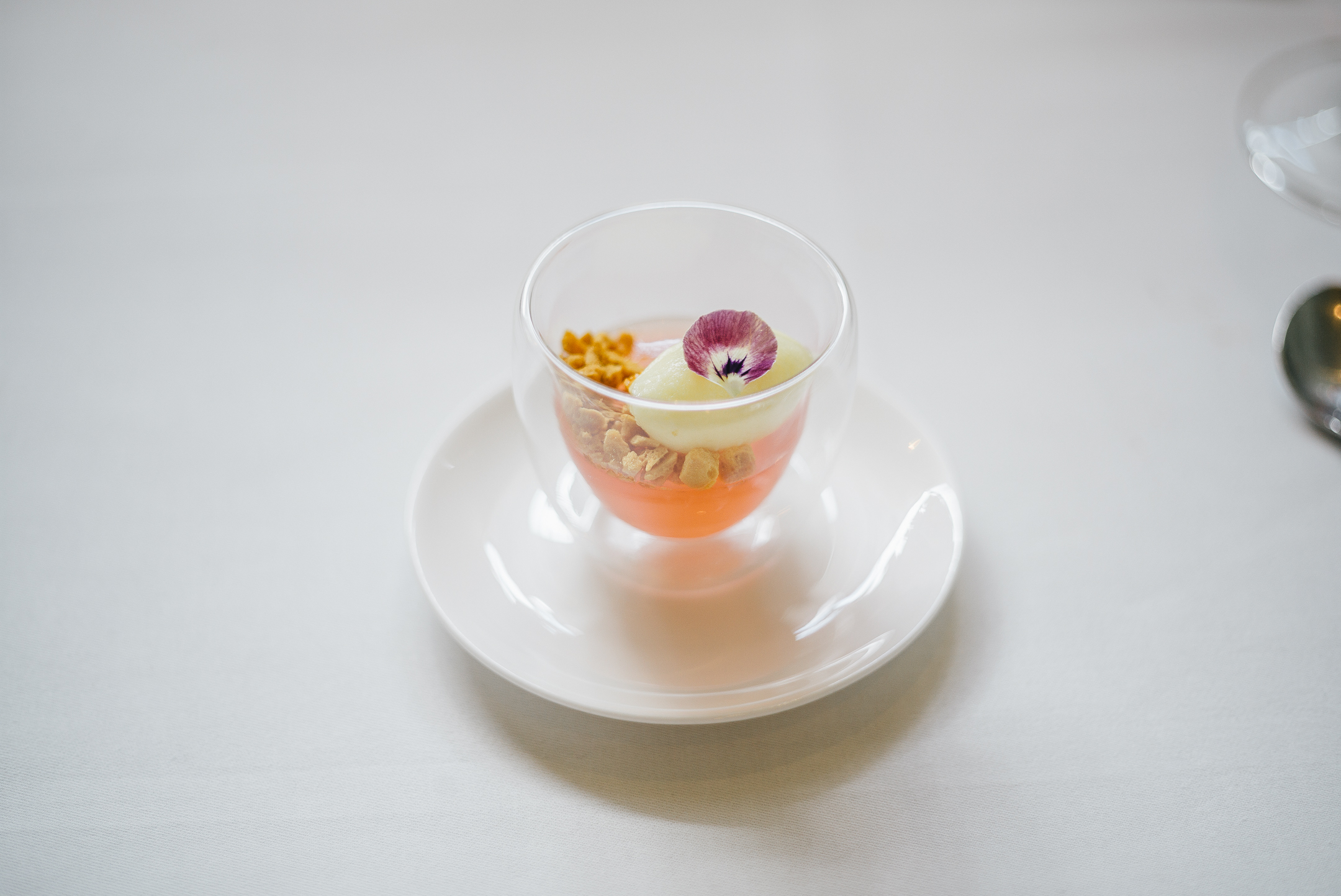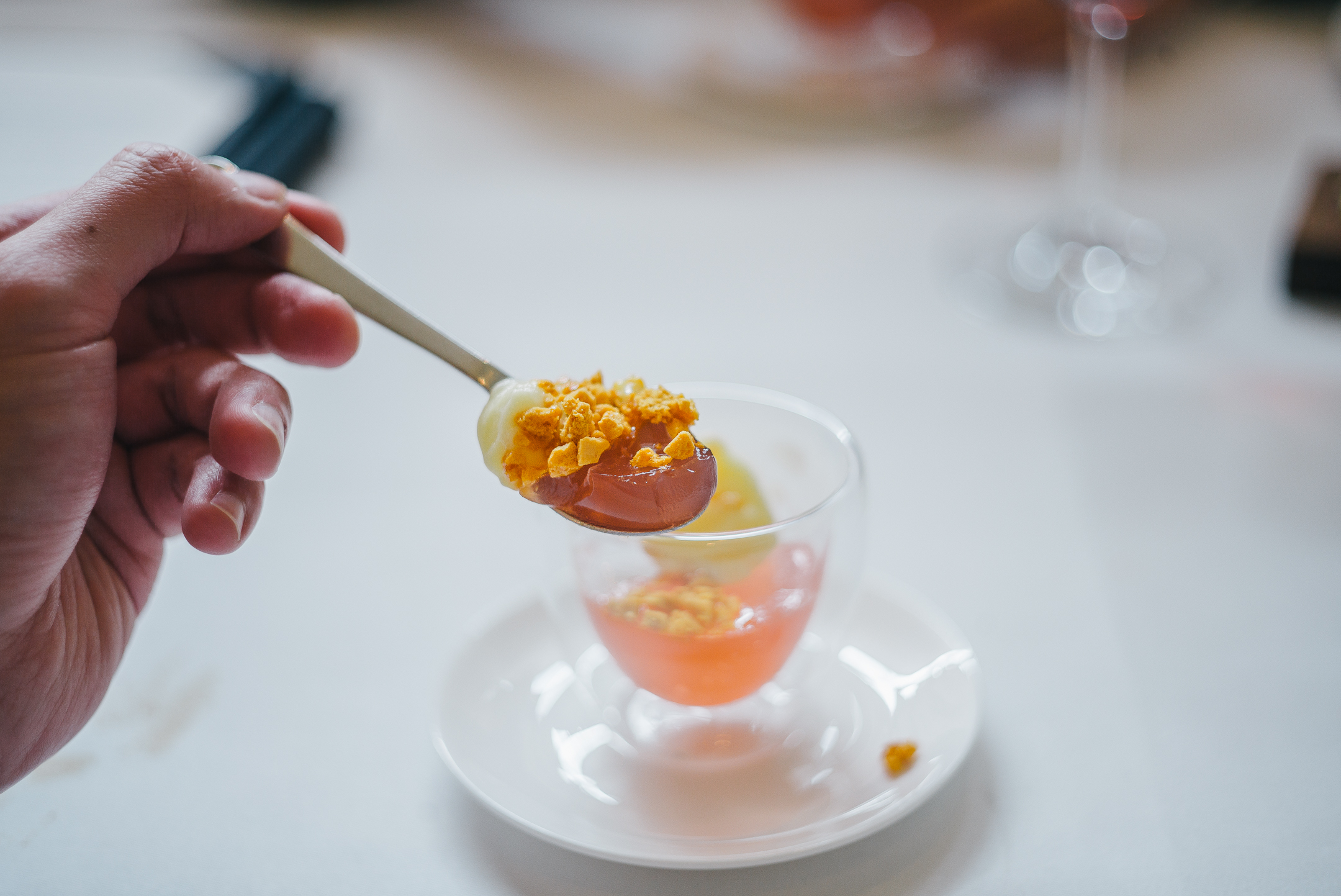 I fell in love with the meal at this point. Palate cleansers are usually forgettable but this is something I'll certainly remember. The jelly is incredible, equal parts of tart from rhubarb and honeyed sweetness of noble rot. The apple sorbet flushes your palate with acidity and together with the honeycomb, it pulls up memories of candy floss. Spring in a cup.
5. Agen prune soufflé, grué de cacao, 70% 'Cru Virunga' ganache & Armagnac ice-cream
with NV Giardini Arimei, Fratelli Muratori (£16)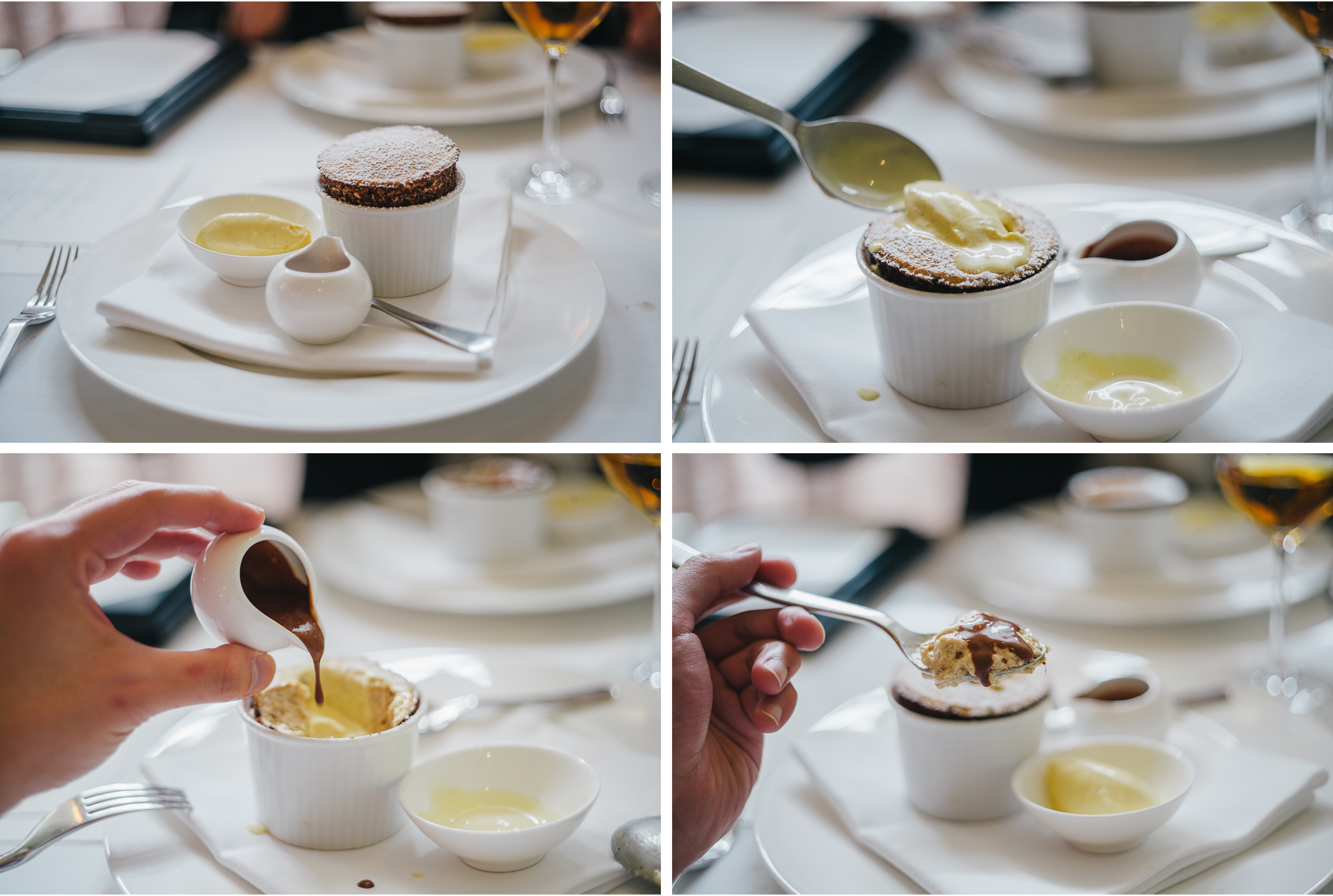 Another 3 seconds to perfect rise do you think?
Souffles are incredible things, temperamental and always a risk, seconds separate failure and success. It has the power to move people to tears when it is absolutely perfect. There is also such variety out there, the Ultimo you-know-which classic is light as air, perfumed with pistachio and chocolate dust but sugary underneath all of it. Then you have Tom Kerridge's cream of the tropics, mango and lime, whilst Phil Howard makes (made, now that he has sold the Square) a very elegant impression of peppermint & chocolate.
If there is one thing I remember from two years ago, it is Marianne's souffle. The base mix is so pure, the essence of egg and milk, like Chinese slow-cooked egg pudding, textured like a broken custard even, fulfilling the sensation of incredible luxury. Crushed grué de cacao are found along the edges of the souffle, which I presumed are pressed onto the ramekin prior to pouring the mixture in. This adds texture to each spoonful, releasing nutty flavours. This use of prune is brilliant, sugary and fruity without being tart. The armagnac ice cream has wonderful flavour of vanilla, a milkiness and just the spectre of brandy. Pour chocolate ganache over it all to add sweetness. There's so much going on, it's richly flavoured without being overly sweet and the creamy souffle mix helps to absorb it all. I love it.
She must love making souffles to create such gorgeousness. Do not miss it, this is one of London's best souffles.
Petits fours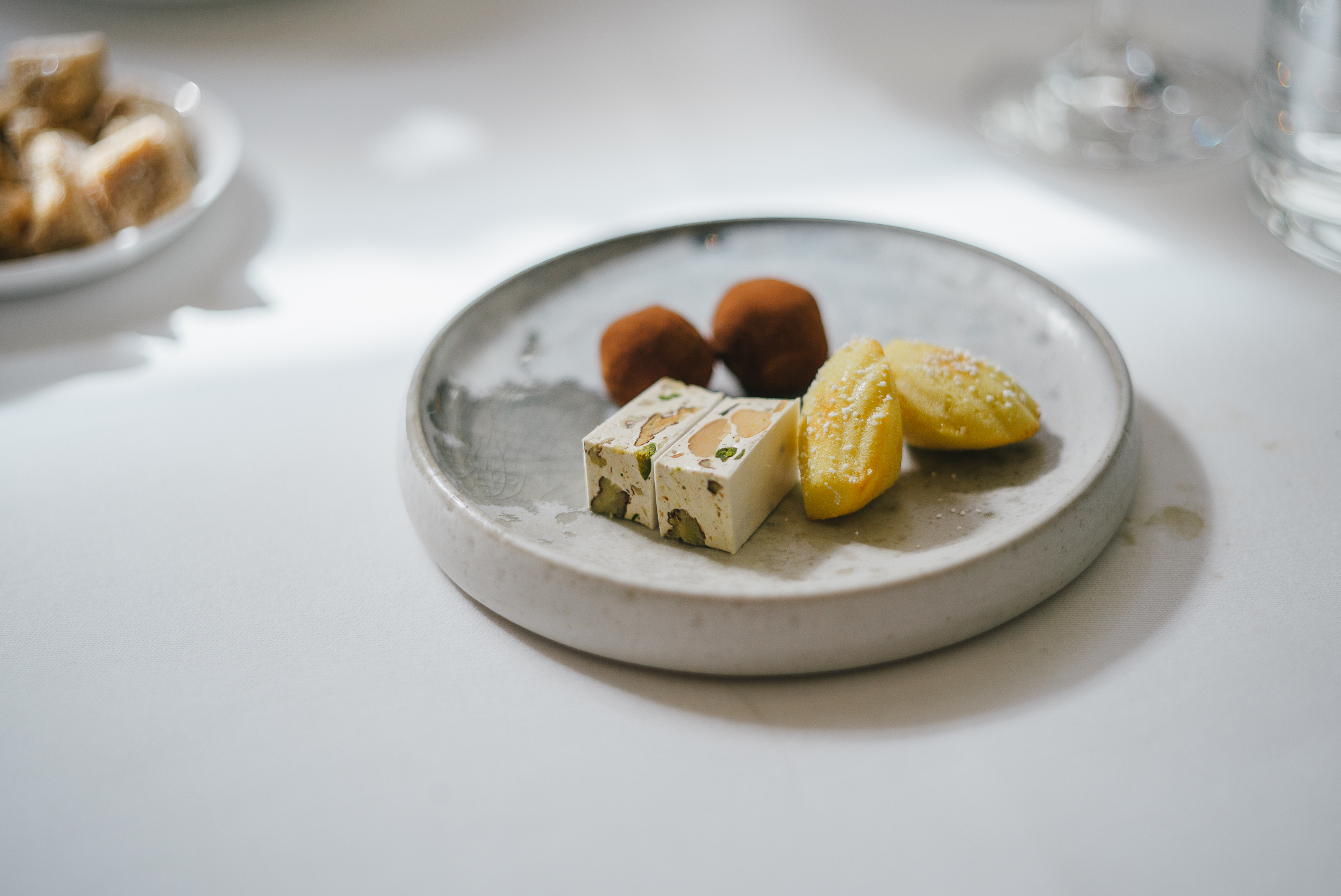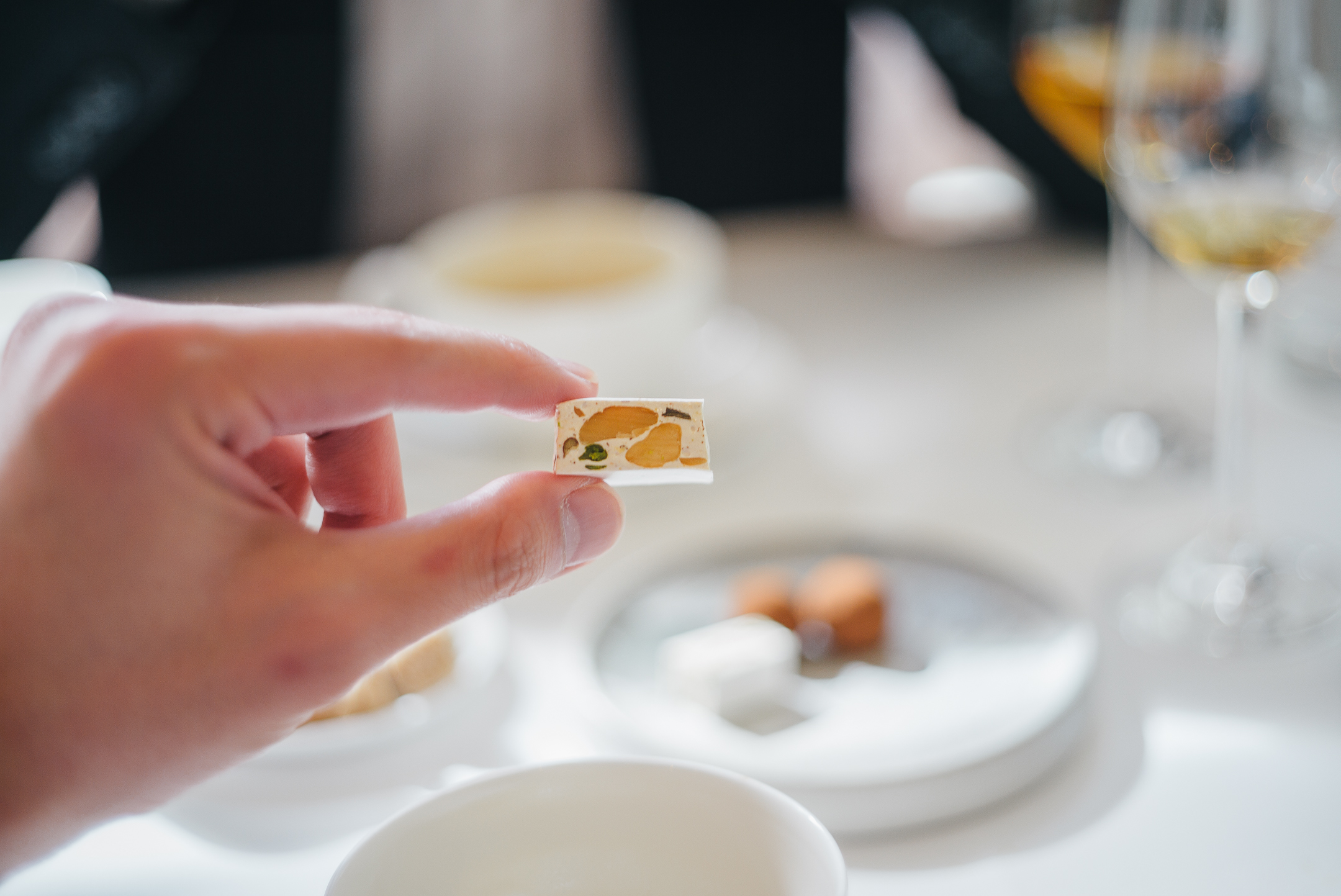 With freshly baked citrus madeleines. Check the work on the nougat. Very fine indeed.
—-
We paid £262.12 for two including 2x5courses (£130), 6 glasses of wine (£95), 2 coffees (£8) and service (£29.12). We loved the wines but given the size of the outfit, it is expensive to drink by the glass. Get a bottle when you visit, on average a 3x mark up (except for the 97 Mouton which is more like 1.5-2x at £485).
The cooking has certainly stepped up, the additional hands have allowed her to focus her attention on the pass. Her style has always been elegant, favouring steam and sous-vide (though I admit, I prefer the pan-roast), with time, it is now kicking with tension and energy. (I do however love a good steamed fish, Cantonese blood flows in my veins after all.) The kitchen is singing with confidence and this emotion comes across on the plate. There's also decent produce and I hope she continues to obsess over the best she can get her hands on for the season. Marianne has come of age, this restaurant makes me wish I still lived in Queen's park and one I may have fallen dangerously in love with. If not already evident, one of the best meals this year so far.
Details
Marianne
£60 – £100pp Lunch ; £110pp Dinner
Modern Euro
104a Chepstow Road W2 5QS
Fri-Sun Lunch ; Tue-Sun Dinner
Tel : 020 3675 7750
Tube : Westbourne Park
(Keep scrolling for pictures from 2014 meal)
.
..
…
….
…..
…….
……..
………
……….
…………
………….
……………
– From 4th April 2014 / Lunch / 3 courses –