The last time I savoured the most decorous pithevier in London was at Bistrot de Luxe. Slicing down the middle of the pie revealed a hot foie gras centre positioned in the bosom of juicily pink red-leg partridge. It gave me the biggest of hugs during the deep winter of 2009. Even though Allan Pickett had already moved to the Aviator by that time, he had undoubtedly left behind good work on the pass to his eventual successor. This was after ten years on/off with the Galvin brothers, where they had all first met in Chez Nico. I digress but only because Nico Ladenis is urban legend to someone of my generation. I marvel at the monochrome photos when dusting off my copy of White Heat and wonder what it was like in those days. Must pencil in revisit to Pierre Koffman soon.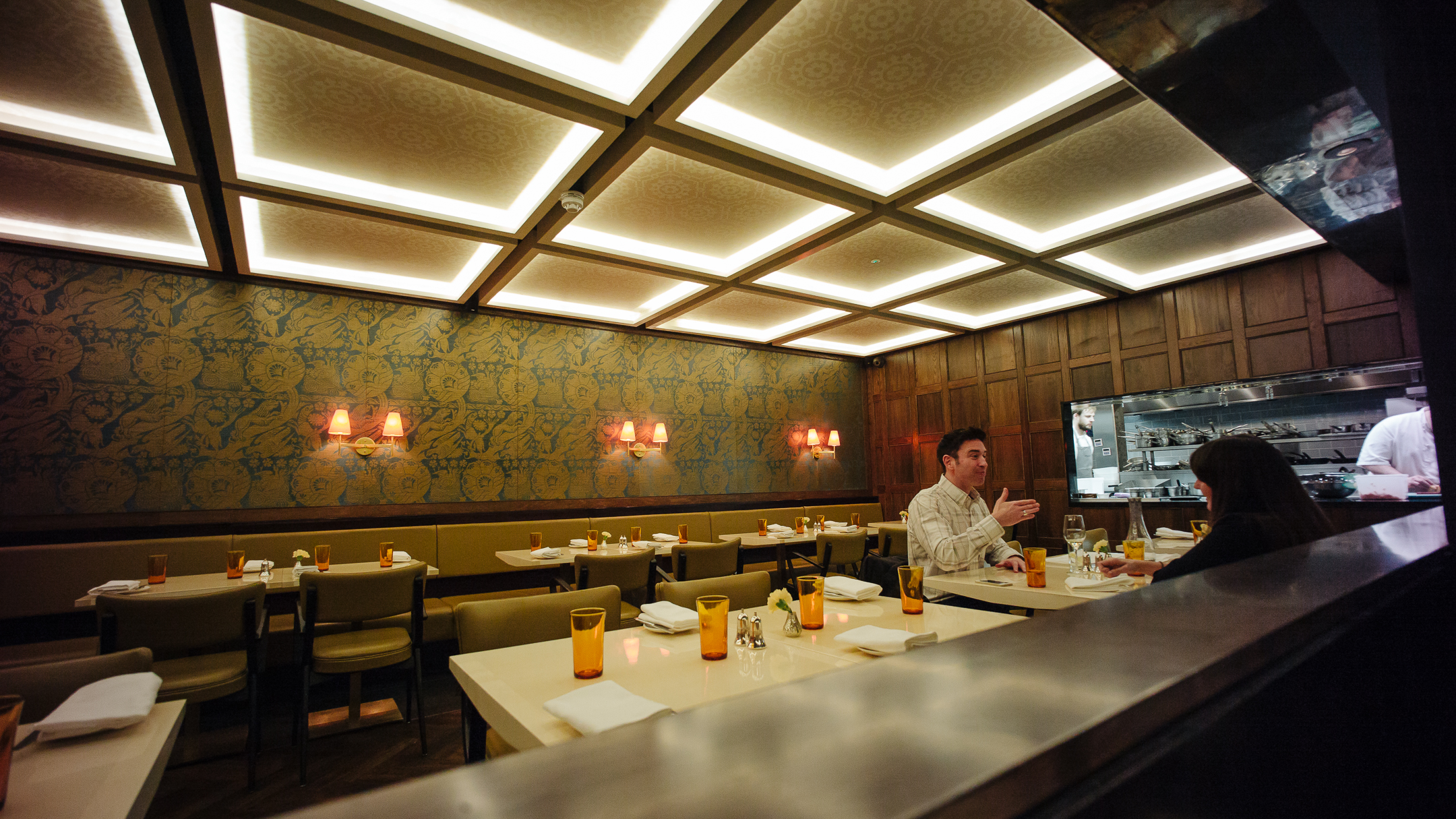 Allan spent 4 years at Plateau before he opened his own shop last year, backed by André Blais (who owns Bodeans) to do seasonal Anglo-French as the signage playfully suggests. The cooking is straight-up classic and is kind of in that brasserie/bistro sweetspot.
The ground floor is bar (the fir room) and the restaurant is in the basement, a near enough open plan with a view into the kitchen. There are no windows downstairs, so instead they have added dramatic deep colours, patterned wallpaper (farrow and ball at a guess), walnut panels and repeating square patterns of hidden ceiling lights. You'll be hunkered down here, you wouldn't think this was once an underground car park and it has been smartly done up. I prefer to see daylight for lunch, which is when I visited to catch up with Sam in last Friday of February, so will investigate my next meal in the fir room.
I love these classic sorts, and it does remind me of Bistrot de Luxe, which I still love and I think Garnier is super as well. One of my favourite restaurants is Medlar after all and it is the best £30 you can spend for three generous plates of food for lunch. (Waiting for Chavot to re-locate and rather shamefully, I have not made it to Casse-Croûte yet, although that's a complete French bistro).
Decently priced, honest food by a chef with proper chops – all this is appealing to me. Here the ALC averages out as £10/£20/£6, you can choose to have the 5 course market menu for £45 or indeed the 3 course set lunch for £19.50. Initially I wanted to try this taster as the website seems to indicate that it would use a subset of ultra seasonal ingredients. However, during our visit, this subset was probably in very short supply and they read out a menu that's effectively a selection from the main ALC menu. And so we thought we may as well go ALC.
Crab Raviolo, samphire, shell fish dressing, £10.50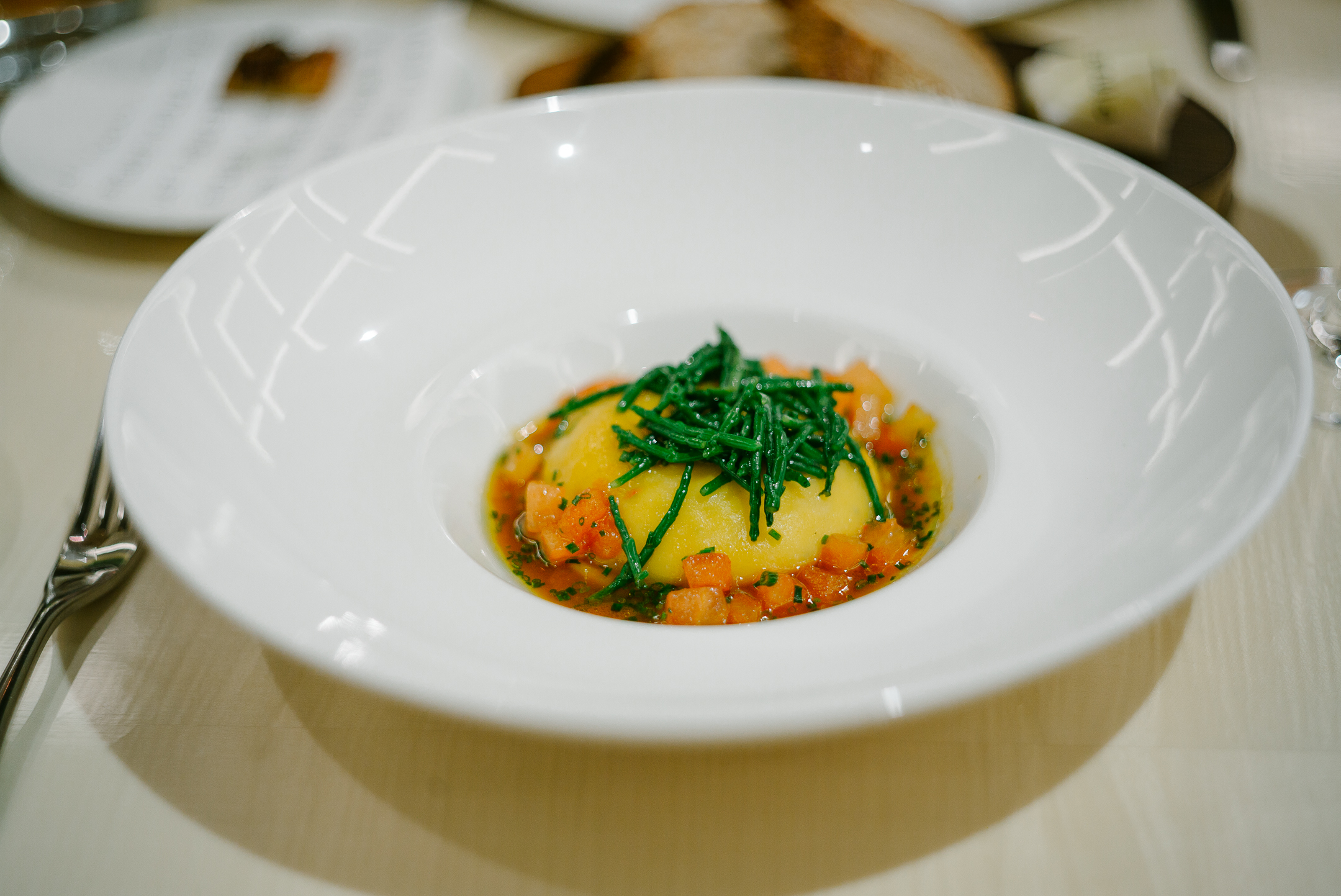 The broth is clean, alluring, distilled with potent shell flavour. Inside, the white meat is airy and mousse-like, if not an actual mousse. It is a good dish, a soft rendition that eases you in. I do miss the meaty brininess of crab, but it is a matter of preference and is pipped by Medlar's more muscular version. But only just.
Marinated Scotch scallops, pickled apple, cucumber, squid ink £12.00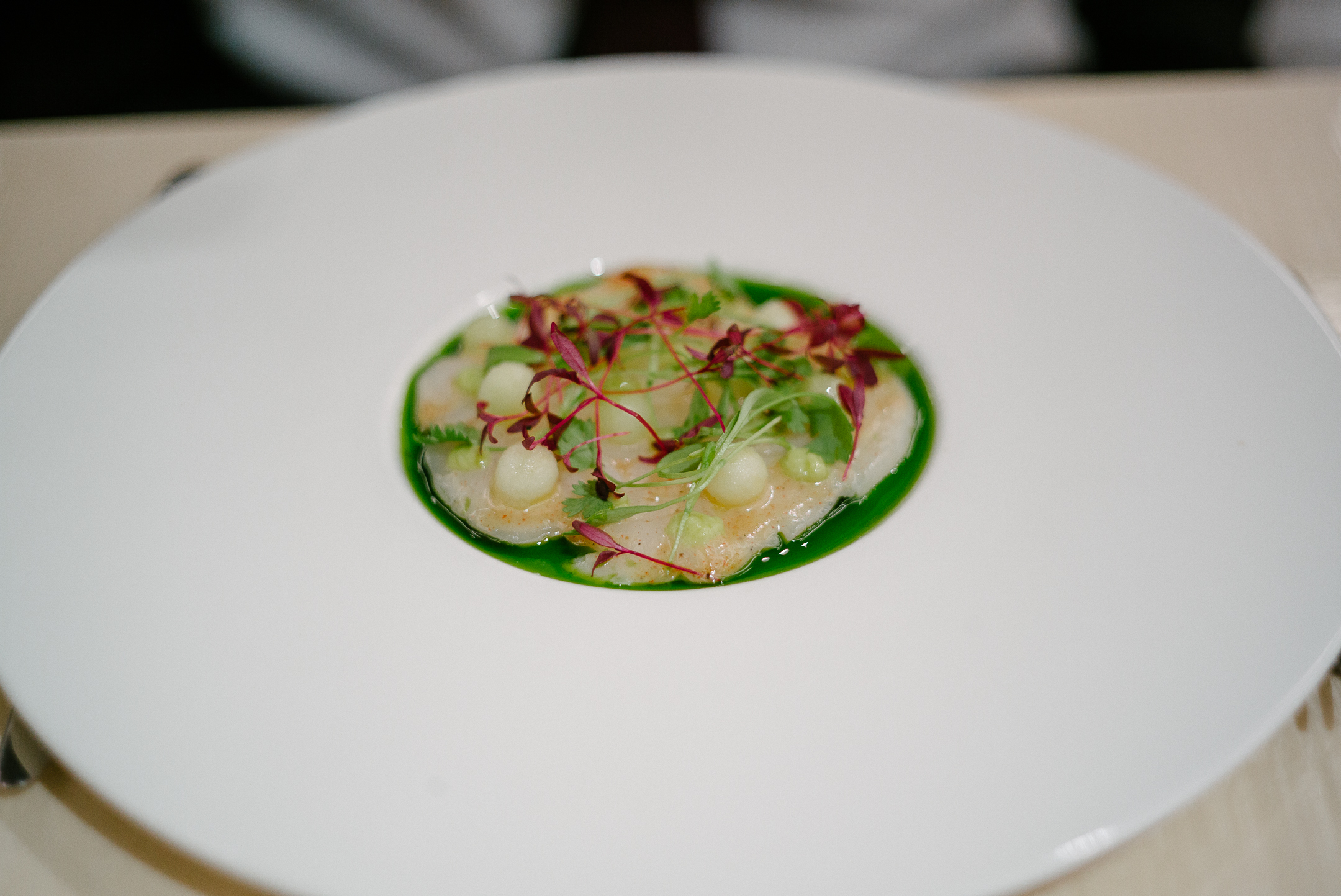 These beauties graced the other side on the table. They looked fresh and sweet. Sam really enjoyed these, and I wish I ordered them for myself.
Lamb cutlets, confit shoulder, aubergine puree £18.00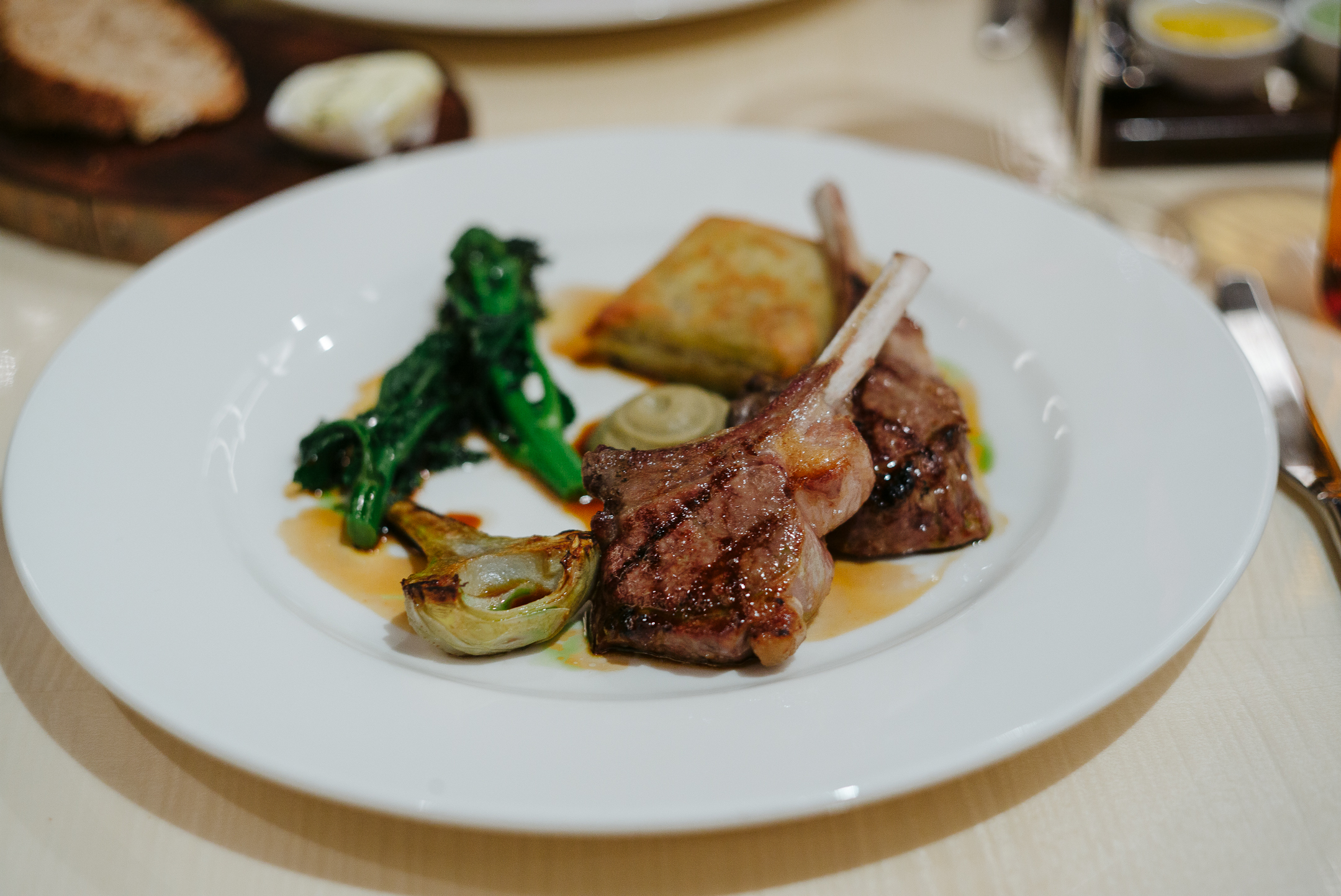 Carefully french trimmed, cooked pink, totally moist and juicy with a lick of carbon. I did observe the kitchen handle these cutlets with care, slow coaxing on the grill followed by much needed resting. These were perfect. The confit shoulder in a fried parcel brought more salt to the palate, but perhaps just a touch too much, and the dish could have done with a little more of the excellent aubergine puree and more wetness. Good dish nonetheless.
From the trolley: Honey glazed gammon ham £17.50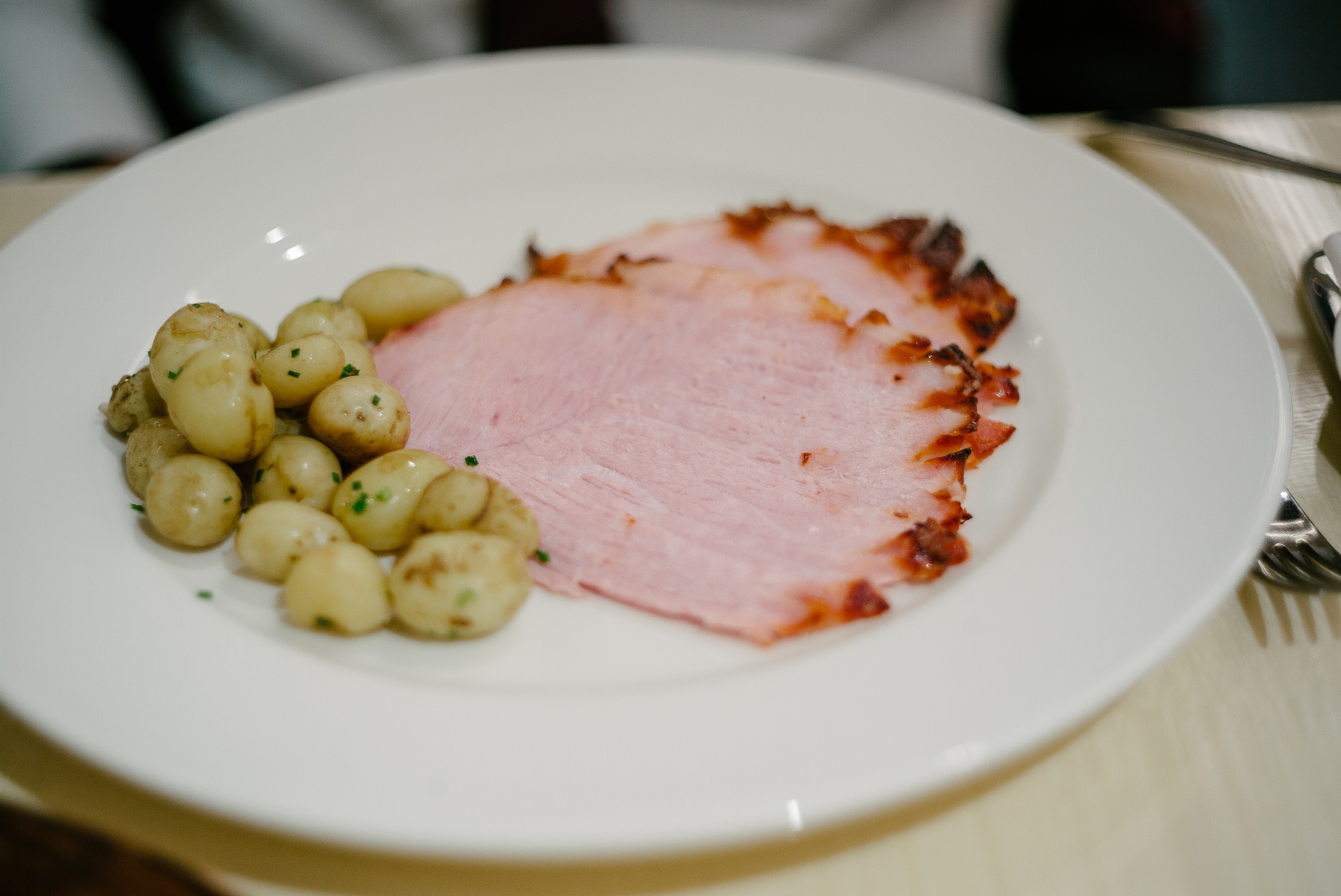 Friday trolley was craved gammon, perhaps could have done with a fried egg sunny side up too. I nibbled a small piece, mmm, moist, salty, good gammon.
Ile flotante, crème Anglaise £6.00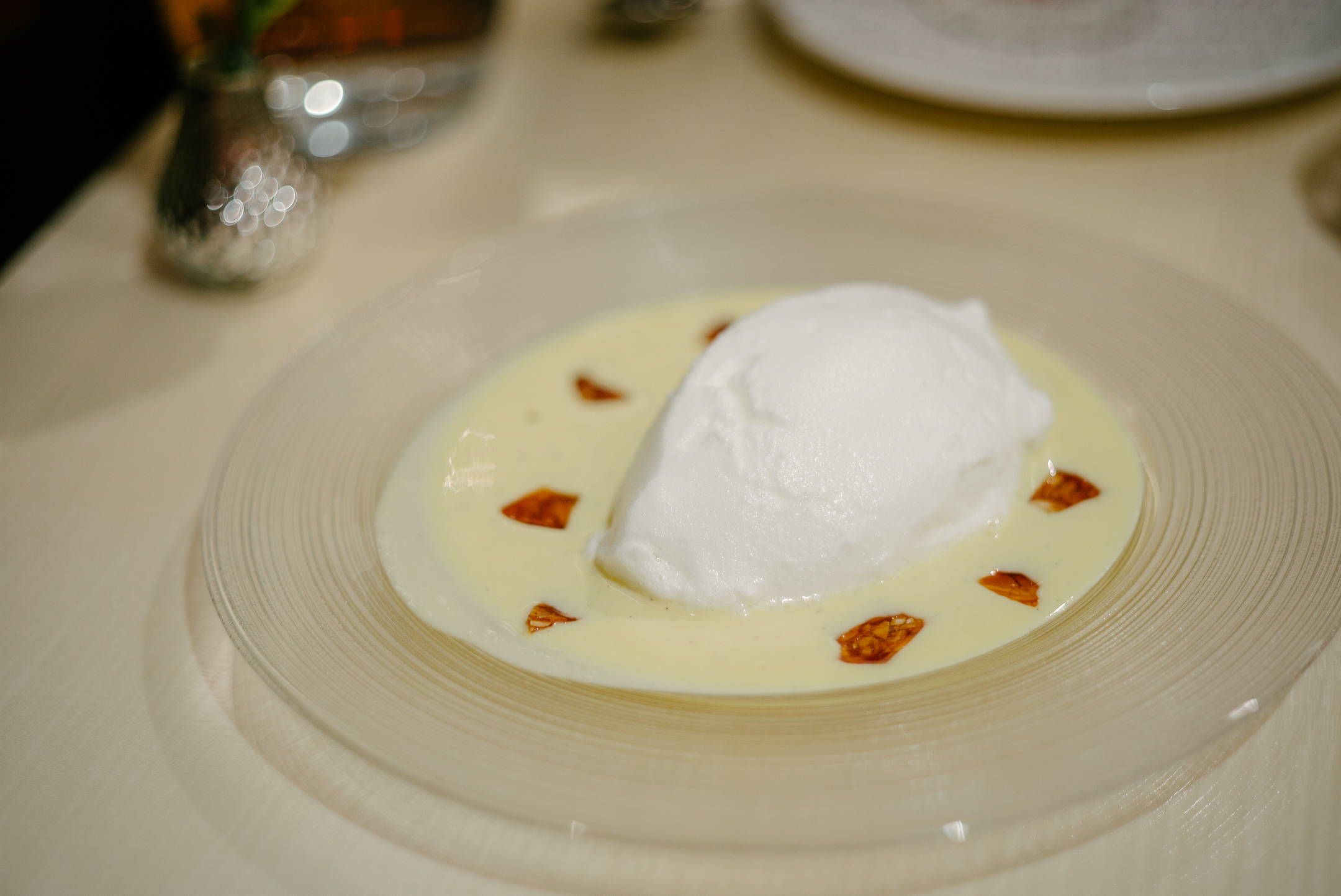 To finish, a text-book floating island is recreated. Billowing, bubbling meringue bobbling on a soup of milky custard. I liked those delicious nuggets of sugared pralines, snap and crackle. Take me back to Fontaine du Mars.
There is a gorgeous looking pudding assortment for two that can be had for £19. I'm having that on my next visit then.
We paid £98.44 for 2x 3 courses, 2 coffees, 1 glass of wine and 1 lemonade. Fair pricing.
Good first meal but I need another, to form a more complete opinion as the dishes from this play it too safe. Allan seems to have a preference for lightened up recipes which is great. I prefer it too. Everything is in the right place but (and I do feel terrible saying this) I did think flavour balance and execution could be a little tighter. Anyway, sole visit only. The point is, I want to go back, I like Piquet.
Restaurants like this are very encouraging and seem rarer only because there are so many Instagram-ready things out there cluttering the space. Nothing wrong with the latter, as there are some delicious things on instagram too. But it is timely to play the old-fashioned card which will come as a breath of fresh air in contrast to the prosaic zeitgeist. Some things are just timeless and you needn't mess with convention. I am curious to see what the new season will bring and look forward to many more return visits.
Details
Piquet
Anglo-French
£55pp
Mon – Sun
92-94 Newman Street W1T 3EZ
Tel : 020 3826 4500
Tube : Tottenham Court Road or Oxford Circus