[UPDATE : Immediately after uploading this, Ed told me this is closing down on 31st December. So visit before then!]
I love the bombastic opulence about this restaurant. From the beautiful mosaic tiled floors, burgundy banquettes, swing music, fake chandeliers, antique-effect mirrors and dressed up waiters. This retro slickness is just the way brasseries should look and feel. And what's not to love? You can expect all the gorgeous classic things, the tartare, canard, frites and bearnaise. In recent years, we've enjoyed this resurgence of old red guide luminaries and this includes Eric, his peer Bruno and their mentor Pierre Koffman. Like phoenixes risen from the flames, these guys are cut loose from their star-chasing ambitions with these less-rigid openings.
I love Koffmans, as I remind you periodically on this blog, the old Master's signatures – stuffed trotters, pistachio souffle – are timeless classics and I make every effort to visit regularly. Eric has done something similar.
Eric's illustrious past is well documented, from Tante Claire, Harvey's to (the great) Chez Nico and his eventual tenure at The Capital where he kept his two stars for a decade till 2009. He then worked privately for the Westons in Florida (remember the Koffmans pop-up?) before opening in this Westbury-owned site in 2013, gaining a star within the year. I should mention that head chef at B.Chavot is Richard Hondier who also worked for Eric at The Capital.
The menu is all hearty : scallops, crab mayo, grilled mackerel, soft shell crab, roast cod, beef daube, tarte tatins, floating islands and rhum babas – One of everything please!
Escargots en persillade, £12.00
Bread, £2.50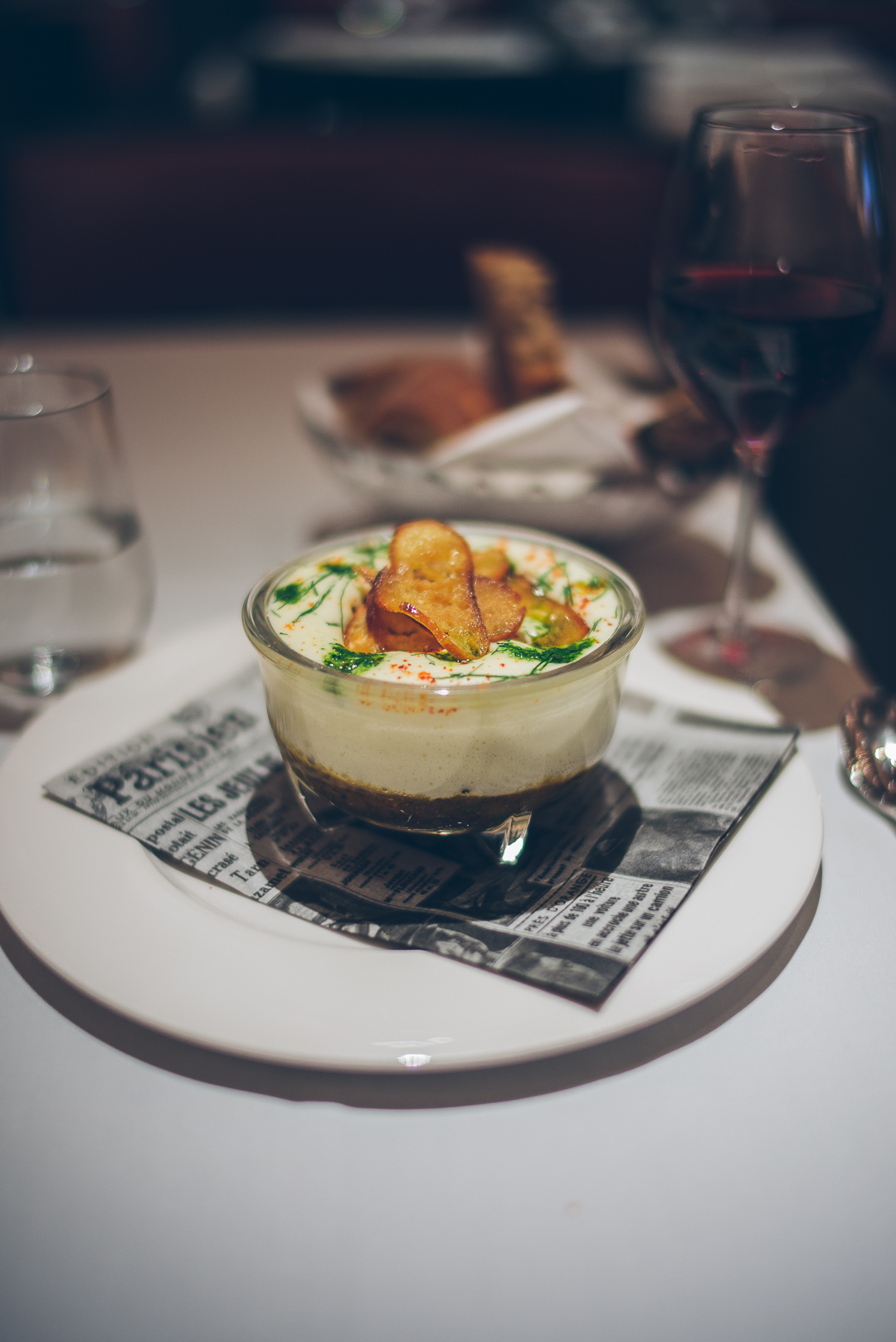 … a little more than just garlic and parsley.
Awesome bowl of snails and meatballs covered in a potota espuma whipped into a perfect storm of butter, garlic and potato. I rejoice at the muscular flavours! Those gorgeous meatballs were so terribly delicious I wanted to cry. Made from pork shoulder and neck, generously seasoned and spiced in this tender, juicily textured packet of meat. Just quality. Then to the rich ragu-like sauce, lush and full-bodied. I nearly forget the snails and so was a pleasant surprise to find them there. Yummy.
Bruno Loubet also has an acclaimed version of snails and meatballs at his bistro, but this is better. Brilliantly put together. I wiped the bowl clean with the bread.
Canette rotie forestiere, £27.50
Pomme frites & bearnaise, £5.00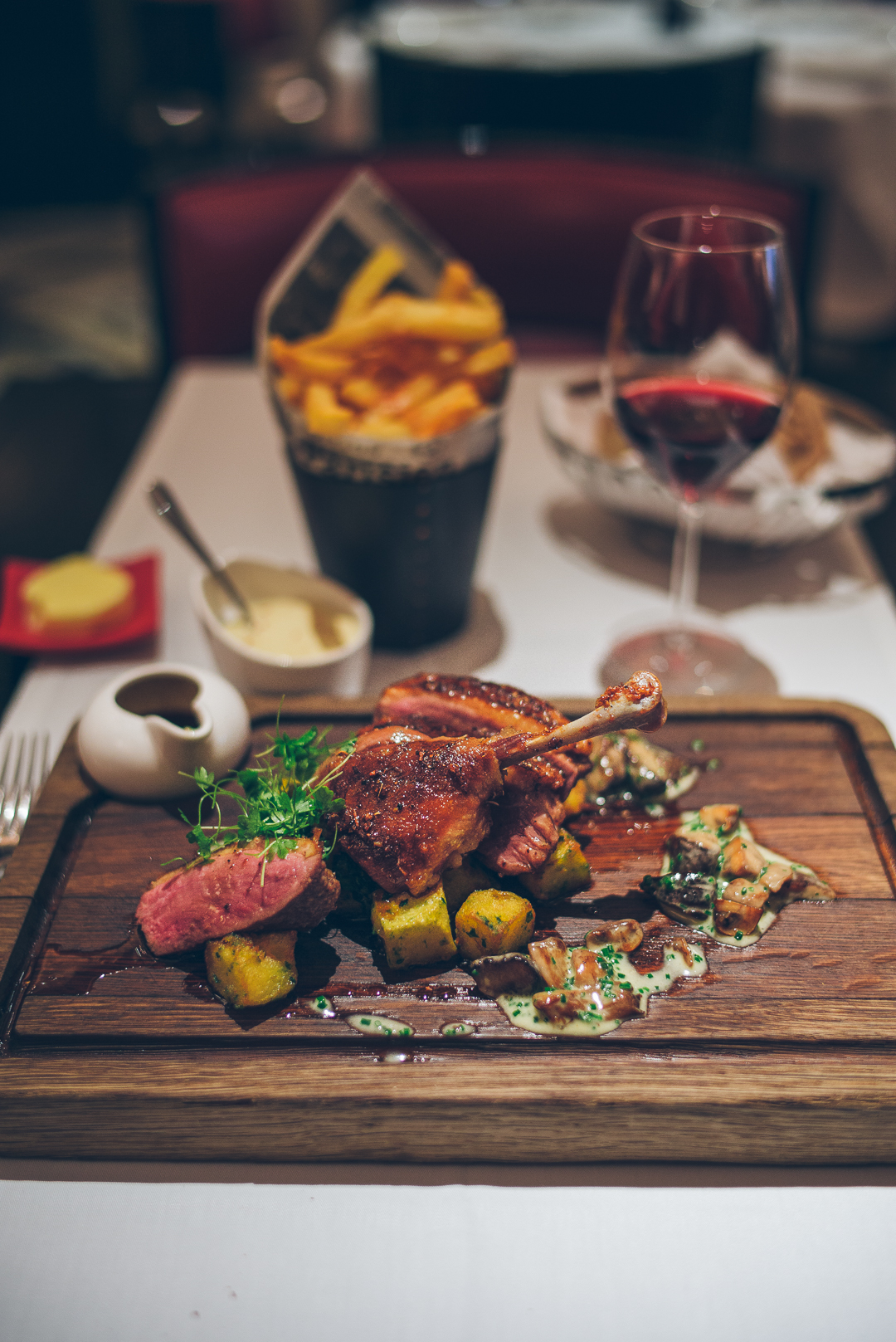 Firstly the smell, the aromas, it just opens your appetite. The mushrooms were covered in this delicious sweet butter jus. Intriguing. This is good stuff. Perhaps even sweet herbs, parsley maybe. It is also vaguely redolent of the ginger, garlic and spring onion condiment served with Hainanese chicken rice. Please, one of you school me on the accuracy of the sauce and my messed up palate. Whatever the case, it went well with the duck.
Generous portions of breast & leg. It's a good thing I came hungry. The (young female) duck (if I'm not mistaken) was cooked to perfect rare as requested. Tender, plump and oily (dribbles all over the board), this dish was very simply a decadent pleasure. A very good duck dish.
The next time I eat this, I'll try to lose the chopping board. Aside from visuals, I don't see why its needed. Eating off of it was impractical. Besides, the duck would likely look just as good on a white plate anyway.
Great frites (of course) but wasted as the garlic potatoes more than adequately filled the carb quota. Wouldn't be the same without frites for a brasserie meal though. The other downer was the bearnaise, more like a whipped garlic mayo. No tarragon? I don't know. It was just meh.
A joy, a celebration, in fact, this is exactly the sort of mains I would love to have during this holiday period. It knocked me out for the rest of the day.
Mont Blanc with mandarin, £9.50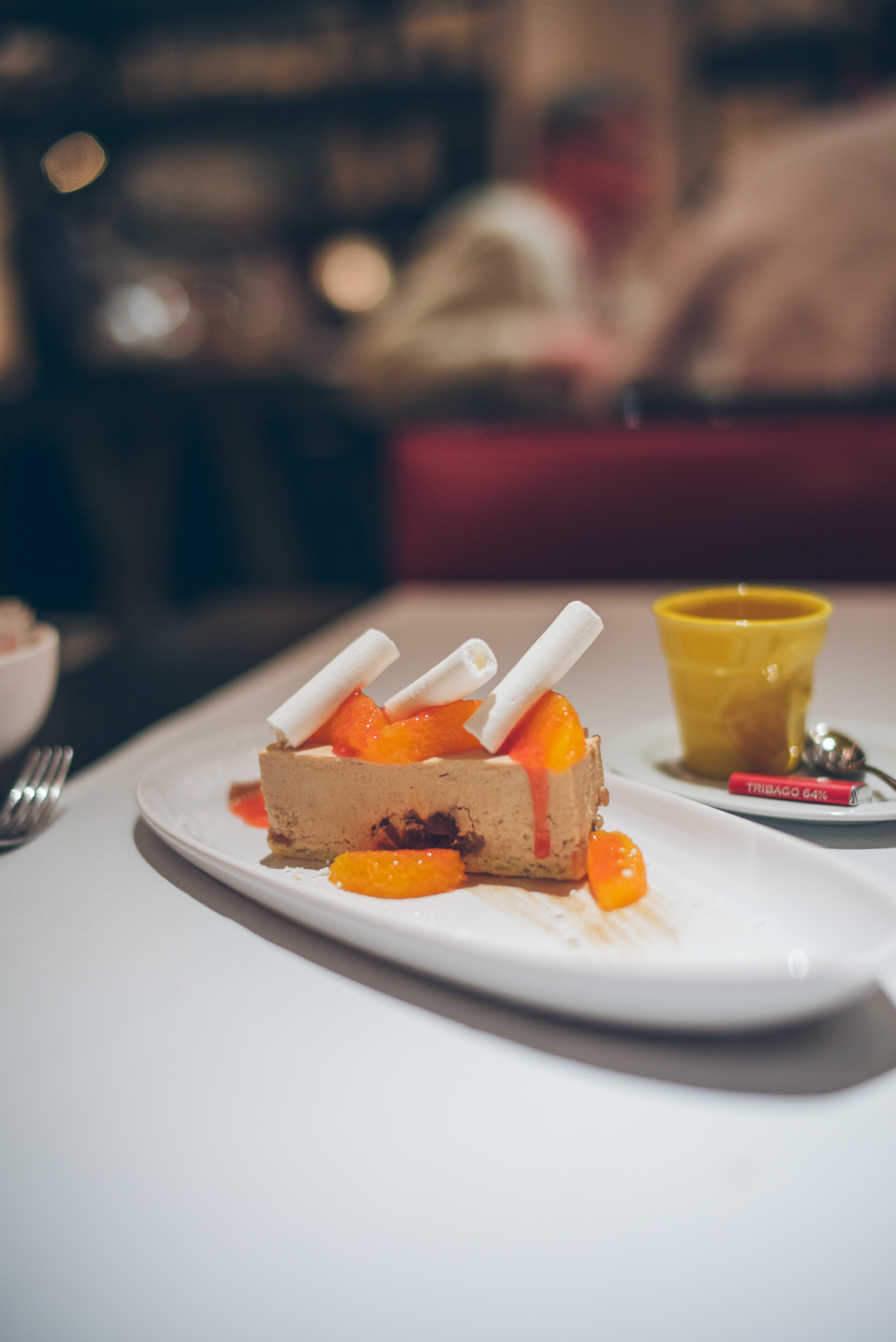 Definitely in season now. I was ready for gigantic swirls of chestnut purée and cubes of marron glacé, but like the starter, there is a twist. This is a lighter version, with chestnuts made into a parfait and adorned with pieces of mandarin. Marshmallow sticks are to represent cream, I'm guessing.
I get how the mandarin is there for acidity, but I could have got by just fine without it. Just the purity of chalky, sugary chestnut and sweet cream. Could do with more of the purée. Like a mountain of swirls. Greed. I did enjoy this, but I did miss the classic recipe.
All food plus 1 glass of Faiveley red and a coffee came to £86.63 for lunch for one person. Ouch.
I read about the inconsistent service, and two years in, the waiters do seem to be under instruction, coming across a stilted and a little cold for this lunch. They just need to loosen up more and stop trying to flog bread at every opportunity.
Quality cooking wholesome & hearty in the truest sense. You just can't deny this gorgeousness especially as winter approaches. Food that hugs you. No surprises just damn good cooking going on as everybody else has gushed. I was bursting, struggling to get up from the table and fully satisfied when I left.
Minimalist Nordic fashion is cool, but it is nice to eat butter every now and again. Overall, there is a lot to like. The cooking is sophisticated and the recipes are straight shooting classic flavour pairings, which is (just about) worth the asking price.
PS: I am reminded of Garnier in Earls Court whilst writing this up, a solid bistro and a touch cheaper.
Details
Brasserie Chavot
French, £80pp
41 Conduit Street W1S 2YF
Tube : Oxford Circus
Tel : 020 7183 6425