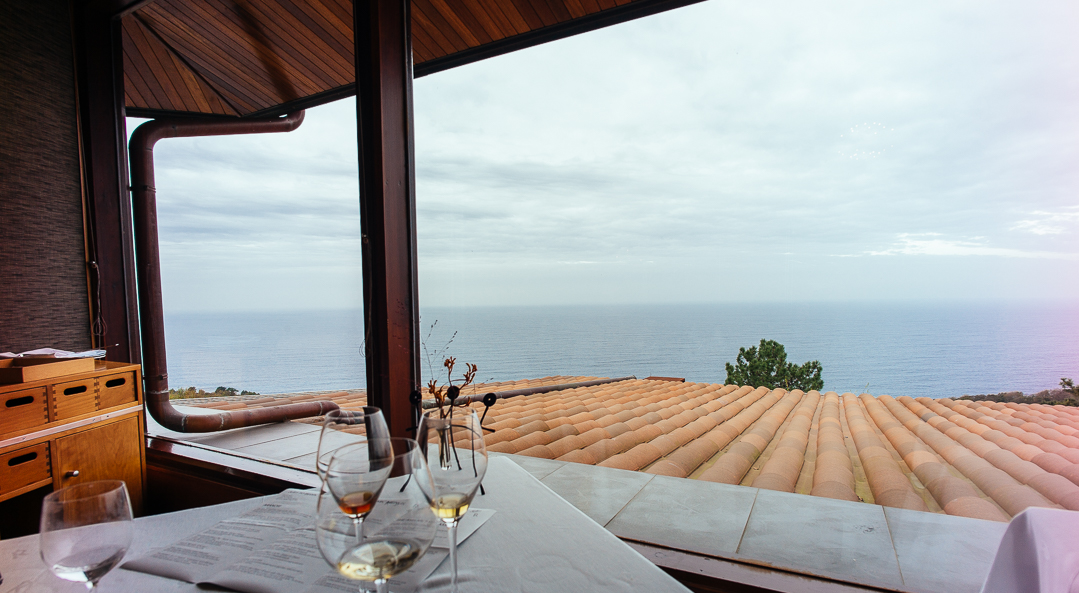 Pedro Subijana was going to become a doctor but for reasons not known to the interwebs, he aborted his plans to study medicine and enrolled with the Madrid Hospitality School instead. A decision that would reward him greatly. He started his career in a local asador before joining the kitchens of a Pelota club in the nearby town of Hernani. From there, he went on to Zalacain in Madrid, a reputed French style restaurant of its time, moving on to Estrella in Navarra and then finally landing as chef de cuisine at Akelaŕe in 1975. He eventually took over shop and has kept his three stars since 2006.
Along with Juan Mari Arzak, Subijana is often credited as a pioneer of the New Basque fairy tale that began in the late 70s, adapting the virtues of the then trailblazing French Nouvelle, primarily through its Lyon based conduit, Paul Bocuse, a walking institution in his own right. That legacy is continually furthered by the likes of Elena Arzak, Martin Berasategui, Andoni Aduriz and Eneko Atxa (Bilbao's finest), whose collective output are highly coveted (and debated) in current gastronomy. San Sebastian (aka Donostia) is so flooded with macaroons that its density of stars per square meter is probably rivaled only by Kyoto.
Although, I think the true romance of Donostia lies not just in the obvious red guide for the gastro-tourist, but in its fantastic Pintxos culture found in the Old Town (which blew my mind up comprehensively) that has also benefited from the developments to its local cuisine. That and other nearby produce led restaurants such as Ibai, Elkano, Etxebarri is what gives Basque cuisine its bones. If there ever was a gastronomic town. Good pick for European Culture Capital this year.
Wine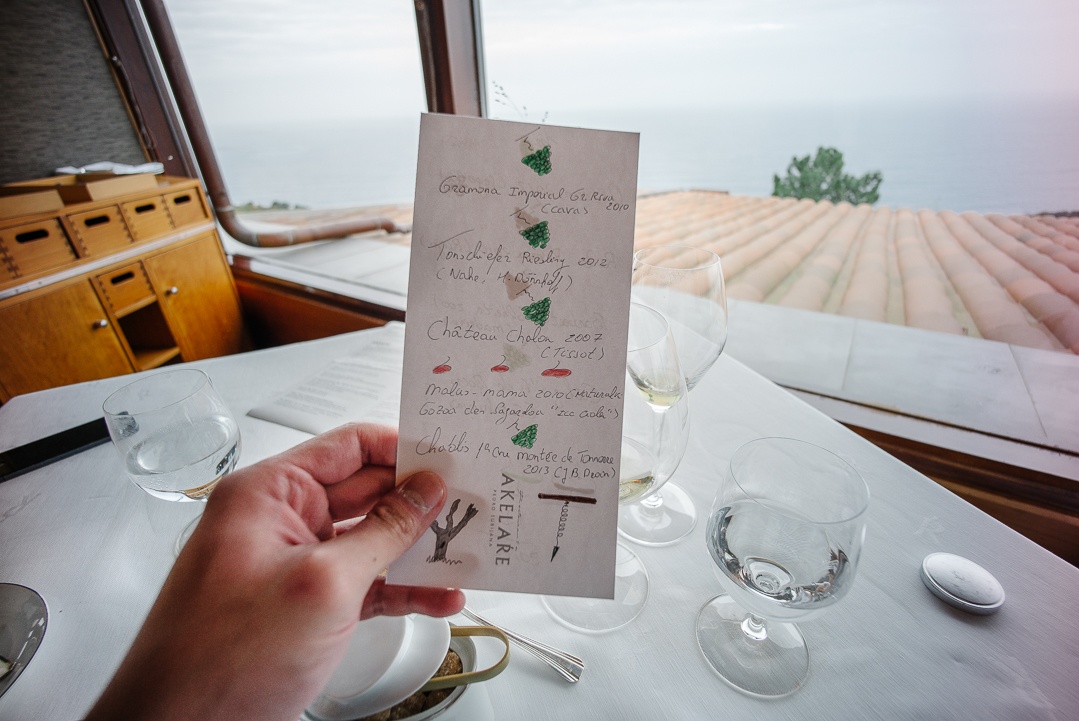 Here's the pairing wine menu handed to me at the end of the meal. I think it's hand drawn. Nice touch.
The comprehensive wine list looks good value for a 3 star outfit. I was very tempted by 1997 Leroy village blanc (68€) and a 2012 Roulot that could be had for 85€. Flip to Ribera and the mighty 2004 Unico was a cool 285€. Great price, but 30 years too young. Even better, 2004 Lafite 400€, Leoville Las Cases '01 for 210€, Cos 03 for 235€. In hind sight, I don't know why I passed up the chance to drink decently priced decent claret for the pairing wines.
Though, at 65€ (£46) for 9 glasses, it is a great price for pairing wines. No London restaurant in the red guide charges as little, I think. Even The Square (which itself has a well-priced list) charges £70 for the pairing wines with the tasting menu. The exchange rate being favourable, during this visit, also helps.
Overall, I thought the selection was conservative, delicious wines, pairings that work (as they should), but no surprise hallowed labels appeared. There were a couple of interesting things like an ice cider – very much like concentrated apple juice -, a delicious white Jura and I liked the Roda with the main: inky, oaky, smoky, blackcurrants.
The Food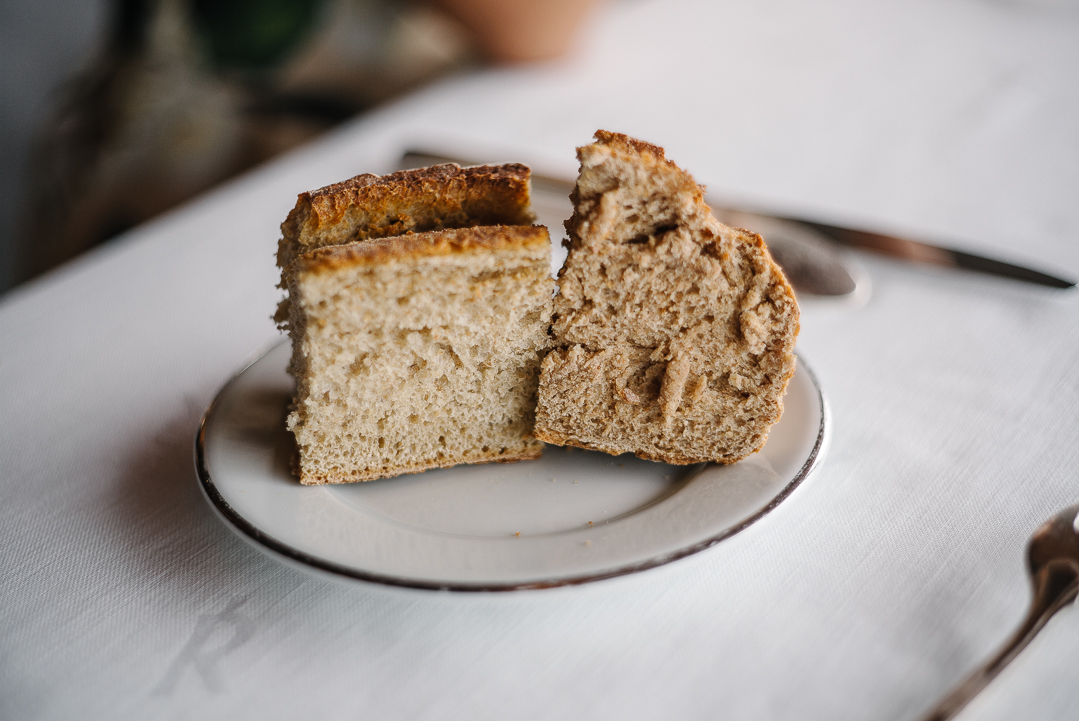 There is an ALC menu as well as three tasting menus (each 175€) that each feature 7 to 8 courses. As explained to me, each tasting menu is loosely arranged by innovation and type of ingredients :
1. Aranori : More fish, most recent 'innovations'
2. Bekarki : More meat, less recent
3. Classics of Akelarre : 40 years of greatest hits have to go somewhere
Unlike its peers, each person on the same table can choose their own taster menu, so we did exactly that, one Bekarki for me and a Classic menu for the better half.
0. Amuse
with 2010 Gramona Imperial Gran Reserva Cava
Bloody Mary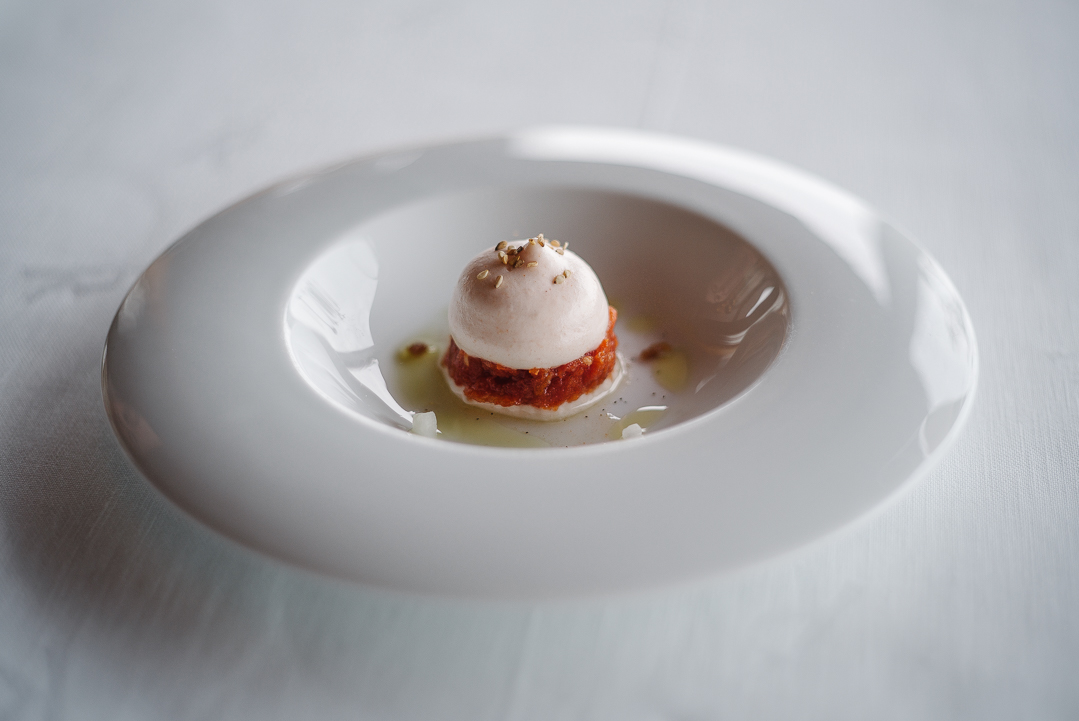 Like a sort of icy gazpacho sandwiched a spiked tomato foam. This wouldn't look out of place in a Pierre Herme. Really delicious actually, nice peppery sweetness. Rinses the palate. Nice.
(Clockwise)
Stuffed Mussel
Potato and Prawn Amber
Anchovy stuffed black olive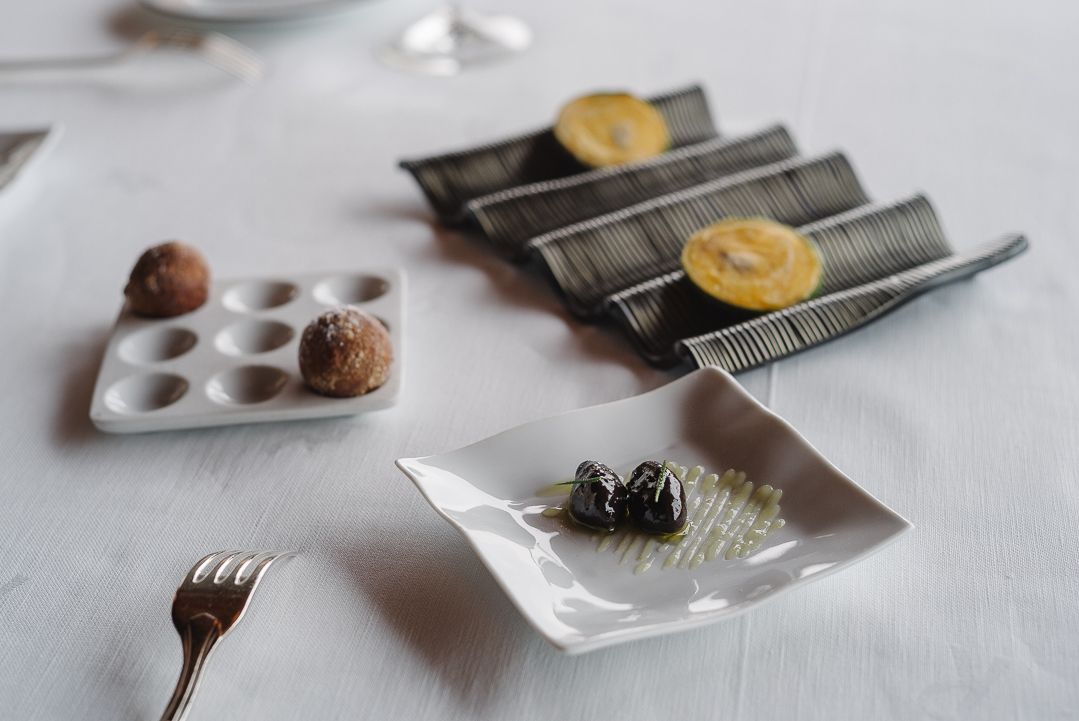 Various representations of umami here, each bite delivering a KO punch to the palate. The stuffed mussel aka takoyaki-style, loved it. The 'amber' was like a nori cracker with a sticky garlic shrimp and potato puree centre. Incredibly delicious morsel, totally suped-up versions of twisties. Finally, that olive, like an anchovy gel that jizzes all over the shop. Great start.
Bekarki No.1
Prawns and French Beans cooked in 'Orujo' Fireplace
with 2012 Donhoff Tonschiefer Riesling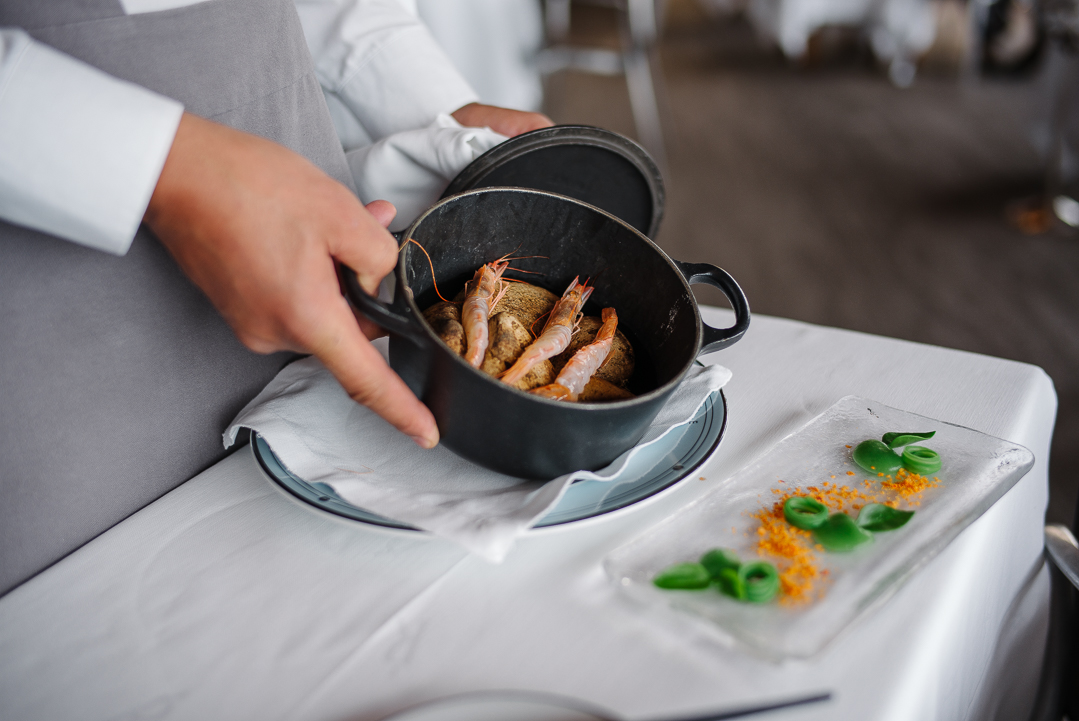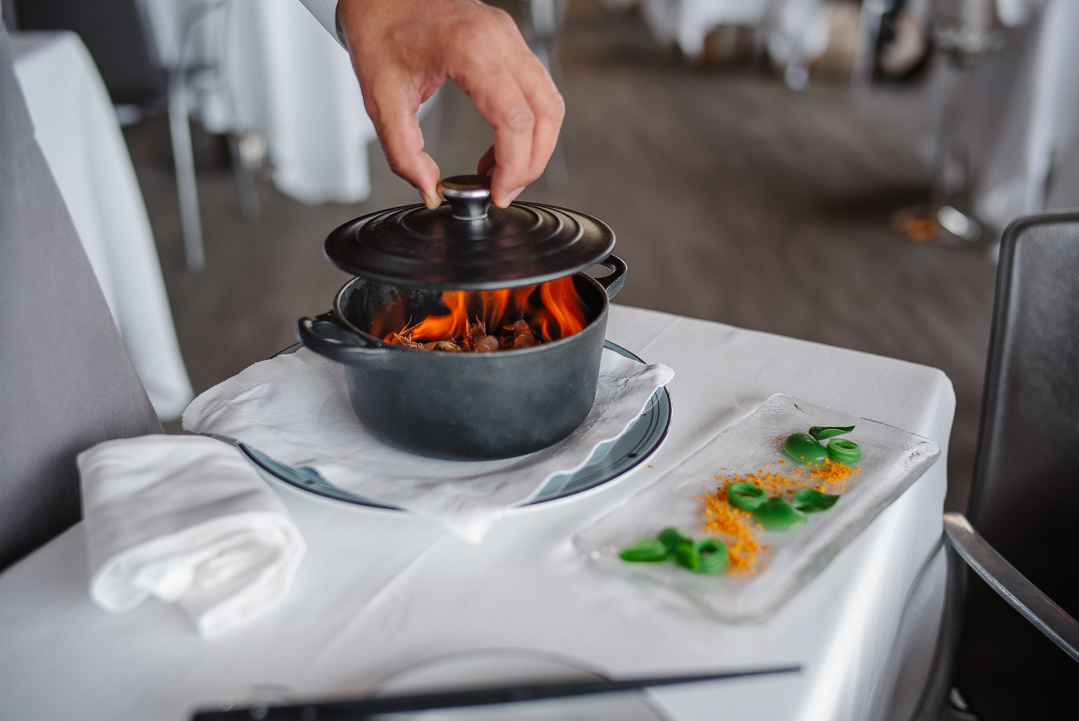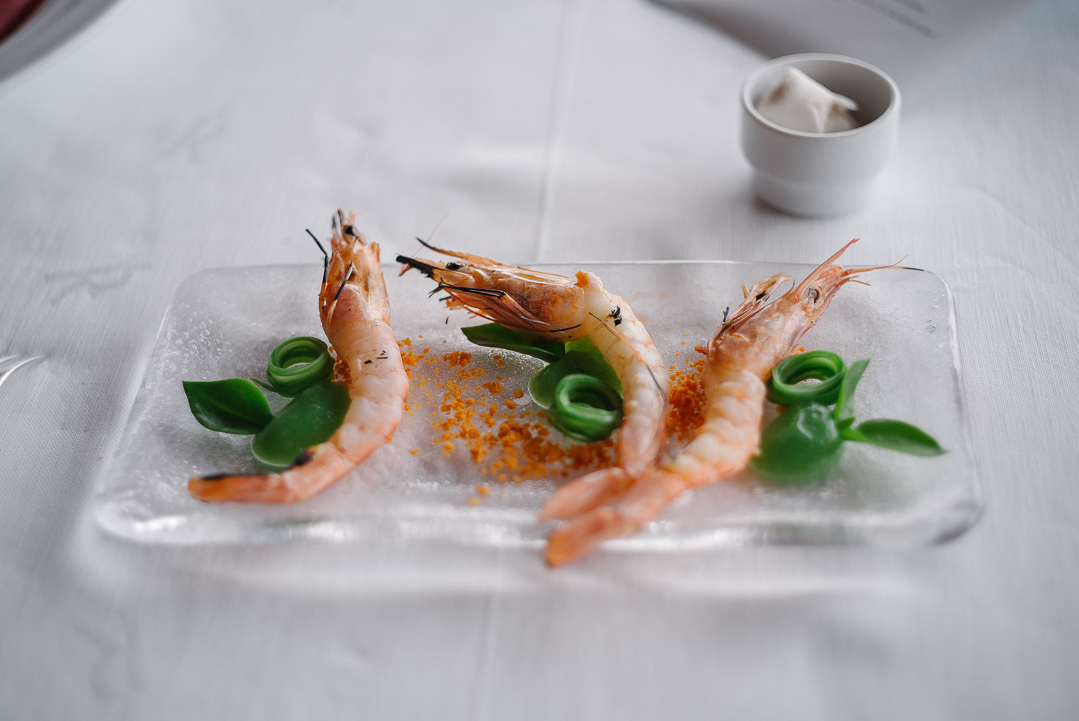 Gorgeously sweet shrimp, with the taste of glowing hot stones from the table-side flambee. A perky green bean garnish lifts the flavours, freshness. Pick up and eat, suck the juices from the head. Only 3? More please.
Classics No.1
Lobster salad, cider vinegar, mesclun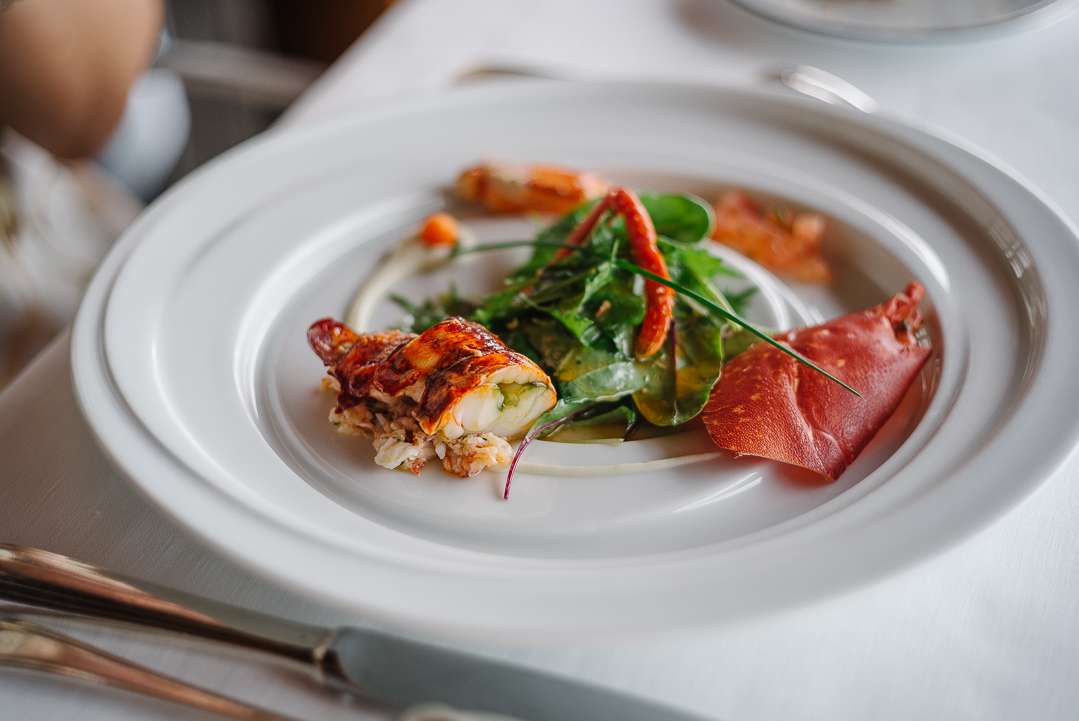 Lobster all day any day. What else did they cook it with? The colours. So vibrant. No clue where its from, though it's certainly prepared by someone who definitely how. Completely infused with flavours of its own shell and had incredible sweetness. Texture was firm, plump and just bursting with natural briny bounce… so delicious. Lobster masterclass.
However I did think the salad distracts from the lobster. They should just serve the lobster and reduce the salad. I heard it's grown in the restaurant, but really seemed cosmetic than actually additive to the palate. Taking it away would focus the dish, IMHO. Then again, this is Subijana's greatest hits and I'm just a blogger, so perhaps not.
Bekarki No.2
White Beans with vegetarian 'chorizo' and steamed little bread
with 2007 Chateau Chalon
This is some kind of purity. The beans had this lovely soft, gelatinous bite, incredibly precious. It's served with a hot pillow of perfectly steamed bao. Total fireworks display when you soak it with the thick broth that had incredible depth in flavour. It seems like a grandmother recipe, no fuss, just nourishing soup. Love it.
Classics No.2
Pasta Carpaccio, Piquillo and Iberic with parmersan shrooms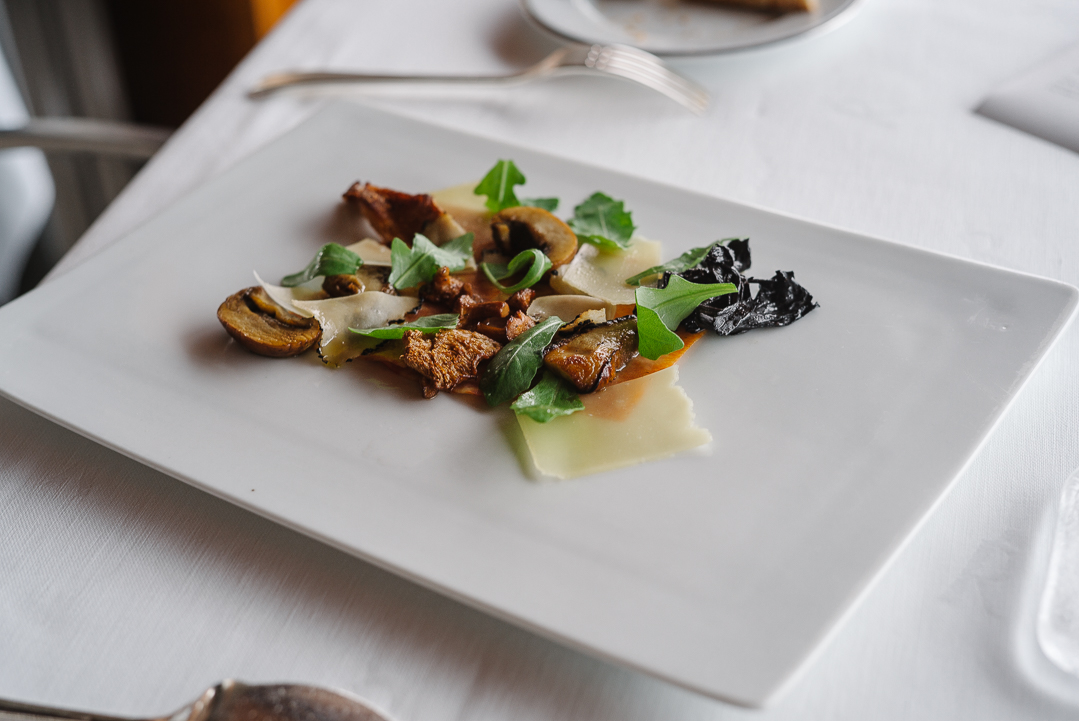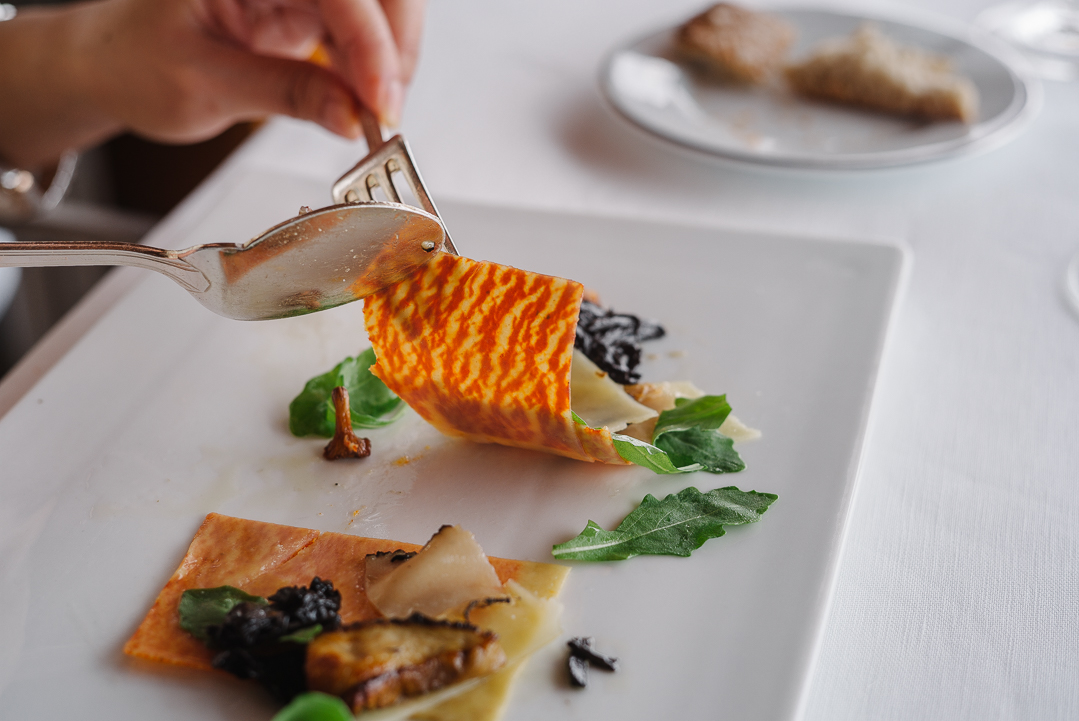 It tastes like parmesan, smells like jamon, but amazingly there's no meat in this. It's just flavoured pasta made in house. The texture is al dente, but also dense and grainy, like pasta rolled with crushed parmesan. Very appetising stuff, in effect this is assembled umami. I wonder if the streaks are intentional to mimic marbling. Great pasta. Skills.
Bekarki No.3
Sauteed fresh foie gras with "salt flakes and grain pepper"
with 2010 Malus-Mama Ice Cider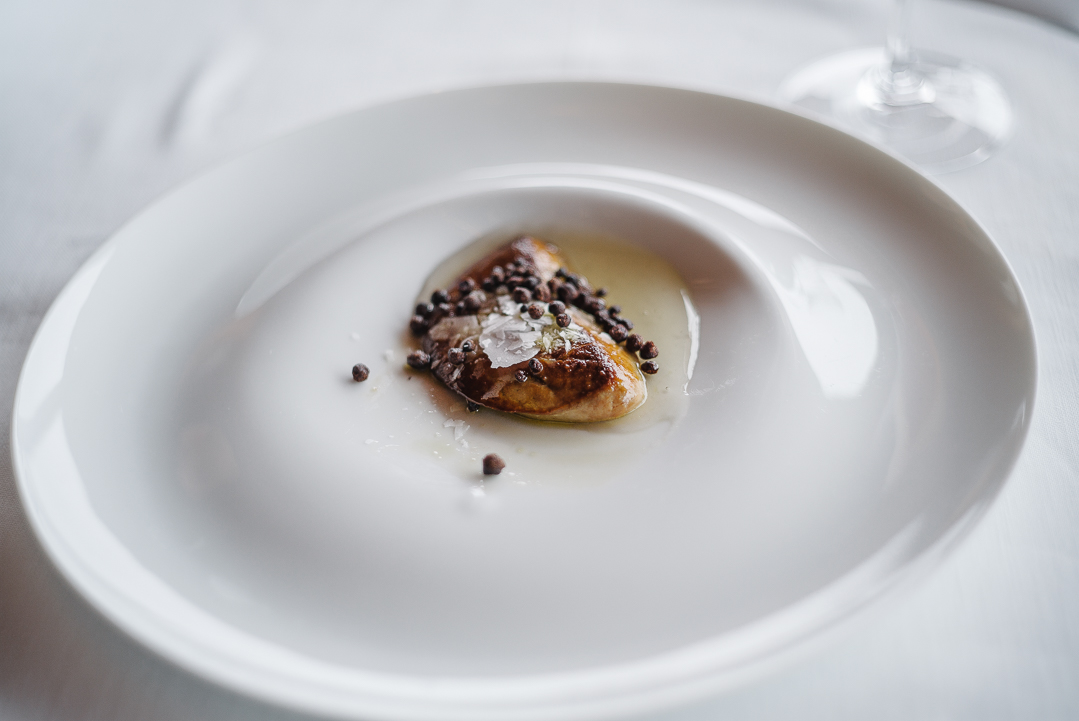 The air quotes because the salt & pepper are actually flaked sugar and puffed black rice. Rice krispies and foie. It throws you off at first, as you work out why the masses of salt and pepper don't taste over-seasoned, but soon you realise how well balanced the flavour profile is. The rice gives texture, like hot toast and serves to absorb the richness of the foie.
I liked the sauce, like a golden gel made from sauternes, carefully tuned with just the suggestion of sweetness. It smells like vanilla cake. Quality foie, fatty but clean flavours. Balanced and actually quite light on the palate.
This is the also the course they served the ice cider with, which as I mentioned before is like concentrated apple juice, so its just the right pairing to wash the foie down with. Excellent.
Classics No.3
Rice with Snails and Periwinkles in Tomato and Basil film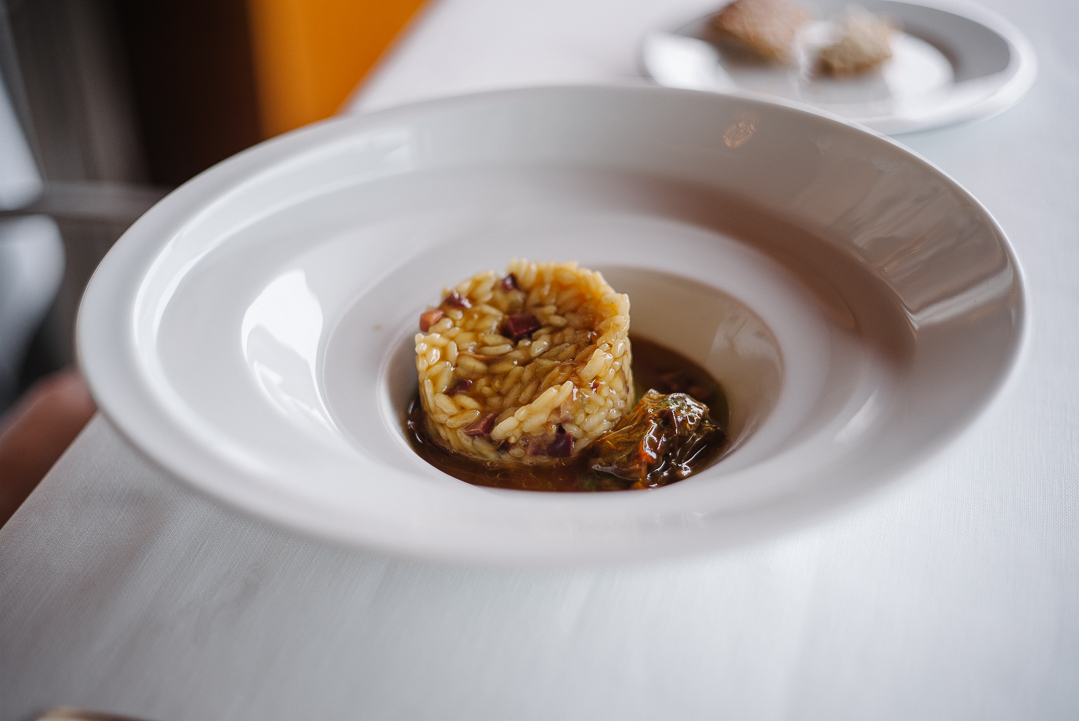 With carnaroli rice…. I didn't understand this one. The rice was cooked well, the snails a little lost and somehow the sauce just smelled like a curry to me. It was OK.
Bekarki No.4.1
Grouper "Umami"
with 2013 Chablis 1er Cru, Montee de Tonnerre, JP and B Droin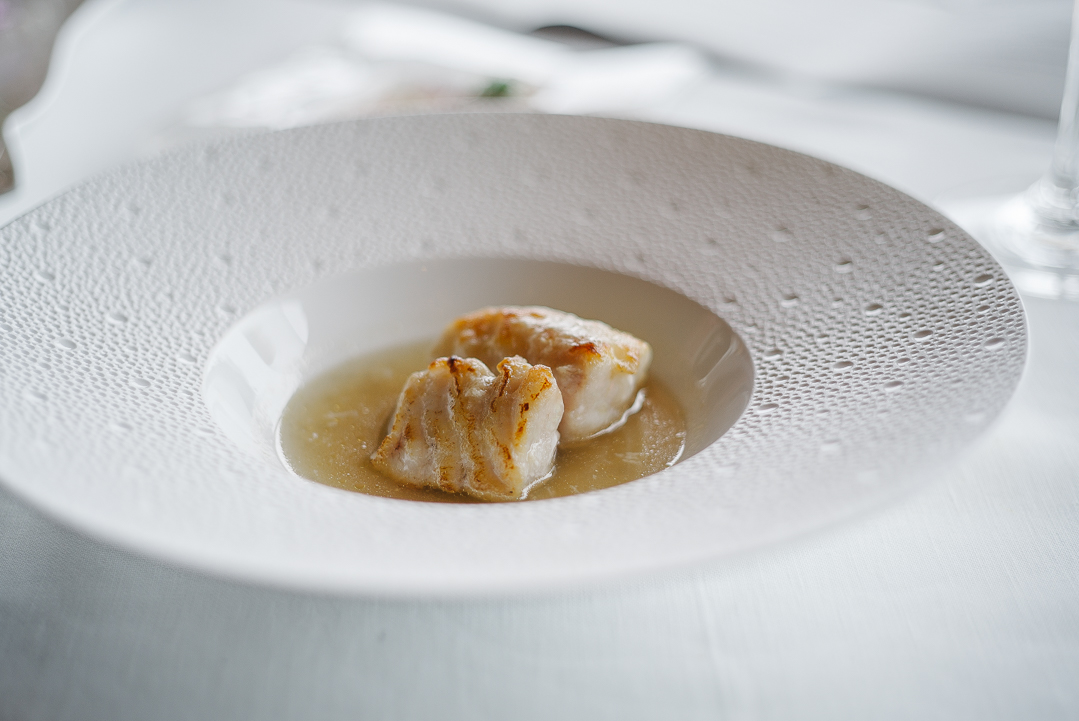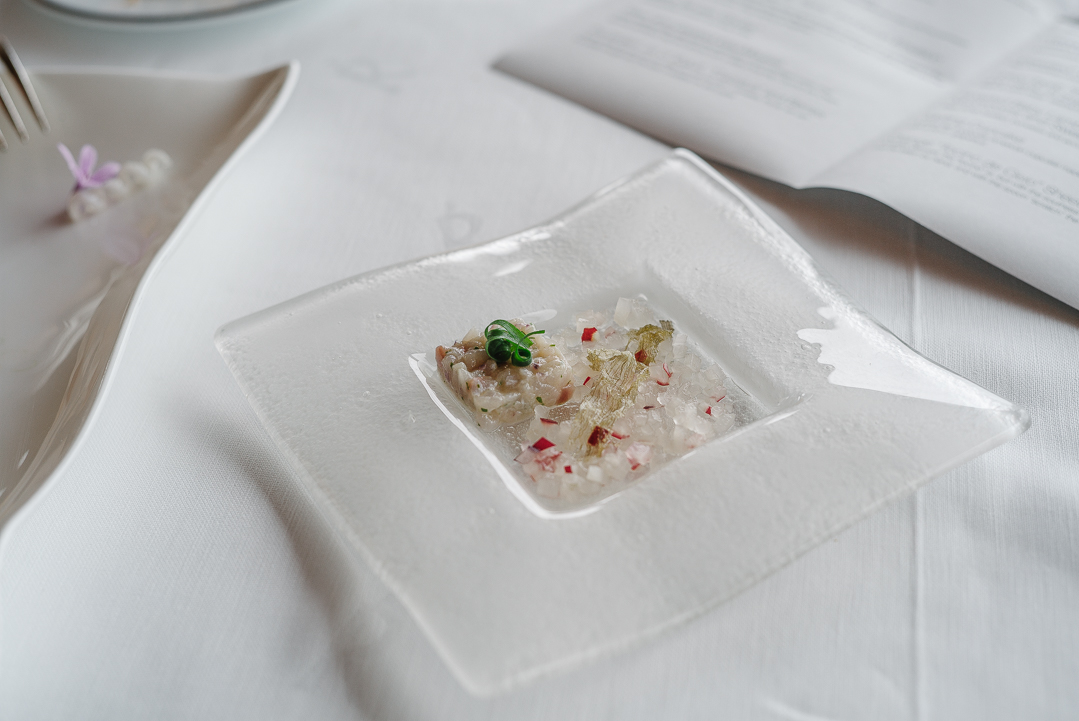 Wow, that soup, more akin to a fish stock with a richness of maw. Oily with bits, a roughly filtered broth just had fantastic depth of flavour. Essence of garoupa. It sure does linger on the palate. It wipes aways easily with the tartare and onions, and washes down well the excellent Chablis with stony minerality.
My dad would have loved this, he brought me up on steamed grouper, all sorts through the years, red spots, seven stars, black spots, mouse grouper, so I appreciated the nostalgia.
Not quite the best catch I've ever had (Are Atlantic mero landed at a North Spain coast? Or Huelva?), but it was carefully just under-cooked retaining the natural silken flaky textures. I loved this one, pure stock, pure umami.
Bekarki No.4.2
"Desalted" cod box with shavings
with 2013 Ossian Segovia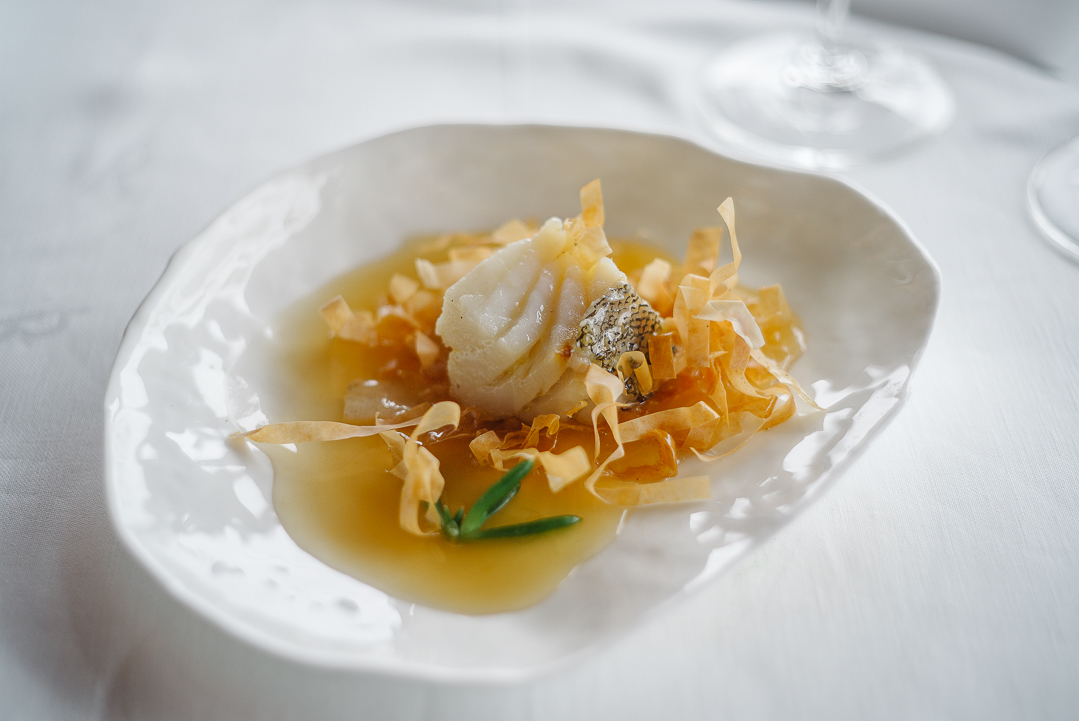 I didn't take a picture of when I was served this, which is to resemble the wooden boxes which imported salt cod comes in. The edible shavings tastes like fried dough, I suppose. The cod is legit, very tasty, flaky, translucent, carefully handled, delicious but not out of this world.
The tomato sauce had this bursting sweetness, it's almost like a honey made from tomatoes. Well-made but after two spoonfuls, it's too sweet to handle, and overpowers the fish.
What's the significance of the box again? Is it just homage to the Basque's love for the fish? It's imported salt cod right? Norwegian? Canadian? Is the desalting bit represented by the tomato sauce? Questions.
Classics No.4
Whole-grain red mullet with sauce "Fusili"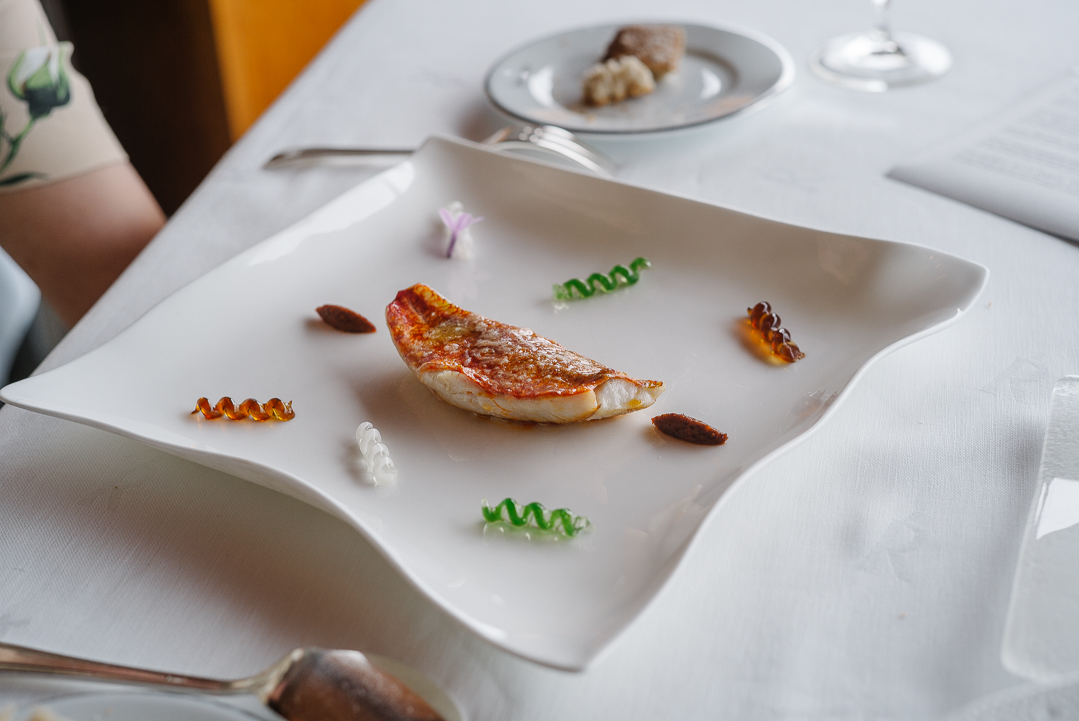 The whole-grain is to mean head to tail, or head, bones and liver in this case, which are made into condiments. Also on the side are gelatin fusilis made from parsley, soy and ajo blanco, which can be identified by their colour.
Oily snapper tastes like eel, again cooked well but that's about it. Not quite the same revelations as the grouper dish. Next.
Bekarki No.5
Grilled Iberic "Presa" with Pepper seeds and garlic 3 ways
with 2010 Roda Reserva Rioja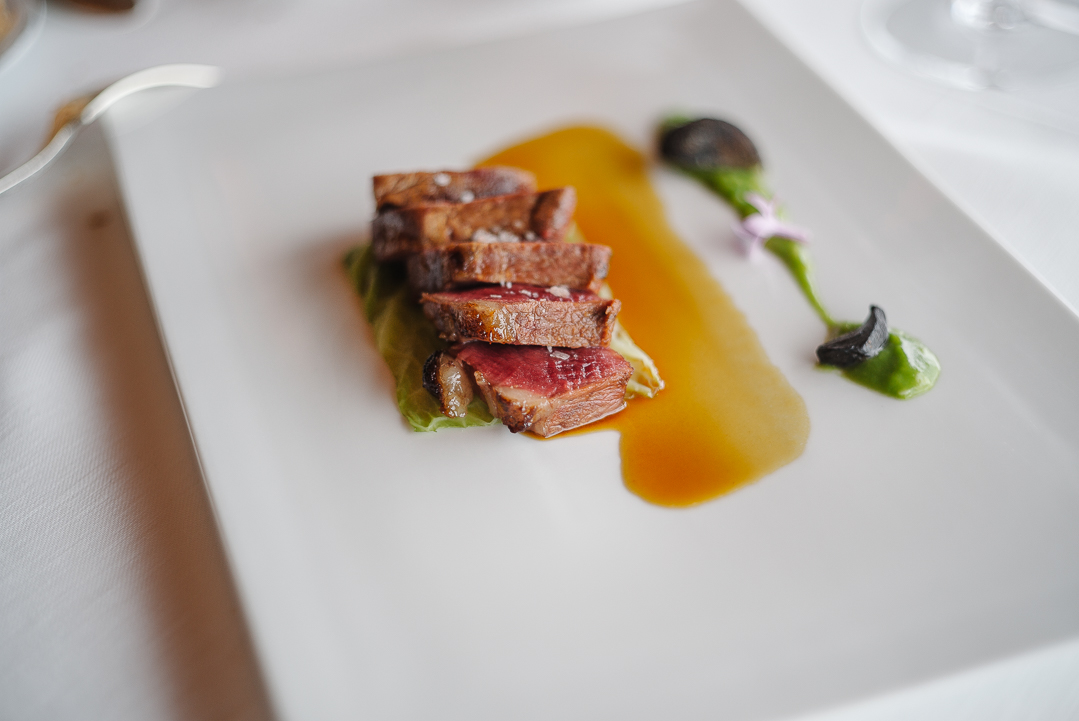 You know 5J, that bling Iberico jamon they use at Cambio de Tercio. It's beautiful stuff. I'm not sure who Pizarro uses for his delicious presa dish, but I believe this is the first time I'm having a fresh version of 5J pork. The menu says it is roasted in vegetal charcoal and lacquered with red pepper juice. It comes with a jot of garlic risotto on side, the colour I presume is from wild garlic.
The meat. Woo. So tender, precious, pure and so sweet, you can taste the acorns. The natural textures are all totally retained, it's just a pleasure really, retaining its chew, but still managing to fall away easily on the knife. Meat orgasmica. I take care to eat this slowly, chew slowly, each bite rewarded me with sweet, meaty flavour, especially bits of fat, then its olive oil explosion. Fuck yeah and then some. Mad skills going on, honestly some of the best pork I've ever eaten. The meat was of stellar quality.
Classics No.5
Carved Beef, Tail Cake "Potatoes and Peppers"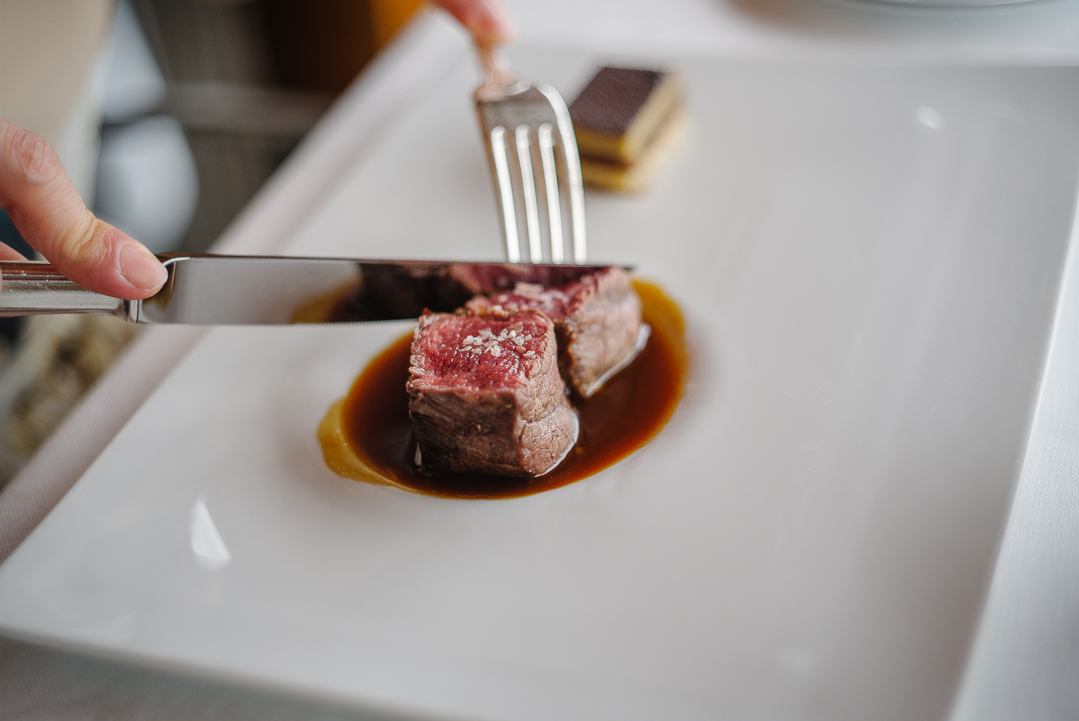 The menu says it's "red meat, like we eat the rib" …huh?
This is good beef, tender with nice grassy flavour, I suppose it must be Galician (given the ***) , but I didn't ask. It's served rare, so there is the primal feeling, especially with it drenched in the pool of gravy.
But it's far from the sensation of eating meat from a rib. If they served a piece of a porterhouse bone and left the strip of beef on the bone (such as near end of Nestor steak for example.) , i.e. , in a more literal sense, then yeah sure. But as it is, it's just mild mannered, good but not great beef and certainly no steak dinner.
So that's the savouries done.
Bekarki No.6
Melting Cupcake
with 2001 Barbeito Colheita Madeira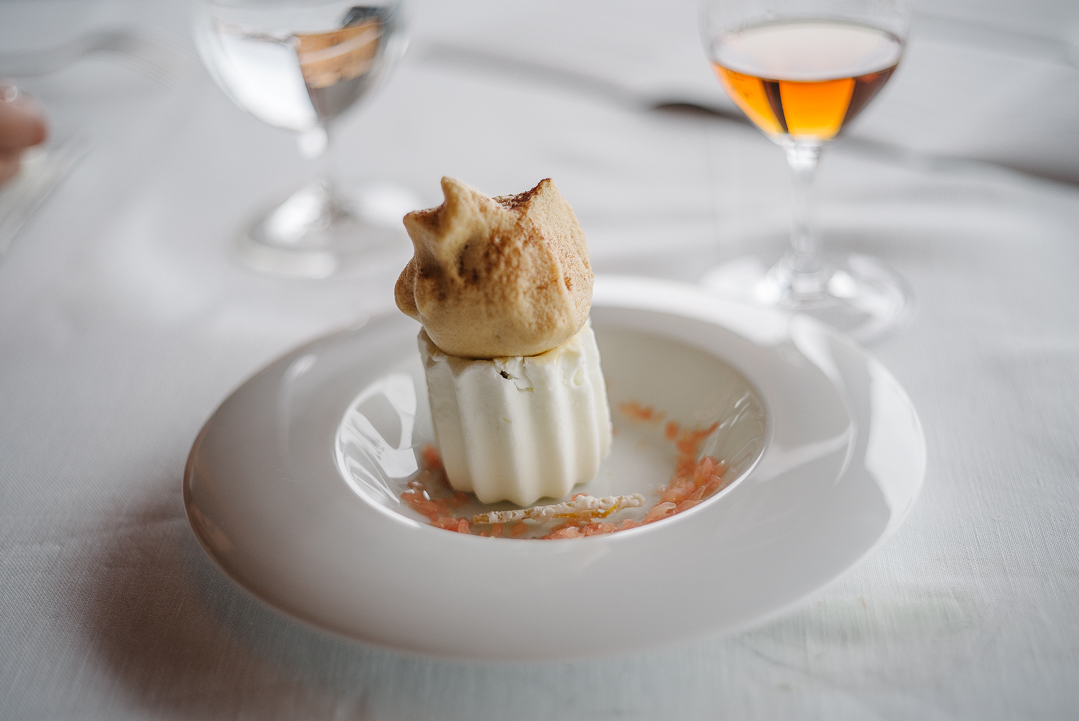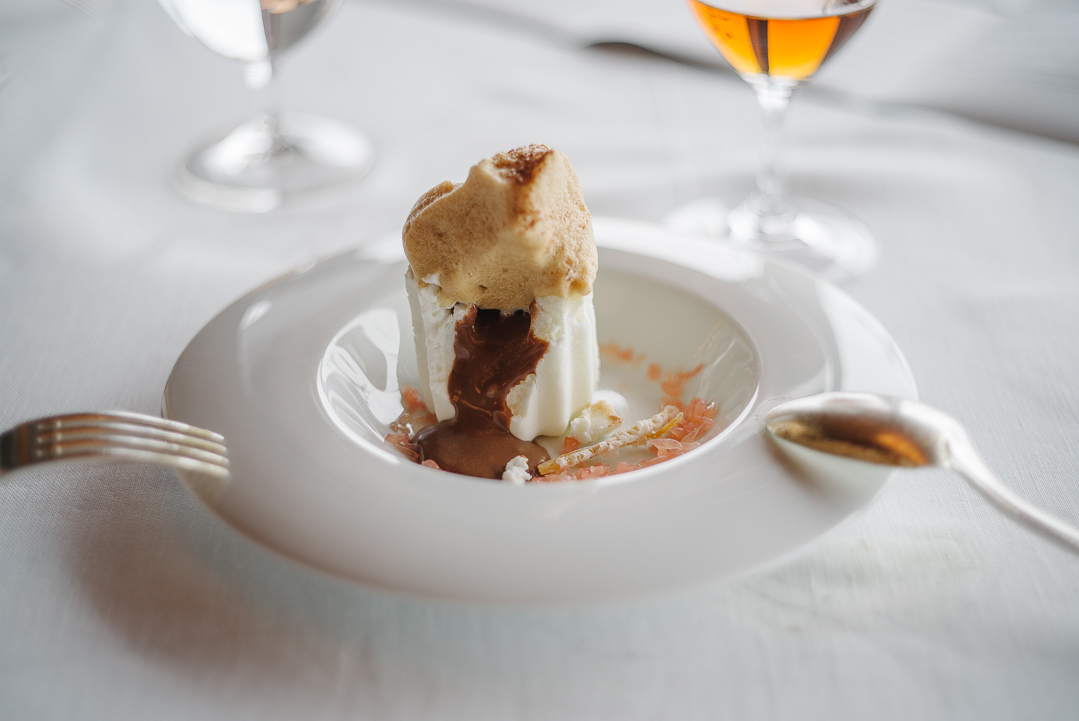 Yogurt foam, coffee and chestnut with grapefruit bits, liquid chocolate centre… yeah quite nice, the zest and chocolate clashing though, so it was not a successful palate cleanser.
Classics No.6
Gin & Tonic on a plate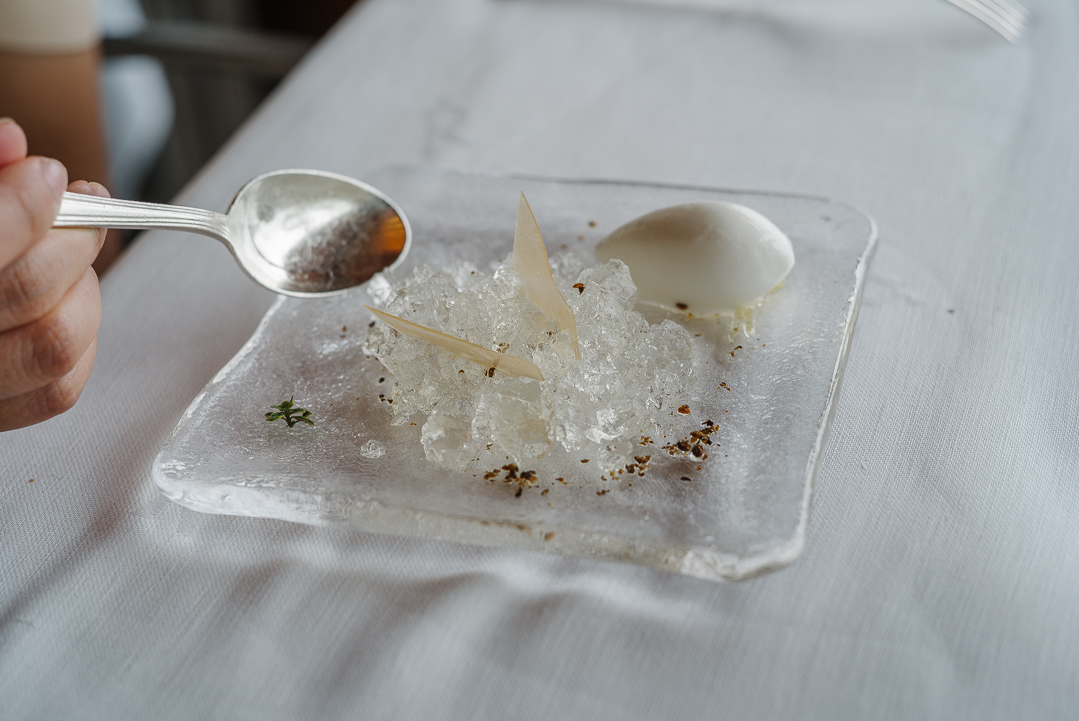 Yeah basically, gin & tonic in jelly form, with juniper sauce. This on the other hand was a nice palate cleanser.
Bekarki No.7
Orange "Tocino de Cielo" sheet with Fruit leaves
with Caligo Vi de Borra Catalunya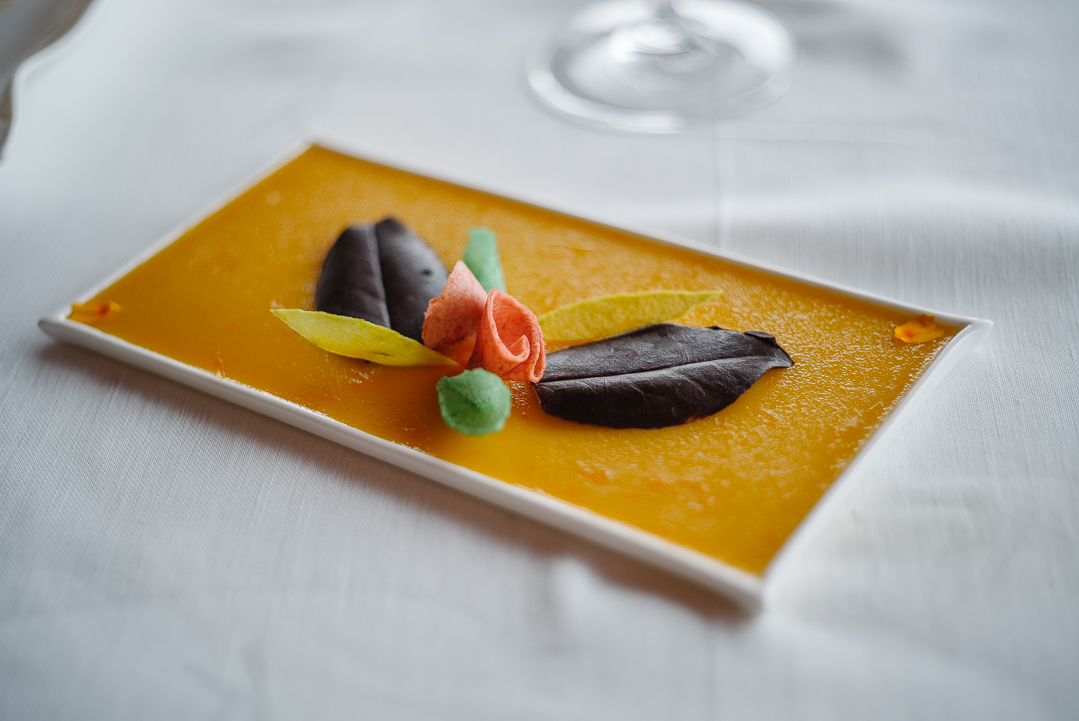 Scratch the plate! Love the intense acidity of the oranges, like an angry marmalade, bursting with fruit. Nice perky finish to the Bekarki menu.
Classics No.7
A Different Apple Tart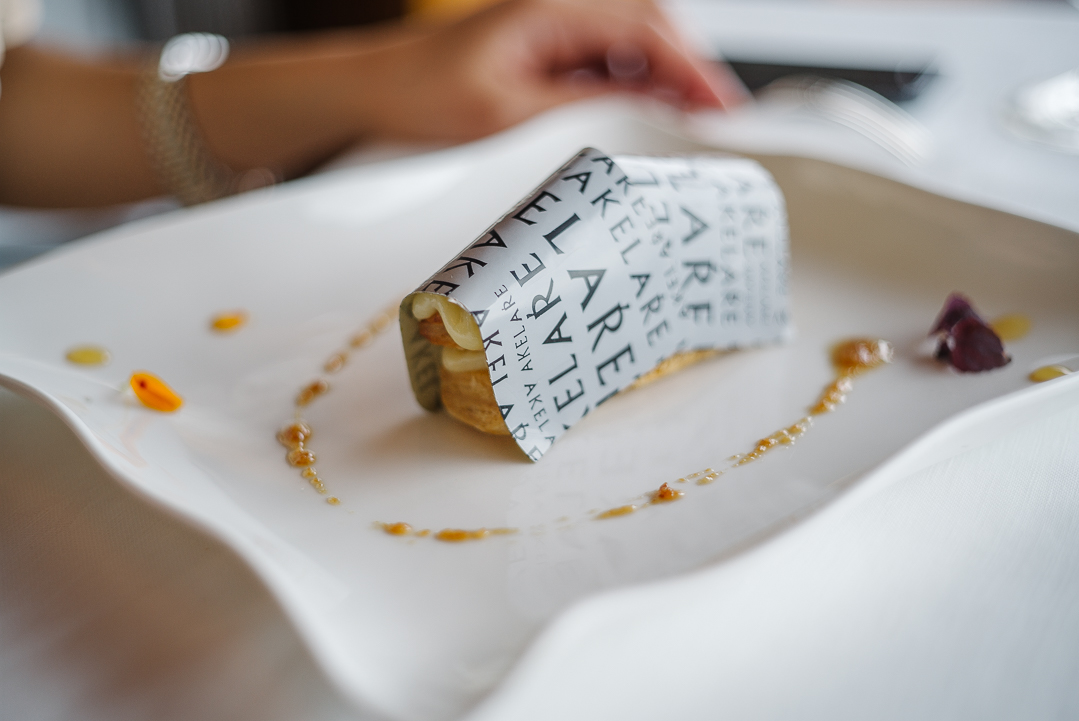 With edible paper, that's like a sort of apple and chocolate gel. Decent pastry and apple custard. The menu claims it's meant to taste more than an actual apple tart, even if it doesn't feature fresh cut apples, but it's served cold, so you don't smell much. Don't get me wrong, I think it's good pudding but I don't think it beats an old fashioned one.
A little anniversary surprise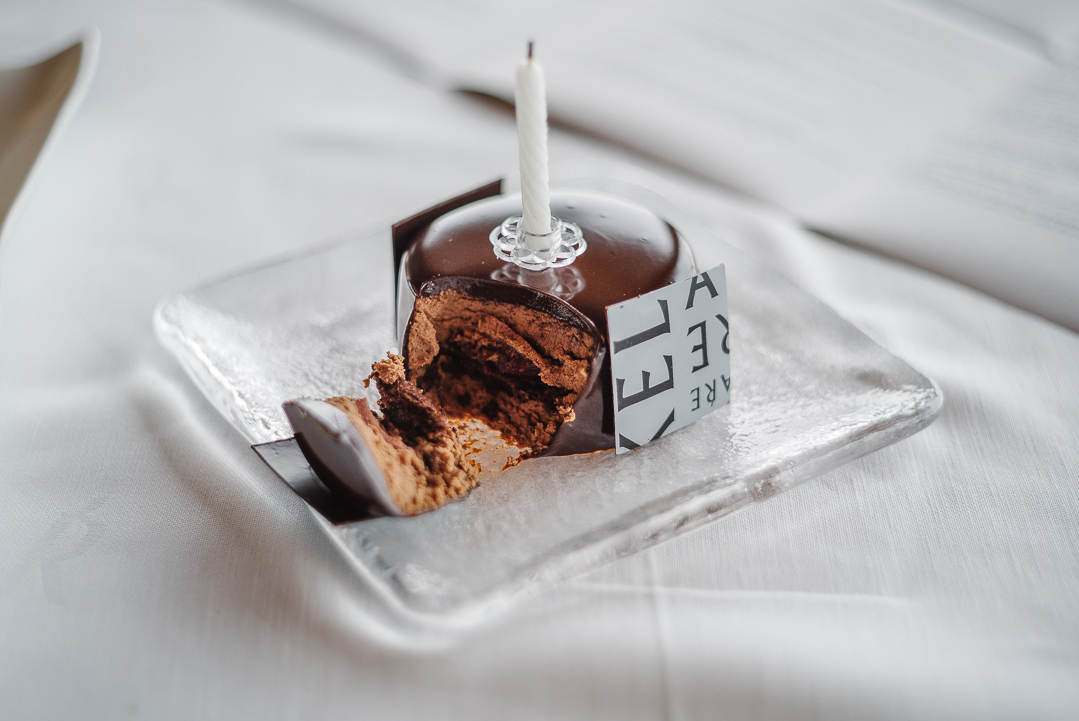 A nice touch from the restaurant, the missus and I celebrated 7 years last year, and actually I thought this was best of the puddings. Gorgeous chocolate mousse with a fruit centre, raspberry I think.
We paid 470.25€ (£330) for two menus, one wine flight, one bottle of water, 2 coffees and service. Not as damaging as I thought. About equivalent to one Fat Duck 'ticket' , 2016 prices.
Pure cooking, decent ingredients. I don't know about the innovation, for this visit, apart from some ingredient masquerading, it was hardly bewitching. But that's fine by me, the best dishes were the purest recipes and it comes across as a kitchen that understands balance of flavours.
In hind sight, I wish I had gone with the Akanori menu instead. Even though it's meant to be more fish focussed, it seems – and as the menu subtly implies – it is actually Subijana's A game. There are a few interesting things on that menu, which I regret to have missed out on. Check the tartare with the beautiful soufflé potatoes. Damn I missed that one. The classic menu is certainly the weakest of the lot, save for the starting two dishes, the rest of the recipes are a little long in the tooth. Or perhaps meant for returning patrons. You may be a little underwhelmed if you visited as a solo first-timer, if you picked it.
Having said that, both menus were cohesive experiences, loosely thematic, very well-paced, with a good transition of flavours from one plate to another and overall a slick package. We ate great food, and were bursting at the end of the meal and it was (unusually) enjoyable.
And that view. I totally would come back just for that. We were fortunate to get a seat by the window and it really is some kind of heaven. It's so serene, you feel the endorphines firing as you gaze into the Cantabrian sea. One of the best dining rooms I've ever sat in.
Next. Azurimendi. I heard he's coming to London this year, I hope it's more exciting than Ametsa.
The Details
Akelaŕe
New Basque, £170pp
Paseo Padre Orcolaga, 56
20008 San Sebastian, Spain
Tel : +34 943 31 12 09
Transport: 15min drive from San Sebastian centre