There must be hundreds of pintxos bar found in Parte Vieja, the Old Town of San Sebastian. Pintxos are so much more than bar snacks, otherwise known as cocina en miniatura. I think it's where Basque cuisine is actually being advanced.
We didn't have a bum snack, every thing we ate was brilliant. The standard of competition is really high. Beyond the standard stuff, each bar has their own secret weapon(s), putting so much work into a morsel, as if crafting a miniature work of art. They are every bit as varied and elaborate as signature plates at Michelin starred counterparts of which there are plenty in this part of Northern Spain. Unbelievably, everything costs little money given the quality. A typical pintxo is 2 to 4 euroes each and you can drink a small wine (txiquito), beer (zurito) for 1 to 2 euroes.
Perhaps most admirable is the etiquette, built completely on trust. You ask for a plate, take what you like, eat, dispose of your serviette underneath the bar (the more trash means people love it) and then just simply tell the barman what you had when you pay up. Repeat at the next shop. Their hospitality is light years ahead.
The trick is to resist being greedy (which I failed at) on your bar crawl. Limit yourself to a couple of pintxos (and a zurito) at each bar and move to next door. Rinse and repeat. Think of it as a marathon because there's so much to see at each bar.
Taipei's night markets are awesome, even Borough Market is solid, but there's nothing quite like San Sebastian's Old Town. It is probably the best gastro theme park in the world. Should avoid visiting in late November because a bunch are closed for vacation including Gandara, Borda Berri and Le Cepa.
Below are my notes from the places I managed to visit in November 2015. Far from exhaustive, as I was only there for a few days.
Bar Zeruko
Calle Pescaderia 10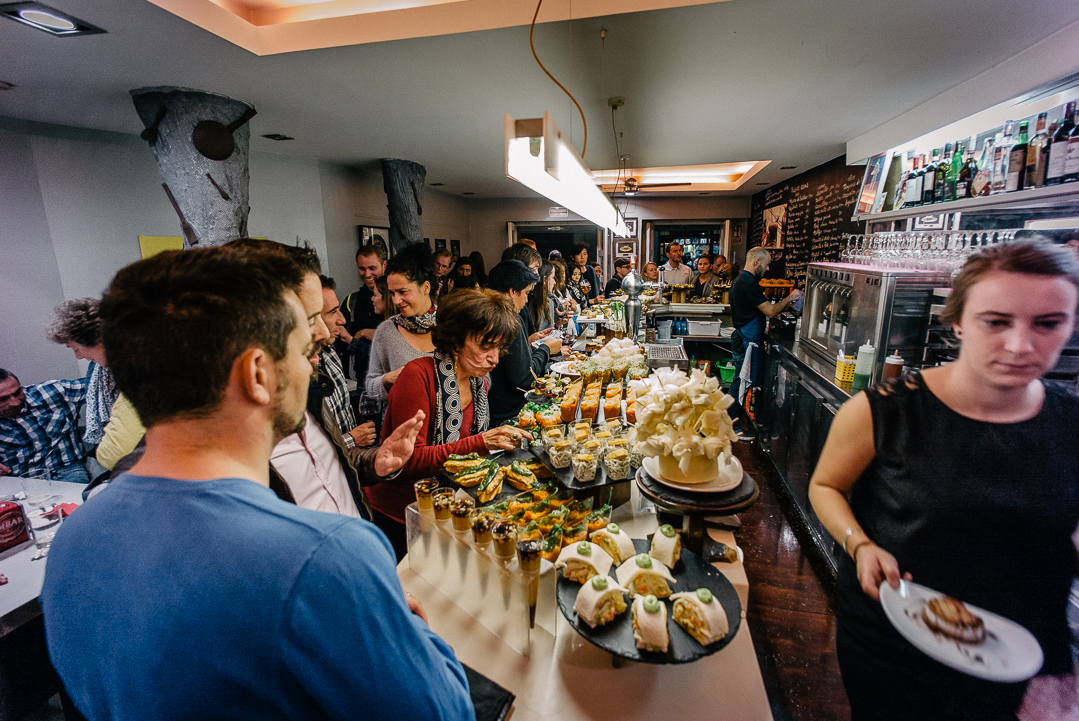 Modernist pintxos bar that's all over the interwebs. Always packed to the rafters. Every pintxo looks special – and there are so many to choose from – and will have you wondering how they do it. Not everything tasted great, but the ones that did totally hit the spot.
La Hoguera (The Bonfire)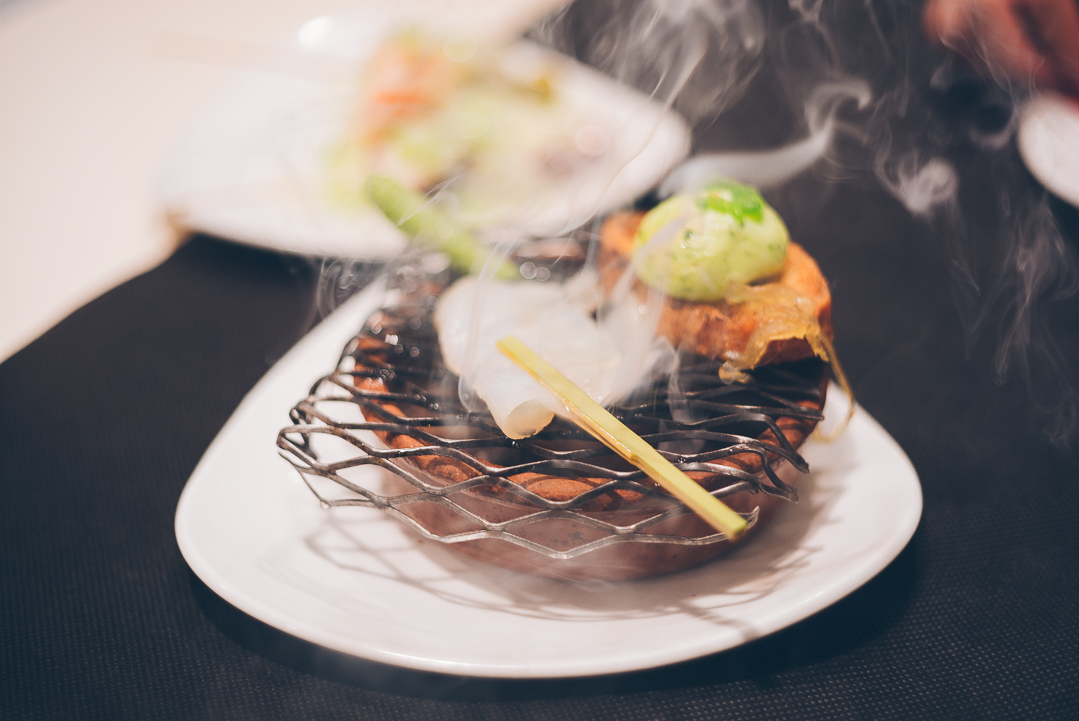 Grill your own slice of cod with heat from a burning twig of rosemary, to your liking. Then eat it with a onion and parsley crostini and chase with a vial of asparagarus puree. 4.50 euroes. Great.
Egg in aspic with migas
Good looking but tasted so so.
Kallos de bacalao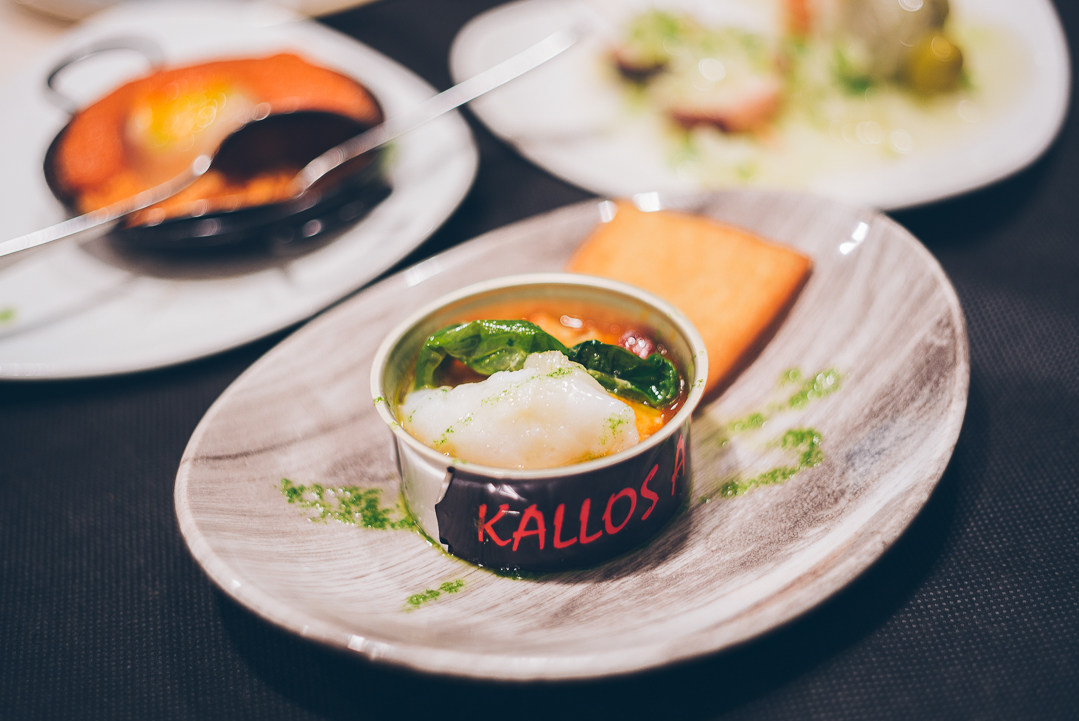 It says it on the tin, so it must be fish maw. Sure tastes like it, bold flavours.
Baked sea urchin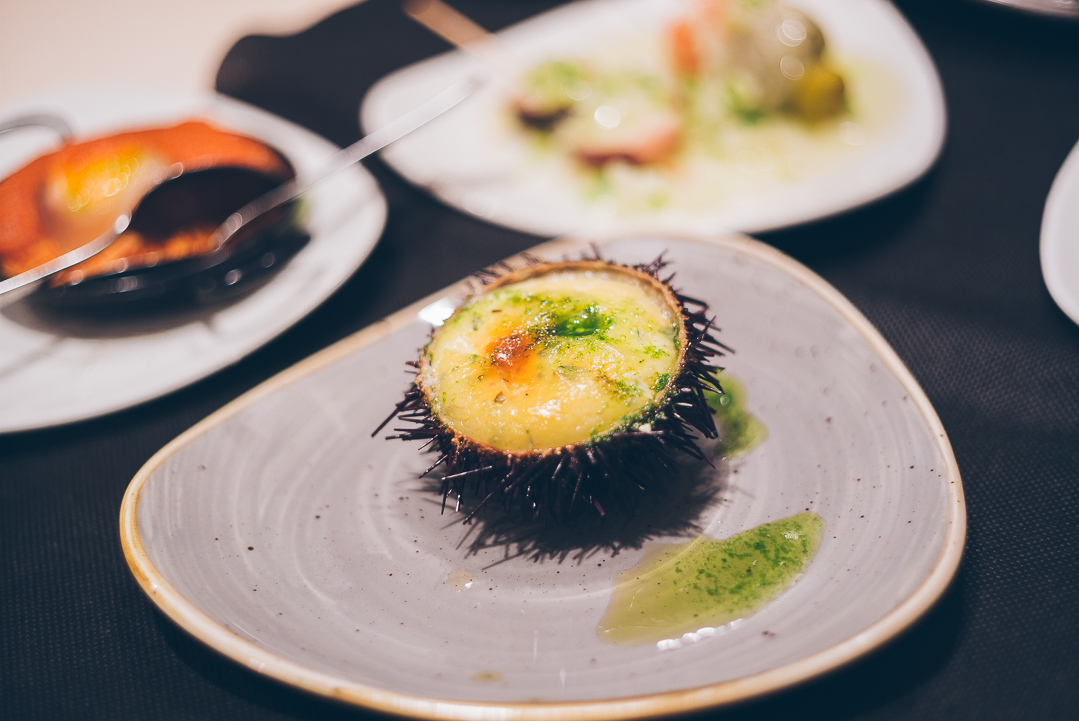 One of the pintxos that gets re-heated before it is served up. Like a uni-spiked chawanmushi. Gorgeous.
La Cuchara de San Telmo
Calle 31 de Agosto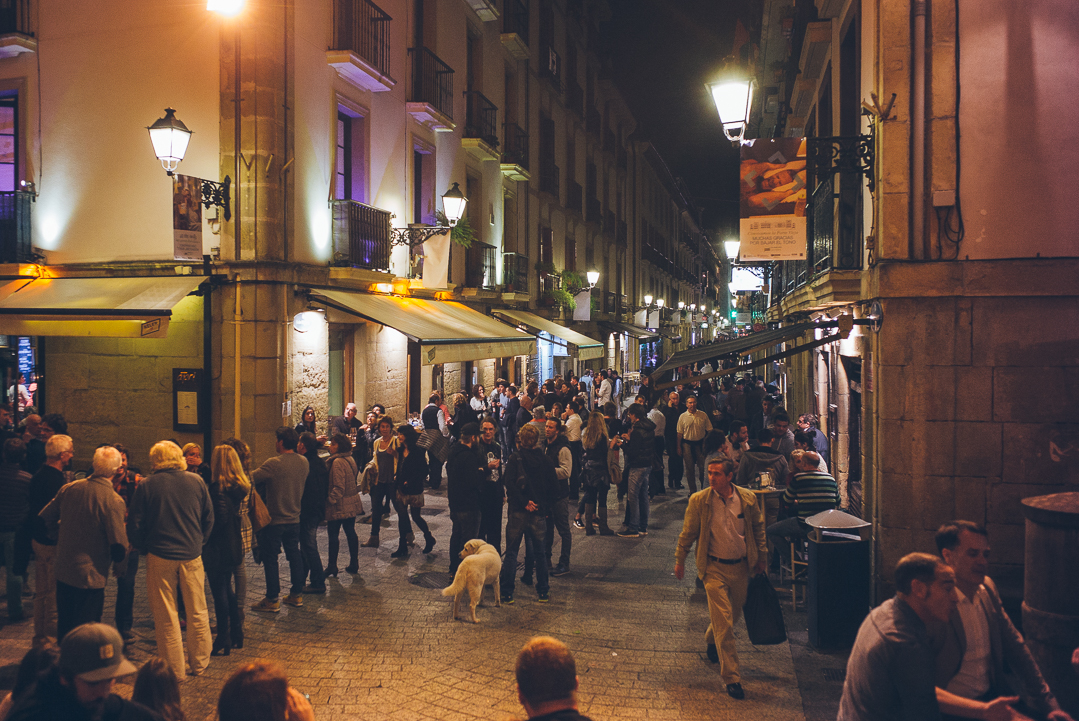 Difficult to find, but well worth hunting for this one. There are no cold pintxos at the bar, everything is hot and to order. Opened by Iñaki Gulín, who later went on to open Borda Berri (which was closed when we were there in November). We loved this one, propbably the best cooking of the lot, we headed back a couple of times.
Suckling Pig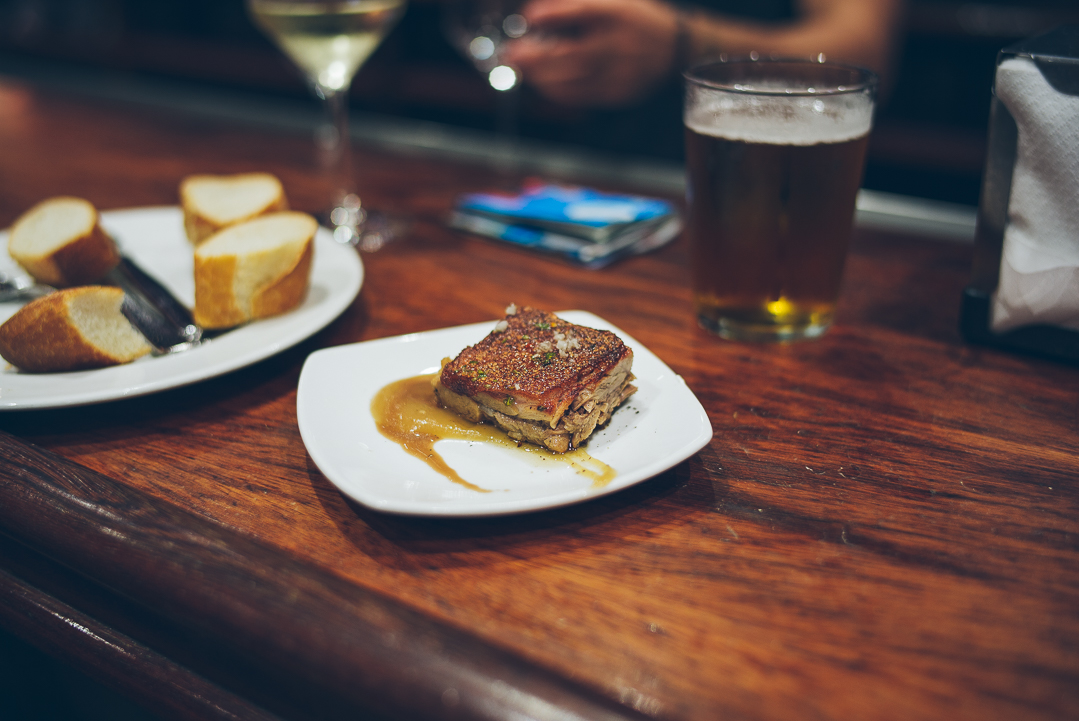 The is the stuff, delicious pork.
Scallop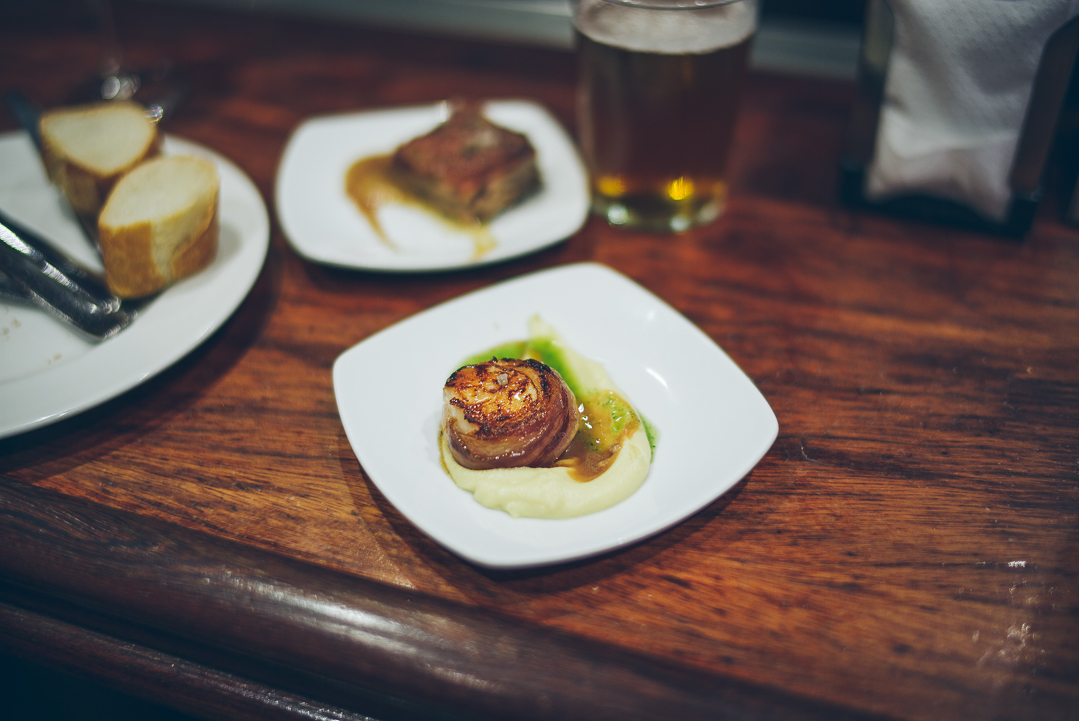 Ditto, great scallop.
Bacalao, and Squid ink risotto in background.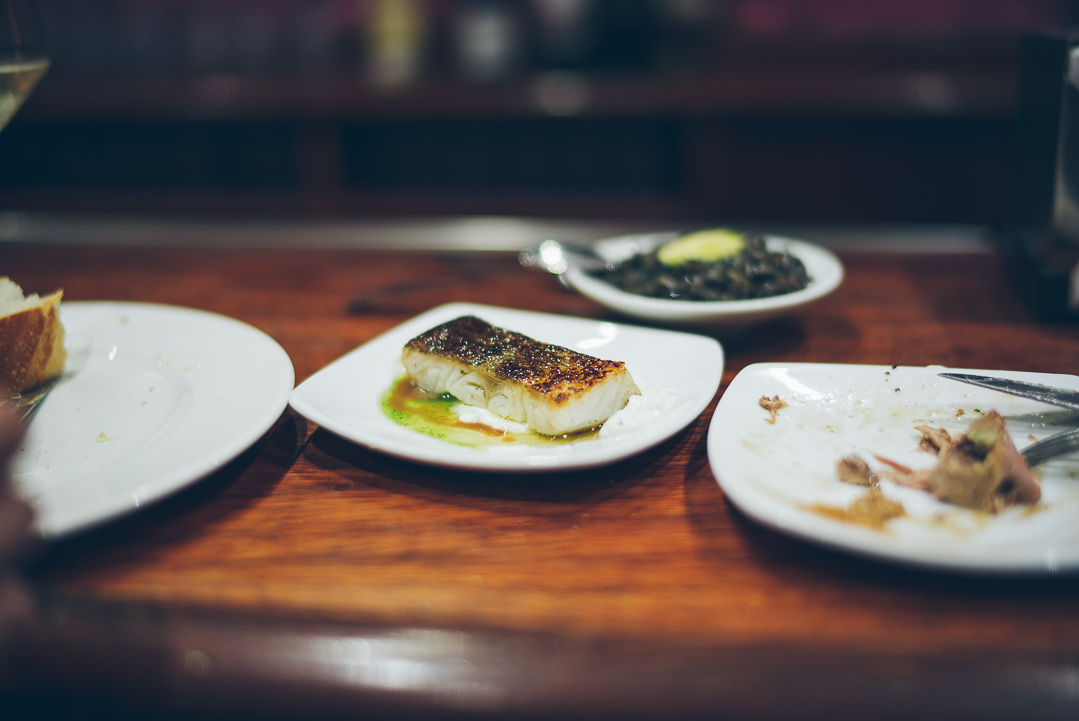 Fantastic salt cod, cooked so well. It's just a little underdone and this fillet had this almost fattiness just underneath the crispy skin. Smoking from the plancha.
And then there's the risotto, made from orzo pasta instead of arborio rice, like silkened starch to the palate. Incredibly satisfying. Great recipe, last time I had something similar is at Cambio de Tercio.
Raviolo with duck confit, leeks and foie.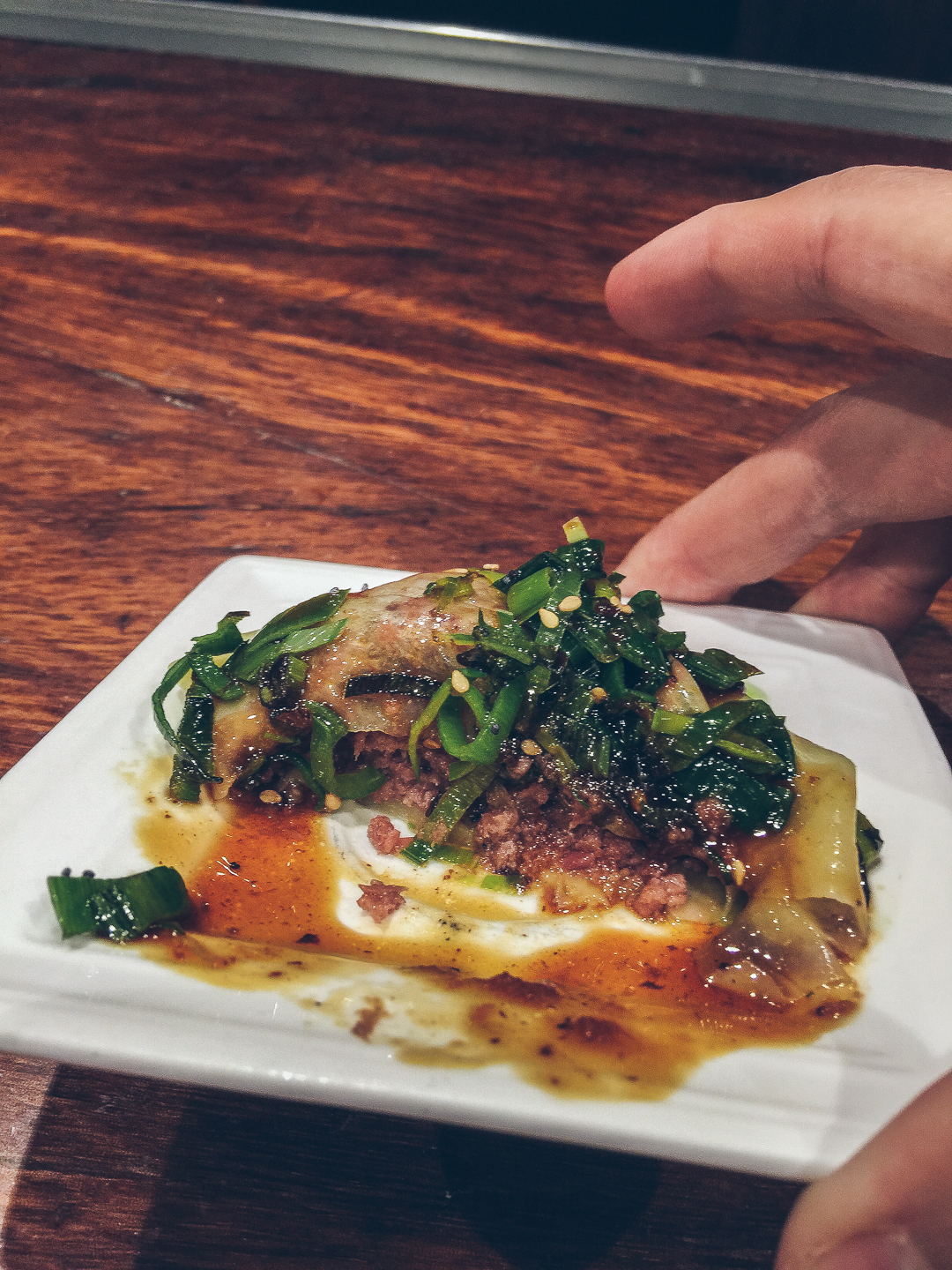 More wonton than pasta, the texture is elastic and approaching gelatinous. Packed with flavour, duck and foie and leeks, superb recipe.
Bar Haizea
8 Aldamar Kalea, 28
I've not seen the Bourdain episode in which Haizea features, although I did read that Elena Arzak has her breakfast here. It's on the corner of a building, so it has lots of light coming in, has a caffe feel.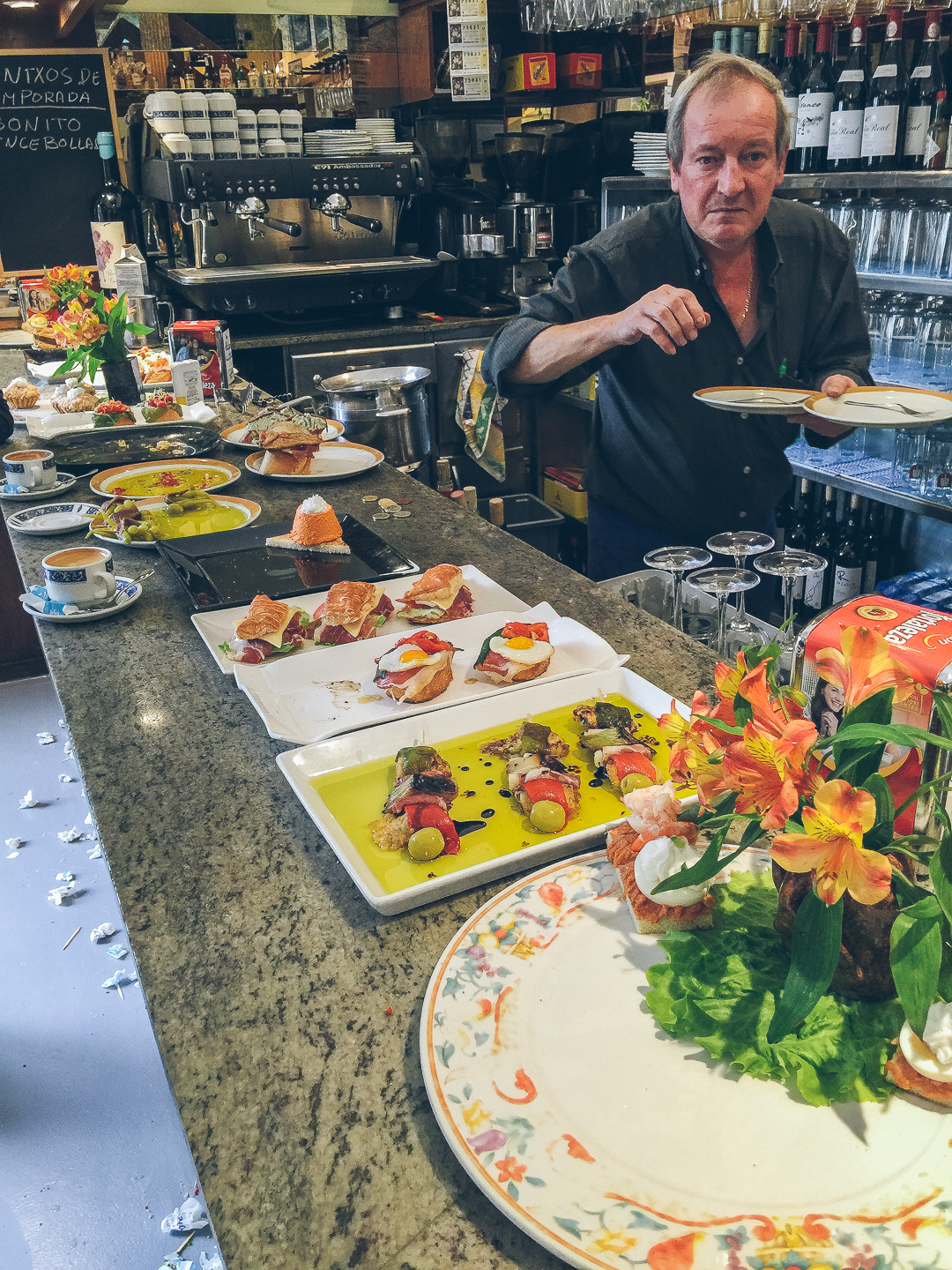 Egg and jamon ; Spider Crab tart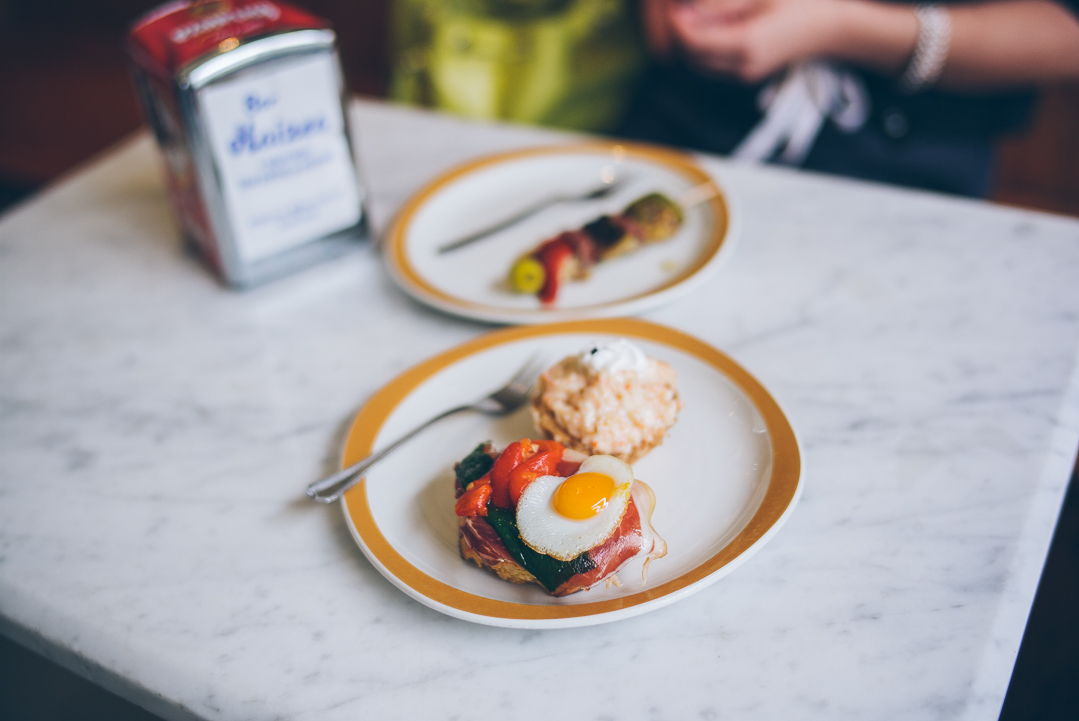 Txangurro, spider crab. I tried to eat as much as I could. They taste good everywhere I went, though Haizea's was extra good.
King prawn with seafood bisque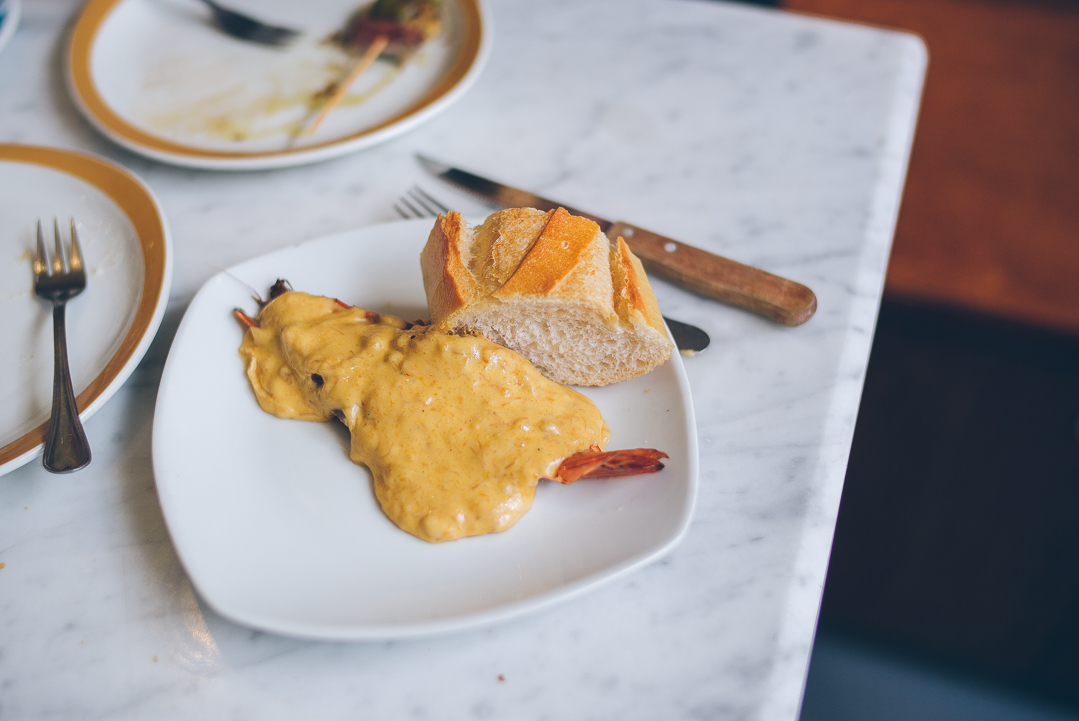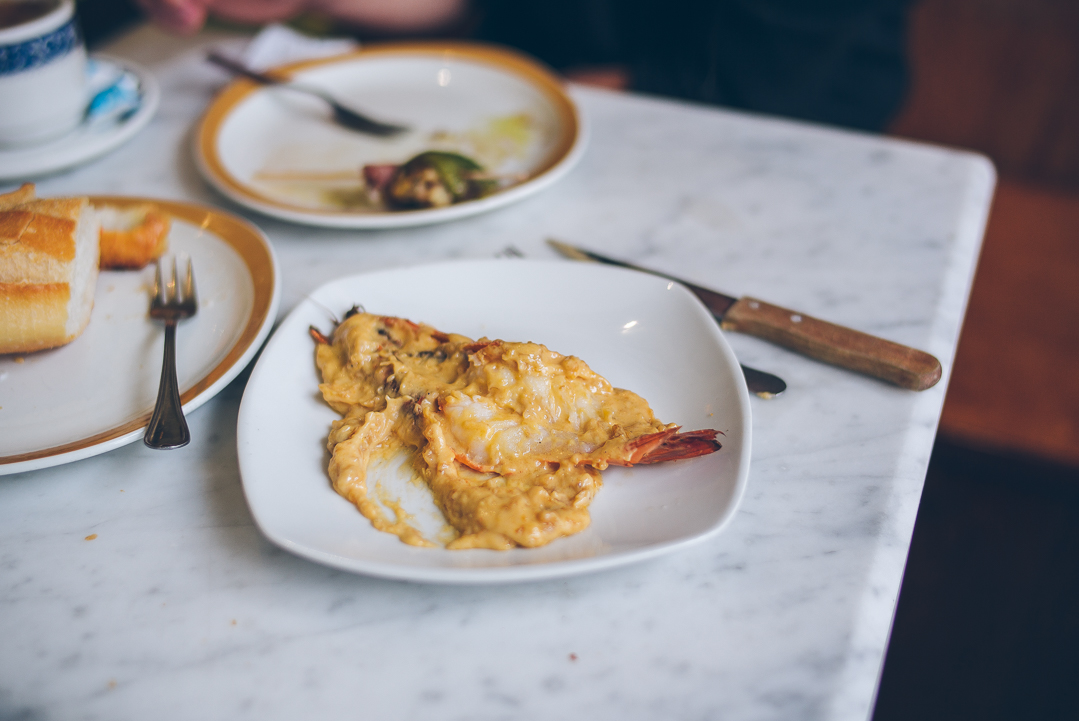 The owner came over and insisted we eat with our hands to savour it. All about that chunky, creamy and rich seafood sauce. Shells, roe, brown meat… mmm stunner. I loved it.
Bar Gorriti
San Juan Kalea, 3
Didn't look flash, almost like a dive, but loads of people went it so we followed suit.
L-R Octopus on a stick, Spider crab with anchovies and a jamon sandwich.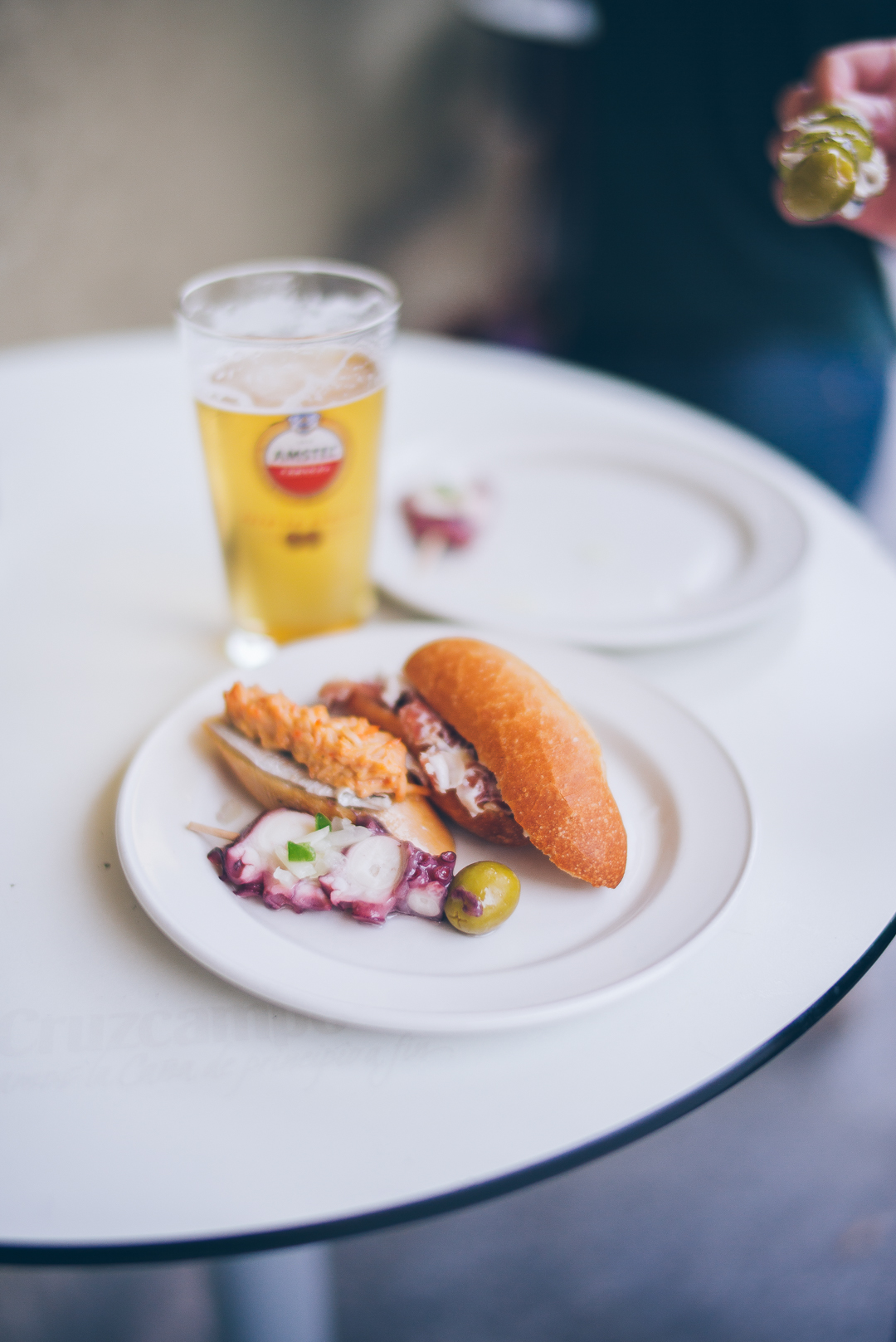 Spider crab again and nice jamon sandwich.
A Feugo Negro
31 de Agosto, 31
To Black Fire. Another modernist type but with more international influences. The bar has a good atmosphere. I prefer this to Zeruko, the cooking is pretty slick. It reminds me of the vibe at Little Bao in HK.
Clockwise. Tuna tartar with watermelon ; Makcobe with txips ; little bird with carrot purée and sweet onions.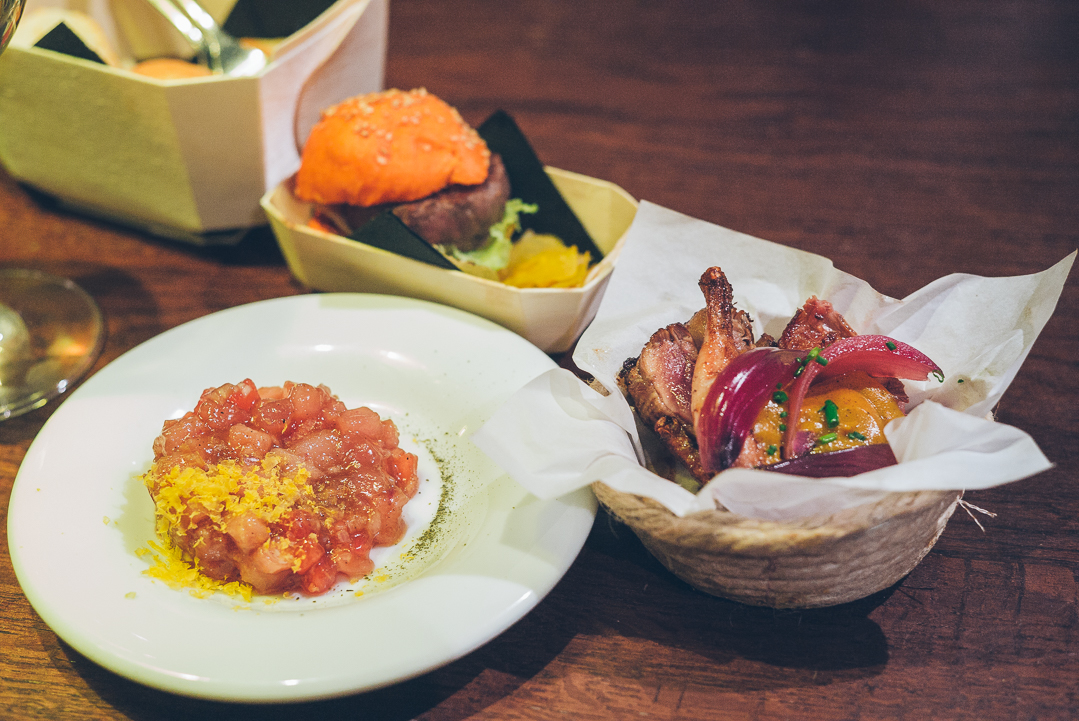 Freshness and sweetness, nice pairing of tuna and watermelon.
Then to that famous wagyu slider, cooked rare and served with plantain chips. The patty had a bright grassy flavour. Don't know where the wagyu comes from, but if I had to guess, then most likely Nuestro Buey. Good slider (though it wouldn't thrill you if you liked Lucky Chips' sliders at The Player, which were better).
The best of the lot was definitely the quail. Cooked rare, so juicy and pure in flavour. Great bird.
Snails & cabbage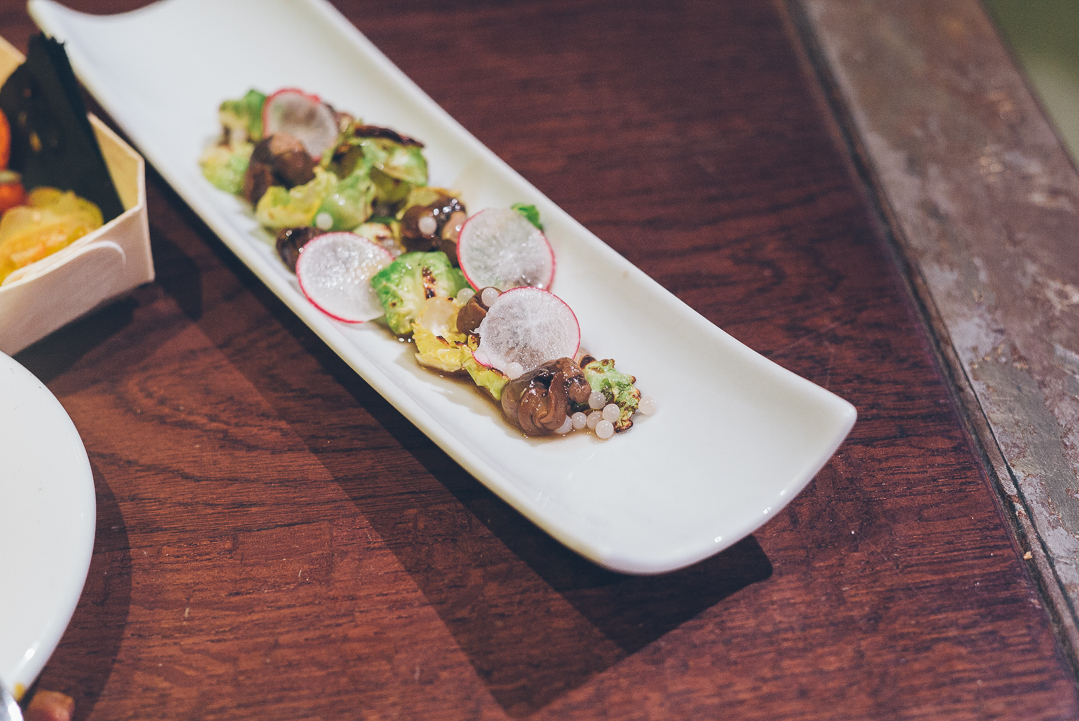 Snails, tapioca & brussel sprouts hearts. Good salad.
Bar Martinez
Calle 31 de Agosto 9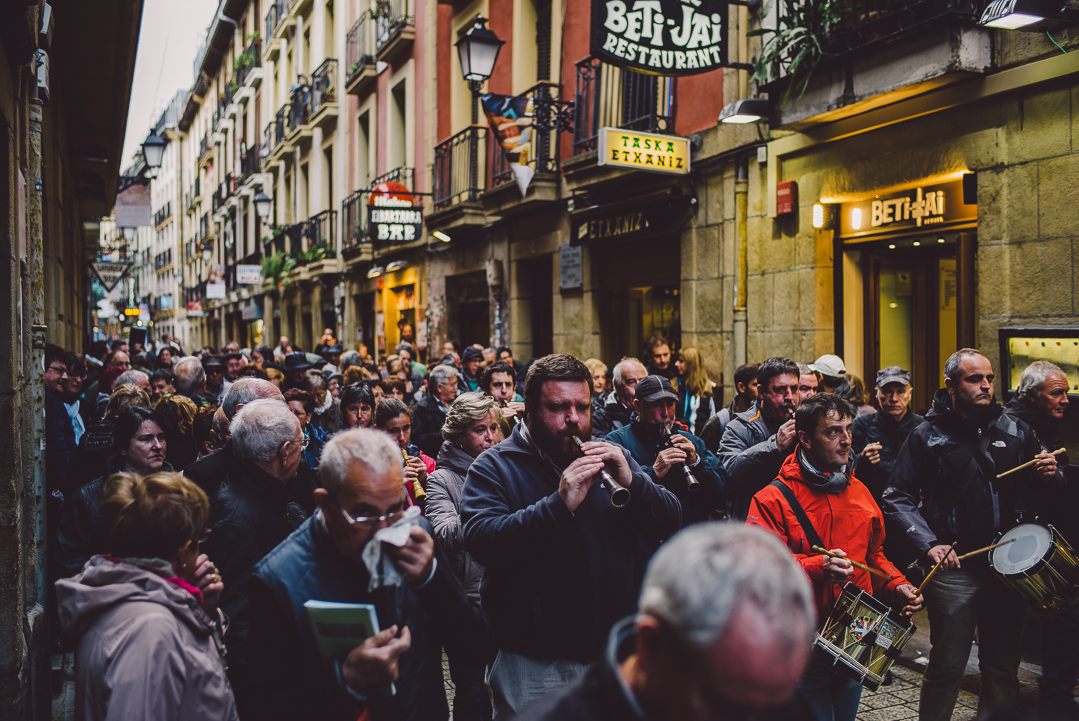 It was Saturday morning and (seemingly) out of nowhere, this all singing marching band took over one of the narrow streets. Cue tourist-in-awe moment.
Jamon, Hake roe, octopus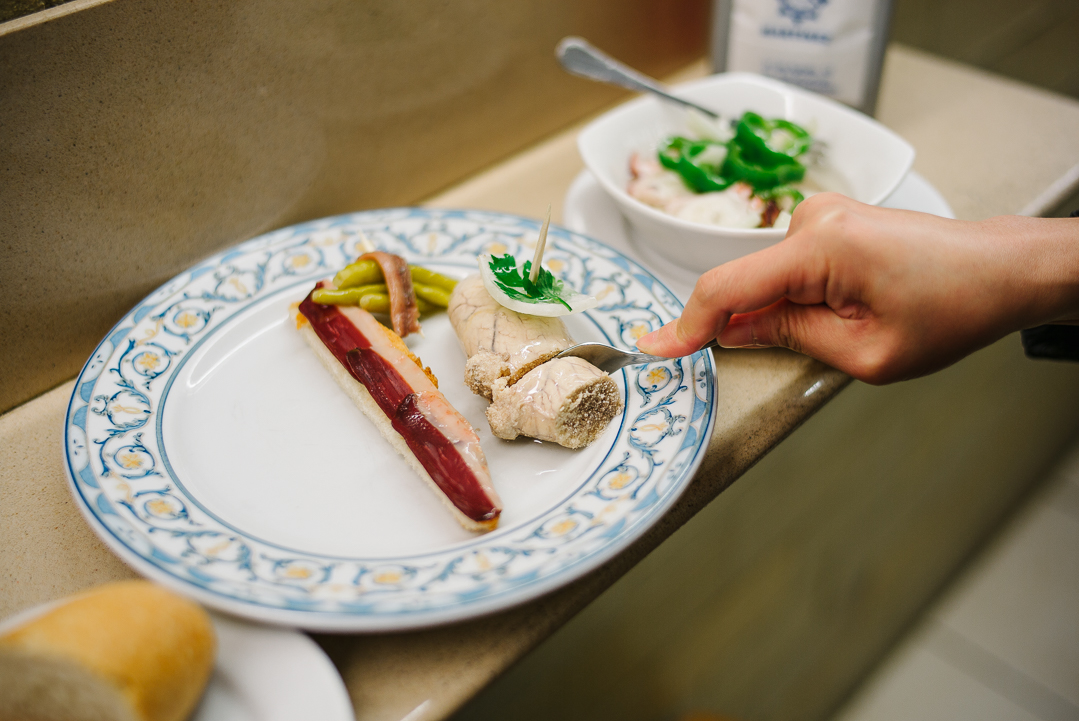 We popped in here, while we were waiting for Nestor to open up. Nice Hake roe and even better bowl of pickled octopus.
Bar Nestor
C / Pescadería 11
I wrote about the steaks here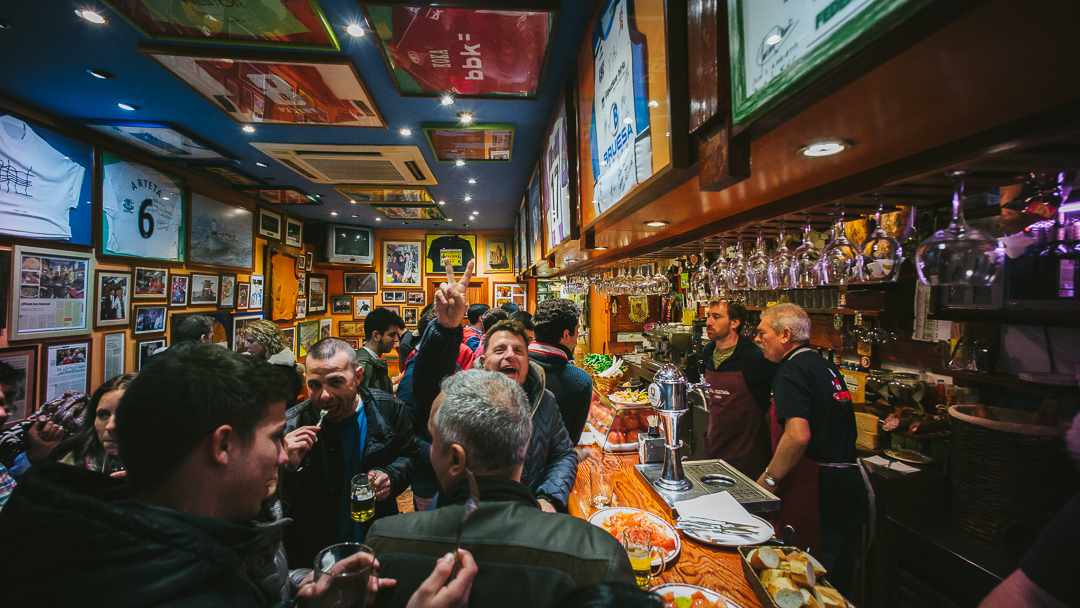 Tortilla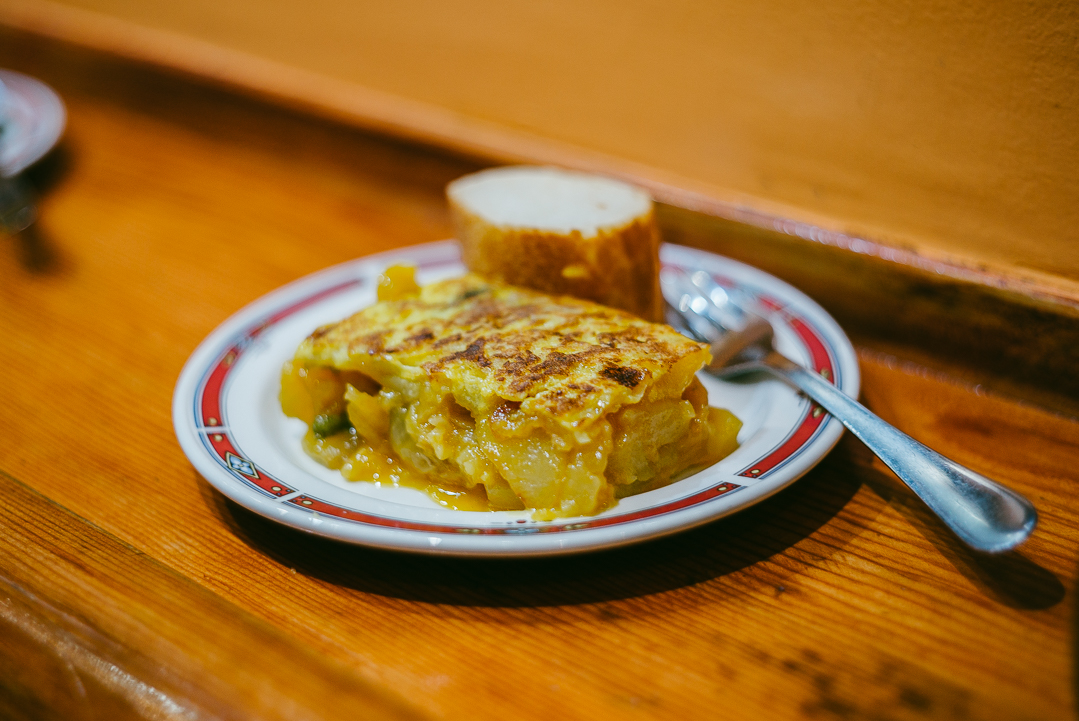 Only at 1pm and 8pm, and you must pre-order at least an hour before those times, otherwise you will miss out. Believe the hype, its the best tortilla you'll eat.
…. Meanwhile, in Bilbao
Bar Irrintzi
Santa María, 8, 48005 Bilbao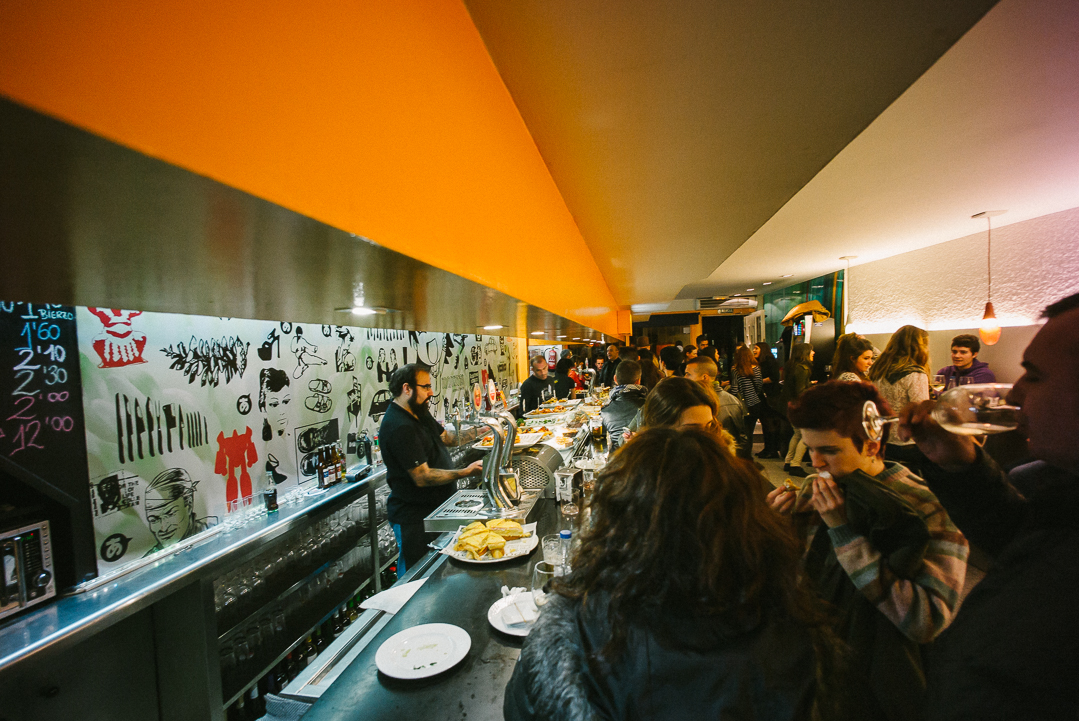 Bilbao's parallel to Fuego Negro. Nice vibe, has an artists hang-out feel. They re-heat your plate upon request. The pintxos look great but I thought they tasted just so-so. General comment when comparing Bilbao pintxos to Donostia.
Clockwise : Squid, langoustines, squid ink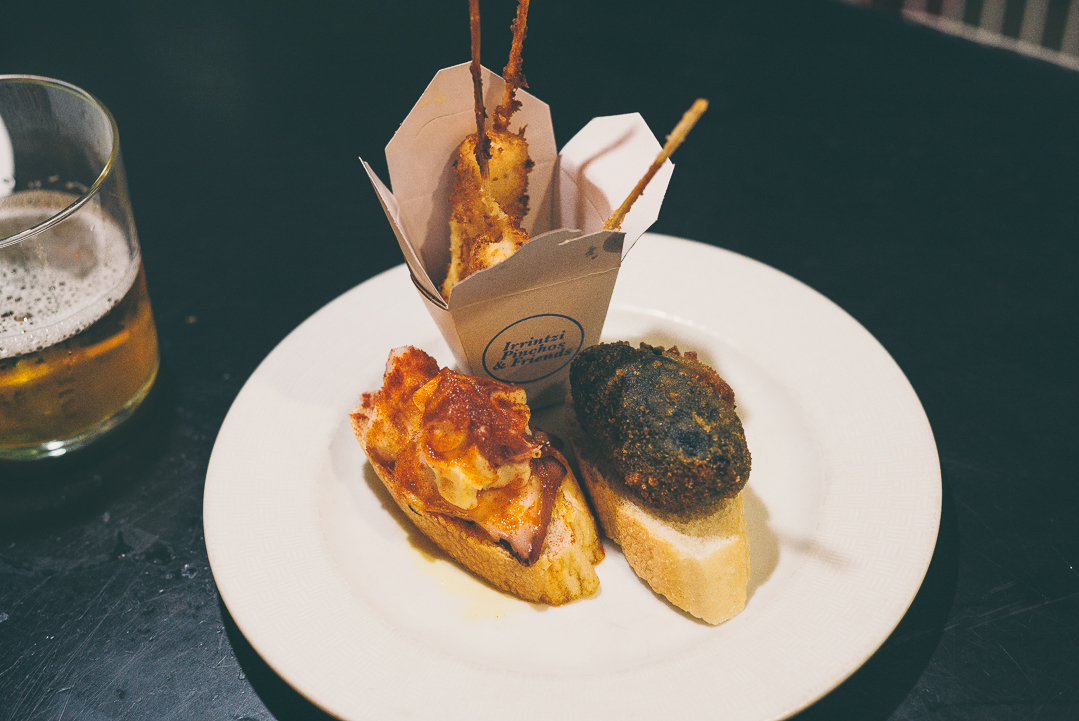 Berton
Calle Jardines 11, 48005 Bilbao, Spain
L-R : Cod with some kind of butter sauce, really good; raw hake in garlic & olive oil (I'm guessing);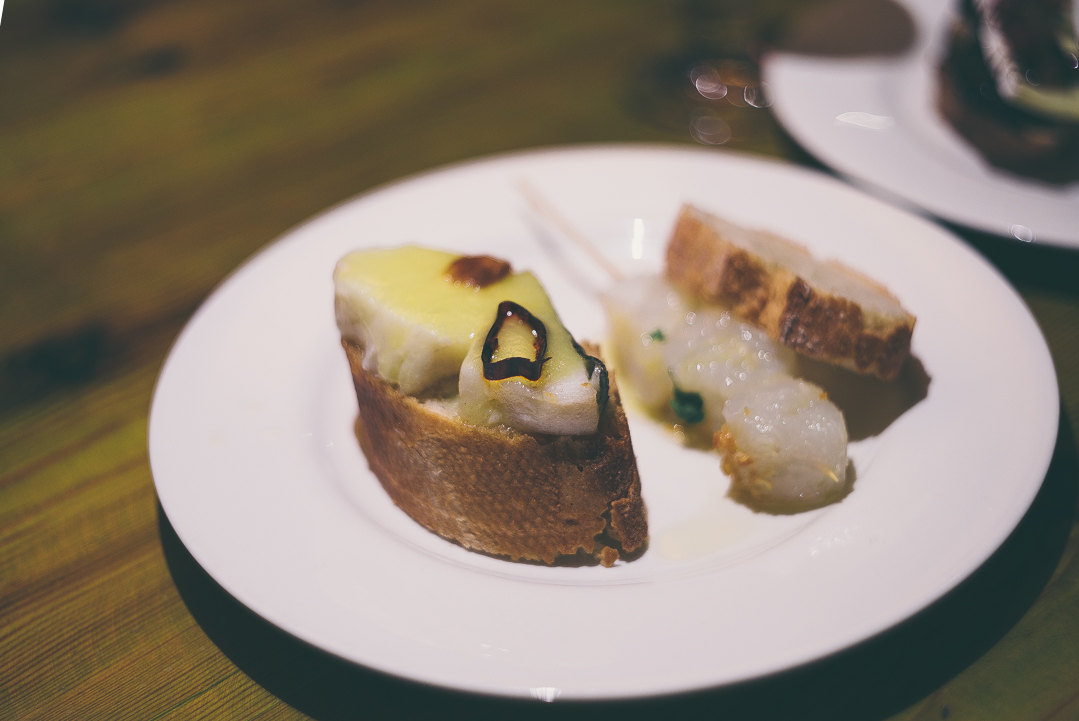 Good hake.
L-R : Cheese & quince ; olives & anchovies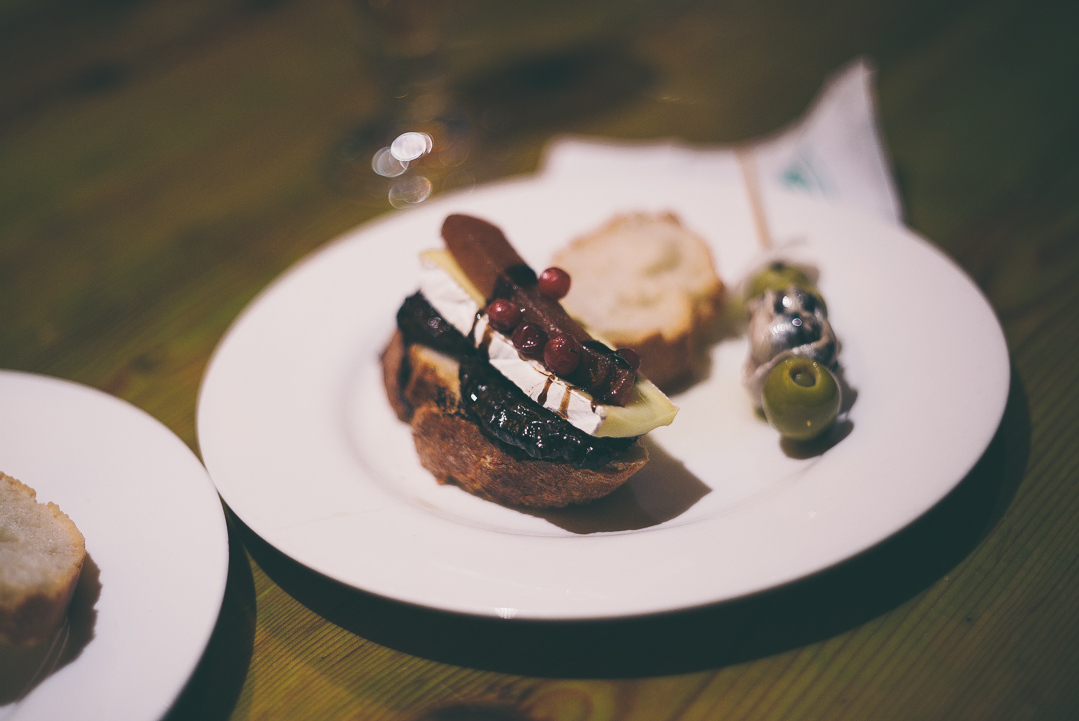 Victor Montes
Plaza Nueva, 8, 48005 Bilbao
Brasserie feel, uniformed waiters. There is also a sit-down restaurant. The food going to the restaurant really looked good.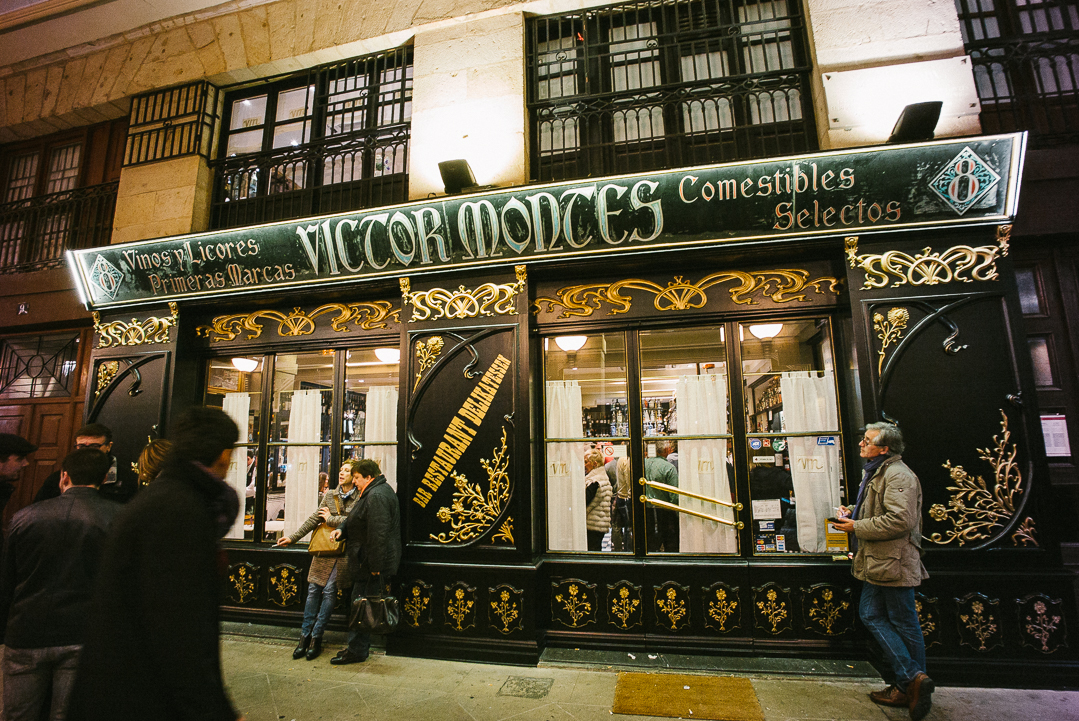 L-R: Egg & Jamon; Spider Crab ; Baby Squid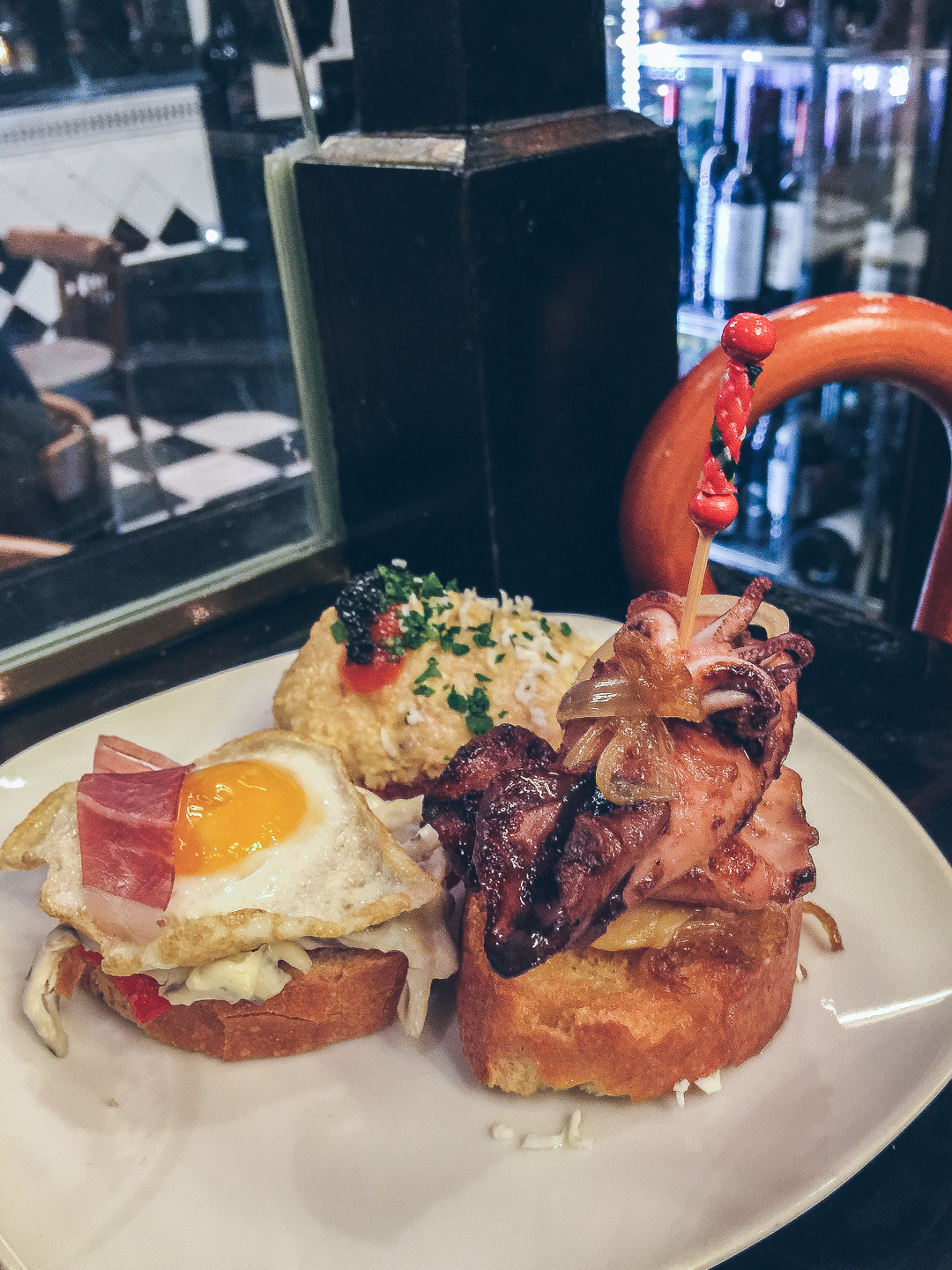 Spider crab. Best pintxos I ate in Bilbao. I had two and then a couple of bars later and had another.