The current iteration of Lockhart is, by now, a well-known purveyor of Southern American cooking in London. It is located in what could be a sort of mini food quarter with Donostia & Vinoteca nearby, in Seymour Place. I never went to the original Lockhart which opened last year (lobster nachos etc) when Andrew Justice was in charge of the kitchen. According to Fay, however, I apparently didn't miss much.
Earlier this year, the owners brought in Mississippi born Chef Brad McDonald to rejuvenate the menu and so far it looks like he's already amassed a substantial following. He's crafted soulful dishes of his roots, but with really good British produce as seen in his IG feed.
I find this restaurant just very slick. Very admirable operation and it's the type of place, I'd like to say I routinely visit.
It all feels very human and organic but also has a precision about it – only his best stuff on the short menu. Brad is the very image of the the folk star chef, with the folk star beard. He has previously worked in Noma and Per Se, and then at Colonie, in Brooklyn, where he had made his mark with his take on American South cooking.
The decor is both very clean and quite quirky. Exposed brick walls, shiny metal ceilings, natural colour scheme, unpolished wooden floors. Pine fresh interior design, has a communal feel – the Apple Store of restaurants?
I had visited twice in the same weekend in February, both for lunch. The first visit was a solo Friday afternoon thing. I had such a positive experience that I went back the following day with a table of five to sample more of Brad's awesome cooking.
Though, booking the second visit was a truly odd experience. I asked my server for any availability on the next day, after I finished my Friday lunch, but was told they couldn't do a table of five, at any time on Saturday. At all. 12pm? Nope. 1pm? Nope. 3pm? Nope.
So I was slightly surprised when I went home that night and easily booked it through their website's online system. When we showed up the next day, the restaurant was busy but not full for lunch, so … I'm laboring this a little, because this is the first time I've had this odd sensation of being lied to by a restaurant. Maybe they just didnt want my immediate return business, because I had such a glowing solo lunch and they didnt want to spoil that impression? Or maybe, it was all just a big misunderstanding on my part, so no negative feelings from my part yeah.
Anyway, strange booking experience aside, the food is 100% worth it. I've combined descriptions from both visits below.
catfish goujons & grilled chicken oysters £5 (half & half)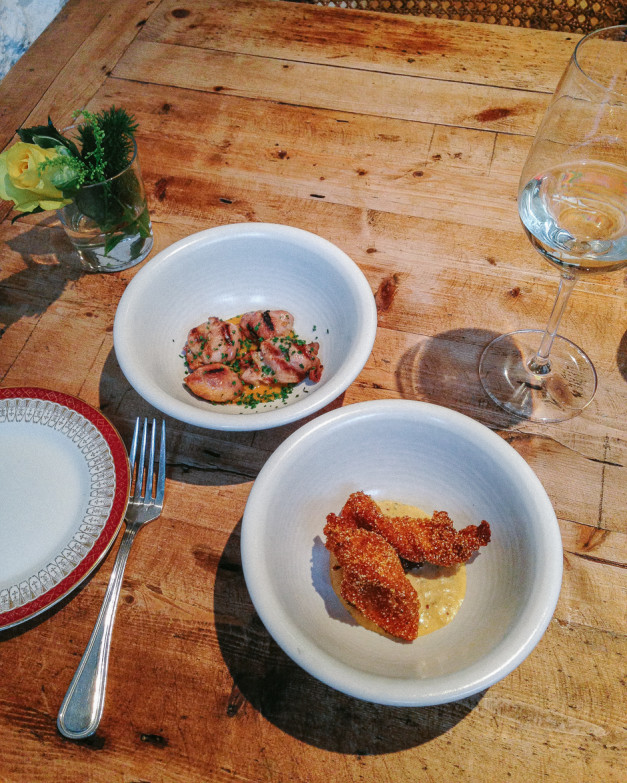 Mmm.. chicken oysters, nice. That mustard sauce served with the chicken oysters – warming sizzles! Like a yakitori, but served with surely London's best lemon mustard sauce. Zing!
The catfish was a legitimate omg moment. Very full, juicy and flaky, it is fish, but it's like biting into a ripe peach. Served piping hot and covered with a sort of corn batter with a bit of kick. It's been what, six months since my visit? It's a more than awesome starter, in the same category as the Young Turk's buttermilk fried chicken dish. Well done.
cornbread & honey butter £5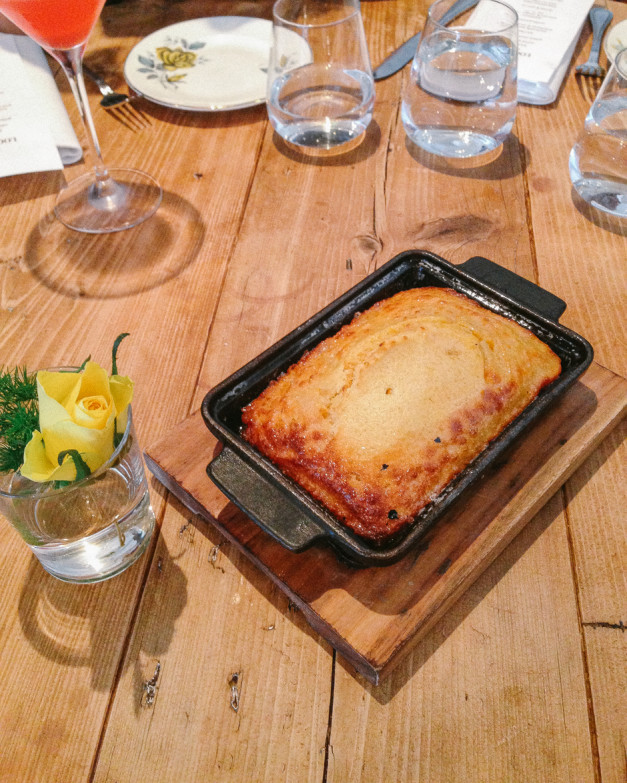 They cook this to order and it comes out piping hot, aromatic, fluffy, spongy, sweet, buttery, heavenly, almost too much of a good thing.
2012 kung fu girl, riesling, columbia valley, washington , £36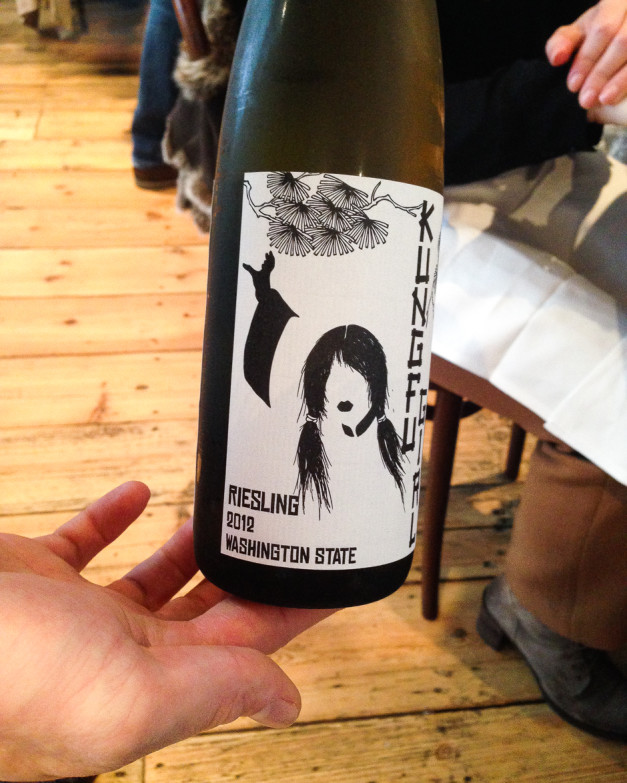 The house wines are respectable. The chard was smooth & buttery with a lick of oak. The merlot was smooth & sweet, also with a lick of oak. Both by Wandering Bear, Californian. I had a glass of each on my first visit.
The following day, we drank a bottle of Kung fu girl Riesling, made in Washington State, which was really delicious. Classic fresh nose, but with a wild burst of fresh acidity, it just sizzles on the palate. Then you get this sweet round fruitiness on the finish. Very clean and pure and 'grapey'. Lingering finish woohoo… Glug glug glug…
fried chicken plate with sweet potato purée, purple sprouting broccoli £12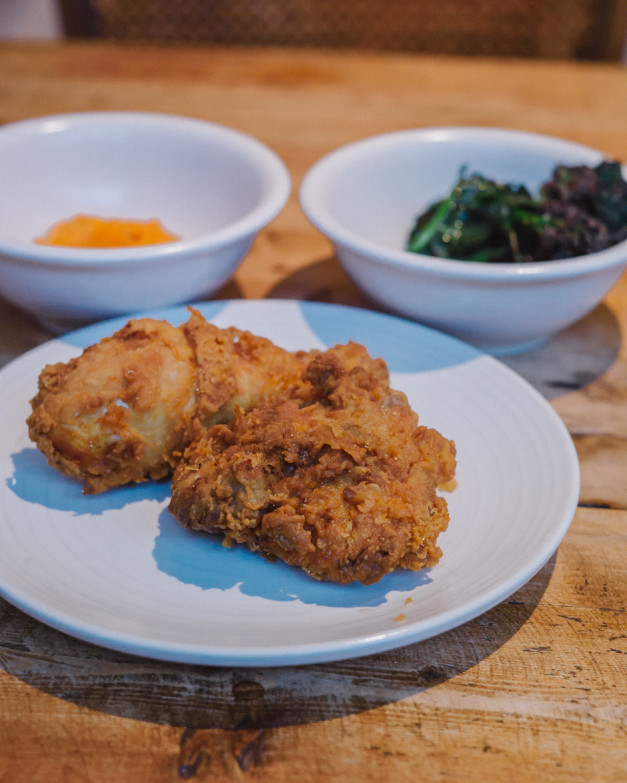 How do you give an opinion on fried chicken? Have you really ever had bad fried chicken? I like my local Chicken Cottage (actually, I think they call themselves Best Fried Chicken) on Kilburn High Road, it's really dirty for £1. Drinks really well with a good claret, Pauillac de Latour for example. 09. Hah.
Brad's fried chicken is obviously very good. The recipe for the batter is attractive and the chicken tastes fresh & juicy, like it was fried in clean oil and all. If I shut my eyes for a moment, I can just about picture being served this in a loving home. Oh man, I want some fried chicken now.
But I think this isn't really about the fried chicken, rather the chicken is to compliment the killer sides, the sweet potato purée and the purple sprouting broccoli – class.
catfish gumbo £9
On my 2nd visit, I had brought along a friend who spent part of his youth in Houston, and he explained his own nostalgia with cajun food, during his trips to the Carolinas, Louisiana. Anyway, long story short, he loved Brad's gumbo. If it's good enough to access old memories, then it must be pretty good.
Amazingly, I forgot to take a photograph.
shrimp & grits £14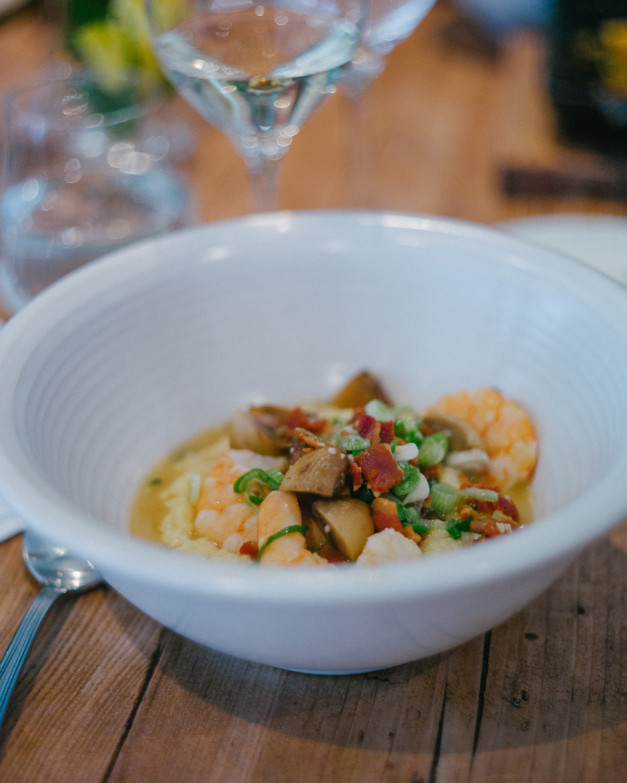 Wow.. aroma attack! Scallions, mushrooms, vinegar, crispy bacon… this is reminiscent of Carbonara at Roscioli. It's that good! Cheesy, smooth grittiness.. oxymoronic but hey presto, it's all magic like that. . Masterpiece. Faint pepper spice. Just glorious.
Lemon Icebox.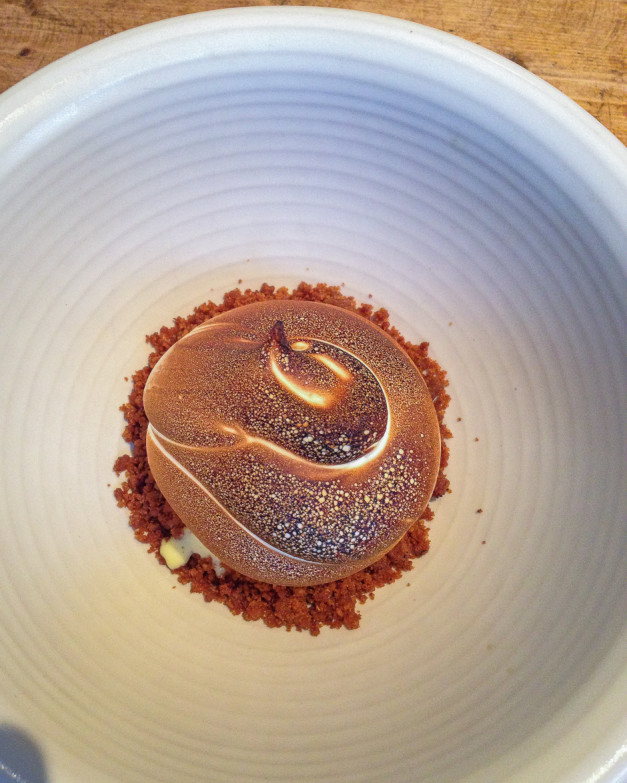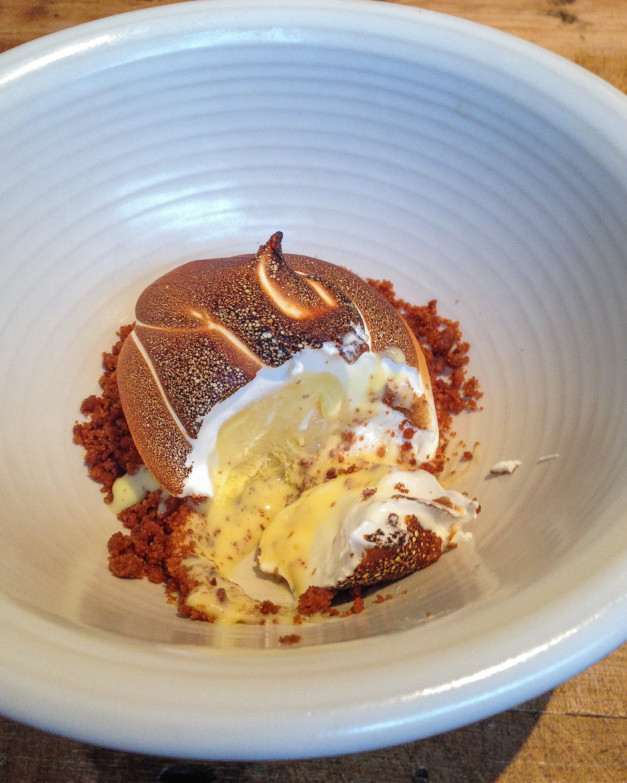 Best meringue lemon pie I've ever had. Like a baked Alaska – with lemon ice cream. Thick milky, lemon cream, completely seamless, with indeterminable air pockets. Burnt top, but sticky & still nearly liquid meringue on the inside. How can you not enjoy sticky, sugary, undercooked meringue? Love it. Like a reverse key lime pie or whatever. Extraordinary.
Our general niggle of the meal was mainly with portion size. All food come in bowls that looked relatively large compared to what it contained. The portions weren't small, just probably not big enough. Maybe they should serve a little bit more. 30% more.
The solo Friday meal costed £45. The next day's bill was a little less, per person.
I think the menu is well-priced and I really think the cooking is top end stuff. For once, it's not dirty dude food, rather it is a clean and precise experience. It all looks deceptively simple, but i think if you pay attention to the details, you'll notice lots of subtleties in Brad's recipes. I already made the Roscioli comparison and I do think there's some proper skillz at work here. This is what comfort food looks like when done right.
Brad's unique cuisine is a worthy addition to London. Judging from his IG, I think he could be adding more strings to his bow, so I'll revisit again soon and let you know how it goes.
THE LOCKHART
22-24 SEYMOUR PLACE
LONDON
W1H 7NL