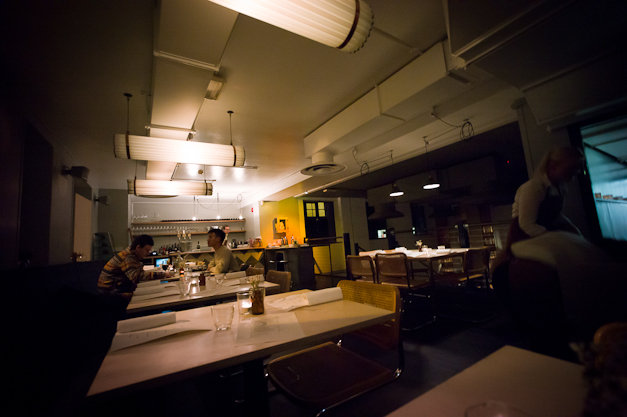 UPDATE – JAN 2013. *Ben Spalding has left John Salt. Neil Rankin now runs the kitchen over there.*
It was only April when Ben Spalding confirmed his inevitable departure from Roganic, the long term pop-up, where he solidified his reputation as a next gen force to be reckoned coming of age. Since then, he's spent the summer running two pop-ups starting with the occasional RoastSundays (which I tried) in collaboration with Daniel Young, and secondly his smart street-style Stripped Back project (which I missed), which took place at a school playground in London Fields.
I'm a fan of his cooking, you know, and there is no doubt that Ben has proven his talent in his field. Though what is most admirable about Ben's stuff is his ambition in changing traditional ideas about hospitality.
With John Salt, he's moved to another pop-up project, this time resident for a shorter initial period of six month, set across a large two storey space. This appears to consolidate all his previous work up to now under one roof, and is the perhaps his most ambitious yet.
On the ground level, the bar/mess hall serves an all day 'bar food' menu (ala Stirpped Back) Monday to Saturdays (any 6 courses for £34), sunday roasts are laid on for £19 with pudding. For dinner, Ben pulls out all the stops at the 25 seater mezzanine level, I suppose a continuation of his Roganic work, with choiceless menus by length starting from 4 courses (£28) , 8 (£56) and up to 12 for £84.
I went last Saturday for a solo dinner and noticed how the restaurant got darker as the night wore on with the bass from downstairs thumping progressively louder. So even though the subject matter is serious cooking, the venue is much less so. I have dispensed with the usual blow by blow descriptors in favour of a set of photo pin-ups made from the phone…no Leica at the table for this meal..
No.9 was a 'warm spiced apple and pomegranate fizz' spritzed from a brushed metal soda siphon – also a feature at Roganic.
Things got off to a flying start with the spread of canapes, more tactile than the norm: Crisps with a lemon-curd like mayo for dipping, a fried meat croquette accompanied with its own aioli and to finish, dashi served like tea, in a cup filled with – if memory serves – dried seaweed that unfurled as the hot clear soup was poured over it. Wooo… memories of Yamanochaya in Hakone. The 45 ingredient salad (served with 3 day soured-sour cream) could have been all gimmick, but turned out to be a playful example of controlled chaos; Flavours gradually changing as I worked my way around the plate.
Bits here and there looked recognisable from Roganic, but largely I think his recipes have progressed further, extrapolated and are just that bit more developed. Techniques seem New-Nordic modern, yet also vaguely Japanese-like. It seemed like key ingredients were conditioned to concentrate flavour, some things dehydrated then powdered (like organic own-made MSG, I suppose) and other ingredients left to pickle.
There were no bum dishes, I enjoyed everything I ate and felt each dish was a perfect storm of ideas, whjch appeared to fit in with the overall structure of the taster menu. The flavour pairings seemed uniquely 'new' and I felt as if a lot of care and focus had gone into constructing each dish. Everything turned out tremendously well, as if the result of much brainstorming, realised in a systematic manner to find that age-old sweetspot of balance, perfection and wow factor. It was not immediately obvious to me when it came to pin pointing the origins of these 'new' flavours I mentioned; Not entirely European or British nor did I think it was entirely Asian, though I did feel like it was a Le Fooding-type Kaiseiki. Or something.
Take the scallop sandwich, with freshly grated truffle at the table and with a cider butter sauce, that you could pick up like a sloppy mini slider. A bamboo steamer preserved a steaming hot towel to clean up the muck afterwards. That sauce was sweet but also spicy and fruity (Hawaiian…French??) Like seaweed cooked in kiwi juice that smelled of earthy like the forest floor – or something – which doesn't seem like it should work, but it did, and it was delicious.
I also enjoyed the softly poached wild salmon in maple syrup, served with kaffir lime creme fraiche, 'rotten' mango juice & toasted almonds, making for a sweet-ish fish dish. The most intriguing aspect however, was this massive whaff of herbiness or spiciness, a fresh wasabi kick or maybe even curry powder. As it turns out, the spicy kick was from turnip tops, which according to the better half, is cooked with garlic and minced pork in Taiwanese cooking. Intriguing, nice experience.
And then there was the much tweeted brick course. Food has apparently progressed beyond just the interplay of flavour and texture, now that melting surfaces which impart flavour (caramel in this case) are introduced as the new variable in the edible diorama. The servers encouraged me to scratch or lick the solidified candied caramel. A playful setup yes, but I thought it held a formidable liver parfait, sweetcorn and crispy skin recipe that would have gone down just as well on cold white china. This decade's 'Sound of the Sea' perhaps?
Above all, I was probably most impressed by the carnaroli risotto served in a Japanese-style bowl. Cooked in a rich vacherin sauce, with sprinklings of crispy duck skin that gave this lovely whiff of fatty fragrance and a punchy pickled juice which I believe was made from grilled cucumber vinaigrette & chive oil. You could smell this dish all day long. Who needs truffle or veal jus when you can replace those things with a set of ingredients that do umami just as well. I licked this little bowl clean after devouring all four spoonfuls. The chive oil was pure magic.
For dessert, Ben's take on PB&J was masterpiece material. Spheres of sweetened peanut butter, grape jam in a crisp cucumber soup finished off with drops of mint oil. It tasted like PB&J sandwich, but in a cold soup format. As memorable as Knappett's baked fig pud. Superb.
Wines were equally an adventure, I didn't recognise any of the winemakers on the list, though it may that my knowledge of grape juice is in itself quite limited to big brands in wine. I started with a glass of fresh & fleshy 2009 Carnuntum – an Austria wine region growing the varietal Blaufränkisch – by a Portuguese winemaker, Dirk Niepoort. Then I ate the thumb-sized heel of beef with a 2010 Terres Chaudes by Thierry Germain. A Cabernet Franc from central Loire, which was so gravelly and precise, that it could easily have passed as a Pessac-Leognan. I thought service was top notch throughout, level-headed, friendly but not overbearing.
I paid £109.69, dinner for one which included service and filter coffee as part of the 12 course menu.
This was a phenomenal meal for me. Now that we are nearing 2013, this certainly stands out as a memorable highlight this year. The range of flavours displayed was just awesome. It's totally out there but there's enough reality, so in my opinion, it strikes a nice balance. Here's one Ben Spalding fan thoroughly satisfied with his current body of work. And now to plot a return for the bar menu and a sunday roast …jugs of gravy & banoffee pie…mmm…
Details
John Salt
Modern. £34 to £100.
131 Upper Street N1 1QP
Tel: 0207 704 8955
Overground/Tube: Highbury & Islington
Did you enjoy reading this? You can subscribe to the Newsletter. Alternatively, you can subscribe to the RSS feed.