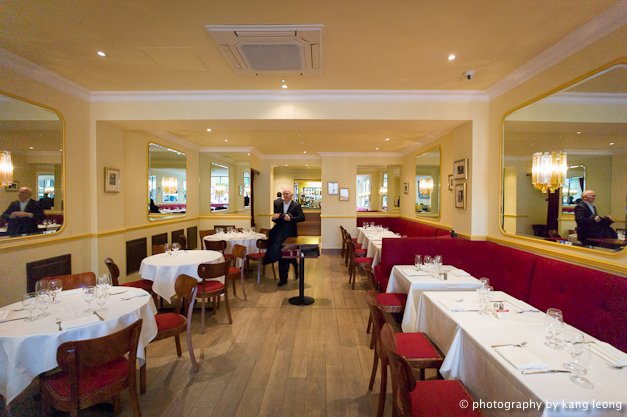 About 7 years ago, I lived directly above what is now Eric and Didier Garnier's eponymous French brasserie. Back in those days, a Spanish restaurant occupied that space and I remembered it being a dark, old and musty kind of decor serving food that is best forgotten. So to see what the new owners have done with the place – clearing out the cobwebs and replacing it with a beautiful & nostalgic red, white and gold decor – is a little surreal.
There was a time when bistros were on the rise but the deregulation of tastes continued beyond timeless cooking and promptly died when 'gourmerised' American fast food started taking off. But I sense a revival in the making, after all, who doesn't love a bit of butter and cream?
Eric is ex-Racine and at one time ran it together with Henry Harris. His brother Didier runs Le Colombier in Chelsea – also a Parisian-style brasserie – and before that, Eric has had a long career being associated with many a London restaurants in the past. In the kitchen they have enlisted Swedish chef Andreas Engberg – also ex-Racine – to lead proceedings and together this team has recreated the joy of the brasserie experience.
The menu comes in a nice retro red leather binder with laminated pages. The ALC isn't cheap with mains ranging from £20-£32 but you DO get what you paid for. On the otherhand, the set lunch is exceptional value at £18 for two courses + coffee.
I like the wine list, it seems good value and have a number of reputed classed growth Bdx including stalwarts like Cos, Lynch Bages and Calon Ségur. (Embarrassingly, my knowledge of Burgundy is limited and the only producer I recognise on the list is Denis Mortet.) There are two very nice Pessac-Leognan labels, my personal fave Chevalier and the rising star Smith Haut Lafitte at relatively reasonable 2x mark-up, for a stellar 2005 vintage too.
On this visit, I chose a 375 of 2009 Le Colombier (£17.50) – the 2nd wine of Chateau Brown, also from Graves. It was typical of the quality and early drinking appeal of the vintage. A lush, candied nose, lots of dark fruits, concentrated but still pretty elegant on the palate with nice chocolate notes too probably from the Merlot content. Ultimately a tasty lunch red.
Roast Scallops, Cauliflower Puree, Pickled Girolles and Spinach (half), £12.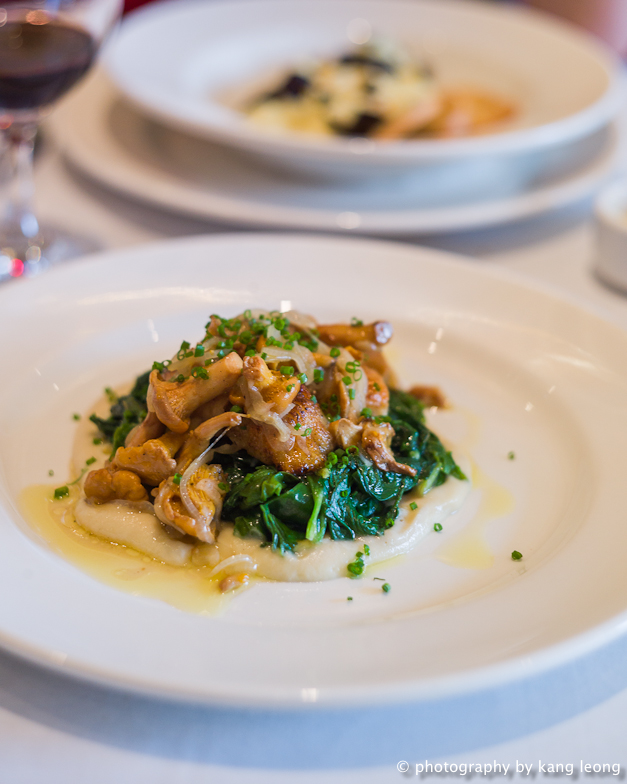 Oh the smell of pan-fried scallops. Sweet, toasted and juicy, just slightly transculent in the middle. Greatly complimented by the rich flavour from the puree and from the pickled mushrooms. So hearty with so much familiarity about it. Formidable and properly delicious.
Salt Cod Brandade (Set lunch)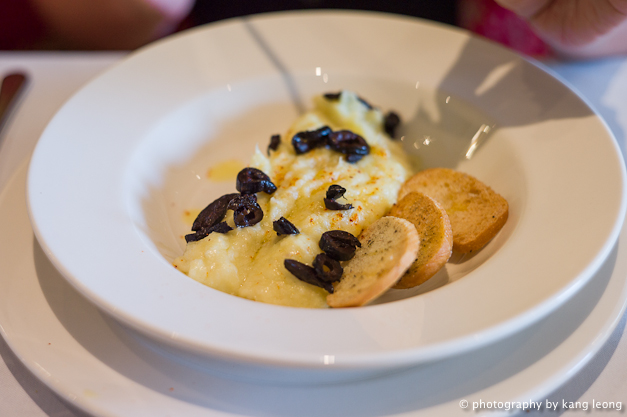 There's no trickery here, just hot, mushy, hearty, well-seasoned mashed potatoes with bits of salt cod perfect for spreading on baguette. Inviting and egalitarian.
Roast Hake (set lunch)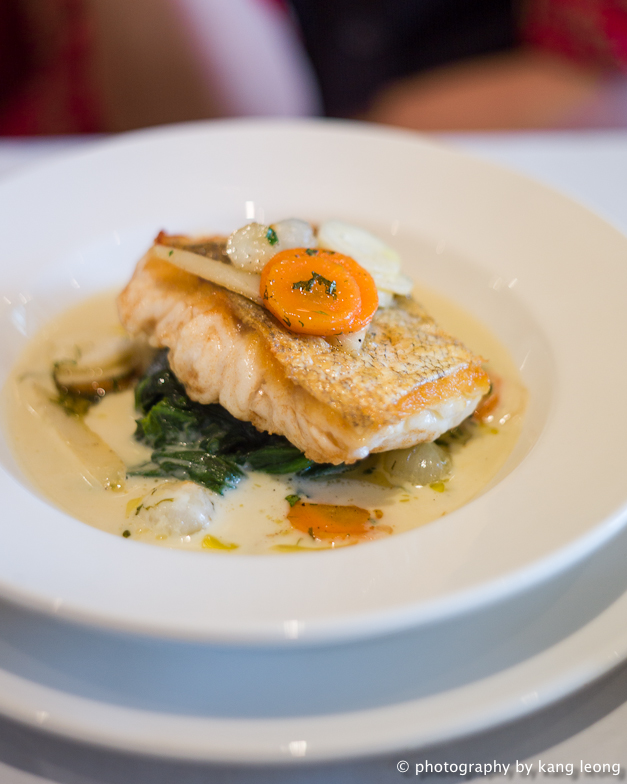 The velouté was absolutely divine, managing to be rich in flavour but also surreptitiously light. You could slurp this like chicken soup. The fish was of course perfectly cooked, perfectly flaky.
Grilled Veal Rump, Raclette Cheese and Pickled Root Vegetables, £19.60.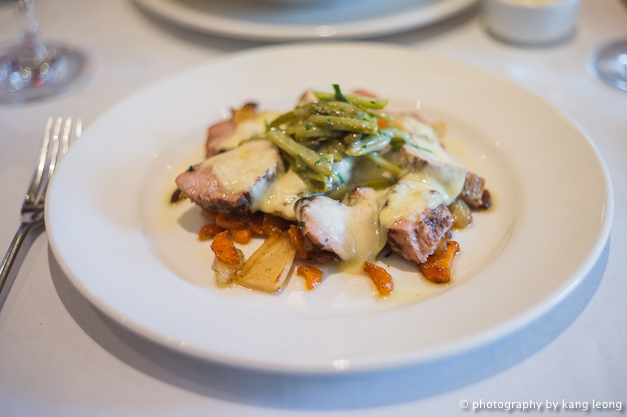 Who knew melted raclette worked so well with veal, which in turn worked amazingly well with the medley of pickled and pan-fried root vegetables. This contrast from the sharp sweetness of the cheese to the pickled saltiness from the vegetables was absolutely wonderful. I didn't expect the veal to taste so good – that flavour of perfumed butter – nor did I expect it to be quite so tender, more fillet than rump, this was one of the best veal dishes I'd had in memory. Just magnificent cooking.
I asked how they managed to cook such great meat and the reply I got indicated that all credit was due to their butcher – how modest right?
Ïle Flottante £ 6.90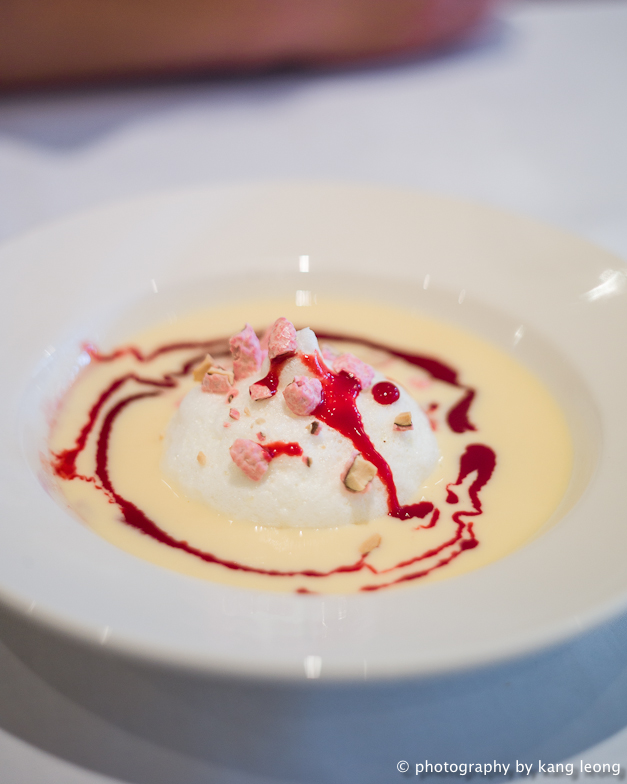 Ah… memories of Fontaine du Mars. An airy meringue light enough to float on the custard soup. It was nice but I wish I had ended on cheese instead.
The bill came to £92.92 including coffee and a glass of dessert wine.
I cannot believe how this restaurant could be so empty for Saturday lunch – only 4 tables on my visit. At this quality and at this level, Garnier deserves to be packed to the rafters for every service! Yes certain dishes seem just a little pricy on first glance but I think you really do pay for the quality of food. On the other hand, the £18 set menu is just a no-brainer – fabulous value for money and generous portions.
All the dishes we ate were classic. The cooking seemed so correct, every dish tasted like they were meant to taste. The similar feeling when I first visited Medlar, like rediscovering a lost love, the type of French cooking that leaves you feeling utterly satisfied. The fire in these lakes bubble with excitement and probably reason enough to compel a move back to this part of town.
One of the highlight meals I've had this year and a brilliant example of Cuisine Bourgeoise, in London. This is precisely the kind of neighbourhood restaurant that could become a regular weekend activity for me. Although if you had to travel, I do think it is absolutely worth the trek to Earls Court just to eat here. You could always aid digestion after the meal by walking to the museums in South Ken. It's about 30 minutes to the V&A.
Take advantage of the fact that they are not (yet) busy over lunch. It doesn't try to flog an untried gimmick or burgers and believes in old-fashioned things like non-sharing adult-sized portions and traditional technique. Garnier is simply a solid brasserie that delivers gratifying food. Highly recommended.
Details
Garnier
French. £45pp ; Prix Fixe starts at £18pp
314 Earls Court Road SW5 9BQ
Tel: +44 (0)20 73704536
Tube: Earls Court
Did you enjoy reading this? You can subscribe to the Newsletter. Alternatively, you can subscribe to the RSS feed.