2016 UPDATE: My review of the new Pitt Cue co in Devonshire Square is here.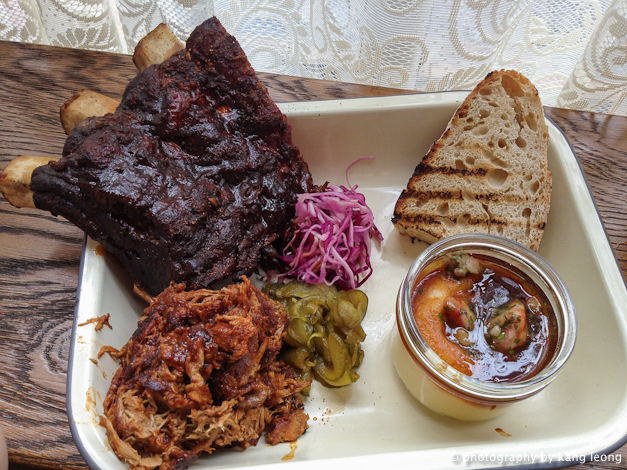 Yay, I finally ate at Pitt Cue. It is impossible for you to not have heard about this enormously successful BBQ sensation. It has certainly been the most talked about restaurant this year. With its tiny 16 or so covers in the basement, it has entertained spectacularly patient diners willing to queue for hours just to taste their smoked meat. The food has got to be great I'm sure.
I went last Friday at 1pm, and sat at the bar upstairs. There was no queue. I had the beef ribs with extra pulled pork , bone marrow mash and a glass of the house draught – the whatever.
Certainly very good ribs, but not sure they are as godly as its hype. The meat was fall-off-the-bone juicy, and I would have gladly eaten another rack. I really like the thick wedge of toasted sourdough and thought the pulled pork was equally delicious. The marrow-gravy mash was a bit meh, but who cares right – it's BBQ!
I paid £23.06.
It will be interesting to see how Pitt Cue is sustained after all the madness dies down. I think the food has definitely come on in leaps and bounds since its original truck days under Hungerford Bridge. I had attempted queuing before, even showing up before doors open, but we simply became too hungry and ended up settling for Bodeans nearby. Personally, I don't think the food is worth the wait, but I can certainly understand why some of you do.
Details
Pitt Cue Co Soho
Ribs. £25pp
1 Newburgh St Soho W1F 7RB
No Reservations.
Tube: Oxford Circus
Did you enjoy reading this? You can subscribe to the Newsletter. Alternatively, you can subscribe to the RSS feed.