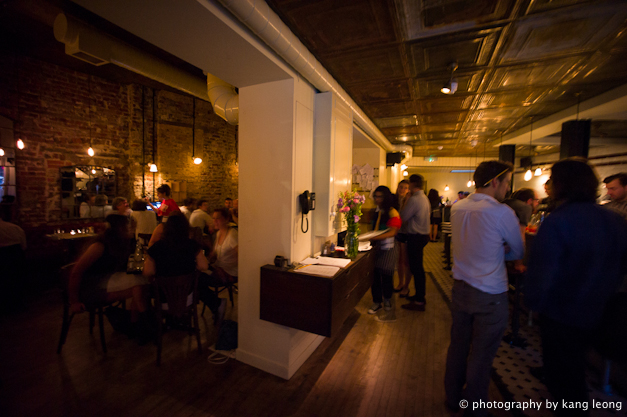 After taking time out to launch his immaculately designed Polpo cookbook, Russell Norman (and Richard Beatty) are back to open the third arm of Polpo, the first outside of Soho and their sixth opening overall. I went along to a preview last Friday – I did not pay as it was a test run – and found that much of the same electric ambiance has been built into their latest Venetian-ish bacaro. The site is either the least narrow of them all or the first Polpo to have a dining room. The Negroni bar in the basement was not quite ready yet on this visit. While it may not see a church spire, this site does possess a modest skylight which illuminates a cosy (& romantic) corner table for two, tucked away behind the bar. That table features a sawed-off twist, generally speaking I like private hidden away corners in restaurants. It's perfect for bloggers you know, we're hideous creatures with heinous cameras and iPhones attached to our limbs.
There is now inevitable standardisation as the growing Polpo brand is consolidated, though the off-shoots Mishkin's and Spuntino remain unique; Polpetto with Florence Knight, having run its course at the French House, will relaunch sometime in the near future. I'd found out last month when I visited Da Polpo that it had quietly dropped its article, and now is simply Polpo Covent Garden.
The food has never been fancy, but it has always remained consistent, accessible and well priced. The Smithfield menu looks similar to the format propagated by Da Polpo when it first launched. Meatballs, sweet and savoury pizzette, chocolate salami, tiramisu, that kind of thing. No risotto or osso buco on the initial visit, but I'm sure they'll rotate it in with the seasons.
On this visit, it does seem like they've made fine tweaks to the recipes. The pizzette base is now crispy and paper thin. Much crispier than I remember it. While the skirt steak has improved to a substantially thicker cut, with a white truffle sauce, lots of rocket, but now only marginally under a tenner. I'd like to see the saffron pears with meringue appear on the menu, if the sunny weather is sustained. Otherwise, we enjoyed our meal all the same. It feels exactly like the other Polpos.
Hard to believe it was only a mere 3 years ago when Polpo opened as the hippest restaurant in town which then 'defined' a new kind of London restaurant. Now of course, Polpo has matured into an institution in its own right, but expansion always brings a new set of challenges. I've been to all his restaurants and I suspect there might be more on the horizon from the most industrious restaurateur in London. This will come as no surprise, so I will continue to observe his developments as I have done over the years.
Full disclosure here, I did not pay for this meal.
It officially opens today, so if you are a hardcore Norman fan looking for dinner ideas tonight, you should know there are 50% discounts today and tomorrow (30th-31st July 2012) at Smithfield. It is on a first come first serve after 5pm.
Aperol Spritz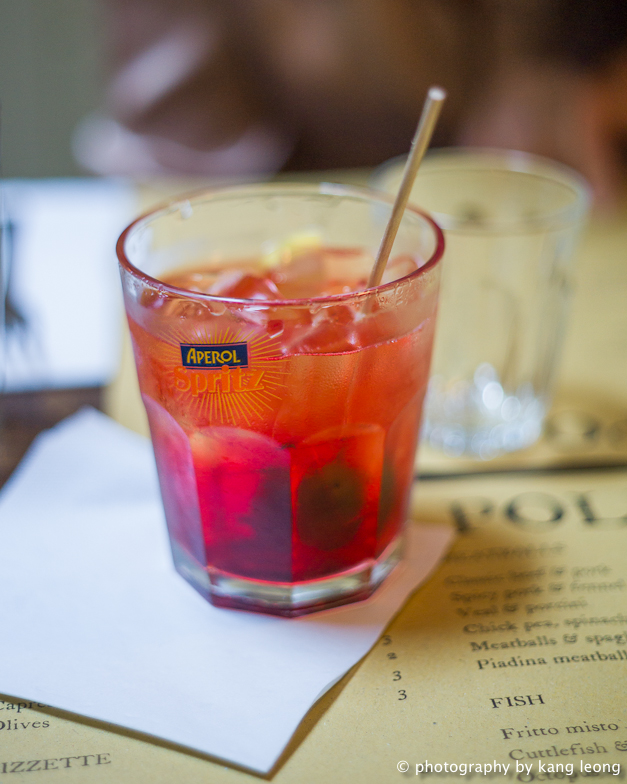 Mackerel tartare, horseradish & carta di musica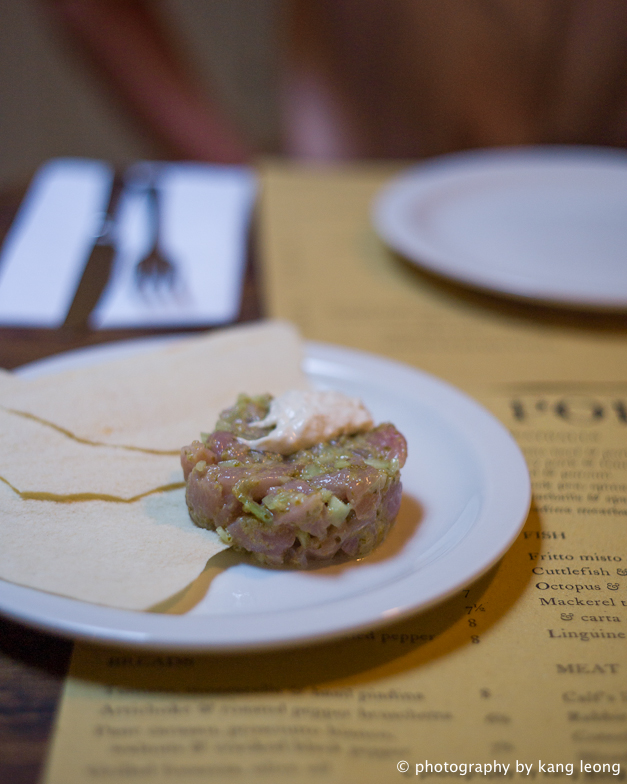 Spinach, parmesan & soft egg pizzette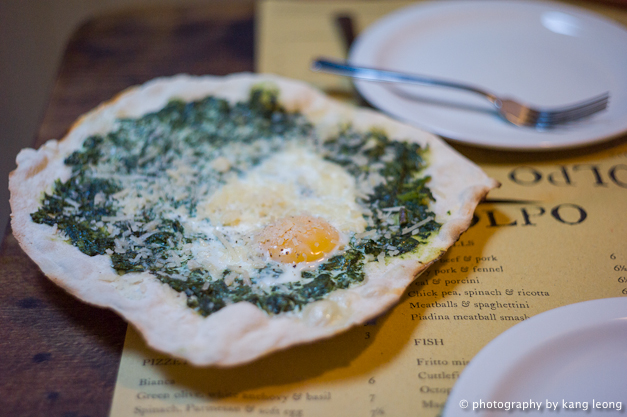 Octopus & potato salad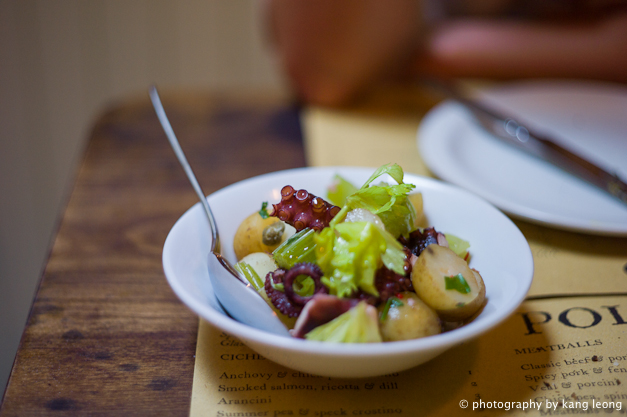 Linguine vongole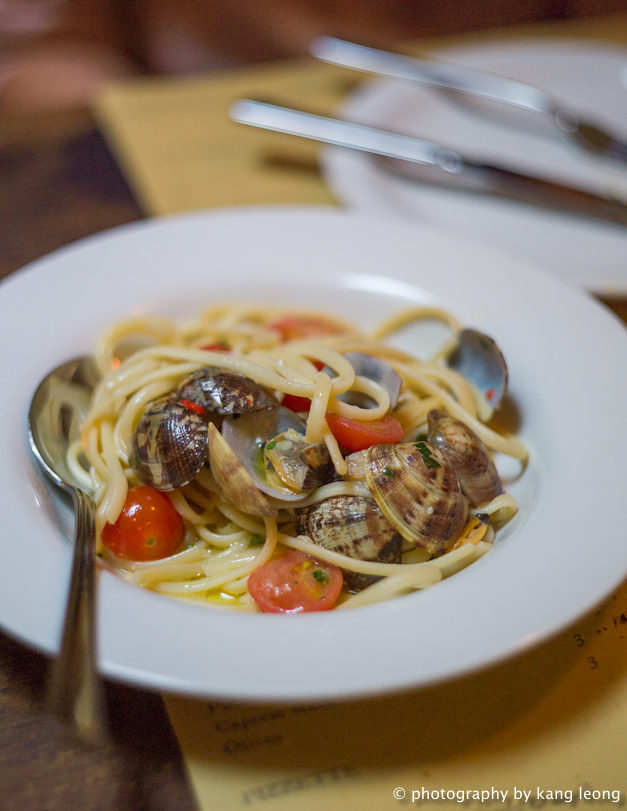 Sliced flank steak & white truffle cream
Nutella pizzetta; Cannoli, ricotta & English strawberries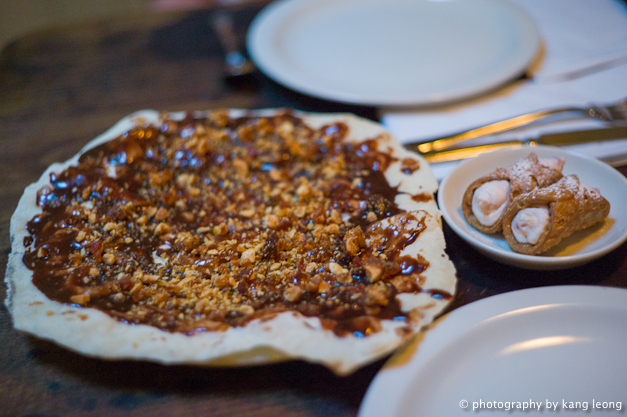 Details
Polpo Smithfield
£30pp Venetian
3 Cowcross Street EC1M 6DR
Tel 020 7250 0034
Tube Farringdon
Did you enjoy reading this? You can subscribe to the Newsletter. Alternatively, you can subscribe to the RSS feed.