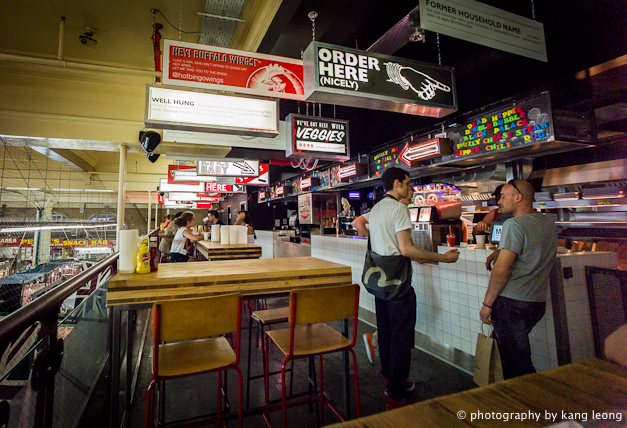 This is my obligatory nod to the original pioneer that gave (London) street food the tremendous popularity it enjoys today. Helped by extensive blog/twitter exposure it has – to a certain extent – changed the way we eat out.
It's hard to imagine a time when the only way you could wrap your mitts around a Yianni Papoutsis burger was to follow his free roaming food truck as it toured around London. The theft of the original Meatwagon grounded the mobile trendsetter and inadvertently led to the creation of the prototype better known as #MEATEASY. By then, they'd already gained cult status, but their popularity soared to new heights (outside of 'foodie' circles) when they popped up in a pub (formerly Golsmiths Tavern, then New Cross House by Scott Collins) under refurbishment in New Cross last year (to make enough money to buy a new Meat Wagon). In doing so, they accidentally created the greatest London restaurant to have never existed. I put it down to the fact that it had an inimitable atmosphere that was altogether tatty, grotty, speakeasy-esque in a venue that was genuinely so. Most of all however, the pub kitchen allowed Yianni and team to churn out their fabulous products with great consistency, albeit at the cost of long cooking times. But it was without doubt that they had served some of the best chilli fries, chicken wings, burgers and hotdogs the city has ever seen. MEATliqour enjoyed much of the same feverish success (and crazy queues), transposing the essence of what made #MEATEASY so special into the faux-abattoir interiors, that is itself fast becoming the main highlight for nights out.
These burgers were never gourmet and Yianni has always championed the greasy, sloppy, everyman junk food that burgers are really loved for. Given the popularity, their greatest challenge has always been maintaining consistent quality within sensible time frames, and being able to feed all the salivating palates who come in droves. Sometimes the burgers can be incredibly salty, other times incredibly bland, but when they get it spot on, the juicy, 100% chuck patties are peerless.
And at last with MEATmarket, this cultural phenomenon has been streamlined into a model that is recognisable as a fast-food joint with no table service, which – on the surface – seems 'franchise friendly'. Beyond the staple burgers and hotdogs, soft-serve ice cream and milkshakes (both with alcohol) are introduced to the Meatwagon universe.
The better half and I arrived on Saturday at 4pm where there were only a couple of people grazing on burgers. We ordered at the counter and waited for my name to be called.
In that time, I enjoyed a 'hard' shake (£5) made with bourbon (Woodford Reserve) and maple syrup (and presumably with the new softserve ice cream). I found it to be so smooth, so delicious and so addictive that I had to resist the urge to order one more.
Food was ready in 5-6 minutes – an amazing contrast to the predecessors. I have ordered burgers from Meatwagon at the very start of service before, with a short queue of maybe 4 – 5 guys. Even then, they took a good 15 minutes to grill the hand-formed golf ball patties.
Double bubble, £7.50.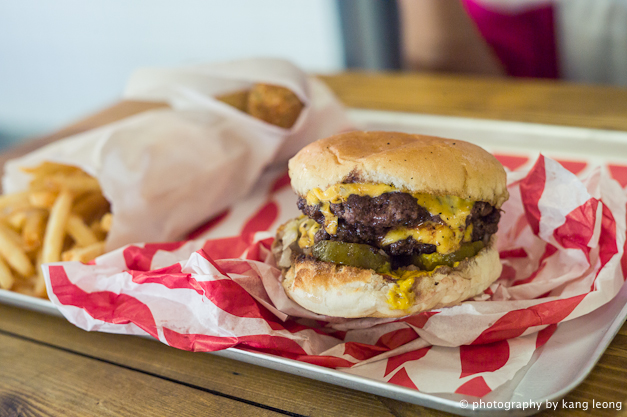 Double patty with pickles, minced onion, american cheese, ketchup and mustard.
Undoing the red and white striped grease-proof wrapping revealed …a sloppy beast! It looked like a Meatwagon burger alright. Gone was the hand-formed misshapen patty and replaced by two thinner patties that visually look like it may add up to the same weight (6-7oz I'm guessing). Presumably, this is what has led to the significantly reduced cooking times, since all MEATmarket burger options available are double patty variations.
Mmm. Tastes like a Meatwagon ….those rich beefy flavours. The mince is quite loose, almost like panfried corned beef, it even came slightly pink (we did not ask for preference). I noticed how the bread was moist and crumpled, and spotted metal cloches by the grill in the kitchen. But for me, my only grip were that the heart-stopping leak down the cheeks juiciness (which the classic burgers are famous for) were significantly reduced. Perhaps even missing altogether. Pretty certain my tin tray was dry after I devoured the beast. Maybe the burger has shrunk a little, or maybe the burger just came a little too done.
Although I don't think it took anything away from the fact that it was still a genius product. For me at least, the classic cheeseburger remains my favourite of the Meatwagon lot.
Chilli Dog, £7.00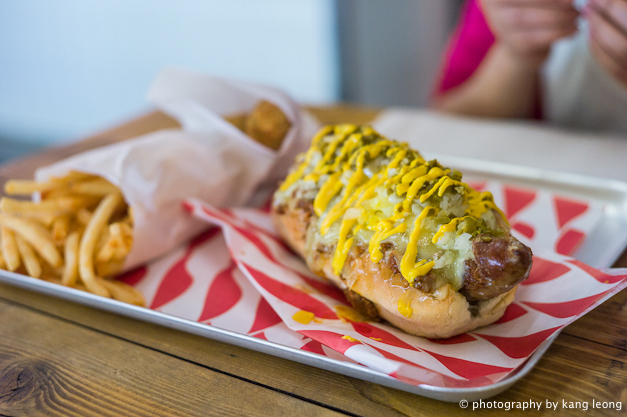 Two sausages in the bun, with a chilli con carne drizzle, jalapenos, onions, cheese and loads of mustard. It was very good, very sloppy, with an incredible girth that the greasy motherload barely fit into my fully opened mouth. The sausage was just a little too salty, and it was quite spicy. Otherwise, the chilli was really fantastic. As I remembered it at #MEATEASY.
Fries £3 and Popppaz £4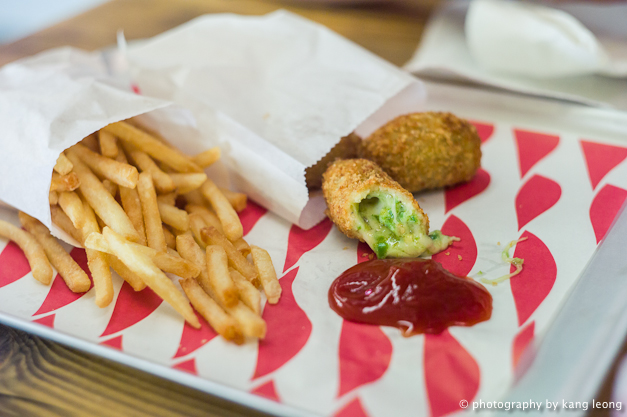 I was tempted to scrap the chilli topping from the hotdog and dump it on the fries. Really do hope they'll do the chilli fries someday soon.
Melting cheese with chopped jalapenos oozing from the fried parcels, the poppaz were ok. We would have liked to have had some buffalo wings instead.
Dead hippie for take-away, £7.50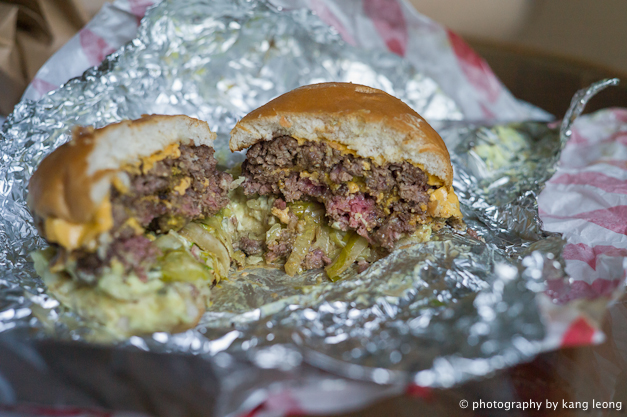 The burger was so good that after an hour wandering around the piazza, I decided to take one home for supper. Again, only a 5-6 minute wait, with maybe 3 or 4 customers also waiting for their orders. It was wrapped with an additional internal aluminium foil presumably to keep the heat. I ate it roughly 3 hours after (taking in the England – Norway friendly) , and while it had obviously gone cold (the patties dried up by then), it was still delicious, the mince was loose and beefy. However, I felt like it was distinctly missing lettuce and I could hardly comprehend what exactly was special about the dead hippie sauce.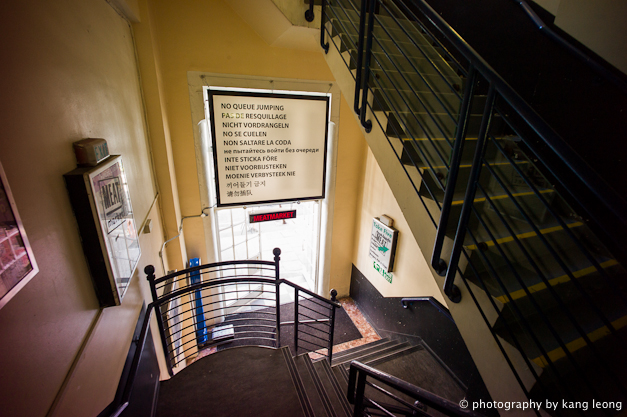 We paid £26.50 for the sit down meal, and an additional £7.50 for take-away.
By design, I think the thinner double patties do not provide the signature soaked sensations, so perhaps it isn't quite as exhilarating as the original. Saying that, the rest of the burger remained a brilliant roller-coaster ride, and the speed of delivery is certainly – as Yianni intended – convenient. This in turn should lead to greater consistency.
You could say that this is Meatwagon watered down and as the business grows and grows, the streamlining is inevitable. I do think this project was never intended to be MEATliqour v2.0, which has a different brief altogether. At the risk of being on the receiving end of huge gasps, I will default to the logic that at the end of the day these are just burgers!
I'm all for high quality fast food done right and I think it should also be easily accessed and churned out quickly. In that regard, MEATmarket absolutely delivers on its premise. It has certainly been intriguing to watch the growth of the Meatwagon 'brand' so I can only wonder what'll be next. With its central location I think it's gonna be difficult to resist the temptation or consider any other place to grab a quick bite.
The Gist of It
MEATmarket
£15pp Burgers, hotdogs and softserve
The Deck, Jubilee Market Hall WC2E 8BE
Tel: 020 7622 1199
Tube: Covent Garden
Did you enjoy reading this? You can subscribe to the Newsletter. Alternatively, you can subscribe to the RSS feed.