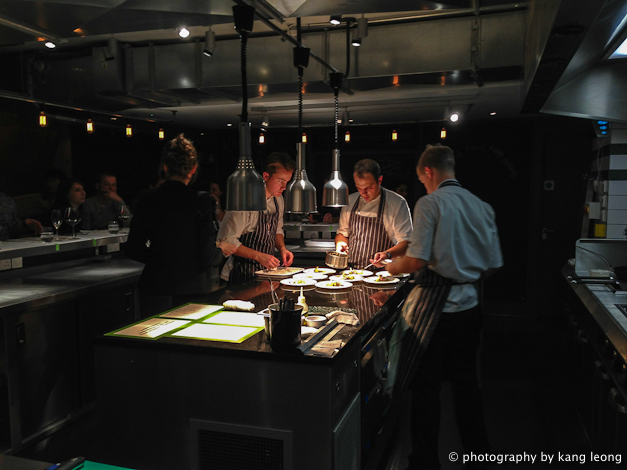 A few weeks after it opened, Bubbledogs – the hotdogs & champagne bar – continues to entertain massive queues to rival the likes of Meatwagon's restaurants. I went there a couple of weeks ago and while I think the whole setup is decent and understand why its successful, I don't know why some of you stand in the rain for 'just' hotdogs and sparkling wine.
'&' – the adjoining project attached to Bubbledogs on the other hand, is much more ambitious and much more interesting from my perspective as a blogger. The owners are the now well-known husband and wife owners of James Knappett (ex-sous at Ledbury and ex-head chef at Marcus Wareing, after Alyn Williams) and Sandia Chang (most recently FOH at Roganic). It seemed like we've been waiting all year for it open and even though I've only just returned from a long break to Japan; I made sure this was the first place I visited as soon as the first bookings became available. So this was a very exciting meal for me.
Many have drawn parallels between James' Kitchen Table with the Chef's Table at Brooklyn Fare in New York, in which diners (very fashionably) sit at a bar fashioned around an open kitchen, exposing the cooking process to the customer. There are 19 covers at this particular kitchen table, and sittings are staggered in two waves; the first half of the table start at 6.30pm, while the other half join in at 8.30pm. I'm guessing seats do not turnover. So while Bubbledogs rolls in the moolah to keep things afloat, '&' is more of a labour of love.
I've never been to Brooklyn Fare, but I was recently at Roan Kikunoi in Kyoto and this seems the English version of an Omakase (translates as 'I leave it to the you (chef)'). Like the Japanese custom, you eat from a taster menu designed by the chef based around in-season (local) produce, while the closeness between diner and chef provides a kind of intimate feel about the meal. No ALC is offered.
This set me back £68 for 12-13 courses for dinner and I'd imagine the dishes you see here will morph into something completely different as the seasons change. At time of writing, lunch isn't yet offered.
The meal began with a few 'snacks'.
No.1 Raw scallops with pineapple weed.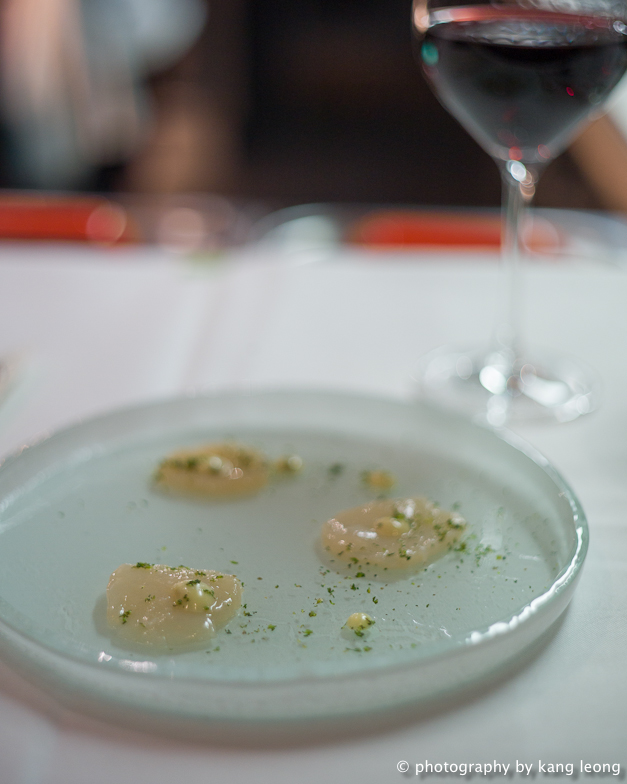 So the start of the meal was not spectacular or ground breaking. Served at closer to room temperature than cold, this made the texture feel a little buttery but also brought out a certain 'rawness' and for whatever reason, missing its natural sweetness. The pineapple didn't seem to brighten or provide contrast and I felt it was all just a little bland.
No.2 Cod roe with fried pig skin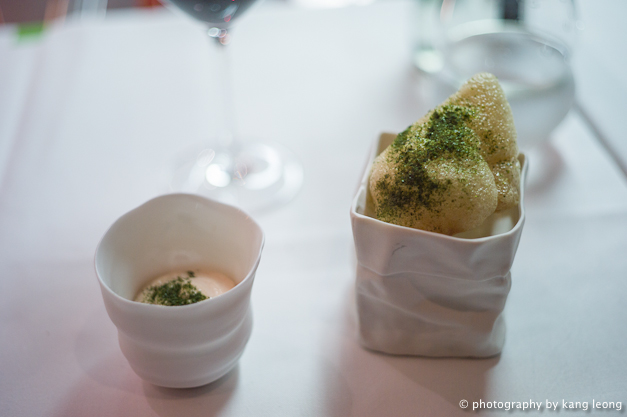 Shades of Adam Byatt's Trinity who also does a similarly fabulous cod roe paste in combo with St John (Hotel) which itself started serving fried pig skin last year. Yeah this was nice, but if I'm quite honest, I'd rather have the excellent cod roe with nice warm sourdough instead.
No.3 Chicken skin, mascarpone bacon jam.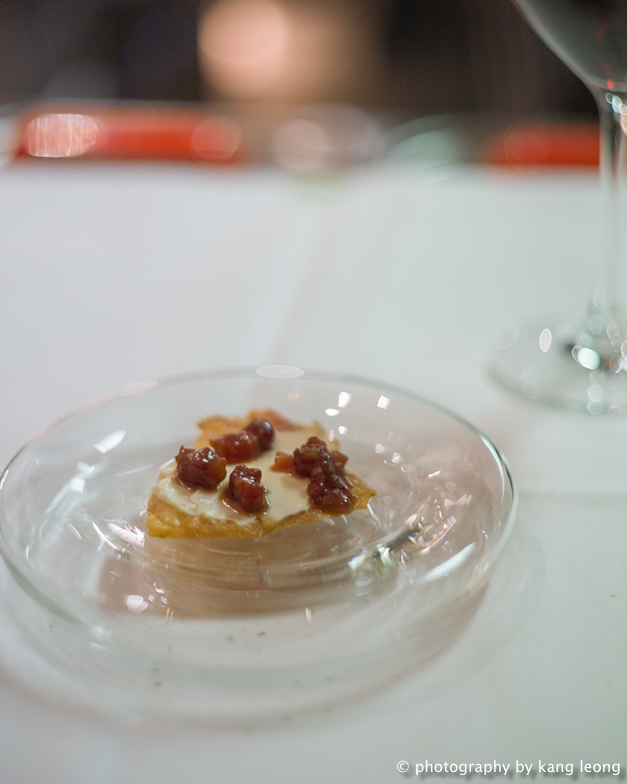 Skin followed skin, the flavour was a little too gasoline-like for my preference though I liked the crumbly, biscuit-like texture. Liked the bacon mascarpone jam, it was mildly sweet and this felt like a eating a chicken skin scone. Truthfully, two successive skin-based snacks made me feel queasy rather than stimulate appetite.
No.4 Cauliflower many ways, black pepper yoghurt, toasted almonds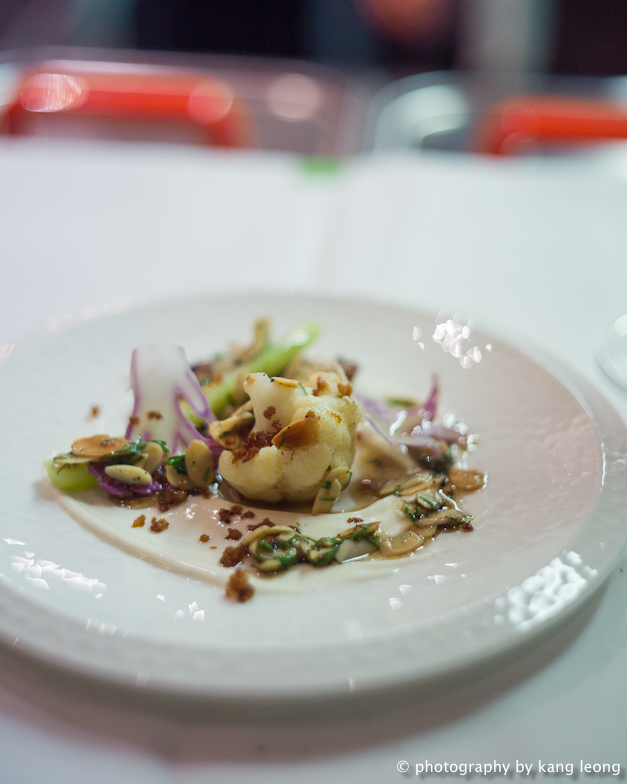 Nice cauliflower, raw, pan-fried and also (pan-fried?) stalk. Lovely smell of toasted almonds, redolent of brown butter and was really appealing. I liked this dish but I did think it could have been 'cleaner'. I don't think it needed the extra drizzle of (what appeared to be) oil or maybe clarified butter, what with the yoghurt being on the same plate. I also felt it lacked just that punch of good old fashioned seasoning. But hey ho, what do I know right? Up to this point, the cooking seemed very 'natural', appearing to favour something oily/buttery to smoothen out any drying texture.
No.5 Smoked mussels (over wood chips), girolles, pickled samphire, sea purslane.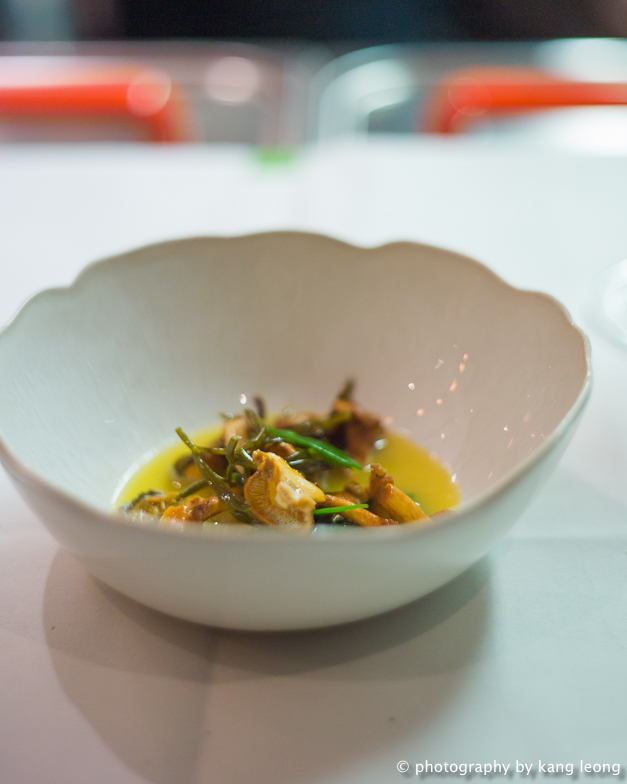 So the danger of watching chefs cook your meals is that you see exactly what goes into each dish. In this case, loads of butter melted into the saucepan to give the broth its golden glow. With even more fat compared to what had come before it. Though I have to say, the broth was really nicely done (it smelled like butter), so too the smoked mussels and I really thought the pickled sweetness from the crunchy samphire gave the traditional idea of mussel soup, a new edge. At this point, I'm convinced that this was the innovation in James' flavour matching, in that he is figuring out new ways to get away from tried and true palates.
No.6 Seabass, oyster foam, cucumber, dill and (poached) oyster.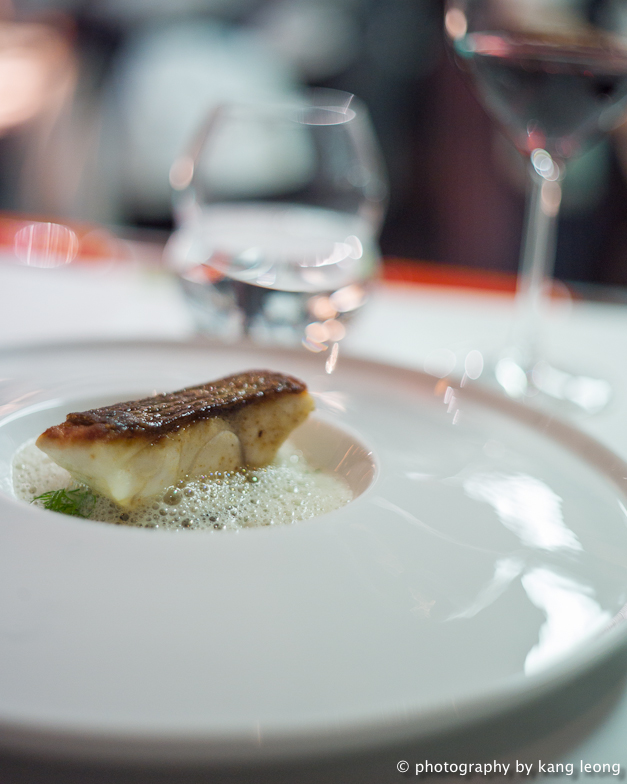 More evidence of his flavour pairing going on here – oyster and cucumber, mineral with mineral, went very well together. There were two types of either: the oyster was poached and also made into a foam, while the cucumber was served diced (cold & raw I suppose) and another sweated over hot charcoal for about an hour (we sat next to the charcoal grill). James pan-fried the seabass minutes before service, personally I would have preferred if it were a little underdone and a little flakier, but otherwise, this was delicious.
No.7 Truffle Tagliatelle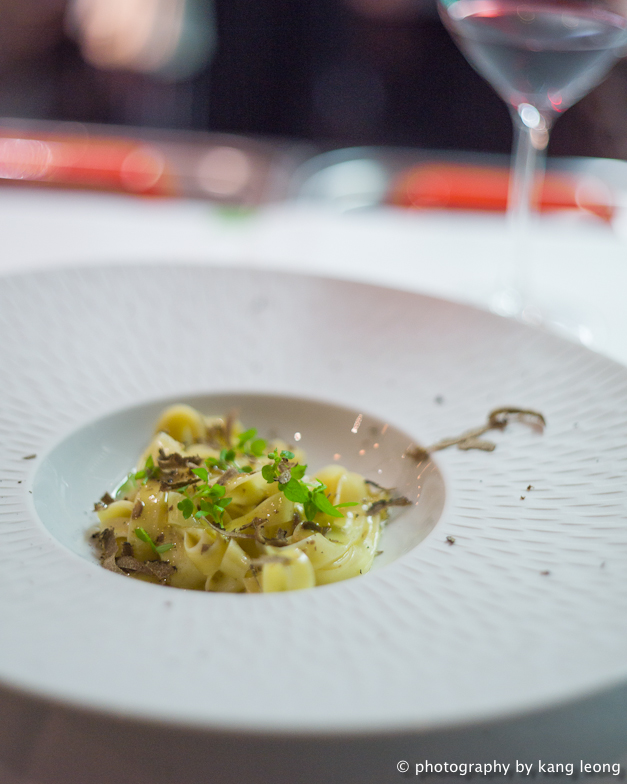 Pasta made in-house. This was one dish where I thought butter not only enhanced the dish but was integral. Naturally, the pasta was al-dente, fragrant scents of butter and truffle were lovely. This was something you could smell all day long and forget to eat. The butter gave the pasta a silky, slippery mouthfeel and it was absolutely a joy to eat. A simple pleasure. Some might see this as something anyone could replicate at home but others may see it as being superiorly refined. Either way, it tasted damn good.
No.8 Veal Tongue, beetroot, horseradish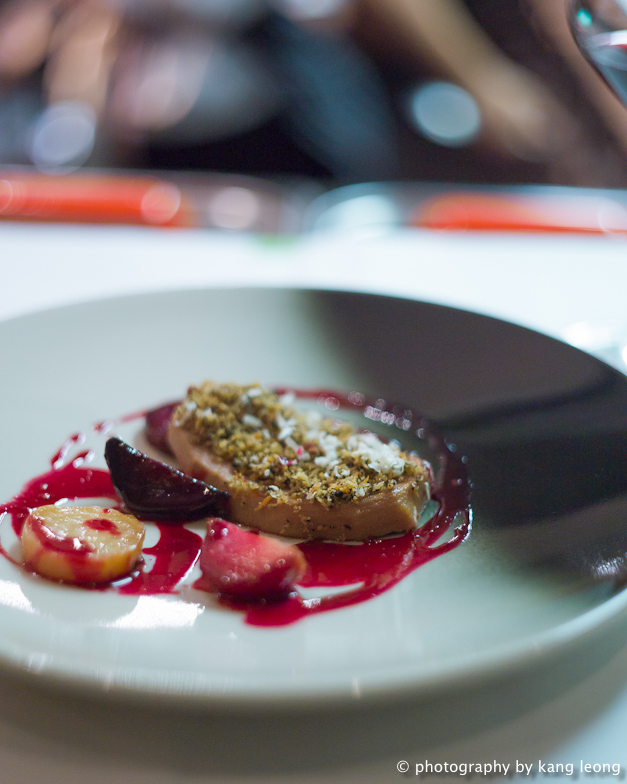 Very tender and bouncy like a fishball. At first I thought it tasted like spam, but it's got a much cleaner flavour and more consistent (chewier) texture. As I worked through it, the clarity of how well it was prepared made me feel very aware that I was chewing on tongue – like french kissing a cow – and subconsciously the dish just became challenging. I think that for tongue, this was definitely high quality, enough for it to be presented in such a 'naked' way. My criticism is of course biased based on my own preferences since given the choice, I wouldn't order tongue. But I suppose that's the purpose of something like this, where you might have to step out of your comfort zone to try something different. Each dish may well be part of the chef's narrative for whatever it is he is trying to convey through his menu. In any case, I still think tongue is best eaten thinly sliced and grilled over hot charcoal, ala Korean BBQ.
No.9 Beef (rib I think), smoked bone marrow, onion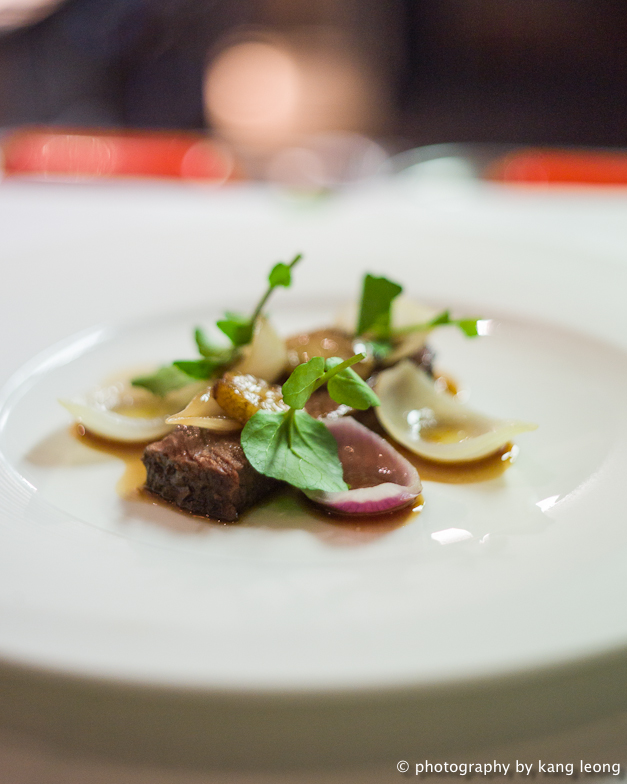 Bam! This was the punch of flavour I'd been waiting for all meal long it seems. The beef was incredibly tender. By inspection, I believe it was sous-vided, being that it was removed them from a water bath while sealed in a vacuum bag. Like the best roast beef I'd ever had, the concentrated flavour of fat and marrow was nicely done. The marrow imparted an ash/smoke flavour, which I found to be very appealing. In the same way, morbier is appealing for it's ashiness. I wished there was more of it. I didn't quite catch every descriptor as James presented the dish, but believe he mentioned about the onions being soaked in beer. All in all, a lovely beef dish.
No.10 Buratta with damson jam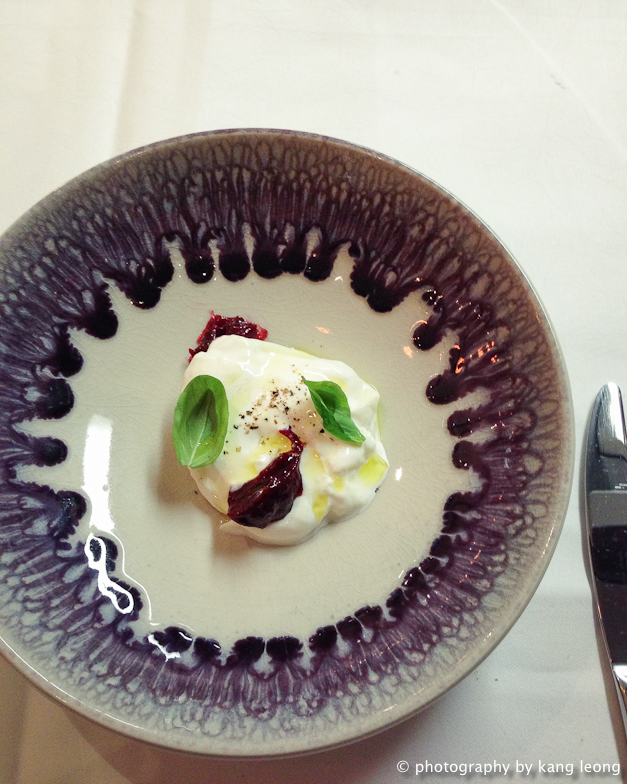 This dish was awesome. Damson jam + creamy cheese was just a genius combo, one of the best combos I'd ever eaten. It's like a ripple cheese flavoured gelato.
No.11 Fig baked with honey, fig leaf ice cream, creme fraiche mousse, fig carpaccio.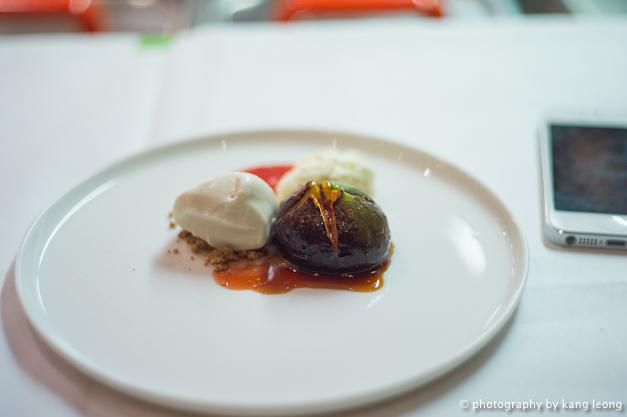 For this menu, James' desserts are definitely stronger than his mains which in turn are stronger than snacks.
I thought this dish was peerless. Cooked fig when done right is just a thing of wonder. I noticed the chefs sweating the figs over low heat with honey, giving way to this fabulously reduced, syrupy richness that epitomised all the good things of figs. On top of that, there were other fig enhancing elements going on like the ice cream, and the carpaccio. But I really loved the creme fraiche mousse. It was chunky like the texture of say egg mayonnaise, but it tasted sweet like white chocolate with a tinge of acidity. Wonderful recipe.
No.12 Pear cake, liquorice ice cream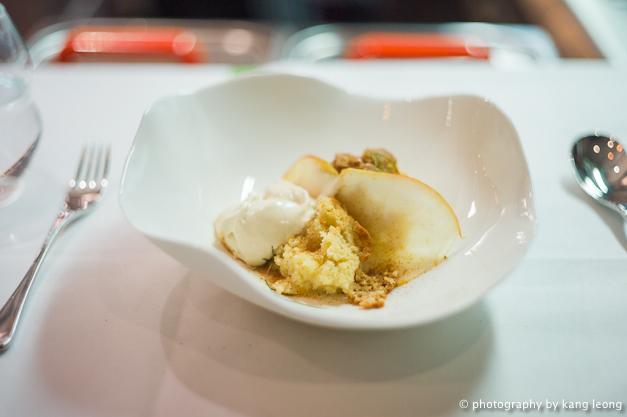 I could smell the liquorice as the plate hit the table. Who knew that you could make that stuff into an ice cream, let alone it being a near enough perfect compliment to pear. This was another wonderful dessert that seemed effortless simple with an ace flavour combo.
The very last thing we ate was a blackberry jelly dipped in milk chocolate, which we had with our coffee. With some water and wine, we paid £169.50 for two.
The novelty factor does make it stand out from a usual restaurant meal in London. At the start it was a little awkward on either side of the kitchen table but as the meal progressed, this fell away as strangers become more acquainted with one another.
I think the challenge here are chefs having to worry about charisma in addition to cooking good food. And because of this exposure to punters, (apparent) cleanliness is ever more paramount. Little things like remembering not to double dip the spoon after tasting soup, for example, won't go unnoticed. It'll take a little time for James and his chefs to grow their showmanship obviously – they were a little shy and maybe nervous in the interaction department on their fourth night of service – and with time, these things should work itself out of the system and & should become the theatre it's meant to be.
…This sort of thing isn't new of course, like Benihana, but maybe not with the knife juggling and shrimp flicking…
There is certainly refinement and concentration of ingredients in the cooking department, serious thought has gone into the making of this meal. Two to three flavours per dish, allowing natural flavour to come to fore, it seems similar in spirit to the stuff you read about at Noma. There is clear potential in James' recipes, his technical ability is clear, but for whatever reason, I felt this particular menu lacked punch and clarity. Some dishes seemed just a little off-balance for my liking. This general feeling pervaded the first half of the meal.
It took a while before we got to the serious dishes and by then my interest levels were quite low. While it did appear that James was trying to break from traditional norms – and I have applaud the interesting flavour combos – I feel like I've seen eaten possibly better elements of some of these dishes elsewhere in London. It did remind me of my visit to Trinity earlier this year, and I could kind of see a similar French-British theme going on. While Adam didn't train with Brett Graham, they did both work for Phil Howard at a time in their career, so perhaps there is commonality there? Maybe I'm reaching a little with this.
I had very high hopes for this meal and was expecting to taste something either entirely breakthrough or the best meal I'd ever had in London, but it was neither. There were some very delicious things but I didn't like everything. Chalk it down to first week of service and probably not quite 100% yet. While it pains me not to be able to gush as a blogger is expected to do at the next novelty, I do think that James and Sandia have crafted a genuinely likeable two-part restaurant which feels new and fun. I think that once James tightens some of his recipes, '&' will produce the special experience it was designed to deliver. On balance, I had enough good dishes to indicate great things in James' future. After all, James was sous-chef at arguably London's best restaurant today. It should in due course garner the top reviews and – if it's still relevant these days – the elusive Michelin Star.
Details
& (Kitchen Table at Bubbledogs)
Modern. £80pp
70 Charlotte Street W1T 4QG
Tel: 0207 637 7770
Tube: Goodge Street
Did you enjoy reading this? You can subscribe to the Newsletter. Alternatively, you can subscribe to the RSS feed.