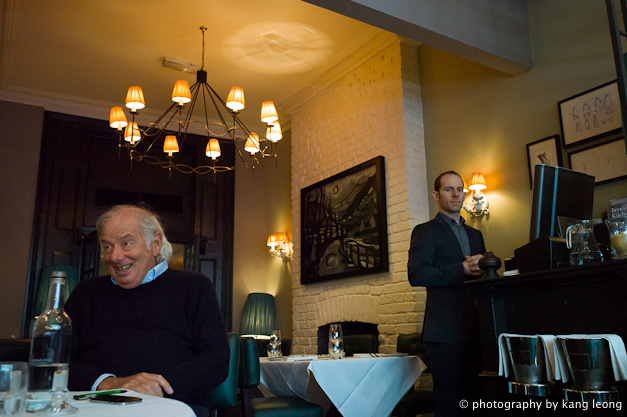 I have asserted in the past that Bryn Williams is the most underrated chef in Britain, and that I've wanted to return to his restaurant, Odette's to delve deeper in his cooking, beyond the GBM dish that sent his career into overdrive.
Perhaps it is because his restaurant is in a tucked away location (in Primrose Hill) , and that it's a little old fashion which is probably why it doesn't receive the same kind of attention which centrally located counterparts may enjoy.
Odette's has also been in the same spot since '78, albeit changing ownership many times over the years, before Vince Power took over the reigns in 2006 and lured the young chef away from the clutches of the Galvin Brothers. Bryn has since bought the restaurant out, and has been Chef Patron since late 2008. If those walls could speak. I just think there such romance to Odette's. You can't beat heritage (no matter how patchy) and I think history is embodies the ideals of a neighbourhood restaurant. Food is part skill, but also part nostalgia. White bread, ketchup and bashed fillet steak with black pepper might not be 'gourmet' but the smell of pan-fried steak always takes me back to my childhood Sunday lunches.
The ambiance (and by extension the leafy neighbourhood locale of sleepy cafes & pet shops) is cocooned and cosy but most of all, the cooking is slick as snails. My first visit to Odette's was in 2010, after trying Bryn's lamb and mint at the 2010 Taste of London. I revisited late last year for one of his Sunday Supperclubs , which Bryn personally hosts. During both visits, I loved the cooking.
Curiously, it is also one of the most reasonably priced 'fine dining' menus on the circuit. The 6 course taster is £50. Set lunches menus could be had for as low as £17. Granted Bryn has been cooking at Odette's for nearly six years now, the bib has yet to bestow any macaroons, but maybe its a good thing. After all, this is a small-scale restaurant which would have been worthy of keeping as a secret in the good old days before blogs.
I had returned to try the full tasting menu, expecting something extra-ordinary. But like all restaurants I hype up, I was a little nervous that my own over-excitement may lead to inevitable disappointment…! Thankfully – pre-empting the following waffle- all fears were utterly unfounded, as the meal was completely enjoyable.
Unlike the first 2 visits, Bryn wasn't in the kitchen for this meal. I was told he was on vacation in St Lucia, and front of house noted that 'the guy [in chef robes] who just walked past is head chef today'. Don't know his name, can't find it online, but if you do, please let me know.
I drank a glass of 2008 Munoz de Toro by Bonarda. Argentinian. It was ok, fruity, medium bodied, sweet, got the job done at £6.50 for the glass.
Now that I've suddenly become 'wine-aware' (or Bordeaux-aware to be exact) ever since I started my BBR cellar plan, I'm studying wine lists in more detail. I feel that I have more meaningful things to say about it these days. (As opposed to nothing at all in the past.)
For me, the wine list appears to favour light & fruity styles. The (red wine) list is short features a number of Beaujolais, Old World and New World Pinots. Ch Musar, a Lebanese wine, is always a good pick. Their 1st wines are affordable if you consider the price of top Bordeaux these days and usually are a good pick (I do recall usually paying no more than £30 for a bottle, for most vintages). Though I've never tried the 'Jeune' range, which appears to be the estate's 2nd wine.
At the top end is the '98 Haut-Bages Averous. A lovely wine from a well reputed Chateau. I actually drank a bottle of this exact wine a few weeks ago. The 2nd wine (now renamed as ECHO) of the famous Bordeaux 5th Growth, the Lynch-Bages estate. Affectionately the 'lunch-bags' which are notably popular in Britain, and in the 1st class cabin of Cathay Pacific flights. For me, the wine has a wonderfully opulent nose that fills the room immediately after opening. Decanting does not appear to enhance the wine (as if writing), as I would imagine that at 14 years of age, it is drinking well right now. Berry fruits, just a tad of acidity and just a touch of pencil lead. Very grippy tannins even after 2 hour decant (and I think I did it correctly), but for some reason, I felt the wine was more 'invigorating' straight out of the bottle.
At £121, that's almost a 3x mark-up from retail. I paid £45 at Robersons.
Course 1: Crispy duck egg, baked celeriac, truffle salad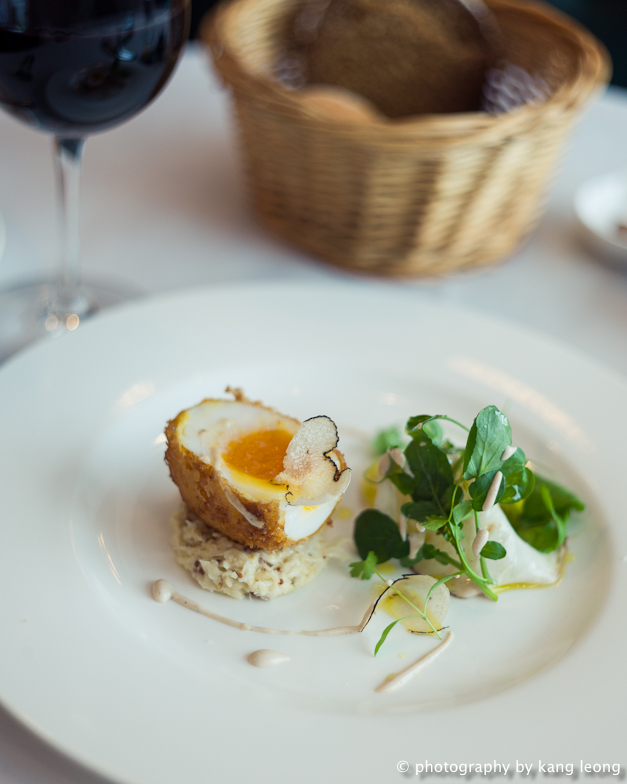 I swapped the mackerel course for this one, because the duck egg sounded more exciting. Plus, who can turn down truffle.
The styling was very minimal, a crisped crusted duck egg with a yolk that's just starting to gel to a creamy custard. Immediately, the lovely smoky perfume of truffle was evident.
I'm guessing that the egg was sitting on a salad of chopped celeraic, it's sharp like mustard seeds and lemon juice, just beautiful balanced against the creamy yolk. Extremely appetising. I think the lingering flavour of truffle was what did it for me. I know, egg and truffle, not a new combo, but this one was executed so well.
Shall I go for it? Yeah it's go for it – Like an elegantly deconstructed scotch egg built for the most delicate of palates. Ohh…
This rivaled the excellent Copitas version of Duck egg and truffle.
Course 2: Pig's head & black pudding terrine, crackling, pickled mushroom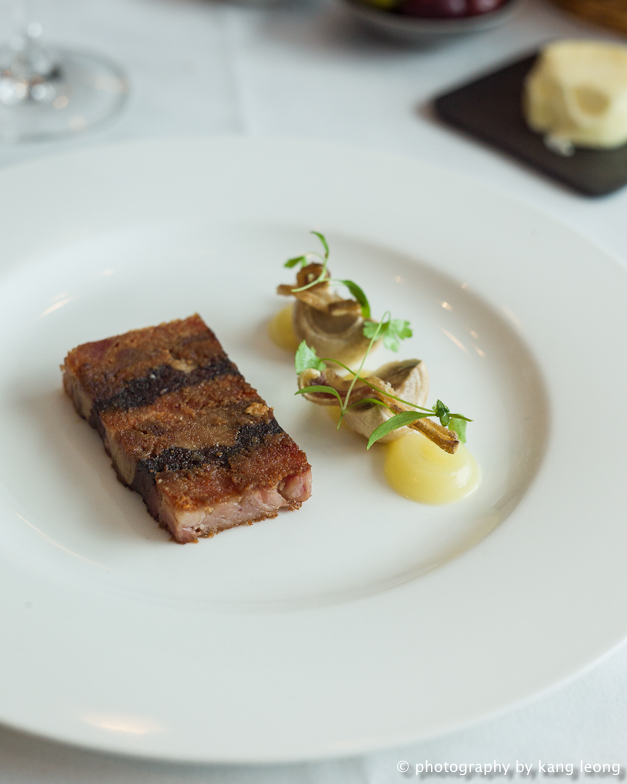 Fabulous depth of flavour! Like brawn rubbed in rock salt, I detect just a tinge of spice within the layers of black pudding. Like curry powder. The terrine was in total contrast to the sharp apple puree. Clean, crisp, precision bombing of intense flavours. Very focused stuff.
Course 3: Roast turbot, braised oxtail, cockles & samphire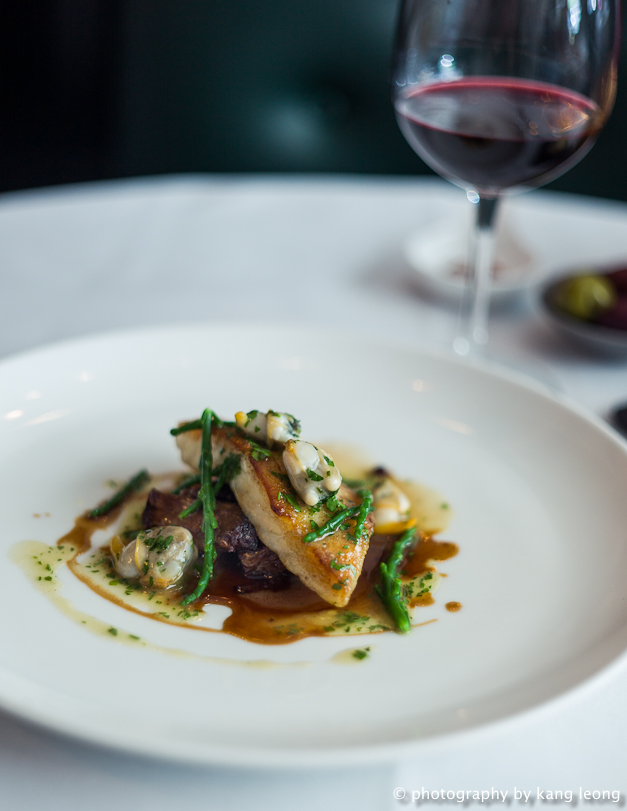 Ah yes, the mythical Great British Menu winner … appears to have been tweaked! The cockle foam gone and replaced with a rich sticky sauce. Very salty, very intense, a little mineral, sandy and like seawater, perhaps this reduction was also made from cockles. Also redolent of Chinese abalone and oyster sauce. The turbot was fried with a perfectly crispy shell, but just wonderfully under-cooked in the middle for extra flakiness. The samphire and cockles gave the illusion like I was dragging my mouth along a sandy beach. Lovely reminder of the Welsh seaside. Oh Tenby, I miss you so.
Course 4: Roast mutton, pickled salsify & mint …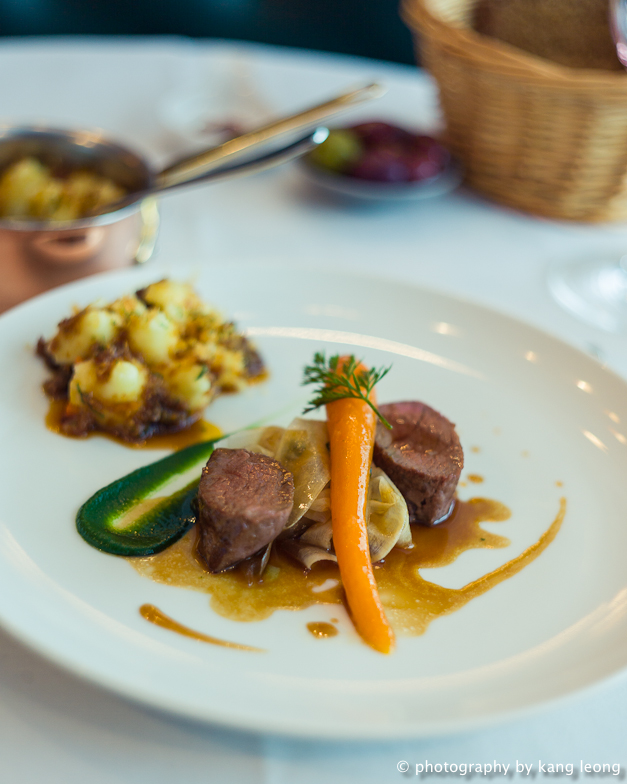 … and Shepherd's pie on the side. Correction, the best shepherd's pie on the side. Very mellow flavours, a light mash and a beautiful mince soaking in rich roasting juices.
The mutton exuded a stealthy gaminess, but really it was the mint sauce that lifted this dish. It tickled the tongue and just distracted from the natural strength of the mutton.
My only dislike were the pickled salsify. Much too sweet, nearly sugary and just threatening to derail the overall zen of the dish.
At some point, I felt this was like mutton dancing with different flavour partners as I moved from one end of the dish to the next. Almost I do feel the shepherds pie is very special. Just a good roast. Colourful. Could be a contender for a perfect Sunday afternoon roast.
Course 5: Selection of Welsh cheese, fruit chutney & bara brith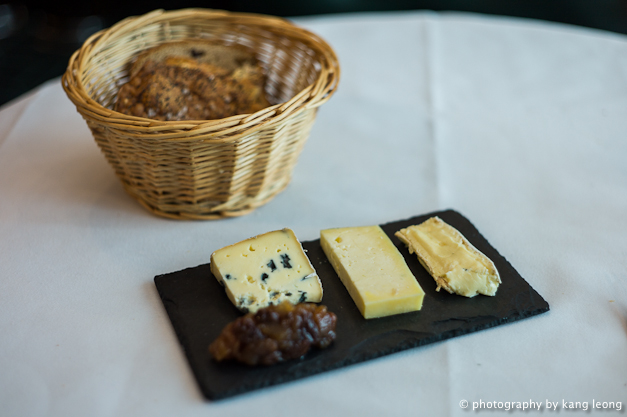 Correct me if I'm wrong, blue was Perl Las, the semi-hard was Caerphilly and the soft was Perl Wen. I liked the soft one the best, very creamy like a good camembert, but with jersey milk richness. Very sharp for a soft cheese. The fruit chutney was honey sweet, made with cranberries I think. Bara brith, or speckled bread, was very dense, not quite fruitcake, but more fruit bread. A generous cheese platter, considering it was rolled into the price of the taster.
Course 6: Pistachio cake, caramelised apples, calvados cream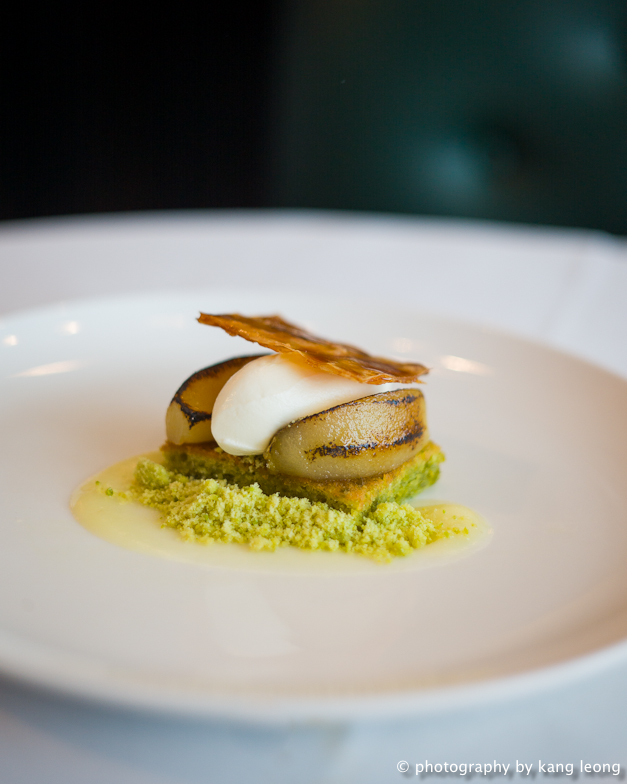 Look at that. Isn't it lovely? It looks like a spaceship! Such vibrant colours, matching the decor too. The cake was crumbly and rich in pistachio, the browed apple slices provided a lovely sharp contrast, but it was the well-whipped, spiked cream that made this pudding such a joy. A re-imagined rum-baba perhaps?
I paid £66.94 for the meal, plus an espresso. Good value considering the length of meal.
I will say though, out of 3 meals, I think service – while friendly – can be a little stiff and a bit of a mood killer. Maybe it's the old fashioned 'fine dining' sensibilities kicking in, but considering its a neighbourhood restaurant, I think they can more than afford to loosen up a bit. Maybe a green shirt as opposed to the black uniform? In shiny green silk.
Short of laverbread, the menu is a lovely representative of Wales. Whoever the chef was on the day, I tip my hat, I thought he did a fine job. To sum up: I think Odette's is elegant. I think the level of cooking is high enough to rival the capital's trendiest restaurant, but it flies well below the radar with an admirable reticence. I think the cooking is rooted in classic styles, and it appears completely disinterested in chasing trends (eg: no shaved ice, ceviche raw fish, or beetroot cream). A refreshing change.
It does appear that Bryn knows exactly the kind of food he is comfortable cooking. Honing a signature style, to chip away at the identity of a body of work, in search for the perfect expression of an aforementioned style, is for me, the primary reason in visiting restaurants (ok, hyperbole over). Precise cooking, inspired by Welsh heritage. It's almost nostalgic. So easy to love this kind of cooking, a kind of restaurant you could easily revisit, and most importantly, take friends to.
PS Bryn if you happen to read this: Please consider laverbread, cockles and bacon as a weekend brunch option.
The Gist of It
Odette's
British, £65pp
130 Regent's Park Road NW1 8XL
Tel: 020 7586 5486
Tube: Chalk Farm
Did you enjoy reading this? You can subscribe to the Newsletter. Alternatively, you can subscribe to the RSS feed.