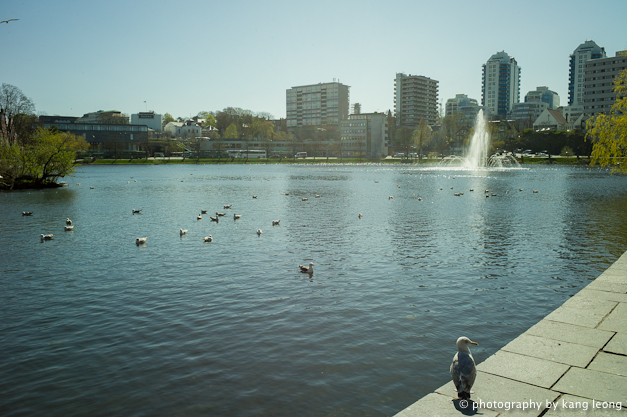 Ah Norway. Good times. I spent some time in Haugesund a couple of years ago, for work, and I will always remember the amazing Norwegian rice puddings I stuffed myself with nearly everyday.
When I first met Njål Solland and Arild Bringeland in January last year, their plans for sushi domination in Norway were still limited to studying packaging. They hail from a conurbation at the heart of the Norwegian oil capital – Stavanger and Sandnes – embedded within the southern most fjordes of Norway. They'd been conducting these extended sushi binge tours to European cities with 'mature' appetites for Japanese food, and as fate would have it, got in touch with me when they arrived in London. I soon discovered that we shared a fervent passion for raw seafood and vinegar-ed rice, and I was impressed with their enthusiasm of wanting to bring quality sushi to Norway.
They opened their first Sabi Sushi in April last year, primarily a takeaway, with their third partner and head chef Roger Joya. Unlike us lot, Stavangerians prefer to eat in the comfort of their home. Success followed and before long, they'd open their 2nd outlet in Forus, outside a gas station, this time with a seating area (decor not unlike a Little Chef) and dubbed it a Japanese diner. It's the KISS philosophy, super-fresh fish in a minimalist environment.
To digress a little: In addition to the oil rush, this region of Norway has produced a legacy of Bocuse D'Or winners. Yes, the 'Chef Olympics' for aspiring young chefs (under 22) which takes place every other year in Lyon. Not quite the glamour of the annual World Best 50 back-slapping exercise that just received its 2012 update (which Noma still tops, but blasphemous that Sukiyabashi Jiro and The Sportsman didn't even make Top 100) , but it is perhaps a more honest kind of gastronomical boast.
Njål had tried (and failed) to invite me to his last two openings, but with the 3rd one in Sandnes ready to rock, I thought I'd make a concerted effort to drop in. BMI flights were relatively cheap this time of year, it was the better half's first time in Norway, so we booked our flights and off we went.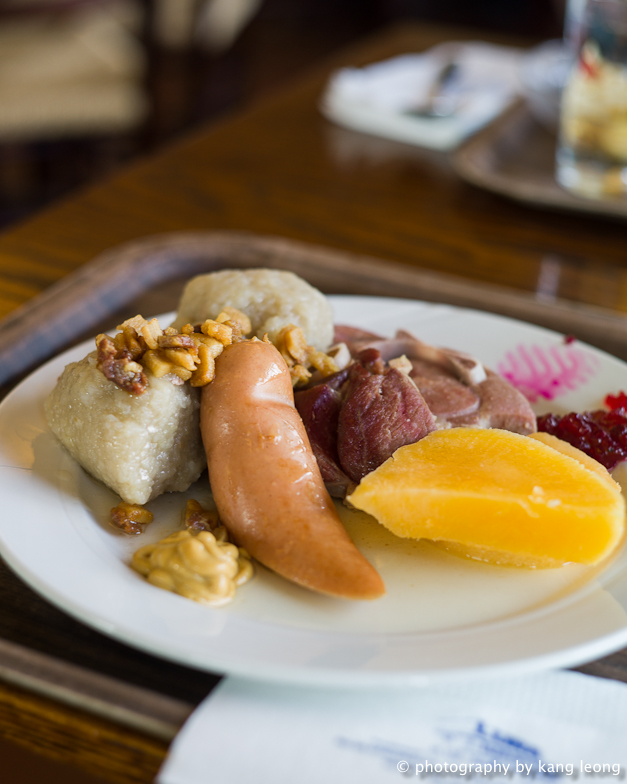 Our first lunch stop wasn't for sushi, rather it was for a spot of traditional Norwegian grub at Lura Turistheim. Or as it was explained to me – Original Norwegian fast food. Pre-cooked, simmering in buffet vats, the Viking equivalent of the British chippy.
On the plate was kumle, or potata balls, with crackling chips, Norwegian sausage and salted pork ribs. I had a choice of either a butter sauce or fat. I chose the latter.
It's almost like a sport for Norwegians to jest at foreigners attempting the 'challenge' of wolfing down the traditional dish. To Njål surprise, I actually quite enjoyed it, it wasn't as stogy as it looked! Probably because it was redolent of some dim sum dishes I grew up with like lo mai gai (steamed & stuffed glutinous rice wrapped in lotus leaves) and pan-fried turnip cake. I suppose the other European cousin is the gnocchi.
I ate kumle with recommended lashings of syrup and with mustard. I washed everything down with a glass of soured milk called Tine Mjölk, like a very thin lassi. I know it all sounds odd, but oddly enough, this combo worked well together. I can almost glimpse a version of this dish being considered for re-invention as part of the New Nordic movement.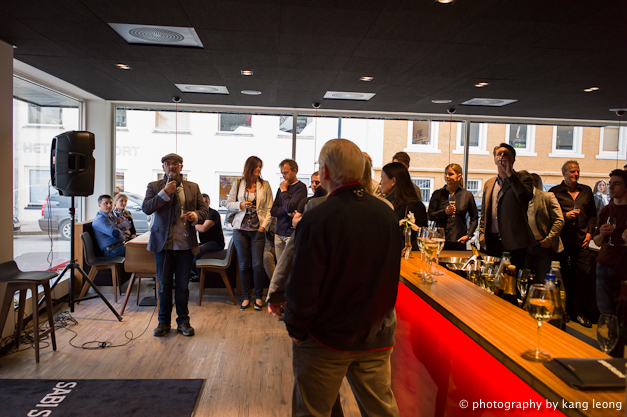 I've been to my fair share of launch parties, but this is the first one where I fulfilled my stereotype of the Chinese guy fresh off the boat, who didn't speak the language. I laughed when the room laughed (presumably when Njål cracked a joke in his speech) and I raised mine when everybody else raise their glasses and belted 'skål!' – presumably to drink to the opening of the Sandnes branch of Sabi Sushi.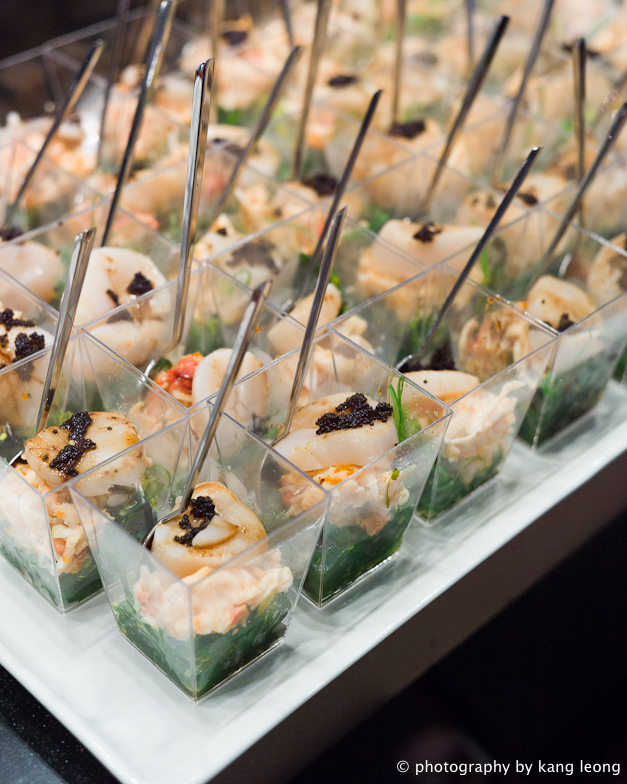 Norway is near enough an ideal location to start a sushi restaurant. Firstly, harnessing all that wonderfully fresh Norwegian seafood is almost a no-brainer. Then, there's all the oil money Rogaland is awash with (lowest unemployment rate in the nation), and thirdly, there's hardly any competition (yet) as the eating out culture is only just catching up to the economy boom in the area. The only unknown is whether raw fish will integrate into Norwegian palates as they have done over here in London.
Pan-fried Norwegian scallops, black tobiko on a salad of marinated crab and seaweed – North Sea on a plate, perhaps?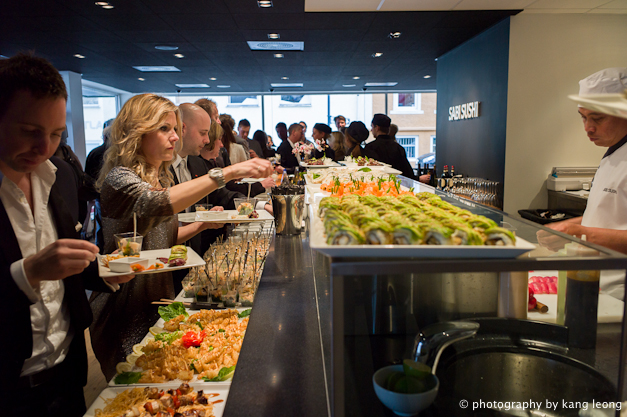 It may be a biased sample size – comprised mostly of local movers and shakers – but it did appear that Norwegians have a huge appetite for sushi. I didn't meet any Stavanger food bloggers, though it was a pleasure to speak with one of the founders of Stavanger Expats.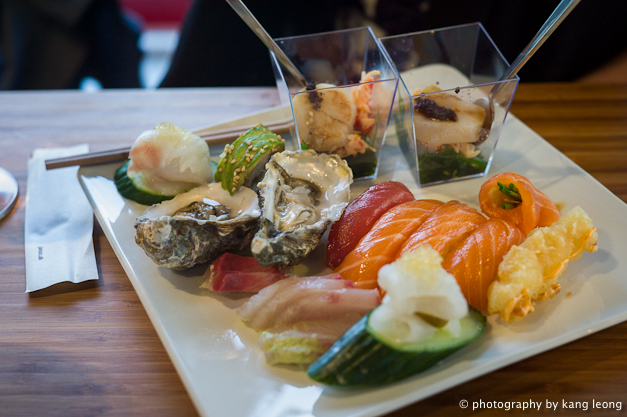 Look at the colour of the tuna and salmon – striking yes?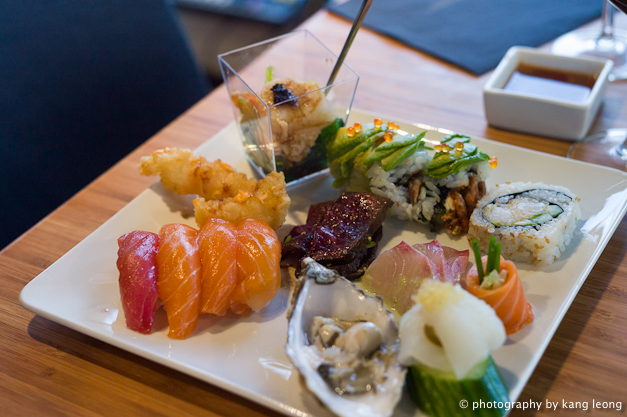 This is what the missus and I managed to muster from the buffet. Considering it was a buffet, the food was pumped out to a high spec. Though I did feel that the rice while good was turning so cold that the inherent stickiness had the individual grains starting to agglomerate into a ball of glue (they did serve 2000 pieces of nigiri that night..). However it was accurately seasoned.
The fish were notably fresh, particularly the salmon. Really smooth, silky and fragrant, perhaps some of the best raw salmon ever to grace vinegared balls of rice. The hamachi, halibut (by Sterling) , scallop, seaweed were all bursting with sweetness. I also loved the over-sized shrimp tempura doused with a spicy cream sauce, not disimilar to Nobu's signature (but tiny) rock shrimp tempura.
The Sabi owners have obviously capitalised on the fact that they have such easy access to the abundance of high quality fish which come to shore literally minutes away from their restaurants. Norway after all, is an early pioneer of aquaculture, and the quality of the industry's handiwork is apparent.
I also tried whale sashimi for the first time. Pan-fried (I think) and marinated (with a sort of soy-based sauce) but served rare in the centre. It was incredibly tender, very similar to venison or even ostrich. Yes, my conscience does feel guilty (feel free to bash me with your comments) , but honestly, my curiosity compelled me to give it a try. I didn't regret it and I won't lie, I did enjoy it.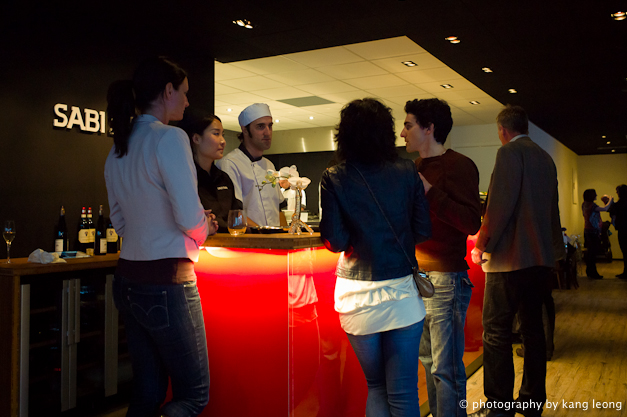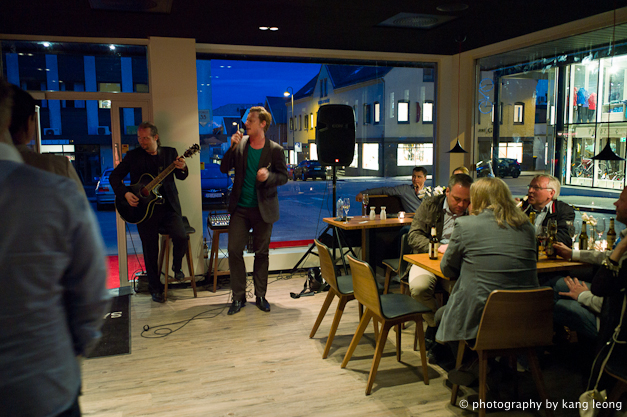 The evening ending with a curious comedian singing a bunch of cheesy american classics.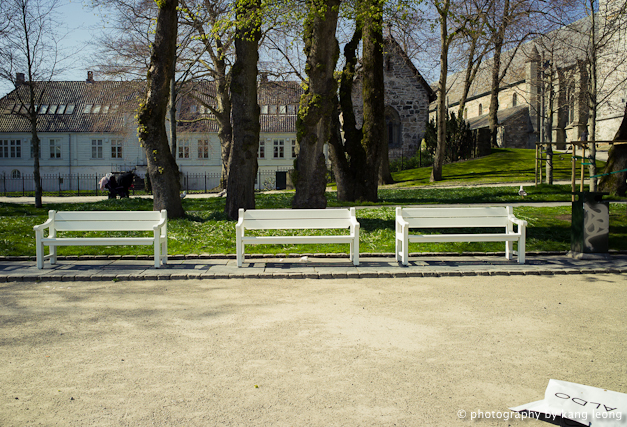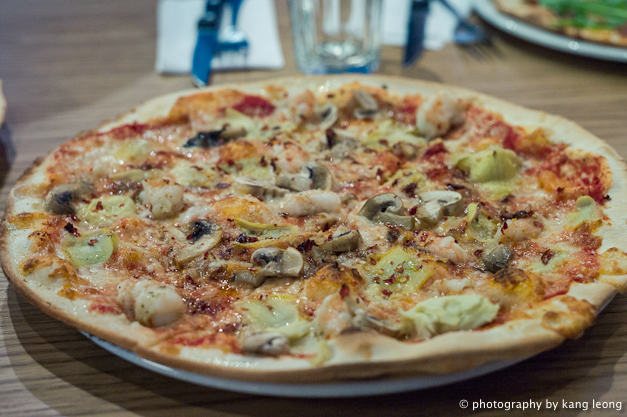 The next day, we went off to PastaPasta for some Italian pizza. This one made with pesto marinated scampi, onions, artichokes, mushrooms, parmesan and mozzarella was pretty incredible. I chatted with the owner, Ståle Johnsen, who was speaking about his admiration for Pizza East's fabulously rustic decor (and Mozza-style pizzas, ohh that semolina base..). He was real stoked when I told him the warehouse-like building was once used by Lipton to process and package tea in the 30s.
Anyway, his pizzas use 00 flour, and are given ample time for the dough to rise. They spend about 4 minutes in the oven – a tad long but there's no wood fire oven here. Not quite Franco Manca or Pizza East, but still the base was thin, crispy and pretty good. The scampi topping was amazingly good however. A little spicy too. It's that Norwegian seafood again, simply awesome. He tells me that pizza in Norway is difficult to get off the ground, since all the Italian imports from the mozzarella to the salami have ridiculously high import taxes slapped across it. That translates to 169 NOK for this pizza. Roughly £18. Then again, the cost of living in Norway (and much of Scandinavia) is incredibly high relative to Britain anyway.
Norwegian 'Gourmet' pizza is probably still in the infant stages, but while we're on the topic of rapidly gourmet-rised fast food, burger-fever does not appear to have penetrated this part of Europe yet.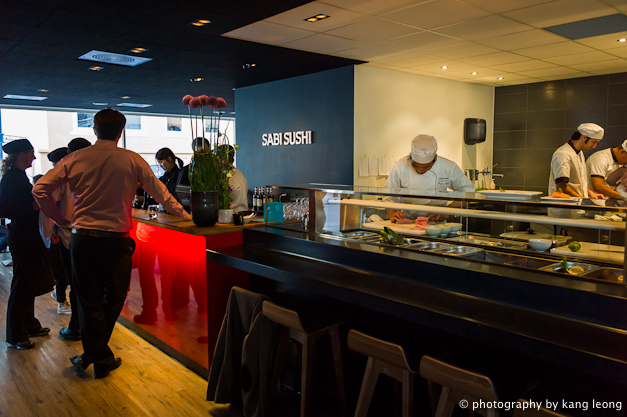 In the evening, we headed back for round two at Sabi Sushi. Yup, clean Scandinavian furnishings in this diner. In fact, I met the carpenter who had put together most of the furniture for the restaurant – he's very young, grew up in the area. The group's head chef, Roger and the Sandnes general manager Ole had teamed up to create a one-off Japanese-Norwegian fusion dinner. A prototype for their future expansion plans. Suggestions of a small 20-cover 'premium' version of Sabi, not geared toward take-away.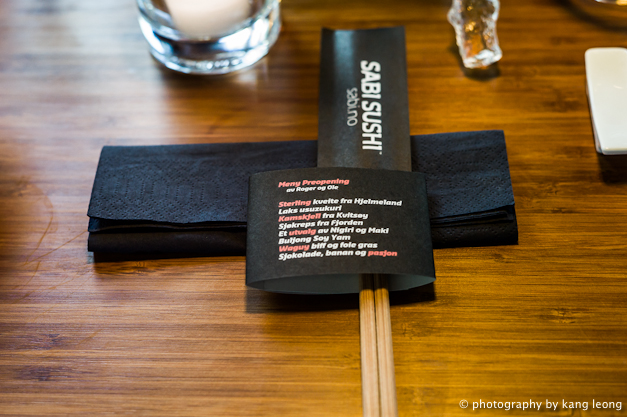 Ain't this cute? The menu was printed on a chopstick holder – 8 courses.
Amuse: Fried salmon skin, cucumber.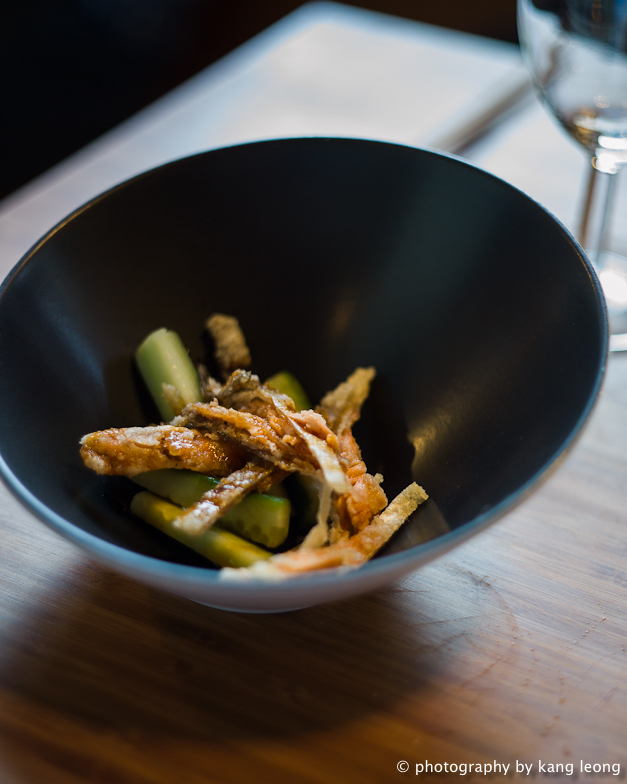 Oddly, this reminded me of the tempura shrimp amuse/non-starter at Le Chateaubriand.
Course 1: Sterling white halibut, lime, wasabi cream, black tobiko, bean sprouts.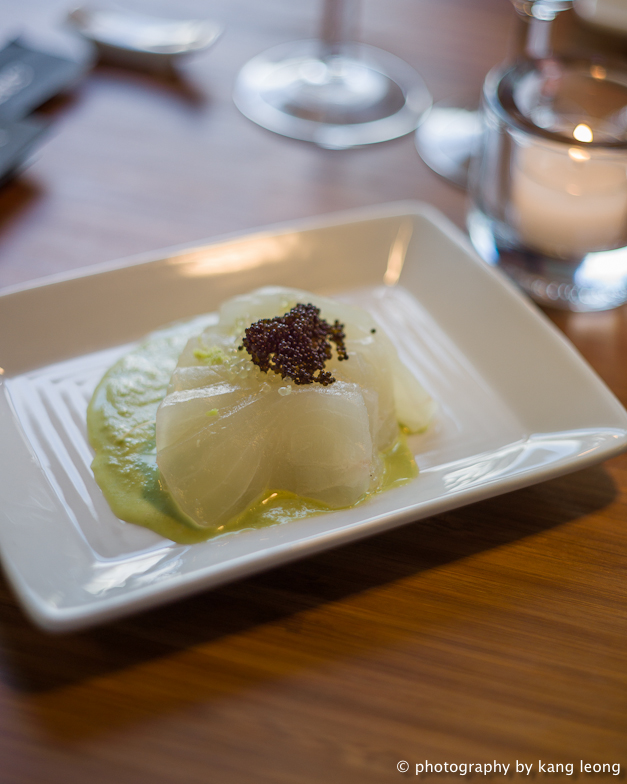 Shredded from fresh wasabi too. Cutting acid of the lime, a cooling spiciness of the wasabi, along with ultra smooth halibut. Wow.
Course 2: Cold smoked Salmon (over apple wood), egg cream, asparagus, ponzu sauce.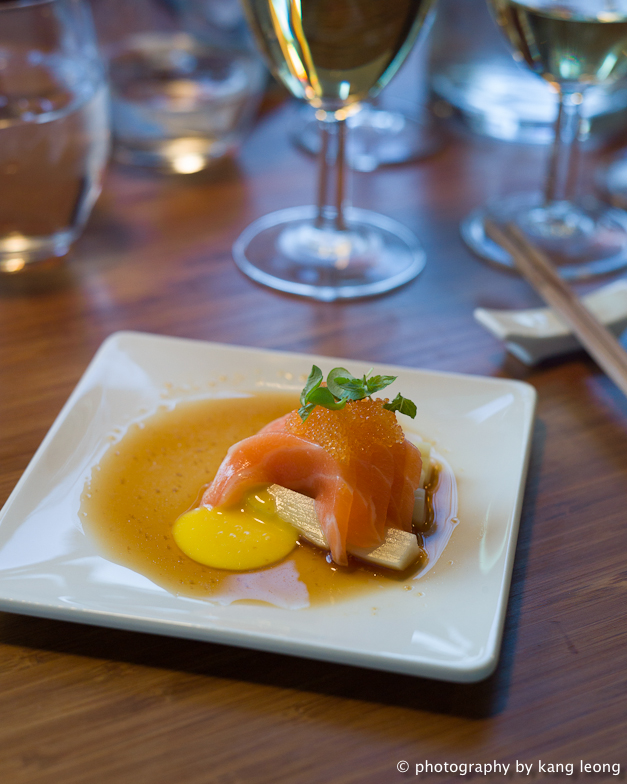 Reminiscent of tsar-cut salmon – this is what edible silk tastes like. The gentle smoking gave it a very faint whiff of fruity wood. Powerful citrus from the ponzu and what appears to be a half-baked bearnaise. A wedge of asparagus for texture. If anything, this dish illustrated the sheer quality of Norwegian salmon. Aside from the liquorice salmon dish at Fat Duck, I don't think I've quite eaten such amazing salmon.
Course 3: Seared scallops, oyster foam, broad beans, wasabi mayo, daikon.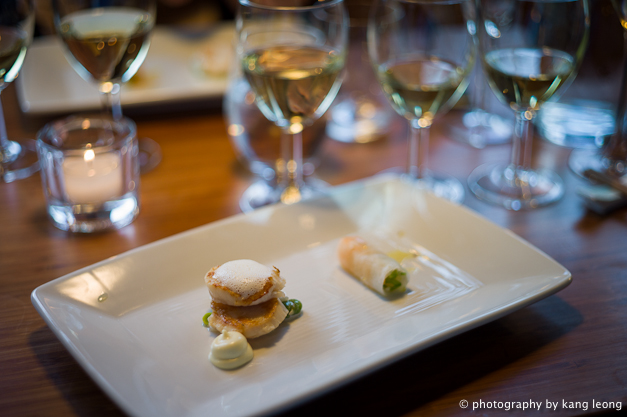 Sensational salmon was followed by phenomenal scallops. So sweet, I could have eaten it raw. Some felt the wasabi mayonnaise was a little too much, but I quite liked it. It was spicy and really eggy.
Course 4: Norwegian Langoustines, wasabi butter sauce.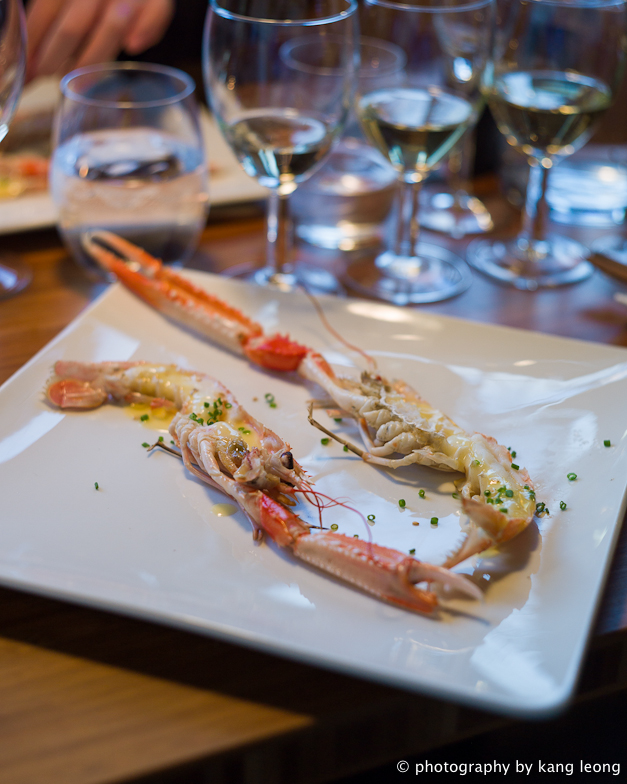 This was the OMG dish. I was told that they were caught in the mid afternoon and delivered to the restaurant at 5pm, just three hours before dinner. Served with a sort of clarified butter sauce made with something zesty and some wasabi. It looked like it was blanched to just the right side of cooked. The inherent sweetness was breathtaking, clearly these were the juiciest crustaceans to swim in Norwegian waters. I was told by neighboring guests that the key to the sweetness was the timing between cooking and being fished out of the water, before the death toxins take its toll on breaking down the muscles. Relatively cheap in Norway, readily available …I cried for one more, the missus cried for two more, but to no avail!
Course 5: Nigiri of otoro, salmon, maguro.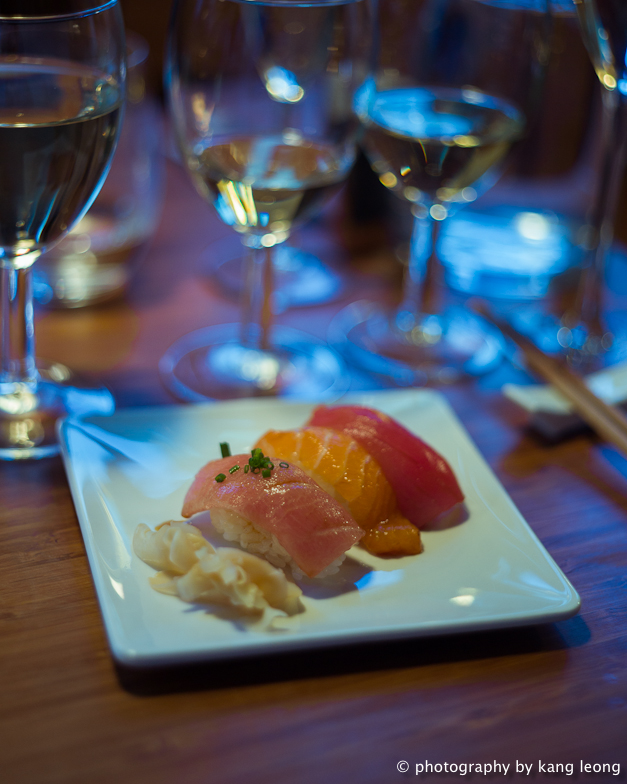 At half-way point, we were treated to a selection of Sabi Sushi's bread and butter dishes. Or nigiri and maki I should say. Tuna – maguro and toro – and salmon pre-slathered with soya sauce (so I didn't have to, but could if I wanted to – a homage to a certain London sushi bar). The otoro was flab-tastic, cut up the day before from a 19kg tuna caught off the Sri Lankan coast. Like all good otoro, the experience was a mesmerizing mouthful of oozing buttery flavour – so good that it is this very sensation that is enough to threaten the very existence of the fish itself. The rice was warmer on the 2nd day, clearly more pampered than during the launch party, resulting in a loose texture and exhibiting the usual melt in the mouth textures I associate good sushi with.
Course 6: Maki of salmon toro, salmon with tempura and cucumber, soft shell crab with avocado.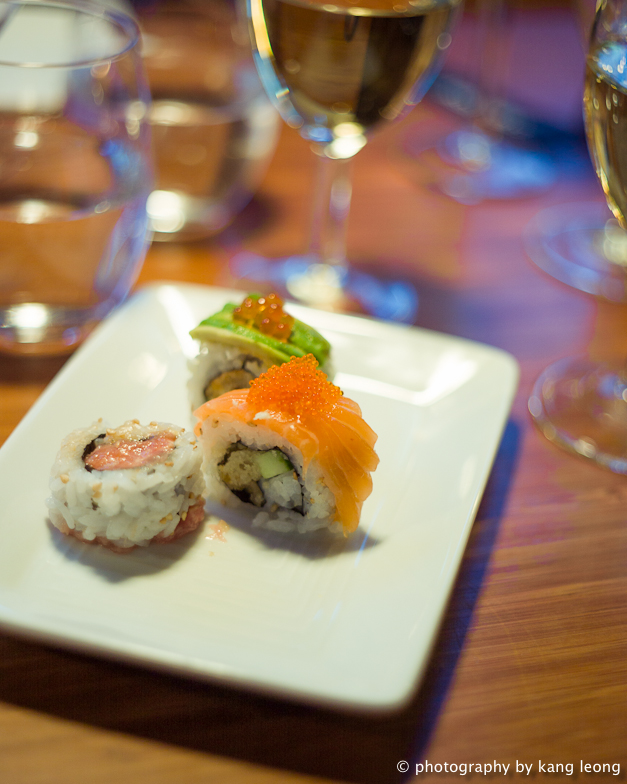 I really enjoyed the salmon belly tartare – so well mashed and fatty, it was nearing the texture of a smoothie. Full of flavour. Tempura batter rolled into maki is always a genuinely addictive proposition.
Course 7: Ginger sorbet.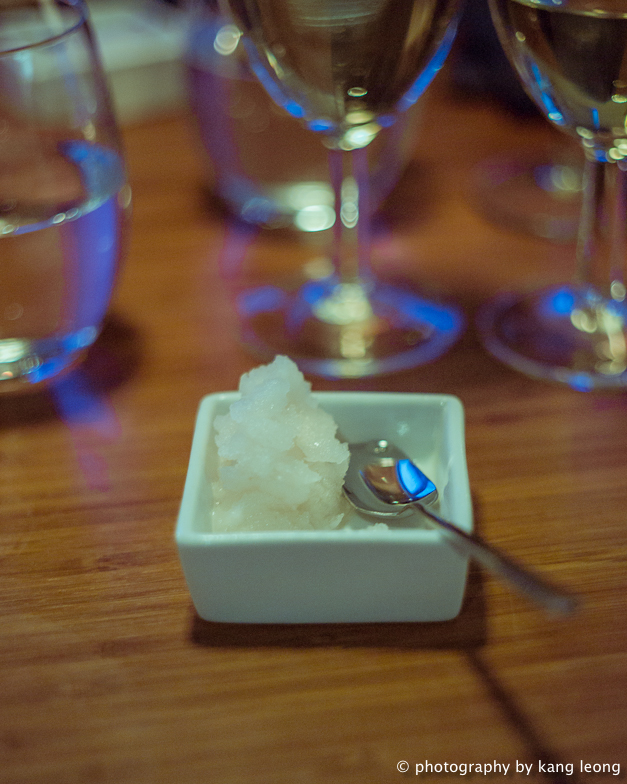 As opposed to pickled ginger. Interesting twist.
Course 8: Reduction of chicken jus, spring onion, carrot.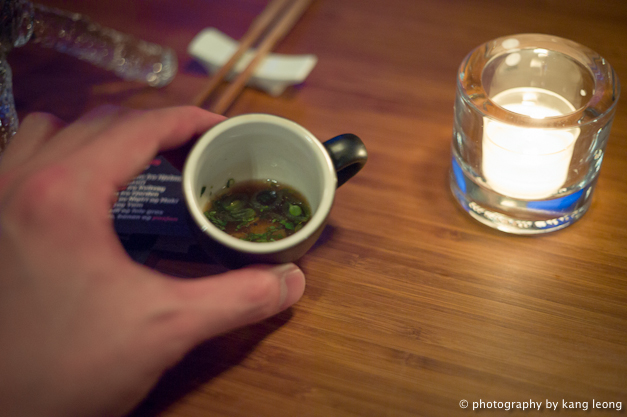 Not sure if this actually qualifies as a course per say, but it was eye-opening. A KO punch of chicken jus.
Course 9: Dutch Wagyu, foie gras, pastry of pickled oyster mushrooms with Sabi sauce, shiso leaf.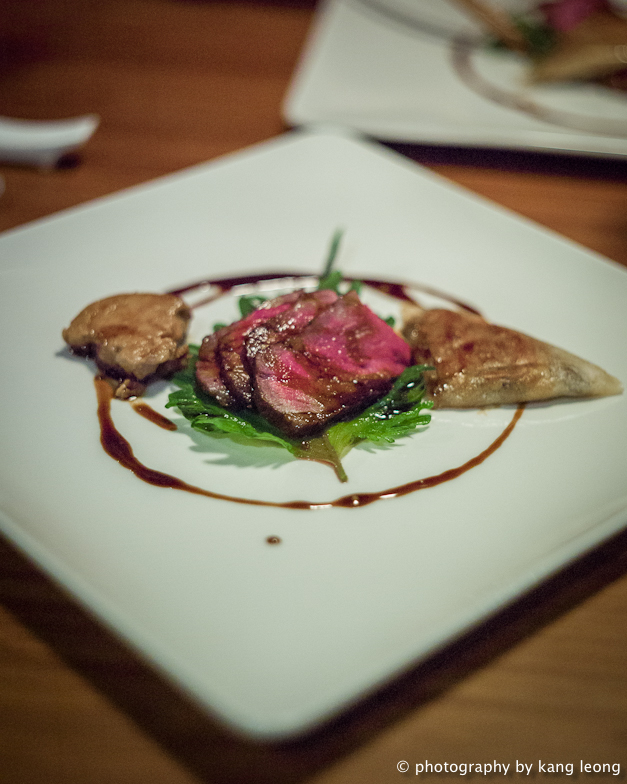 1st impression – Japanese Tournedos Rossini!
Dutch wagyu – this was a first for me. Sirloin was used, cooked to medium rare and sliced thinly like a carpaccio, unfortunately a little too thin for me to tell tell how tender it was. The teriyaki based sauce and the foie gras masked rather than enhanced the natural beef flavours completely, so I couldn't really tell what it tasted like either. Personally, I would have preferred if it was served as a cube, or at least cut just a little thicker. Frankly though I really wished there was more of it. I think this could have worked better if it were served a little more rare (or even raw).
It was nice enough, but I felt it could have been better. I couldn't help comparing it to the excellent Wolfgang Puck wagyu steak sashimi recipe. The oyster mushroom pastry/spring roll on the other hand was quite nice.
Course 10: Banana, chocolate 'tray' with melted chocolate, banana, passionfruit and coconut ice cream.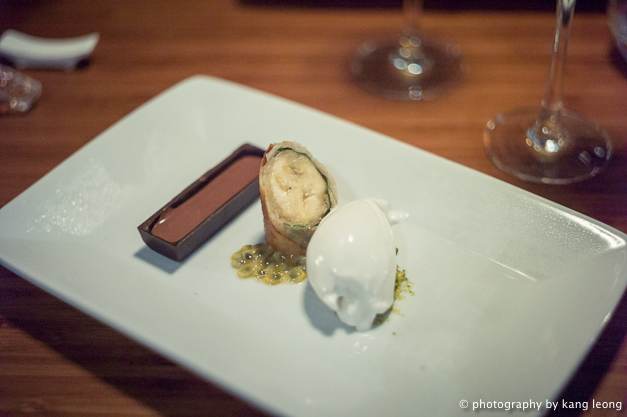 Aka: The Pacojet course. I was mocked for not knowing what this gizmo was! Heston has one in his kitchens. Basically a pacoject is a really powerful mixer, with a sharp blade that spins at 2000rpm. For making ice cream, this cuts up all the rough ice chips into a superiorly smooth frozen mouse.
Indeed, this was a superiorly silken coconut ice cream. No ice crystals as promised. The chocolate was made by a Chocolatier local to the area, but I failed to get the name. Both were very good. Fruit, chocolate and ice cream reminded me of Le Chateaubriand yet again. Personally, I would have preferred to see a slice of grilled banana instead of it being served with either a pastry or battered wrap – The smell of cooked bananas always makes for a thriller – , but otherwise it was a pleasant end to the lengthy meal.
Of course, this menu is still work in progress, but I think the restaurant certainly has got all the necessary building blocks to mold into something special. If anything, it's certainly an interesting glimpse into the future of Stavanger's fusion dining scene. For me, it was pleasant (if short) gastro-getaway to a region which is just developing a taste for quality international cuisines. A little surreal to see what was a conversational topic a year earlier now fully realised as a thriving group of restaurants. It will be interesting to see how it evolves over the next couple of years.
In some ways, the minimalist-high quality approach (See Wabi-Sabi for Japanese Aesthetic) is reminiscent of Tom Byng's no-bullshit ethos in building his ever expanding Byron empire. I still tell people how I had once sampled their now defunct (but original) Byron sliders way back in '08 (my writing was as cringe-worthy as it is today) when there were only 2 branches. Hard to imagine that back then, Byron came behind GBK and Hache. Now they're up to 22 branches and still growing.
Did you enjoy reading this? You can subscribe to the Newsletter. Alternatively, you can subscribe to the RSS feed.