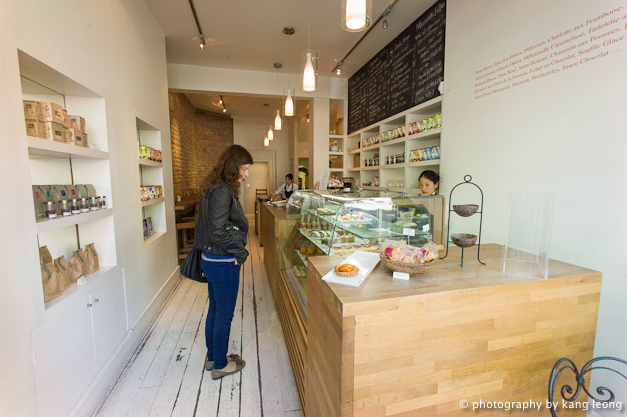 I remember putting this cosy and dainty cafe on my list after reading LF's detailed report nearly two years ago. It's stayed there ever since as I can never seem to find time to visit anywhere just for cake. The owner Masayuki Hara is Japanese, but has spent a large slice of his career in London restaurants such as Le Gav, Cave at Caviar House, Corrigans before opening his cake & tea salon. The cakes mirror his background – French recipes with a spoonful of Japanese finesse. Coffee is from Monmouth, tea is imported from Sri Lanka, is exclusive to Lanka and probably what has inspired its name. There are two of these in town now, we visited the original in leafy Regents Park Road which is also home to Bryn William's wonderfully low-key Odette's.
Chocolate Green Tea Gateau with vanilla ice cream, £3.60.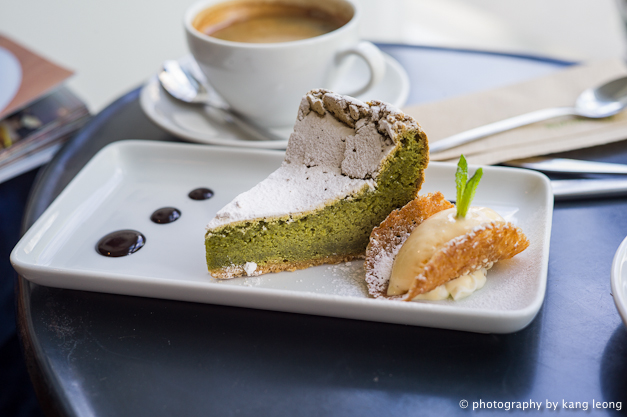 Cor …dense, floury, moist, blue ribbon. The matcha flavour was pronounced, the chocolate less so. It wasn't overly rich, but tremendously balanced instead, delicious. The vanilla ice cream was made in house, was probably very good, but all I remember was how good the cake was.
Assiette of Dessert, £7.50.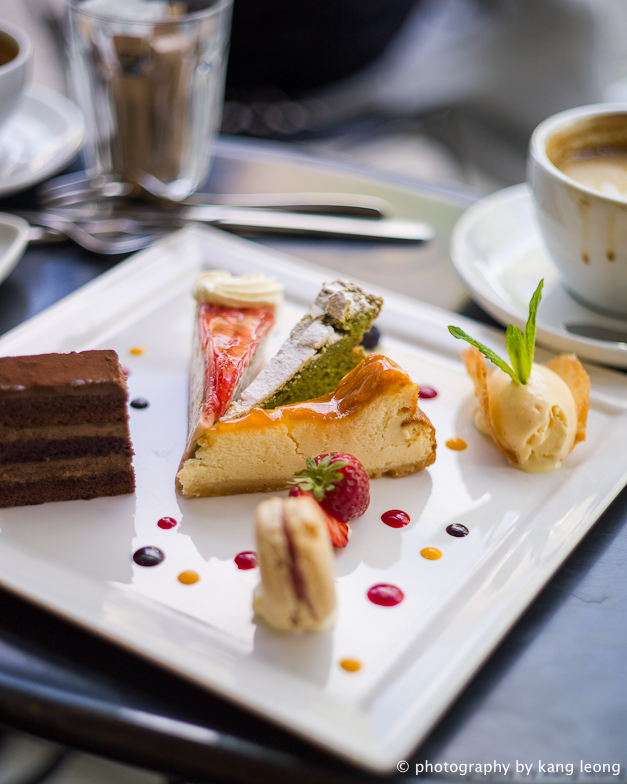 The cake selection is exhaustive and there was enough variety to compel me to try a bit of everything. I love anything with white chocolate, so I tried to negotiate some to go on the tasting platter, but sadly I failed to influence the chef's choices. Instead he laid on a cheesecake, strawberry tart, a chocolate moist cake, a macaroon and another wedge of the excellent green tea gateau. All very slick, not overly sweet or rich and delightful for a sunny afternoon.
We paid £19.95 for cakes and 2 coffees, which includes a take away slice of white chocolate gateau with a base made with using azuki bean – A supreme combo. The French-Japanese fusion appears to be seamless. Trawling through Lanka's website reveal broader intentions of a seemingly thriving catering operation beneath the facade of the cafe. Now I know where to have birthday cakes done.
In addition to the sweet things, Lanka also offers breakfast and lunch, which based on various blog posts, look like they are more than a match to the excellent pastry work. Chef Hara also keeps a blog showing snaps of his creations, but he appears to have lost interest in updating it. The last post is dated Sept 2010. Worth a look nonetheless as some dishes look like winners (ravioli of lobster with basil sauce, for example).
Well there you have it, a lovely cafe to visit for summer if you haven't already come across it.
The Gist of It
Lanka
£10pp Cake & Tea
71 Regents Park Road NW1 8UY
Tel: 020 7483 2544
Tube: Chalkfarm
Other views: Time Out London, LF, Food and Fashion, The Tasty Lamb, London Chow
Did you enjoy reading this? You can subscribe to the Newsletter. Alternatively, you can subscribe to the RSS feed.