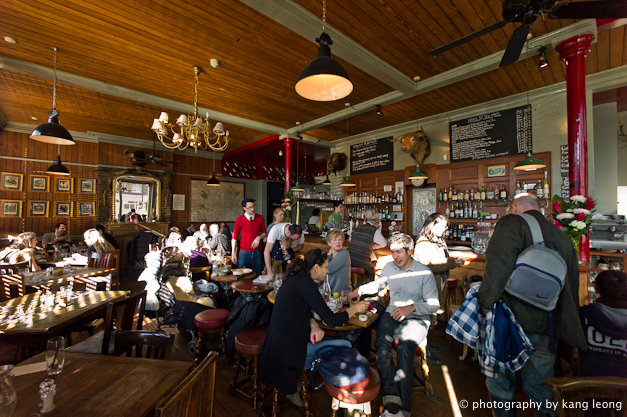 Perfection is a state of mind, especially so when it comes to restaurants. But perfection was all that I could think of this very meal as I negotiated the last spoonfuls of blueberry cheesecake sundae. It was simply one of the very best Saturday pub lunches I'd ever had.
Bull & Last are entering their 4th year of service, now firmly established as a landmark and a local favourite for Hampstead Village residents. I went there sometime last year, and I was so bedazzled by the quality of the cooking, I vowed to return to try more. This 2nd visit had only reinforced my perceptions of the gastropub. Their home-made charcuterie platter is probably best in London, possibly rivalled only by Bar Boulud's own French smorgasbord equivalent.
Somehow I had managed to get a table within 2 hours notice, last Saturday for lunch, so off we went to this idyllic part of North London.
For me, the restored aged interiors of stuffed bull heads, stuffed foxes, wood panel floors and walls made for a cosy place to sip beer, especially when the sun shines. Split over two levels, the pub is expansive, the walls feel like they are layered with history just underneath the paint, proud, loud, cosy and a conducive family environment. A quintessential pub. The dining room upstairs is just as big but a little tidier, with smaller windows and more stuffed animals.
There are a couple of chalk boards upstairs, sometimes they scribble about their guest ales, other times they pay homage to their long list of suppliers. It would appear that Bull & Last place emphasis on seasonality and quality of produce. There seems to be a theme of wholesomeness about the menu. Everything suggests that food is kneaded, hand picked, hand cleaned and hand-made (with love) in their kitchens. Quite possibly the reason why food turns out so damn well here.
Take the bread for example. Each basket may comes with a surcharge of £2.50, but well worth it. There's a lovely effervescent fizz about their brown soda bread. Another was scented with caraway seeds. Curry flavoured I remarked! "No you daft food blogger" said the missus. "They are caraway seeds, you twit." .
Expectedly, this pub menu reads like a thumping belly cry of a feast. It reads like a reward to recharge after a torturous week at work. It does change from season to season but at time of writing, some dishes sound like this: Confit Chicken Thighs, Coco Blanc Casserole, Rainbow Chard & Soft Herbs. Brown Crab Macaroni, Crispy Soft Shell Crab, Tomato, Tarragon & Crème Fraiche. Slow Cooked Ox Cheek, Snail & Parsley Risotto. Oh that last one sounds like a winner doesn't it.
Fish Soup, £3.70.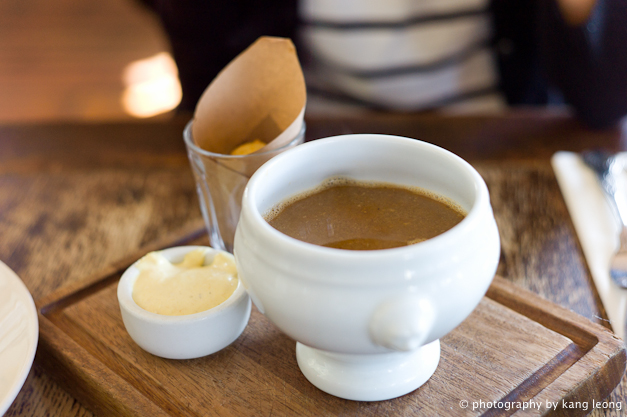 A brothy, fluidised shell of shell fish flavour. Thin and light, with some freshly whipped rouille and deep fried balls of cheese. Mmm. The missus literally licked the bowl clean of its very last drops.
Handmade Pumpkin Ravioli with Sage Butter, Amaretti Crumb & Parmesan £7.50.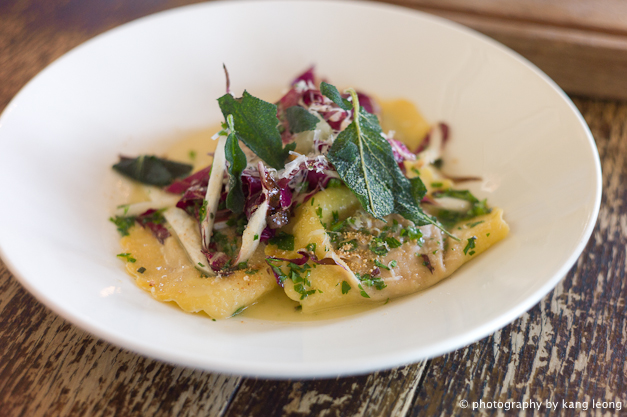 Sweet, nutty, loving, gorgeous seemingly hand pressed al dente pasta. Like putty, with a rich paste of fresh pureed pumpkin. It was certainly comforting and it was incredibly wholesome.
Cornish cod with oxtail ragu, gnocchi, monk's beard, £21.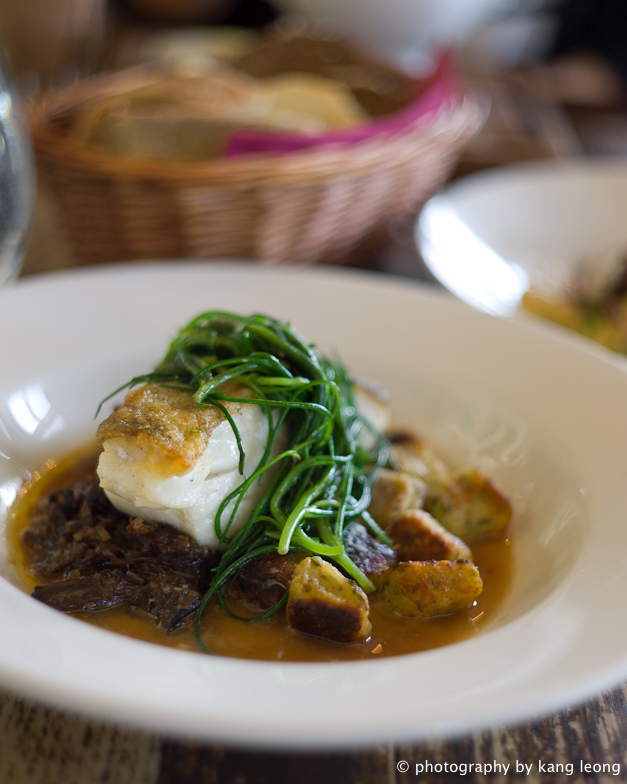 Look at that dish, this stuff will make you grow up tall, healthy and strong. A loin of cod so beautifully bouncy and flaky, it was wonderfully matched with a mellow oxtail ragu. It may have been stewing for hours to reach this melting flossiness. Gentle packets of fried herbed gnocchi, with a residual juice that I lapped up with the last slides of the caraway seeded bread. An elixir for soothing the soul. This was honest, real food!
Prune & Armagnac Ice Cream, £2.50.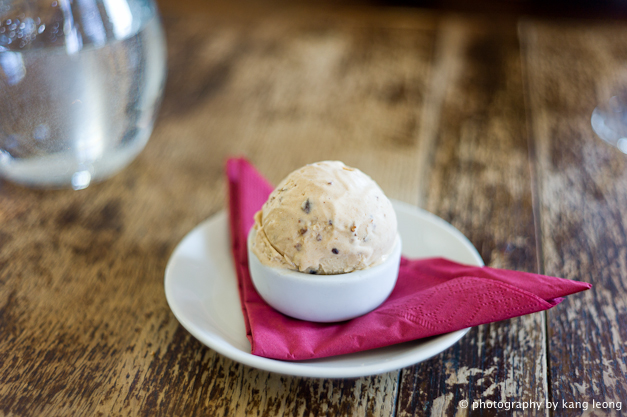 Any restaurant that serves home-made ice cream deserves praise. Those which offer the classic prune & armagnac ice cream deserve to be elevated to the heavens. Not quite as decadently alcoholic or rich and sticky. It was a little too smooth and milky for my tastes. More prunes soaked in brandy would have been nice, but then again, I am just nitpicking.
Blueberry cheesecake ice cream sundae, £6.00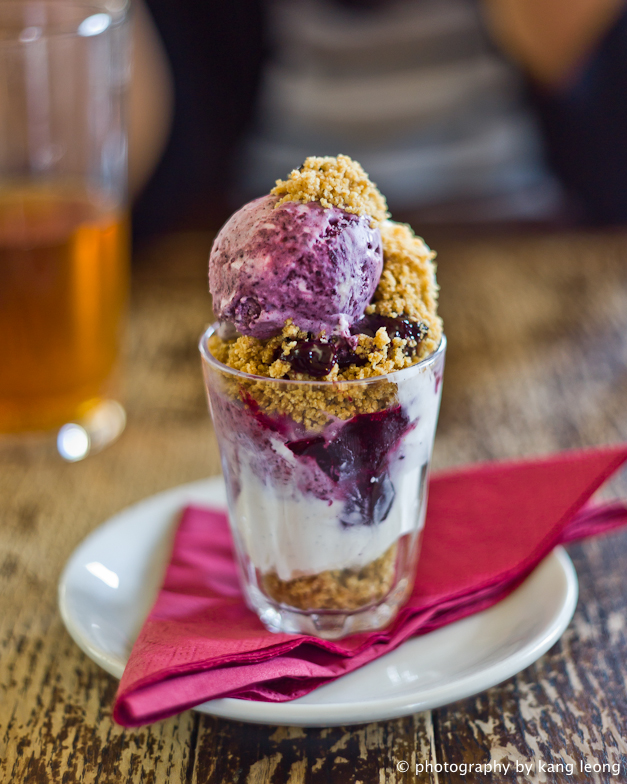 Just when I thought the meal had culminated, this sundae landed on our table, and I was just flabbergasted. It's too much, I was well and truly defeated by the meal. It would appear the Bull had the last laugh (are you amazed at my terrible puns yet). The proof was indeed in the pudding. A terrific way to finish an immensely enjoyable lunch.
We paid £62.10 which included a glass of wine, and a pint of Hooky Bitter.
At the end of the day, eating out should feel convivial, a minor life-changing experience (or life affirming) , and a celebration of why it is we work so hard to build a life. This sort of food reaffirms the very essence of what it means to have a lifestyle.
In my opinion, the cooking at B&L is in the same league as The Sportsman and Harwood Arms, if not better. It is refreshing and has harmonious clarity about it. The pub has a special ambiance, but it remains an easy going, genuinely great place to catch some simply awesome cooking. Not that they are the same (in fact, very different) , but the spirit of this pub reminded me of the fabulous The Dogs in Edinburgh. On my third visit to B&L, I'm going to try their gargantuan fish & chips. Plan well ahead if you want to go because Bull & Last are popular, and deservedly so. In the meantime, I am plotting a visit to their sister pub, The Prince of Wales in Putney.
The Gist of It
The Bull & Last
British £35pp.
168 Highgate Road NW5 1QS
Tel : 020 7267 3641
Tube : Gospel Oak
Did you enjoy reading this? You can subscribe to the Newsletter. Alternatively, you can subscribe to the RSS feed.