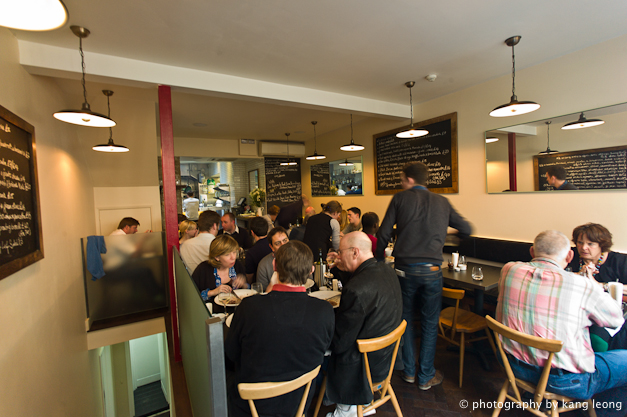 I was rather surprised when I arrived to an empty restaurant. This restaurant (barely 2 weeks old as of writing) has been trending on twitter thanks in part to the double whammy four star reviews courtesy of Fay and Guy. Two of the doyens of London restaurant writing. The peace and quiet didn't last long, as soon as the clock hit 1pm, droves of people came flooding in. As it was a Friday afternoon, I assumed mostly it were you folks who work close enough to have swift work lunches in Soho.
The chef/co-owner is one Cameron Emirali, ex-Wapping Project, an old power station converted into art gallery – its messhall which I have yet to visit, consider the quality of museum/gallery cafes these days. (More on this toward the end).
Wine is suppose to be a highlight, as the other co-owner is Luke Wilson who manages front of house is a bit of a wine-head. I drank a glass of the Hinrich, An Austrian red made using Blaufränkisch grapes for £4. Unbeatable value considering the pedigree, but I found it to be a little flat and bitter for my tastes. You know I'm really a Beaujoulais/Spätburgunder kind of guy these days, acid & jam is the flavour of the moment for me. That's a self-deprecating joke, which is to say that my taste in wine is currently piss poor. So maybe you should take Guy's word for it.
The restaurant is tiny, and it does look like it was done up on a shoe-string budget. Perhaps as a cost saving measure to cramp more tables under the same roof (or maybe they just ran out of money to finish the kitchen wall) , the kitchen at the back of the room is visible to diners. It is also able to entertain a couple of solo diners who wish to sit at the bar/service desk to watch the chefs do the shimmy hot sauce.
The rest of the dining room is barely adequate, and almost like a caffe. Tables are wooden, barely a meter wide and you rest your arms on laminated tops. Along the sides, a couple of mirror panels are hung, probably to make the room appear larger than it is. This isn't deliberately aged like Russell Norman's devilishly detailed restaurants, but it is modest, honest and it feels like it should belong to say Highgate than Soho. However, the decor does remind me of a cult Soho restaurant – Giaconda Dining Room. Over there, their menus don't quite change daily, but there are specials, and it is a little quirky and a little 'Modern European'.
The menu is scribbled on chalk boards on either sides of the room and feature dishes like Lamb sweetbreads, lentils, romanesco & Marsala; Pancetta wrapped guinea fowl, Jerusalem artichokes & kale ; Polenta & Marsala cake, poached pear. All of which sounded wholesome and well-travelled in chalk.
In practice, they look pretty damn gorgeous.
Grilled Sardines, salsa verde – £6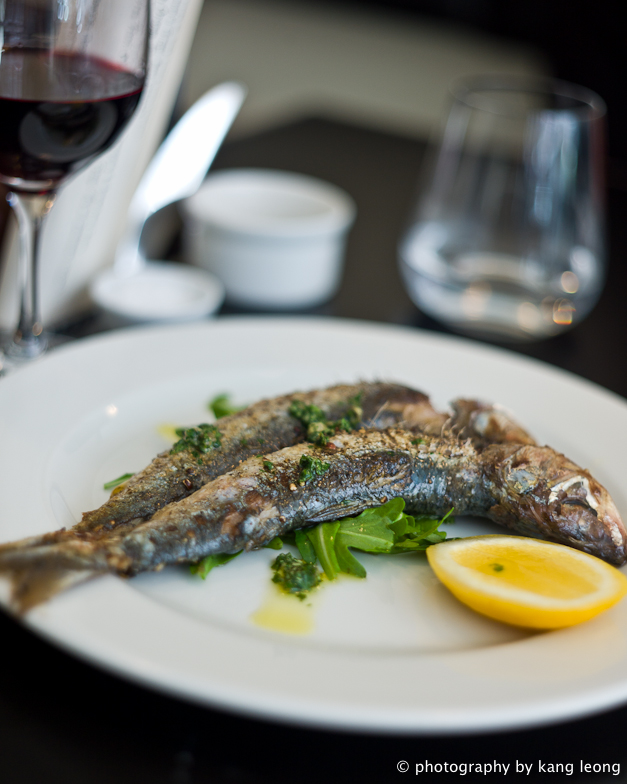 Didn't I tell you – Pretty damn gorgeous fish yes? It tastes exactly like one of those Rick Stein's clips of him pan-frying terribly fresh fish caught off some random coastline in Europe. Then with Rick's signature baritone voice-overs as the camera swoops into his hands making a garnish of his home-made recipe of salsa verde, with a squidge of lemon to finish the fish. Gooorgeous.
A little rock salt, a little charcoal. Juicy, oily, sweet, just slightly translucent under the skin, so fresh, like it was still alive barely hours early. If I had this for lunch every day, I would easily live to a hundred years old.
Rick Stein would be proud.
Char-grilled Welsh Black rib eye, truffle mash & braised kale – £20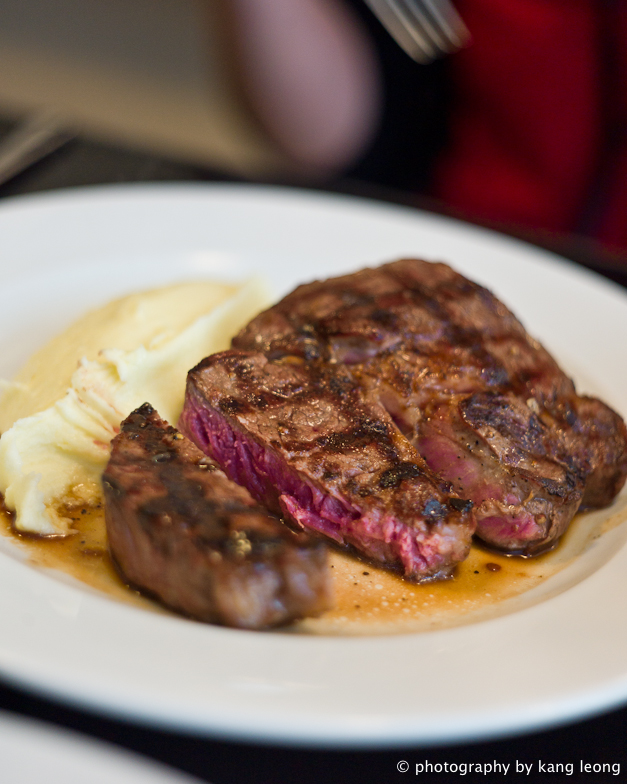 The missus dropped in just in time to join me for dins, but she only had time to stay for one plate. She scanned the menu, but didn't fancy sheep lymphoid glands or sea bream, so she opted for the safe choice.
Ahh yes, Welsh Black beef… memories. A breed that is often overlooked in England, but proudly grilled to some kind of perfection in Welsh restaurants. The cattle gets its name from its luxurious black coats. Beautiful animals. Apparently, some of them are herded in the shadow of Black Mountain near Carmathen. I had Welsh black fillets (with cockles, bacon and laverbread no less) nearly every day where I used to work in Pembrokeshire, and they can be as tender as the best well-hung English Longhorns or Scotch Angus, whilst exhibiting wonderfully concentrated beefy flavours.
So to see Welsh beef being used in a London restaurant is, for me, nostalgic. I liked that this was of a substantial thickness and weight. It was at least 10oz, and probably a little more. The beef carried good natural flavour, and was grilled well enough, if a little unspectacular.
Unfortunately, the braised curly kale which were hiding beneath the meat were terribly over seasoned. So much so, the missus nearly jumped off her seat as she ate them. The mash was more butter than truffle, yes it did have truffle-ness, but unfortunately for me, it was quite ordinary. Don't get me wrong, for £20, it's still a great one-plate meal (and I'm trying really hard not to come across as a snob) but it wasn't exactly ground breaking, Modern European. It's better than the average pub lunch, but it's not the next Zucca veal chop.
Confit duck leg, red cabbage, Jerusalem artichokes & pancetta – £16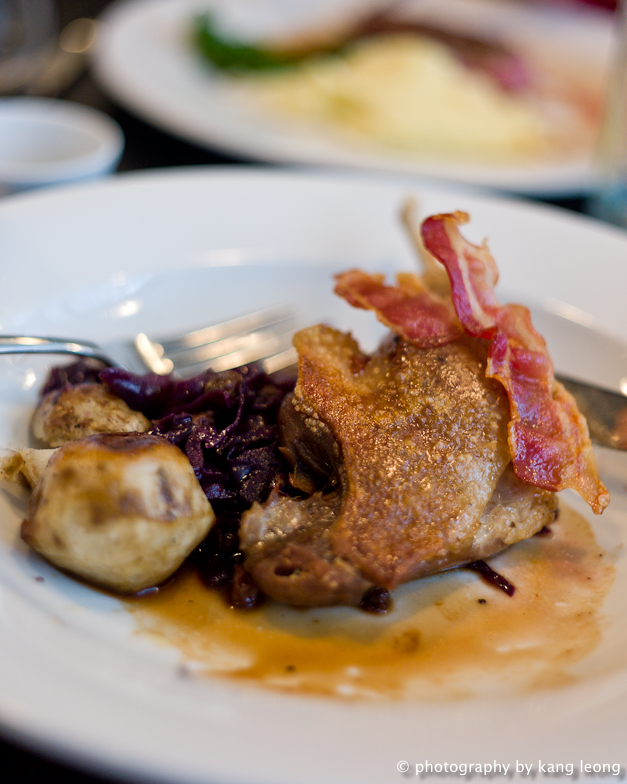 A good confit du canard is as elusive as a Fernando Torres goal in this town, and thankfully I can report that this a better experience than most. The golden crispy skin suggests that the duck has been correctly finished on a hot pan, after simmering in duck fat. Whilst it had good duck fat flavour and slithery juicy flesh, I would have liked it to carry just a tad more flavour, perhaps spend a little more time in its own fat. But that's just me being picky, it was delish either way.
The red cabbage was on the bland side, with raisins, and I liked that it wasn't overly sweet like most red cabbage that is served in restaurants in this country. Something which could easily ruin the duck and become too sickly sweet, but this wasn't, this was rather good.
Again, I don't see anything on this plate to suggest that it is anything but Anglo-French, throwback classic cooking, as opposed to the Modern Euro which has been purported. I searched their site, I can't see where it is suggested as such. It certainly is no St John, nor is it River Cafe. In fact, the food reminded me of the surprisingly good work being carried out at the cafes at Tate Modern (and to some extent at The Wallace Collection). 10 Greek St's style seems redolent of Museum food. That's a compliment believe me, don't underestimate the capital's best gallery/museum cooks. I hear good things about the Saatchi gallery mess. The Tate Modern's restaurant has a panaromic view of the Thames and they are capable of churning out deliciously pan-fried pork chops.
Rum pannacotta & prunes – £5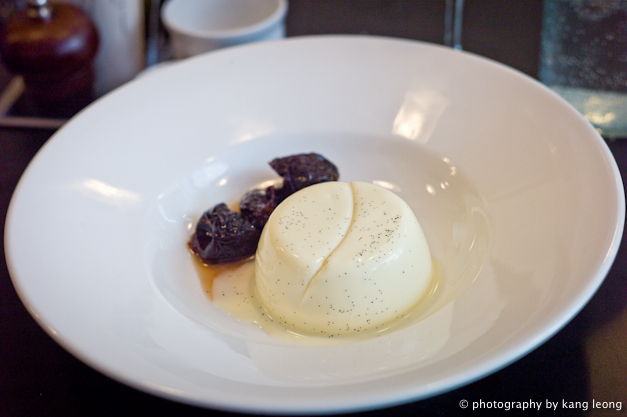 What is that line running down the middle? Why would anyone pierce a virginal pannacotta meant to be unbroken and innocent? I did not like this. It did not wobble, it was so thick, it spread out on my spoon like cream cheese. It was so creamy that it was a little sickly. I'm not sure if it were just prunes soaked in rum, but there was little alcohol in this pudding. It did have lots of vanilla, like rich vanilla, but you know, there's just no balance. All over the shop. I wish I had just ordered cheese instead. A queasy and misleading end, and something which should really be called vanilla pannacotta with rum and prunes.
They do take bookings for lunch but not (yet) for dinner. Considering space, setting and size of plates, it should consider taking bookings. It really is more of a restaurant than a tapas bar, and people who come in here will definitely sit through three courses or at least take time to eat their food. Not taking reservations isn't suppose to be a route to the cool club, it really should be practical for both restauranteur and diner. For instance, with burger bars you can swiftly be in and out in 45 minutes, Polpo-esque dishes are glorified (or one-fork-food) finger food, therefore meals are also very swift, same difference with tapas bars.
Take the example of the fantastic off-shoot Nuno Mendes restaurant, The Corner Room. During quiet times, it's a revelation, but the waiting times during busy Saturday nights have generated huge numbers of complaints, be it the consistency of the food and the simply terrible wait times. I actually experienced it myself, and drunk myself silly waiting for a table at the downstairs Viajante bar, which slipped from a half hour wait for a table at 8 to actual sit-down time at 9.
The type of food here is a little slower, plates are larger and diners will work have to work with cutlery in both hands in tight space. Even for lunch, we took an hour and a bit to finish. So it doesn't make sense (to me) to have people wait around in the cold of night, for others to finish their long meals. Giaconda Dining Room is the precursor to 10GS. Whether they can spot the similarity or not, there are parallels, and GDR do take bookings.
On the topic of space (or lack of), I think they could probably do with one less table. See, each table is quite small, but food come in large plates, which will nearly take up the entire width of the already tiny tables. You see, bigger plates means a bigger radius of moving elbows. Given that there are barely five inches between tables, and less for walkway behind us; It means that waitresses are pressing against diners on either side when she is bending over to take orders or to serve dishes. It also means I need to work on my side of meat like a surgeon performing open heart surgery, and actively avoid being hit on the elbows. Hugely haphazard. See – there's a reason why these tiny Soho haunts serve small plates – bigger plates are simply impractical. Logical no?
It's ok you can say no, and throw a toy at me. Maybe say, an angry bird.
I do not know why this cooking is considered Modern Euro, if anything, it's revitalised throwback meat and potatoes.
We only paid £51. The missus left early citing suffocation. With the front door closed, it was like a house on fire. At the height of full service, the kitchen was just covered in smoke. I've already put my beloved ferragano scarf into dry cleaning… it smells of chargrill steak, so I can't wrap that around my neck in fear that I may eat it on the way to work. I'm a little relieved to read that Euwen had a similar experience. I did ask the front of house guy (whom I assume was Luke Wilson) and he told me that they were aware of the situation and were trying to grappled with their extractor fan issues. But apparently they needed to make the money first before making upgrades. You know, it just doesn't seem like they have everything all planned quite yet.
Yes I hear you, it's early days and yes, it is completely forgivable given that it is only two weeks into service. I think it's clear there are some operational (and identity) issues to sort out, but I think the owners have their hearts in the right place with this labour of love.
Look, I don't want to shit on a small restaurant like this. It clearly has potential to be a real gem, and I think we are better off with egalitarian and competitively priced places such as these in Soho, and we need many more of them. It's not exactly bistronomy, but it is a humble little restaurant which serves quality classic hearty dishes and it is a place which you could easily go back to everyday for a work lunch or a relaxing Friday night dinner.
A swift google search reveals a number of glowing user reviews, so clearly you guys already like it. The fact that their menu changes daily is a double-edged sword, sometimes Cameron may churn out genius dishes, but other times, he may simply miss the spot, but respecting seasonality is an important aspect of successful restaurants with loyal followings. The kitchen is clearly capable but I think it just needs more focus.
In my experience, most of these places tend to figure out a rhythm pretty soon. With the eventual customer feedback, I think they will find out what Cameron's strongest dishes are, and build a core menu plus daily specials around that experience. Yes, perhaps that's it then, 10 Greek Street is just finding its feet.
The Gist
10 Greek Street
Modern Euro, £35pp
10 Greek Street, W1D 4DH
Tel : 020 7734 4677
Underground : Leicester Square
Did you enjoy reading this? You can subscribe to the RSS feed.