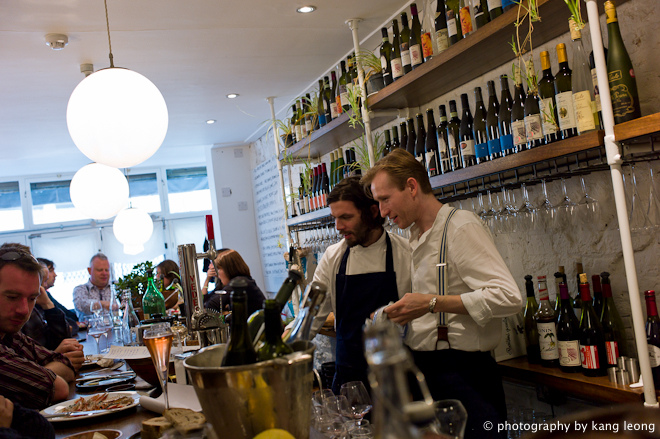 Banana skin. I was suggested to try the 'Ocre Rouge', a Pinot Noir from Dions (as opposed to Burgundy) and I had come to the conclusion that this was a quirky little devil of a wine. The finish and its tannin structure was akin to banana skin, a first and a rather interesting peculiarity. The same could be said of the terribly cramped environs of the new Soho opening which has captivated Twitter's appetite. Not only are they the latest restaurant to operate a no reservation service, they have gone the extra mile to install a record player on premises, inviting returning patrons to share their vinyl collection with everybody in the room. Ducksoup is either a genuinely hip place to dine or at the very least a good pretender. It is in keeping with the presumption that Londoners are still very much in love with the idea of less is more when eating out. Think Brawn, Spuntino and Rochelle Canteen throw in a Kitchenaid, then splashed across Fernandez & Wells. Et voilà.
The brains behind this genius are ex-Hix, chef Julian Biggs ( I think he is the beardy one) , Clare Lattin and Rory McCoy, collectively have managed to make the genre of uber-cool and understated, easily egalitarian yet decidedly British restaurant, feel refreshed once again. I really like the name, obviously it is not named after soup, but it gives the entirely random but accidentally on purpose impression, yes? (Yes Kang, keep up the bullshit). Might it have been a homage to a Marx Brothers film, I wonder.
Like many of today's savvy restauranteurs, the key to conquering market share is online presence. Ducksoup are well equipped of course, already making all the right connections on twitter, (very usefully) posting their daily changing menu on their tumblr. That saves me the trouble of having to snap a photo of their menu. People are tweeting about them, forums are intrigued by the idea of this restaurant, half the battle with restaurants – in my opinion – is appealing to the masses. Once you get it in the prospective diners' mind that your restaurant is 'the place to be' , you are half way there to enticing free wheelin' hungry gluttons to your restaurant. Whoever Ducksoup have paid to brand their restaurant, I think they have done a bang up job with the subtle campaign.
So lets rewind to my first visit, a late 3pm lunch (high tea?) on the 14th October 2011, to some of you, it may be significant, because that's also the day we queued up for the iPhone 4S. Yes, heckle as you do, what can I say? I'm a victim of the times, I queued up and paid my dues to the Cupertino empire, and then promptly trotted off to Soho for a late lunch to fondle my new gizmo. Since then, I've discovered what anaddictive app Instagram is. Take it from me that the camera on the new iPhone is so good, it alone is worth forking out £500 to replace any ageing point and shoots.
Tomato bread, olive oil, £3.50.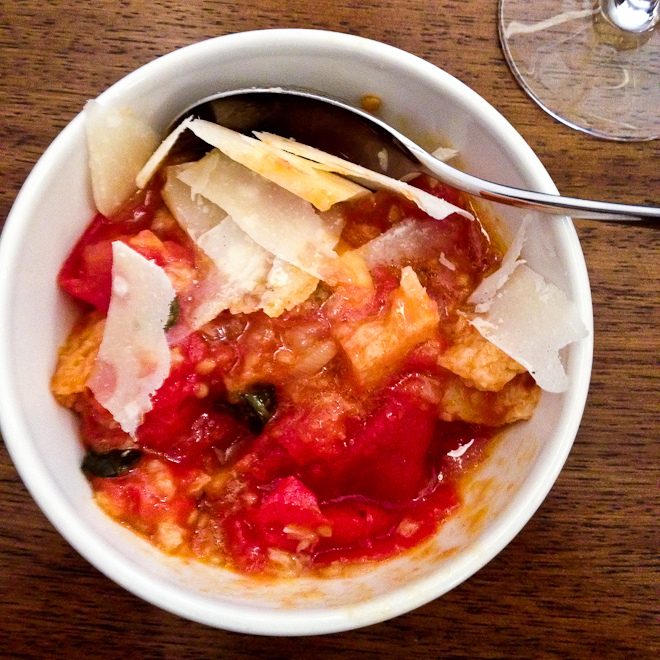 Snap. snap. I was expecting baked foccacia with bits of dried tomato, but instead, this was more like a stew, or perhaps a panzanella made with fresh instead of stale bread. The keyword here is fresh : This bread salad was really wholesome, juicy stuff. I don't know what tomatoes they used, but I could tell you now, that they were plump.
Lamb cutlets, lemon, salt, £14.00.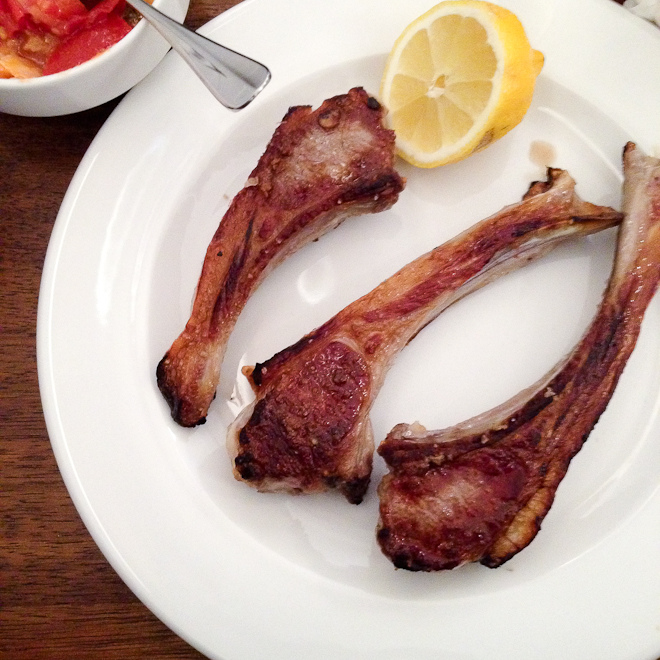 Bony. Really bony, is this all the food £14 buys these days? I could pardon the low value for money because these were some of the best lamb cutlets I'd had in a long time. Again, I don't know where the sheep were from, but they were fragrant, juicy, interestingly a little gamebird like, well seasoned and well fried.
Creme Caramel, £5.00.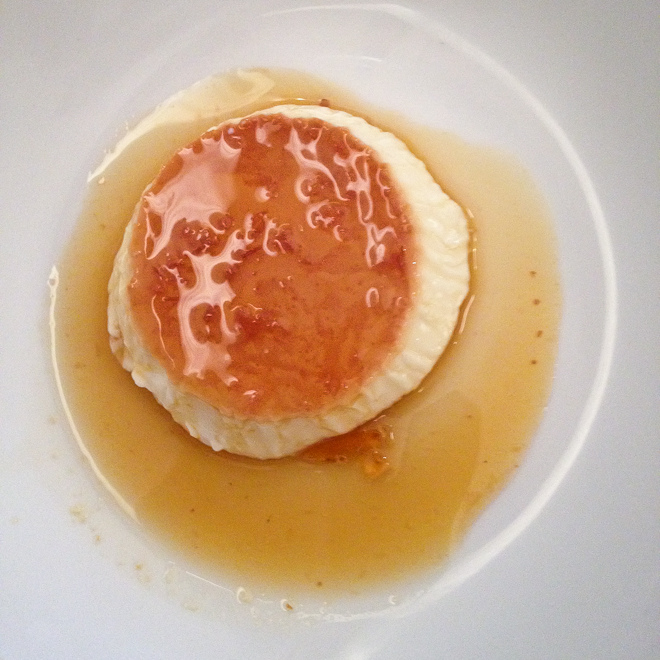 What? A fiver for baked milk and eggs? Somebody's having a laugh. Overpriced and not that well made, could do with more caramel sauce.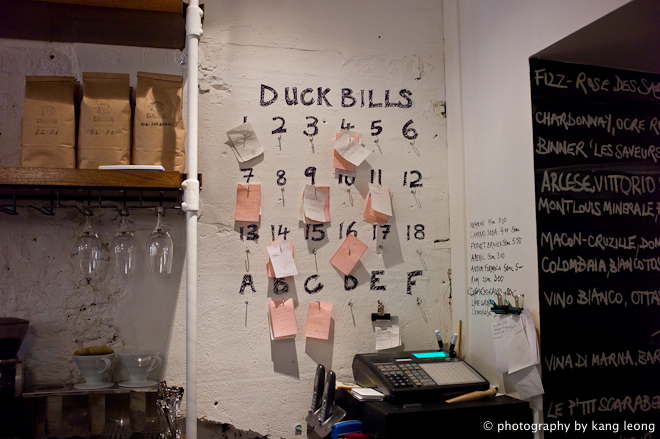 My first visit was intriguing enough, that I felt compelled to go back to try it again. I enjoyed the cosy atmosphere well enough, and whoever served me that day, she made me fall dangerously in love… with the restaurant. After meal one, it was pretty obvious this place was not another Russell Norman copycat, because it was rather expensive. I paid £35 for three plates of food plus a glass of white wine. I did admire the sheer quality of produce, while cooking was minimal, I felt it was the work of deft hands.
And so, I went back a week later. As you can peer into the ktichen, and if I am not mistaken, I believe I spotted an (ex?) Zucca chef in there. Can someone confirm? A she.
Chopped raw bavette, toasts, £7.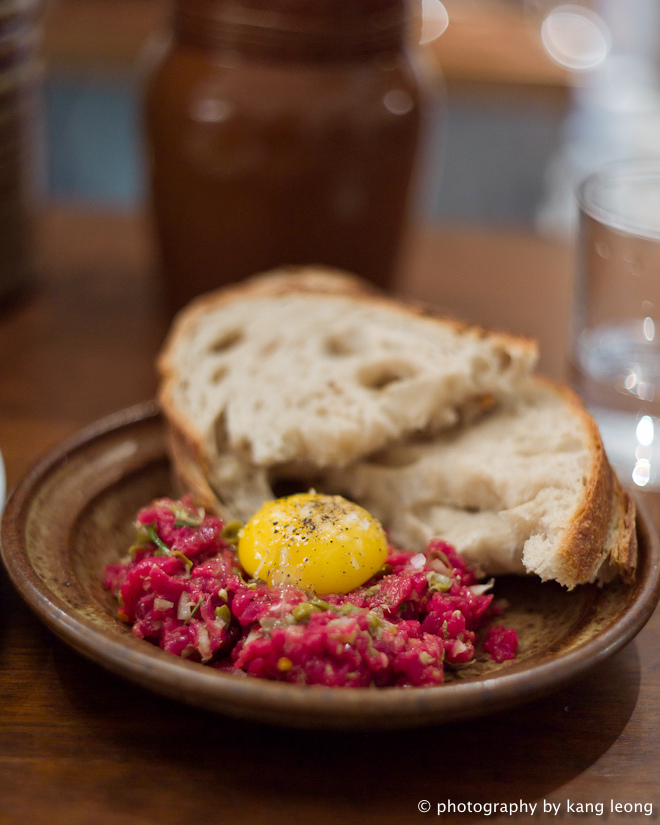 Fucking great tartare. The meat was beaten to a mince, which meant slithery, soft and smooth going down. Again, I thought 'wow what great produce' managing to taste visceral and lively, who knew a bashed bavette could be so tender? Most of all however, it was expertly well seasoned, I'm supposing garlic, salt, onion and capers (and obvious the egg yolk) , that if they were to turn it into a burger, it would turn out to be a pretty sterling patty. Fancy that. Bavette Burger, with Brioche and Ovinsardo. And ducksoup chips. They could sell that for £14.
Fritto Misto, £14.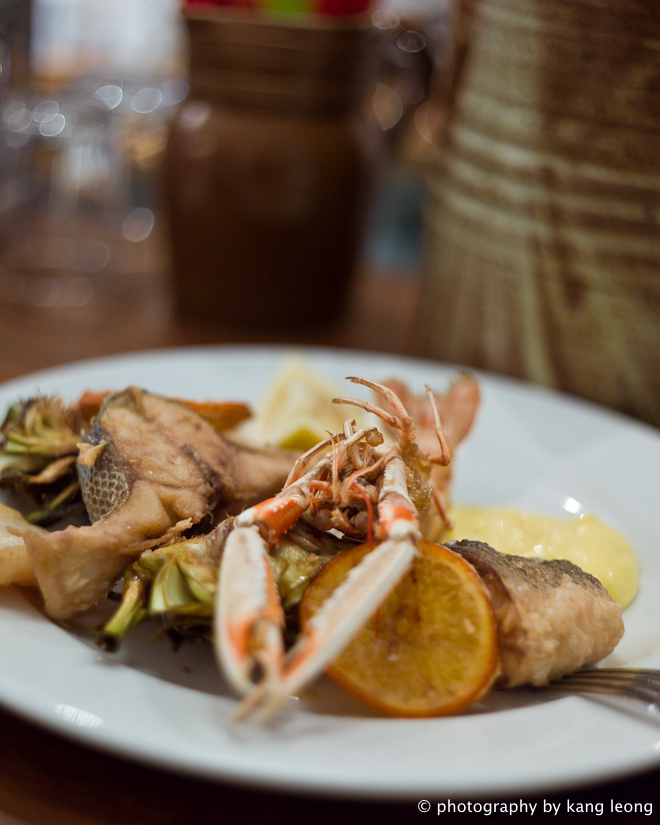 A langoustine, artichokes, sliced orange, seabass and two slices of scallop, all fried. At first I thought "bloody hell is this it?" (Yes, I talk to myself a lot). The equivalent makele samak at Yalla Yalla gets you a mountain of seafood at half the price, but then I cut into the seabass and all memories of shitty seafood fried to a crisp were banished. The fish…amazing. The langoustine …fresh , but it were the queenies which took my breath away. I cut them down the middle and found a reassuring translucent centre, clap, clap, I applaud a kitchen that understands the importance of never overcooking. The scallops were some of the juiciest mollusks I'd ever had. My mum would have loved it. In fact, the restaurant had so much confidence in its produce that the other mains were simply raw queenies and raw langoustines.
And so we are back to the Pinot from Dions. I was certain of it now, it was definitely the taste of banana skin. This time round I avoided the pudding, but still forked out £30 for the meal. I did not have the Fucking Hell during either visit.
I am overwhelmed by the quality of produce, the seasonal menu may not read well, but I think it is a mark of sure-footed focus and even in its beginning days, Ducksoup is already a rather refined product. Because the space is really just a bar attached to an overachieving kitchen, the ambiance can become quite a bit chaotic. For instance, I was solo dining at the far edge of the bar which was also used by staff to consolidate orders and take card payments, I couldn't hang my coat, so it stayed on my lap through the meal and at times, it felt like eating on a moving bus. Then again, if you are willing to eat standing up at Jose, this will not be an issue. I think we may be witnessing the derivation of a certain genre of restaurant. What shall we call it ? The soho diner perhaps. It feels cool, it is obvious that people come because it makes them feel exactly that. It's not a bad thing of course, there is nothing wrong with feeling cool when eating out. In some ways, it reminds me of when Polpo first opened.
So my verdict is that Ducksoup is a solid 3.5 titanium stars out of 5. I think cooking is precise and disciplined but honestly, the recipes are banal, so don't come here expecting fancy antics. Ducksoup is a no bullshit establishment. I'd like to think it is serving food that its chefs would cook for themselves at the end of service, which is the source of its appeal. The produce is of exceptional quality, if they can keep up the standard of sourcing, I think they will win many fans.
But I feel that they could have eased off the pricing during year one. £5 for small plates and £12 for large ones would have made more sense. Perhaps the ingredients are already quite dear, I don't know, but I can't keep up £30 two plate lunches when I know I would only spend a third less at a Russell Norman. I recommend avoiding the creme caramel until they pump more effort into something that is actually worth five pounds.
So, Soho is becoming a great place to eat isn't it? There are now so many unique options for nourishment nestled amongst our beloved tourist traps. Superb noodles? Koya. A slice of America? Spuntino. How about some trendy beans from down under? Flat White. Tart up for some vintage fayne dining ? Gauthier. Simple everyman burger? Darth Byron. The best roastduck in Europe? Four Seasons (debatable of course). And introducing fried oranges and your personal LPs : Ducksoup.
The Deets.
Ducksoup
Egalitarian. Italian, I suppose. £35pp.
41 Dean Street W1D 4PY
Tel: 0207 287 4599
Tube: Piccadilly Circus
Stir the soup: TimeOut , A lot on her plate , Richard Godwin , The Skinny Bib
Did you enjoy reading this? You can subscribe to the Newsletter. Alternatively, you can subscribe to the RSS feed.