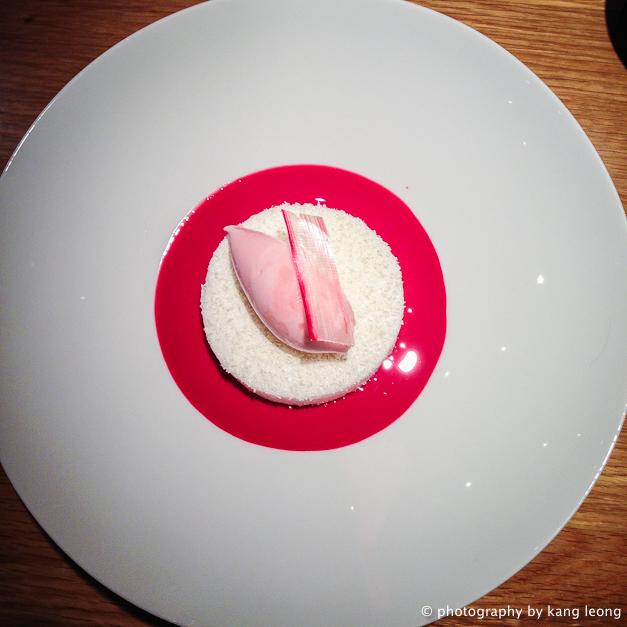 Thoughts from 2012
Yes, I need to be slapped on the wrist, and I do hope Mikael Jonsson will accept my apologies if what I said before had grated in the past, but I gotta say, I'm not in it to run people down. I'm no expert, in fact I know tremendously little about food, but I believe in restaurants doing something about customer feedback, and I try to be honest about what I think.
You may remember I went overboard (see below) when I wrote up the first visit in Sept last year and looking back you know, I still feel the same : I just did not enjoy that meal.
Of course, I've always wanted to return because surely all these positive reactions about the restaurant cannot be for nothing. And so I did, the week before Christmas and I have to say that this meal really turned my opinion around. The presentation and portions are still as anaemic as ever, however but the balance of flavours, the textures have certainly improved over time to suggest that there is something unique going on here.
Wonderfully delicate poached oysters with puffs of sweet granny smith apple foam. The tenderest slow cooked angus short rib complimented by an amazing dauphinois mousseline seemingly laced with a sharp blue cheese – I could smell the beef from the other side of the room.
I mean absolutely no disrespect when I say this, but Hedone still feels like the work of an interested home cook, who possesses an excellent palate, has eaten in many exotic restaurants around the world and is obsessed with getting his hands on the best produce possible. And yes, the dishes still feel as if it is slowly feeling its way through the business of hospitality rather than one that has sweated in it for decades. But there's nothing wrong with that, it's admirable for someone to able to turn a passion into a living. The result is a mind-bogglingly simple, straightforward control of flavour, and when it all comes together, the food does taste very good.
I still don't know what it is about Hedone that provokes so much, is it because it is stoic? Too stark and just too serious? Sitting in there is really quite a scary experience. Even scarier when Mikael served up my mains and described the dish in the most serious tones. I sat at the bar and smiled throughout his description hoping he would reciprocate but got nothing. I've thought long and hard and maybe it's just this tenseness it has to release, this air of superiority about it, like it is destined to win glamorous compliments. Thinking of the story of Hedone, it reminds me of The Sportsman, and the difference in my opinion is the feel-good ambiance of the latter.
It is one of those places which you either feel strongly about or shrug your shoulders and wonder what the fuss is. Believe me, I have been on both sides of this fence.
—
From 1st visit in 2011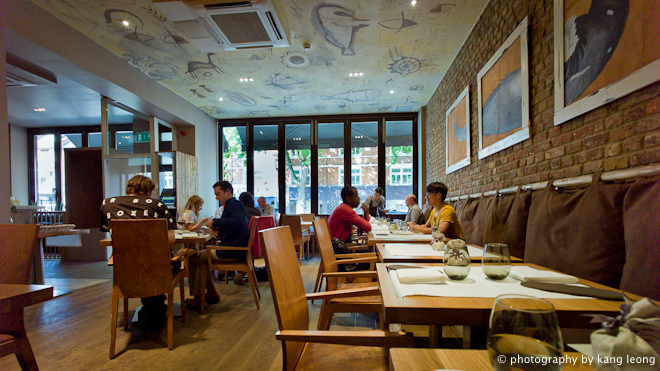 As you, I came upon Hedone filled with expectation. Fay likes it, Guy loved it, Andy – whose standards are as high as Taipei 101 – gave it a rare 8. So it must be fucking magic right? You'll read alot of kerfaffle online about the birth of Hedone and its progenitor Swedish chef Mikael Jonsson, a trained chef, but who became a lawyer, before rediscovering his gastronome side with this restaurant. Curiously, I feel an aura of respect, which redoubtable comes across through the work of those food writers who visited Hedone. This is a rare occurrence. You'll find similar glowing reports across egullet and chowhound too, and at time of writing, I believe this is what has contributed to its rocketing profile up the hypemeter.
I visited for lunch and had to drag Mark along for I promised him that Hedone could very well change his life. Unexpectedly, he was late, blaming the fact that he took the wrong bus. I was obviously flipping about uncomfortably by myself when the eagle eyed waitress saw this, she brought me the daily papers to keep me distracted. Top marks for service then, granted choice was a little wanting in the Telegraph or the Times, I chose the latter.
Proceedings kicked off as expected. A couple of amuse bouches that fit the conceptual, high cooking mould.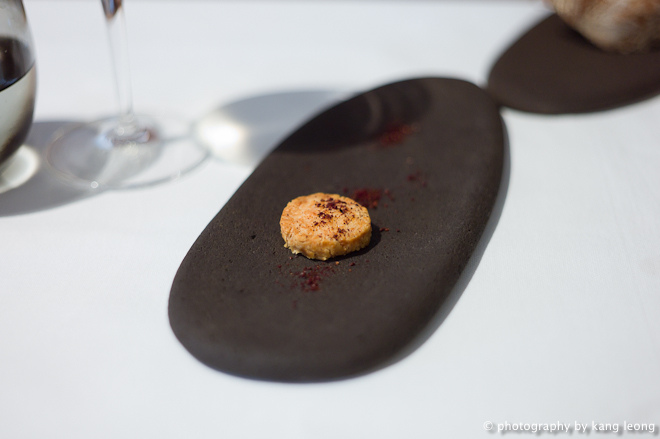 I think the first was a cheese sable with grated berries? Can't remember.
Next, were wafer sandwiched with crab.
Lunch options were straightforward, 3 courses for £30, 4 for £40 and 5 for £50. I went for the five courses, and drank a glass of St Peray (£10).
The room is warm and brown, brick-laden walls and cave-men drawings made for a unique ceiling. It definitely fits with the leafy suburban feel of the Chiswick area. So far so good really.
First Course: Flame grilled Cornish Mackerel, Cauliflower.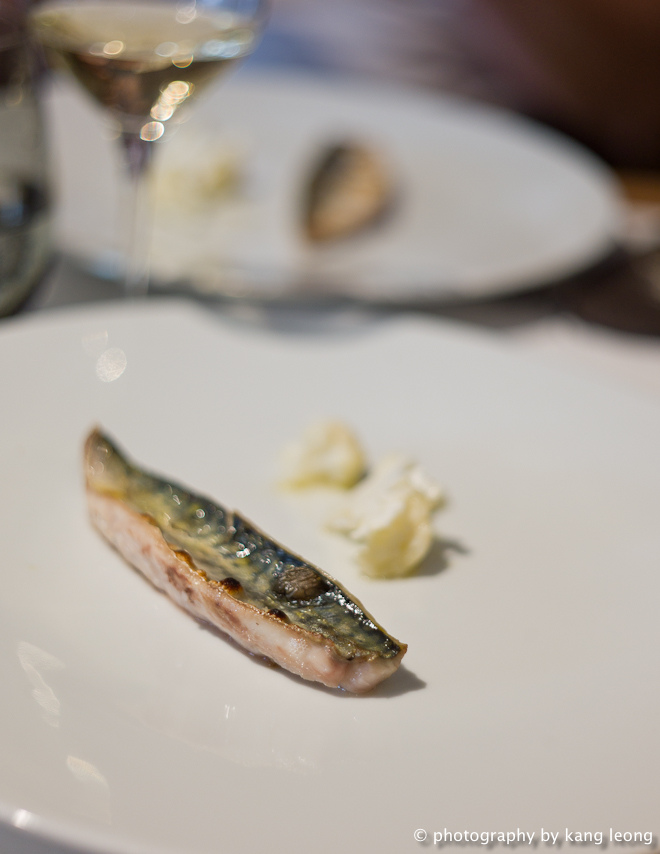 Quite literal, a stub of mackerel the size of my middle finger, and what appears to be a few shavings of cauliflower. The fish was incredibly juicy and flaky and was the godsend that was as described by the blogs and critics. Lovely start.
Course Two, Cevennes onion and Pear shavings.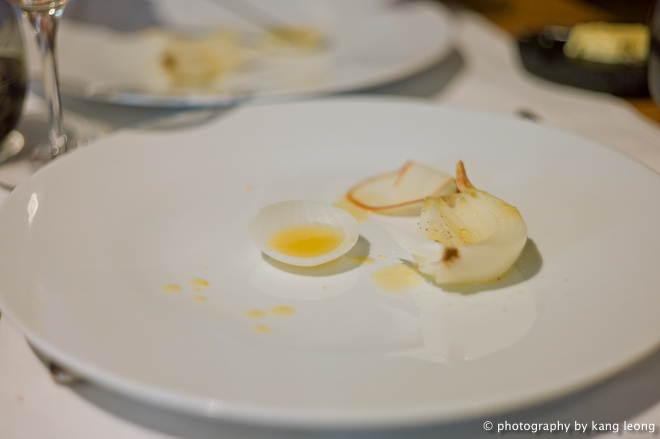 I don't have anything against French onions…but to serve a few slices of it as a course on it's own? Cevennes onions may be great, but it's just onion…? Listen, I'm simpleton alright, I don't know everything about food, but I am sensible and a little skeptical, to pay £10 for barely cooked onion and barely a slice of pear boggles the mind. Sadly I failed to grasp the subtlety of this dish. I'm sure I was missing something, but I promise you I tried to shake the feeling of the Emperor's new robes. Was this artistry too refine for my savageness? I wondered how any serious chef could justify a few slices of onion as a real course. Come now, we're not debating the concept of art, nor are we pushing any ground breaking ideas here. If he was going to force me to appreciate a single ingredient, why couldn't he have done it with thick shavings of truffle?
It may have been a great onion of mystical provenance, but frankly, I could not tell. It did not help that this course came a quarter of an hour after the first. It was bitterly disappointing after a long wait. I don't think its pretention, but this course was probably a sign of Mikael's self confidence, for which I applaud.
Course Three, Scallop sashimi.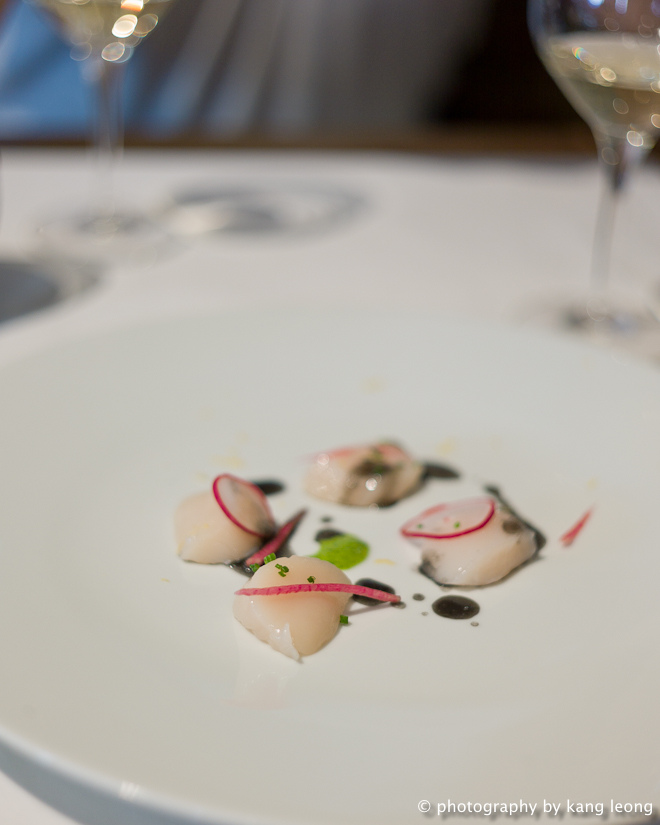 The next course was nice, barely cooked scallops. Expectedly, the scallops were sweet, its texture and faint flavours were verging on lychee. Again, this took another 15 minutes to prepare. Yes it was nice, but it was beginning to test my patience. Another tenner for a few dollops of scallop. What madness is this? Are we sitting through a satire of fine dining? I love Japanese food and unlike the onion course before it, I understand that eating raw scallops be it in nigiri format or as sashimi, is one of life's greatest simple pleasures. I did like this, but not for £10. That's overpriced.
Course Four: Grouse, smoked potatoes, offal gravy.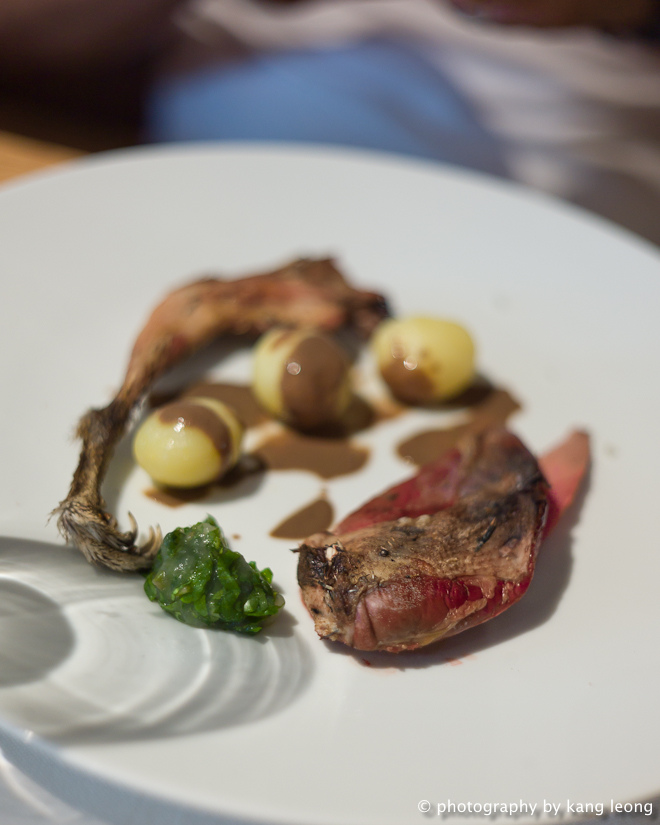 Our waitress told us the kitchen had some off the menu grouse, which Mark had to try. A breast and a leg, with feathers and claw intact. The dish smelled fabulous. The grouse, Mark remarked, tasted fine, he removed lead shot from it, which I found mildy entertaining – it was real game that was shot afterall. The smoked potatoes with the ethereal richness were as the Internet described, and so was also fine.
But that offal gravy, was – to put lightly – offensive. The gamebird is already strong flavoured, fluidising its offal is probably a risky idea. Of course, we were working on the assumption that the chef did indeed use grouse entrails. I did try a little but unfortunately I couldn't swallow it. It reminded me of the time I tried Andouillette – a sausage made from tripe – for the first time, but this was a thousand times more potent. It was redolent not of food, but of the time I cleared the drains in my garden at the start of summer. You know the smell of mud and plugged decomposing leaves accumulated over a cold winter, sticky, sickly.
A neighbouring table proclaimed "It tastes like shit. I love it!" Perhaps he genuinely did, but for me, offal gravy was beyond the limits of what my palate is capable of interpreting. So shoot me, I am a simpleton afterall.
The other course four: Leg of Sika Deer, endives, horseradish.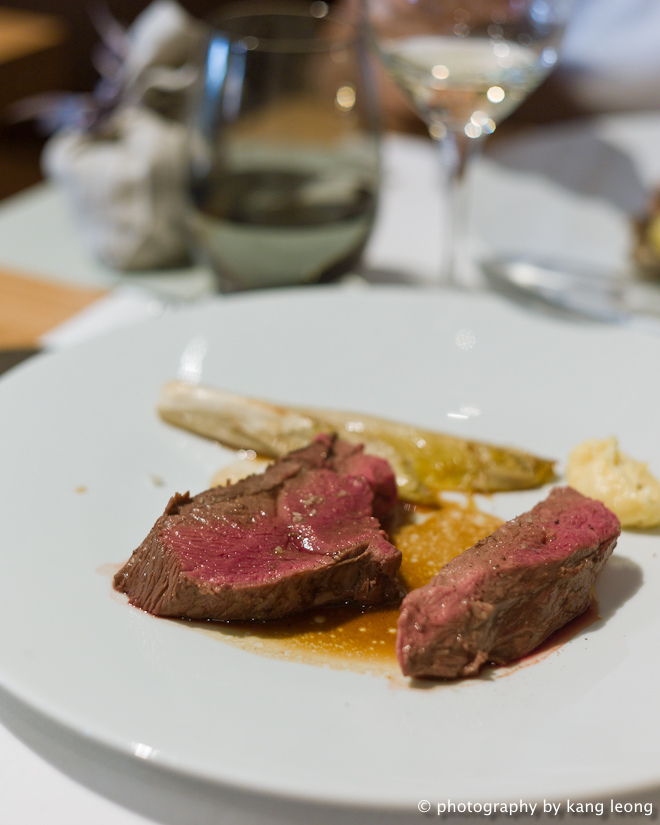 I have fond memories of deer meat, my mum used to love stir frying this stuff with long beans, garlic and oyster sauce. And I liked this just fine. The meat was cooked fine. Juicy and tender, I would describe the flavour as similar to mutton, but just wilder. By now, the barren recipes were getting on my nerves. Meat and single strand of vegetable. I also hated the wonky presentation. It just looked as if no effort had gone into it. Was it a part of the 'art' , or was it simply lousy plating? Who knows. Two slices of deer, no larger than my index and middle finger combined – just a tad stingy surely. It was fine, but was hardly going to bring the house down.
Course five, English blueberry tart, vine peach sorbet.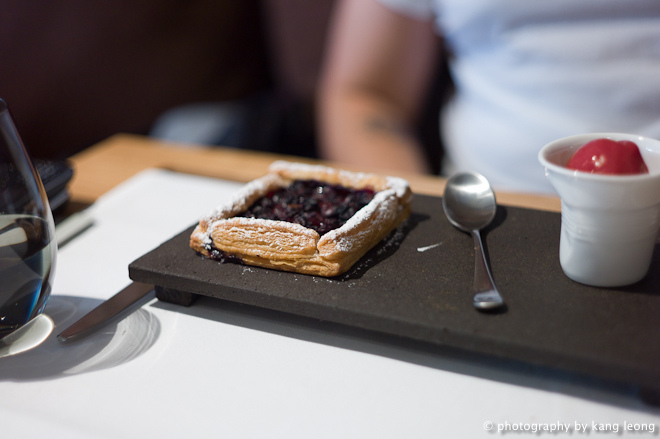 Puddings were very good. The peach sorbet, mint and tea infused, gave an interesting feel, like mouth cleansing solution. I mean that in a good way, it was vibrant.
Finally, Hedone chocolate bar.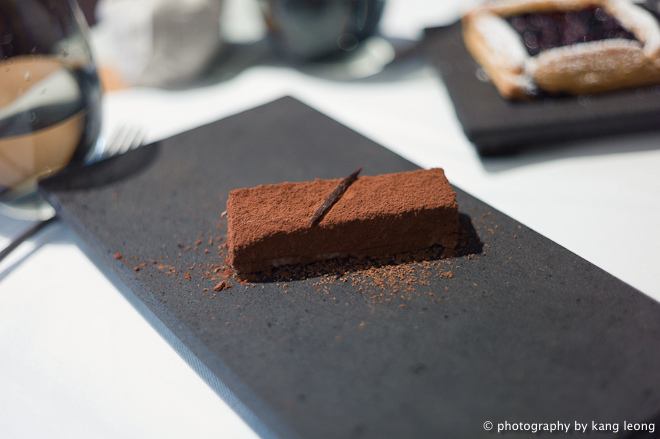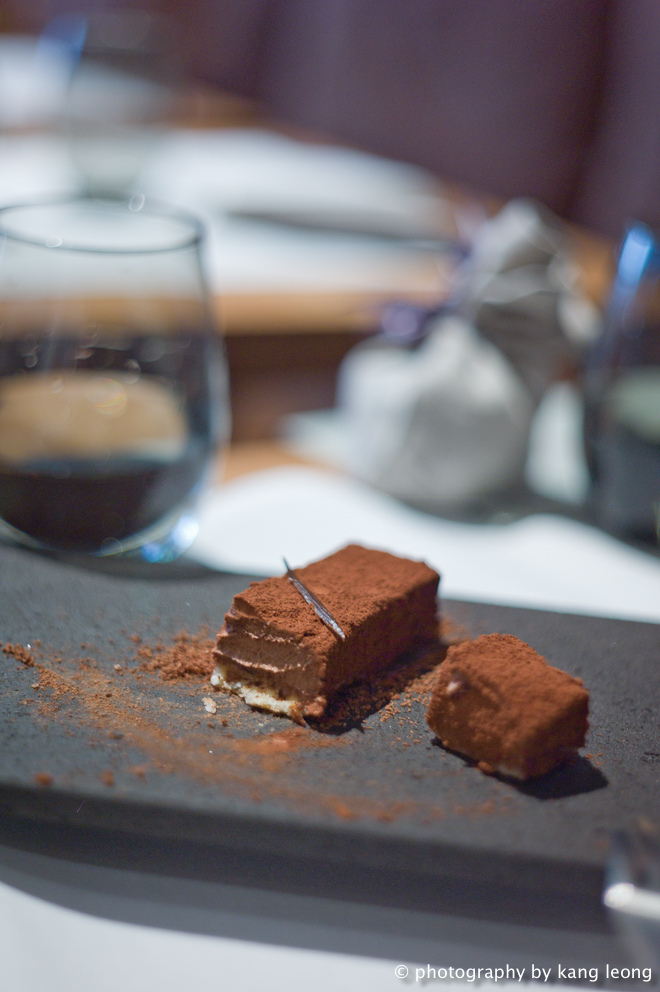 The only dish I genuinely thought carried gravitas, and which I really enjoyed. A whippy ganache-like centre, and a sticky (almond?) dacquoise base. The ganache like centre reminded me of the Louis XV. This was an elegant pudding, I like the dusted chocolate, redolent of another legendary dessert, Heston Blummenthal's blackforest gateau. Sadly though, while it was a good effort, this recipe completely pales in comparison to the precise complexity of the aforementioned puddings.
We paid £123.75 for this meal, that's roughly £60 per person plus a glass of wine each.
I think there is the potential for something amazing, but I also think there are some extremely disturbing things going on. The meal was a little weird, fetish-like and disjointed. Waiting times in between courses were erratic, and while I thought service was smooth in general, they switch off at times.
The skill in the cooking – or lack of – was much too subtle for me to detect. I can't tell if he is trying to be very serious, or if he was seriously taking a mickey out of freewheeling homies (like you and I) who like spraying money on food. At times, I genuinely felt like the restaurant was running a parody of 'fine dining'. If I told the story to a friend it would go like this "I had a fabulous meal, firstly, I had a fish finger no bigger than my middle finger, and that was it. Next, I had a quarter of an onion and that was it. Following that, I had a dollop of sweet raw scallops, and that was it. The experience blew me six ways to heaven.".
I wouldn't dare fault Mikael's expertise in sourcing, and I commend the fact that this stark style of cooking shines a light on and forces the diner to focus on the main ingredient on the plate… by putting only that one ingredient on the plate. The restaurant is in this sense, unique. However, I will say that while great ingredients are essential to crafting great dishes, they remain only one part of that equation. The other bits involve an actual recipe. This is where I fail to comprehend the fuss about it.
We know this kitchen can cook an ingredient well, but this respect for the ingredient is so high that, I felt as if he forcefully neglected to complete the dish, in fear that it may sully its innocence. It is like looking at a pencil sketching of a Vemeer. It is obviously incomplete, you can see the potential shape and form, but until the obviously missing iridescent colours are painstakingly filled in, the Lapis lazuli in this case, the work is incomplete. And how shameful would that be, the painted brushstrokes are what makes the painting what it is, so I beg the question, where was the Lapis lazuli?
With respect, I apologise Chef Jonsson, I just didn't understand the cooking, it was infuriating sitting through the meal. It may well be that there is something more going on here, but I failed to see the light, I am a mere simpleton, I didn't get it. Please somebody, consider a thoughtful response, shed some light for me and show me where I am wrong. I really desperately wanted to love Hedone, but right now, I can't.
The Gist of It
Hedone
£65pp Modern.
301-303 Chiswick High Road, London W4 4HH
Tel: + 44 208 747 0377
Tube: Chiswick Park
Hedonistic legends, elsewhere: Timeout London ; Fay Maschler ; Andy Hayler ; Tamarind and Thyme ; Skinny Bib ; Brummie Tummy
Did you enjoy reading this? You can subscribe to the Newsletter. Alternatively, you can subscribe to the RSS feed. Free, free free.