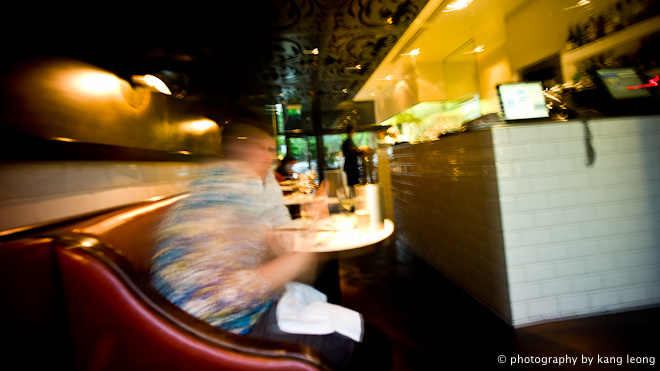 There was a time in the last decade, where the concept of redressing Modern Brit cuisine around the starkly model which Fergus Henderson created, championed and subsequently turned into a culinary dynasty, was unique to the Hendersons. And those who cooked with Henderson. Eventually, these frontrunners adopted what is widely accepted as the St John way. Back in late 2007 (back when foodbloggers were a rarity, and the iPhone was 2G only… remember those days?), a little known restaurant named after the street it took residence, opened to rather pleasing reviews by the nation's doyens of critics. The simplistic, slick and focused cooking was more than redolent of the Hand of Henderson, and it was only natural to expect it; afterall Chef Pemberton was previously the head chef at Bread & Wine.
In the four years or so since it opened, Hereford Road had grown to adopt the reputation of a dependable neighbourhood restaurant. It was always on my list, but which has eluded me for all of my blogging career, because well, I suppose I was probably preoccupied with discovering the original Henderson owned eateries (I say eateries, since my heart still yearns for Rochelle Canteen). Ironic, considering Hereford Road is actually in my neighbourhood.
But this isn't just another gastropub of course, this is as much a restaurant, as St John is a restaurant. An off-shoot, spawned from the original purveyor of British cuisine.
Unlike Henderson' shrine, Hereford Road's menu is less challenging, more mellow and seems to cling to lowering profile, as opposed to an all guns blazing approach, but it is not without ammunition. Aside from the deep fried calf's brain (a constant feature in the changing daily menu) , the rest of the menu won't have you taking a deep breath before negotiating muscular flavours.
Braised cuttlefish and red wine, £6.80.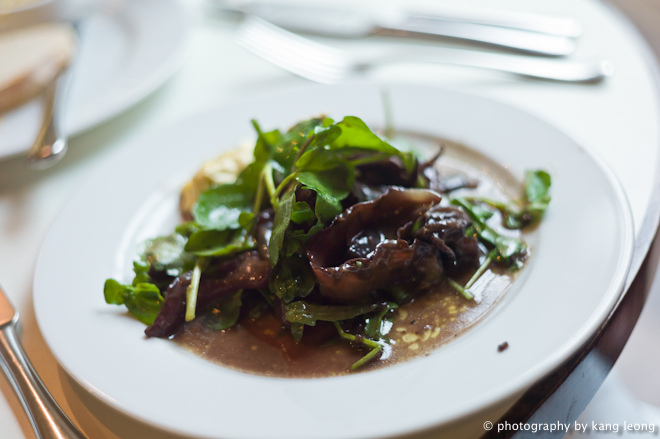 The better half started with some cool and saucy cuttlefish. A light seafood salad, a little boring, but flavoured correctly kicked off the evening in an appreciable manner.
Crispy Pork, Dandelion, mustard, £5.80.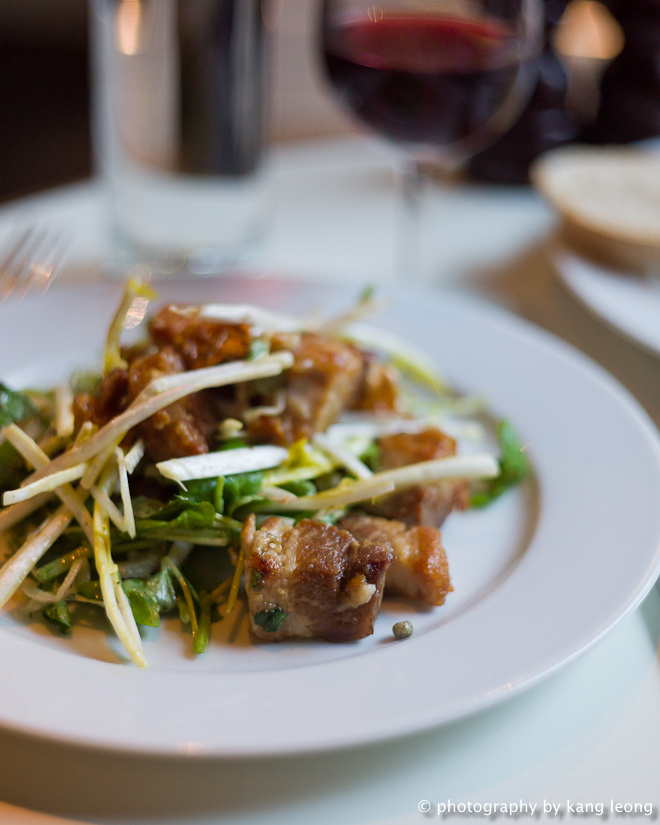 Yours truly opted to tackle some gut bustingly crispy belly pork, very juicy meat and cracking skin. A greasy salad, pickled and garnished with capers, which I thought helped to make it a rather vibrant start to my own evening. We liked both starters and we appreciated the simplicity.
Sea trout, cucumber, chervil, samphire, £14.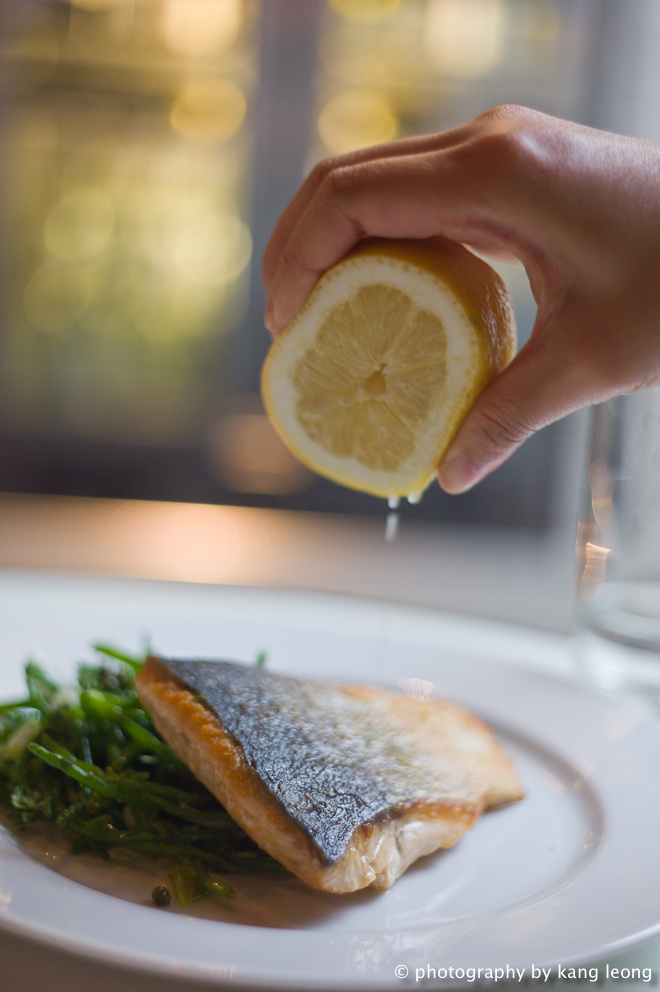 When done right, there is little to complain about this combination of ingredients. A crisply fried piece of fish, fresh samphire and a squidge of 100% lemon juice – what more could you ask of your local neighbourhood restaurant? I felt this dish best epitomised the essence of Hereford Road, there is no pomp here, just honest cooking.
Roast veal, courgettes, saffron, £15.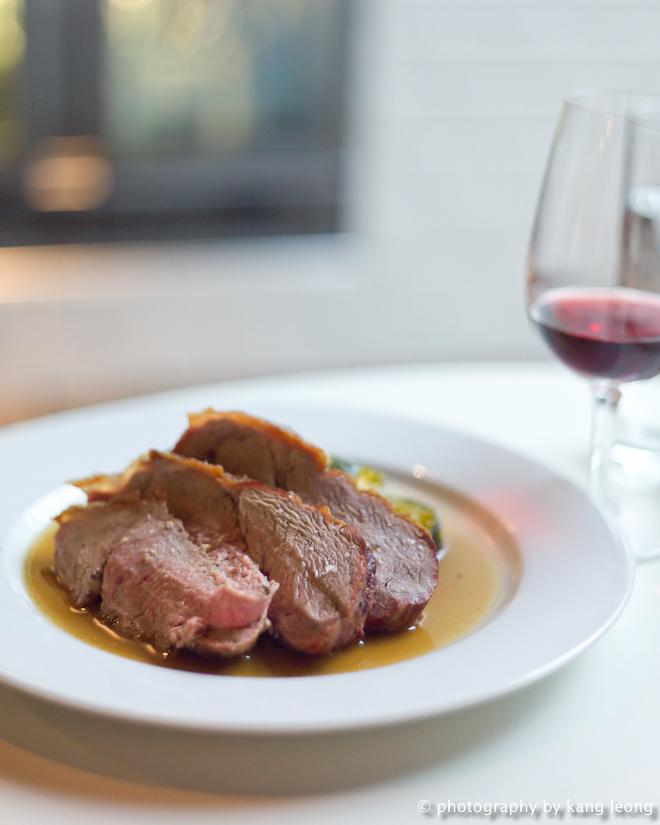 I loved this. The flavour of saffron, something so difficult to describe, fragrant, perfumery, mettalic, coming in contact with the mushy, delicate flavour of courgettes was exhilarating. I have always admired dishes with saffron in it, such a mercurial spice both visually and in terms of flavour. Even the faintest addition of it shows up, because its red colour is so damn vibrant, but it is the unmistakable smell of it, that really transforms the dish into something just a tad more elegant.
Veering off-topic, I recently had vanilla gelato scented with strands of saffron at Gelupo that was simply the best vanilla ice cream flavour, man has ever created. In my opinion of course.
And swerving back on topic, the natural floral fragrance of veal, married with the fluttery bouquet of saffron, was one made in the clouds. Roasty, steamy, tender so earthy and honest, complete with an intense yet simple drizzle of gravy, made this one of the best experiences of roast veal, I've ever had. The only thing missing was perhaps some triple cooked chips. Fabulously elegant stuff.
Loganberry sherry trifle, £5.50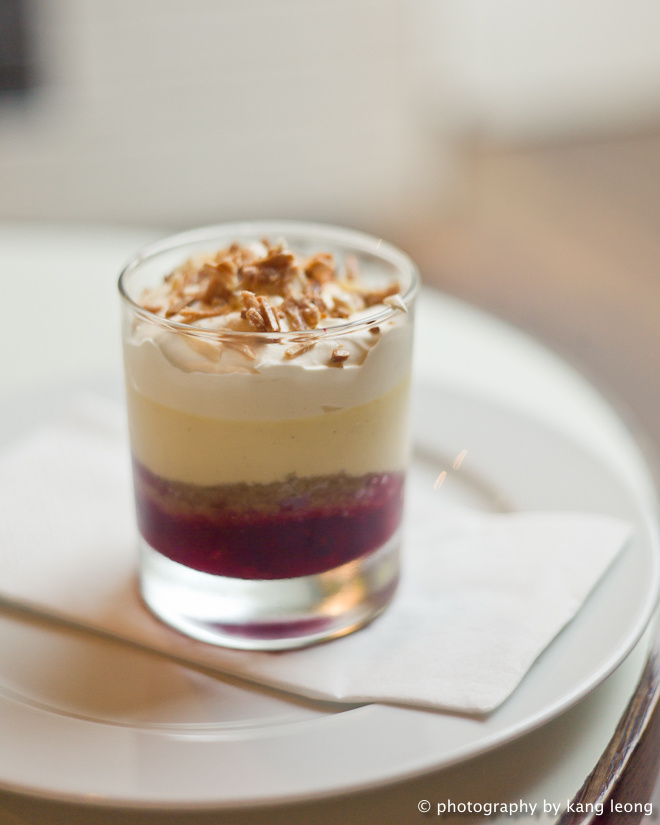 Puddings were old school, the trifle was drunk with alcohol and rich with egg, custard, cream, sugar and jam, all cramped into a small glass, producing sinful mouthful after mouthful of pure sweetness.
Buttermilk pudding, £5.50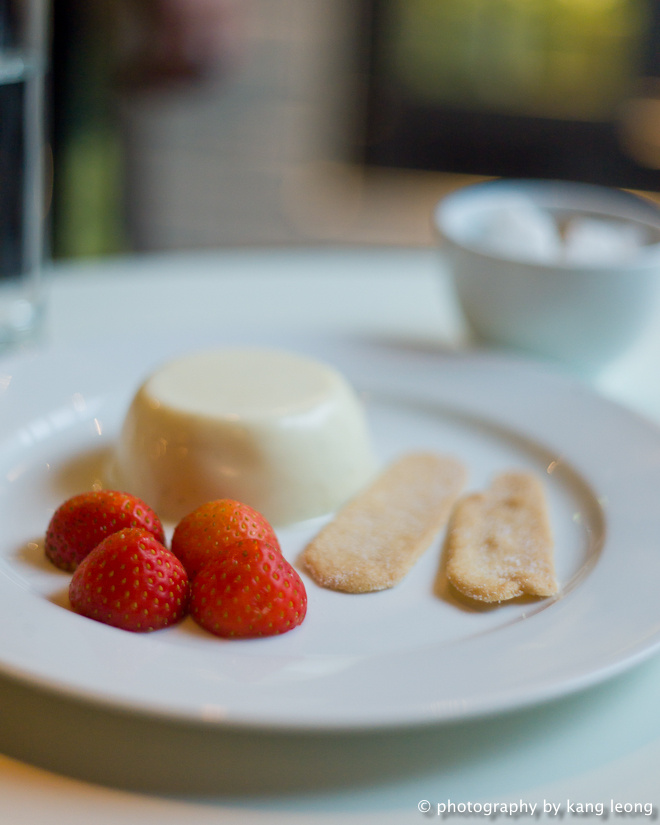 This on the other hand, was a little too zesty for me and not wobbly enough. I wished we had ordered two trifles instead.
We paid £63.55 including a glass of Margot and a latte.
A quintessential neighbourhood restaurant, whilst it may be overshadowed by shinier and newer concepts such as Brawn or Spuntino or Harwood Arms, but I won't knock it because it is nevertheless a great place to grab some grub. There isn't anything magical about the cooking, I feel it is very honest, very neighbourly, inviting, laid back, friendly and in many respects, this is what you want your neighbourhood restaurant to be : safe, secure, a place to recharge and to savour every last bite in peace.
The Gist of It
Hereford Road
British, £35pp
3 Hereford Road W2 4AB
Tel : 020 7727 1144
Tube: Bayswater
Did you enjoy reading this? You can subscribe to the Newsletter. Alternatively, you cansubscribe to the RSS feed.