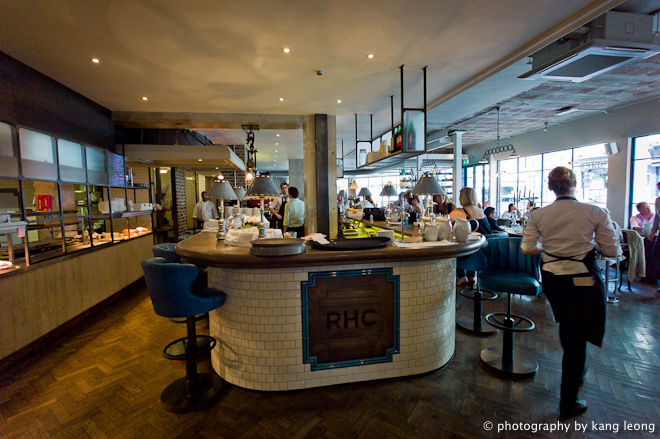 When everyone including dear Ol' Uncle B has visited this restaurant, that's when you know the interwebs has taken to showering yet another crowd pleaser with its ever expanding vocabulary of praise words. "Wondrous". "Decadent". "Moorish". "Decadent". "Sinful". "Ultimate comfort food". Adjectives, which I too, am guilty of overusing. Cynicism aside, a restaurant that has collected as many reviews as it has since it's April debut, must be doing something right.
Somehow, I had managed to avoid the 50% discount circus, though the full asking price wasn't too bad. To grease the wheels, we started with not one, but two plates (£1.50 each) of their excellent warm, crusty and soft sourdough (ironically, warm bread is abit of a rarity in London restaurants) served with some excellent artichoke puree, which i gather is, must be made in house.
I ordered one of their fresh juices, the 'invigorate' of pineapple, apple, lime and strawberries. Sadly it was anything but invigorating… and note to self, never drink pineapple and strawberry juice from the same glass. Service was a little jumpy, but well intentioned, they had a tendency to take things away before we were done with them, like the wedge of pineapple, which I had initially wanted to savour when I finished my juice, for instance.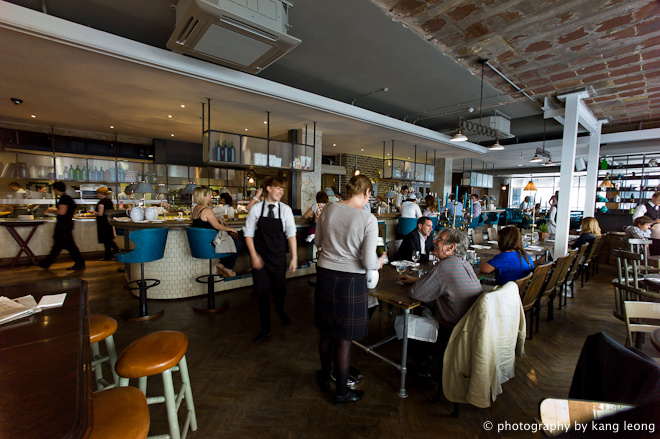 Believe the hype, the decor is absolutely top class. Like the Tardis, it's unimpressive on the outside, but surprisingly spacious on its inside. The ambiance is genuinely genial, marvellous convivial, like garlic peppering away on a hot pan; this is a hot brasserie bouncing with soul, you want to get up on your two left feet and turn out your best James Brown impression. Get on up indeed.
The small plates, oh the dreaded small plates. The revolution is over, because it's already taken over the capital. Small plates is such common place now, it's a surprise when one doesn't come across a new opening that doesn't have them on the menu. The small places are fall into three categories: £3, £4 and £5.
Veal & pork sausage, lentils, mustard, sage, £4.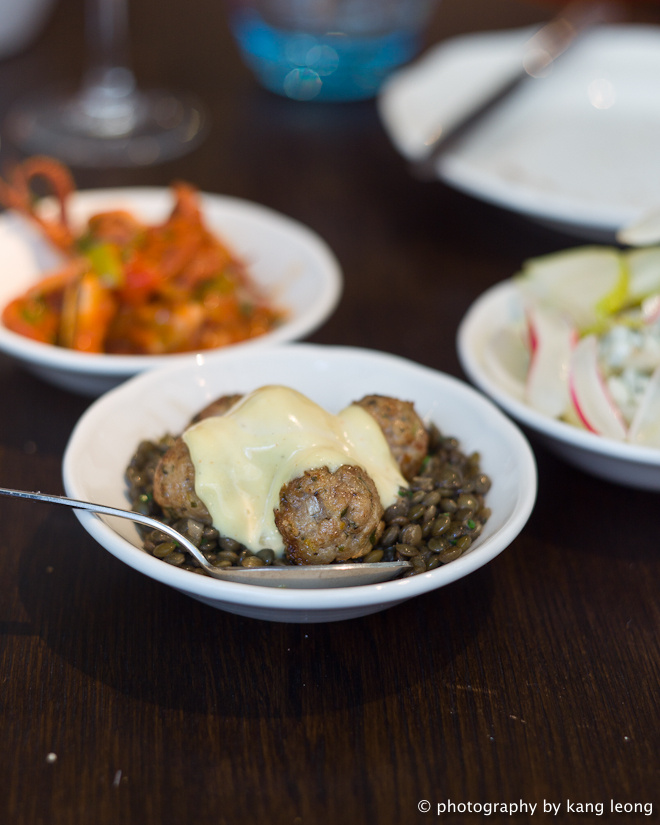 Damn it's tiny. I doubt these four tiny wedges actually join to make a whole sausage. It tasted good enough, but there wasn't anything truly genuine about this. I feel the frazzle, I appreciate the glitz, but a sausage split four ways, on a bed of lentils? For £4?. Questionable.
Baby squid, chorizo, smoked paprika, chilli, olive, £4.
and
Chicory, pear, radish, gorgonzola, £3.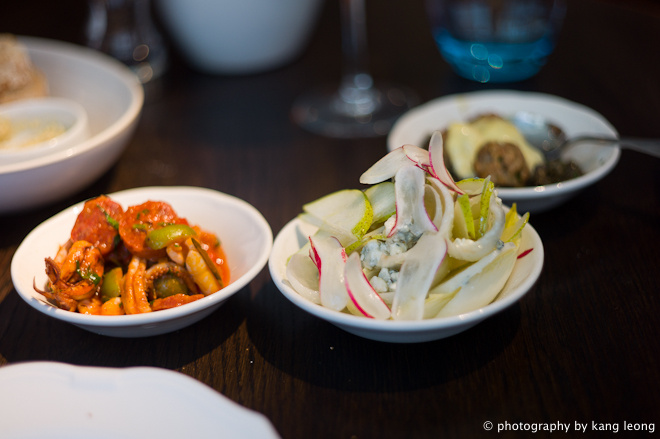 The chicory salad was nice, freshing with the schweet pear and the creamy blue cheese; the baby squid was also nice enough, but I was annoyed at literal the small plates were. Granted they were well priced, and cooked well enough, they were boring, and there was little to speak about really. Bubblegum pop.
Chermoula spiced poussin, jalapeno, lemon, £5.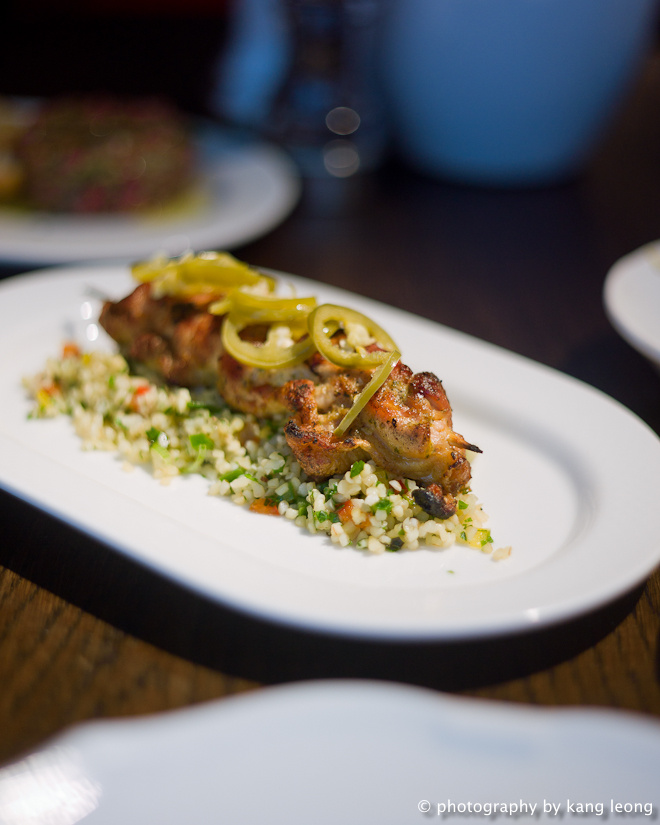 We approach uncharted territory, the £5 plates look like more effort has gone into them, and what a difference £1 makes then. Nicely grilled yes, I'm not sure about the chermoula spices, ie, either the species were shy or a little absent. The cous cous were nice enough. Not quite Yalla-Yalla, maybe Yalla-Yalla-esque, but again, I just don't understand how this dish ties into the RHC theme, or at all.
Steak tartare, toasts, £5.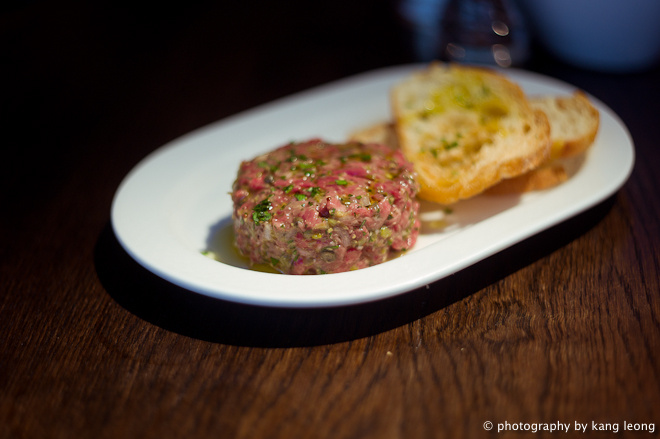 By this dish, we were feeling rather full, and quite frankly, we couldn't complain about the food. There was nothing wrong with the cooking, it tasted good enough, but it also felt incidental. Not enough capers in this tartare, but it's roughly chopped, alot of citrus, like the rest of the dishes, vibrant, but generally speaking under-seasoned, and missing an egg yolk.
Rack of Pork £14.50
lentils, smoked sausage, horseradish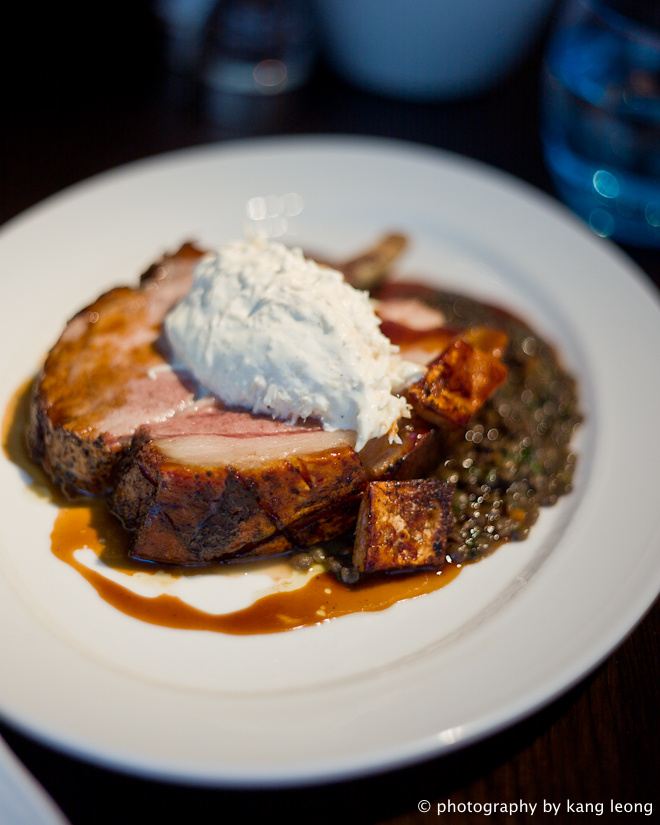 FINALLY. All the faffing about with the forgettable small plates, the meal begins apropo with the pork chop. Working my way through the small dishes, I was searching for credibility, and I found very little to supporting evidence, which was in total contrast to this dish. But first, I scrapped away the white elephant on the plate, a huge dollop of horseradish cream, ugh, citrus heavy, ugh. I think it's OK to have the horseradish the side, but I just couldn't understand why the chef would want to mask his wonderfully grilled rack of pork with that stuff. Mysterious.
The pork was well cooked, just slightly pink in the centre, very juicy, and the crackling was jawbreakingly superb. I'm not the greatest fan of lentils, it's the taste of beans or peas, it tends to soak up just too much moisture and it drowns out flavour with its own rather drab, and rather dreary flavour, and so I felt the lentils were an unnecessary addition to the pork, it's already wonderful by itself, it didn't need the distraction. As I worked through the huge hunk of pig, I discovered three rather curious slices of what appeared to be sausage. WHY? What was the meaning of hiding sliced sausage under the massive pork chop? The mind boggles. I finished by sucking the last bits of meat from the bone. Juicy, but man this dish was strange. Great pork, but perhaps it was just me missing the point, but I thought the recipe was a right mess. Was it meant to be fusion of some kind? Peter Gordon-esque?
Hot Fudge Sundae £6
Macaroons, honeycomb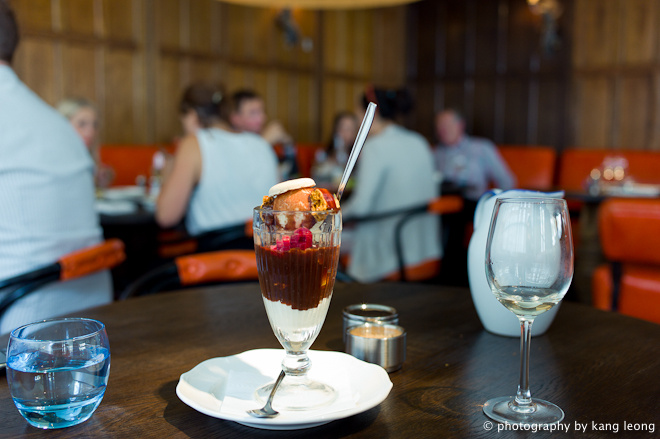 I liked the pudding, the fudge was really hot, and there was alot of it in the glass. The honeycomb was great, very sweet stuff, especially comforting with an americano.
We paid £63.56 inclusive of service for two.
When you do visit, please steer clear of the small plates, I didn't actually think they were particularly bad, it's just they were so tiny, and not particularly outstanding. If you want to share small plates of proper food in a cracking environment, head toward Opera Tavern instead. In my opinion, what RHC are doing with their small plates is working toward (finally) killing the bloody small plates revolution, which has gone on for far too many years. Those recipes were all over the place.
On the other hand, the main dishes looked much better. Of course, I only had one dish, but seeing the fish and chips and burgers roll out of the kitchen, it seemed evident that the £14ish average asking price for the large portioned mains are more than justified. This is the dilemma I have with the food at RHC, the cooking was more than adequate, but you know, part of a good dish is – in my humble opinion – also down to having consistent, well thought out and generally good recipes. If anything, I felt the inspiration behind the food was a little lacking, the philosophy a tad undisciplined. Eating was more a chore than a joy.
I must give it massive props for style. In fact, the decor is so fresh that both the missus and I agreed that we would definitely like to return, for it is simply is a great place to hang out. The squirrel wall lamps are a nice touch, but it were the bold orange leather seats, that made the visit worthwhile. Everything looks fresh, hip and modern here, in fact, the atmosphere is so lively that you really have to visit it for yourself to really experience how cool it can make you feel.
So it's a real shame that a paradox exists with the Riding House Cafe: That the ambiance possesses all the sass of the modern London all day diner, its a shame the food doesn't come imbued with the same pizzazz.
The Gist of It
The Riding House Cafe
British £35pp.
43-51 Great Titchfield St W1W 7PQ
Tel : 020 7927 0840
Tube : Oxford Circus
Also riding in the carousel : Winkypedia ; Life Outside The Viewfinder ; The Hardens ; Metro; Hg2Blog ; Bellaphon ; Nordic Nibbler ; The Prodigal Guide ; GT
Did you enjoy reading this? You can subscribe to the Newsletter. Alternatively, you can subscribe to the RSS feed.