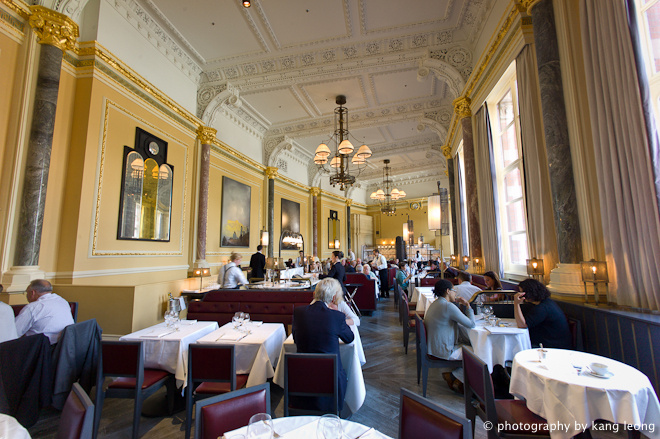 I waited until the opportune moment presented itself, before making the visit to Marcus Wareing's The Gilbert Scott. Or should I say The Renaissance Hotel's flagship restaurant, seeing as to how Mr Wareing has rather desperately been detaching his name to the restaurant, at least so it seems. But today, I am in the right frame of mind, because I happen to be travelling from the Gateway to Europe to attend a wedding. Actually, I tell a lie, the wedding's in Yorkshire, and the Grand Central trains leave from King's Cross next door to St Pancras station.
But let's not take away from the romance of the rail travel. Ah yes, Macbook Pro fully charged, the latest issue of Monocle in hand, passing grazing sheep as the train zips into the countryside. The sheer cinema of travelling to truly appreciate the homage to the heritage of British life and style, to which The Gilbert Scott aspires to.
As you already know, the newly restored Renaissance hotel took years of painstaking work to bring it back to life, the restaurant is named after its original architect, Sir Gilbert Scott.
Problem is, rather than evoke a sense of past, the decor actually feels aged and musky. Not quite newly minted vintage. The brass seem a little muffled and requiring a new lick of polish. In fact, the dining room felt rather like a musuem. Like the Wallace Collection to be exact. The latter houses Peyton's rather average Brit-fare, but which benefits from a sprawling skylight that really opens up the fengshui of the room.
Gilbert Scott, on the other hand, is cavernous, and hollow. It's the scale that isn't quite big enough to be jaw dropping; certainly not like the effect St Pancras Station has on unsuspecting travellers. It's got a high ceiling, but not as high as the dining room at the IOD, and much less so than the hacks would have you believe, and it could because there aren't any dizzingly intricate chandeliers to complete the effect. The goth is a little dull.
For retro travelling glory, I much prefer the ambiance at the St Pancras Grand to be honest. Anyway, time to eat.
Cheltenham beetroot, £8.50
Chilled soup, Arctic char, horseradish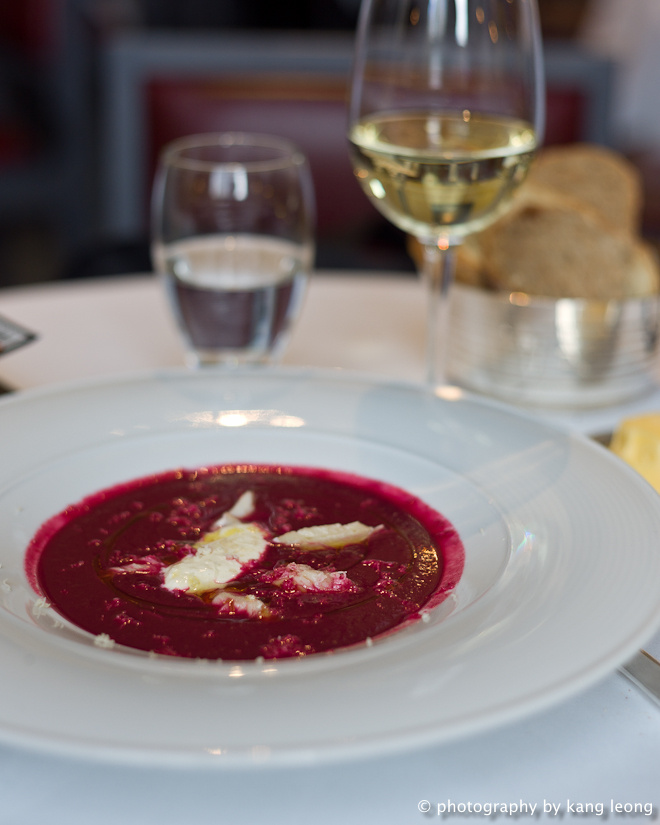 Ah, just ripe for the weather. A cooling beetroot emulsion, some sort of gently smoked white fish (I think), and a faint whimper of sharpness of horseradish and a little peppery. Mild, subtle and quite delish. Well that wasn't half bad, it was an easy dish to eat, I liked it just fine.
Great Garnett's farm pork chop £17.50
Grilled, English mustard and watercress.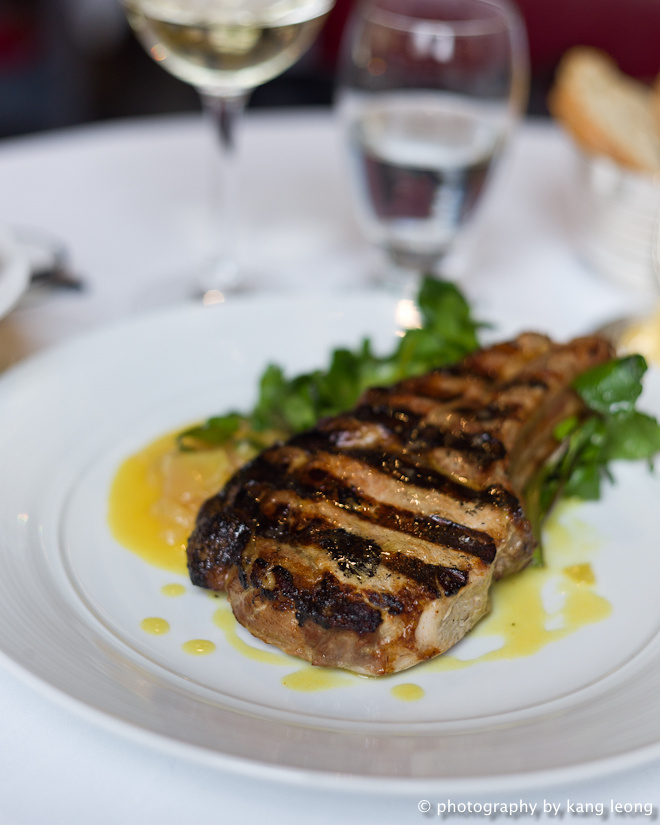 A lovely look piece of cooking there. The centre though is white, grilled through and through, where I would have liked to see just a shy shade of pink. But no matter, it was still a fine piece of cooking, as the pork oozed charred flavours and each bite was bursting with juice. The sweet mustard sauce on the side, yellowish in colour was pure fire in the lake kind of stuff, but as I worked through the mea, it may have been a little too sweet and sticky. I dont want to take away from the fact that the meat was pleasurable, but I came away feeling like that while it was pretty smoking good, it was no cigar. I would have liked to see a more generous band of fat come with chop, but otherwise, I cannot help but concede that I've had been pork chops elsewhere. Particularly, a similar dish at Heston's Dinner.
On the other hand, I quite enjoyed the small parcels of yorkshire pudding in gravy, though somehow they were more redolent of Taiwanese youtiaw than the proper stuff from the Midlands, something which I could attest it, as I'd just eaten a giant Yorkshire pudding with sliced roast sirloin at my mates very Yorkshire wedding.
Mrs Beeton's Snow eggs £7.00
Everton toffee, peanuts, burnt honey custard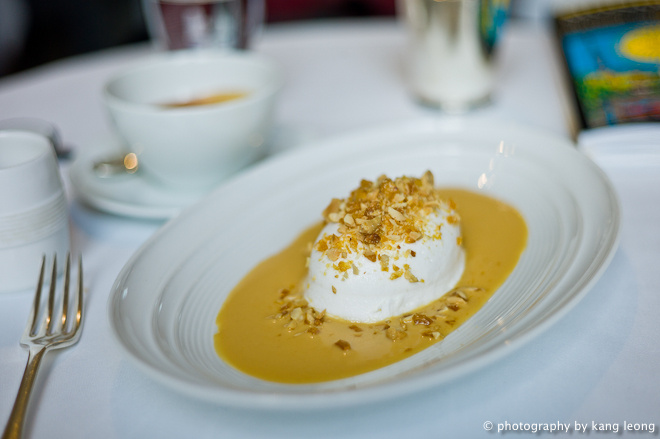 The marshmallow-like meringue – light like a puff of sugar – was charming. The crumbs of solidified honey and crumbles of nuts was also agreeable. But that custard – by Marcus' standards – was a little criminal. It's hardly an le flottante folks, because there's nothing for the bloody thing to float on. More like a grounded flottante. And as there was so little custard on the plate, scraping it with a spoon was a real challenge, and was a frustrating exercise. To add insult to injury, the custard was viscous, so when I tried rubbing the meringue with it, it was just sticky dry and crunchy.
I asked for a extra dollop of their Earl Grey Tea ice cream, which was a much more practical experience, very pleasing, just like having milk tea melt in your mouth, and what pudding should really be about. Decadence!
I genuine think that the kitchen should consider adding more custard to these snow eggs. This recipe is neither here nor there. But again, don't get me wrong, I thought individual elements were nicely executed, and if I was eating them separately, I would say "Wow. gold star". Who doesn't like a bit of meringue afterall right? But I wasn't, and as a pudding, as what should be a joyfully British end to a meal, it was a disaster.
I paid £54.03, food, a Vouvray, a double espresso and the £2 cover charge.
Most of the elements of Gilbert Scott are there. I think it delivers upon most of what is expected of it. Staff are well trained, knowledgable, passionate and as you'd expect, a project from a two michelin starred chef to be.
But it's just not special. Not unique enough, and the food – while cooked well – was just too safe. Boring. Very boring.
If GB opened in 2005, I think we might be wiping the drool off more faces, but today, the torchbearers of Haute British cuisine, have graduated from the gastropub to the grandest of stages. And here, I am specifically referring to Blumenthal's Dinner, whose concept is also deeply rooted in British heritage, and is also a big budgeted operation. And if we take the comparisons further, Pollen St Social is pushing the boundaries of what Modern British cooking can look like.
Compared to Dinner, Gilbert Scott just feels too safe, that they are trying to paint too perfect a picture of British cooking, that – in my opinion – , I feel that it has severely hampered the dishes. With everything so controlled, I felt as if the chef had neglected to go outside the comfort zones in fear of making mistakes. Where's the generosity, the wholesomeness, the sheer simplicity and sense of homeliness that British food can evoke? Instead, we get a representation of a cuisine, that has been through the equivalent of a sterilising machine. I think that may be part of it's problem, it's so stiff, that the conviviality of eating out is lost. If anything, it just reminds those headed to Paris from the station, of how boring British cooking still is compared to Europe. Then again, Marcus is a pretty strict kind of fella isn't he? At least, that's how he seems to come across in media.
Boring is not necessarily bad. The cooking is indeed of a high standard, and if you were were a prospective traveller landing here, you won't find much fault when eating the food, but you probably won't find much else to remember by either. I think it's the best choice to eat at St Pancras, but it's not the celebration of British cooking that many were hoping it may be. That honour, in my humble opinion, remains with Heston Blumenthal.
The Gist of It
The Gilbert Scott
British £40pp.
St Pancras Renaissance Hotel
Euston Road NW1 2AR
Tel : 0207 278 3888
Tube : King's Cross
Did you enjoy reading this? You can subscribe to the Newsletter. Alternatively, you can subscribe to the RSS feed.