I don't know the first thing about Iranian cuisine, but after my first visit to Kateh, I've become hooked on saffron rice. Oh man, it was so fluffy, so puffy, so billowy, so indescribably easy to eat, eating it was akin to a smooth glide like a magtrain levitating over nothing but thin air and supported by the pure magic of electromagnetism. And so the story begins, of how I fell in love with the fluff…
…but first, let's talk about the decor, and nestled deep within mews-like Warwick Place, I found the ground level dining space redolent of eating in somebody's living room, converted into a theatre to show-off the owner's passion in the kitchen. Yes, if you are at all familiar with pop-up, home restaurants and (not so) underground supper clubs, then Kateh certainly gives off the secure, homely, neighbourly vibe.
"Prego, prego" He says. He being only the suavest man to wait on a table. I will try my best to describe his outfit. White, perfected pressed cotton trousers, taped together with an orange belt, blue and white pin striped oxford shirt, and thick black rectangular framed specs. Finally, gelled back, slick hair, all very colour coordinated and very GQ. Bon appetite, and when I grow up, I want to own a restaurant and serve my guests in exactly the same fashion.
Chargrilled calamari, broadbeans £6.50.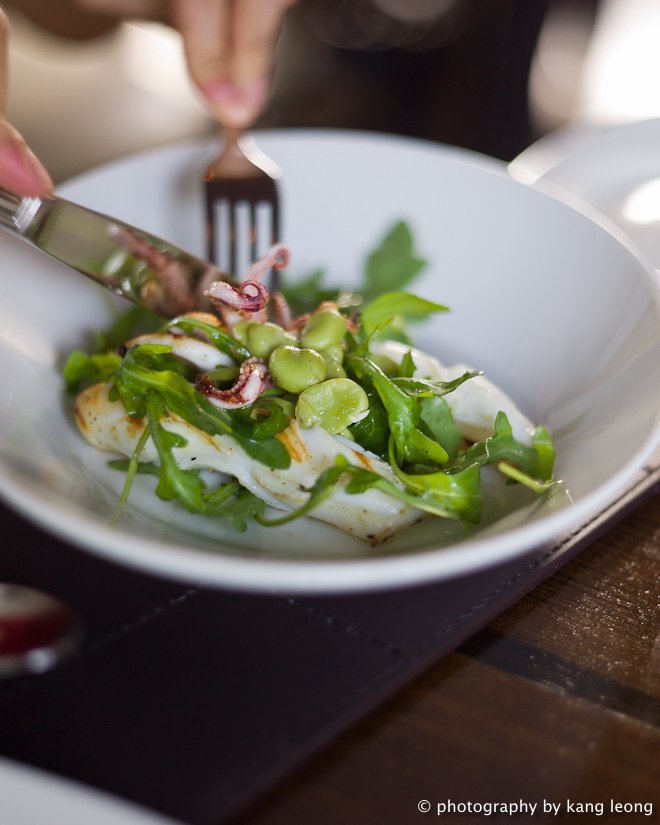 I drank a glass of doogh, which was described to me as yoghurt, milk, fresh mint and a dash of salt. It was unnervingly unique to me, it was certainly salty, and there were flower petals all over the drink too, the best way to describe it perhaps was it was like liquid feta cheese.
Beautifully grilled calamari, squidgy, smokey, juicy and fresh, ok what's next.
Tiger Prawns, £8.50.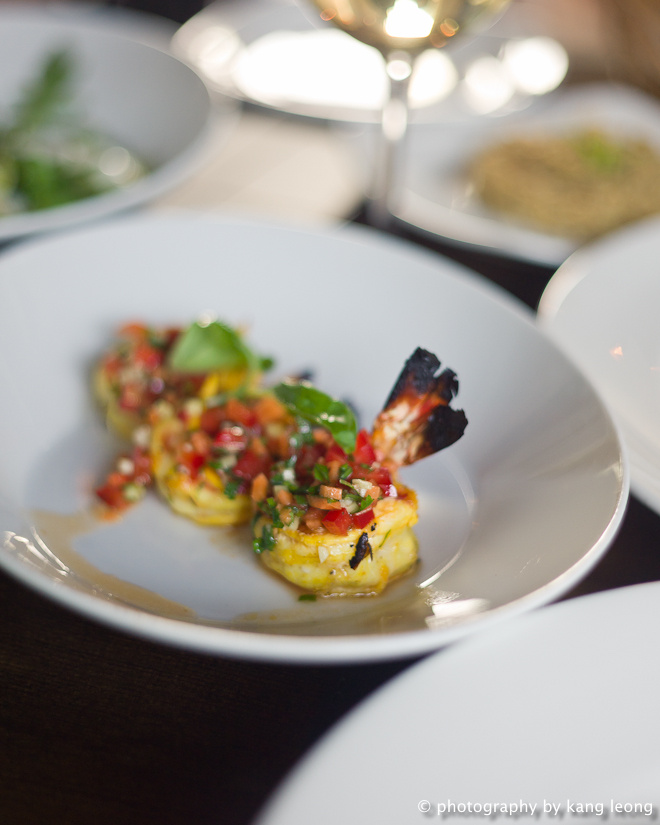 Topped with garlic, peppers and other vibrantly flavoured things that I couldn't remember. It was their special of the day, and it was a glimmer of the shy summer sunshine which may yet show itself once the precipitation has got bored of Wimbledon. Fleshy fresh prawns.
Mirza Ghassemi , £ 4.50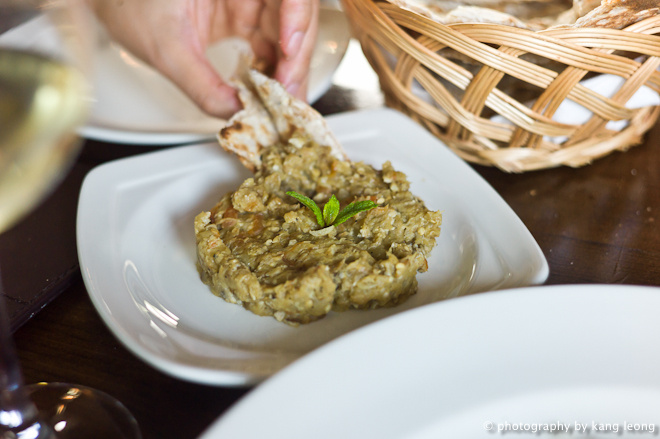 Grilled smoked aubergines, free range eggs, tomato and garlic … and boy was it smokey and eggy. The aubergine mash was a natural mate for their in house flat bread.
Veal sausages, £6.00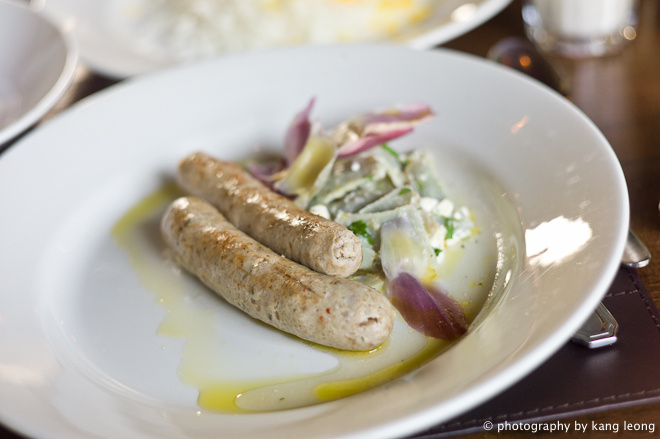 ..served with a salad of artichokes? I could hardly remember because I was so distracted by how amazing the veal sausage was. Soft, and very smooth, easily cut into, and a mellow, yet peppery flavour, an elegant little number that would easily give the most closely guarded French boudin blanc recipes a run for its money.
Baby chicken stew with saffron rice, £10.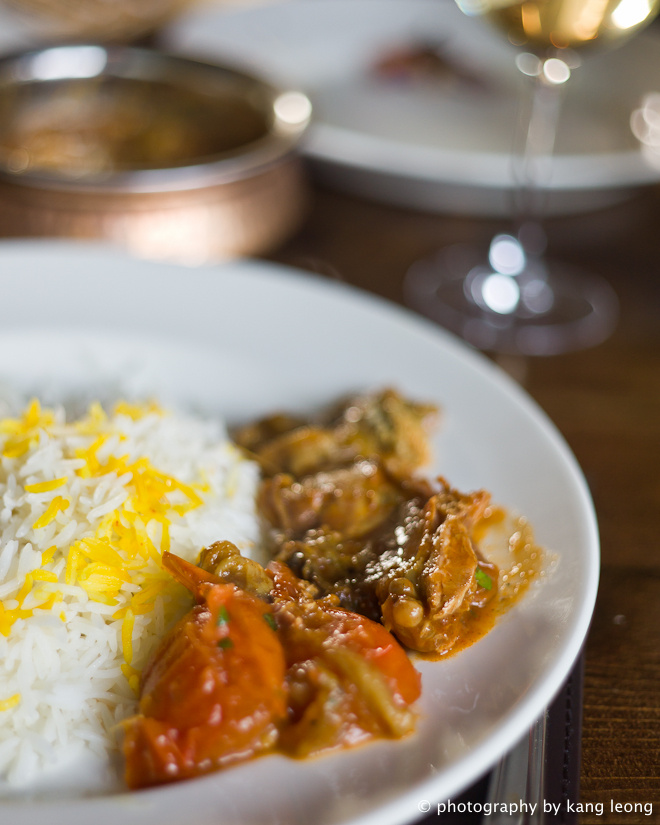 Plum and juicy, sweet, yet also distinctly zesty, it summed up the evening of what was a celebration of fresh, vibrant flavours. The love affair with the fluff reached a climax. That saffron rice, my word, it was brilliant! As a proud fella of Chinese descent who grew up on a diet of Thai Jasmine rice, I – like many of my brethren – inherit the skill of steaming our rice until the optimal fluffiness and moistness, a skill passed from one generation to the next, from mother to daughter, from father to son… but this saffron rice recipe really beat the crap out of my heritage. I think it would even give koshihikari a good beating, even if you ate it at Masa, NYC. Little surprise, afterall, as Kateh is named after the Persian equivalent of certain dark arts of rice making.
Danmarki, mille feuille with milk ice cream, £5.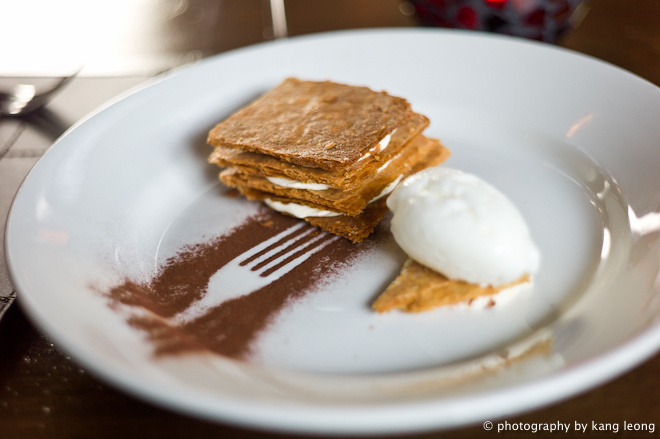 I didn't think much of the mille feuille, but I really rather enjoyed the milk ice cream. Now if only they would crack some of the pastry into the ice cream mixer, and call it pastry milk ice cream. It was like cereal milk ice cream (or cornflake ice cream for the hawksmoorians) , but without the taste of corn.
We finished with two long glasses of whatever was their dry house white, and a shot of unfiltered and heavily sweetened Turkish coffee. Total cost was a respectable £52.00, service was at our discretion.
I don't have anything to compare Kateh against, I am the Persian food virgin in this regard afterall, but what I can tell you is that I liked Kateh enough to say that I will be back again, especially considering it is only about 15 minutes from home for me. And reflecting on the reason of why I like it; eating here, was very much like walking through a garden filled with variety heavily fragrant and attention seeking flowers in full bloom. I think it's also because the spices didn't burn my tastebuds, it was certainly on the mild side, where I held a previous preconception that Iranian food was suppose to be spicy. It wasn't, it's lovely, and Kateh is worth the trek, if only to sample the superiority of the rice.
The Gist of It
Kateh
Persian £25pp
5 Warwick Place W9 2PX
Tel : 020 7289 3393
Tube : Warwick Avenue
Elsewhere : Indie, TimeOut , Cherie City
Did you enjoy reading this? You can subscribe to the Newsletter. Alternatively, you cansubscribe to the RSS feed.