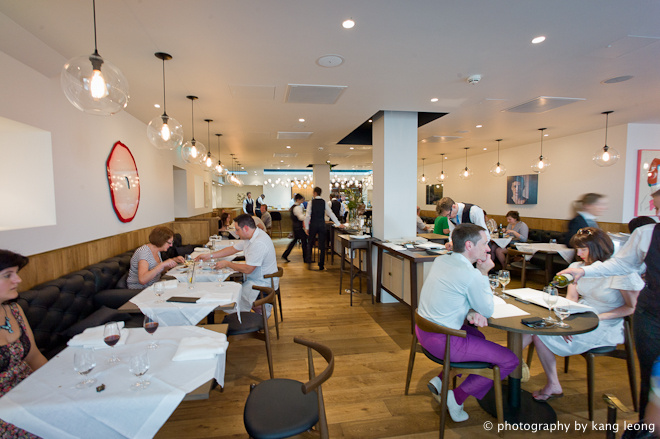 5000. How do you even track that? Did they fill up three, four, ten books of names, numbers and dates? It is an insurmountable number, consider someone hanging by the phone to take 5000 calls in a continuous 24 hours period, which works out as 3.5 calls per minute, which translates to a pretty exhaustive day's work. Yes that's how many of you and I crashed the lines the day Pollen Street Social started taking reservations, and the last time it happened was… probably when Heston started picking lucky diners for his Dinner outfit at Knightsbridge.
Such is anticipation of Jason Atherton's debut solo venture. Oh it's a golden era of restaurant openings alright, we thought 2010 was a crazy year for brilliant new players, 2011 has thus far been bigger, better and ever so highly produced. Mr Atherton's new joint aims to bring his previously groundbreaking concepts at Maze to an unfussable, shrine of a dining room that (conceptually) wants to bring the sexy to social dining.
Jason has a cult-like following, he was afterall, considered by many (me) to be Ramsay's greatest protege. Adding fuel to the fire, PSS opened just in time to host a dinner for the visiting superchefs who were in town to find out how they ranked in the World's 50 best ceremony (how Iggys managed to not only maintain but improve their position is beyond me, but let's leave the debate about the validity of this list for another day). If you cast your mind back to a year ago, the then apple of the dining ciruit was Mendes' Viajante which hosted a similar group of tastebuds, and in so to frame this blog post, PSS appears to carry a similar air of freshness about it, as Viajante did last year.
I think most new openings have sussed the sort of ambiance we prefer to pay to eat in. Something stripped back down, and easy going; few (if any) new high profile openings build old world regimental pretention into their designs any longer. In this regard, Social is no different. Alot of glass mean that the dining space is flooded with lots of lovely sunshine during the day. A tri-colour scheme of black, white and brass, screeches art deco simplicity, but look closer and you'll notice the subtle designs are highly thought out, merging form with function. Or in Jason's own words, in collab with designers Neri and Hu, the atmosphere they've created is "an environment of low-key luxury conducive to a buzzing New York style atmosphere."
It is a lovely space to eat in. The hidden high productive values reminds me of the art gallery comfort design that is Heston's Dinner, the other, more indie creatively spirited gastro shrine, Viajante, and the split bar/dining room with the tri-colour scheme is also redolent of a (much higher budgeted) version of Arbutus. With Pollen Street Social, London restaurants have reached a clear summit of defining reserved elegance. It's very modern, very sociable and most of all, it makes diners feel relaxed, which is the whole point of eating out.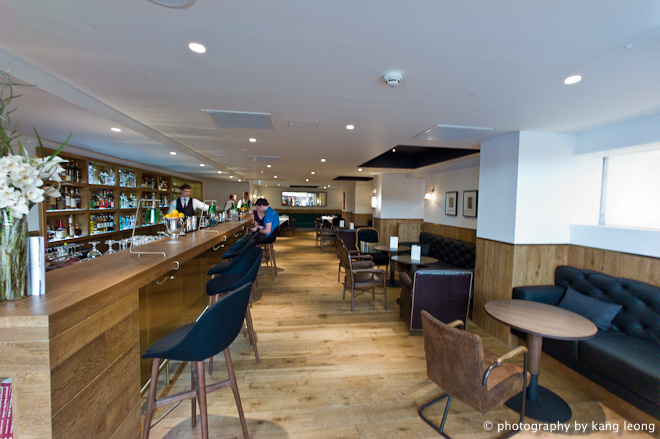 There is the dining room that sits 60 warm bodies (plus a 'dessert bar') , but Social also features a pretty expansive bar that can accomodate 45. Yes, each of the three 'zones' (if you will) have their own menu, unsurprisingly, the bar has a tapas menu, the dessert bar does the tea & puddings. As for the dinner menu, it reads a little like a modern Spanish restaurant's. A taster section of ten or so small dishes, priced between £10-£14, which gives the diner the choice to mix and match to create a monster bespoke taster of bite-sized starters, or for couples to spread thinly, and get everything to share; and finally a mains section that allow for larger dishes (£20-£35) for a more traditional three course meal. Not forgetting the 3 course set lunch is a reasonable £25.
The better half and I were in attendance for their first Saturday lunch service.
Full English Breakfast, £10.50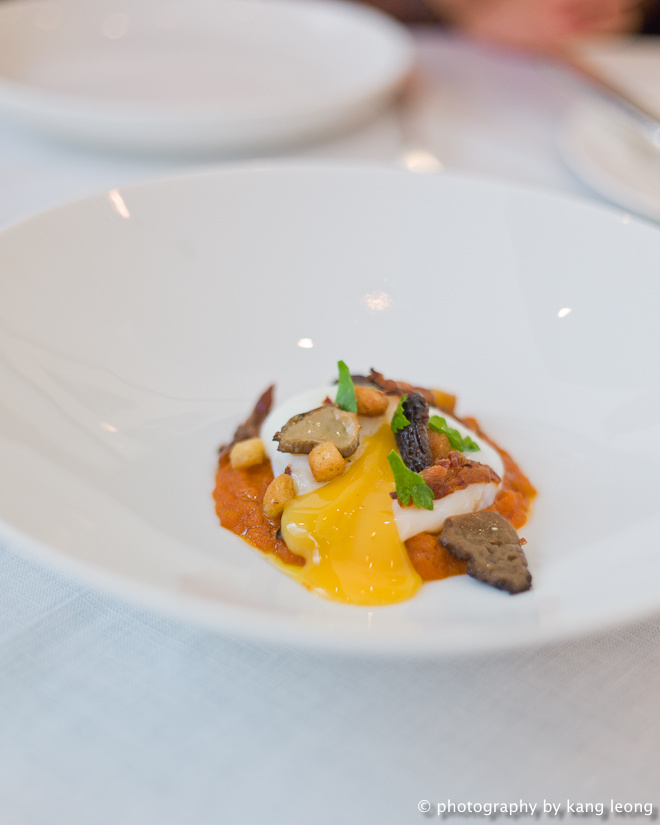 Or a reconstructed, molecularised version of the greasy start to the day. This was an instant reminder of the reconstructed, molecularised version of the BLT in a cocktail glass, which Maze was once famous for. Jelly for bread if memory serves.
Anyway, chopped morels, baby crusted croutons, serve to garnish a gently well poached egg – very close to a onsen tamago – on a bed of fluidised tomato puree, and a rich mushroom puree, hidden from view. Zesty hits of tomato, and umami filled hits of mushroom bombs, with clear flavourbombs of chorizo, or some kind of Mediterranean sausage. There were no more than two spoonfuls, one for me and one for the lady. Too little, but my god, it was brilliant, nay, it was fucking brilliant.
I would gladly pay for six spoonfuls to have this for breakfast every day… something for Jason to consider perhaps..brunch??
Cauliflower & squid, clear roasted squid juice, £10.50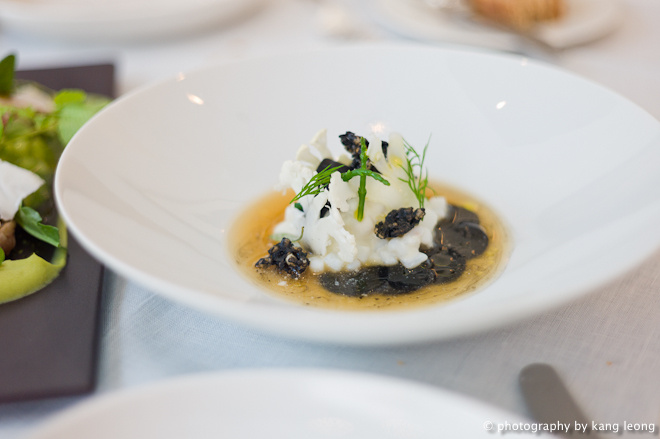 The waiter had described to us, that the squid element in this dish, was that it was made into a risotto. Which in practical terms, meant diced cubes of squid. Also, the black and white colour scheme seemed like an extension of the room's design.
Again, very few spoonfuls, but probably four of the best spoonfuls either of us had ever had. The broth was a sublime effort. The rich rootiness of cauliflower, and the slimy, sandy fishy tastes of the squid, as well as the smell of sharp, salty squid ink, it seemed so simple, two-toned flavours but just well executed. It was like I picked up sand from the beach, shoved it in my mouth and breathed in the salty air. I was there Heston..I was at the beach. I mean Jason. Squid risotto – great way of reinventing the way squigy textures are perceived, now re-imagined as squigy rice.
BBQ mackerel, cucumber chutney, frozen ajo blanco, £12.50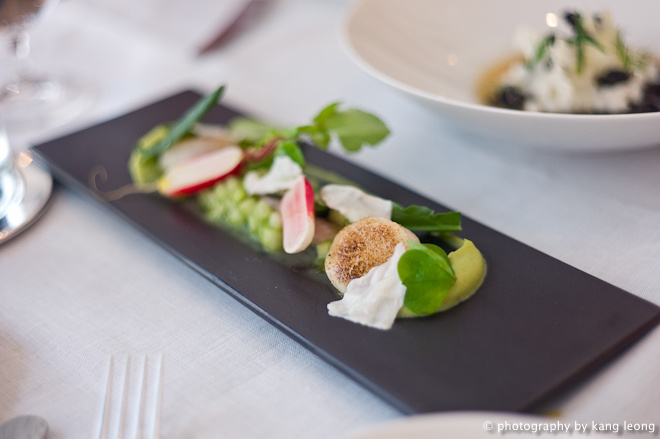 In my opinion, this was probably the least impressionable dish. Granted cucumber ketchup, with it's pickled, crispness was something that worked well to cut through smoked fish, and something that was definitely trendy (I think we ate something similar at Dinner) for the haute cuisine enthusiast, it wasn't something I'd order again. While I enjoy the education it brings when visiting high concepts of exploring the playfulness of human tastebuds, this dish also represented everything that is the problem with fashionable eating. The cucumber worked well to cut through the slither of mackerel. The half a scallop was flirtatious, the dish was cold, and I wasn't quite sure which was the ajo blanco – was it the green mousse or was it the white slices redolent of tofu skin? Intriguing, but ultimately forgettable.
24hr braised Suffolk pork belly & pork cheek, fermented apple sauce, £14.00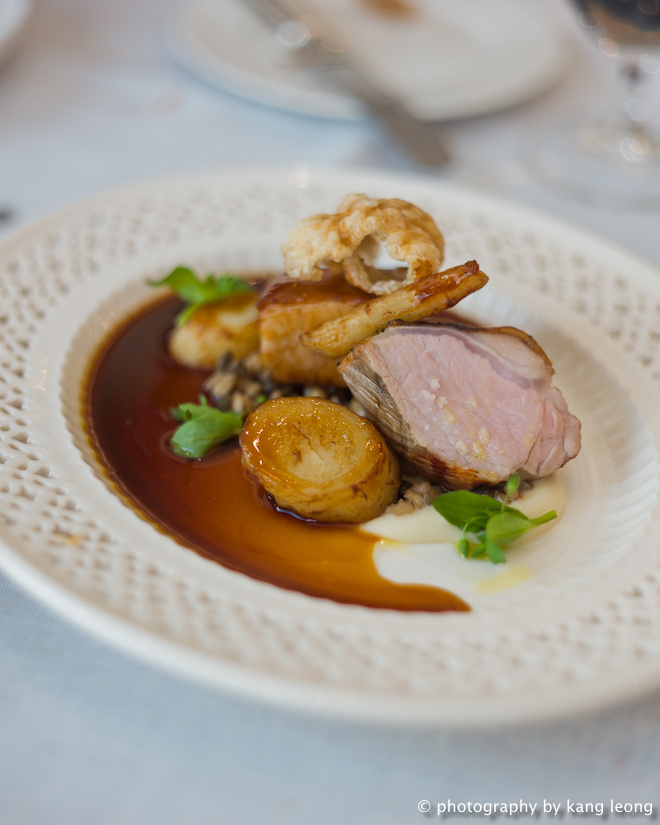 Very fantastic. The belly was superb. Cooked to a tint of lucent rose, it was juicy, it was fattilicious, it was sweaty, it was just great pork. Crackling was – dare I say – St John like, like the cracking pork skins the new SJ Hotel is serving, and light like a quaver. A boring dish, but technically it was brilliant. The sauce was sweet, dangerously close to a teriyaki.
Atlantic halibut, Catalan paella, sprouting broccoli, pork-ham fat, £25.00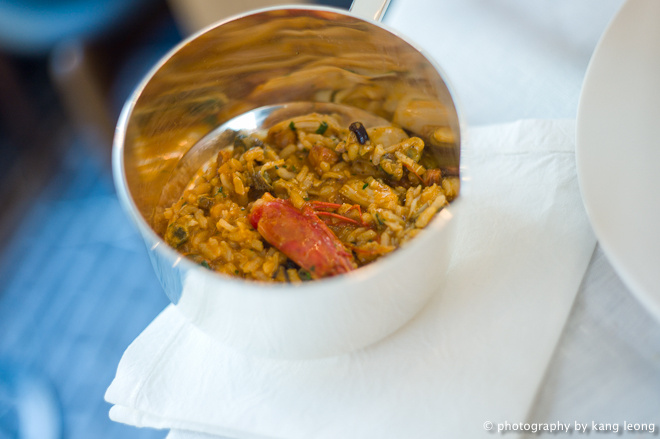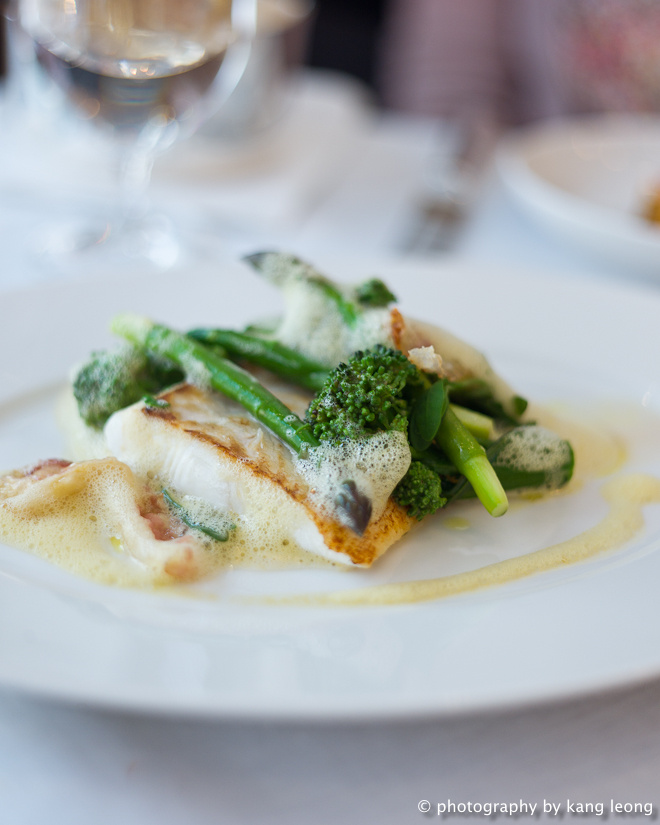 The halibut was so roasty, it may have well have come with its own internal combustion engine. The real star of this dish however, was the al dente paella, absolutely bursting with flavours of the sea, and of preserved meat. It wasn't quite out of this world, in fact, far from it, it was wholly recognisable, it was afterall, a paella, save for that it was one cooked very well.
This dish reminded me of my meals when I was working in Norway last year, in particular Lothes. It's just something about the cream, fish, foam, and chorizo, which was so characteristic of the dinners there, and this dish reminded me of it. This recipe somehow reminds me of the changing seasons, from winter to spring, spread over a cold plate and a hot copper saucepan.
Traditional English rice pudding, hay ice-cream & lime jelly, £7.50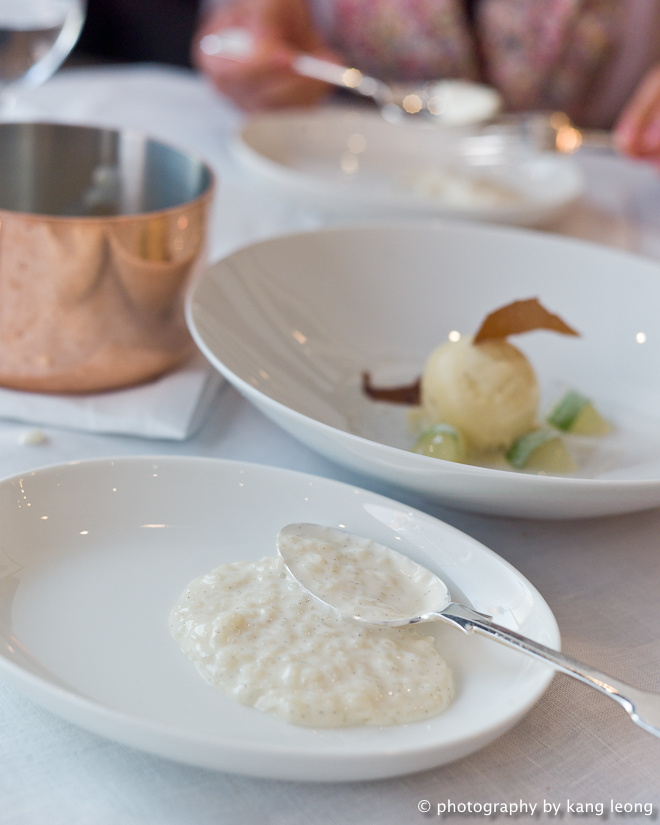 This was my favourite dish from the meal. Yes, you're right, it looks so fabulously simple. It was. And it was also the most perfect warm rice pudding I'd ever had the pleasure of sampling. Gooey, milky, it filled our corner of the room with the wonderful aromas of vanilla, that it transported me all the way back to 1994. To top things off, a malt-rich hay ice cream, like a ice cube made of melting sand, man my buds were being tricked out. The hay ice cream was very good indeed.
I finished off with the three dollops of extremely zesty lime jelly, that had threatened but failed to erase the great lingering memory of the awesome pudding I'd just had.
The irony of small plates of food, meant to be shared, is that they are practically difficult to share. Logic dictates that the smaller the plate, that it should be eaten by less mouths, surely. But such is the world we live in right? No. No. No. From here on out, everytime we seem a tapas dish, we shouldn't share it, we should observe etiquette, order whatever we want, and finish everything on the plate, without enlisting the help of those around us.
Food including a bottle of sparkling and a glass of Maria Gomes (Portuguese) was £102.38.
I enjoyed Pollen Street Social, it is a successful start to what I think will be a fruitful and long stay at Pollen Street for Jason and co. As I had eluded to at the start, PSS sits somewhere in between Dinner and Viajante. These sort of restaurants are equally as fancy for their interior designs, as they are to educate the palate. On reflection, the food errs toward being dastardly simple, which is something I definitely prefer, as opposed to over-flamboyance. To practice restraint, takes more effort I suppose, although, restraint is something that can easily slide into the complacent territory, and just be plain boring really. So an advanced friendly warning; if you thought Dinner was boring compared to Fat Duck, you might feel equally deflated with Pollen Street Social. So for those of you expecting the equivalent of the second coming of food, don't hold your breath, it's good, it could be brilliant, but it's not that ground breaking. It's soft-spoken, articulate, well travelled but this be a mild-mannered soul, which is about as perky as a Ray LaMontagne gig.
But thankfully, the cooking is superb, and in this regard, it translates into an exceptionally elegant restaurant. No doubt Jason is well on course to win another michelin star.
Ah. Those portions. Yeah they're just too small, but then again, we already know that. It won't be cheap because small portions mean that you are going to have to be carefree when it comes to ordering. If your pockets run deep, I'd suggest getting four taster and a pud, just like Maze. Or two tasters, a main and a pud. And if you're still hungry, it's a boon that Goodman is a mere two steps away, so there is still a second chance to pig out on a small steak just to round out the meal.
The Gist of It
Pollen Street Social
British Social Dining, £55pp
8/10 Pollen Street W1S 1NQ
Tel: 020 7290 7600
Tube: Oxford Circus
Social reviews: Matt Fort , Foodepedia , 31.75 , More than toast , Sabrina's Passions , Gauthier , The Grumbling Gourmet
Did you enjoy reading this? You can subscribe to the Newsletter. Alternatively, you cansubscribe to the RSS feed.