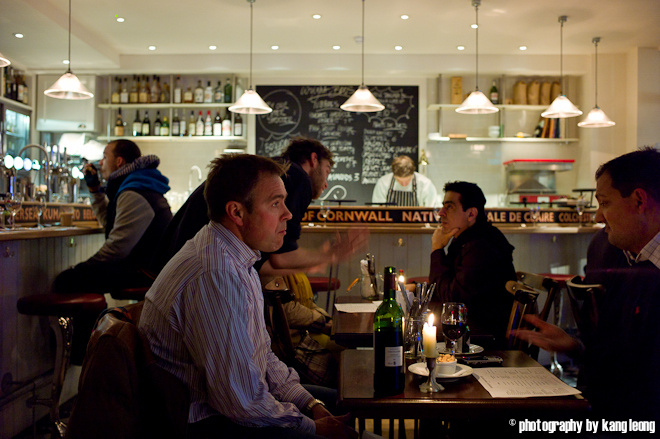 The long time resident oyster bar at Borough market opened their 2nd London outlet in late 2010, in the very heart of central London. It takes up an entire wing that oversees the courtyard in Kingly Court, with a view of nearby Cha Cha Moon. Alan Yau's woefully modern noodlebar, which I dread, and which is a place I would only return to, if prices revert to the introductory £3.50-for-every-plate.
Fortunately, I may never need to, now that the new Wright Brothers is so conveniently located, staying open all day from lunch through to midnight, I find myself compelled to go shopping, just as an excuse to pop in for a mid afternoon oyster slurping session. Wright Brothers are in fact oystermen themselves, who own the Duchy oyster farm in Cornwall, cultivating over 5 million natives and pacifics every year along the Helford River. I have obviously never visited, but it seems like an interesting weekend trip to conduct one of these days. This positions WBs as one of the most productive oyster farms in GB.
Previous to WB Soho, my go-to oyster bars were Bentley's (damn their oysters are fine) and then to J Sheekeys. If you are an oyster lover like me, you can only appreciate yet another oyster specialist opening in town. The media has thus far graced it with a rather luke-warm reception, though it largely praised its split-level, open plan kitchen, wood planked and brass bar setting – modern, a little hectic and fitting for the area. I paid a visit shortly before Christmas in the mid afternoon, to try out my theory of it being an ideal refueling station alternative to high tea. Especially after a rather heavy late breakfast at Dishoom.
6x Kumamoto Oysters, £18.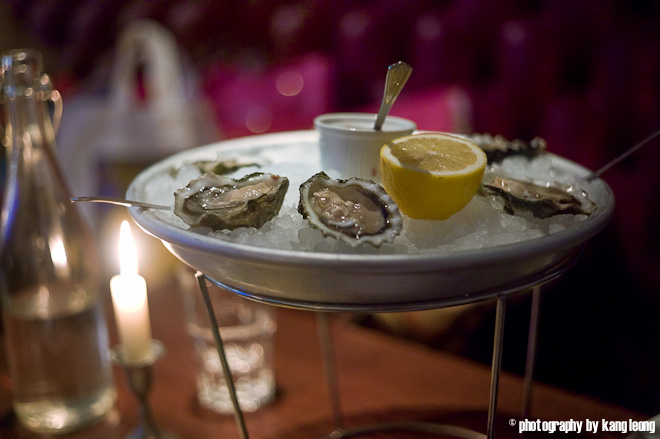 I didn't take notes on this trip, but I did remember these smaller-than-average, sea faring jewels, being impressive.They were so pure in taste and so sweet in flavour, that it fizzled on the palate. This particular breed of oysters has its origins in Ariake Bay in Kumamoto Prefecture, of the Kyushu island in Japan; these ones are – as I understand it – cultivated by WB's Duchy farm. It's great stuff, could replace my preference for Natives.
I write this while currently on vacation in Brunei (on a very large 27inch iMac, wow all that screen real estate..!) where restaurants import air-flown oysters from New Zealand, which seems like lunacy really; frozen oysters (so I gather) that has made me ever so slightly wary of its adequacy to be eaten freshly after shucking. Perhaps that's why the menu also gently suggested grilled oysters. Hmm… a curiosity I have yet to satisfy, fearing health concerns. I digress.
What with the rich history of London's turn of the century chop houses, (and what with me being so far away at the moment), I feel appreciative that the country as a whole, is currently graced with an array of reputed oyster rearing regions – from Lock Fyne to Carlingford to Whitstable, superb oysters are something the UK can boast. Slurp, slurp, slurp.
2x Dressed Crabs on Toast, £18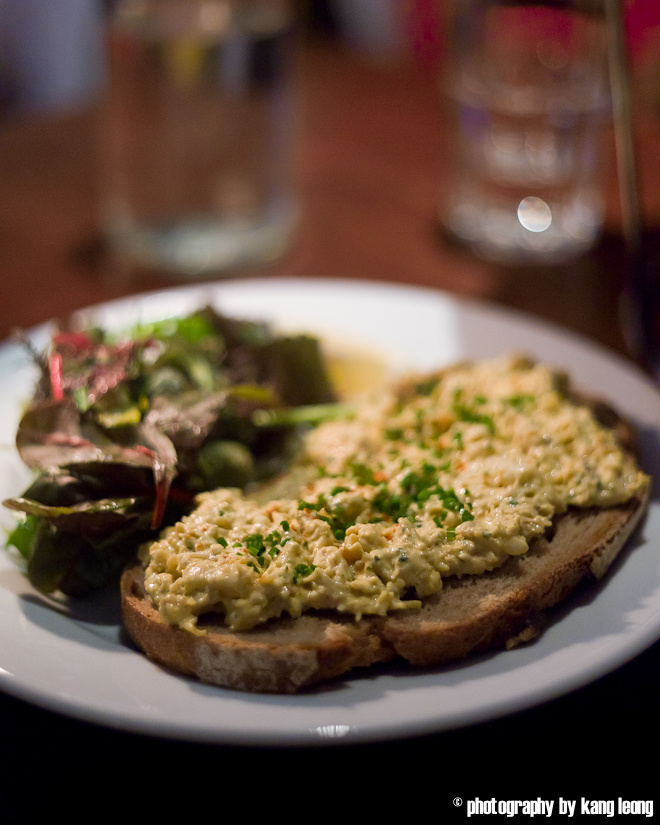 The main man in the kitchen is one David Gingell, formerly of Galvin's excellent value-conscious Bistrot de Luxe, and also formerly of St Alban. His track record suggests a good fit for the type of easy, hearty Anglo-French dishes that could best compliment the oysters, at least on paper. Practically, the results seem inconsistent, and have only managed to adequately meet the expectations of your favourite London critics and blogs. As for my personal experience, both Mark and I found the crabs on toast to be hugely edible, but incidental, and was certainly not better than some of the better egalitarian Brit-fare purveyors like Great Queen Street for example.
They charged us a quid for a jug of tap, and the bill came to £37 for the afternoon snack, service charge was exclusive and at our discretion.
I like the atmosphere, and I think it's a great oyster bar. I spot Frank Hedderman smoked salmon on the menu, which is a good thing; ox cheek and oyster pie sounds like it could be a winner, though generally speaking, I think that warm food at WBS are probably (should be) incidental side dishes to an afternoon (or evening) of oyster bingeing. Obviously don't just take my word for it, given that I had hardly ordered any hot food based on this visit. I am however, very confident of their oysters. Expect to fork out abit of cash for the fabulous selection of oysters, though I think you will be largely impressed with the shucking. As for me, once I get back to GB, I'll be headed there for a dozen Duchy natives, paired with an excellent bottle of Chablis to wash down all that minerality.
The Gist of It
Wright Brothers Soho
Oyster Bar and more, £25pp
13 Kingly Street and G7/G8 Kingly Court
W1B 5PW
Tel: 020 7434 3611
Tube: Oxford Circus
Oystermen: Greedy Diva ; Jay Rayner ; GT.
Did you enjoy reading this? You can subscribe to the Newsletter. Alternatively, you cansubscribe to the RSS feed.