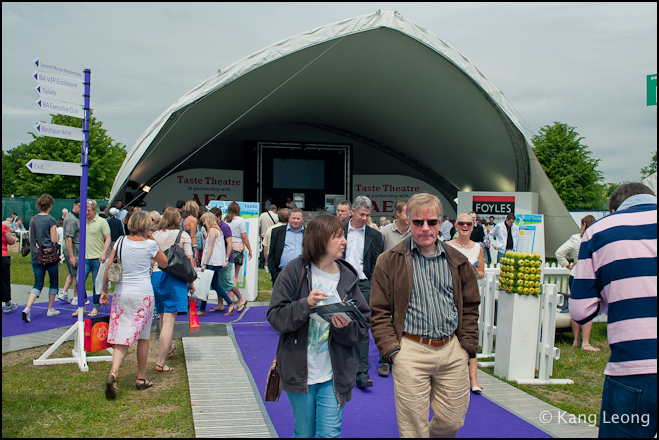 Yes, the food festival that features some of London's more famous and not-so-famous restaurants, popped up this weekend at Regent's Park under rather dreary skies. Of course I was there. I spent 100 crowns, that's fifty quid. Oh yeah baby. Lots of photographs after the jump.
Switch to Fullscreen Slideshow Mode.
It was a case of scoffing, sleb chef spotting and getting our hands on as many free hand outs as we could. The event was to celebrate and showcase our capital's dining scene, there were many instantly recognizable names and abit like cherry picking vineyards to visit in wine country. With my 'roving editor' Marcus, we circled out the restaurant stands which we wanted to try. I'll keep the chatter minimal on this one…
(if you are reading this before the 20th of June, there are still tickets floating about[1. Taste of London Official website]…)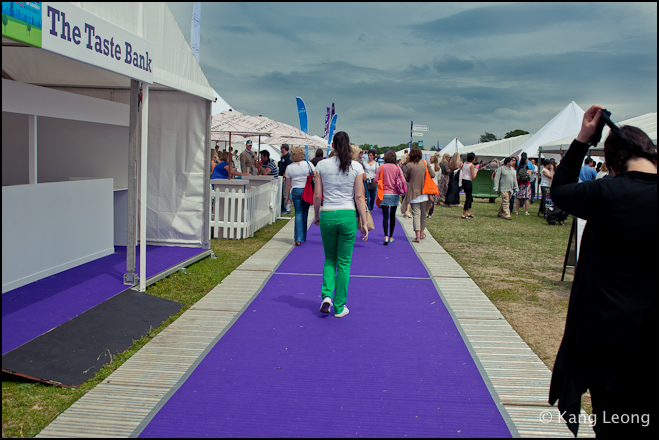 £10 buys you a book of 20 crowns at the Taste Bank, follow the green jeans…
Fino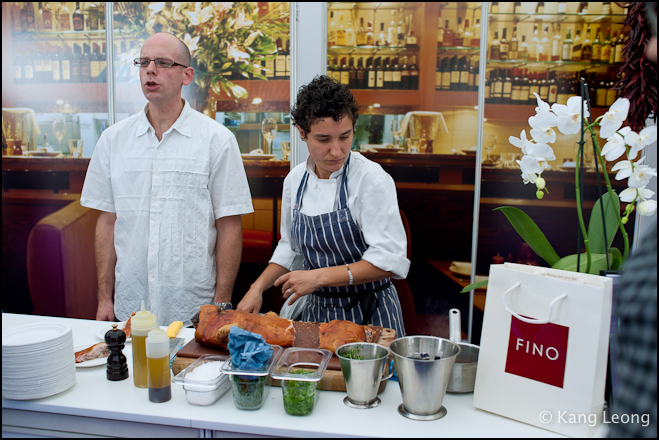 The first stop was to Fino for their Cochifrito suckling pig, judged[2. 2nd best of Taste goes to Fino] to be the 2nd best dish of the event.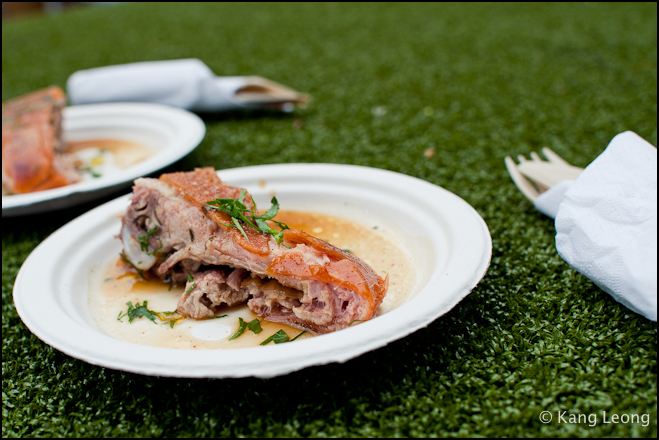 14 crowns. We agreed. Fatty, melty, a cracking crackling, smothered by a thick and syrupy sauce with hints of mint. Fino is on my list now.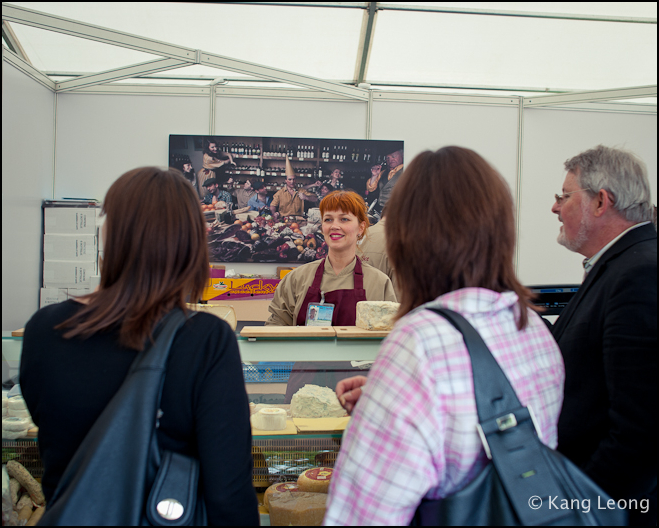 Smiles..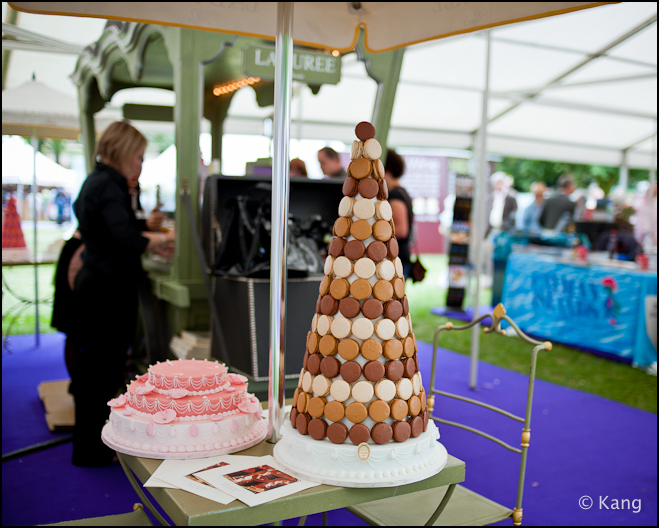 Laduree macarons.
Le Gavroche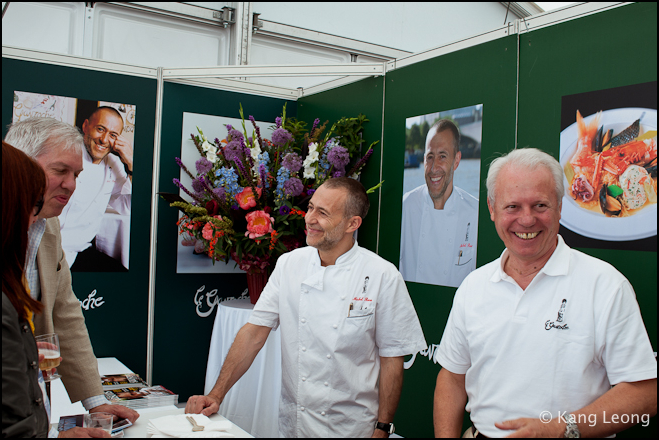 Oh yeah, Gastronomical Royalty. Michel Roux Jr (chef) and Silvano Giraldin (manager), the leadership of two michelin starred Le Gav[3. Le Gavroche Official website].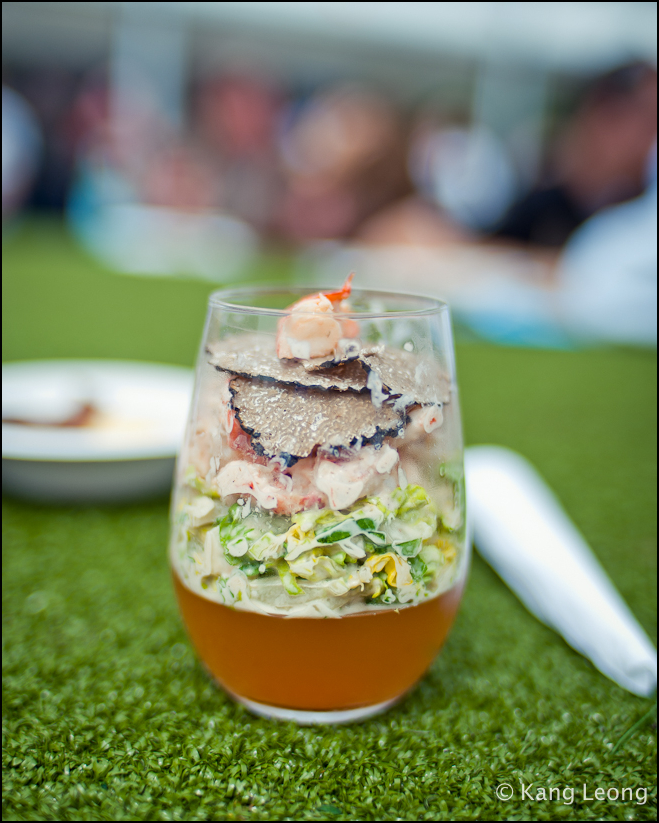 40 crowns or twenty squids: Lobster cocktail, with summer truffle and tomato jelly. Entirely indulgent, four large slices, lots of chunky lobster meat, iceberg lettuce, the jelly was a little bitter… in hindsight this felt like a waste of money, there wasn't real invention involved, and I could've done with some hot buttered brioche. Still, can't go wrong with fresh lobster and truffle. Le Gav is still very high on my list.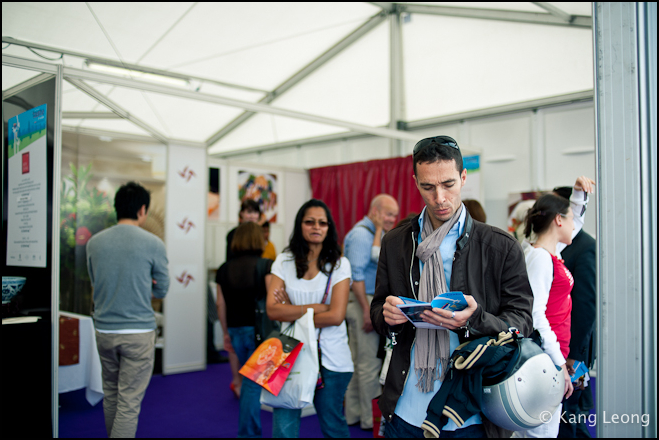 Checking the Taste map.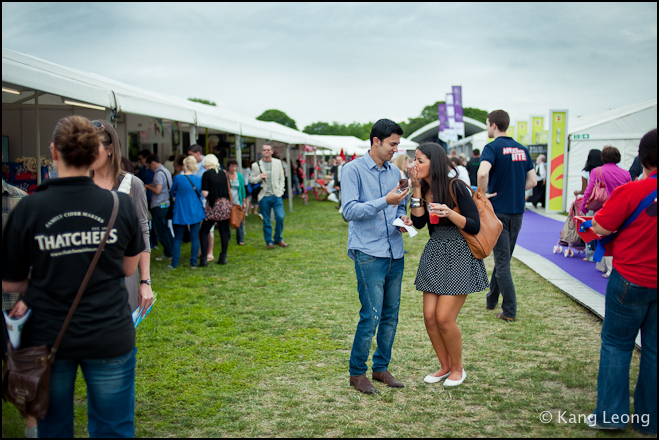 Feeding the missus.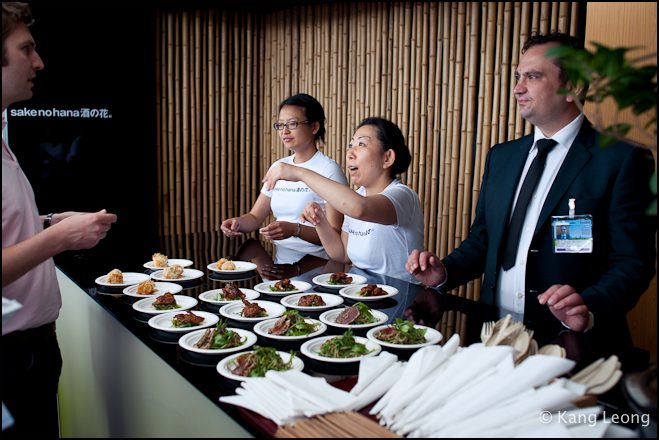 The Sake no Hana stand…. Alan Yau's showing I suppose, nothing really caught my eye. The Japanese presence which intrigued me was Dinings.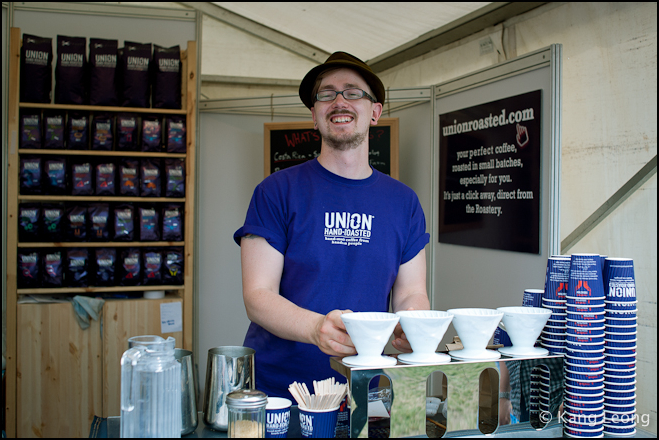 Vic – Coffee Maestro, oh he really is. He's all over town, a coffee consultant (if my info is accurate), he is in and out of Tapped and Packed alot right now, he knows his brew, if you ever spot him, tell him Mark said hello.
Dinings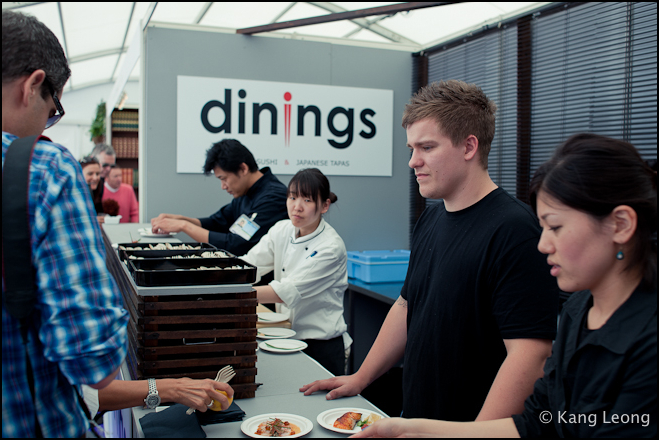 You might recall me raving about Dinings[4. My review of Dinings] last year, a Japanese restaurant opened by ex-Nobu talent Tomonari Chiba. Naturally I was excited to visit their stand at this event.
Seabass carpaccio with ponzu jelly and truffle, 8 crowns. Yeah this hit the spot, peppery, citrusy, the fragrance of truffle, the oiliness of fish and an explosion of flavours. Their ponzu-truffle jelly is Dinings' USP. They put it on their seared wagyu nigiri at the restaurant and it is equally amazing. Shades of Nobu, but mybe just a tad sexier in my humble opinion.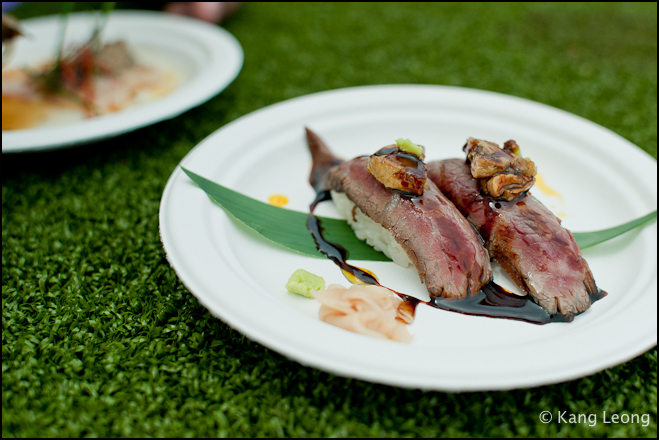 Seared Wagyu sushi with foie gras. 12 Crowns. The wagyu gently blowtorched, cut very thick, with a syrupy soya sauce concoction drizzled over it. I know some say foie gras doesn't work with rice, but I thought it was masterfully executed here. The brawny wagyu, fragrantly bovine, a real wow-factor, it tasted lively and the sweet soya sauce managing to balance against the potency of the foie gras. Loved it too.
I think a revisit to Dinings is imminent. Not everything at the restaurant is spot-on, but their truffle-ponzu sushi are really out of this world.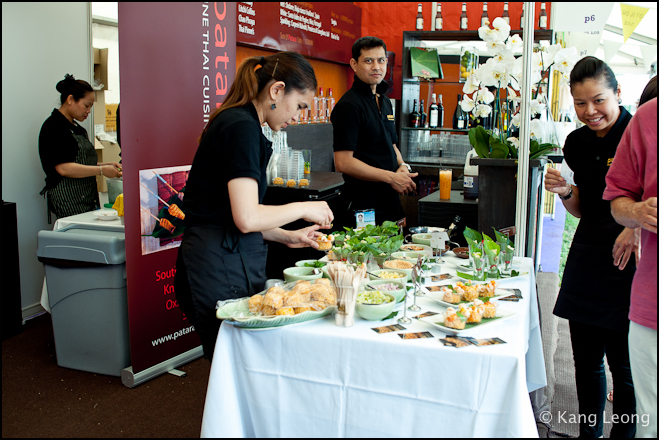 The Patara stand.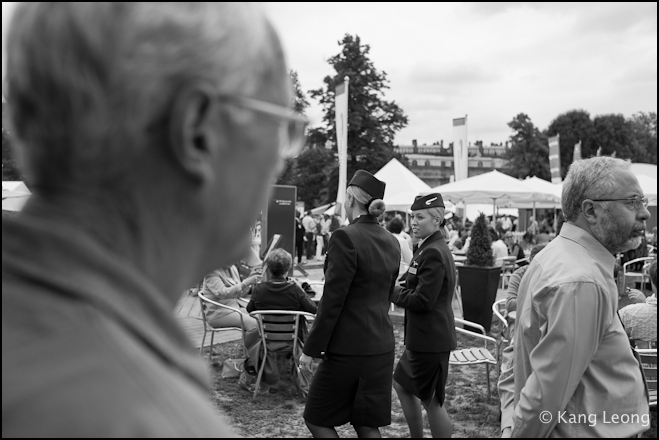 Girls of British Airways. Yeah…black and white.
L'Anima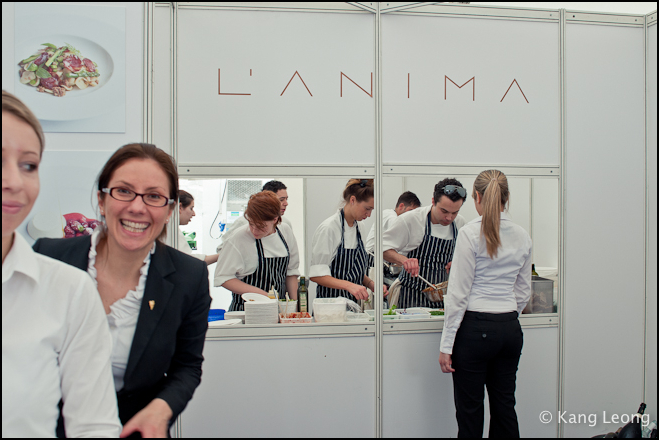 Here we are, super heavyweight Italian outfit, L'Anima[5. L'Anima official website]. I am overdue a visit, and what a slick operation, one could almost sense the jive from the kitchen team. Theirs must be one of the hottest tables in London right now. They are shutting for expansion works in August, and re-opening a month after, I think I might visit in July.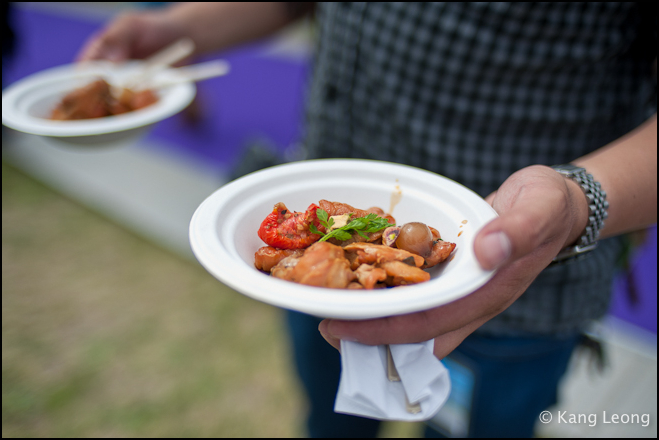 Rabbit Siciliana, 8 Crowns.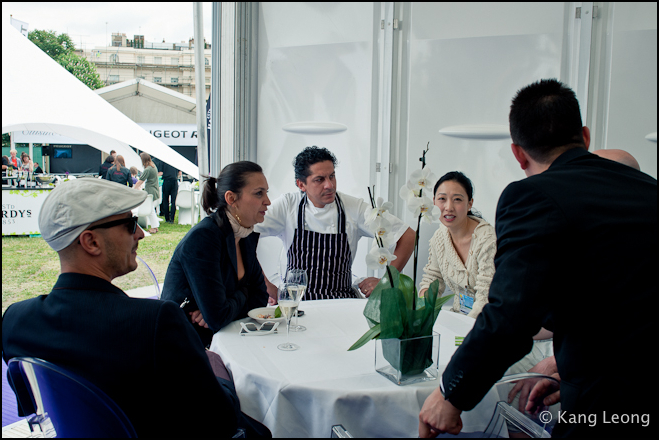 Wahey, and that's the man himself, Francesco Mazzei with iron chef Judy Joo…! She is radiant by the way…we couldn't take our eyes off her… Note the well-positioned halos.
Odette's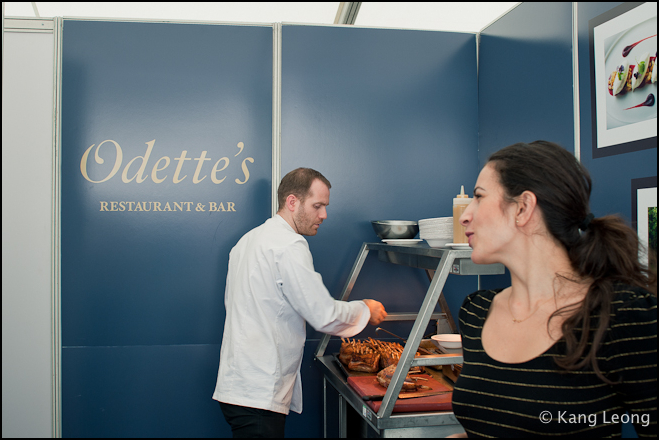 You know Bryn Williams[6. Bryn William's restaurant Odette's] right? His turbot, oxtail, cockles and samphire dish (representative of Wales) was the winning dish from the 1st GBM series and became one of the dishes for the Queen's birthday bash a few years ago. He did have it on the Taste menu, but we were ten minutes late, it was served at 1.30pm, and they sold out…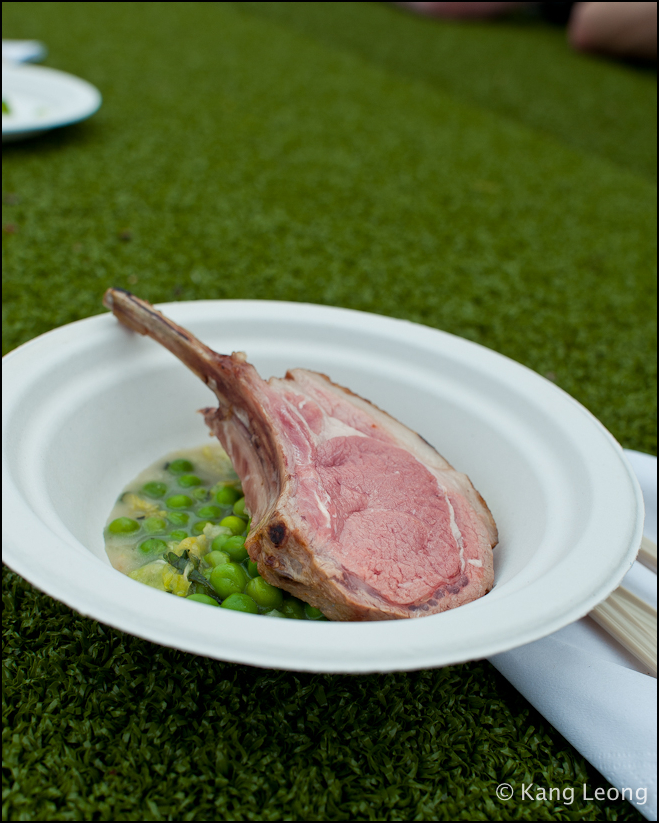 …so I went for the mint, pea and Welsh rack of Lamb instead, 8 crowns. It was superb. Delicate sweet peas, and an equally delicately cooked lamb chop, juicy. Bryn trained at Le Gav, was last at Galvin at Windows and now owns Odette's. Oh yeah definitely on my list. The turbot will not elude for much longer.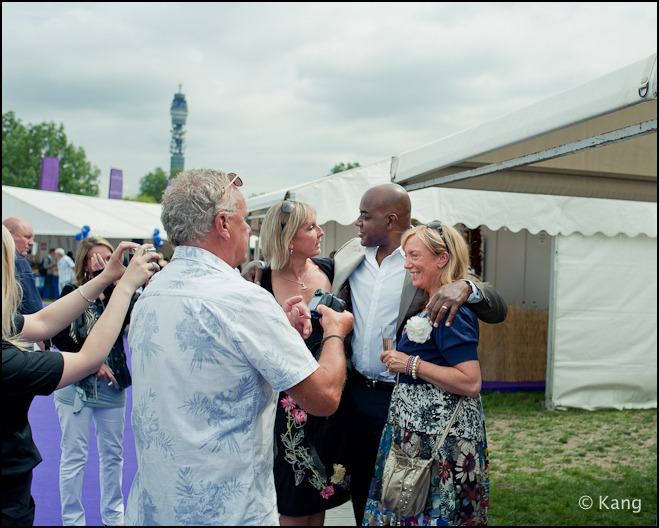 Ansley working his magic…
Modern Pantry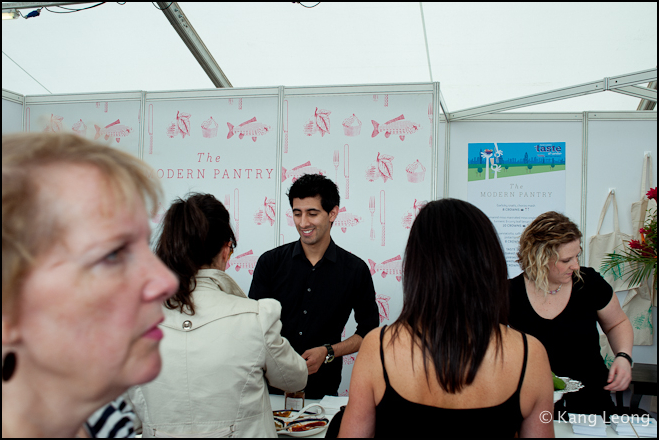 I must say, I know very little about Modern Pantry save for that its head chef Anna Hansen[8. Anna Hansen of The Modern Pantry] trained under the eponymous Fergus Henderson. Her chermoula baked trout, quinoa, tomatillo,preserved lemon salad was judged to be the 3rd best of the event. No doubt after this event, I have placed Modern Pantry on my list, will visit the restaurant in the coming weeks.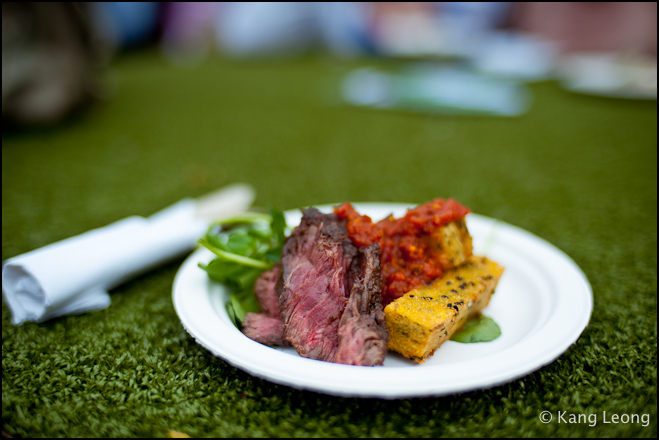 I was intrigued by the items on show at Taste, I can't even place the style of cuisine, which appears to be a kind of super fusion, the best of around the world foods. Tamarind marinated miso onglet steak, tumeric, and curry leaf besan chips, 10 crowns. I'm not sure about this one, the hanger steak, rare, was excellent but the rest of the spices left it a tad too bitter. I appreciated the spiciness however, but I couldn't say it impressed.
Still, I am intrigued by her food, it reads very well indeed, and would be interesting to see how it translates in a restaurant.
Trinity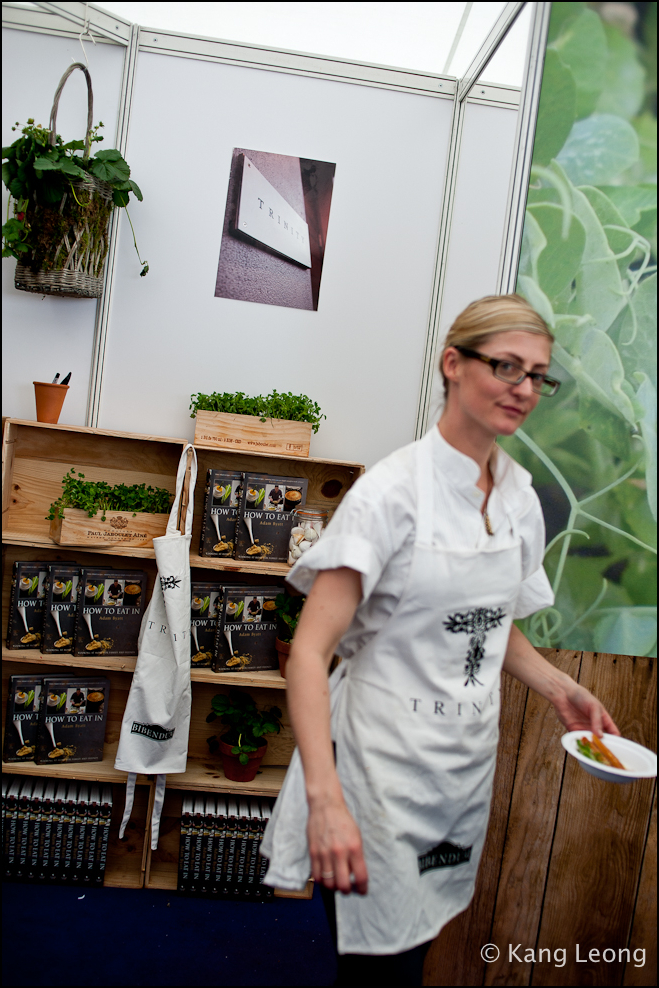 This south London restaurant[9. Trinity] has a cult-like following, whilst the restaurant itself keeps a pretty low profile, Adam Byatt's name is whispered by food lovers regularly, and I am quite embarrassed to say that I have yet to visit Trinity. That will soon change, of course.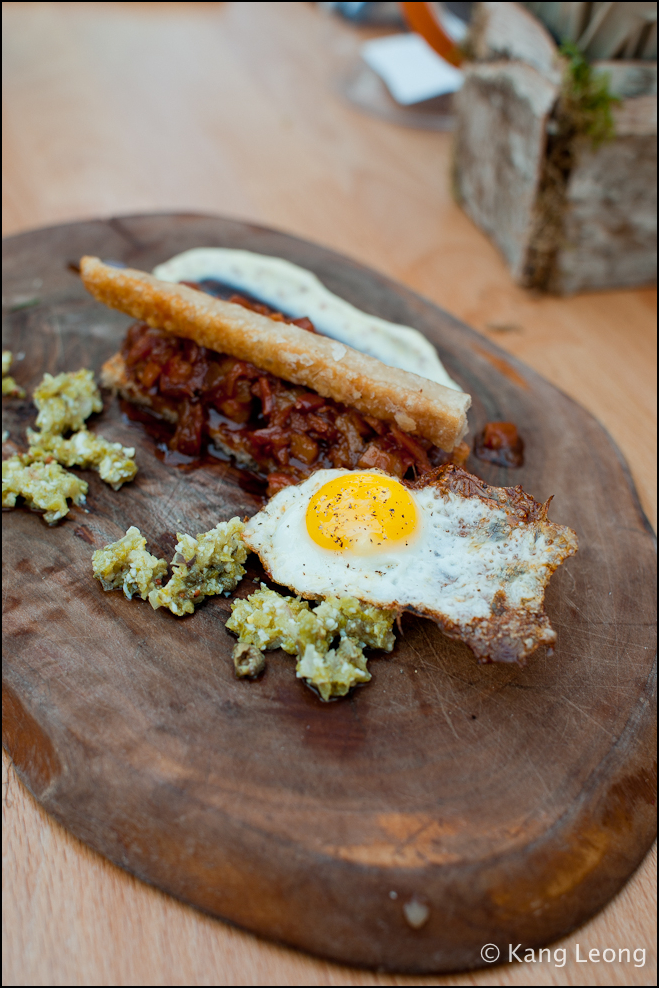 Pig's trotters, toasted poilane, fried quail egg, sauce gribiche and crackling, 12 crowns. Judged to be the best of the event, and I can see why it won, I thought it was exquisite. A whippy, mustardy white sauce, superiorly intense crackling and sweet onion tasting trotters. With a milky yolk on the toast, it was a superb congealing mess that felt abit like breakfast. Apart from the Fino suckling pig, this was definitely the most memorable from the event. It definitely wowed. Pickled gherkings (I think) helped to cut through the strength of the dish. Sweet, flossy, salty creamy. Trinity is definitely on my list now. I really want to go.
Bea's of Bloomsbury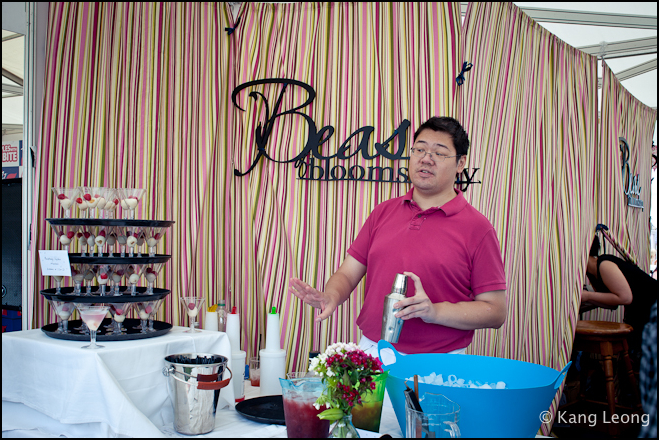 Introducing the new face of Bea's… just kidding that's Tehbus[7. Who is Tehbus].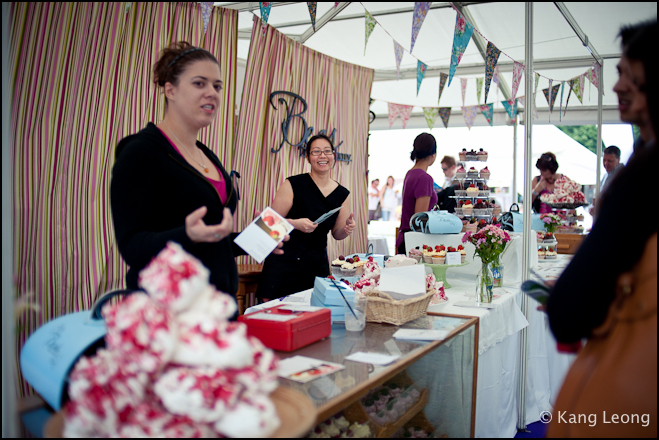 This is Bea[7. Bea's of Bloomsbury].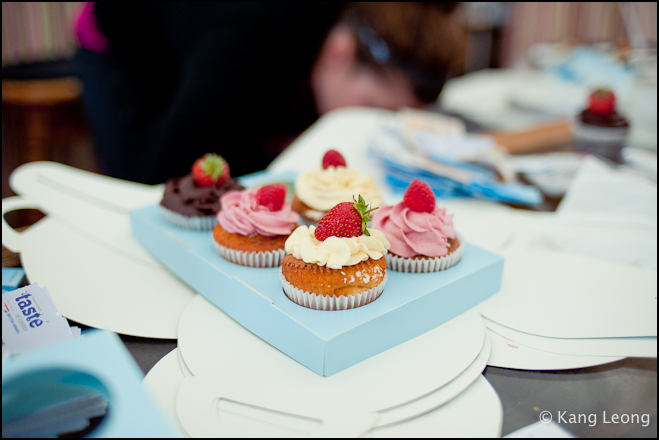 And these are her awesome cupcakes. The cakes are moist and spongy, the icing buttery and decadent. I am way overdue a visit, and I keep promising to show up for tea and cakes but I keep missing out. I will make it there before 2010 is over…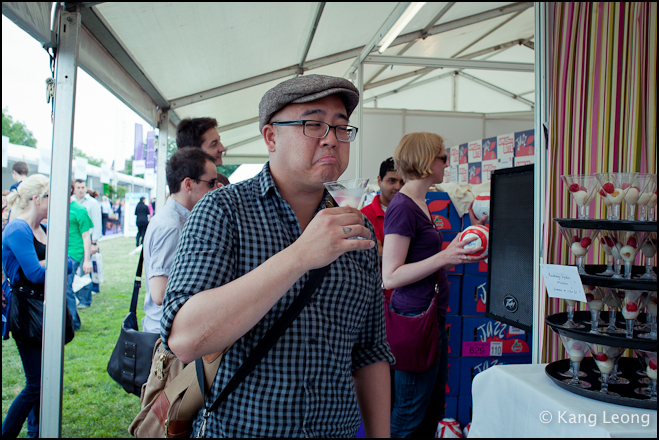 Finally then, Mark indulging…
….and here's my favourite snap of the event.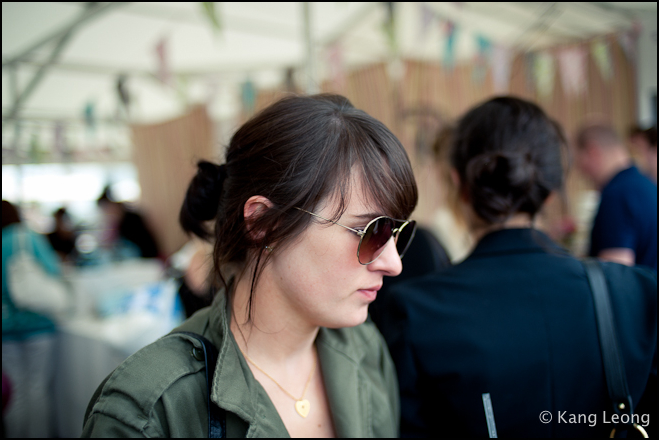 We also had Gary Rhodes' baked egg tart but I didn't think it was worth highlighting. The raisin sauce was good, but the tart was too cold, no Marcus Wareing.
Yeah it was fun, how could it not be? An afternoon's worth of eating, drinking and people watching. There were some great food on show, I have been alerted to certain restaurants I previously didn't think too much about, and I believe most restaurants will have come away enhancing their reputation after this event.
See you again in Taste 2011.
See the fullscreen slideshow for further highlights or view the full set of photographs on flickr.
Did you enjoy reading this? You can subscribe to the Newsletter. Alternatively, you can subscribe to the RSS feed.