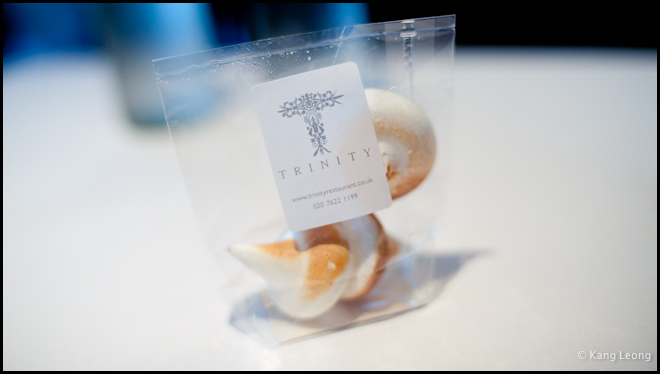 Adam Byatt, the thinking man's version of a celebrity chef, and owner of the much lauded Trinity restaurant, situated in leafy Clapham. Critics adore his work, for the invention, progression and enthusiasm he has brought to British cooking, and one expects no less from a chef who had apprenticed under Philip Howard, the cerebral owner of the magnificentThe Square. Sometimes I wonder, if there aren't any young chefs or successful restaurants not influenced by the brilliance of this man who holds a degree in Microbiology. Adam has also written a book titled 'How to Eat in' in which he shares some of his more famous recipes, noticeably that of his short rib pie. To tell the truth, I paid zero attention to Byatt's fabulous work, especially since his is usually a hot topic when food lovers gather. That's how I heard about Trinity, Niamh especially loved her visit, and it is one of the few times I had heard of a restaurant which fashions off-the-cuff bespoke taster menus as a regular option. Formerly of Claridge's, Adam's path to glory is not without patches. His debut album, a collaboration with Adam Oates, called Thyme (also in Clapham) was a roaring success, a restaurant before my time, and was popular for its starter-sized dishes. The success of Thyme led to an ill-fated move to a members club (ominously named Hospital) , which failed to hit the mark as the original. Eventually, Adam relaunched it as Origin but it also fizzled out like its predecessor. Sequels are never as good anyway. In 2006, Adam returned to his leafy beginnings in South London, aptly calling his third venture, Trinity.
Actually, the original meaning of the name, is a reference to the way dishes are cooked; with each dish featuring three major ingredients plus sideshows. Clapham feels like a trek to me, psychologically, crossing that bridge is almost like going into Europe, the last time I was in Clapham Common, I went to a festival, to get John Torode's autograph, and that was well over a year ago. And then I was at the Taste of London event more recently where Trinity's stall was the ubiquitous darling of the event, his excellent trotters dish scooping the 'Gold' award, and winning many-a-hearts, including my own. A visit to the restaurant proper was imminent.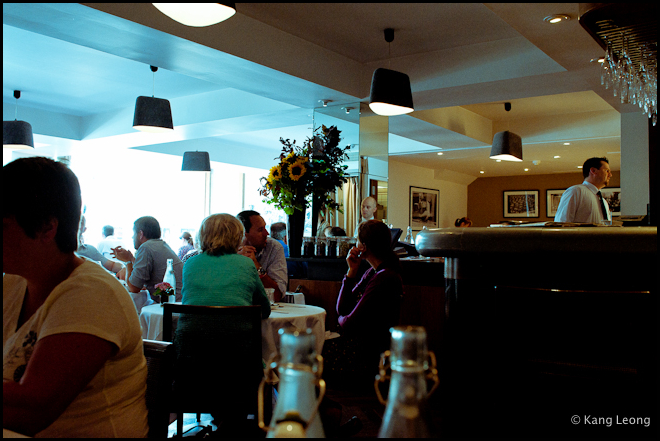 A trio of myself, my brother and the better half stumbled into the Clapham common, running circles around The Polygon before discovering the street level restaurant, embedded into the building. The windows were open to the world, it was the laziest of summer Sundays, inside an inoffensive, rather comfortable, leather and white linen-ed restaurant cushioned our fall. Ahh…
…£2 cover charge per person for bread and olives … and no taster menu on Sunday. It normally costs £38 for six courses, and I felt as if my empty stomach had been gutted with a parang. Memories of the luxury of a congealing mess (pigs trotters) that I had at Taste was ever fresh in my mind, but it was Sunday, but I am to be denied and if I must have the roast, then I will. Excluding the cover charge, Sunday lunch costs a mere £25 for three courses.
We ordered three of everything.
The Starters
Deep Fried Sand Eels with Deviled Rapeseed Aioli.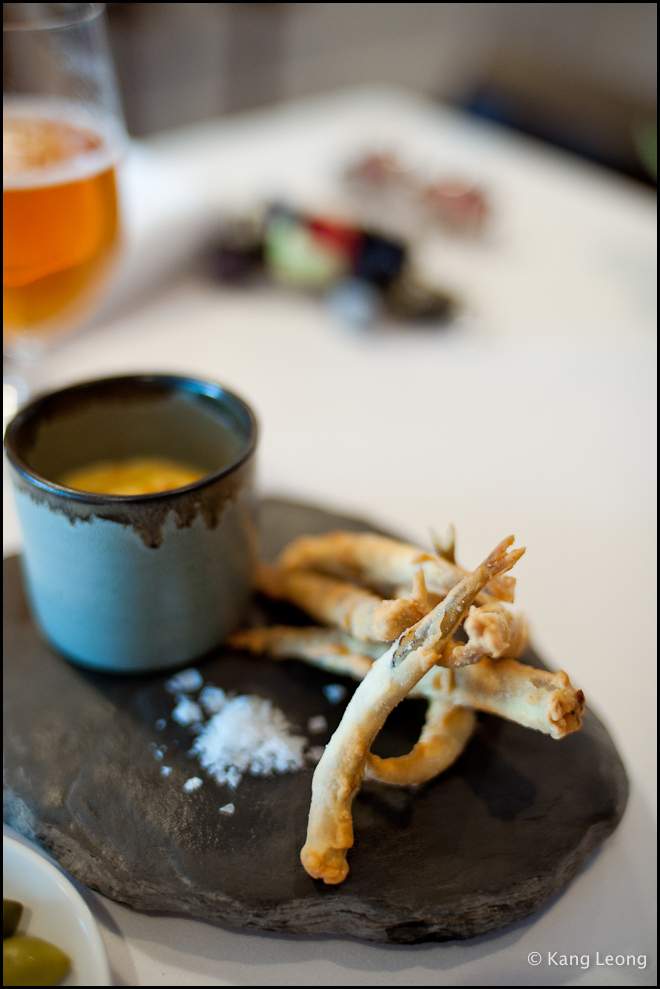 The missus kicked things off with the lightest of the trio of starters; crunchy spears of salty joy with a bitter, whippy bearnaise-like sauce.
A Salad of Smoked Salmon, Broken Duck Eggs, Peas in the Pod, and a Small Crab Toastie.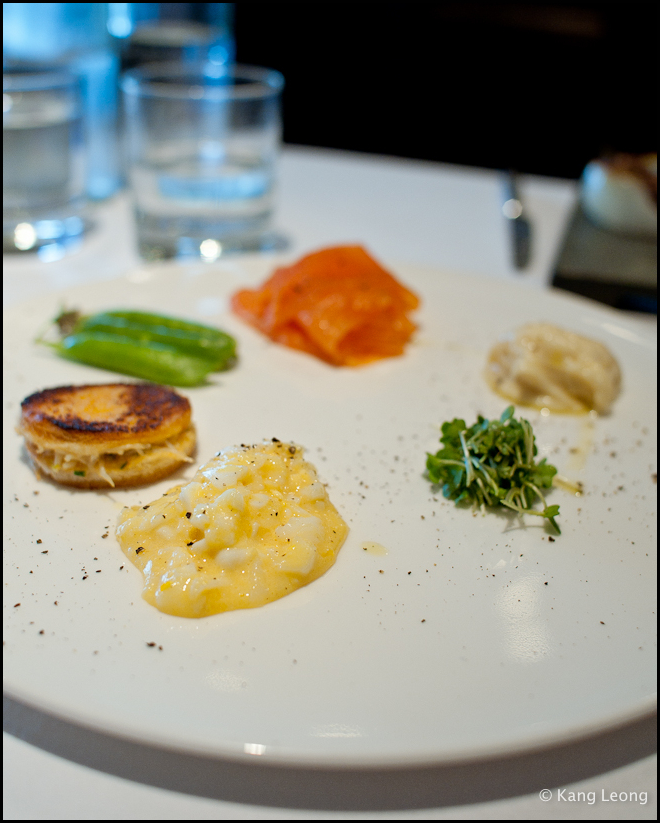 Seeing as to how I was on an empty stomach, my starters was a fittingly deconstructed breakfast. Beautifully runny, buttery scrambled duck eggs and an equally buttery, mineral mini crabs on toast. It was also served with a very thick, garlic heavy mayonnaise on the side, plus the smoked salmon, a salt-bomb which dried my mouth out completely. Luckily, there was free-flowing freshly baked bread to help me clean up the plate.
Charcuterie of Meats: Foie Gras Parfait, Ventreche Bacon, Duck Hearts and Confit Duck Beignet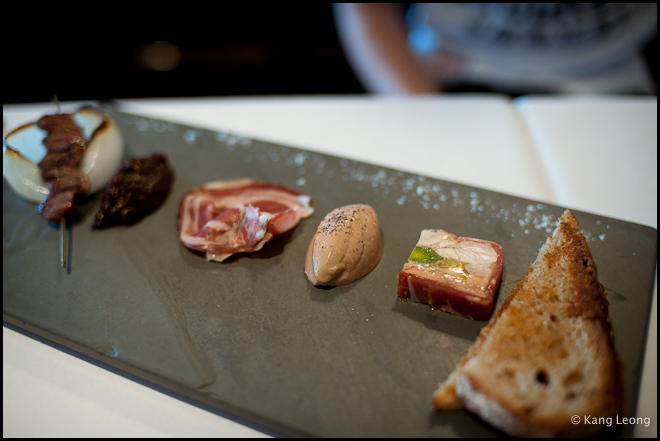 Finally, my brother ordered this rather impressive slate of preserved meat; a sweetish foie gras parfait, a juicy duck heart skewer, but again, all the salt dried his palate out. Eventually, leaving him to turn his attention to his pint of Brewdog, and for me to finish his scraps.
Which I duly abided. Don't get me wrong, it was good, just a tad too salty.
The Mains
Roast Sirlion of Angus Beef with Yorkshire Pudding, Pot Roast Vegetables and Fresh Horseradish.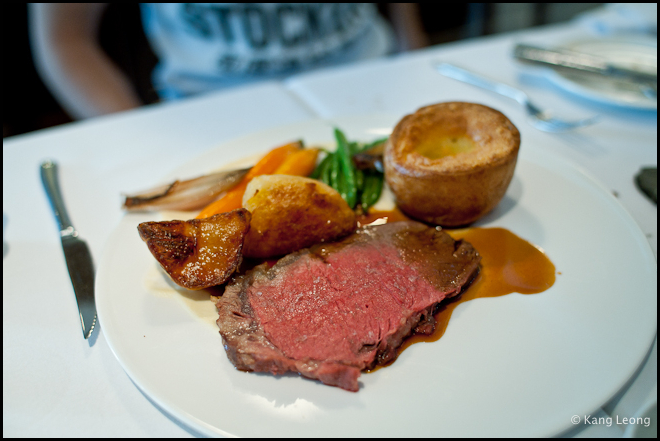 Well what can I say? It is a beautifully bloody piece of roast beef, with all the trimmings, on a Sunday, a juicy mouthful. My brother seemed to enjoy this immensely, but I didn't try any because I had an insurmountable challenge of my own…
Pot au Feu of Capon, Smoked Ham Knuckle, Morteau Sausage and Brisket, Served with Spring Greens and Salsa Verde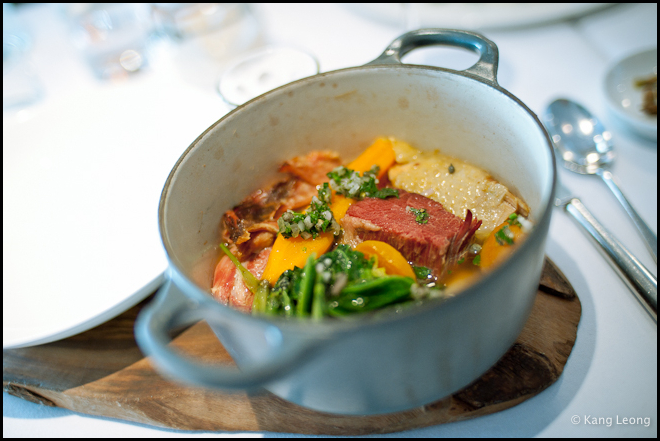 The first impression, was this pot was too much food for one person. And indeed it was, I couldn't finish it at all. I looked forlornly upon my brother's beef, it seemed the more sensible option for summer, my dish was sizzling hot, every time I dug into it, I felt as if I was delving deeper, and deeper into an exploding volcano. I think I chose the worst possible dish for the weather. I was sweating tortuously as I negotiated the dish. I felt this dish was too bombastic, too loud, too indulgent and too over done for it's own good, impressive as the different types of meat were, individually. I felt like I was being forced fed, and could only be obliged to break with a complacent smile when the waitress dropped by to check back on the meal. Of course, if I had had this on a cold November afternoon instead, my opinion would be closer to three out of three, being properly hearty and wintry, but it isn't quite winter yet.
Brandade of Smoked Haddock with Clams and Samphire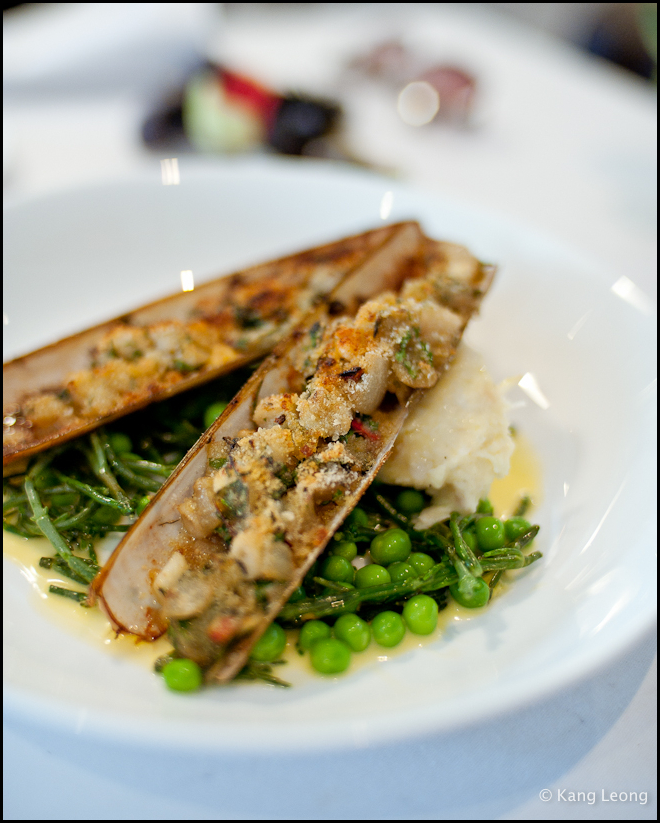 More wintryness, but one of a slighter touch – this dish was a happy medium of the other two and the most successful, in my opinion. The brandade redolent of a mash, made with flakes of haddock, fish-flavoured mushy potatoes as it were, beautiful, with the sweet peas, the (naturally) salty samphire, and the roasted razor clams. The missus was a winner yet once more.
Dessert
Millefeuille of Compressed Strawberries, Clotted Cream Ice Cream and Strawberry Fool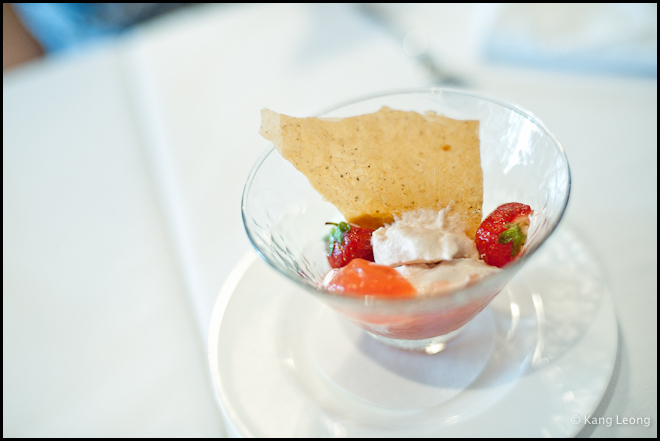 This sounded alot more complicated than it actually was, and it was actually quite forgettable, if I was being honest. Sliced strawberries, with jelly and ice cream, fool.
Valrhona Chocolate Hot Pot with Salt Caramel Ice Cream.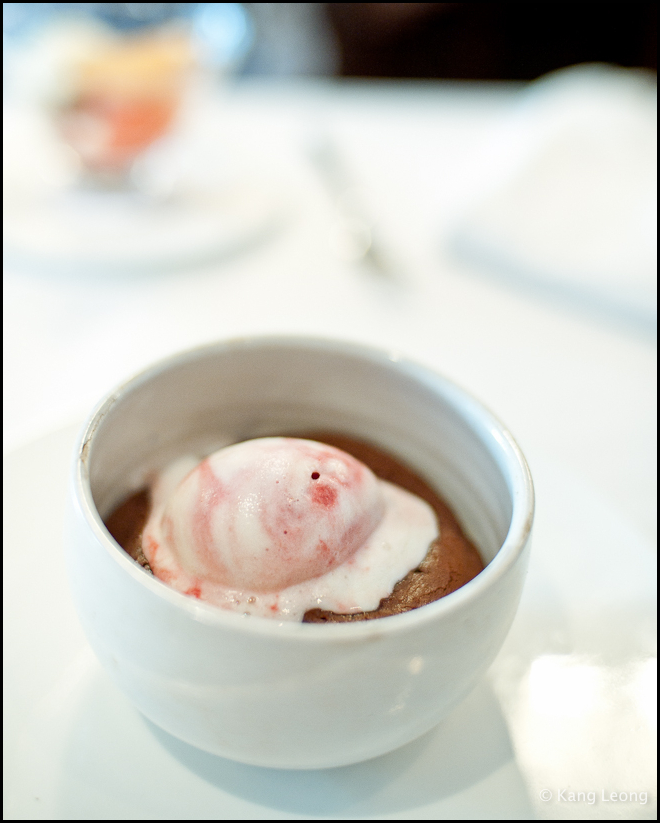 Yes, it was a melting hotpot of chocolate, oh yawn.
I ordered the Apricot and Almond Tarte Fine with Milk and Honey Ice Cream , but I really didn't like it, and didn't bother with the pictures, since we found the desserts to be more of an afterthought, than a cohesive leg of the meal. By then, we were too full to continue eating anyway.
All in all, a meritorious Sunday Lunch. When we left, we couldn't move, a trio of bulging tummies, and we felt like utterly gluttonous pigs. The two glasses of cold, dry El Muro were necessary to wash down all that protein. The bill was exactly £105 – or £35 each. Reflecting on the meal, its definitely a Sunday roast better suited to the cooler days ahead of us. I think there is no doubt that Byatt's kitchen can turn out amazing food, his cooking veers to the masculine and the brawny, over the top flavours which can grab you by the scruff of the neck. One cannot help but feel overwhelmed by this bombardment of the palate. The reactions to the overloading of the senses were initially positive, gratifying even, but as the meal wore on, I definitely fatigued, especially since it was Sunday. At times, I wish Adam would turn the volume down a little, the raw firepower could do with a more delicate hand.
And so I came away feeling a little mixed about my first meal at Trinity, but there was enough evidence for me to remain ever more intrigued with Adam Byatt's cooking. I feel like I still have not tried his cooking properly, the 'restaurant collecting' is incomplete as it stood. I will return on a weekday, to try the six course taster menu, if only for the sole, lingering memory of Adam's pig's trotters dish, and for that alone, it deserves another visit.
The Gist of It
Trinity Restaurant
£35pp British!
4 The Polygon Clapham Old Town SW4 0JG
Tel: 020 7622 1199
Tube: Clapham Common
Quando, Quando, Quando : Giles Coren ; Jay Rayner ; Greedy Diva ; I Live to Eat and Eat to Live ; Tehbus ; Foodraker ; Intoxicating Prose
Did you enjoy reading this? You can subscribe to the Newsletter. Alternatively, you can subscribe to the RSS feed.
All text and photography on this blogpost is copyright and belongs to Kang Leong, LondonEater.com. If you repost this without my permission, bad things will happen. So please don't do it.