It must be the name. It does something to the wiring of my brain causing me to associate it with many adjectives such as magnificence, opulence, ecstasy, paradise, exorbitance, Sophie Dahl. It must also be the attractive old-world quality it exudes, a quality which has ensure commercial and critical success, over its seven year history.
Given its stately status on the London dining scene, its opening was modest and reticent, not announcing itself proper to London without a press release or even a swanky launch party which would have been appropriate. I could not have known this in 2003, a time when I was then still rocking Rockports as I wrestled the technical differences between a batch reactor against a continuous one. I queried the wisdom of the internet, which brought to light Caroline Stacey's visit during the infant weeks of its opening. The Wolseley needed no extraneous PR since it already had much pulling power behind the carriage. Steering the institution were Chris Corbin and Jeremy King, and at the time of opening, Chris Galvin – one half of the Galvin Brothers who are charting the course of their own gastronomic empire in London today. As far as the dining republic were concerned in 2003, Corbin and King were royalty. The duo responsible for moulding other London institutions namely The Ivy, Le Caprice and J Sheekey. Feared and revered, the trinity is now in the custody of Richard Caring's empire.
Seven years on, The Wolseley has lost none of its prestige. Considered one of London's most profitable ventures and universally adored by critics, tourists and most bloggers. Success partly attributed to its concept of replicating the Grand Cafes of Middle Europe. The highly polished marble tables, lacquered furniture, the sweeping staircases granting access to its art-deco mezzanine levels and the dizzyingly high ceilings. The quintessential lines classically out of place and seemingly of another period, reminiscent of a much older form of indulgence. It is ironic then, that its history has little to do with the actual Grand Cafes of Europe. The Wolseley began life in 1921 as a showroom for luxury cars, and then as a branch of Barclays where it remained as a bank till 1999. I did a swift search for Grand Cafes in Europe, seeing as to how I had never actually visited one before and two cities threw up rather interesting results. In Prague, there is the art-deco Grand Cafe Orient , a true grand cafe resurrected from the twenties with true art-deco designs. In Vienna, Cafe Central once the historical assembly point for poets, thinkers and other leading minds of the 19th Century.
Rarely do I remember meals more than three months old, but I find it difficult to forget my first meal at the Wolseley. Back in 2008, it had established itself as the ultimate destination for breakfast. I was impressed with the weightiness of the silverware which felt like eating with jewellery, and I contemplated buying the Wolseley Book on display by the entrance to the loos – partly because I wondered about the restaurant's rather brief history, but mostly because it is penned by AA Gill. Ah but it was also because of the food itself, I dragged my family with me, especially my dad who was convinced that nobody could out do his father's scrambled eggs. Glowing driblets of golden eggs, the smell of butter and diagonally sliced toasts served in its own silver rack. The Arnold Bennett so sumptuously rich in dairy and protein, it made me forget there were even flakes of haddock underneath. I believed that the Wolseley had perfected the art of waking up what with its superlative atmosphere and luxuriously expansive breakfast menu. Choice was abundant as breakfast encompassed everything from muesli, meatloaf with duck eggs to kedgree, prices hovering the ten pound mark. A full English obviously also on the menu, as was caviar omelette for a cool fifty five pounds. For days when one feels as untouchable as Fabulous Fab I suppose.
I would have returned sooner to glorify its existence if not for its strict policy on photography, till I decided to simply take the risk to make my photographs fully expecting to be stopped in the process. I wasn't. As I arrived this time around, the room was visibly filled with tourists pointing and shooting each other uninterrupted. Part of me felt relieved. The restaurant stays open all day from 7am through to midnight, and they are usually full up most of time. Initially told that I wasn't going to get a table at high noon, I was asked over the phone to simply show up a little after lunch hour, and that I should be quickly seated. So I chose high tea instead and I was indeed immediately seated. And the abundance of choice was a little overwhelming to say the least. In addition to the breakfast menu, there is lunch & dinner featuring a flurry of roasts, grilled meat & fish and soup. I guess I would describe the menu as being classical European, an assorted range of auld glamour: Escagots, Duck, Oysters, Steak and Caviar. Contrarily, the menu appears to be quite affordable, a small lobster & crayfish salad 'merely' £11.50 and double lamb chops with bubble & squeak a reasonable £18. Additionally, there is also the all-day cafe menu. Plat du jours ranging from Coq au Vin to a 7 Hour Lamb could be had for £16.75; half a dozen rock oysters at £11.50 and steak tartare for just under a tenner.
I started with the Soupe de Poisson £7.75.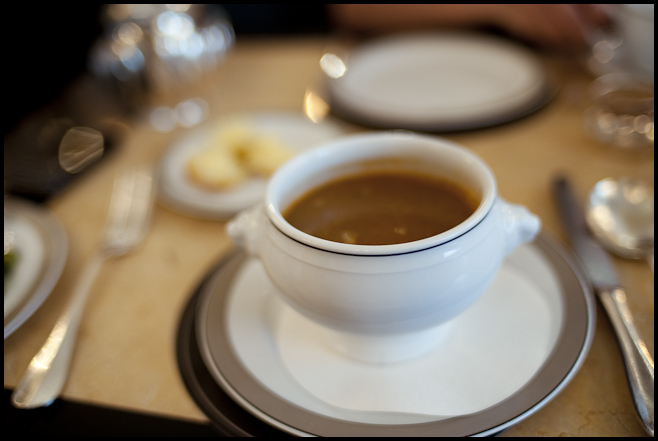 Grainy, intensely aromatic of distilled shells of crustaceans, but not so overly fishy that it overstank. A vigorous fish soup can make for a gratifying start to a meal, especially one as good as this. Warming.
Afternoon Tea £19.95.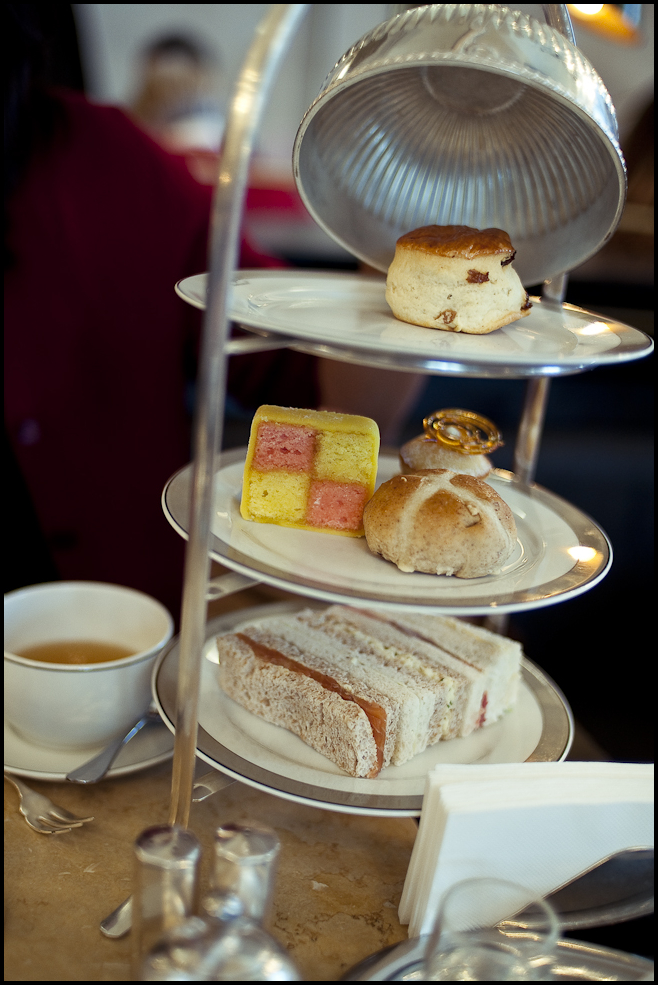 I would imagine that Wolseley is the perfect stage to indulge in a tea sipping competition, the afternoon tea set comes with finger sandwiches, sweet pastries, scones, clotted cream and strawberry jam as well as an explanation from the waiter. For an extra £8, you get champagne too. Personally, I'm not a big fan of afternoon tea, though I can appreciate the theatre of it. I found this set to be a tad overpriced to be honest, granted it was photogenic and that it was mostly edible.
Half a salt beef sandwich £5.25.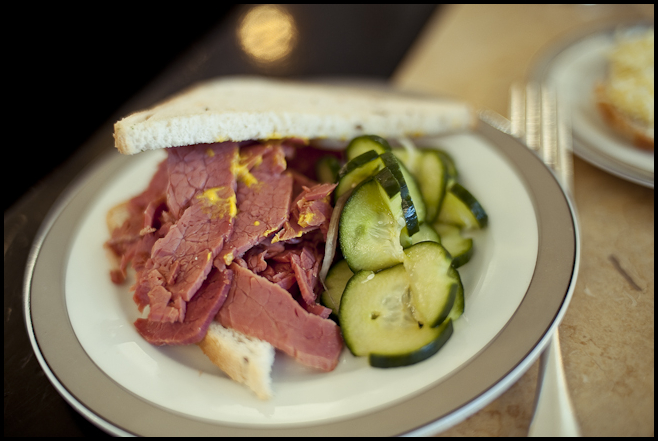 I actually wanted a full sandwich (£9.75) as I arrived to watch the neighbouring diner wolf it down with fervour. It looked epic, but I guess our lines were crossed when the waiter took my order. The half was less dramatic, but it was still warm and wet and filled to the brim with radiantly pink salt beef slices. Yes, I suppose it was not bad, I can't say it was any better than Beigel Bake to be honest. It's just a sandwich.
Plus a cappuccino, the bill for two came to £40. Expensive for sugar, flour, water and preserved meat. I regret not ordering what I was really craving, oysters and steak tartare, and in hindsight I really should have just obeyed etiquette, it was only table manners to have ordered whatever I wanted afterall. The second visit was less successful than the first, high tea at the Wolseley not quite as dizzying an experience as breakfast. However, it didn't take the shine off the experience as a whole. There is just something uniquely attractive about this restaurant which has cast a spell over me, making it impossible for me to write anything remotely bad about it. I have yet to actually have a proper meal at the Wolseley though, it is in my eventually-to-be list, so untill that happens, I will default to my position of worship.
The Gist of It
The Wolseley Official Site
£30pp, European.
160 Piccadilly London W1J 9EB
Tel: 020 7499 6996
Tube: Green Park
Other considered opinions and accounts: AA Gill for Times ; Time Out London ; Eat, Drink, Sleep, Shop & Love ; FoodNut
Did you enjoy reading this post? Why not subscribe to my feed updates for free. Alternatively, You can subscribe via email.