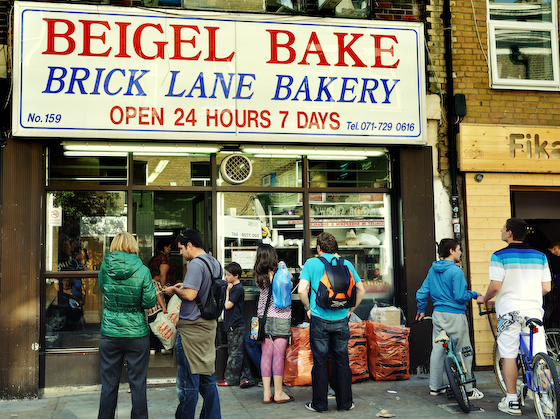 How do I describe the Beigel Bake? A free standing cafe, perhaps a takeaway cafe or maybe it's just a bakery that sells hot cakes, bagels and sandwiches of all kinds. Here's me, West London Boy, spending some quality time with the East and getting cosy with some hot salt beef.
Hot Salt Beef for all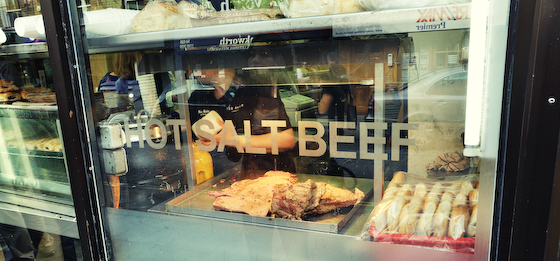 I must admit, this is the first time I've ever come to this part of Brick Lane. I used to think that this part of town was just a kind of curry mile, what with the waiters flogging their menus to prospective customers anticipating free wine or a huge discount on the food bill or even both. I was wrong – Brick Lane is home to one of the freshest bakeries around town and apparently this place has proper street cred, especially for the three am crowd. Mmm, smell the hot salt beef.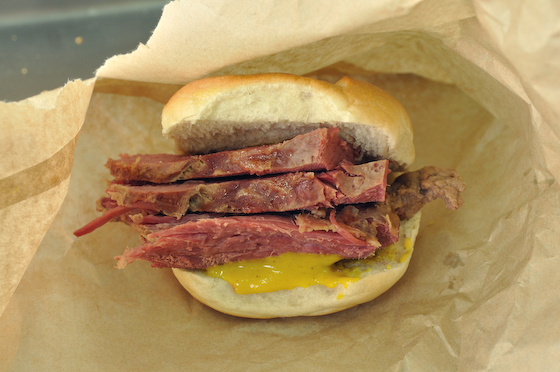 This is breakfast for me, it's Saturday at time of writing, and I'm standing on the steel sidetables just inside of the bakery. It looks really dirty by the way, but I don't care, this place is so seeped in character, that it feels like I've just stepped back in time …. to 1975, and oh yeah, I wish I could grow a proper afro.
Right so tasting notes: Wow. That's pretty awesome. That, my dear friends is a proper salt beef sandwich. It's fleshy, it's moist, it's filled to the brim with intense salty flavours and it's lashed with proper out of the plastic bottle mustard and it costs four quid. Forget the posh salt beef bar in Selfridges that weights exactly how much beef they are suppose to serve you – this one goes down just as appetisingly and as smooth.
Sensation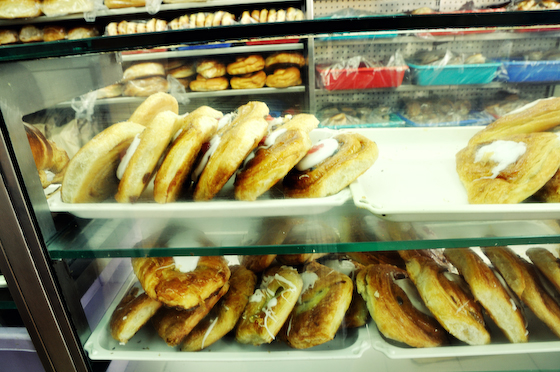 In addition to the savoury stuff, there's pastry too. I spotted apple strudel on the menu. I also tried a smoked salmon and cream cheese bagel, costs about three quid and yeah it tastes like it was freshly baked. Yummy.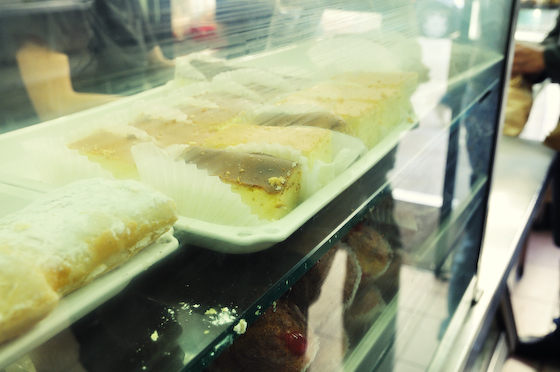 Finally the cheese cake was alright, not too sweet, not too cheesy, just a little sugary and crumbly. For fifty pence, I wish I lived closer the twenty four hour bakery – fancy that, smell of fresh bread when you wake up, the smell of fresh bread when you come home from work and the smell of fresh bread when you retire to bed.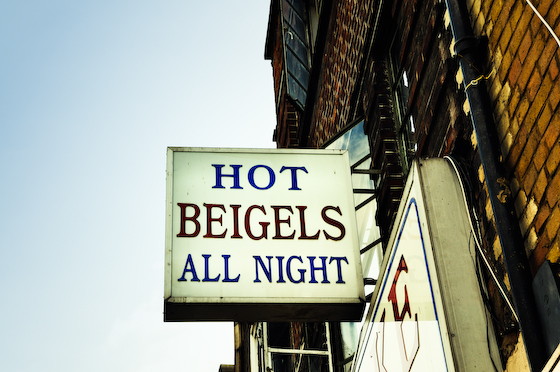 By the way guys, because it's a bank holiday, I've been trying all kinds of wacky things with the camera, so I hope you like the pictures that are coming out – Expanding myself creatively you know – and it's all for your reading pleasure, hope your weekend is going swimmingly, I'll try to squeeze out another photo essay for the rest of my Brick Lane tour tomorrow if I can, if not, then be back here on Tuesday for a review on Vietnamese food!
Did you enjoy reading this post? Why not subscribe to my feed updates for free. Alternatively, You can subscribe via email.