I never had confidence in museum mess halls. Having memories only of torrid experiences both locally and abroad. It is the logical thing to do, after taking in centuries of culture, to then breathe in stereotypical food. Of course, that was until I became a convert to the restaurant at Tate Modern. I wondered then about the general quality of London museum/gallery cafes – maybe it is not so bad afterall.
Not strictly true of course. I had spent most of my university days shunning the junior common room as much as humanly possible. I lunched at the three neighbouring museum cafes in South Kensington on separate occasions, with much dismay. The food at National History is about as edible as the fossilised bones on display. In those days, the best lunch in South Kensington for a tenner was to be found in Harrods. I know, I know. Before you pass judgement on what a greedy little bastard of a skint undergrad I was, hear me out: For a tenner one could get chunky lobster, smothered in garlic mayonnaise, pocketed in floury pita bread. We are talking proper Knightsbridge quality juicily sweet lobster meat, mammoth portions enough to keep a skint undergrad full for at least half a day. Yes, that what a sandwich. Like the good old days, it has since been replaced with a more sterile crayfish pita. Cheaper and shoddier. In spite of this, I did spend more time at garden at V&A than I did wrestling tourists at Harrods. It probably had much to do with atmosphere.
The Wallace Collection – like many of the national museums – is beautifully kept, a charming slice of cultural history well maintained – One feels more erudite just standing amongst the works of art. The collection was once privately owned by Richard Seymour-Conway, the 4th Marquesses of Hertford, who left the collection and the house which contained it to his son, Sir Richard Wallace. The collection had remained in Hereford House ever since. It officially opened to the public in 1900, and since then, they continue to exhibit art from the 15th to 19th century, with a particularly large range of French works including paintings, porcelain, furniture and even armour. Speaking of which, there is a room where you get to don accurate replicas of armours, chain mail and helmets, which I found most interesting.
Toward the back of the building is where one will find the Wallace Restaurant. Inside what is known as the Sculpture Garden, a winning design, the roof made entirely of glass, the natural light supplying an organic aesthetic to the restaurant.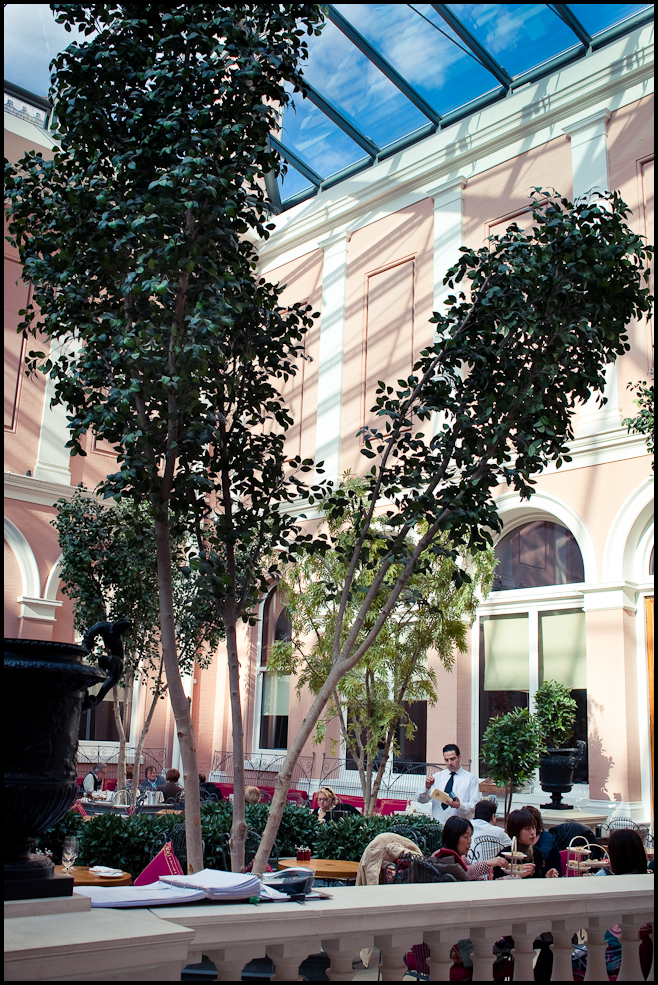 I really had to tilt my camera all the way back to try and capture the immensity of the room. I love atriums and high ceilings. I hold this strange view that open space extends the openness of the human mind. As if I am able to stretch out my imagination to fill the room. The restaurant is owned by Oliver Peyton, whom many of you should recognise from his appearances on Great British Menu. The consummate restaurateur also opened The National Dining Rooms at the National Gallery. In keeping with the theme of the collected works at the Wallace, this atrium restaurant serves up a bona fide French menu. Food on the whole is extensive. Firstly, there is a light weight cafe menu of terrines, rillettes and apple crumble pies. Additionally, there is breakfast in the form of eggs benedict, and as well, afternoon tea, your choice of Cornish or Parisian, but both choices are not cheap at £17.50 and £24.50 respectively.
I was most interested in the a la carte menu. As I said, largely French and of a brasserie style, starters include Truffle and cauliflower soup (£7); Smoked eel, ratte potato and truffle salad (£11) ; Steak tartare (£9). For mains, equally robust descriptions feature: Fricassee of black leg chicken, morels, peas and crème fraiche (£18); Roast darne of halibut with a spiced pumpkin puree and a pinenut and sage butter (19.50) ; Grilled coquille et st Jacques with Montpellier butter, shaved fennel and caper salad (£22). On paper at least, the food seemed to be in step with the opulence of the decor.
Starters : Classic Fish Soup (£7.50) and Salmon and Crab Tartare (£9.50)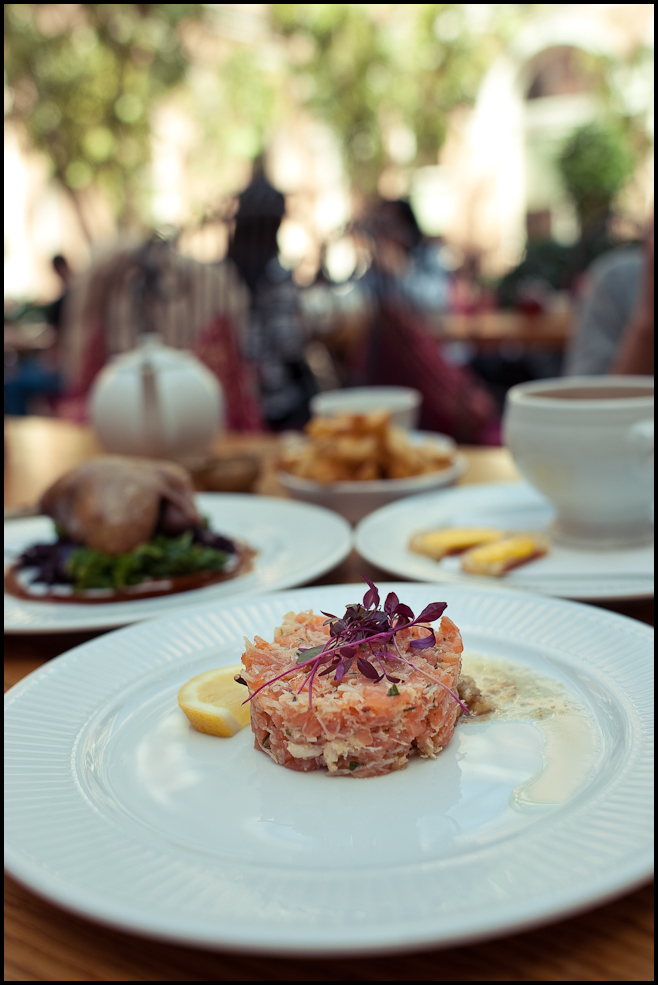 Prior to this, I had sampled an excellent fish soup at the Wolseley, which in comparison was much superior to the Wallace rendition. The soup was thick and creamy, but I felt it was a little too much so that it drowned out flavour. I liked the cheese croutons, those were very good, but the fish soup felt restraint, there wasn't the rustic punch of the distilled seafood intensity. The best fish soup I've tried in London is at Le Cafe Anglais. This one pales in comparison. On the other hand, I enjoyed the summery smoked salmon tartare with strands of crab floss adding seasoning. Well-oiled with a dash of citrus and walnuts for effect. Smoky, salty and fresh.
Mains: Duck leg confit, red cabbage, curly kale, pomme frites (£13.50)
I appreciated the fat chips, hand cut with remnants of skin left on, however it wasn't floury enough on the inside, and it certainly wasn't classic duck fat fried potatoes of a Parisian tradition. I felt that kale was a great choice, if underused and the datey saurkrauts were lovely. However, the duck itself was a minor failure. In place of a crispy crunch, the skin was moist, giving it a very heavy duck flavour that seemingly dominated the palate. It lacked seasoning, in place of beautiful duck fat flavours, there was a strange off-odour of the meat. Most disappointingly, the leg was tough as opposed to being soft and slithery, I also felt that for leg meat, it was a little dry. More seasoning was necessary. I was slightly confused with the distinct lack of a crispy exterior. It was as if, the chef had decided to neglect using duck fat altogether, which is key to this recipe of course. Basically, I felt that the confit was not oily enough. As for the sauce – I cannot even remember it.
Food was average at best, I hadn't highlighted the long waiting times in between courses, my notes suggested 20 minute pauses for each of the dishes. I also felt that service was a little inattentive, but I suppose that could be forgiven for the heavenly decor, which seemingly puts everyone under the sunroof into a zombie like state. A latte and a pot of tea plus service amounted to £40. I tell you what though, it is an impressive room to be in and that alone is worth a visit. At the reception guests are greeted with stacks of all the major papers. Naturally, I picked the Sunday Times. I had one of the most enjoyable sessions reading the paper inside the Wallace restaurant. In fact, we sat in there for nearly two hours, busily scrambling for more reading material. Thankfully, I was carrying issue two of Fire & Knives in my Billingham. Food may have be stereotypical, but the space certainly wasn't.
The Gist of It
The Wallace Restaurant Official Site
£30pp French
Hertford House Manchester Square W1U 3BN
Tel: 020 7563 9505
Tube: Bond Street
Reviews Elsewhere : Time Out London ; Love Food Love Drink ; Part Time Expat
Did you enjoy reading this post? Why not subscribe to my feed updates for free. Alternatively, You can subscribe via email.