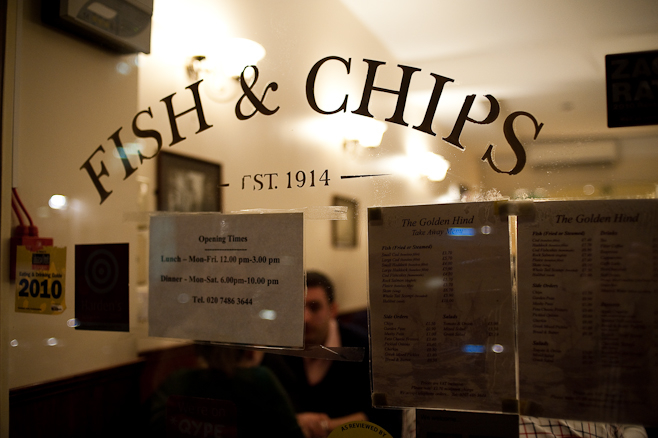 I associate fish and chips with the impending arrival of the weekend. Back in the day when I was a spring chicken exploring the dark arts of jellied petrol, I also tended to the student bar. Ah the days of minimum wages – £4.80 an hour, I think. We didn't even have fancy touch screen tills to work with, and we did all the sums in our head, old school. "A pint of snakebite, nine lagers, five gin and tonics, a shandy, four packets of cheese and onion, my chilli peanuts… and yourself?" . £19.50.The student bar was near the Albert Hall and did I make a lot of money serving BBC Proms participants. Happy days. Ravenous and reeking of alcohol at the end of my shift, I would make my way to the common room for haddock and extra mushy peas – reward for the strenuous work I suppose.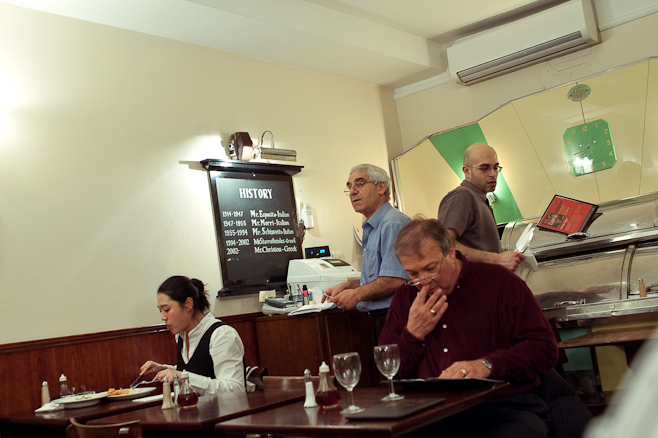 It still remains a Friday tradition of sorts for me, even though I hadn't had a whiff of batter from the company cafeteria in well over two years now, ever since I started this blog. I brought some pineapple cakes back from Taiwan, and wanted to hand some over to Helen. The World foodie guide suggested we try one of her old favourites in town. This restaurant has an interesting background to say the least, being that it has only changed ownership four times since it opened in 1914. There is even a story of how its original Italian owner fled to England after killing his mayor in his hometown, and he started out by frying bits which fishmongers threw away (I read it on WFG, naturally). Generally speaking, the Golden Hind is close to many hearts, with compliments regarding its neighbourly if basic décor as well as the superb batter. The real secret to Golden Hind's popularity is though is probably due to its produce, fresh fish, delivered daily from Grimsby, all except for the halibut steak which is bought in frozen. You know this place is a proper chippy when the air smells like grease, and the floors are slippery because of it. It was packed out on a Thursday night.
Did I mention it was BYO? Free BYO at that as the final tally did not include corkage. We brought a bottle of Waitrose Riesling, nothing fancy, just something easy drinking. So the menu is expectedly affordable. Starters included breaded calamaries (£3.60), king prawns in garlic and olive oil (£4.50) and slices of bread at fifteen pence per each. Choice of white or bread I think.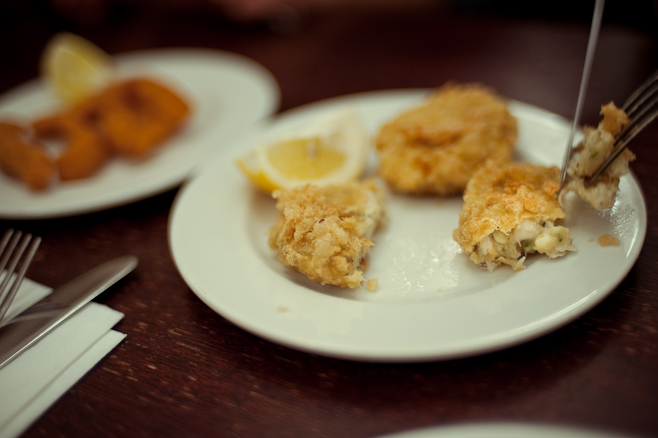 Helen pointed out the silver hair gent who took our order was the current Greek owner, I vividly remember his firm recommendation of the home made cod fish cakes. Firstly, the breaded calamaries were pretty good if standard, can't go wrong with prawns in garlic. The fish cakes patty was a winner, loose bits of flaky cod amongst smooth potato bits, comforting. The first brush with its crispy batter was definitely agreeable.
On with the fish!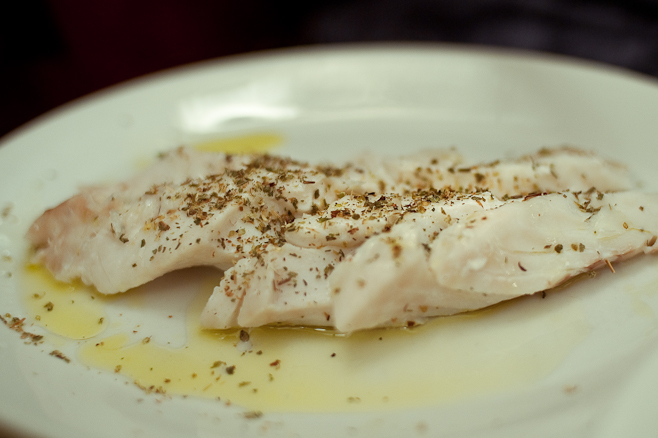 There's a choice of Haddock (£7.70), cod (£7.40, skate (£erm.) and halibut (£11) and you have the choice of either battered or steamed. Naturally, the women went for the healthier choice. It is an interesting option of course, it highlights the freshness of the produce, and can even be had with an equally diet friendly portion of garden peas on the side.
Of course, I went full whack. Chips (£3.40), Mushy peas (£1) and battered cod (£7.40). That's nearly twelve quid, pricier than my local, but hey this is crème of Grimsby.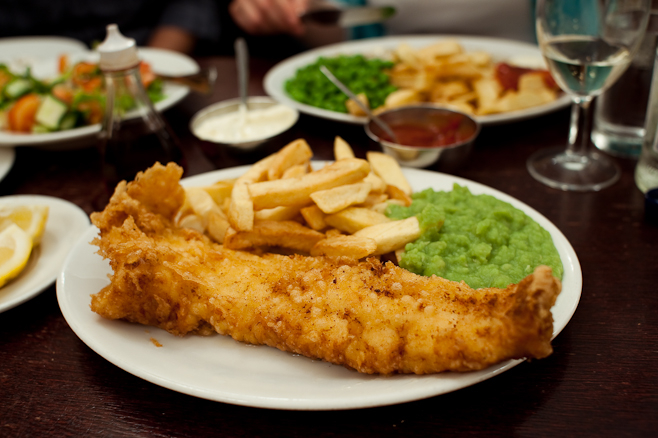 Mushy peas were smooth, sweet and inoffensive, it's quite standard, but disappointingly the chips were soggy and no better than any takeaway. There are reports that these bad boys are double fried maris pipers, well if they are, it makes it even more disappointing then as they were just bad. Thank goodness for Grimsby, because the fish was gloriously flaky, juicy all the way through and which exhibited a bouquet of greasiness. I was most impressed with the portions – humongous. I'm not an expert on batter, sure it was a crispy golden brown, but I wouldn't say that the Golden Hind version tasted any better that my local chippy. I mean let's not get all hedonistic here, this is after all just battered fish.
Lots of food for three, naturally it was nice to catch up with Helen once again. Our bill came to £40. Yes, the fresh Grimsby catch is definitely the attraction of Golden Hind, and for what you pay, I think you'll get good food. I particularly enjoyed the fish cakes. I hold the view that fish and chips is a lost art in London, when compared to the rest of the country. Not that I'm an expert of course, because I really am not. Let's see now, places where I've made a trip to the local chippy: Glasgow, Durham, Sheffield and hazily Manchester. The most impressionable one was from a farmer's market in Durham and I remembered it for a certain intensity from the sizzling batter. I'd love to try the Anstruther Fish Bar which was famously crowned the best fish & chip shop in the country last year. Perhaps a pilgrimage one of these days. I am attending a wedding in Glasgow during the August Bank Holiday and maybe a detour is warranted. Until then, Golden Hind will have to make do.
The Gist of It
Golden Hind £12pp
73 Marylebone Lane
W1U 2PN
Tel: 020 7486 3644
Tube: Bond Street
Related reviews: World Foodie Guide ; Londonelicious ; Food Snob
Did you enjoy reading this post? Why not subscribe to my feed updates for free. Alternatively, You can subscribe via email.