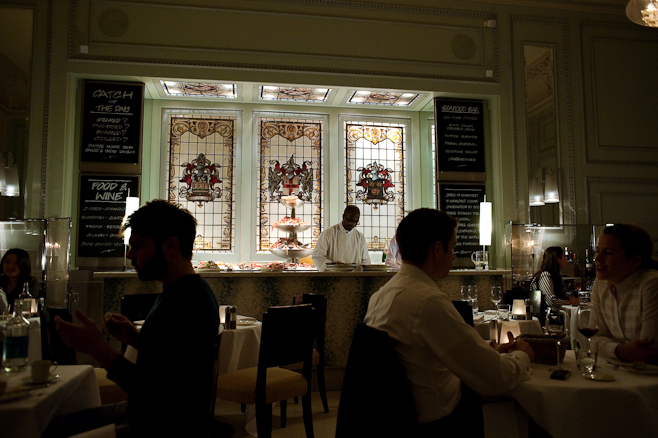 There are five restaurants inside the beast of a hotel that is Andaz. Situated right in the heart of the square mile, a part of town where I periodically get lost in. I did as I usually do to turn to my trusty GPS when I exited Liverpool Street station. This would be my third visit to the Hyatt owned hotel, based in a Victorian building dating back to the late 19th century. Once the Great Eastern Hotel back in the day. Red brick allegedly. It always takes me for a jog around the block before deciding to get serious. Machines. Just when you need them to do what they're told, they do the hot stuff. Cast your mind back to the dizzy days of 2009 and you will recall I was invited to 1901 once upon a time. 1901 being the flagship out of the five restaurants within Andaz. I was even given a tour of the guts of a 19th century hotel, which is by far the funkiest part of the invite. All the rooms inside are somehow interconnected. Walls hide secret doors which open to neverland, and alternate universes. There are secret trap doors, dungeons and pleasure rooms. I'm obviously kidding about dungeons. Generally, I liked the food, though the grandiose space spooked me a little… anyway, the PR machine dropped me another invitation to try Catch, their seafood & bubbly bar. Oysters and Champagne you say? Hard to say no to.
As with all my invites, a disclaimer : The restaurant comped this meal, I didn't pay for it.
Service was a little slow as the staff made us stand like nupties upon arrival. I counted two minutes before someone tended to us. There's no formal reception, since the whole idea of the 'new' Andaz concept is to be chilled but yet maintain the sexy high production values. It's abit like Daniel Craig playing James Bond, but we know that Sean Connery is underneath the blonde hair and muscles somewhere … "Pussy". So they are largely successful with their concept. The space feels informal and chic, marble chic with baby blue walls. Tall ceilings give it an open feel. There is the hint of 19th century architecture remaining too. However, Andaz hotel being what it is, had clientèle whom were so well behaved and so well groomed, I could have mistaken them for mannequins. Luckily the staff were much livelier, and the chirpy service took away much of the stiffness – it's progressive, though there is a general trend toward a more human approach to serving human beings in London. Generally speaking anyway.
As you have probably guessed, the 'Catch of the day' is both a plot device as well as the focus of the restaurant – a commitment toward fresh seafood. A giant fountain filled with shellfish serves as the main centrepiece in the room, and as a Chinese guy, sea salt quite literally courses through my veins, I'd like to think I know my fish, but feel free to dent my ego. I once remember paying a visit to a fishermen's, er, warehose in Glasgow, feeling gobsmacked with not just the sheer quality of live catch, but more so with the depressed prices. Inflation clearly does not work in the same way it does down here. Unworldly scallops, muscular lobsters. So here's the deal with the Catch of the day option : Whole fish, cooked to your preference, you know steamed, roasted, fried and then you get to choose from a selection of sauces. I was a little intrigued with their golden raisin & shrimp brown butter, which I don't believe I sampled on this visit. Whole bream and lemon sole were the specials – both fish not to my liking, I skipped their daily catch.
Amuse Bouches was a pumpkin soup served like a cup of coffee. Brothy, stocky, peppery, watery, and I detected curry powder. I attempted to down the concoction, the flavours of pumpkin wasn't quite coming through, and it was a tad too hot. I think there might even be celery in there, it has a kind of fibrous flavour which I intepret as watery. A little bit more cream perhaps.
Wine was in the form of a bottle of Alsatian Riesling, 2005 Rene mure. Characteristic of the Alsatian style and quite the contrast to German Riesling, this wine was very clean with a palate cleansing ability. A floral and peachy zest, but the best bit was an unusually strong acid hit which starts to sizzle right from the moment it hits the tongue – woah. The acidity continues all the down, very long finish. Brill, and hence worth a few sentences.
Starters, Crab bisque.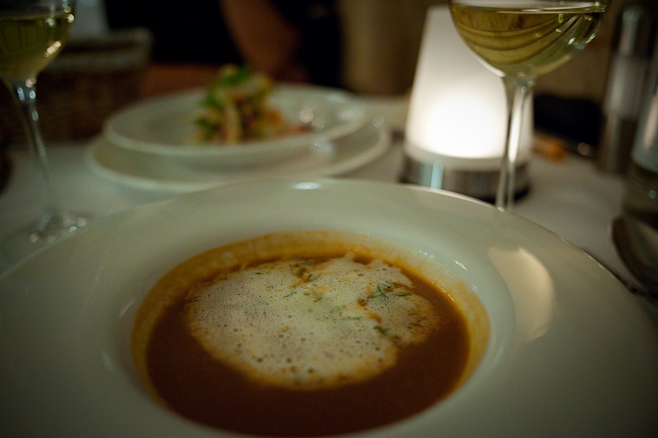 Aromatic shellfish check, thick and rich texture, uncheck. The soup is on the thinner side, but it managed to maintain a sharply distilled shellfish flavour. This is quite the subdued version of crab bisque. Personally, I prefer bigger aromas and a huge hit of seafood perhaps I am thinking more of a veloute than a bisque. But mellow did mean that it was much easier to finish. Not bad, but with only mere strands of crab in the latte-like broth… boring.
Next up : Wild octopus salad, shaved fennel and pepper salad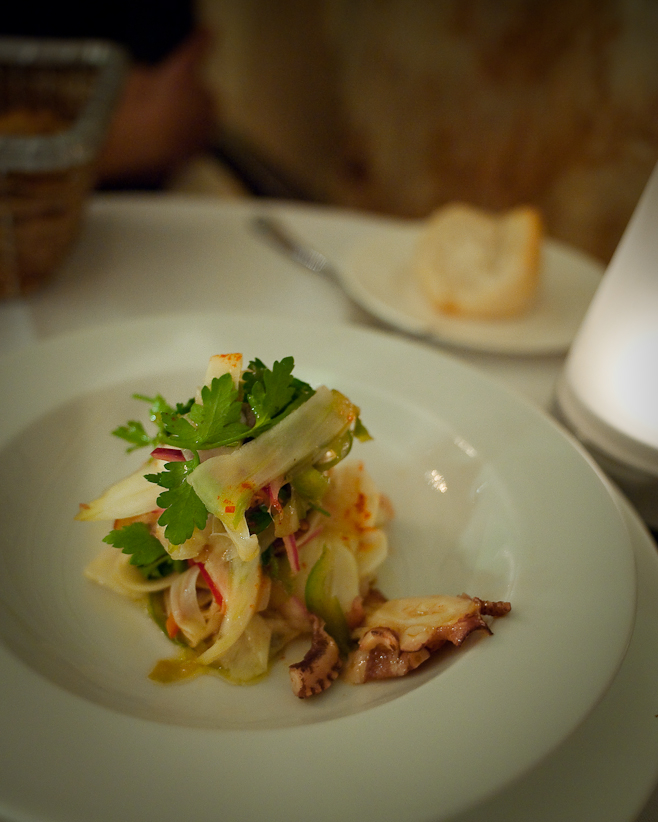 This I really liked, lively, slinky and citrusy octupus slices were so fresh, they could well be alive. The peppery fennel was also served with capers, rocket and parsley. A simple recipe, straightforward but well executed.
Of course, we had to get some oysters, Loch Fyne and Colchester natives, three of each… just a taster you know.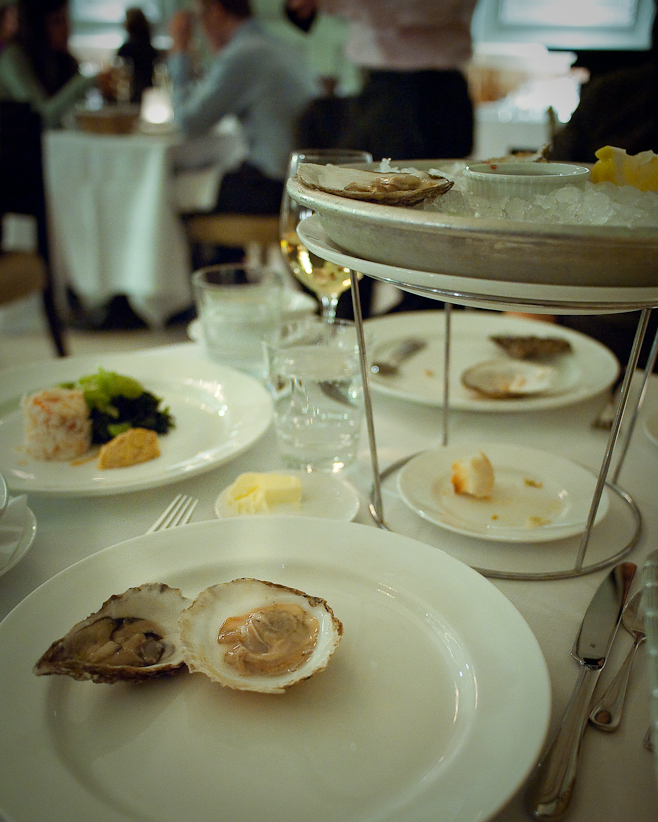 The natives were amazingly potent, fishy and I felt as if I was eating pearls from the sea. Just a feeling. Fantastically muddy and snotty, which in the case of oysters meant that they were delicious. The Loch Fynes, with shells sharp in shape are abit more on the neutral side, sea salty but alot more tame, more mineral. Oysters have such a unique flavour unlike any other food I know of, I could slurp a dozen easily, no three dozen. Where's my wine.
We also ordered pickled crab with rillettes. Interesting stuff, large chunks of fresh crab compressed to a sort of tower form and seemingly soaked in a wasabi infused soya sauce. I tasted the sweetness of mirin, the moment it hit my palate. So this is what they did with all the juicy crab meat missing from the bisque. A seaweed and pickle salad accompany the forgettable pork rillettes. If I had to guess, then I would guess Pan-Asian, a touch of Japan. Well done.
Finally then on to the main event : Roast Monkfish with potted shrimp, curly kale.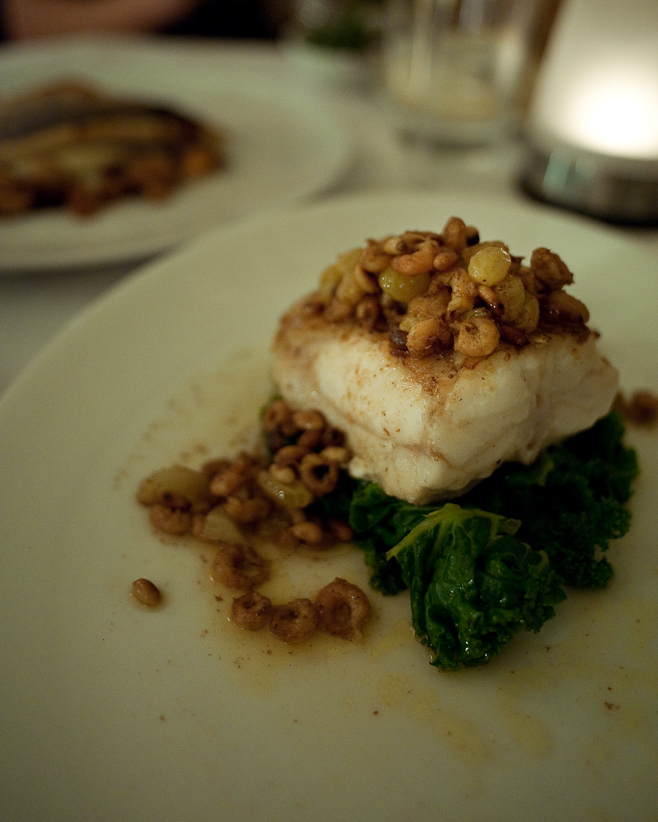 The fish is juicy if just a tad overdone. Slicing it right down the middle into the bone, I noted it was cooked all the way through the entire thickness of the fish. I would prefer it to be slightly under, just slightly. The texture was chewy, erring toward the soggy side, as opposed to a springy bounce. I enjoyed the intriguing choice of garnish, lemon flavoured raisins, pine nuts and deeply seasoned potted shrimp. Curly kale is a good match to white fish, it has wonderful texture, with a tinge of bitterness, but it also has a great ability to soak up all the spewing fish juices. It's a great ingredient, underused in my opinion. Same as samphire, another often underused but smashing ingredient.
On the side, a mushroom truffle mash – par excellence served with the fish. On the other side of the table was a pan-fried then baked bream. As per the monkfish, this was also a little over cooked and a little soggy. Both dishes are also under seasoned, which might be intentional. I get the feeling that the Chef – Stuart Lyall – prefers subtle flavours, I respect that. Natural flavour should be allowed to shine more often.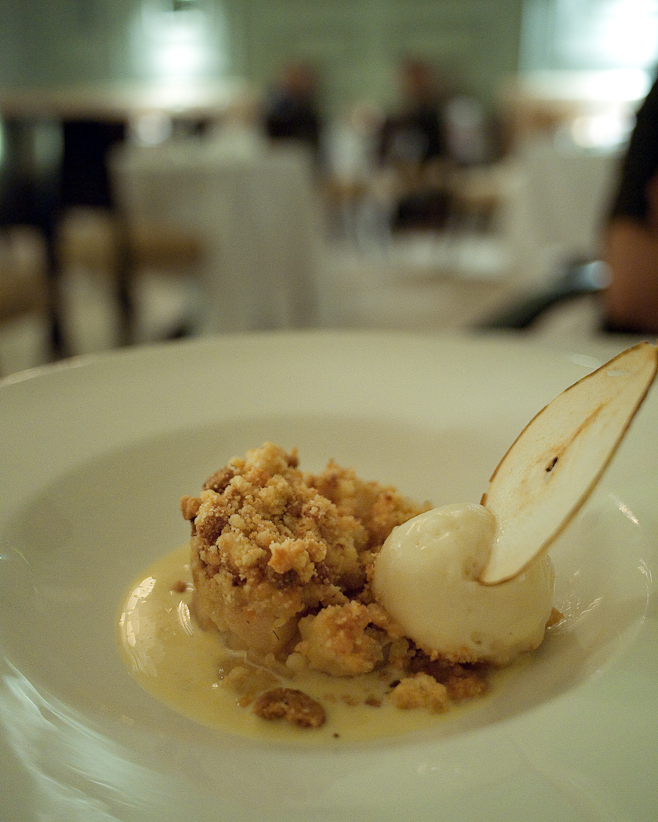 We finished our meal with a wintry warm pear crumble. A grainy pear sorbet accompanied the creamy vanilla custard, and it was a mellifluous ending to a meal that was equally so. I think if you like game, strong serious flavours finished with Anglo-French conventions, then 1901 is a good bet. But if you are after natural flavours, subdued and easy eating dishes then Catch is a better choice. Speaking generally, I think the Andaz restaurants provide good value for money, the standard of food is consistent, easy to understand and mostly delicious. Unless you are part of the fanatical foodie republic hunting for the next gimmick or spotting a trend, then I think you'll do quite well with the relatively 'safe' dishes at Catch. As I alluded to earlier, it's a seafood and champagne bar – the oysters are well sourced, which says it all really. I think it is only a matter of it's puzzling location, not quite the foodie mile in Farringdon, nor the pseudo grungy environs of Brixton, not the glamour of Mayfair or even the rich diversity of Dalston Kingsland a mere stone's throw away. It probably shares the same postcode as your workplace. The official website doesn't list prices, but if memory serves me, the ala carte is in the region of about £40pp (£10/£18/£7), set menus are around £18. I suspect some of you already use Catch as fall back option for power lunches, expense account?
The Gist of It
Catch and Champagne Bar official site £45 pp
40 Liverpool Street EC2M 7QN
Tel : 020 7618 7200
Tube : Liverpool Street
Did you enjoy reading this post? Why not subscribe to my feed updates for free. Alternatively, You can subscribe via email.