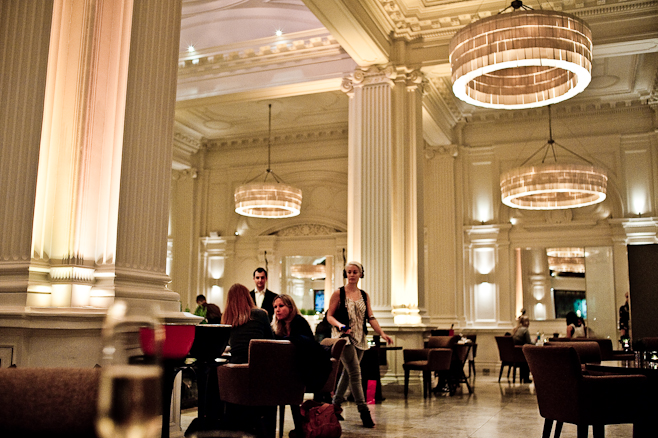 I was introduced to the marketing whiz kids at the Andaz hotel through an associate who was telling me about yet another larger than life pop-up restaurant project to hit the Capital – Bistrotheque setting up a Supersonic Masonic Supper club during London Restaurant Week in October to be exact. Of course, I missed that boat completely. Instead, I found myself taken on a tour of the luxury hotel (formerly the Great Eastern) based in the heart of the square mile, including the five dining establishments within the Andaz brand, and at the end of it, a handshake and an invitation to eat at 1901, which I decided to accept.
Yes, a disclaimer – I didn't pay for this one.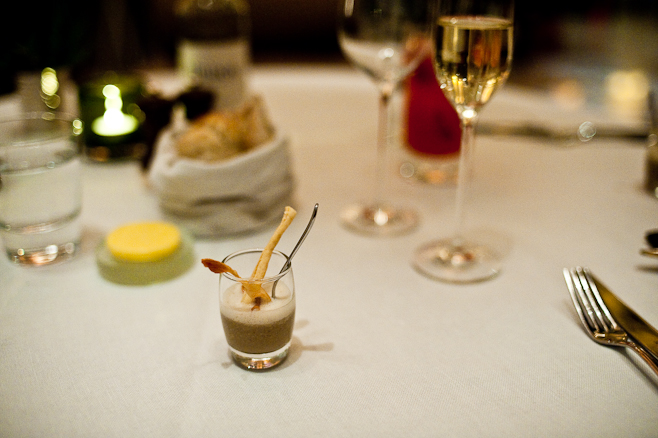 1901 has always been on my eat-list. Some of my much loved restaurant-going idols (Douglas, Agirlhastoeat and Marina included) had written up favourable experiences at this restaurant, and so I really wanted to try it for myself. Part of the appeal of 1901, is also partly the reason why I have decided to avoid it for so long. For one, it's location suggest more of a power lunch than all out celebration, and the place is perhaps a little too posh, too grand and too elegant for its own good.
"We want to strip it down, it's elegant you know, but laid back." was the message the Andaz suits were trying to drill into my little skull while on tour. I appreciated their progressive approach of trying to play down the grandeur, what with the 'no reception' lobby and going as far to quoting a guest (on their website) who described 1901 as "unpretentious luxury for when you are feeling decadent". Getting jiggy with the kids then.
Our evening kicked off with a frothy mushroom soup as a mouth amuser. Oo, warm.
It would be an incredible shame if I didn't touch on the impressive dining space which 1901 is. If you are as obsessed about high ceilings as I am, then you will be blown away by the magnificence of it all. Of course, all this jazz also meant that the room itself was quite a bit too posh for its own good, at times, it did feel abit much. Thankfully though, the attitude of the staff were a complete contrast to the occasion – everyone was relatively chilled out. A violinist wandered around the room as well, with a roving DJ going around the tables and essentially constructing a playlist from the guests.
I picked Muse, Morceeba and Gotan Project. Starters was Aberdeenshire tartare, celeriac with truffle mayonnaise, bone marrow on toast.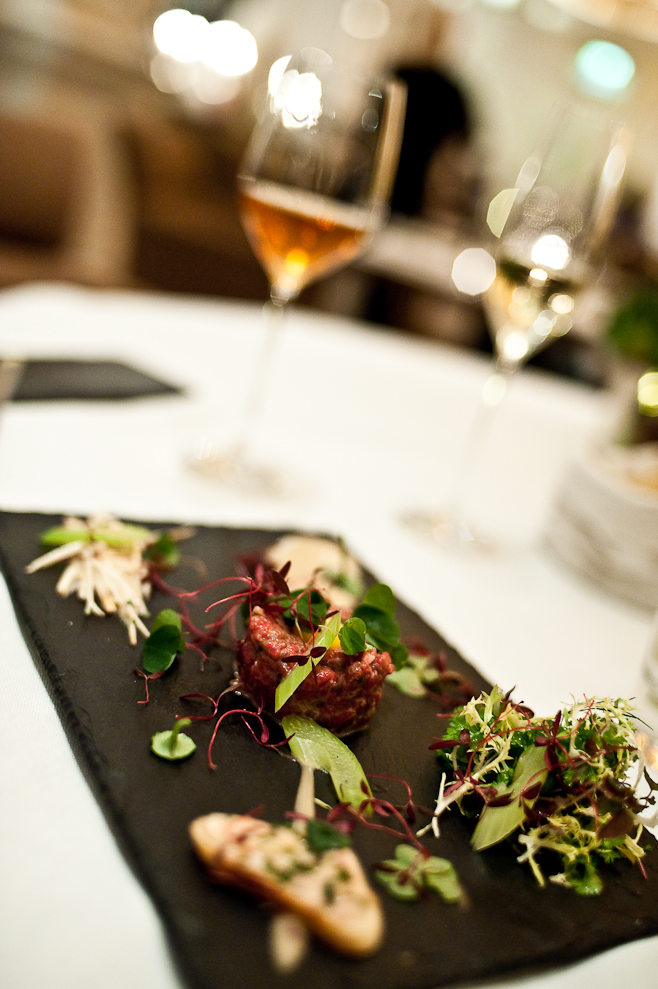 Not bad, not bad at all. The tartare itself was standard issue, well-chopped, well-seasoned and spreadable and something any Parisian could be proud of. However I was more impressed with the value-added extras accompanying this dish, in particular the mini marrow toasts which married up nicely.
Turning now to the menu, it places an emphasis on being British, and they punctuate their commitment toward local produce. Each course lists the region in which the main ingredient is sourced from, like my tartare being Scottish for instance.Smoked haddock is from Lincolnshire, and the duck is from suffolk etc.
The other starter we had was the shellfish platter from the Shetlands; with razor clam, mussels, deep fried langoustine and pickled seaweed.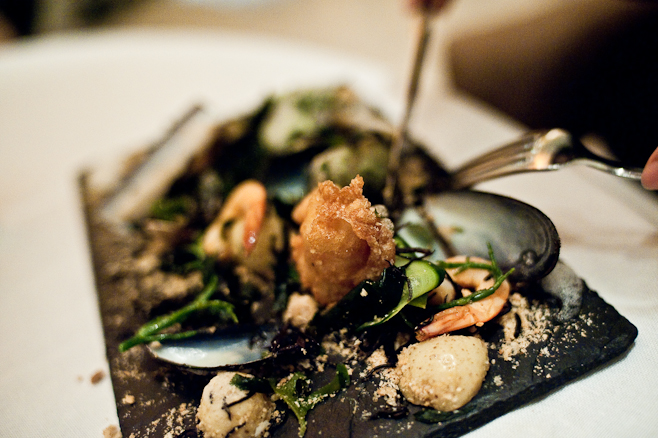 … And accompanying the shellfish was a light yet creamy foam and what looked like grated nuts. Served on a cold slab, I was really impressed with this shellfish selection – everything tasted fresh enough that I could almost smell the sand, especially with those juicily fried langoustines.
At this point in the meal, the sommelier was kind enough to pour us a couple of tipples of superbly branded wine to savour. If memory served me right, one was a '71 Rothschild – abit tired, abit of an old musky bird, but still so mineral and so soily and had now mellowed into a smooth character.
Righto, on to the main courses. Suffolk Pork, slow cooked rib eye, roast scallop, carrot puree, pickled cherries.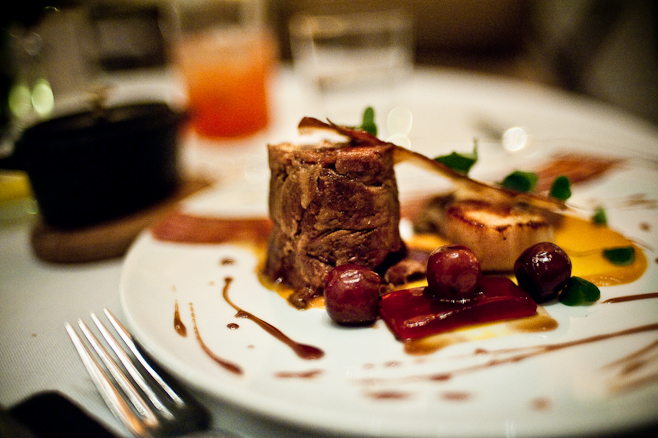 Served with mash potatoes on the side, the pork was mostly good, food was cooked to the T, and the sort of classic roast & tart flavour combo was balanced and executed well. The single roast scallop was a nice touch, it did not seem to gel with the tender and well seasoned pork, but it did taste good. Yeah overall, this wasn't the most exciting dish on the planet, boring but well-cooked.
With one boring dish out of the way, the other main course had to be something a little racier, and I decided to tackle something which I was going to try for the first time : Grouse.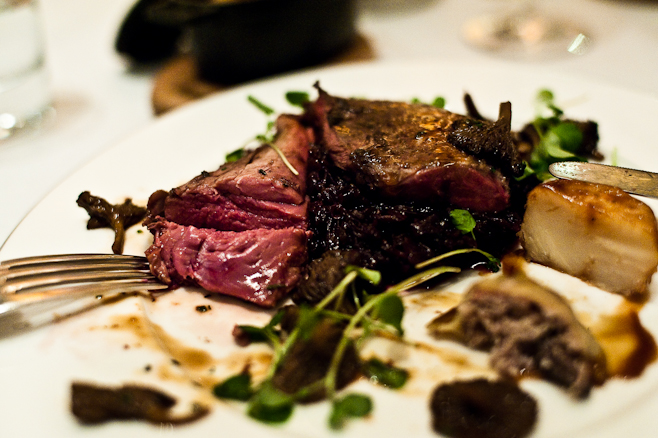 The basic premise of the dish was similar to that of the pork rib eye, roasted, abit of tart for sauce, sweet saurkrauts and roasted parsnips in the place of a mash. I didn't really know what to expect of grouse, I'd seen the celeb chefs shooting and then skinning them and then singing praises about the gaminess of the meat, but that's about as close as I got to grouse. Served very pink, the first bite… oh gosh, I couldn't swallow it. The meat was so incredibly gamey, that there was smoke, fire and just a forest stink that erupted in my mouth. Wow – there is alot of mature flavour, but it was too much for me to bear. Perhaps my palate needed more training. I found myself downing the vintage Rothschild just so as to wash away the muscular grouse. I was disappointed that I could not conquer my first grouse, and gave up half-way to the overly livery (is there a word to describe this over-gaminess?) tastes which was amplified with every bite.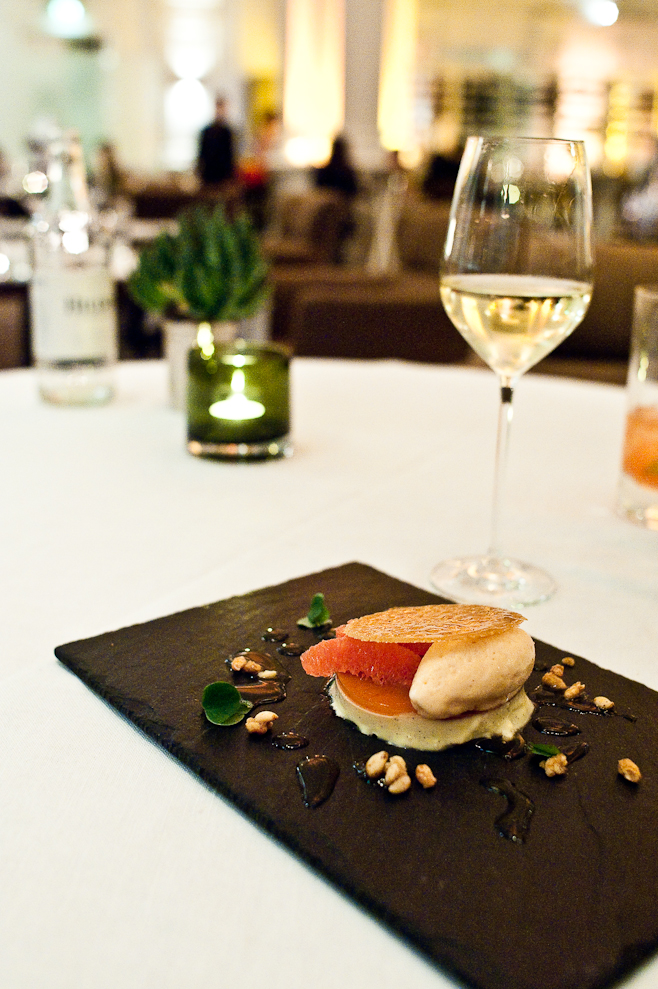 The prices at 1901 aren't too horrible for its ceremony, a two course lunch could be had for £19, and a three course dinner hovering the £55 mark. Food was straightforward, classic and mostly executed with an understated flair; save for a choice of meat I had yet to tame, everything else was rather tasteful. We ended the evening with a creme brulee topped off with abit of fruit and ice cream, and walked away with a pleasant memory of the night. In my humble opinion, it was still abit too posh for a quiet dinner and I come away feeling that 1901 is a place more suited for business rather than pleasure. In a sense, it is well-positioned in terms of it's location in Liverpool Street (I'm not taking a stab in the dark regarding their clientele) , but then again, you could just go to spend the evening with mostly good food, marvelling at the ceilings and come away with a neck worth straining for.
The Gist of It
1901, Andaz Hotel official website £60pp
40 Liverpool Street EC2M 7QN
Tel: +44 20 7961 1234
Tube: Liverpool St
PS: More photographs here.
Did you enjoy reading this post? Why not subscribe to my feed updates for free. Alternatively, You can subscribe via email.