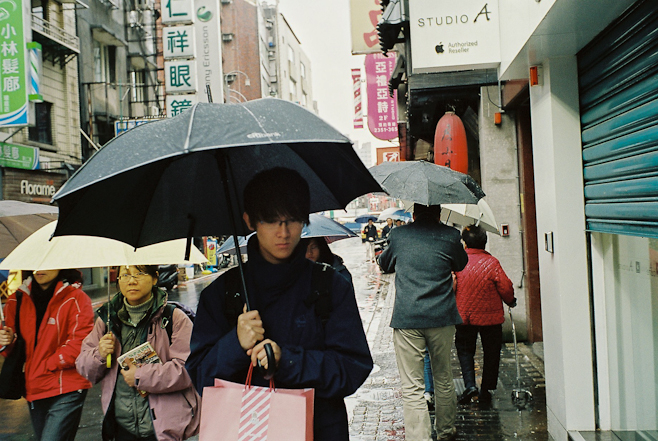 Hello guys! I am reporting to you live from Taipei, where the rain doesn't stop and the beef noodles are bouncy. I think my weight has gone up to 80 kgs, I've been eating out alot lately, hah, as if I don't eat out in London. At least my jeans still fit. I wasn't kidding about the rain – it went on for three days straight before breaking for sunshine. I've been totting around three cameras switching between the film and digital Leicas for action street shots, and going to my trusty Nikon for the food ones. As this is my second time in Taipei, I already have a hitlist to..well hit, and what I've found so far looks promising.
One thing I noticed about Taiwan (or any place other than London) is the sheer lack of pretension. People seem alot more blase, though they also do not hesitate to shove you aside if you are in their path. The quirkiest culture shock I've had thus far, is that men don't give way to women. I actually found myself in such a situation when I stood in front of an escalator in Sogo to give way to an old lady, when she did exactly the same for me. So we stared at each other till I said "after you", and she was puzzled, almost shocked and reluctantly rushed up the escalator. Hmm. Taipei has shades of Japanese culture ingrained into it's consumerist society, most probably since the Japanese have been jostling for control of the Republic of Formosa since the 19th century. As such, today's Taipei shares much of Japan's more accessible exports such as karaoke, sushi, love motels and Japan's department stores. One such super Japanese department store is Sogo – akin to say Harrords or Selfridges in Blighty, the attraction of these superstores are the imported Japanese goods they stock. One of the worst side effects of globlalisation – I feel – is the homogenisation of mass production. I mean come on, I don't want to buy Burberry in Taiwan, I want to spend my money on something unique which I can't get on High Street Ken. Thanks to these Japanese department stores and their imports, I could throw my money on Made in Japan Trinkets and expensive sake. Obviously, the first department I headed to was the food hall to scope out the local produce.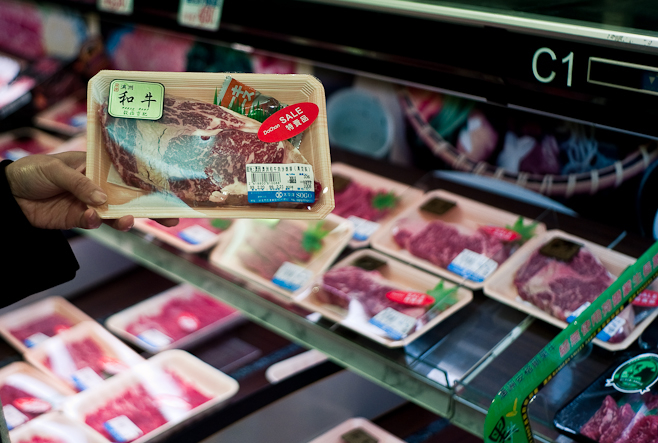 Much to my disappointment – Taiwan is not allowed to import Japanese beef, so no Kobe, no Matsusaka on display. However, I still saw marbled red gold wrapped in cling film at the meat counter, albeit Australian Wagyu. I'm not entirely sure what grade it was, but the marbling in this piece of ribeye was exceptional. I mean just look at it. Price is 300NT per 100 g , or about £60/kg. Not cheap, but not expensive either. Harrords does this for about £100/kg, I think.
I ruffled through the stock to find the fattiest piece of meat and came up with this one : All American Black Angus.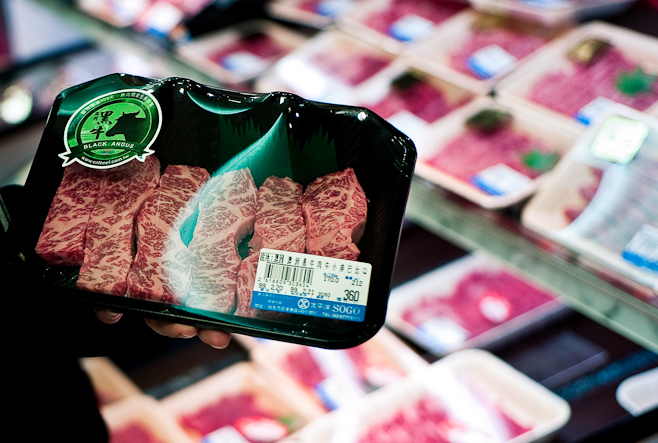 This one is much cheaper at 170NT per 100g which translate to about £34/kg. Now that's a price I can swallow. I'm not sure what this cut is, but it's sliced and I am guessing this is for Teppanyaki style beef? Look at the marbling on that beast though – I sure would like to sink my teeth into that. Someone, please tell me we have something equivalent in the UK? OK my steak expedition begins on Tuesday… so I will report back when I have some news.
Speaking of beef, I have been sampling Taiwan's national treasure : Niu Rou Mien.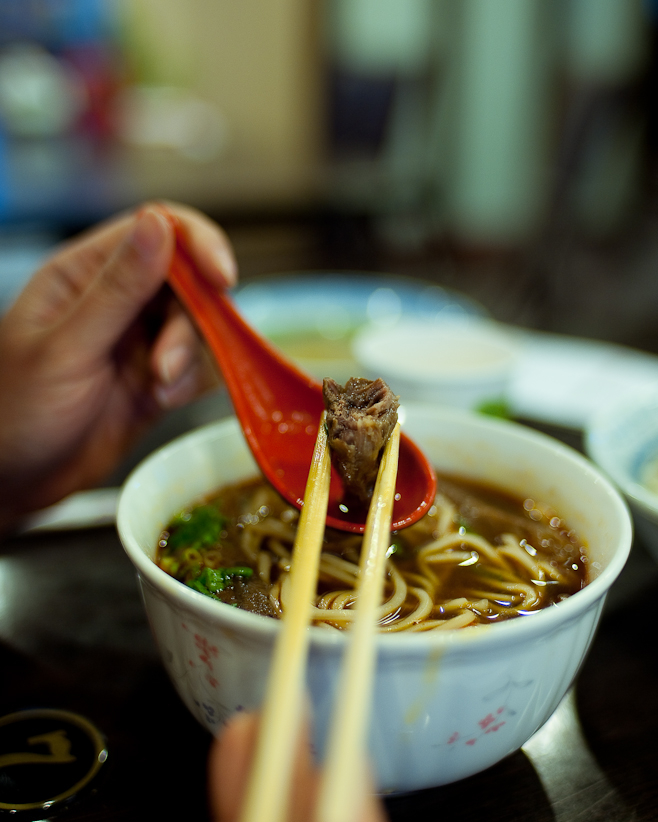 ….Or Beef Noodle Soup. This particular bowl was slurped at Lao Chang, I'm not going to give too much away, since I'm still in the middle of 'researching' my super Taiwanese Niu Rou Mein battle of the century blogpost. We've been to three so far – all word of mouth recommendations, and the standard is way, way high – even the lousiest bowl of Niu Rou Mein is way better than the best in London.
As far as I know, sushi is Asia is like confit du canard in France – it's just better. I have already made reservations for Mitsui – high end sushi supposedly and write-up to follow. Before that happened, I wanted to get my hands on some benchmark sushi. I accompanied my extended family to KTV and picked up some takeway from Hi Sushi before belting out a couple of Jay Chou tracks.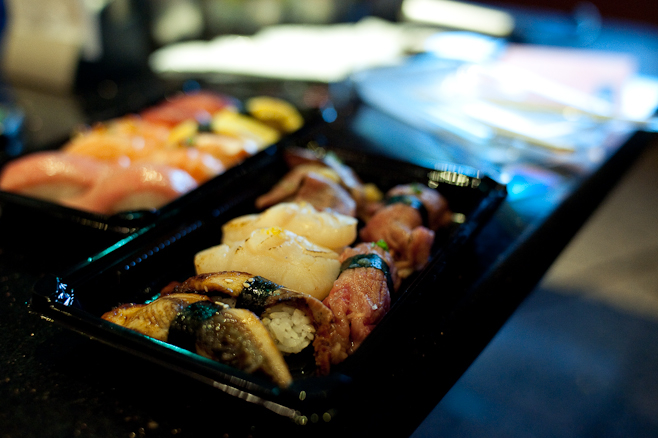 Hi sushi is a sort of high end sushi franchise, there are five locations (i think) in Taipei and are thought to be just about above average. Ok, first of all, the sushi rice does not beat my beloved Sushi Hiro, but it definitely comes very close. Warm, consistently pasty, vinegary and that unique umami warmth that only sushi has – this has it. I ordered toro and salmon – both deftly cut and just melted away as I chewed into it. Good, but I've had better. We did pull out an unchewable fatty bit from one of the toro nigiri – something which if we showed it to the Itamae on location, we would get another one for free, since nigiri sushi is suppose to disintegrate when you eat it. I also had short rib steak nigiri, seared scallop and unagi. Ah, interestingly enough, I spotted matsusaka beef nigiri on the menu… my eyeballs popped out, had to order it. I say interestingly because Japanese beef is supposed to be unimportable in Taiwan. Anyway – the beef was thinly sliced, I think it was gently flamed as it carried a faint smokiness, but it had a deeply beefy flavour. Yummy, I inspected the beef, it wasn't marbled like the ones I saw in Sogo, though I noted the consistent and fragile texture, more like butter than meat. I'm heading back to Hi Sushi again in the next few days for a proper sit down meal (this was takeaway after all) and will make sure I quiz the chef regarding the whereabouts of the beef. Eating it blind – the best beef nigiri I've had yet, I now believe the oft paraded melt-on-your-tongue gimmick.
Ok guys, the real reason I came back to Taiwan : Meet Qio Qio.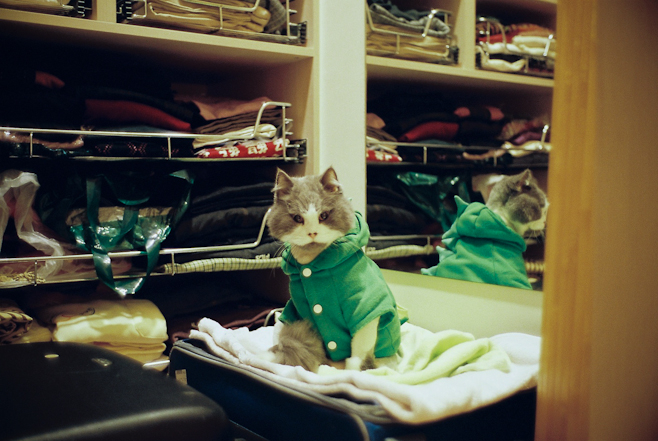 He is wearing a three button dinosaur hoodie – green – and he has made his bed on top of our suitcases in the closet. He's ten this year, which when converted from cat years is 56. Middle aged.
I'm not quite o-fay with the geography in Taipei as yet. It's hilly and there are mountains in the background, and the old buildings makes for great photo opportunities.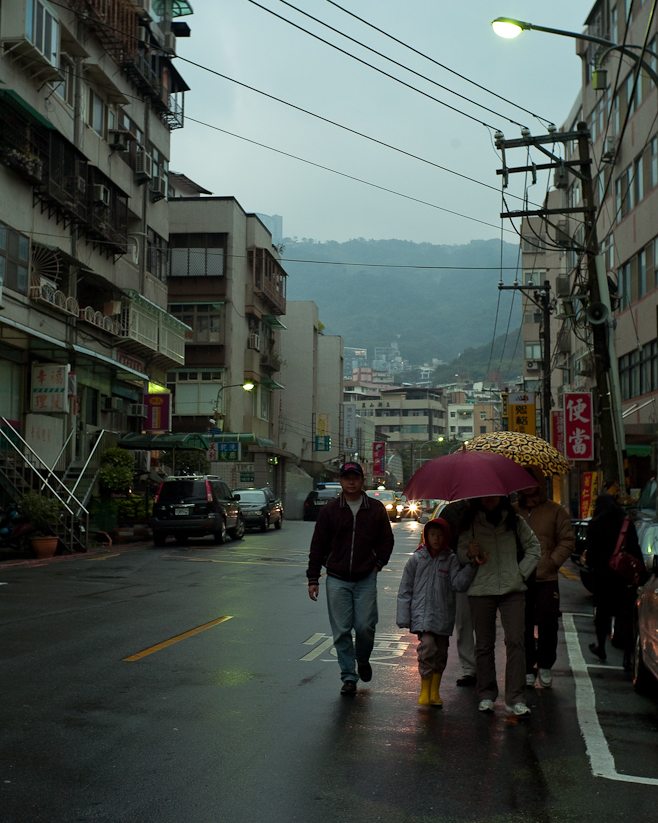 Abit about my photographic endeavor thus far – in this post, the photographs are made with a mixture of kit and I am shooting about 50/50 film/digital. I'm shooting alot more film simply because it's dirt cheap to develop here. It's only £2 plus a CD of scans. Also, I've split-toned (fancy way of saying change the colour of light) my images to give it a greenish vintage sheen. It should be subtle, but I'm still experimenting with it – I'm aiming for a Hong Kong cinema look. Think 'In the Mood for Love'.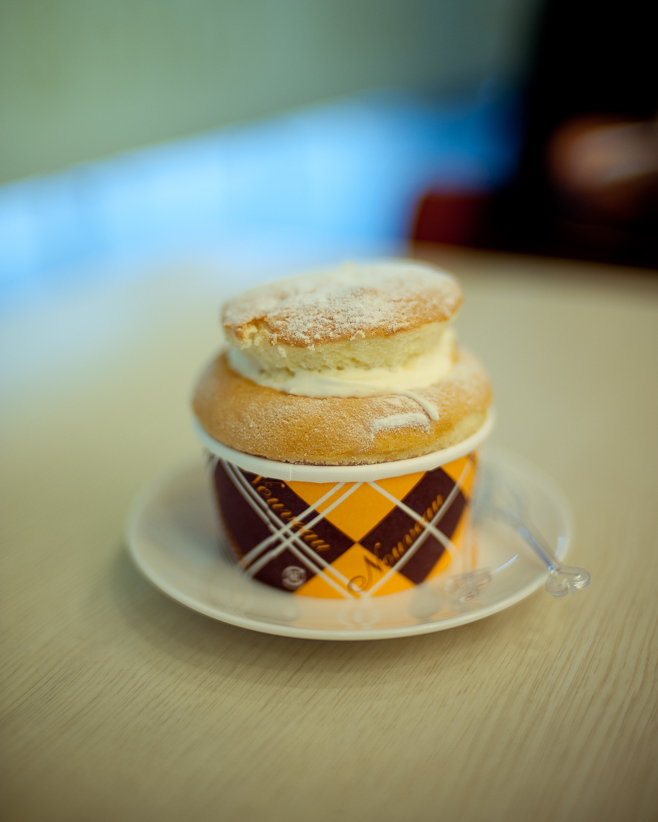 Hokkaido Cupcake – split toned, low contrast, neutral colors – what do you think? I'm taking my cues from Japanese photo magazines – Nippon Camera – which I have bought a ton of so far. I'm not sure if I can get them in the UK, I don't speak Japanese, can't read the words, but I understand the pretty pictures. Japanese photography is so different from Eurocentric photography. It's alot more liberal, natural and the photographs are still 'real', so to speak. Flipping through the magazine, most shots are still made with film cameras – something which is rapidly disappearing in the West. I think film still has a unique quality simply because the photographer has less room in post to work with, which makes the photograph more realistic. I'm nostalgic in that way I suppose.
Speaking of media, I spent half a day at Eslite bookstore. Four stories of paper heaven.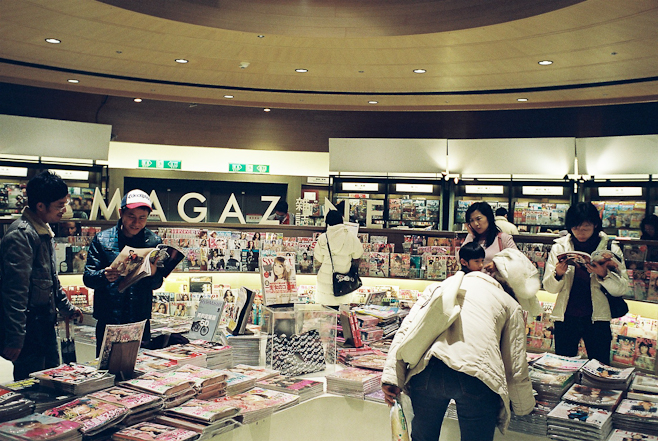 Basically, this is the Taiwanese rendition of Waterstones. All the books are in Chinese, the author names are all foreign to me, but I find it all so fascinating. It's literally like tapping into the brain of another civilization, completely different to ours. This is cool. I headed up to the Japanese section, and yet another type of brain altogether. I actually think Japanese media is miles ahead of everybody else – especially their magazines. Each issue is a work of art. From the sleek cover designs, the page setups, to the flow of photo essays and the typography. I think they just make prettier books. Oh how I wish I could read Japanese.
Time to settle down – the tea room in Eslite.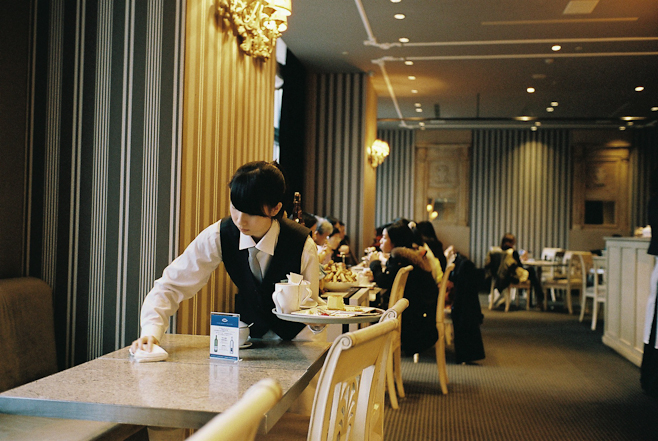 Nothing particularly exciting, comfortable, and has a nice view of Taipei 101 – the tallest building in the city. They serve Lavazza coffee, which was average.
And I flew 10,000 miles to have …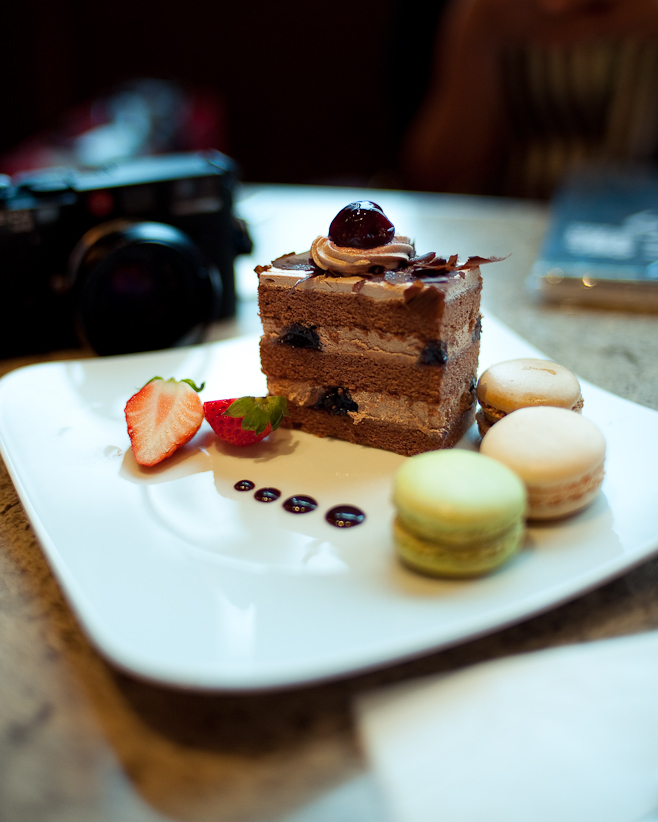 … German and French pastry. The blackforest cake was actually pretty good – very light and spongy, though the macaron recipe could do with abit of fine tuning – not quite up to it's Parisian counterparts. Relatively cheap though, macarons are £1 each. I'm showing this photograph, because I love the styling – it's so efficient in the way they have decorated the plate. Look at the strawberries, the chocolate sauce and the way the macarons are arranged around the square cut cake – it came pre-styled, all I had to do was position my Leica to make a background. Result.
Ok guys, I'll check back with you again in a few days with my super niu rou mien battle of the century and some more food photography hopefully of secretly smuggled matsusaka beef. For now, I leave you with a rain soaked view of the Taipei 101, Kodak Portra 400NC.
Did you enjoy reading this post? Why not subscribe to my feed updates for free. Alternatively, You can subscribe via email.